Get connected with our daily update
(Ascendant Capital)
Jeffry Schneider, founder and CEO of the Austin-based real estate investment firm Ascendant Capital, was one of three men arrested on Thursday and charged with defrauding more than 17,000 investors of $1.7 billion in what the Securities and Exchange Commission described as a "Ponzi-like scheme."
---
"As alleged, by paying investors from an undisclosed and improper source such as investor capital, the defendants repeatedly misled investors about the health and performance of their investments," Acting United States Attorney for the Eastern District of New York Seth DuCharme said in a statement Thursday.

The trio is tied to the New York private equity firm GPB Capital Holdings. Owner and CEO David Gentile and former managing partner Jeffrey Lash were also arrested and charged, along with Schneider.
Between 2015 and 2018, the defendants allegedly promised investors 8% monthly dividends while using investor capital to make such payments. "Gentile and Schneider were aware that the GPB funds were underperforming and authorized repeated distribution payments that used investor funds to cover income shortfalls, to the obvious detriment of investors," according to a Department of Justice press release.
If convicted, each faces up to 20 years in prison.
The Securities and Exchange Commission also charged GPB with violating whistleblower protection laws by allegedly retaliating against a known whistleblower and including language in termination and separation agreements that impeded individuals from whistleblowing, according to a Thursday press release.
Starting this coming August, Texas Longhorns linemen on scholarship will get $50,000 annually for use of their name, image and likeness to support charitable causes.
The program, known as "the Pancake Factory," in reference to the pancake blocks popular among linemen, will start in August 2022. The nonprofit organization Horns with Heart announced the program Monday, saying it will be the first charitable NIL entity. Capped at $800,000 annually, the pancake factory program can support 16 scholarship linemen.
The organization was formed by six unnamed Texas alumni and supporters "with experience across multiple industries and disciplines to make a positive impact on local communities."
This is the latest in organizations looking to help athletes use their name, image and likeness after Texas passed a law for student-athletes to profit off it. Last week, another alumni-led NIL initiative known as Clark Field Collective announced $10 million in pledges to help Longhorn athletes facilitate deals across 17 sports. The collective is a key participating donor to Horns with Heart.
The news comes ahead of early signing day on Dec. 15. The offensive line is a key recruiting area, head football coach Steve Sarkisian has said.
The Texas Parks and Wildlife Department announced a new "no fee" public access lease along the Guadalupe River, giving fishing aficionados the chance to catch rainbow trout during the peak cold-weather stocking season.
The lease, located at Camp Huaco Springs near New Braunfels, stretches across a half-mile of bank access. Public access to the site will be open from 30 minutes before sunrise to 30 minutes after sunset until March 5, 2022.
"This lease location provides great bank angler access to river trout fishing coupled with gorgeous Guadalupe River scenery," said Patrick Ireland, supervisor for TPWD Inland Fisheries Division San Marcos and Austin District.
The rocky bank will be open to non-motorized boats, canoes, kayaks, other floatable devices and wade fishing both upstream and downstream. TPWD said it will stock several sections of the Guadalupe River, also known as Canyon Reservoir Tailrace, with more than 20,000 trout, scheduled to stock weekly. Trout will be available from the beginning of December through late February.
Trout tend to prefer cool water streams and typically cannot survive the hot weather that Texas is notorious for, so they don't usually reproduce in the state. Trout can survive in certain areas below large dams, like Canyon Reservoir Tailrace, though the only statewide self-sustaining population lies in McKittrick Canyon in the Guadalupe Mountains.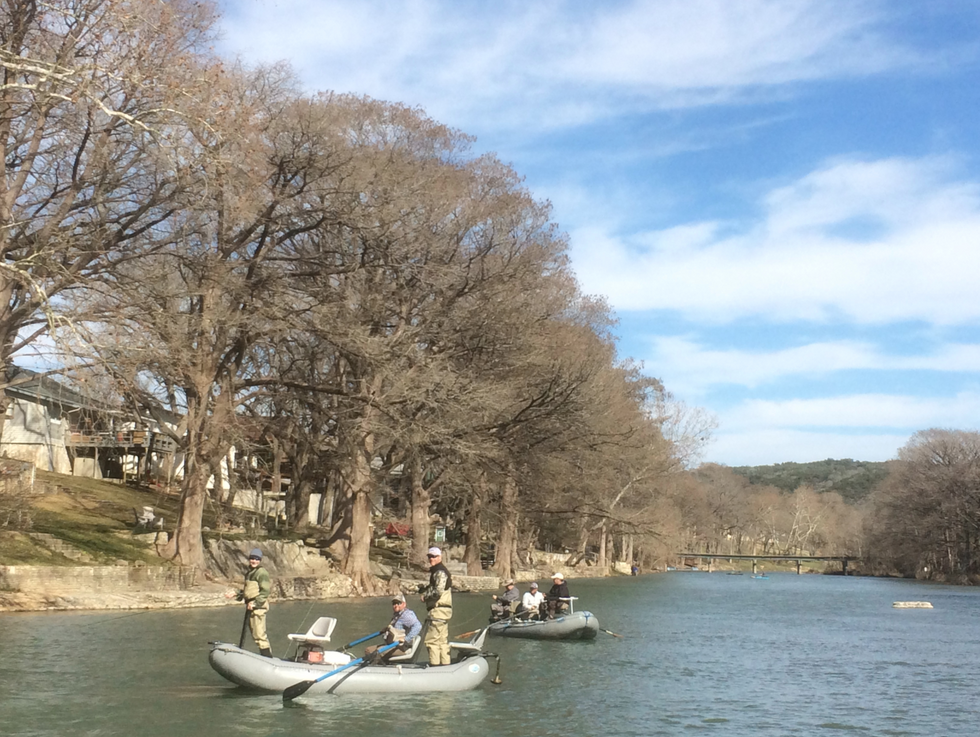 The extanded access will allow fishers to spread out for the best chances at angling. (Austonia)
Anglers will have a daily bag limit of five trout, with no minimum length, per statewide trout regulations. Anyone 17 years and older who wants to fish will be required to carry a valid fishing license and freshwater fishing endorsement.
Aside from the newly-leased area, anglers may also be able to find public access areas to fish in the U.S. Army Corps of Engineers-run Guadalupe park; Whitewater Camp, 4th Crossing, 3rd Crossing, and Camp Huaco Springs. However, starting 800 yards downstream from the Canyon Dam release to the second bridge crossing on River Road, special regulations say fishers must use artificial lures.
Furthermore, from that 800 yards downstream from the Canyon Dam release gate to the easternmost bridge on FM Road 306, a 12-to-18-inch slot limit is in effect, meaning trout smaller than 12 inches or longer than 18 inches can be kept and only one can be 18 inches or longer.
From the easternmost bridge on FM 306 downstream to the second bridge crossing on River Road, there is an 18-inch minimum and a one-trout daily bag.
So if you need to scratch that itch to fish, head to Camp Huaco Springs on 4150 River Road, and maybe you can break the state record of 8.24 pounds. According to TPWD, the leases were made possible by grants from the U.S. Department of Agriculture's Voluntary Public Access and Habitat Incentive Program.
(Stuart Seeger/CC)
Company relocations and expansions are driving record levels of job creation in Central Texas.
Data compiled by Opportunity Austin, the economic development arm of the Greater Austin Chamber of Commerce, shows companies have promised to bring roughly 23,150 jobs across the metro, beating out the previous record of 22,114 jobs for all of 2020.
A major job propeller came at the end of November with the announcement that Taylor will be the site of a new Samsung chip-making facility, serving as the largest ever foreign direct investment in the state. Winning the plant through incentive programs and talent pool, Samsung expects to bring 2,000 high-tech jobs, thousands of indirect jobs, and at least 6,500 construction jobs.
Plus, there's likely more to come. Last week, Tesla officially moved its headquarters from Silicon Valley to the under-construction Gigafactory in southeast Travis County. Specifics of the job impact are unclear still, but it's speculated that up to half of the Palo Alto employees will opt for a move to Austin.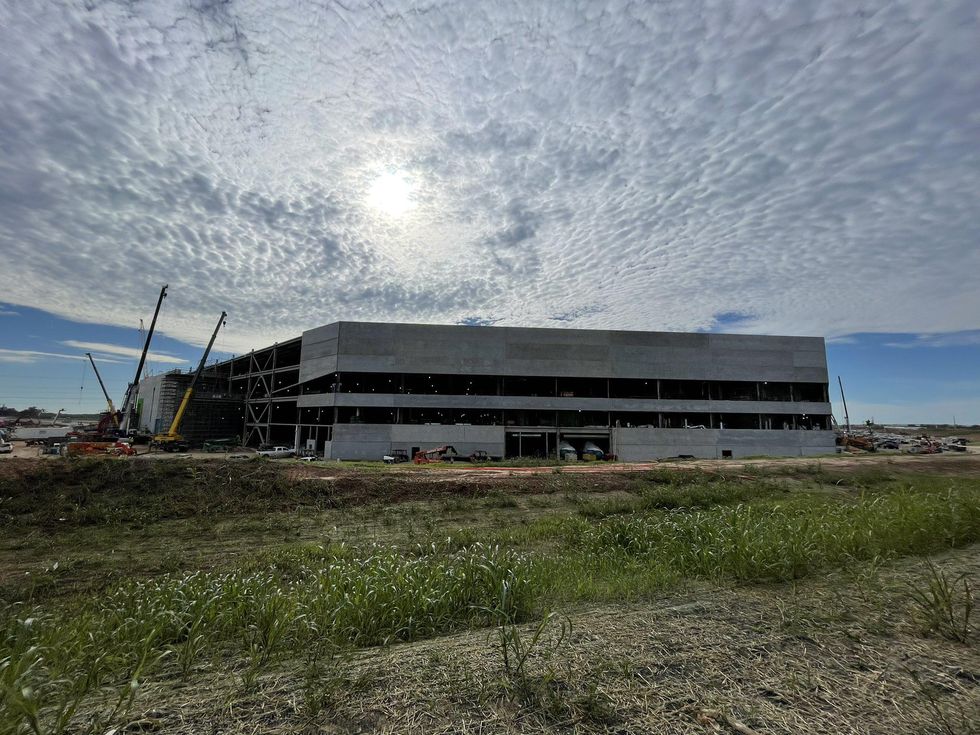 The under-construction Austin Gigafactory will not be the home of the new Tesla headquarters. (Tesla Owners of Austin)
Through November, 126 companies in Central Texas have chosen to expand, and 86 relocated. Still, December could see additional expansions and relocations.
The Austin Chamber of Commerce reports that the capital city is the second-best major job market in the U.S. In August, Austin surpassed the jobs total it had in the last pre-pandemic month, which was 1,142,400 jobs in February 2020. Then in October added 18,300 jobs, the largest monthly gain since June 2020.
This growth was seen across a number of industries, including leisure and hospitality, wholesale trade and financial activities. Pandemic recovery is positive news for many, yet still draws some tension with recent job growth bringing transplants and increasing housing costs. Worries over Austin's affordability crisis carry on, especially with the prediction that by the end of this year, Austin's cost of living is expected to be the highest outside of California.
Laura Huffman, President and CEO of the Austin Chamber of Commerce, told the Austin Business Journal that she's thrilled 2021 is shaping out to be a record-breaking year.
"We're bringing dynamic, globally significant companies to the region, and what that means for the people that are living in the region is more opportunities," Huffman said.