Austonia AM
100% Austin news, info, and entertainment, straight to your inbox at 6 a.m. every morning.
In five minutes, you're fully informed and ready to start another great day in our city.
Get connected with our daily update
(Austonia staff)
This story was updated at 7:15 p.m. to include the most recent number of affected customers reported by Austin Energy.

Nearly 12 hours into a statewide power outage caused by severe winter weather, city officials answered some pressing questions, such as when power might be restored (likely not until tomorrow) and why the outages are lasting so long (to preserve power for "critical loads," such as hospitals).
---
When will power be restored?
Officials at the Electric Reliability Council of Texas, which operates about 90% of the state's electric load, said Monday morning that statewide outages will continue through Tuesday morning and possibly into the afternoon.
What is causing the outages?
The massive winter storm led to unprecedented demand for electricity across Texas while also forcing some generating units—such as power plants and, to a lesser extent, wind turbines—to shut down.
As a result, ERCOT began implementing rolling blackouts early Monday morning in an effort to restore the power grid. "Every grid operator and every electric company is fighting to restore power right now," ERCOT President and CEO Bill Magness said in a statement early Monday morning.
Although these blackouts were intended to be brief, lasting between 10 and 45 minutes, Austin residents have reported hours-long outages.
Are the outages "rolling"?
No.
When ERCOT directed energy providers to implement rolling outages, Austin Energy randomly selected areas that did not include "critical loads," such as hospitals, fire stations and water treatment plants, General Manager Jackie Sargent said during a midday press conference.
However, due to the severity of the situation, Austin Energy quickly withdrew power from all of the areas that do not include critical loads. "There's no more energy that we can shut off at this time to bring these customers back on," Sargent said.
As a result, the outages are not rolling but rather static for those customers currently without power. "Basically we're stuck here until we can get some reprieve from ERCOT ... and get into rotating those outages," she added. "It's a tough situation. We understand that."
Q: why can't @austinenergy turn power back on?

A: @austinenergy says state has ordered power off. So all non-critical circuits turned off. If you have power, it's likely because your house shares circuit w/ hospital, fire station, 911 center, or other critical building
— Gregorio Casar (@GregCasar) February 15, 2021
Where are the outages?

All over town. Austin Energy reported that 212,634 customers—or more than 40%—were without power, as of 7:07 p.m. Monday. A full map of impacted areas can be found here.
The utility planned outages in areas that do not include critical loads. "The outages are across the system and they are designated by specific circuits," Sargent said, explaining that those areas with power are likely connected to a circuit serving a hospital or other designated critical load.
My power is out. What should I be doing to stay warm and safe?
Austin Energy and the city of Austin advise the following:
Stay inside
Dress in layers
Avoid downed power lines
Don't use generators indoor
Use flashlight and battery-operated lanterns rather than candles and kerosene lanterns, which carry fire risk and fume hazards
Keep refrigerator and freezer doors closed and follow USDA guidelines regarding food safety during a power outage
Turn off major appliances to avoid overloading electric lines when power is restored
Report the outage online here
I need to get to a warming center. How do I get there?
The Palmer Events Center opened as a warming center on Monday morning, and evening shelter is available upon request. Although city officials recommend that Austinites stay off the roads, they are encouraging residents who need to relocate to a warmer place to travel during daylight hours as a precaution. Residents can call 512-305-ICEE for more information about warming centers and 211 for food assistance.
Cold weather shelters, which serve homeless residents and are typically only open at night, are now open 24 hours a day. More than 280 people stayed at such shelter locations Sunday evening, the city's Homeland Security and Emergency Management Director Juan Ortiz said.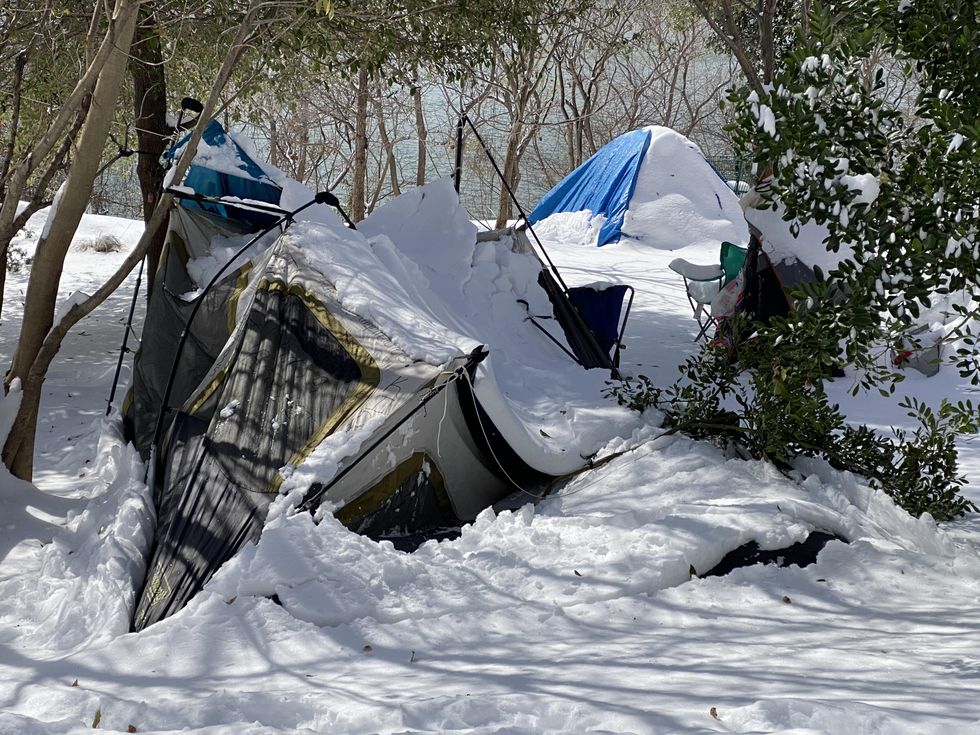 A homeless camp along Lady Bird Lake was covered with snow on Monday. (Austonia staff)
What can I do to help?

Austin Energy is asking residential customers who have power to conserve energy by doing the following:
Setting the thermostat at 68 degrees or lower
Turning off lights that aren't needed
Unplugging items not in use
Keep blinds open during daylight hours and closed during nighttime
The city of Austin is also asking residents to stay off of the roads unless absolutely necessary so as to keep them open for ambulances and other first responders. The Texas Departments of Public Safety and Transportation are advising the same.
"This is one of those things that happen once in several generations that will require us to pull together and help one another," Austin Mayor Steve Adler said.

Matthew McConaughey is reportedly weighing a run for Texas governor in 2022.
The Austin resident and Oscar winner has been "quietly making calls to influential people in Texas political circles, including a deep-pocketed moderate Republican and energy CEO" as he decides whether to run, according to Politico.
McConaughey said a gubernatorial run is "a true consideration" while on a March episode of Houston's "The Balanced Voice" podcast.
Although most political strategists doubt McConaughey's commitment and viability as a candidate, some are still intrigued by the possibility.
"I find it improbable, but it's not out of the question," Karl Rove, a top Republican strategist with a long history in Austin, told the political news site. He added that the big question is whether McConaughey would run as a Republican, a Democrat or an independent.
Brendan Steinhauser, an Austin-based GOP strategist, told Politico he's surprised McConaughey isn't being taken more seriously. "Celebrity in this country counts for a lot," he said. "It's not like some C-list actor no one likes. He has an appeal."

Texas Gov. Greg Abbott plans to run for a third term and remains popular among Republican voters, 77% of whom approve of his performance as of April, according to the Texas Politics Project.
Some strategists believe an independent McConaughey run would benefit Abbott. But a recent poll from The Dallas Morning News and the University of Texas at Tyler found that McConaughey would beat Abbott, 45% to 33%, with 22% opting for someone else.
Mimi Swartz, an executive editor at Texas Monthly, mulled a McConaughey run in a recent opinion essay from the New York Times. "Texas may not be ready for a philosopher king as a candidate, much less governor," she wrote. "May the best man win, man."
Some JuiceLand production facility workers and storefront employees are organizing to demand wage increases, better working conditions (including air conditioning in the warehouse) and pay transparency, among other asks. They are also calling on staff to strike and customers to boycott the Austin-based company until their demands are met.
JuiceLand responded on Saturday. "We are listening," the company wrote on their Instagram story. "JuiceLand crew now makes guaranteed $15 an hour or more companywide."
JuiceLand, which was founded in 2001 by Matt Shook and now has 35 locations in Austin, Houston and Dallas, acknowledged the rising cost of living across Texas and the added stress of the pandemic in an email to employees on Saturday, part of which @juicelandworkersrights shared on social media. "There's no denying that times are tough and financial security means more now than ever," the company wrote.
Organized JuiceLand workers rejected this proposal, according to a recent post on the @juicelandworkersrights Instagram account, and reiterated their demands.
"Cost of living in Austin is rising exponentially and will only continue to get worse with the tech boom," the post read. "$15 is barely a sustainable living."

Related Articles Around the Web