Get connected with our daily update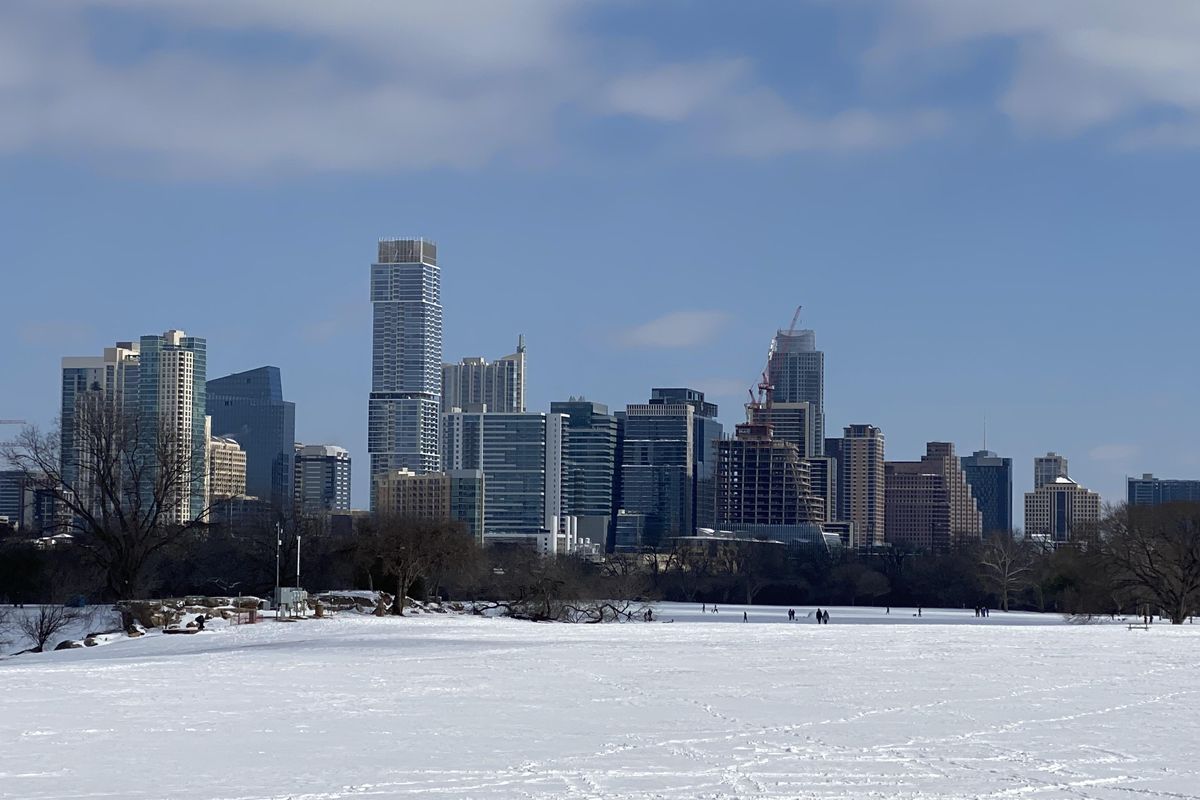 (Austonia staff)
This story was updated at 7:15 p.m. to include the most recent number of affected customers reported by Austin Energy.

Nearly 12 hours into a statewide power outage caused by severe winter weather, city officials answered some pressing questions, such as when power might be restored (likely not until tomorrow) and why the outages are lasting so long (to preserve power for "critical loads," such as hospitals).
---
When will power be restored?
Officials at the Electric Reliability Council of Texas, which operates about 90% of the state's electric load, said Monday morning that statewide outages will continue through Tuesday morning and possibly into the afternoon.
What is causing the outages?
The massive winter storm led to unprecedented demand for electricity across Texas while also forcing some generating units—such as power plants and, to a lesser extent, wind turbines—to shut down.
As a result, ERCOT began implementing rolling blackouts early Monday morning in an effort to restore the power grid. "Every grid operator and every electric company is fighting to restore power right now," ERCOT President and CEO Bill Magness said in a statement early Monday morning.
Although these blackouts were intended to be brief, lasting between 10 and 45 minutes, Austin residents have reported hours-long outages.
Are the outages "rolling"?
No.
When ERCOT directed energy providers to implement rolling outages, Austin Energy randomly selected areas that did not include "critical loads," such as hospitals, fire stations and water treatment plants, General Manager Jackie Sargent said during a midday press conference.
However, due to the severity of the situation, Austin Energy quickly withdrew power from all of the areas that do not include critical loads. "There's no more energy that we can shut off at this time to bring these customers back on," Sargent said.
As a result, the outages are not rolling but rather static for those customers currently without power. "Basically we're stuck here until we can get some reprieve from ERCOT ... and get into rotating those outages," she added. "It's a tough situation. We understand that."
Q: why can't @austinenergy turn power back on?

A: @austinenergy says state has ordered power off. So all non-critical circuits turned off. If you have power, it's likely because your house shares circuit w/ hospital, fire station, 911 center, or other critical building
— Gregorio Casar (@GregCasar) February 15, 2021
Where are the outages?

All over town. Austin Energy reported that 212,634 customers—or more than 40%—were without power, as of 7:07 p.m. Monday. A full map of impacted areas can be found here.
The utility planned outages in areas that do not include critical loads. "The outages are across the system and they are designated by specific circuits," Sargent said, explaining that those areas with power are likely connected to a circuit serving a hospital or other designated critical load.
My power is out. What should I be doing to stay warm and safe?
Austin Energy and the city of Austin advise the following:
Stay inside
Dress in layers
Avoid downed power lines
Don't use generators indoor
Use flashlight and battery-operated lanterns rather than candles and kerosene lanterns, which carry fire risk and fume hazards
Keep refrigerator and freezer doors closed and follow USDA guidelines regarding food safety during a power outage
Turn off major appliances to avoid overloading electric lines when power is restored
Report the outage online here
I need to get to a warming center. How do I get there?
The Palmer Events Center opened as a warming center on Monday morning, and evening shelter is available upon request. Although city officials recommend that Austinites stay off the roads, they are encouraging residents who need to relocate to a warmer place to travel during daylight hours as a precaution. Residents can call 512-305-ICEE for more information about warming centers and 211 for food assistance.
Cold weather shelters, which serve homeless residents and are typically only open at night, are now open 24 hours a day. More than 280 people stayed at such shelter locations Sunday evening, the city's Homeland Security and Emergency Management Director Juan Ortiz said.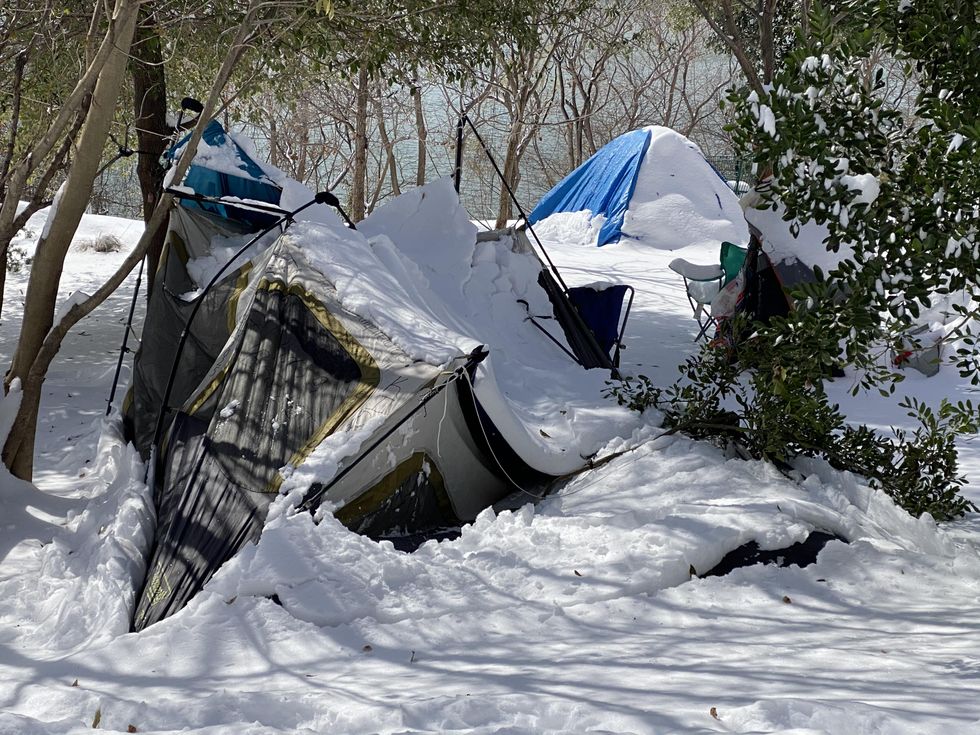 A homeless camp along Lady Bird Lake was covered with snow on Monday. (Austonia staff)
What can I do to help?

Austin Energy is asking residential customers who have power to conserve energy by doing the following:
Setting the thermostat at 68 degrees or lower
Turning off lights that aren't needed
Unplugging items not in use
Keep blinds open during daylight hours and closed during nighttime
The city of Austin is also asking residents to stay off of the roads unless absolutely necessary so as to keep them open for ambulances and other first responders. The Texas Departments of Public Safety and Transportation are advising the same.
"This is one of those things that happen once in several generations that will require us to pull together and help one another," Austin Mayor Steve Adler said.

Help us find our editor!
Austonia, a for-profit Austin digital media company, is looking for the right person for a new position as newsletter editor.
Are you an innovator who wants to work exclusively in digital media and push the boundaries? Do you have 3+ years in digital, broadcast, print or agency work? This could be the opportunity for you.
In two years we've created a place in the Austin media landscape, and we're looking for people who can move us toward the front.
AM email newsletter, 22,500+ daily subscribers
Austonia.com, reaching 250,000+ users/month
Social media, 50,000+ followers
Success in this role is based on skills: an excellent writer, editor, visual communicator and storyteller who builds compelling stories with digital and classic elements, who can recruit and mentor contributors in doing the same.
Austin is the most interesting city in the world, and we want to cover it that way. The people, issues, opportunities, challenges, companies and cultures that make Austin dynamic and successful.
Compensation depends on experience. Benefits include PTO and employee Blue Cross Blue Shield "Silver" health coverage, with 100% of the monthly premium paid by the company.
This is a hybrid, mostly remote position. Must live in Austin.
The position reports to Austonia's CEO.
To apply, follow this link to become a candidate immediately:
https://hu9c8d8pxw6.typeform.com/to/JMkTWPwG
Or send your contact info and a link to your LinkedIn profile to hr@austonia.com.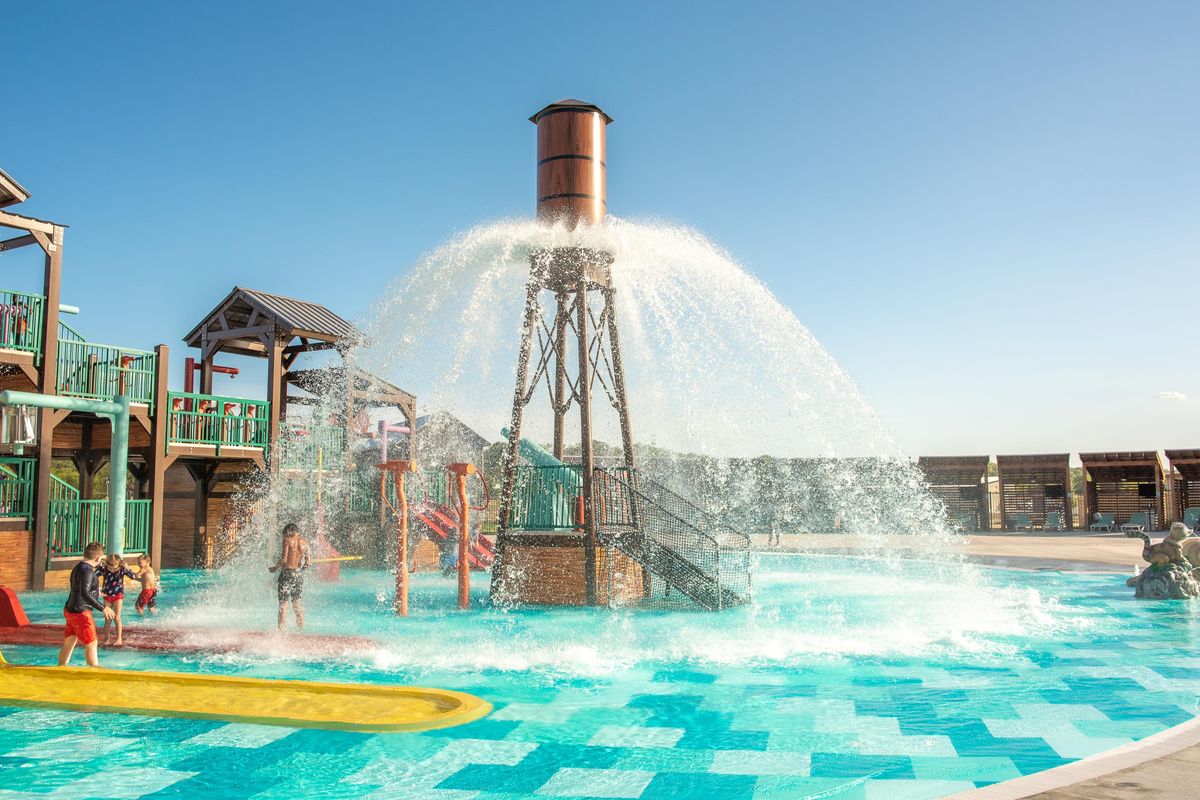 Camp Fimfo Waco
Camp Fimfo Waco, a brand new camping resort, is kicking off football and fall camping season in style! With top-notch amenities, premium accommodations, and 10 weekends of fall fun, there's no better place to have a fall camping getaway, especially if you're a Baylor football fan!
Fall promises to be a one-of-a-kind camping experience. From Sept. 16 to Nov. 24, weekends will be packed with fall-themed activities, including special Halloween weekends in October. Campers can enjoy activities like fall crafts, campground trick-or-treating, costume contests, site decorating, outdoor movie nights, and more!