Get connected with our daily update
Austin voters overwhelmingly supported Prop B—a city code amendment to reinstate restrictions on public sitting, lying, camping and panhandling in certain parts of downtown, near East Austin and West Campus—during the May 1 election.
Prop B's passage raises many questions, including what enforcement will look like and where homeless residents who are camping in the designated areas will go. Austonia has answers to five of these questions below.
---
When will the ban be reinstated? 
The new ordinance will take effect on Tuesday, May 11, according to a city spokesperson. In the meantime, city staff will be evaluating options for how to best implement the new ordinance, focusing first on individuals living in camps that present higher health and safety risks.
Where will homeless campers go?
This question remains unanswered.
Richard Bryant became homeless a year and a half ago after moving to Austin for a job that fell through shortly after he started working. He's been on a waitlist for housing for more than a year; in the meantime, he camps downtown.
Prop B's passage has Bryant concerned about his future. "They didn't provide a solution for the problem," he told Austonia while attending an anti-Prop B protest Monday morning. "We don't work, so how are we going to pay for tickets? If we don't pay for tickets, they're going to throw us in jail."
Once enforcement begins, Bryant expects the downtown campers will spread out into the wooded areas nearby. "People are going to die," he said.
Austin Mayor Steve Adler, who opposed Prop B, has repeatedly stressed that Prop B does nothing to provide housing or designate camping areas for homeless residents. Instead, he fears Bryant's prediction—that homeless people will be forced into less safe, and less visible, areas—will come true. "Let's get rid of tents the right way—the only real way—by housing people and not hiding them," he wrote in an April 27 opinion piece for Austin Monthly.
The Downtown Austin Alliance, which has been active in the city's homelessness efforts, also addressed this issue: "With Prop B's passage, we must provide real solutions and not just enforcement strategies," the local nonprofit wrote in a statement Saturday. "We need to provide clarity for those experiencing homelessness on where they can go, allow for voluntary compliance before ticketing, and provide mental health services and (ensure) adequate time to establish plans and alternatives to camping."
How will the Austin Police Department enforce the new ordinance?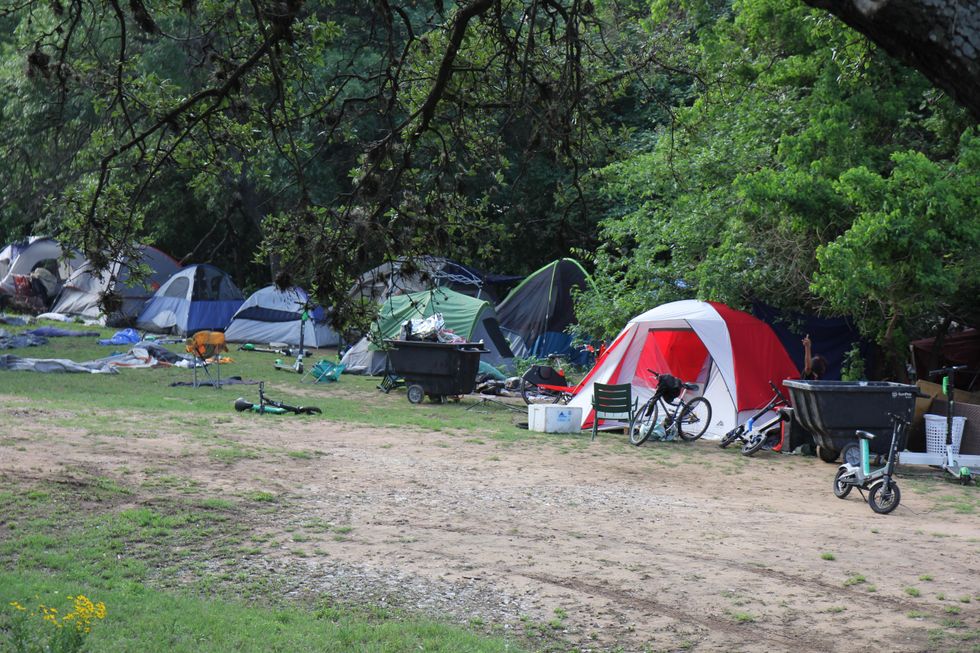 A new ordinance prohibiting camping, among other activities, in certain designated areas will take effect next week. (Laura Figi/Austonia)
APD is still developing its enforcement plan and training its officers to respond to the new ordinance, a spokesperson told Austonia.
Prop B proposed an ordinance "that would create a criminal offense and a penalty" for those sitting, lying down or sleeping outdoors in certain areas, but it did not specify what the offense would be. Before council overturned the ban in 2019, violation of it was considered a Class C misdemeanor, which carries a maximum fine of $500 and no jail time.
Such citations, homeless advocates say, do nothing to address the root causes of homelessness but, if they go unpaid, can lead to arrest warrants that can make it harder for homeless people to access housing, employment and other resources.
Is there a possibility of a court challenge? 
Although no Austin officials have suggested this so far, there are reasons to question the legality of a camping ban.
A group of homeless people in Boise, Idaho, sued their city in 2009, alleging that a local camping ban was unconstitutional because there was not adequate shelter space. A federal judge ruled in their favor, and the 9th U.S. Circuit Court of Appeals upheld the ruling. The Supreme Court declined to review the appellate decision in 2019.
Boise City Council approved a new local ordinance allowing homeless people to camp outside in February, as part of a settlement agreement that also includes $1.3 million in payments to homelessness prevention nonprofits.
The Boise case partly inspired Austin City Council's 2019 decision to overturn the local camping ban, both because the city did not have enough shelter beds and because of the possibility of a legal challenge. "Criminalizing homelessness and really upholding camping bans when there isn't enough shelter to house the population could be something that could be a violation of the citizen's rights," Texas Homeless Network President and CEO Eric Samuels told Austonia last week. "Boise went through all of this."
What is being done to connect homeless people to housing? 
The city is in the midst of several efforts to provide housing, including to homeless people living in four designated camps, which city officials have said will continue regardless of the election outcome.
In addition, the city continues to purchase motel and hotel properties to convert into housing for homeless residents, despite substantial pushback from neighboring residents and businesses.
During a recent summit on homelessness, city officials and community leaders developed a plan to address unsheltered homelessness. The main goal, which Homeless Strategy Officer Dianna Grey presented to council last month, is to house 3,000 people in the next three years at a cost of $250 million.
Local nonprofit Mobile Loaves & FIshes also announced plans last month to vastly expand Community First! Village, a 51-acre master-planned development that is home to more than 220 formerly chronically homeless residents. The two-phase expansion will add 1,400 micro homes across two pieces of land, with development to begin in summer 2022.
Tesla has officially moved its headquarters from Silicon Valley to its under-construction Gigafactory in southeast Travis County.
In October, CEO Elon Musk had announced plans to uproot the HQ from California during a company shareholder meeting. The company's filing with U.S. securities regulators on Wednesday locked down the move.
It's unclear whether the 10,000 employees in Palo Alto will be required to move. An analyst told the Associated Press that while many may be given the option of staying, up to 50% could make the move with some motivated by a lower cost of living in Austin.
"It's tough for people to afford houses, and people have to come in from far away… there's a limit to how big you can scale in the Bay Area," Musk had previously said. Regardless of the HQ move, the company plans to increase production at its California plant.
The HQ swap is the latest development on Giga Texas, the approximately 1,700-acre factory that Tesla received at least $14.7 million in tax breaks for. The factory is on track to start production of its Model Y vehicles by year's end.
Musk has hinted at making the move for some time. Last year, while California health officials were concerned with the spread of COVID-19, Tesla's push to reopen the factory in Fremont set off a spat. During an earnings call in April 2020, he'd described the state's health orders as "fascist." Recently, Musk relocated his own residence from Los Angeles to Texas, bringing almost each one of his companies along with him, including the Boring Company, Neuralink and his foundation.
At the cutting edge of tech, music and business are many successful leaders who not too long ago weren't old enough to drive or vote.
These wunderkinds were honored in Forbes' prestigious "30 under 30" lists, which highlights hundreds of top young entrepreneurs in categories from social media to science, in the 2022 rendition of the list on Wednesday. Some of the Class of '22 were as young as 14, while the average honoree was around 28 years old. Ten of these burgeoning business moguls were from Austin, which has seen such distinguished 30 under 30 alumni as former UT basketball player Kevin Durant get top spots on the 10-year-old list.
Here's a look at the 10 Austinites who made the cut:
Downtown may be recovering from the pandemic but the priorities residents want in their city center are changing, according to the City Pulse Survey done by design firm Gensler.
After studying 7,500 people in 15 global markets, including Austin, Gensler found that life in COVID has pushed city-dwellers to want more outdoor activities, social spaces and entertainment venues in bustling business districts.
Post-pandemic, the highest-rated downtown activities were shopping, visiting parks and just "hanging out." The need for more public spaces like parks jumped from sixth on the list to second this year.
Although globally people view downtown as a business district for task-based activities, across the U.S., downtown districts are viewed more as a vehicle for entertainment. This is especially true for Austinites, where people surveyed said they would rather see more entertainment and cultural venues than shopping or public transit downtown.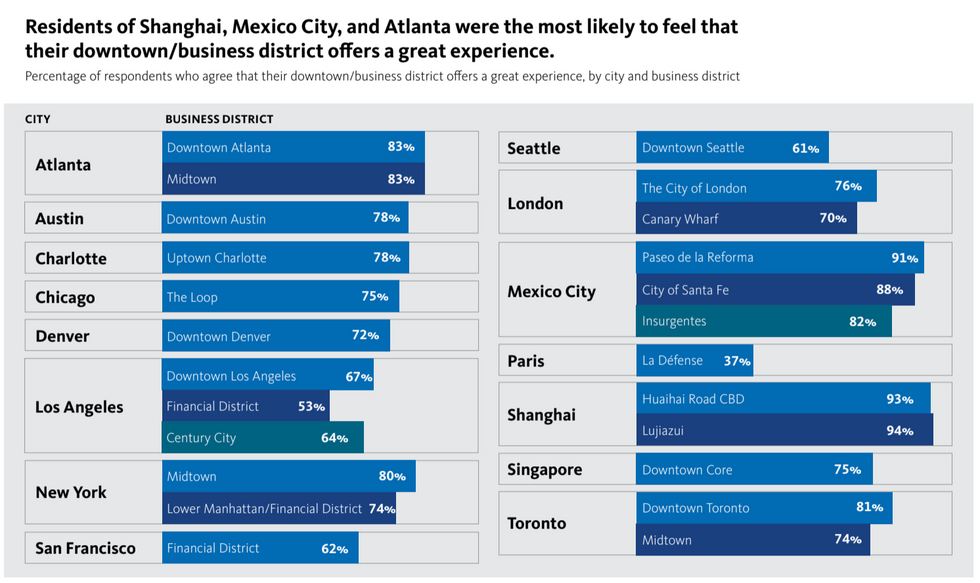 (Gensler)
For Melanie Gartman, a manager at construction software company Levelset who has been living in Austin for most of her life, the needs and wants of the average resident closely align with her own.
Austin clocked in second-most desirable downtown, tied with Charlotte, North Carolina. Like the 78% of Austinites in the survey, Gartman said she thinks Downtown Austin is hanging on to its lovable charm.
"Even now with fewer people out and about it's still very vibrant and lively. I feel like I saw life come back to downtown a lot sooner than I expected it to," Gartman said. "It's still holding on a bit that Austin vibe and with the high rises coming in, it's scary that we could lose that. I think it's holding on better than I would have expected, especially within the last two years of everything that happened."
As Austinites eased back into downtown, the first stop Gartman made was to go see music again. Since venues opened back up, Gartman and her loved ones have seen live music at their favorite venues: Moody Amphitheatre, Mohawk, The Parish and Empire Control Room.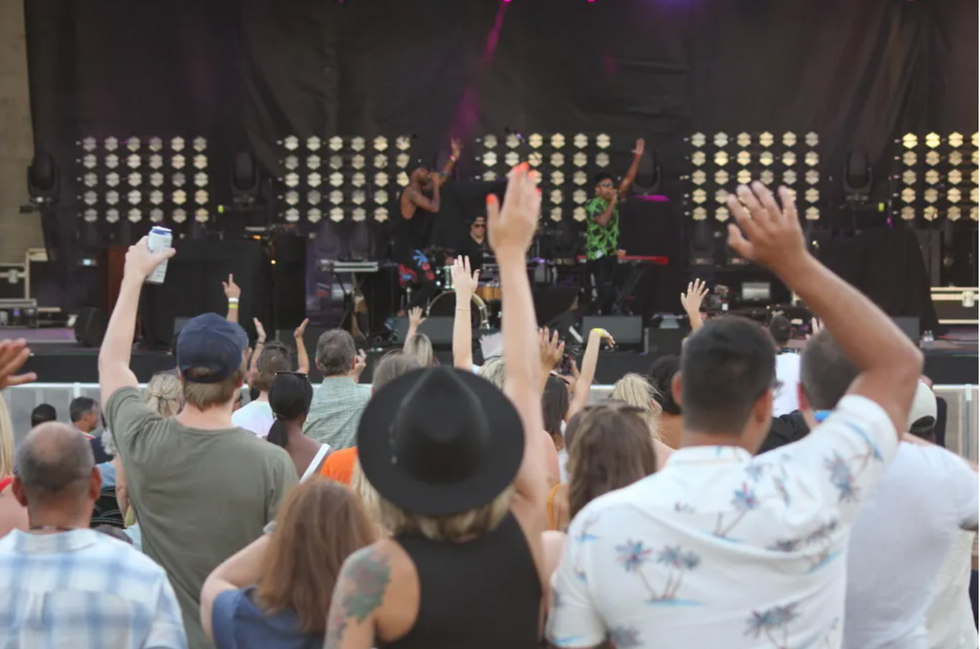 Blackillac opened for Gary Clark Jr. at the Moody Amphitheater's first show back in August. (Laura Figi/Austonia)
Entertainment is most important for Gartman's life in Austin—seeing Gary Clark Jr. in August brought normalcy back into her routine—and said our local downtown is the ideal out of other cities in Texas.
"I've always noticed that between Houston's downtown and Austin's, Houston's is so Monday to Friday, eight to five, maybe a post-work happy hour," Gartman said. "Growing up, downtown (Austin) was always the place to go. It has always been the hub and I think Austin is unique in that way."
Traffic in downtown areas is way down overall, even though concern over pandemic safety has taken a backseat. Shopping traffic has decreased by 28%, dining out and entertainment attendance dropped by 33% in the post-pandemic sphere.
Even though her office is located downtown, Gartman usually works from home. Her downtown visits tend to be for the purpose of entertainment and she said the lack of parking sometimes becomes problematic.
"I feel like all these high rises are taking over all the parking," Gartman said. "It used to be for go-to parking, I would just park under I-35. No big deal. But now, that's kind of scary, especially if you're by yourself. The party parking is a barrier to actually making it down there."
But with the rise of the hybrid work model, it's likely that the downtown sphere is going to change all across the U.S. For now, survey participants said they would like to see their downtown reduce traffic, add more green space, improve the cityscape and increase parking capacity as we shape the future of cities.