Austonia AM
100% Austin news, info, and entertainment, straight to your inbox at 6 a.m. every morning.
In five minutes, you're fully informed and ready to start another great day in our city.
Get connected with our daily update
Austin voters overwhelmingly supported Prop B—a city code amendment to reinstate restrictions on public sitting, lying, camping and panhandling in certain parts of downtown, near East Austin and West Campus—during the May 1 election.
Prop B's passage raises many questions, including what enforcement will look like and where homeless residents who are camping in the designated areas will go. Austonia has answers to five of these questions below.
---
When will the ban be reinstated? 
The new ordinance will take effect on Tuesday, May 11, according to a city spokesperson. In the meantime, city staff will be evaluating options for how to best implement the new ordinance, focusing first on individuals living in camps that present higher health and safety risks.
Where will homeless campers go?
This question remains unanswered.
Richard Bryant became homeless a year and a half ago after moving to Austin for a job that fell through shortly after he started working. He's been on a waitlist for housing for more than a year; in the meantime, he camps downtown.
Prop B's passage has Bryant concerned about his future. "They didn't provide a solution for the problem," he told Austonia while attending an anti-Prop B protest Monday morning. "We don't work, so how are we going to pay for tickets? If we don't pay for tickets, they're going to throw us in jail."
Once enforcement begins, Bryant expects the downtown campers will spread out into the wooded areas nearby. "People are going to die," he said.
Austin Mayor Steve Adler, who opposed Prop B, has repeatedly stressed that Prop B does nothing to provide housing or designate camping areas for homeless residents. Instead, he fears Bryant's prediction—that homeless people will be forced into less safe, and less visible, areas—will come true. "Let's get rid of tents the right way—the only real way—by housing people and not hiding them," he wrote in an April 27 opinion piece for Austin Monthly.
The Downtown Austin Alliance, which has been active in the city's homelessness efforts, also addressed this issue: "With Prop B's passage, we must provide real solutions and not just enforcement strategies," the local nonprofit wrote in a statement Saturday. "We need to provide clarity for those experiencing homelessness on where they can go, allow for voluntary compliance before ticketing, and provide mental health services and (ensure) adequate time to establish plans and alternatives to camping."
How will the Austin Police Department enforce the new ordinance?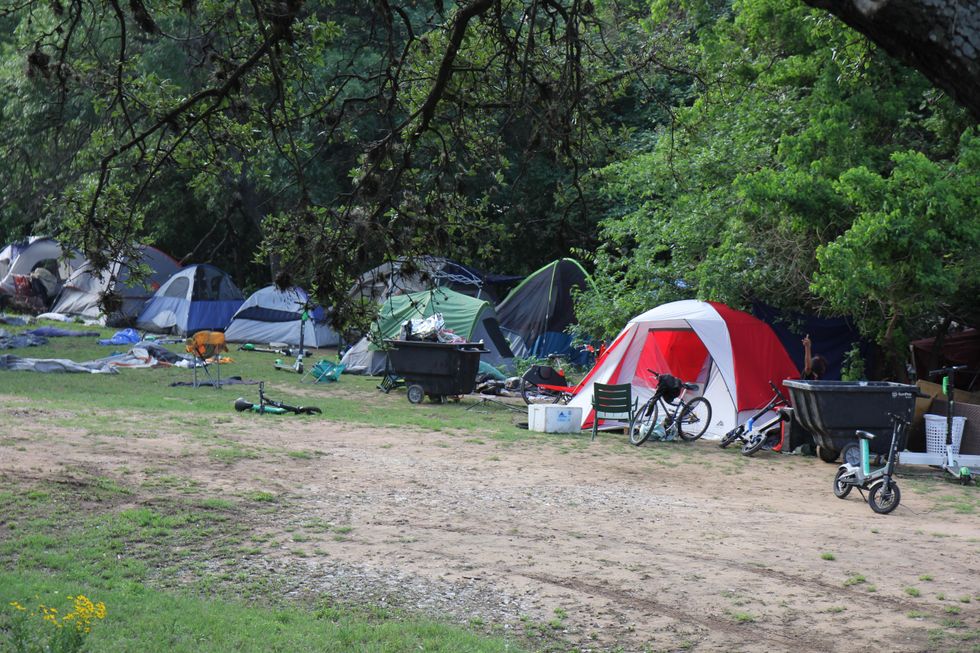 A new ordinance prohibiting camping, among other activities, in certain designated areas will take effect next week. (Laura Figi/Austonia)
APD is still developing its enforcement plan and training its officers to respond to the new ordinance, a spokesperson told Austonia.
Prop B proposed an ordinance "that would create a criminal offense and a penalty" for those sitting, lying down or sleeping outdoors in certain areas, but it did not specify what the offense would be. Before council overturned the ban in 2019, violation of it was considered a Class C misdemeanor, which carries a maximum fine of $500 and no jail time.
Such citations, homeless advocates say, do nothing to address the root causes of homelessness but, if they go unpaid, can lead to arrest warrants that can make it harder for homeless people to access housing, employment and other resources.
Is there a possibility of a court challenge? 
Although no Austin officials have suggested this so far, there are reasons to question the legality of a camping ban.
A group of homeless people in Boise, Idaho, sued their city in 2009, alleging that a local camping ban was unconstitutional because there was not adequate shelter space. A federal judge ruled in their favor, and the 9th U.S. Circuit Court of Appeals upheld the ruling. The Supreme Court declined to review the appellate decision in 2019.
Boise City Council approved a new local ordinance allowing homeless people to camp outside in February, as part of a settlement agreement that also includes $1.3 million in payments to homelessness prevention nonprofits.
The Boise case partly inspired Austin City Council's 2019 decision to overturn the local camping ban, both because the city did not have enough shelter beds and because of the possibility of a legal challenge. "Criminalizing homelessness and really upholding camping bans when there isn't enough shelter to house the population could be something that could be a violation of the citizen's rights," Texas Homeless Network President and CEO Eric Samuels told Austonia last week. "Boise went through all of this."
What is being done to connect homeless people to housing? 
The city is in the midst of several efforts to provide housing, including to homeless people living in four designated camps, which city officials have said will continue regardless of the election outcome.
In addition, the city continues to purchase motel and hotel properties to convert into housing for homeless residents, despite substantial pushback from neighboring residents and businesses.
During a recent summit on homelessness, city officials and community leaders developed a plan to address unsheltered homelessness. The main goal, which Homeless Strategy Officer Dianna Grey presented to council last month, is to house 3,000 people in the next three years at a cost of $250 million.
Local nonprofit Mobile Loaves & FIshes also announced plans last month to vastly expand Community First! Village, a 51-acre master-planned development that is home to more than 220 formerly chronically homeless residents. The two-phase expansion will add 1,400 micro homes across two pieces of land, with development to begin in summer 2022.
After Austin voters decisively passed Proposition B, City Council is revisiting the idea of sanctioned encampments: places where homeless residents can camp free from the threat of citation, fines or arrest—and where those will go in the city.
Prop B, which will reinstate city bans on sitting, lying, camping and panhandling in certain areas of central Austin starting Tuesday, passed with nearly 58% of the vote in the May 1 election. Council then voted unanimously on Thursday to direct the city manager to develop a plan and budget for temporary sanctioned encampments, including 10 possible sites, one in each council district, by next week.
Council Member Kathie Tovo, who sponsored the resolution, said such sites are critical with the city's emergency shelters and Camp Esperanza, a state-run campsite off of Hwy. 183 near Montopolis, at capacity. "When individuals in encampments ask where they should go, we need to have places to suggest," she said Thursday.
The concerns

The resolution approved Thursday directs city staff to assess all other funding sources before considering those earmarked for affordable housing. Council directed city staff to identify possible city-owned properties that could serve as sanctioned encampments. The dataset below shows properties owned by the city.
Matthew Mollica, executive director of the Ending Community Homelessness Coalition, said it is critical that public works funding is used; if housing dollars are reallocated toward sanctioned encampments, it could worsen the city's homeless problem by defunding the one proven solution. "Creating sanctioned encampments… is a public space management strategy," he said. "It is very clearly not a strategy to end homelessness in our community."

Homelessness experts and city staff say sanctioned encampments are problematic for many reasons: they are expensive to maintain, challenging to manage and hard to close, even when intended to be temporary.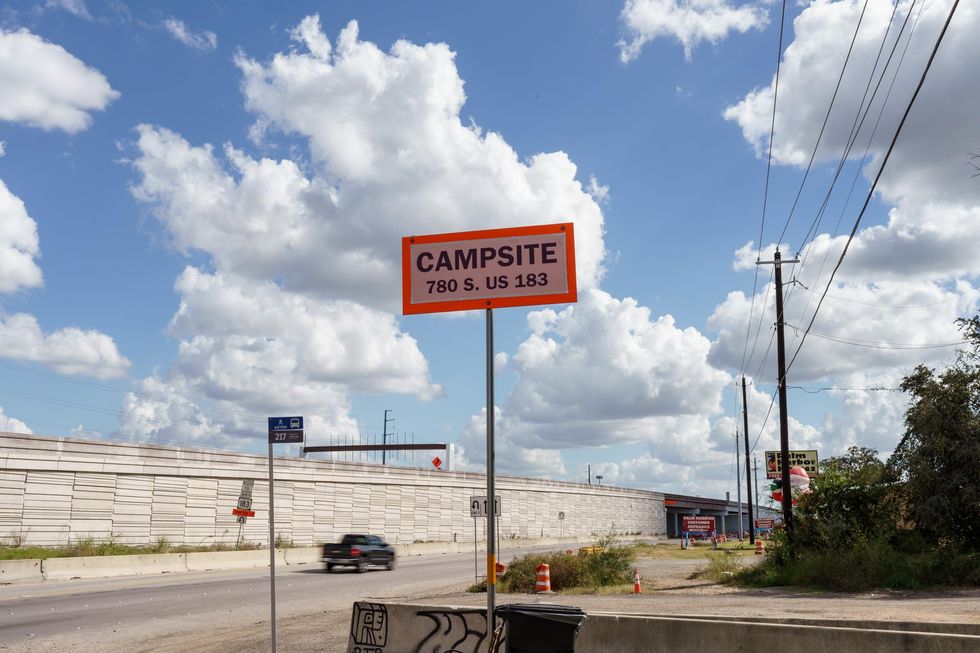 Camp Esperanza, the state-sanctioned homeless camp in Southeast Austin, opened in late 2019 and is home to approximate 150 people. (Jordan Vonderhaar)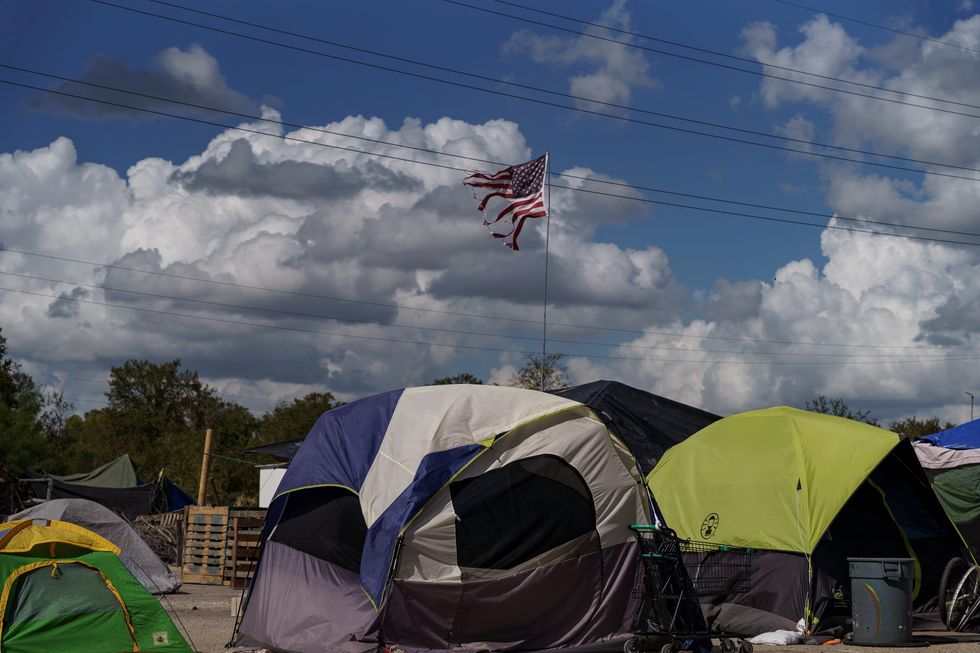 The Other Ones Foundation, a local nonprofit, operates the camp, providing work opportunities, case management, hygiene and laundry facilities, and a community shelter, among other services. (Jordan Vonderhaar)
In 2019, city staff declined to make recommendations for sanctioned encampments despite being directed by council to do so, citing 2018 guidance from the U.S. Interagency Council on Homelessness. "Neither authorized encampments nor parking areas provide housing for people experiencing homelessness," staff wrote in a memo. "Rather, each option detracts from the staff resources assigned to addressing this moral imperative."
Barbara Poppe, a nationally recognized homelessness policy consultant who has advised the city of Austin, said it is inefficient for cities to provide support services at sanctioned encampments when they could focus on housing efforts. She added that it is also unlikely the city will be able to establish enough sanctioned campsites to serve every homeless person, meaning that some will remain in violation of the ban.
The mandate

Despite these concerns, council is moving forward with two policies they previously abandoned: the camping ban and sanctioned encampments.
Cleo Petricek, co-founder of Save Austin Now, the local political action committee that spearheaded Prop B, is glad the city is moving forward with sanctioned encampments, which she feels are necessary in addition to ongoing efforts to provide housing support. "Regardless of the long-term strategies, it's long-term," she said. "We are in a humanitarian crisis right now."
Petricek points to the state-run campsite as a successful model and said the city's sanctioned encampments should be in industrial areas, far from schools, parks and residential neighborhoods. "It is undeniable that these (camps) will have an impact on surrounding areas," she said, citing recent fires and other crime. "We have to expect these worst-case scenarios."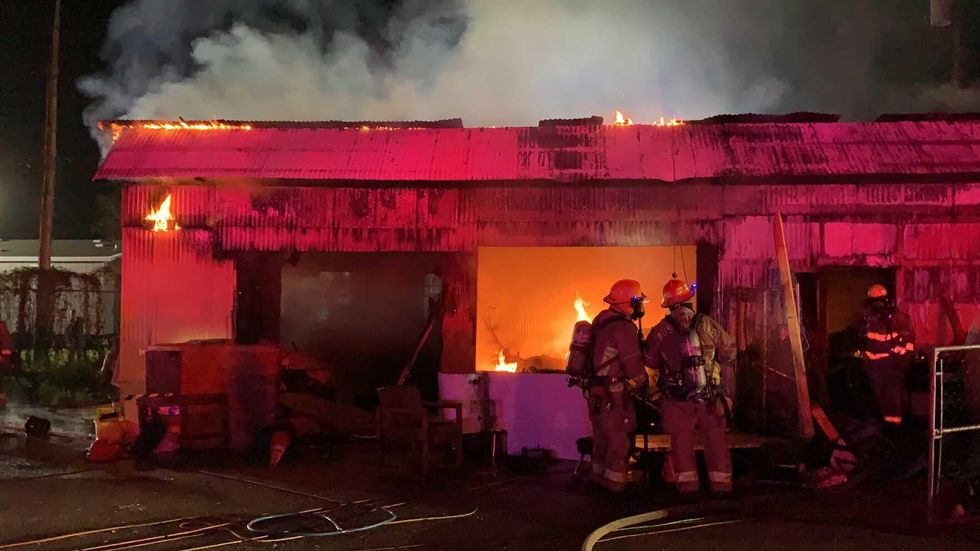 A fire broke out at the state-sanctioned homeless camp in Southeast Austin on April 2. (Austin Fire Info/Twitter)
Homeless services providers argue this approach is inhumane and leaves homeless people isolated from resources. They also warn that, wherever the sanctioned encampments are located, they are likely to prompt pushback. Petricek, a local Democratic advocate, successfully organized a petition in opposition to a proposed homeless shelter in South Austin, near her home, in 2019. The city's recent hotel purchases, for conversion into homeless housing, also prompted protests.

As Austin police and other city departments begin enforcing the camping ban on Tuesday, homeless advocates say the homeless are left without a clear, legal option: "There is no place for them to go," Mollica said.
Ingredients:
1 1/2 oz of hibiscus-infused Tito's Handmade Vodka
2 oz sparkling water
1 oz fresh lime juice
3/4 oz simple syrup
1 tsp allspice dram
Directions: Add infused Tito's Handmade Vodka, lime juice, and simple syrup to a shaker with ice. Shake and strain into a glass over fresh ice. Top with sparkling water, and garnish with a lime slice. Enjoy!
Jersey Number: 20

Hometown: Chester, New Jersey
Position: Right winger
Age: 24
Former club: New York Red Bulls
Background
NEWS: We've signed Jared Stroud to an MLS contract

Welcome, @JollyJ_Tweets

📰➡️ https://t.co/BbleRdjP3E#RedRunsDeep | #RBNY pic.twitter.com/GbiiJC5ERG

— New York Red Bulls (@NewYorkRedBulls) January 7, 2020
Back before Jared Stroud helped Austin FC to two of the team's four goals, the 24-year-old right winger was quickly rising up the ranks at the New York Red Bulls.
After graduating from Colgate University, men's soccer standout, where he was named to the All-Patriot League twice, Stroud was drafted to USL side New York Red Bulls II in 2018, where he scoring seven goals and added 11 assists. A year later, Stroud was the team leader with 15 goals and nine assists in his 34 appearances, granting him a berth in the first-division New York Red Bulls.
In his first season with the MLS, Stroud added two assists to the club in 20 appearances. It wasn't an ideal debut, however, and the onset of the pandemic kept stands quiet for his inaugural professional season.
Still, Stroud helped take the team to the playoffs in 2020. When Stroud was chosen as Austin FC's second pick in the MLS Expansion Draft, he felt ready to play outside of New York for the first time and bring his best to Austin.
"I thought I played well and started in the majority of games for a playoff team which gave me confidence for this year to kind of work on that and get better," Stroud said. "For me, I have my personal goals in terms of numbers, but right now, it's just about approaching every game in the best way possible."
With Austin FC
An eight-game road schedule to open the season means @JollyJ_Tweets and the team are focused on taking it one game-at-a-time. pic.twitter.com/mzrQLm2nau

— Austin FC (@AustinFC) May 7, 2021
The former Colgate all-time assist leader is back to doing what he knows best. Stroud helped solidify Austin FC's first-ever win streak after sending a perfectly-placed cross to Diego Fagundez to land his first assist with the club. The goal mirrored a week prior when Fagundez capitalized off a deflected shot by Stroud and brought in Austin FC's first-ever goal.
In just three weeks, Stroud has found his groove with five shots and an assists, and he's already had more shots on goal (2) than he ever did with the Red Bulls. He may be the man of the moment, but Stroud wasn't expected to start at right wing at the beginning of the season.
Stroud helped change the tempo of the game vs. LAFC when the club fell into a rut in the second half, coming in for Rodney Redes in the 59th minute and injecting more energy into their gameplay. He was rewarded with a starting spot the next week vs. LAFC, which head coach Josh Wolff said was well-deserved.
"He's tireless and unapologetically he competes with his teammates and with the opponent, which is great because that becomes infectious." Wolff said. "And he's somebody that's there every day... he helped get us going right directions."
Stroud has at least temporarily replaced fellow right winger Redes in the starting lineup, but that's not due to anything Redes has done. Wolff has stated that it's a great feeling when there's too many starting options for a club instead of too few, and even though Stroud is competing with Redes, he said the two are great friends on and off the pitch.
"We're all super good friends," Stroud said. "Between all the wingers, we want to see each other grow and get better... and that's an important part of the team is just to have that competitive spirit and to have guys fighting for positions."
Now with two wins on the record, Stroud said the energy's been much livelier on and off the pitch, and they hope to keep that running as they face Sporting Kansas City this weekend.
"I think everything's better when you're winning," Stroud said. "Everyone's happier, there's a better vibe around the club. Getting the monkey off our back in Colorado, the plane ride home was super fun. That's why we want to go out there and get results every week for everyone."
Off the pitch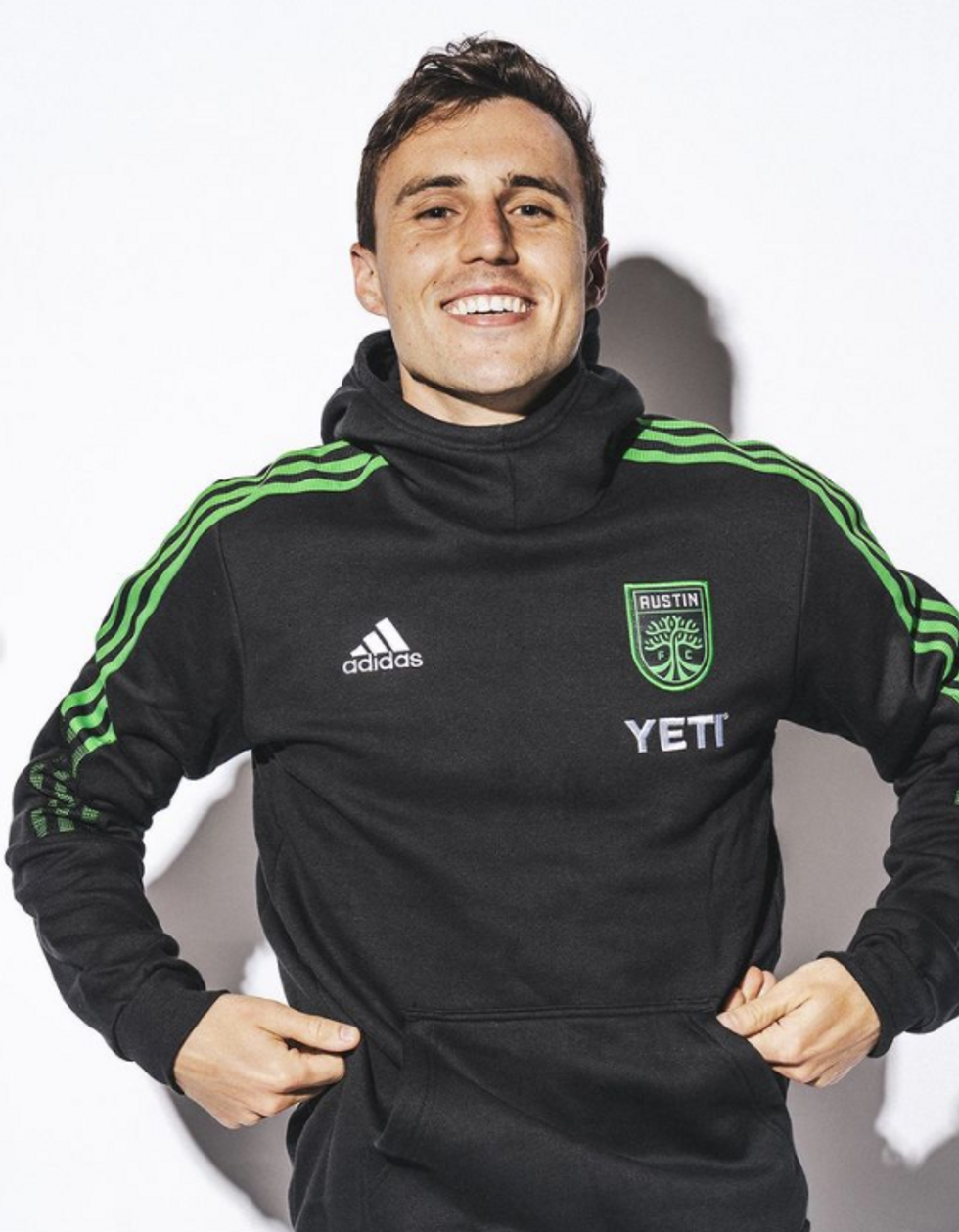 (Jared Stroud/Instagram)
Stroud's family hadn't seen him play since before the pandemic began in 2020, but the two got a big dosage of that Austin soccer spirit when they traveled to watch him play in Minnesota. They were immediately welcomed and invited to watch the match with Austin FC fans Los Verdes, something that Stroud said was a great experience for their first match back.
"It was really nice to have them fly out and be vaccinated and see them again, and knowing they were up there was nice," Stroud said. "They they enjoyed the fans (and) they had a blast.
Stroud is a man of the fans himself. Just as Diego Fagundez held up the "LV" in honor of Los Verdes after his first goal and Alex Ring led a fan chant after the Colorado Rapids victory, Stroud honored the fans with a photo after the match. He said the fans are his main motivator and he's happy to have them around after a year of silence in the pandemic.
"They're, they're the livelihood of the club, they're the energy of the club, (and) we play for them," Stroud said. "I swear they were louder than the Colorado fans, (and) It was great to interact with them and see them at every game. It means it means the world to us, and we see them in the crowd."
Stroud also has a brother, Peter Stroud, who is following in his footsteps and made the All-ACC Men's Soccer Third Team as a freshman midfielder at Duke.
Austonia FC