Get connected with our daily update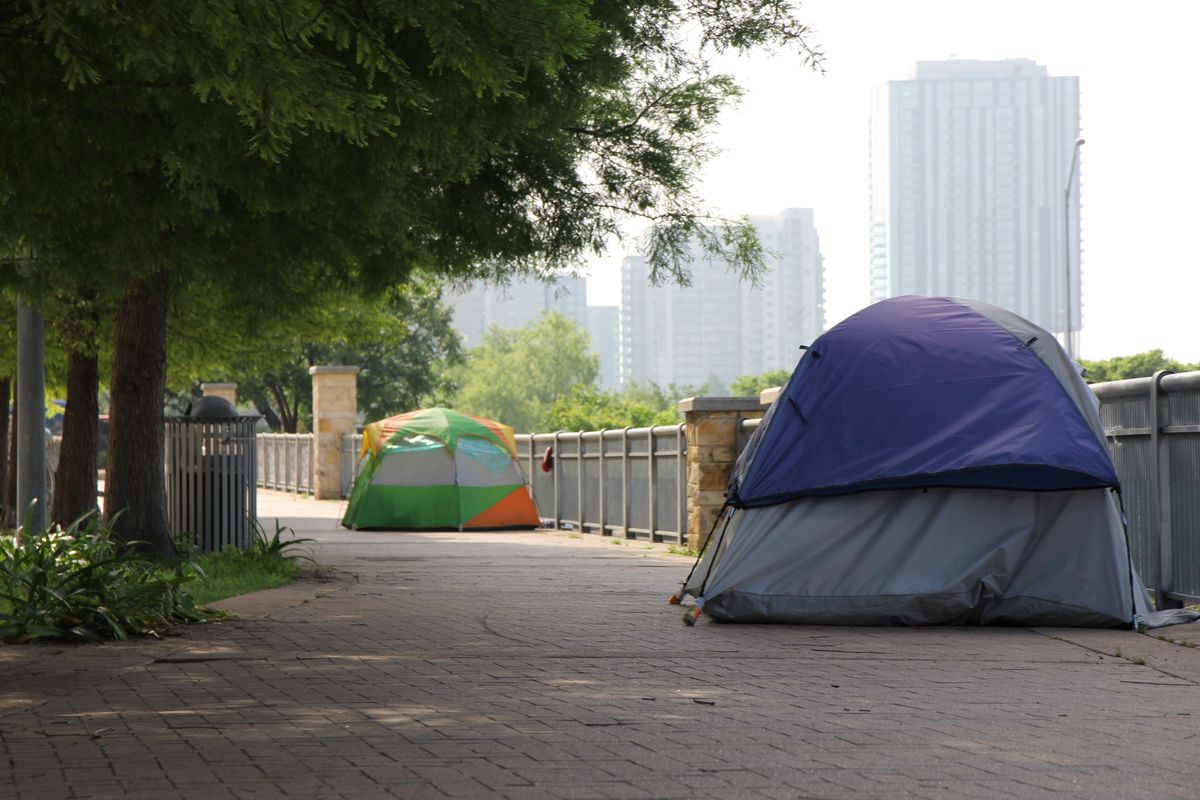 Austin voters overwhelmingly supported Prop B—a city code amendment to reinstate restrictions on public sitting, lying, camping and panhandling in certain parts of downtown, near East Austin and West Campus—during the May 1 election.
Prop B's passage raises many questions, including what enforcement will look like and where homeless residents who are camping in the designated areas will go. Austonia has answers to five of these questions below.
---
When will the ban be reinstated? 
The new ordinance will take effect on Tuesday, May 11, according to a city spokesperson. In the meantime, city staff will be evaluating options for how to best implement the new ordinance, focusing first on individuals living in camps that present higher health and safety risks.
Where will homeless campers go?
This question remains unanswered.
Richard Bryant became homeless a year and a half ago after moving to Austin for a job that fell through shortly after he started working. He's been on a waitlist for housing for more than a year; in the meantime, he camps downtown.
Prop B's passage has Bryant concerned about his future. "They didn't provide a solution for the problem," he told Austonia while attending an anti-Prop B protest Monday morning. "We don't work, so how are we going to pay for tickets? If we don't pay for tickets, they're going to throw us in jail."
Once enforcement begins, Bryant expects the downtown campers will spread out into the wooded areas nearby. "People are going to die," he said.
Austin Mayor Steve Adler, who opposed Prop B, has repeatedly stressed that Prop B does nothing to provide housing or designate camping areas for homeless residents. Instead, he fears Bryant's prediction—that homeless people will be forced into less safe, and less visible, areas—will come true. "Let's get rid of tents the right way—the only real way—by housing people and not hiding them," he wrote in an April 27 opinion piece for Austin Monthly.
The Downtown Austin Alliance, which has been active in the city's homelessness efforts, also addressed this issue: "With Prop B's passage, we must provide real solutions and not just enforcement strategies," the local nonprofit wrote in a statement Saturday. "We need to provide clarity for those experiencing homelessness on where they can go, allow for voluntary compliance before ticketing, and provide mental health services and (ensure) adequate time to establish plans and alternatives to camping."
How will the Austin Police Department enforce the new ordinance?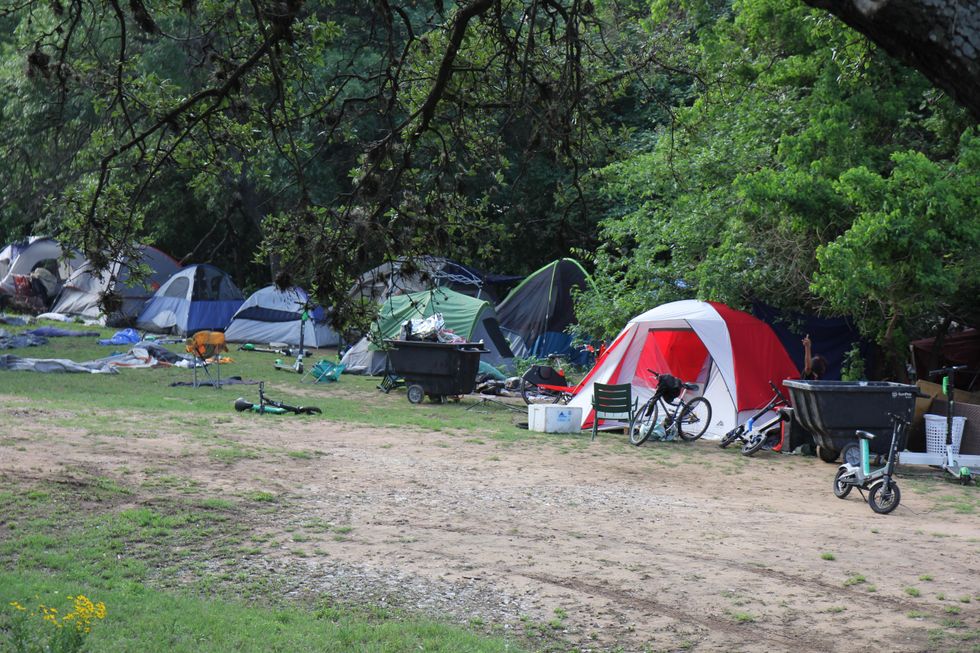 A new ordinance prohibiting camping, among other activities, in certain designated areas will take effect next week. (Laura Figi/Austonia)
APD is still developing its enforcement plan and training its officers to respond to the new ordinance, a spokesperson told Austonia.
Prop B proposed an ordinance "that would create a criminal offense and a penalty" for those sitting, lying down or sleeping outdoors in certain areas, but it did not specify what the offense would be. Before council overturned the ban in 2019, violation of it was considered a Class C misdemeanor, which carries a maximum fine of $500 and no jail time.
Such citations, homeless advocates say, do nothing to address the root causes of homelessness but, if they go unpaid, can lead to arrest warrants that can make it harder for homeless people to access housing, employment and other resources.
Is there a possibility of a court challenge? 
Although no Austin officials have suggested this so far, there are reasons to question the legality of a camping ban.
A group of homeless people in Boise, Idaho, sued their city in 2009, alleging that a local camping ban was unconstitutional because there was not adequate shelter space. A federal judge ruled in their favor, and the 9th U.S. Circuit Court of Appeals upheld the ruling. The Supreme Court declined to review the appellate decision in 2019.
Boise City Council approved a new local ordinance allowing homeless people to camp outside in February, as part of a settlement agreement that also includes $1.3 million in payments to homelessness prevention nonprofits.
The Boise case partly inspired Austin City Council's 2019 decision to overturn the local camping ban, both because the city did not have enough shelter beds and because of the possibility of a legal challenge. "Criminalizing homelessness and really upholding camping bans when there isn't enough shelter to house the population could be something that could be a violation of the citizen's rights," Texas Homeless Network President and CEO Eric Samuels told Austonia last week. "Boise went through all of this."
What is being done to connect homeless people to housing? 
The city is in the midst of several efforts to provide housing, including to homeless people living in four designated camps, which city officials have said will continue regardless of the election outcome.
In addition, the city continues to purchase motel and hotel properties to convert into housing for homeless residents, despite substantial pushback from neighboring residents and businesses.
During a recent summit on homelessness, city officials and community leaders developed a plan to address unsheltered homelessness. The main goal, which Homeless Strategy Officer Dianna Grey presented to council last month, is to house 3,000 people in the next three years at a cost of $250 million.
Local nonprofit Mobile Loaves & FIshes also announced plans last month to vastly expand Community First! Village, a 51-acre master-planned development that is home to more than 220 formerly chronically homeless residents. The two-phase expansion will add 1,400 micro homes across two pieces of land, with development to begin in summer 2022.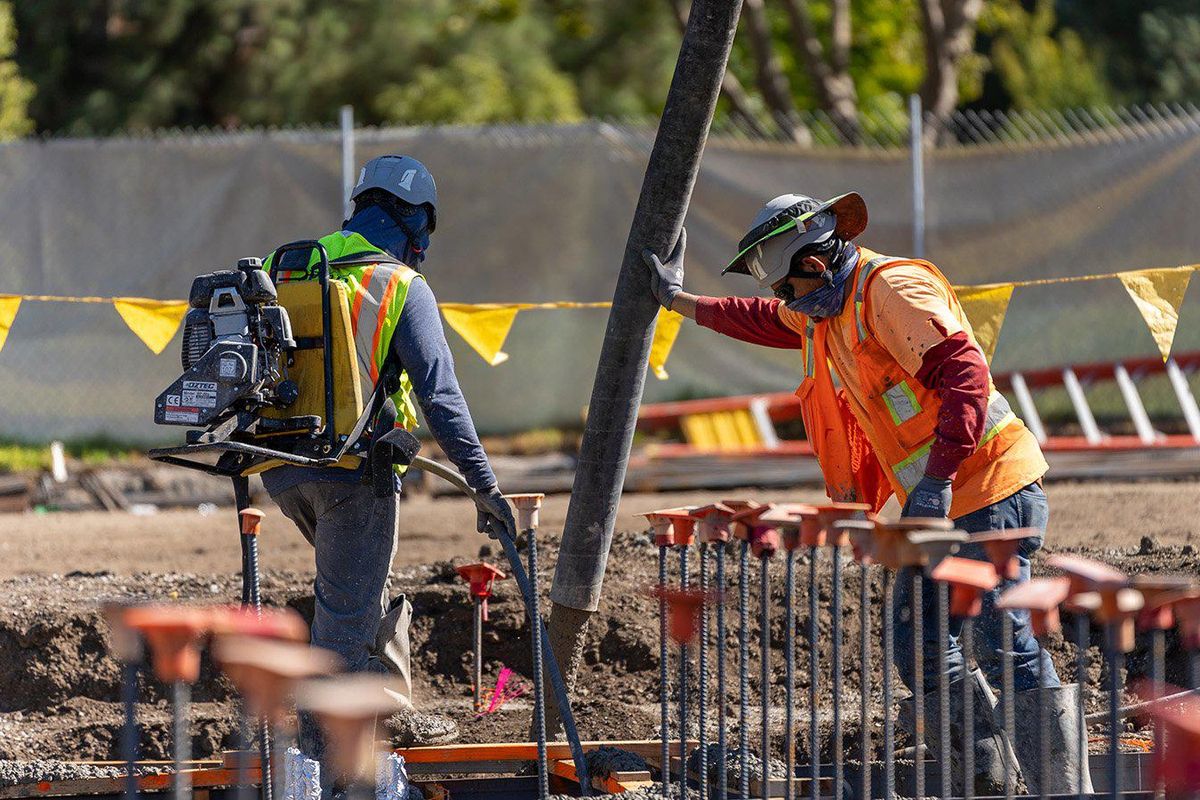 More homes of all shapes and sizes are cropping up in Austin than in any other U.S. city.
According to a Redfin report, Austin had more single-family building permits per capita than any other metro in the country in the first quarter of 2022. With 31.1 building permits per 10,000 residents, the city tops nine other Sun Belt cities that made the top 10 list.
And the city is doing more than just building that quintessential single-family home: Austin also topped the list for new multifamily property permits, with 26.1 permits per 10,000 people in the same quarter. The city has plans to add density and affordability to the most popular areas of the metro, including properties near stops on the planned Project Connect rail.
Austin has been the crown jewel in the Sun Belt's mass migration—and later, severe housing shortage—as remote workers and outpriced big-city dwellers flocked to fairer skies amid the pandemic. And that population swell has been felt across the region: in Austin, one-bedroom rentals rose 112% in just a year, and bidding wars have become common as prospective homebuyers fight in the limited market.
In April, Austin's median home prices set yet another record as they rose to $550,000. Inventory sits at 0.7 months, far below the six-month sign of a healthy market. But rapid building may be putting an early dent in the shortage. In April, active listings jumped 52.5%, causing the biggest year-over-year rise in inventory since 2017.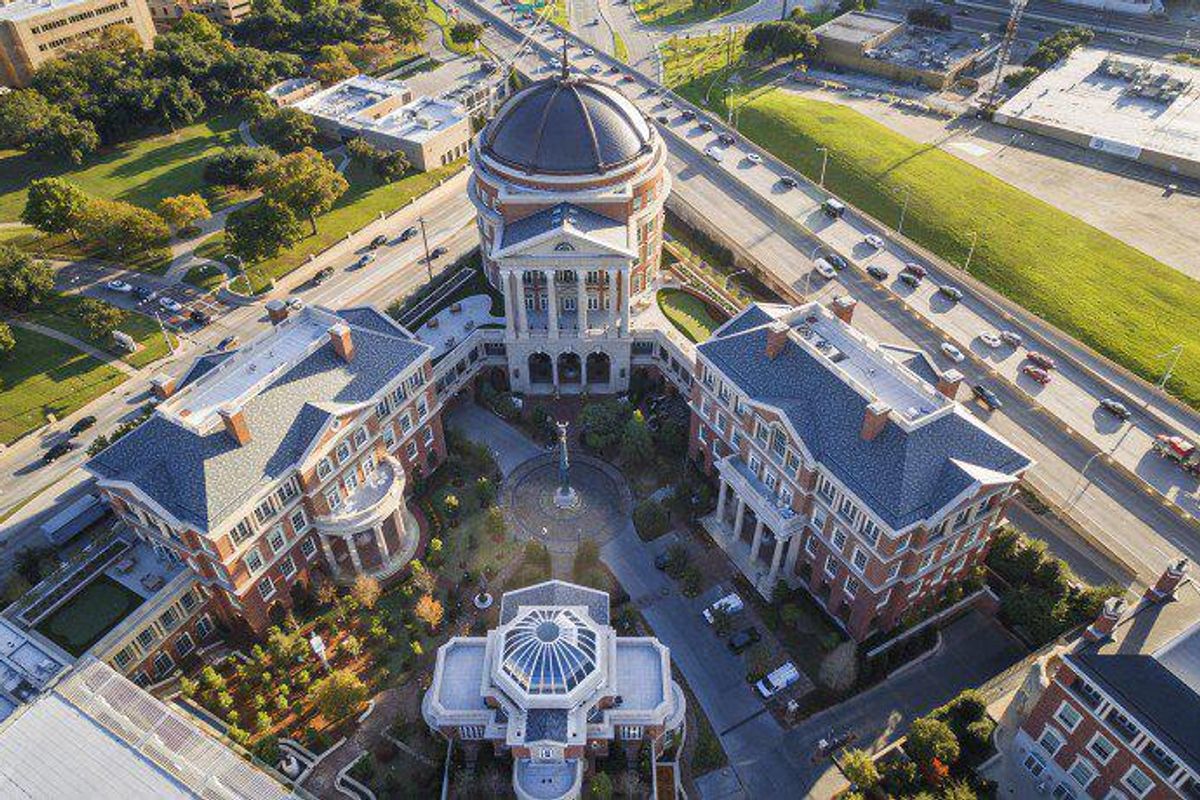 The University of Austin is launching its controversial "Forbidden Courses" program Monday with two weeklong sessions at the Old Parkland Campus in Dallas.
The courses, which were announced by the new, unaccredited university when it was launched in November 2021, will be attended by 80 students as they "cultivate the habits of civil discourse." The university said it will look to investigate a different question each week, starting with "Who am I as an individual?" as it encourages seminar attendees to "discuss and debate the most vexing questions of our time."
This week, the university announced new speakers at the inaugural event, including Marvel co-president Robert Steffens; Jack Abraham, CEO of venture capitalist firm Atomic; Catherine Boyle, General Partner of V.C. firm Andreessen Horowitz; military strategist Edward Luttwak; and Founders Fund Michael Solana.
The no-credit seminar will include eight courses, including:
"Free vs. unfree societies in the 20th century" with Niall Ferguson
"Free speech, religion and women's rights" with Ayaan Hirsi Ali
"Approaches to climate change" with Dorian Abbot
"The psychology of social status" with Rob Henderson
"Varieties of feminism" with Kathleen Stock
"Ideology" with Jacob Howland
"Capitalism: catastrophe or triumph?" with Deirdre McCloskey
"Black male writing from Richard Wright to Ta-Nehisi Coates" with Thomas Chatterton Williams
The "Forbidden Courses" earned its moniker from its founders, who said they created the university due to worries of restricted free speech on college campuses nationwide. Founders include incoming president Pano Kanelos, who described the current education system as "fractured," former New York Times op-ed editor Bari Weiss, academic Steven Pinker, and former Harvard University president Lawrence H. Summers. Weiss will also be a workshop leader at the seminar.
"We call our summer program the Forbidden Courses because the current turbulence–political, social, and cultural–is forbidding us from encountering one another honestly and authentically," the university's Forbidden Courses site reads. "Those who are going to lead, to innovate, to create, must learn how to rise above the static noise of social media, of commerce, of ideology, to see the world with greater clarity. Most importantly, we must learn again how to learn from one another."
Each student will take one course per week and participate in multiple workshops led by authors, educators, physicists and U of A founders including Weiss. The university, which has no physical campus, is unaccredited, and no classes will count for college credit. According to the organization, students attending include current Ivy League students, startup founders, published authors and scholars as well as college dropouts, first-generation students and those of "all political persuasions." Applications are currently closed.
The university is awaiting official nonprofit status and has Cicero Research, led by Austin-based tech investor and Palantir founder Joe Lonsdale, as its temporary sponsor. While it plans to hold "Forbidden Courses" every year and start masters' programs for entrepreneurship and leadership this fall, undergraduate programs are not expected to begin until 2024.