Get connected with our daily update
(Ken Martin / The Austin Bulldog)
Austin voters will find five propositions on the May 1 ballot that stem from a citizen-led petition organized by Austinites for Progressive Reform, a political action committee. The quintet is intended to increase voter turnout, according to the group, and includes four mostly uncontroversial proposals. Proposition F, however, prompted swift pushback from an odd bedfellows coalition that includes local unions, business interests and most council members. The proposal? To change the city of Austin's government from a strong-manager system to a strong-mayor one.
---
Austin currently operates like a business, according to Terrell Blodgett, a professor emeritus at the LBJ School of Public Affairs and a proponent of the current system. An elected board of directors, the City Council, is led by a chairperson, the mayor, who works together to set policies. The city manager, whom they appoint, functions like a CEO, implementing those policies and managing staff. Under a strong-mayor system, the city manager position would be eliminated and replaced by the mayor, who would not vote on items brought to council but could veto legislation approved by its members.
APR and Prop F supporters say the switch would empower voters, correct the Jim Crow-era origins of the city's strong-manager system and better position the city to address critical issues such as policing and homelessness. Opponents argue that a strong mayor would wield too much power, erode the gains of the 10-1 system and minimize the role of council.
Strong mayor, strong policy
Nelson Linder, APR co-chair and NAACP president, sees the five propositions as working in tandem to empower voters at a moment when voter suppression efforts are resurgent in Texas and around the country. "If we're going to be democratic, then let the voters decide (who runs this city)," he told Austonia.
In addition to possibly driving up turnout, Linder believes a strong-mayor system will be better suited to address the city's intractable issues. Opponents worry that a strong mayor will emerge as a "semi-dictator," but he thinks the role's increased authority will enable sweeping policy change and encourage consensus-building on council so as to preempt a veto. "I don't have any fear about somebody being out of control," he said, but rather city leadership not doing enough and then pointing fingers.
With the rapid changes happening in our city, we must choose to claim political power now. If we don't, the power structure will be more entrenched by those who oppose progress. We need a strong mayor, we need a strong council. We don't need an unelected city manager.
— keithkreeger (@keithkreeger) April 13, 2021
APR also stresses the Jim Crow-era origins of the city's strong-manager system, which was the result of a 1924 campaign led by Monroe Shipe, who developed Hyde Park as a whites-only neighborhood. This switch to a council-manager form of government reduced the influence of Black, Latino and low-income white Austinites "by building a wall between the voters and decision-makers," according to the PAC's website. Opponents say this is disingenuous, but Linder pushes back. "The origins of the council-management form of government, even today, are anti-democratic," he said.
If it ain't broke…
Jesús Garza, co-chair of the anti-Prop F organization Austin for All People and former city manager, believes a strong-manager system encourages collaboration. Under a strong mayor, council members may not bring up policy ideas that the mayor disagrees with for fear that they will be a non-starter and city management staff may refrain from making recommendations that are politically unpopular, but necessary, like an airport expansion, for the same reasons.

Garza disputes APR's claims that a strong mayor will increase accountability to voters. Under a strong-manager system, the city manager reports directly to council. If voters approve Prop F, a strong mayor could slow-roll the implementation of or veto policy approved by council members, who would have little recourse. "For me, that's lack of accountability," he said.
Selena Xie, president of the Austin EMS Association, participated in APR's steering committee efforts because she supports ranked-choice voting and a public campaign finance program. But she opposes Prop F, fearing it will make a gatekeeper of the mayor and flood future mayoral races with so much money that unions like hers will be priced out. "It's just scary for everybody," she said.
David Foster, Texas Director of Clean Water Action, worries that the city could elect a strong mayor in the future who opposes environmental protections and walks them back once in office. "This is our constitution," he said. "So this isn't something that we should only be thinking about in terms of what happens in 2022 or 2024. We need to think about 2032 and 2042."
The following organizations agree a Strong Mayor form of government is NOT right for Austin. Make your voice heard and join us in voting NO on Prop F.
Early voting begins Monday, April 19, and ends Tuesday, April 27. The last day to vote is Election Day on Saturday, May 1. pic.twitter.com/jhKDtYW5wl
— Austin for All People (@Austin4AllPpl) April 14, 2021
In addition to labor and environmental organizations, A4AP has recruited a diverse mix of Prop F opponents who rarely find themselves on the same side of political issues, including eight council members, local CEOs, the Austin Chamber, Austin Young Republicans, Liberal Austin Democrats, the Real Estate Council of Austin and criminal justice reform advocates. Garza sees this is a testament to the efficacy of a strong-manager system: "You can't argue with the success that Austin has had under this system."

Tesla has officially moved its headquarters from Silicon Valley to its under-construction Gigafactory in southeast Travis County.
In October, CEO Elon Musk had announced plans to uproot the HQ from California during a company shareholder meeting. The company's filing with U.S. securities regulators on Wednesday locked down the move.
It's unclear whether the 10,000 employees in Palo Alto will be required to move. An analyst told the Associated Press that while many may be given the option of staying, up to 50% could make the move with some motivated by a lower cost of living in Austin.
"It's tough for people to afford houses, and people have to come in from far away… there's a limit to how big you can scale in the Bay Area," Musk had previously said. Regardless of the HQ move, the company plans to increase production at its California plant.
The HQ swap is the latest development on Giga Texas, the approximately 1,700-acre factory that Tesla received at least $14.7 million in tax breaks for. The factory is on track to start production of its Model Y vehicles by year's end.
Musk has hinted at making the move for some time. Last year, while California health officials were concerned with the spread of COVID-19, Tesla's push to reopen the factory in Fremont set off a spat. During an earnings call in April 2020, he'd described the state's health orders as "fascist." Recently, Musk relocated his own residence from Los Angeles to Texas, bringing almost each one of his companies along with him, including the Boring Company, Neuralink and his foundation.
At the cutting edge of tech, music and business are many successful leaders who not too long ago weren't old enough to drive or vote.
These wunderkinds were honored in Forbes' prestigious "30 under 30" lists, which highlights hundreds of top young entrepreneurs in categories from social media to science, in the 2022 rendition of the list on Wednesday. Some of the Class of '22 were as young as 14, while the average honoree was around 28 years old. Ten of these burgeoning business moguls were from Austin, which has seen such distinguished 30 under 30 alumni as former UT basketball player Kevin Durant get top spots on the 10-year-old list.
Here's a look at the 10 Austinites who made the cut:
Downtown may be recovering from the pandemic but the priorities residents want in their city center are changing, according to the City Pulse Survey done by design firm Gensler.
After studying 7,500 people in 15 global markets, including Austin, Gensler found that life in COVID has pushed city-dwellers to want more outdoor activities, social spaces and entertainment venues in bustling business districts.
Post-pandemic, the highest-rated downtown activities were shopping, visiting parks and just "hanging out." The need for more public spaces like parks jumped from sixth on the list to second this year.
Although globally people view downtown as a business district for task-based activities, across the U.S., downtown districts are viewed more as a vehicle for entertainment. This is especially true for Austinites, where people surveyed said they would rather see more entertainment and cultural venues than shopping or public transit downtown.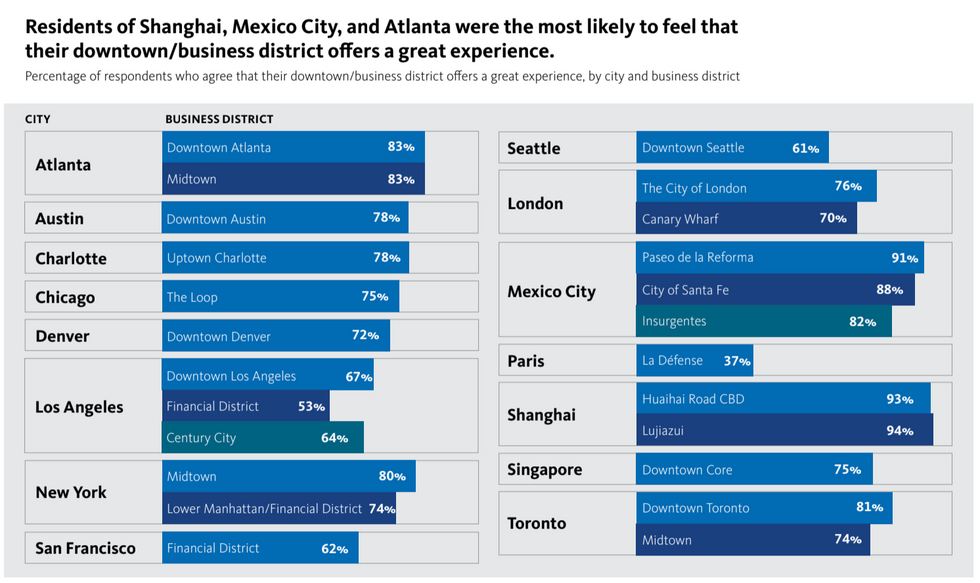 (Gensler)
For Melanie Gartman, a manager at construction software company Levelset who has been living in Austin for most of her life, the needs and wants of the average resident closely align with her own.
Austin clocked in second-most desirable downtown, tied with Charlotte, North Carolina. Like the 78% of Austinites in the survey, Gartman said she thinks Downtown Austin is hanging on to its lovable charm.
"Even now with fewer people out and about it's still very vibrant and lively. I feel like I saw life come back to downtown a lot sooner than I expected it to," Gartman said. "It's still holding on a bit that Austin vibe and with the high rises coming in, it's scary that we could lose that. I think it's holding on better than I would have expected, especially within the last two years of everything that happened."
As Austinites eased back into downtown, the first stop Gartman made was to go see music again. Since venues opened back up, Gartman and her loved ones have seen live music at their favorite venues: Moody Amphitheatre, Mohawk, The Parish and Empire Control Room.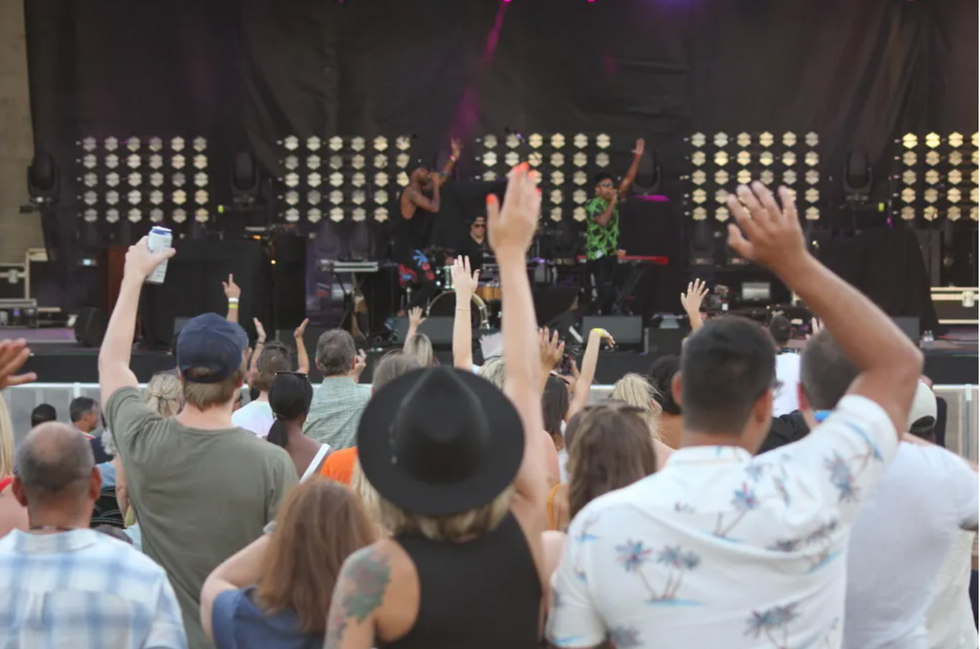 Blackillac opened for Gary Clark Jr. at the Moody Amphitheater's first show back in August. (Laura Figi/Austonia)
Entertainment is most important for Gartman's life in Austin—seeing Gary Clark Jr. in August brought normalcy back into her routine—and said our local downtown is the ideal out of other cities in Texas.
"I've always noticed that between Houston's downtown and Austin's, Houston's is so Monday to Friday, eight to five, maybe a post-work happy hour," Gartman said. "Growing up, downtown (Austin) was always the place to go. It has always been the hub and I think Austin is unique in that way."
Traffic in downtown areas is way down overall, even though concern over pandemic safety has taken a backseat. Shopping traffic has decreased by 28%, dining out and entertainment attendance dropped by 33% in the post-pandemic sphere.
Even though her office is located downtown, Gartman usually works from home. Her downtown visits tend to be for the purpose of entertainment and she said the lack of parking sometimes becomes problematic.
"I feel like all these high rises are taking over all the parking," Gartman said. "It used to be for go-to parking, I would just park under I-35. No big deal. But now, that's kind of scary, especially if you're by yourself. The party parking is a barrier to actually making it down there."
But with the rise of the hybrid work model, it's likely that the downtown sphere is going to change all across the U.S. For now, survey participants said they would like to see their downtown reduce traffic, add more green space, improve the cityscape and increase parking capacity as we shape the future of cities.