Get connected with our daily update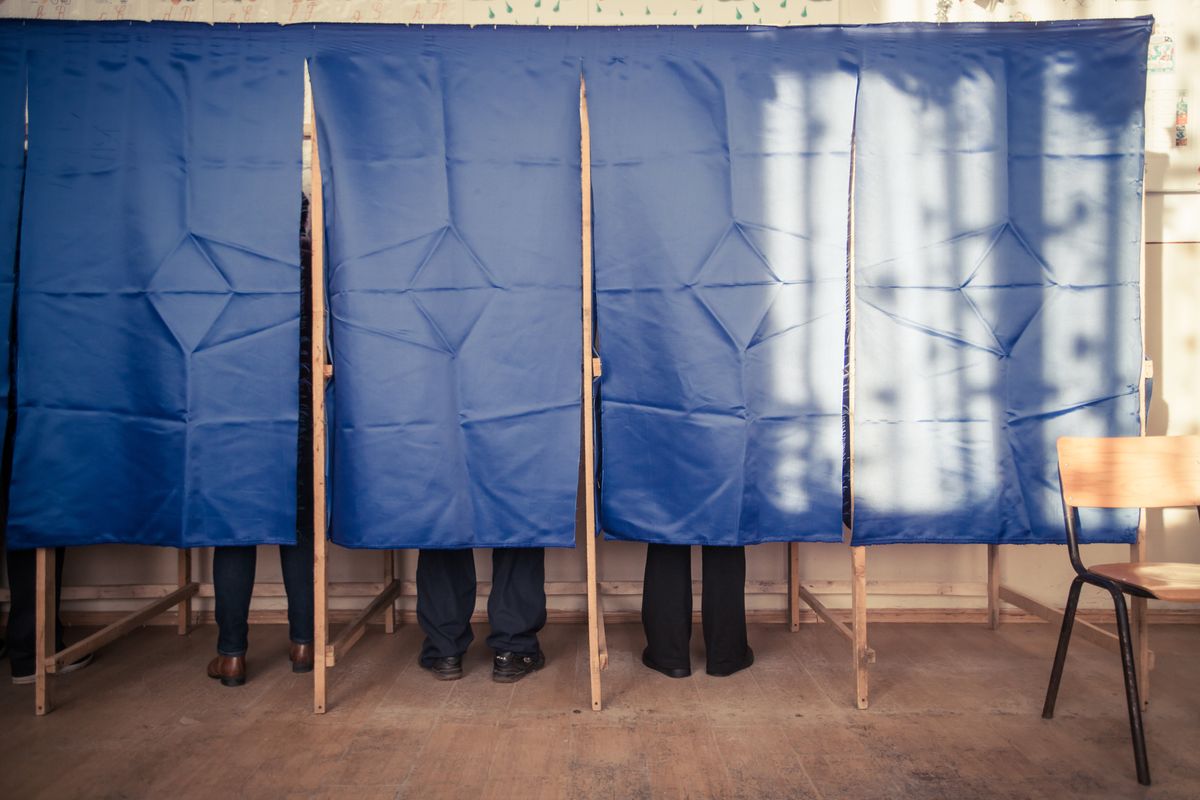 In addition to voting for president, members of Congress and Austin City Council this Nov. 3., local voters will find two propositions at the bottom of their ballot with both addressing mobility issues in the city of Austin.
---
Proposition A gives voters the chance to approve a permanent 8.75-cent increase to the city's property tax rate to help pay for Project Connect, a proposed $7.1 billion, 15-year overhaul of Austin's transit system, and maintain it. Austin City Council voted unanimously last month to put the issue on the ballot.
The ballot language is below:
Approving the ad valorem tax rate of $0.5335 per $100 valuation in the City of Austin for the current year, a rate that is $0.0875 higher per $100 valuation than the voter-approval tax rate of the City of Austin, for the purpose of providing funds for a citywide traffic-easing rapid transit system known as Project Connect, to address traffic congestion, expand service for essential workers, reduce climate change emissions, decrease traffic fatalities, create jobs, and provide access to schools, health care, jobs and the airport; to include neighborhood supportive affordable housing investments along transit corridors and a fixed rail and bus rapid transit system, including associated road, sidewalk, bike, and street lighting improvements, park and ride hubs, on-demand neighborhood circulator shuttles, and improved access for seniors and persons with disabilities; to be operated by the Capital Metropolitan Transportation Authority, expending its funds to build, operate and maintain the fixed rail and bus rapid transit system; the additional revenue raised by the tax rate is to be dedicated by the City to an independent board to oversee and finance the acquisition, construction, equipping, and operations and maintenance of the rapid transit system by providing funds for loans and grants to develop or expand transportation within the City, and to finance the transit-supportive anti-displacement strategies related to Project Connect. Last year, the ad valorem tax rate in the City of Austin was $0.4431 per $100 valuation.
If this proposition is approved, Project Connect will add two new light rail lines, including one with service to the airport; an underground downtown tunnel; and an expanded bus service. Around 55% of the cost, or $3.85 billion, will come from local taxpayer dollars. Capital Metro, the city's transit agency, says it will ask the federal government to cover the remainder of the costs.
Project Connect massive underground rail tunnelwww.youtube.com
The proposed tax rate would increase the median homeowner's city of Austin property tax bill by about 20% and the overall tax bill—which includes payments to other local taxing entities—by 4%. For the median homeowner, that means a $317 increase in his or her tax bill this year.

Assuming the city's property tax rate remains the same and the median home value increases 5% each year for the next 15 years, the Project Connect tax rate increase would lead to an overall increase of $6,840 between now and 2035. Assuming those same constraints, the total tax bill for the median homeowner would amount to $173,670.92 over that same period.
Project Connect is supported by all members of City Council as well as a large coalition of elected representatives at the state level, business leaders and community organizations. You can find a list of supporters on the Transit Now website, which is paid for by the Mobility for All political action committee, which supports the proposition.
Two new organizations—the Our Mobility Our Future PAC and Voices of Austin—have been vocal opponents of Project Connect, which they say is too expensive and depends on unsecured federal funding commitments.
"Austinites need to know that this isn't a bond election," Voices of Austin Executive Director said in a statement. "You can pay off a bond. This election is about a permanent tax hike."
Further down the ballot, Proposition B gives voters the chance to approve a $460 million active mobility bond, with funding going toward sidewalks, urban trails, bikeways and Vision Zero, a campaign to eliminate traffic fatalities and serious injuries. If approved, this proposition would require a 2-cent increase to the city's property tax rate, which will be phased in between FY 2021-22 and FY 2025-26. Austin City Council voted 9-1 to include the issue in the election, with Council Member Jimmy Flannigan opposing and Council Member Allison Alter abstaining.
The ballot language is below:
The issuance of $460,000,000 in tax supported general obligation bonds and notes for planning, constructing, reconstructing, and improving sidewalks, urban trails, bikeways, bridges, roads, streets, intersections, and related utility and drainage infrastructure for the roads and streets; improving traffic signal synchronization and communications and control systems and acquiring and installing traffic signals and related technology to implement traffic safety and traffic fatality reduction strategies; and acquiring land and interests in land and property necessary to do so; and the levy of a tax sufficient to pay for the bonds and notes.
If this proposition is approved—and assuming the current tax rate remains unchanged and the media home value remains $362,631—the median homeowner would see a $72.91 increase in their annual tax bill in 2026.
Austin Outside, a coalition of nonprofits and businesses, pushed for Proposition B, including organizing a petition with more than 3,200 signatures in support. Council Member Paige Ellis was the chief proponent of the proposition. "This will create a better environment, fight climate change and bring us closer to the city we dream of, that we want to play in," she said last month.
Some council members, including Flannigan and Ann Kitchen, raised concerns about how quickly the proposition came together.
"I'm pretty uncomfortable with it," Flannigan said ahead of the vote. "Furthermore, for me, it shines a light on how great Project Connect is. The two years of work, the broad city-wide effort, the multiple town halls in every district, the fact that we're using a tax rate election which is, like I've said, the most fiscally responsible way to build major infrastructure because it doesn't just build it, it ensures its long-term maintenance. Bonds don't do that. Bonds let you build it and then you've got to hope that you've got money later to maintain it."
More on the election: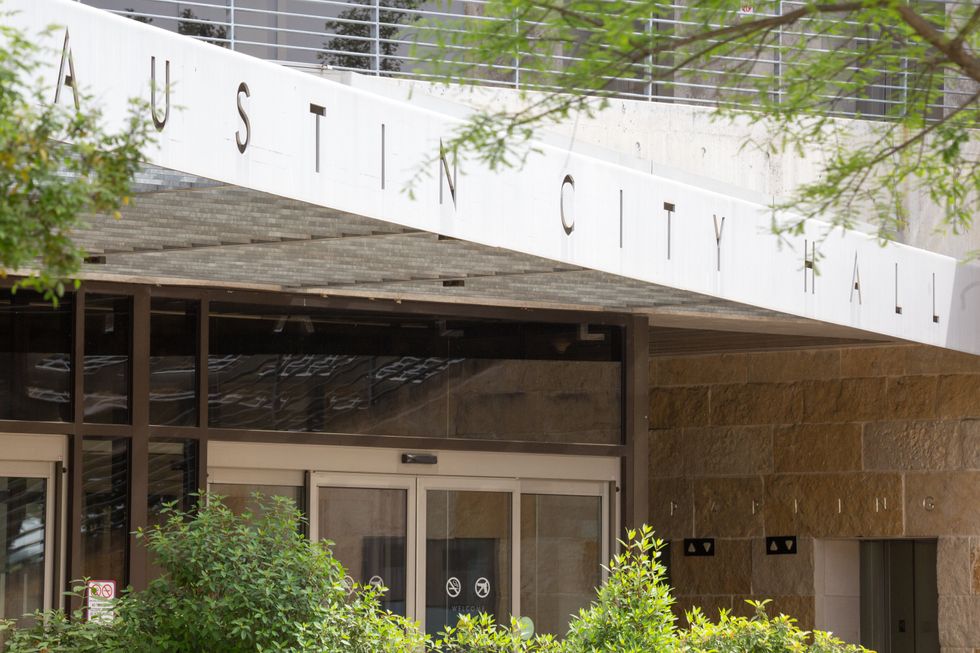 Meet the candidates: seven upcoming Austin City Council forums to put in your calendar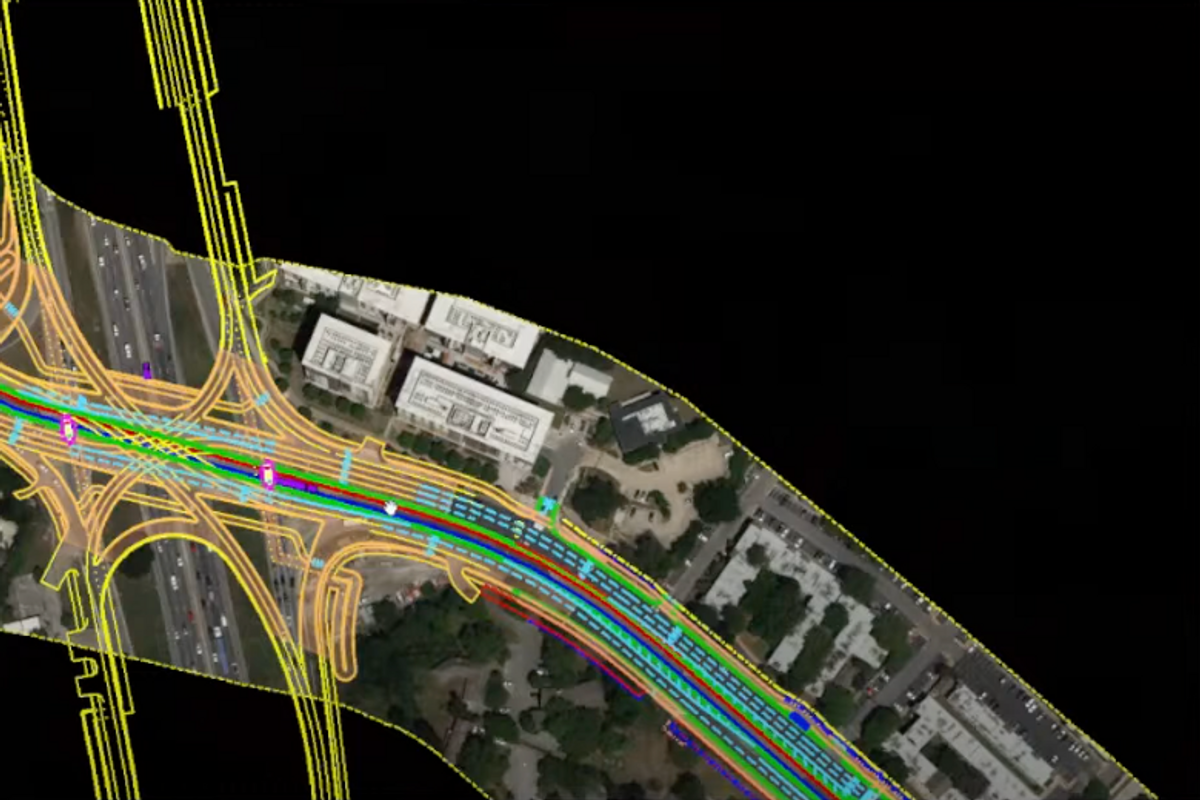 Designs for stations along Project Connect's Blue Line were presented this week, giving a detailed look at what part of the rail system extending from downtown to the airport could look like.
The planned stations that have gotten the latest focus include Waterfront, Travis Heights and Lakeshore stations past Lady Bird Lake.
At the Waterfront station, the preliminary design aims to prevent visual obstructions and save on costs. This is accomplished by a transit guideway that will lower from the bridge to a level station.
Heading onto East Riverside Drive, the light rail faces a curve requiring a slow down to about 10 miles per hour.
The Travis Heights station could involve relocating a pedestrian crosswalk zone at Alameda Drive to Blunn Creek. Since light rails can't effectively operate on a steep grade, this allows the transit guideway to avoid that.
From there, the rail will extend to the Norwood Park area, and though it will reach along the right-of-way zone, the park will be able to remain open.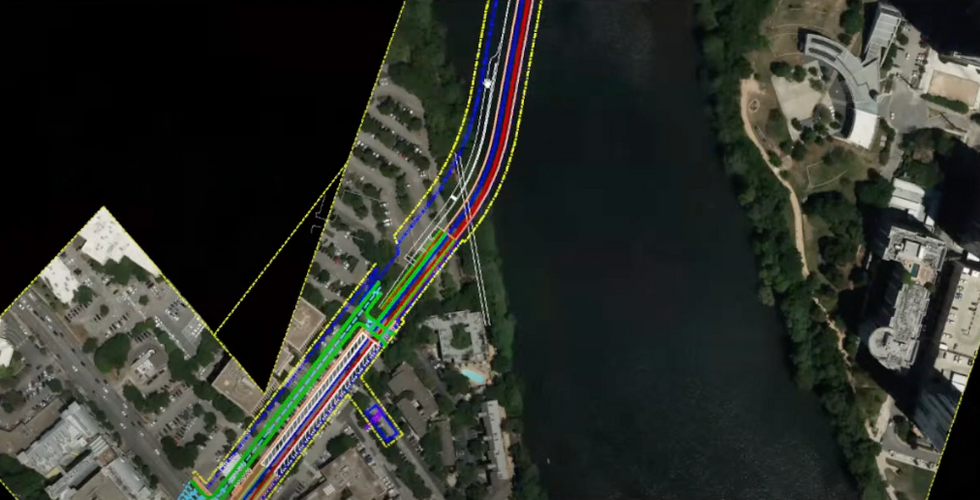 A view of the Blue Line by Lady Bird Lake. (Project Connect)
The line involves some coordination with the Texas Department of Transportation. That's because the department is working on an intersection that will have to be built before the phasing of the section of the Blue Line involving an I-35 crossing.
When it comes to the safety of cyclists and walkers, design ideas include a pedestrian hybrid beacon by East Bouldin Creek that would provide a protected signal to cross. And for the intersection TxDOT is carrying out, Project Connect is working with them on pedestrian access across the intersection. It could involve shared use paths along the street and crossings beneath it.
This summer, the public can expect 30% of design and cost estimates to be released. Though the project was $7.1 billion when voters approved it in November 2020, the latest estimates factoring in inflation and supply chain constraints show it could ultimately be upwards of $10 billion.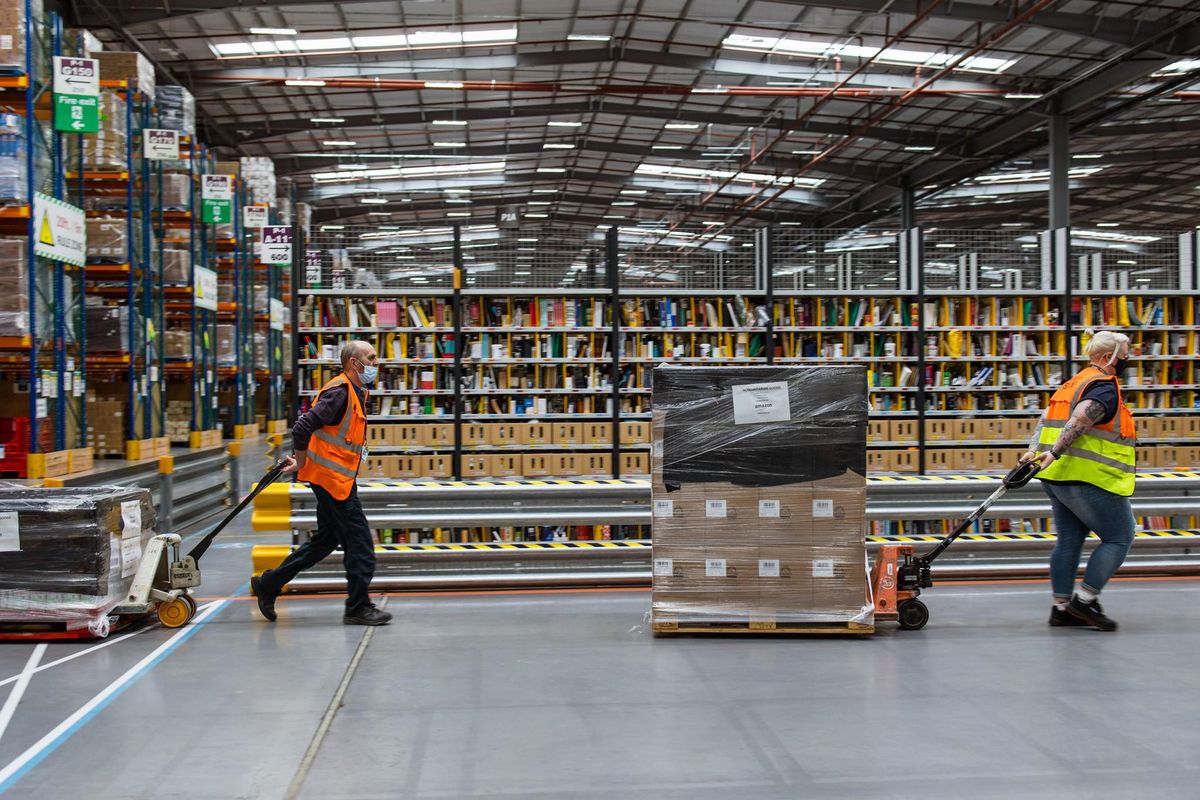 Plans for an Amazon warehouse in Round Rock—a $250 million project slated to be a large distribution center—are on hold.
This comes just after the tech giant had its worst financial quarter in seven years.
The details:
Late last year, it announced an expansion at the Domain adding 2,000 more corporate and tech jobs.
Amazon still owns the site in Round Rock. Plans for it are unclear.
Early this week, the Wall Street Journal reported that Amazon is aiming to scrap warehouse space as it faces a slowdown in its e-commerce operations.
Part of that effort involves exploring the possibility of ending or renegotiating leases with outside warehouse owners. Another aspect is a plan to sublease warehouse space.
"It allows us to relieve the financial obligations associated with an existing building that no longer meets our needs," an Amazon spokeswoman told the Wall Street Journal. "Subleasing is something many established corporations do to help manage their real estate portfolio."