Austonia AM
100% Austin news, info, and entertainment, straight to your inbox at 6 a.m. every morning.
In five minutes, you're fully informed and ready to start another great day in our city.
Get connected with our daily update
In addition to voting for president, members of Congress and Austin City Council this Nov. 3., local voters will find two propositions at the bottom of their ballot with both addressing mobility issues in the city of Austin.
---
Proposition A gives voters the chance to approve a permanent 8.75-cent increase to the city's property tax rate to help pay for Project Connect, a proposed $7.1 billion, 15-year overhaul of Austin's transit system, and maintain it. Austin City Council voted unanimously last month to put the issue on the ballot.
The ballot language is below:
Approving the ad valorem tax rate of $0.5335 per $100 valuation in the City of Austin for the current year, a rate that is $0.0875 higher per $100 valuation than the voter-approval tax rate of the City of Austin, for the purpose of providing funds for a citywide traffic-easing rapid transit system known as Project Connect, to address traffic congestion, expand service for essential workers, reduce climate change emissions, decrease traffic fatalities, create jobs, and provide access to schools, health care, jobs and the airport; to include neighborhood supportive affordable housing investments along transit corridors and a fixed rail and bus rapid transit system, including associated road, sidewalk, bike, and street lighting improvements, park and ride hubs, on-demand neighborhood circulator shuttles, and improved access for seniors and persons with disabilities; to be operated by the Capital Metropolitan Transportation Authority, expending its funds to build, operate and maintain the fixed rail and bus rapid transit system; the additional revenue raised by the tax rate is to be dedicated by the City to an independent board to oversee and finance the acquisition, construction, equipping, and operations and maintenance of the rapid transit system by providing funds for loans and grants to develop or expand transportation within the City, and to finance the transit-supportive anti-displacement strategies related to Project Connect. Last year, the ad valorem tax rate in the City of Austin was $0.4431 per $100 valuation.
If this proposition is approved, Project Connect will add two new light rail lines, including one with service to the airport; an underground downtown tunnel; and an expanded bus service. Around 55% of the cost, or $3.85 billion, will come from local taxpayer dollars. Capital Metro, the city's transit agency, says it will ask the federal government to cover the remainder of the costs.
Project Connect massive underground rail tunnel www.youtube.com
The proposed tax rate would increase the median homeowner's city of Austin property tax bill by about 20% and the overall tax bill—which includes payments to other local taxing entities—by 4%. For the median homeowner, that means a $317 increase in his or her tax bill this year.

Assuming the city's property tax rate remains the same and the median home value increases 5% each year for the next 15 years, the Project Connect tax rate increase would lead to an overall increase of $6,840 between now and 2035. Assuming those same constraints, the total tax bill for the median homeowner would amount to $173,670.92 over that same period.
Project Connect is supported by all members of City Council as well as a large coalition of elected representatives at the state level, business leaders and community organizations. You can find a list of supporters on the Transit Now website, which is paid for by the Mobility for All political action committee, which supports the proposition.
Two new organizations—the Our Mobility Our Future PAC and Voices of Austin—have been vocal opponents of Project Connect, which they say is too expensive and depends on unsecured federal funding commitments.
"Austinites need to know that this isn't a bond election," Voices of Austin Executive Director said in a statement. "You can pay off a bond. This election is about a permanent tax hike."
Further down the ballot, Proposition B gives voters the chance to approve a $460 million active mobility bond, with funding going toward sidewalks, urban trails, bikeways and Vision Zero, a campaign to eliminate traffic fatalities and serious injuries. If approved, this proposition would require a 2-cent increase to the city's property tax rate, which will be phased in between FY 2021-22 and FY 2025-26. Austin City Council voted 9-1 to include the issue in the election, with Council Member Jimmy Flannigan opposing and Council Member Allison Alter abstaining.
The ballot language is below:
The issuance of $460,000,000 in tax supported general obligation bonds and notes for planning, constructing, reconstructing, and improving sidewalks, urban trails, bikeways, bridges, roads, streets, intersections, and related utility and drainage infrastructure for the roads and streets; improving traffic signal synchronization and communications and control systems and acquiring and installing traffic signals and related technology to implement traffic safety and traffic fatality reduction strategies; and acquiring land and interests in land and property necessary to do so; and the levy of a tax sufficient to pay for the bonds and notes.
If this proposition is approved—and assuming the current tax rate remains unchanged and the media home value remains $362,631—the median homeowner would see a $72.91 increase in their annual tax bill in 2026.
Austin Outside, a coalition of nonprofits and businesses, pushed for Proposition B, including organizing a petition with more than 3,200 signatures in support. Council Member Paige Ellis was the chief proponent of the proposition. "This will create a better environment, fight climate change and bring us closer to the city we dream of, that we want to play in," she said last month.
Some council members, including Flannigan and Ann Kitchen, raised concerns about how quickly the proposition came together.
"I'm pretty uncomfortable with it," Flannigan said ahead of the vote. "Furthermore, for me, it shines a light on how great Project Connect is. The two years of work, the broad city-wide effort, the multiple town halls in every district, the fact that we're using a tax rate election which is, like I've said, the most fiscally responsible way to build major infrastructure because it doesn't just build it, it ensures its long-term maintenance. Bonds don't do that. Bonds let you build it and then you've got to hope that you've got money later to maintain it."
More on the election: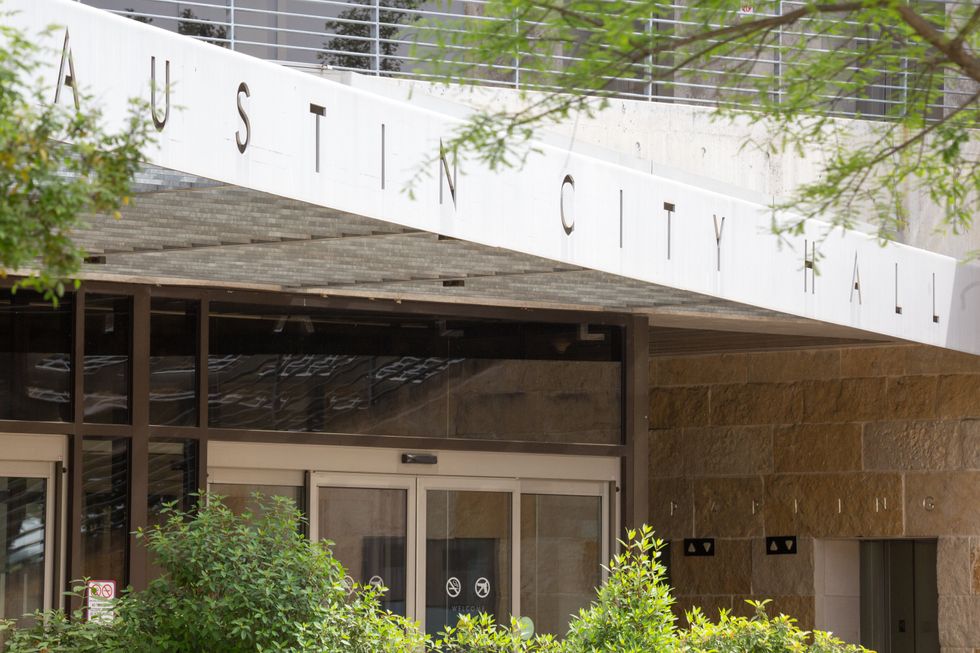 Meet the candidates: seven upcoming Austin City Council forums to put in your calendar
After reaching Stage 4 last week of Austin Public Health's risk-based guidelines, Austin-Travis County is now at the Stage 5 threshold with a seven-day average of 50 hospitalizations and dwindling ICU capacity.
While unenforceable under Gov. Greg's Abbott order against local mandates, vaccinated individuals are asked to choose drive-through and curbside options, outdoor activities, social interactions with limited group sizes, as well as social distance and wearing masks indoors. Partially or unvaccinated individuals are asked to avoid gatherings, travel, dining and shopping, choose curbside and delivery options, as well as wear a mask on essential trips.
Flashing back to early-pandemic times, hospitals are at critical capacity—the 11 county Trauma Service Region of 2.3 million people is fluctuating at 16 staffed beds, according to APH.
In a statement on behalf of Ascension Seton, Baylor Scott & White Health and St. David's Healthcare, a spokesperson said that hospitals are asking residents to "help us and each other" by getting vaccinated and continuing to utilize safety practices to slow the spread of the virus.
According to the statement, a "longstanding" nurse staffing challenge combined with the recent COVID-19 spike is putting "extraordinary pressure" on hospital systems.
Along with the unmitigated spread of the virus in unvaccinated, the more contagious Delta variant is also to blame for the spike in cases. The seven-day moving average of COVID hospitalizations in the Austin area reached the Stage 5 threshold of 50 on Friday, triggering local health officials to ask residents to take action.
Local hospitals have a "surge plan" that includes utilization of "all available patient care space and employees within our hospitals and in other settings" that will go into effect when capacity is hit, according to the statement.
The hospitals are working on sourcing supplemental staff and emphasized that emergency care will still be available but it may involve patient transfers "in order to provide the most appropriate care."
Healthcare systems have hit this threshold previously during the pandemic: the city held an alternate care site at the Austin Convention Center from January to March of this year.
"Our responsibility during this pandemic continues to be balancing our readiness to care for patients with COVID-19, while making sure patients who depend on our hospitals receive needed and timely care," the statement said. "We do not want to see necessary non-COVID care delayed as it was during the early stages of the pandemic."
This story has been updated to after publication to include that Austin has reached the Stage 5 threshold.
Ingredients:
1 1/12 oz sweet pepper-infused Tito's Handmade Vodka
3 oz soda water
1 oz grapefruit juice
1/2 oz lime juice
1/4 oz simple syrup
Directions: Add all ingredients, except soda water, to a shaker with ice. Shake and strain into a glass over fresh ice. Top with soda water and garnish with a mint sprig.
Austin legend Willie Nelson will perform at the Texas Capitol today, his first large performance since the pandemic began, closing out a four-day long march across Central Texas to build support for federal voting protections.
Organized by The Poor People's Campaign, the march began in Georgetown on Wednesday and will end with a 10 a.m. rally at the Capitol featuring appearances from former U.S. Congressman Beto O'Rourke and Rev. Dr. William Barber.
Willie Nelson (with Charlie Sexton & friends) will play a free concert at the Poor People's Campaign march for democracy & justice in Austin this Saturday! https://t.co/zZSA0BpbWA

Sign up to join us and see Willie at 10am Saturday: https://t.co/KrDPIFIvST
— Beto O'Rourke (@BetoORourke) July 29, 2021
The rally calls on Congress to "stop attacks on democracy" by ending the filibuster, pass all provisions of the For the People Act, restore the 1965 Voting Rights Act, raise the federal minimum wage to $15 per hour and pass permanent protections for all 11 million undocumented immigrants.

Nelson denounced election law proposals gaining traction in red states, such as Senate Bill 1 and House Bill 3 in Texas, which 55 House Democrats foiled by fleeing to Washington, D.C., on July 12.
The bills would require additional ID verifications for mail-in ballots, allow partisan poll watchers "free movement" and prohibit elections officials from sending absentee ballot applications to voters who didn't request one.
"Laws making it more difficult for people to vote are unAmerican and are intended to punish people of color, the elderly and disabled," Nelson said. "If you can't win by playing the rules, then it's you and your platform–not everyone else's ability to vote."
The march is in the spirit of the Selma to Montgomery March of 1965, led by Dr. Martin Luther King Jr., which protested the blocking of Black Americans' right to vote by Jim Crow laws.