Never miss a story
Sign up for our free daily morning email...
...and afternoon text update
Get connected with our daily update
In addition to voting for president, members of Congress and Austin City Council this Nov. 3., local voters will find two propositions at the bottom of their ballot with both addressing mobility issues in the city of Austin.
---
Proposition A gives voters the chance to approve a permanent 8.75-cent increase to the city's property tax rate to help pay for Project Connect, a proposed $7.1 billion, 15-year overhaul of Austin's transit system, and maintain it. Austin City Council voted unanimously last month to put the issue on the ballot.
The ballot language is below:
Approving the ad valorem tax rate of $0.5335 per $100 valuation in the City of Austin for the current year, a rate that is $0.0875 higher per $100 valuation than the voter-approval tax rate of the City of Austin, for the purpose of providing funds for a citywide traffic-easing rapid transit system known as Project Connect, to address traffic congestion, expand service for essential workers, reduce climate change emissions, decrease traffic fatalities, create jobs, and provide access to schools, health care, jobs and the airport; to include neighborhood supportive affordable housing investments along transit corridors and a fixed rail and bus rapid transit system, including associated road, sidewalk, bike, and street lighting improvements, park and ride hubs, on-demand neighborhood circulator shuttles, and improved access for seniors and persons with disabilities; to be operated by the Capital Metropolitan Transportation Authority, expending its funds to build, operate and maintain the fixed rail and bus rapid transit system; the additional revenue raised by the tax rate is to be dedicated by the City to an independent board to oversee and finance the acquisition, construction, equipping, and operations and maintenance of the rapid transit system by providing funds for loans and grants to develop or expand transportation within the City, and to finance the transit-supportive anti-displacement strategies related to Project Connect. Last year, the ad valorem tax rate in the City of Austin was $0.4431 per $100 valuation.
If this proposition is approved, Project Connect will add two new light rail lines, including one with service to the airport; an underground downtown tunnel; and an expanded bus service. Around 55% of the cost, or $3.85 billion, will come from local taxpayer dollars. Capital Metro, the city's transit agency, says it will ask the federal government to cover the remainder of the costs.
Project Connect massive underground rail tunnel www.youtube.com
The proposed tax rate would increase the median homeowner's city of Austin property tax bill by about 20% and the overall tax bill—which includes payments to other local taxing entities—by 4%. For the median homeowner, that means a $317 increase in his or her tax bill this year.

Assuming the city's property tax rate remains the same and the median home value increases 5% each year for the next 15 years, the Project Connect tax rate increase would lead to an overall increase of $6,840 between now and 2035. Assuming those same constraints, the total tax bill for the median homeowner would amount to $173,670.92 over that same period.
Project Connect is supported by all members of City Council as well as a large coalition of elected representatives at the state level, business leaders and community organizations. You can find a list of supporters on the Transit Now website, which is paid for by the Mobility for All political action committee, which supports the proposition.
Two new organizations—the Our Mobility Our Future PAC and Voices of Austin—have been vocal opponents of Project Connect, which they say is too expensive and depends on unsecured federal funding commitments.
"Austinites need to know that this isn't a bond election," Voices of Austin Executive Director said in a statement. "You can pay off a bond. This election is about a permanent tax hike."
Further down the ballot, Proposition B gives voters the chance to approve a $460 million active mobility bond, with funding going toward sidewalks, urban trails, bikeways and Vision Zero, a campaign to eliminate traffic fatalities and serious injuries. If approved, this proposition would require a 2-cent increase to the city's property tax rate, which will be phased in between FY 2021-22 and FY 2025-26. Austin City Council voted 9-1 to include the issue in the election, with Council Member Jimmy Flannigan opposing and Council Member Allison Alter abstaining.
The ballot language is below:
The issuance of $460,000,000 in tax supported general obligation bonds and notes for planning, constructing, reconstructing, and improving sidewalks, urban trails, bikeways, bridges, roads, streets, intersections, and related utility and drainage infrastructure for the roads and streets; improving traffic signal synchronization and communications and control systems and acquiring and installing traffic signals and related technology to implement traffic safety and traffic fatality reduction strategies; and acquiring land and interests in land and property necessary to do so; and the levy of a tax sufficient to pay for the bonds and notes.
If this proposition is approved—and assuming the current tax rate remains unchanged and the media home value remains $362,631—the median homeowner would see a $72.91 increase in their annual tax bill in 2026.
Austin Outside, a coalition of nonprofits and businesses, pushed for Proposition B, including organizing a petition with more than 3,200 signatures in support. Council Member Paige Ellis was the chief proponent of the proposition. "This will create a better environment, fight climate change and bring us closer to the city we dream of, that we want to play in," she said last month.
Some council members, including Flannigan and Ann Kitchen, raised concerns about how quickly the proposition came together.
"I'm pretty uncomfortable with it," Flannigan said ahead of the vote. "Furthermore, for me, it shines a light on how great Project Connect is. The two years of work, the broad city-wide effort, the multiple town halls in every district, the fact that we're using a tax rate election which is, like I've said, the most fiscally responsible way to build major infrastructure because it doesn't just build it, it ensures its long-term maintenance. Bonds don't do that. Bonds let you build it and then you've got to hope that you've got money later to maintain it."
More on the election: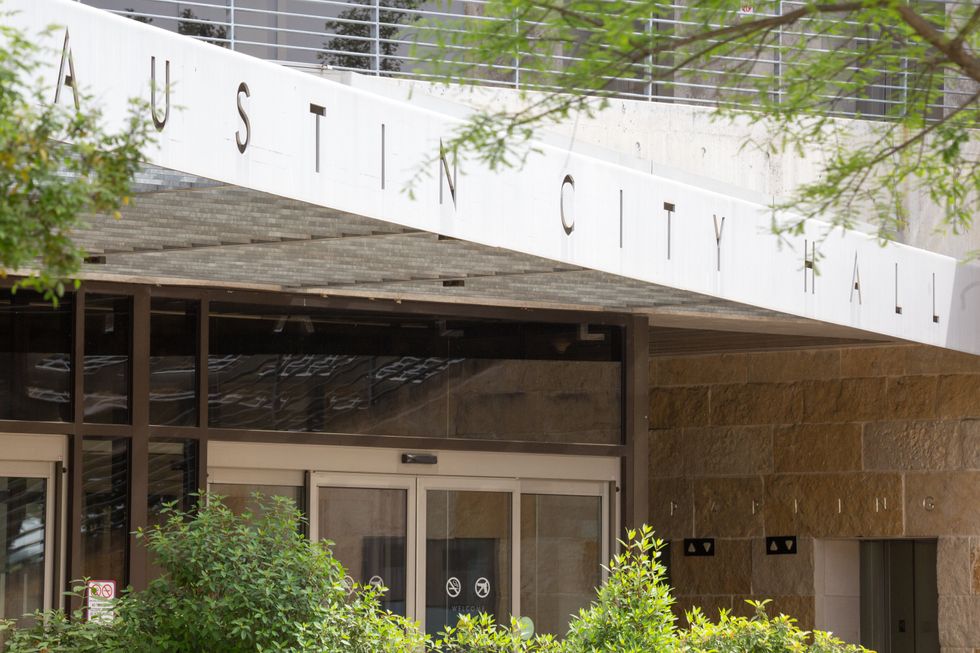 Meet the candidates: seven upcoming Austin City Council forums to put in your calendar
It's matchday! Austin FC—Austin's first major league sport team—kicks off its debut season in Los Angeles today after years in the making. We know how much this means to our beloved city and are taking you along with us as we journey to LA!
Austin FC writer Claire Partain and I are excited to bring you game-day coverage straight from the City of Angels. Check back here for updates, and visit our socials: @austonianews for the latest.
5 p.m: Kickoff!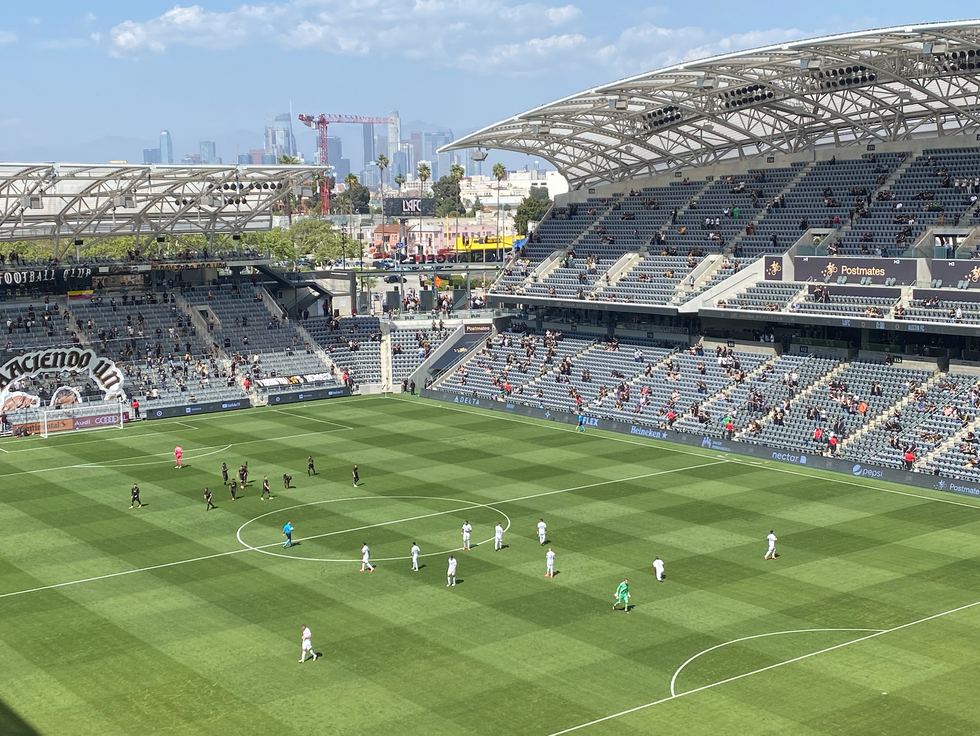 It's finally here! Claire will be updating Austonia's Twitter account live. And we'll post her game recap after the game. Best of luck Verdes!
4:40 p.m: Excitement radiates back home
Watch parties are in plenty supply back home. Austonia's Laura Figi visited Circle Brewing Co. and found a crowd of excited supporters.
4:20 p.m: Austin FC supporters are in the stadium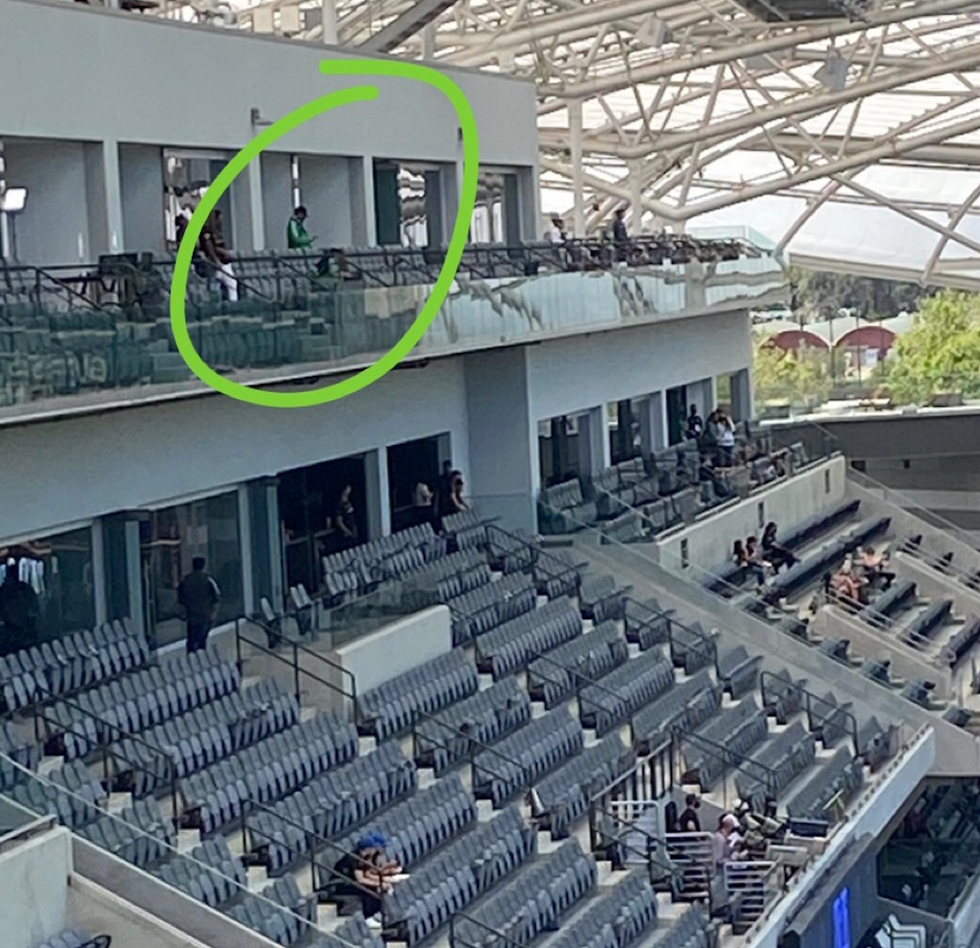 Although the Banc of California Stadium is hosting the match at limited capacity, we see some green in the stands ahead of kickoff. Just moments away from the Austin FC's debut!
~3:20 p.m: Austin FC's team bus enters the stadium grounds
With a warm welcome from Los Verdes, Austin FC players were welcomed into the Banc of California Stadium.
~1 p.m: Los Verdes in LA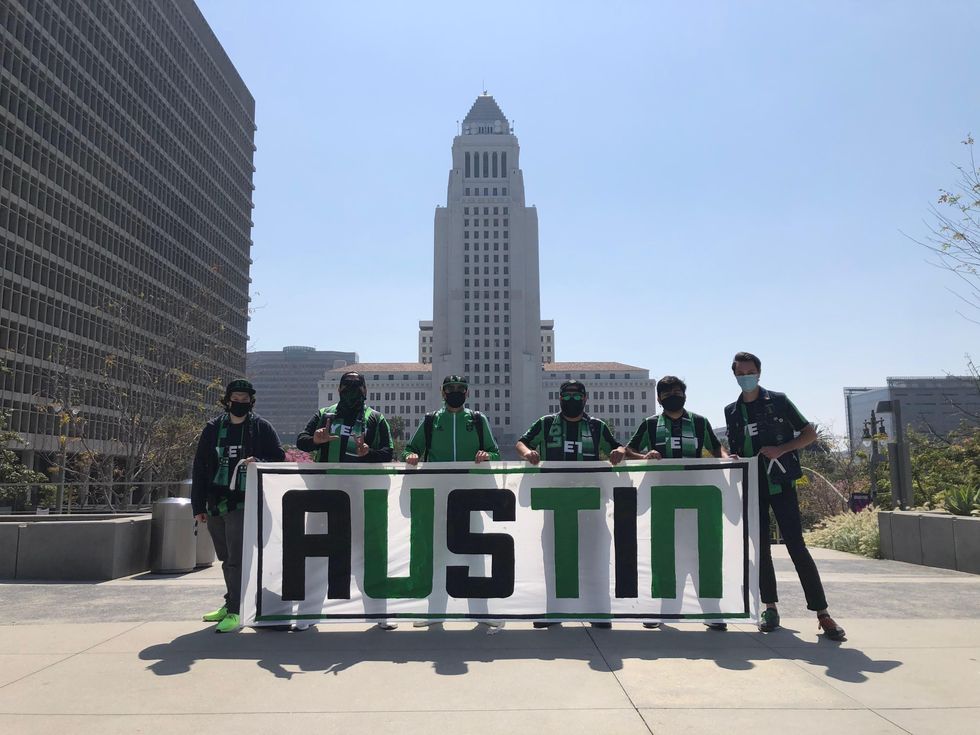 (Rigo Rodriguez/Los Verdes)
Austin FC supporters are making their presence known in LA, including the Los Verdes group.
Los Verdes members started having match-day fun around the area this morning with brunch. We'll be joining them about an hour before the game outside the stadium to share some of their excitement. We'll post immediately to Austonia's Instagram.
11:45 a.m: We landed!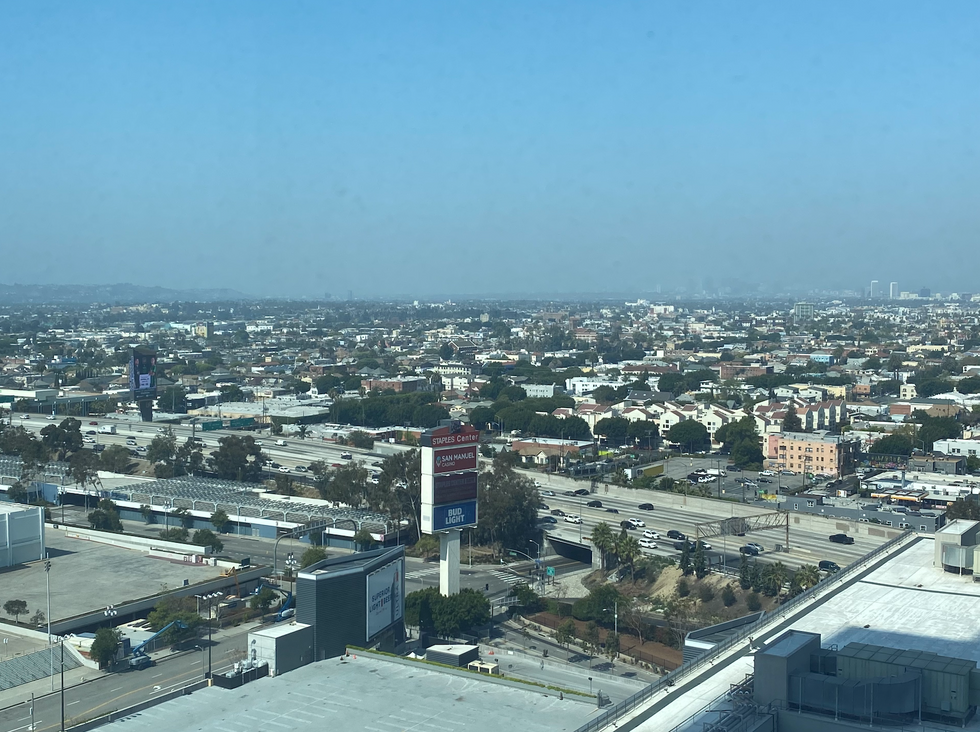 View from hotel room where we're staying; the stadium digital sign can be seen in the right corner. (Sonia Garcia/Austonia)
Switching over to pacific time, we're here and it's almost like no time went by. It's 9:45 a.m. here.
We've been in contact with Los Verdes, an Austin FC supporter group, who is also here in LA counting down to kickoff.
8:20 a.m: LA bound
Like many of you, we've been looking forward to this moment for, let's just say, a very long time. Today, we woke up bright and early, headed to Austin-Bergstrom International Airport and hopped on a flight to LA.
A gloomy day in Austin with a very quiet airport, we're headed to sunny skies in California.
As we wait for the game to start at 4:30 p.m., check out Claire's preview of the game with a predicted lineup and timeline of the long journey to get here.
Years before the city of Austin went Verde, thousands of the city's soccer fans formed a supporters' group—MLS in Austin—for a team that didn't even exist yet.
Now, as the team's catchphrase suggests, those same fans are #LISTOS as they prepare to see their team on national television at Austin FC's debut on Saturday.
What to expect
The team will face a significant opponent in LAFC, who is projected at No. 2 in the league's power rankings. Austin FC currently sits at No. 21.

"LAFC has one of the best attacking teams in the league," Head Coach Josh Wolff said. "They will punish you. They've never been shy of putting up goals, and again, I expect them to be one of the best teams in the league this year."
The club has lived up to Wolff's words: in just their second season of existence, LAFC took first in the Western Conference and were Supporters' Shield winners in 2019.
Austin FC will need to hold off LAFC captain Carlos Vela, a versatile winger/attacking midfielder who won the Most Valuable Player title in 2019, as well as high-scoring forward Diego Rossi.
Austin FC starting lineup vs. LAFC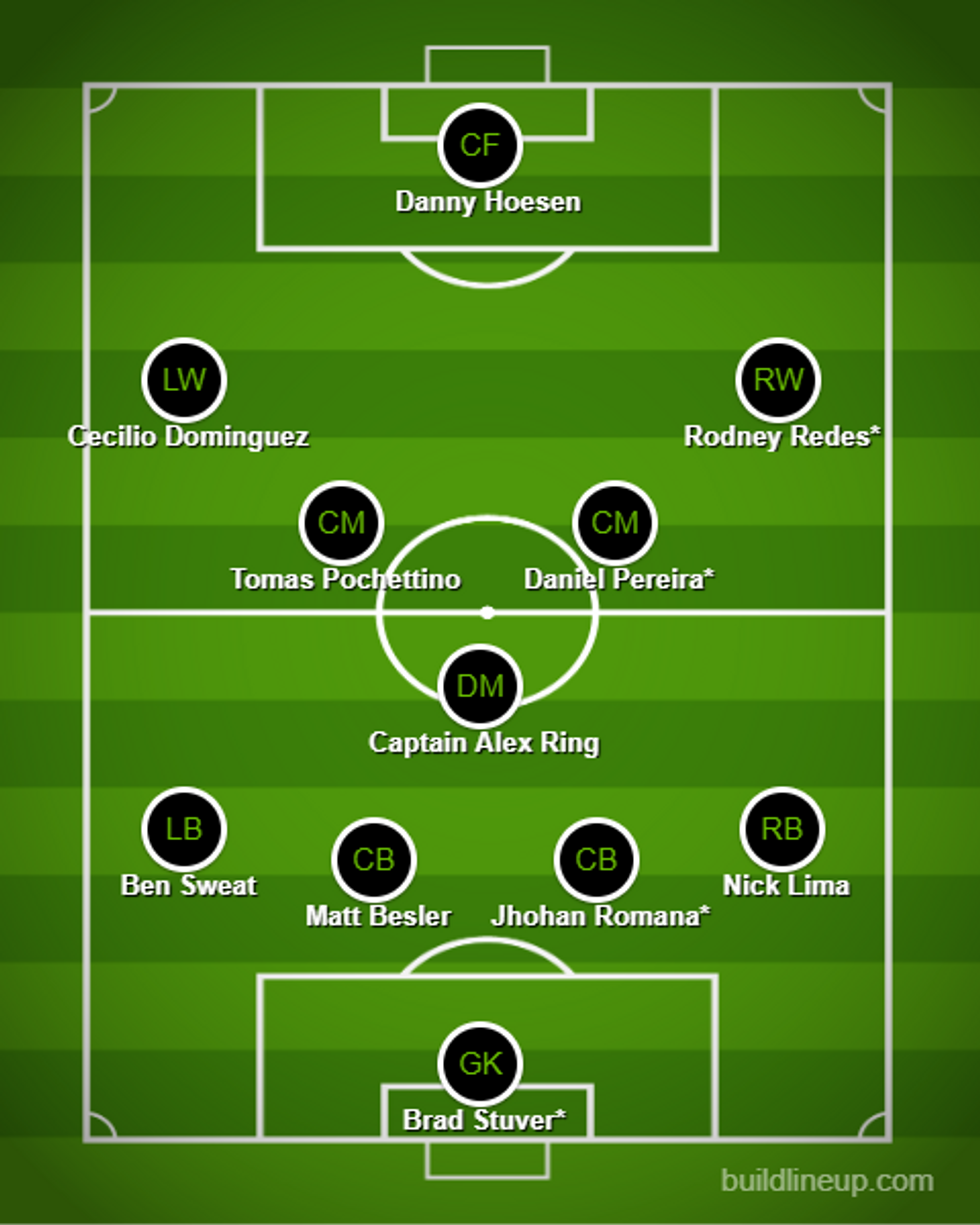 (Claire Partain/Austonia)
Meanwhile, LAFC will face challenges in DP Cecilio Dominguez and midfielder Alex Ring, the former NYCFC "ringleader" who wears the captain's armband for his new team. We still don't have any updates for starting forward Rodney Redes, who may or not be playing Saturday due to a "ding" on his knee.
If Redes is fine, we think he'll stay at forward, where he's been excelling throughout preseason. If not, a more experienced Kekuta Manneh might take to the pitch in his stead. Midfielder Jared Stroud is also in the running after he went in for an injured Redes against San Antonio FC on April 10.
While Captain Alex Ring and DPs Tomas Pochettino and Dominguez are shoe-ins for the starting lineup, some other positions are up in the air.
Twenty-year-old Daniel Pereira, Austin FC's No. 1 SuperDraft pick, has done even better than expected in preliminary scrimmages. He's still young, however, and Austin FC recruited him more for his depth than immediate starting appeal. If Pereira doesn't start, it's likely to be Diego Fagundez who takes the starting spot.
Another young potential starter comes in 22-year-old Jhohan Romana, a sturdy defender who has shown inconsistency in preseason. The backline is a clear weak spot for the team so far, and while Romana shows promise, Wolff may look for experience in Julio Cascante for their first starting lineup.
Finally, goalies Brad Stuver and Andrew Tarbell are neck-and-neck in the race for a starting spot. We put Stuver on here for his preseason performance, but neither would be a surprise as starting goalkeepers.
How we got here
It's hard to put into words how monumental it is for these supporters to see their own team one day away from its historic opening match, but the excitement can be felt across the city.
To put things in perspective, here's a timeline of events that brought us here, from "MLS in Austin" all the way up to Saturday's opener.
Where to watch
While Austin FC's first season will officially be underway, their inaugural match will be nearly 1,500 miles away from their home city.
That's no problem for some fans, including those in Austin FC fan group Los Verdes. A group of dedicated supporters are going to the West Coast to welcome their team into the stadium. While LAFC isn't officially allowing Austin fans in due to COVID protocol, some are still searching for a way to watch their beloved team take the pitch for the first time.
Meanwhile, thousands of dedicated fans are also staying home to support their club. Austin FC's first official watch party is sold out with over 1,000 RSVPs, and Austin Anthem is holding a 1000 plus-person watch party as well. For a full list of Austin FC watch parties and participating pubs, click here.
For those staying home, the match will be broadcast nationally on FOX and FOX Deportes at 5 p.m. on Saturday.
Don't miss out on the game!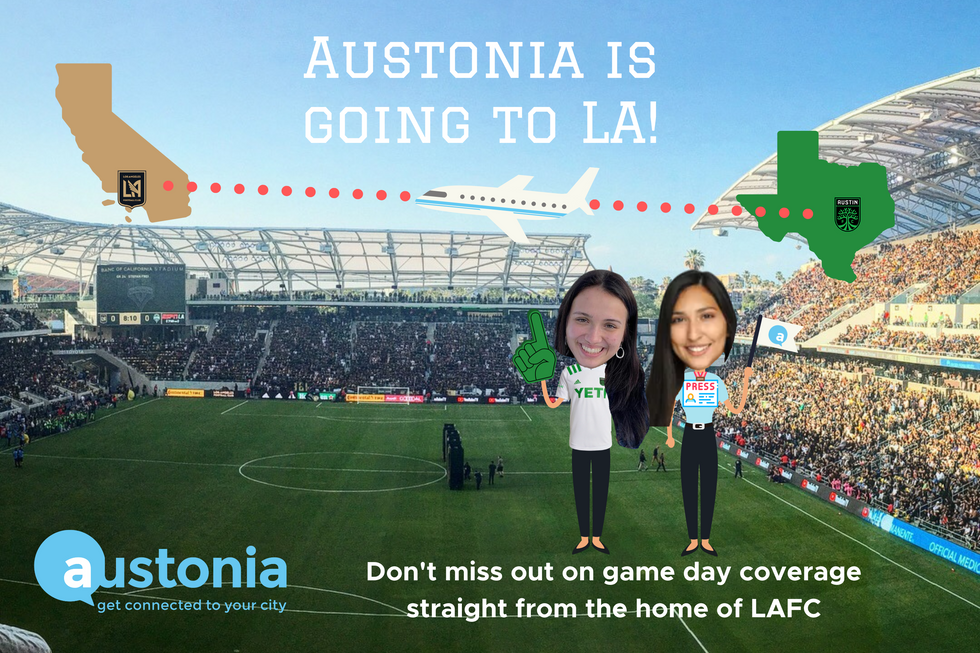 (Laura Figi/Austonia)