Get connected with our daily update
In addition to voting for president, members of Congress and Austin City Council this Nov. 3., local voters will find two propositions at the bottom of their ballot with both addressing mobility issues in the city of Austin.
---
Proposition A gives voters the chance to approve a permanent 8.75-cent increase to the city's property tax rate to help pay for Project Connect, a proposed $7.1 billion, 15-year overhaul of Austin's transit system, and maintain it. Austin City Council voted unanimously last month to put the issue on the ballot.
The ballot language is below:
Approving the ad valorem tax rate of $0.5335 per $100 valuation in the City of Austin for the current year, a rate that is $0.0875 higher per $100 valuation than the voter-approval tax rate of the City of Austin, for the purpose of providing funds for a citywide traffic-easing rapid transit system known as Project Connect, to address traffic congestion, expand service for essential workers, reduce climate change emissions, decrease traffic fatalities, create jobs, and provide access to schools, health care, jobs and the airport; to include neighborhood supportive affordable housing investments along transit corridors and a fixed rail and bus rapid transit system, including associated road, sidewalk, bike, and street lighting improvements, park and ride hubs, on-demand neighborhood circulator shuttles, and improved access for seniors and persons with disabilities; to be operated by the Capital Metropolitan Transportation Authority, expending its funds to build, operate and maintain the fixed rail and bus rapid transit system; the additional revenue raised by the tax rate is to be dedicated by the City to an independent board to oversee and finance the acquisition, construction, equipping, and operations and maintenance of the rapid transit system by providing funds for loans and grants to develop or expand transportation within the City, and to finance the transit-supportive anti-displacement strategies related to Project Connect. Last year, the ad valorem tax rate in the City of Austin was $0.4431 per $100 valuation.
If this proposition is approved, Project Connect will add two new light rail lines, including one with service to the airport; an underground downtown tunnel; and an expanded bus service. Around 55% of the cost, or $3.85 billion, will come from local taxpayer dollars. Capital Metro, the city's transit agency, says it will ask the federal government to cover the remainder of the costs.
Project Connect massive underground rail tunnel www.youtube.com
The proposed tax rate would increase the median homeowner's city of Austin property tax bill by about 20% and the overall tax bill—which includes payments to other local taxing entities—by 4%. For the median homeowner, that means a $317 increase in his or her tax bill this year.

Assuming the city's property tax rate remains the same and the median home value increases 5% each year for the next 15 years, the Project Connect tax rate increase would lead to an overall increase of $6,840 between now and 2035. Assuming those same constraints, the total tax bill for the median homeowner would amount to $173,670.92 over that same period.
Project Connect is supported by all members of City Council as well as a large coalition of elected representatives at the state level, business leaders and community organizations. You can find a list of supporters on the Transit Now website, which is paid for by the Mobility for All political action committee, which supports the proposition.
Two new organizations—the Our Mobility Our Future PAC and Voices of Austin—have been vocal opponents of Project Connect, which they say is too expensive and depends on unsecured federal funding commitments.
"Austinites need to know that this isn't a bond election," Voices of Austin Executive Director said in a statement. "You can pay off a bond. This election is about a permanent tax hike."
Further down the ballot, Proposition B gives voters the chance to approve a $460 million active mobility bond, with funding going toward sidewalks, urban trails, bikeways and Vision Zero, a campaign to eliminate traffic fatalities and serious injuries. If approved, this proposition would require a 2-cent increase to the city's property tax rate, which will be phased in between FY 2021-22 and FY 2025-26. Austin City Council voted 9-1 to include the issue in the election, with Council Member Jimmy Flannigan opposing and Council Member Allison Alter abstaining.
The ballot language is below:
The issuance of $460,000,000 in tax supported general obligation bonds and notes for planning, constructing, reconstructing, and improving sidewalks, urban trails, bikeways, bridges, roads, streets, intersections, and related utility and drainage infrastructure for the roads and streets; improving traffic signal synchronization and communications and control systems and acquiring and installing traffic signals and related technology to implement traffic safety and traffic fatality reduction strategies; and acquiring land and interests in land and property necessary to do so; and the levy of a tax sufficient to pay for the bonds and notes.
If this proposition is approved—and assuming the current tax rate remains unchanged and the media home value remains $362,631—the median homeowner would see a $72.91 increase in their annual tax bill in 2026.
Austin Outside, a coalition of nonprofits and businesses, pushed for Proposition B, including organizing a petition with more than 3,200 signatures in support. Council Member Paige Ellis was the chief proponent of the proposition. "This will create a better environment, fight climate change and bring us closer to the city we dream of, that we want to play in," she said last month.
Some council members, including Flannigan and Ann Kitchen, raised concerns about how quickly the proposition came together.
"I'm pretty uncomfortable with it," Flannigan said ahead of the vote. "Furthermore, for me, it shines a light on how great Project Connect is. The two years of work, the broad city-wide effort, the multiple town halls in every district, the fact that we're using a tax rate election which is, like I've said, the most fiscally responsible way to build major infrastructure because it doesn't just build it, it ensures its long-term maintenance. Bonds don't do that. Bonds let you build it and then you've got to hope that you've got money later to maintain it."
More on the election: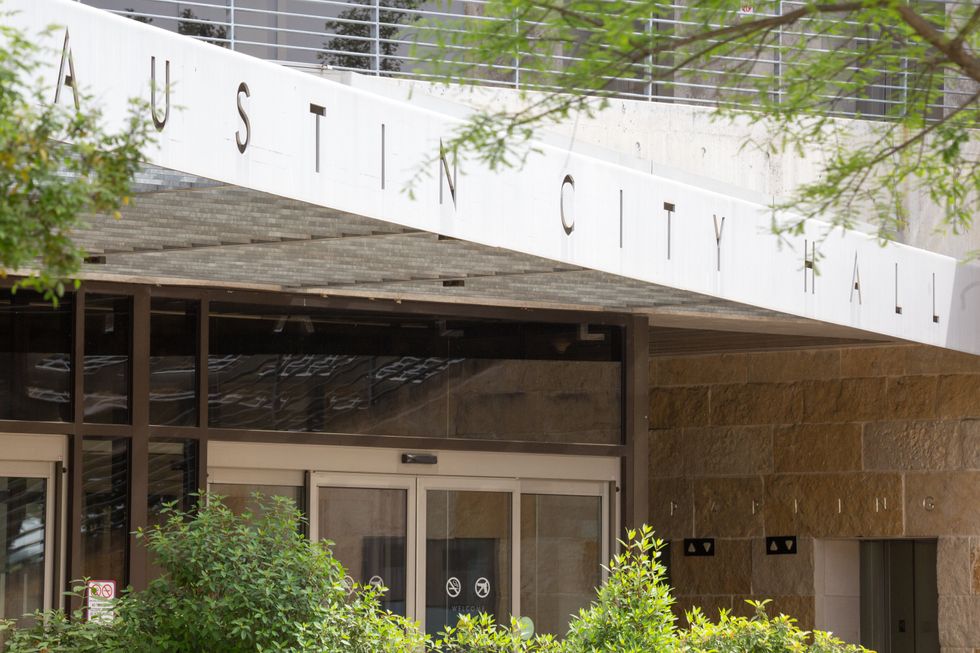 Meet the candidates: seven upcoming Austin City Council forums to put in your calendar
In May, Circuit of the Americas chairman Bobby Epstein looked back on 10 years of Formula 1's U.S. Grand Prix at COTA confident that the race would be here to stay in Texas. But sources tell Austonia that securing another contract may be in jeopardy.
Some insiders worry that COTA's 2021 Grand Prix race might be its last.
The multi-day fest from Oct. 22-24 will include a 56-lap race over the 3.3-mile track, food and musical performances from two acts, including Billy Joel at COTA's 1,500-acre facility in Southeast Austin. But after this year, the U.S.' first F1-specific track could lose its headline event.
The facility's inability to secure a contract thus far comes down to the Texas Legislature, a new threat in Miami, and, most importantly, money.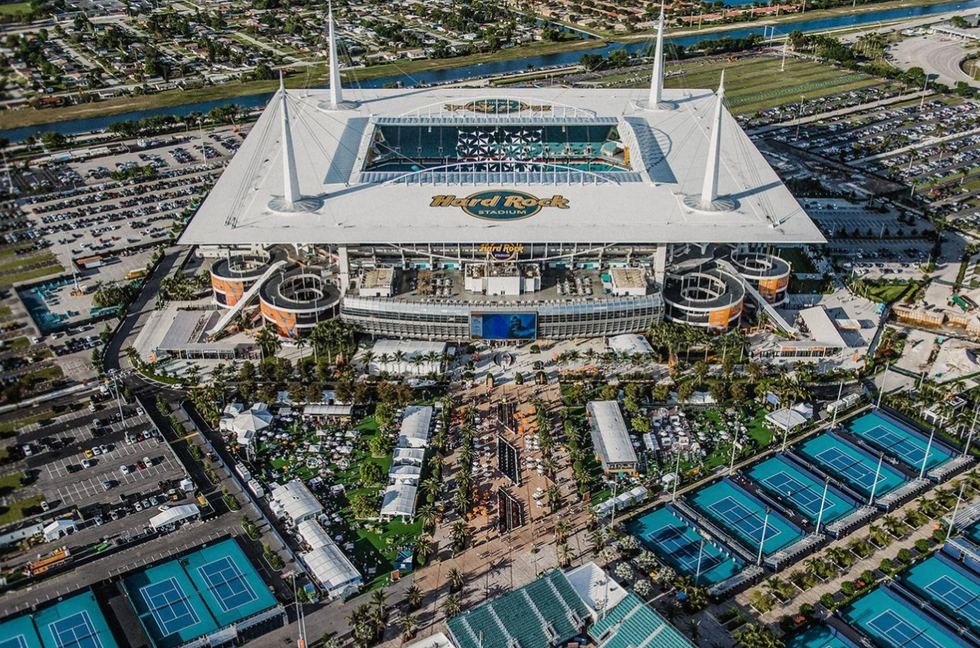 The first F 1 race will take place in Miami next year. (Hard Rock Stadium)
Every year, Formula 1 receives roughly $25 million from Texas' Major Events Reimbursement Program, a taxpayer-funded initiative that helps bring big sporting events like 2017's Houston Super Bowl to the state. A 2019 report by the Reimbursements Program on that year's race said the "data is inconclusive" on if the event has a positive or negative economic impact on the state with the resources given. In 2018, the Austin-American Statesman reported that COTA had brought back a total of $75.7 million between 2015 and 2017 for hosting the U.S. Grand Prix.
Legal issues have also barred Epstein and Co. from securing another 10-year contract earlier: in 2018, the company lost its yearly $25 million bid after failing to submit a human trafficking prevention plan as part of its yearly application.
That same year, F1 managing director of commercial operations Sean Bratches told the Associated Press that the organization hopes to stay at COTA "for many years to come."
However, in May, the racing league announced that it had secured a 10-year contract to hold the Miami Grand Prix as American interest in the sport soared following the three-season "Drive to Survive" documentary, which gives behind-the-scenes looks at drivers and races of the Formula One World Championship.
Epstein is optimistic about the new U.S. location and told Autoweek in May that "more race in our time zones are good for the sport."
"I think we're getting double the impact this way," Epstein said. "Miami should sell out huge the first year and maybe the second year and then after that, I think we'd be spitting audience if we were around the same time on the calendar. So the spread is fantastic."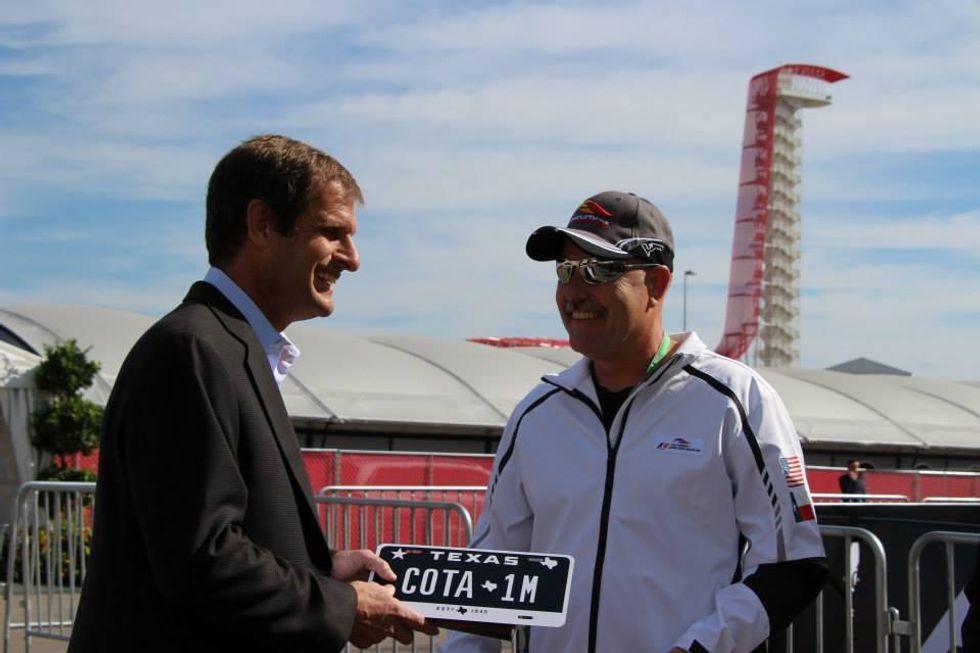 Bobby Epstein recognizes the 1 millionth customer of COTA in 2013. (COTA/Facebook)
The new F1 venture may impact COTA's contract, however: in an opinion piece for the Fort Worth Star-Telegram, writer Mac Engel said Texas is unlikely to fork over taxpayer money if the facility is no longer the only F1 track in the U.S.
According to Engel, the Major Events Reimbursements Program agrees to provide funding only "if Austin holds the only F1 race in the country."
Epstein hasn't addressed such claims; by contrast, he feels as though there's room for a third race in the U.S. as ticket sales rebound after COVID.
"In the first week, we sold pretty much all the tickets we put up for sale and we plan to break the 2019 attendance record," Epstein told Autoweek. "Texas was the first place to lift COVID-19 restrictions (in the U.S.) and put on sporting events, and we're full. We're at 100% capacity.
Despite ventures to diversify revenue at COTA—Epstein's USL soccer team Austin Bold has seen its own share of troubles, and the facility plans to develop into a multi-faceted entertainment arena complete with music venues, a waterpark, condominiums and an 11-story hotel—a loss of its primary event could be devastating for the $300 million complex.
F1 has rarely lasted more than a decade at venues in the U.S. over the last century; let's hope Austin breaks that curse.
COTA's media relations team did not immediately get back to Austonia for comment.
Houston? Dallas? San Antonio? No, it has to be Austin.
We know Californians love Texas, but a recent string of posts on neighborhood platform Nextdoor in Santa Barbara, California, displays what the craze to move to Austin looks like.
When one user posted, "Hi neighbors, I want to buy a house in Houston, Texas any recommendations?" the responses flooded in displaying what the admiration for Austin looks like from the West Coast. Users mostly advised against a move to Houston; one person even wrote, "Austin is the ONLY place to consider!!"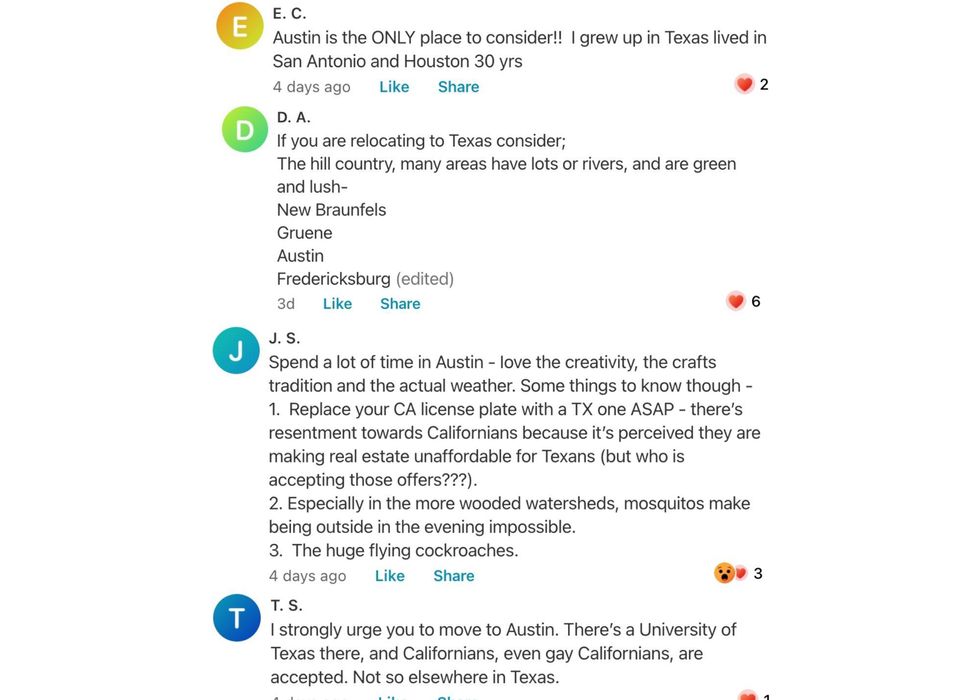 While some defended H-town, saying, "Awesome place to live," one person wrote, "WORST PLACE TO LIVE." Reasons to not move to Houston from Californians' perspective included:
"Foul air from refineries"
"horrible flooding due to the flat Gulf coastal shelf"
"crazy zoning"
"racial prejudice"
"super high humidity"
"very conservative"
The comments were shifted to Austin's lush greenery, weather and acceptance of gay people.
Over the last five years, Austin has seen more migrants from California than any other state, according to an Austin Chamber of Commerce report. The Austin appeal from residents living in more congested places like California became more prevalent during the pandemic when stay-at-home orders were issued and people sought more space.
It wasn't just Austin though; lots of other Sunbelt cities saw an influx in their housing market as a result of people working from home and looking for a lower cost of living. And that included Texas in general, with people flooding to various Texas cities.
But it hasn't come with resistance. The "Don't California my Texas" pleas are still alive and well, as Californians are blamed for raising the cost of living by outpricing current residents. The housing market has reached record numbers in the median home price year-over-year since the beginning of the pandemic. Austin was even predicted to be the most expensive city outside of California by the end of the year.
Still, Californians and even New Yorkers can't stay away. Companies and celebrities have followed, leading Texas transplant Elon Musk to label Austin's future as "the biggest boomtown that America has seen in half a century."