Get connected with our daily update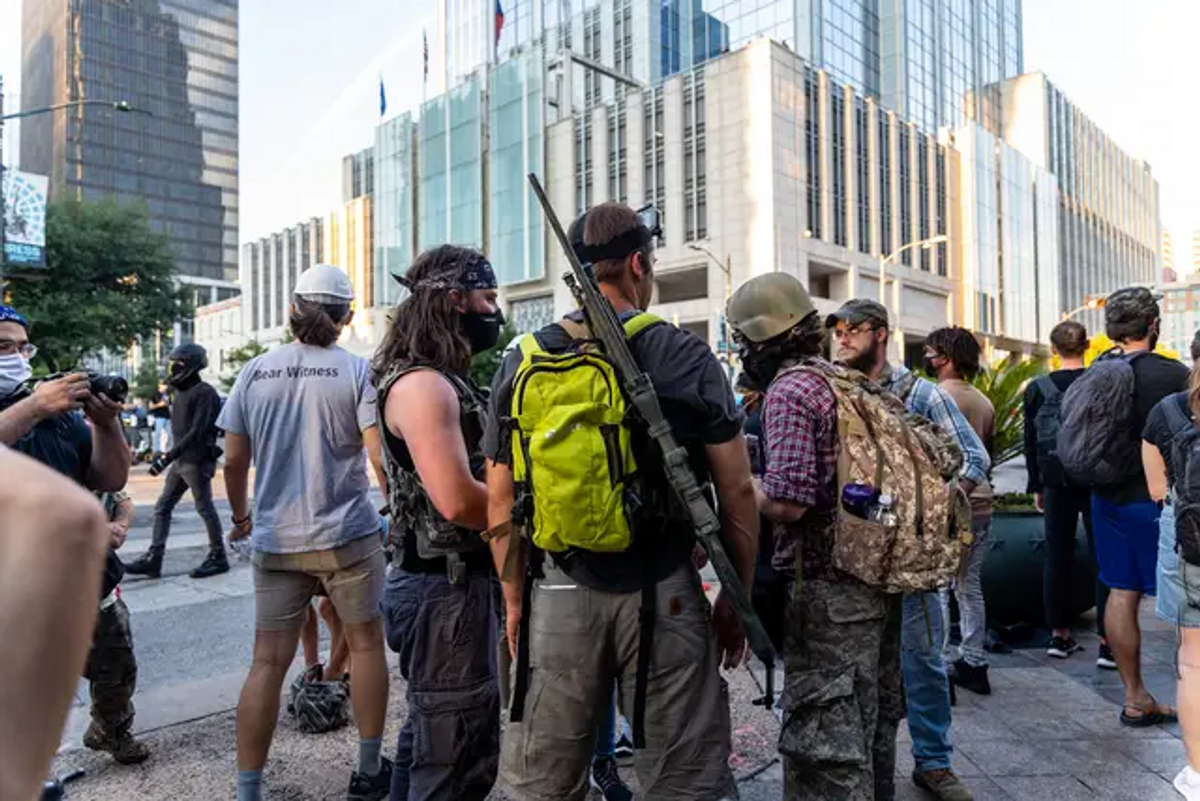 (Jordan Vonderhaar/ Texas Tribune)
Austin police and city leaders say they are preparing for November protests as the city steels itself for an election that has wrought tension at the highest levels of national government.
---
The election, which President Donald Trump has warned will be "rigged" and said the outcome may not be clear for "months," comes after a summer marked by near-daily demonstrations, both in downtown Austin and across the nation, over civil rights and police brutality.
Nearly two dozen people were hospitalized in late May after clashes with Austin police, whose use of bean bag rounds during protests resulted in sweeping changes ordered by the Austin City Council and a ban on the use of less-lethal weapons against demonstrators.
In July, demonstrator Garrett Foster was shot by a man who said he was unconnected to protests but driving for Uber in the area when his car was attacked by protesters. Daniel Perry, an active duty sergeant with the U.S. Army in Killeen, said he shot Foster in self defense. Charges have not been filed.
A tense memorial for him brought clashes between those who thought Perry was there to cause trouble, and those who believed Foster threatened him—with both sides heavily armed, including armed members of the Proud Boys militia, an extremist right-wing group that has made national headlines recently.
Police said this week that they are getting ready for the protests but declined to specify what their plans will include. An emailed statement suggested that officials are planning for potential unrest beyond the peaceful atmosphere seen in the majority of protests through the last several months.
"The Austin Police Department will plan and prepare for any large protest or civil unrest events related to the upcoming elections," said police spokesperson Tara Long, in a statement emailed to Austonia. "The goal of such preparations is to ensure the safety of the community, while protecting the rights of people to peacefully exercise their First Amendment Rights."
Demonstrations a way of life in Austin
In 2016, on the day after the November election between Trump and Democratic opponent Hillary Clinton, demonstrators marched in Austin to protest the fact that Trump had won the election in spite of the fact that Clinton had won the popular vote.
On the day after Trump's January 2017 inauguration, tens of thousands descended on downtown Austin to show solidarity during the Women's March on Washington.
"Austin has a storied history of large-scale peaceful protests when election results have offended our community's sensibilities," said City Council Member Jimmy Flannigan, chairman of the Council's Committee on Public Safety.
Home to the state Capitol, Austin has played host to countless demonstrations throughout the years.
Local and statewide groups have demonstrated on myriad issues including immigration laws, gun control, or demanded higher pay for teachers or the legalization of marijuana or the protection of a woman's right to choose abortion.
"As a state capital city, we are always prepared and continuously improving our process for peaceful protest," Flannigan said.
Flannigan said he doesn't anticipate any voting issues on Election Day that might cause clashes at the polls, saying that elections in Williamson and Travis counties, parts of both of which fall within his district, have worked hard to accommodate voters with little incident.
Even with the recent national tensions over masks and potentially thousands of partisan poll watchers at voting sites, he and others said they don't anticipate clashes on a local level over those issues.
"Austin has a long history of safe and fair elections, and I have no doubt that Austinites of all political perspectives are eager to vote and will do so responsibly and safely, wearing their masks and taking the necessary precautions," Flannigan said.
He and others noted, however, that the potential for unrest after the election is fairly high—given the likelihood that the presidential election may not be over on Election Night.
The appetite for protest in Austin certainly hasn't abated in recent weeks, with groups from all parts of the political spectrum planning protests over voting sites, masks and other issues.
PROTESTS MUST HAPPEN NOW. Gov Abbott reduces drop boxes to one per county. Harris County has 4.2 million people. VO… https://t.co/LKm3iOgYjc

— Helen Armstrong (@Helen Armstrong) 1602040887.0
Austin City Council Member Greg Casar, one of the council's loudest voices for police reform in the wake of the protests, called on Austinites to "continue to raise our voices, exercise our rights, and keep holding officials accountable" after votes are cast.

"APD, by their own admission, needlessly harmed peaceful protesters this summer, including hurting medics and nearly killing two teenagers, and the entire City Council has made it clear that this is not acceptable," Casar said in a statement to Austonia. "We remain committed to protecting all people's First Amendment rights, and we remain committed to safety for our city employees as well as everyday residents. I will continue to fight for policies that protect Austinites' health, safety, and right to protest, no matter the election results."
Asked whether downtown businesses were taking any actions in anticipation of rowdy protests, the Downtown Austin Alliance released a statement that did not detail any plans but supported the notion of civic engagement—noting that demonstrations on the Capitol steps and along Congress Avenue are a way of life in Austin and "a foundation of our democracy."
"For the past several months, there have been peaceful protests and demonstrations almost every day downtown," the statement said. "As stewards of downtown, we remain focused on ensuring that downtown is a vibrant and welcoming place for all who want to engage civically."
Want to read more stories like this one? Start every day with a quick look at what's happening in Austin. Sign up for Austonia.com's free daily morning email.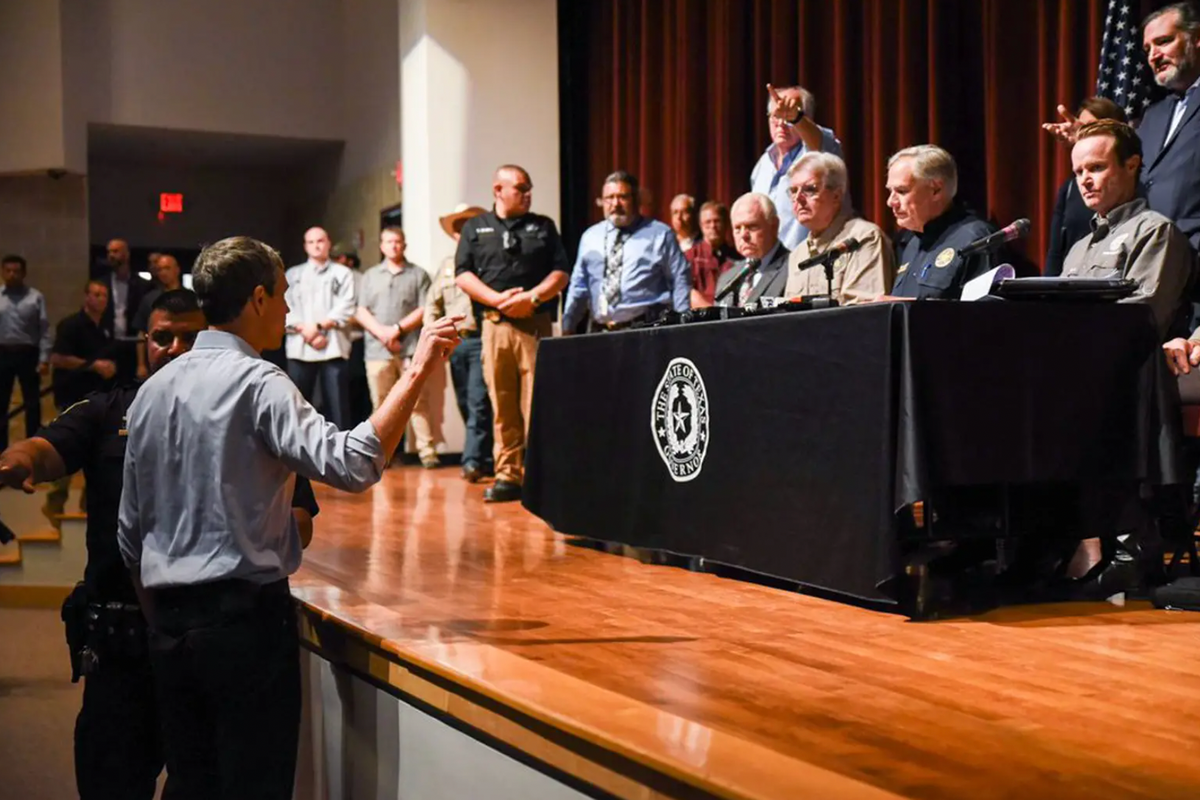 By Patrick Svitek
Beto O'Rourke caused a dramatic scene on Wednesday when he angrily confronted Gov. Greg Abbott at his news conference about the Uvalde school shooting, yelling, "This is on you."
After Abbott was done giving his initial remarks, O'Rourke approached the stage and told Abbott he was "doing nothing" to combat gun violence. He said the Uvalde massacre, in which a gunman killed 19 children and two adults, was "totally predictable."
Some of the Republican officials onstage with Abbott quickly denounced O'Rourke, telling him to go away. Another man onstage used expletives to criticize O'Rourke for interrupting the event.O'Rourke was eventually escorted away amid the unruly scene.
"I can't believe that you're a sick son of a bitch that would come to a deal like this to make a political issue," Uvalde Mayor Don McLaughlin told O'Rourke at one point.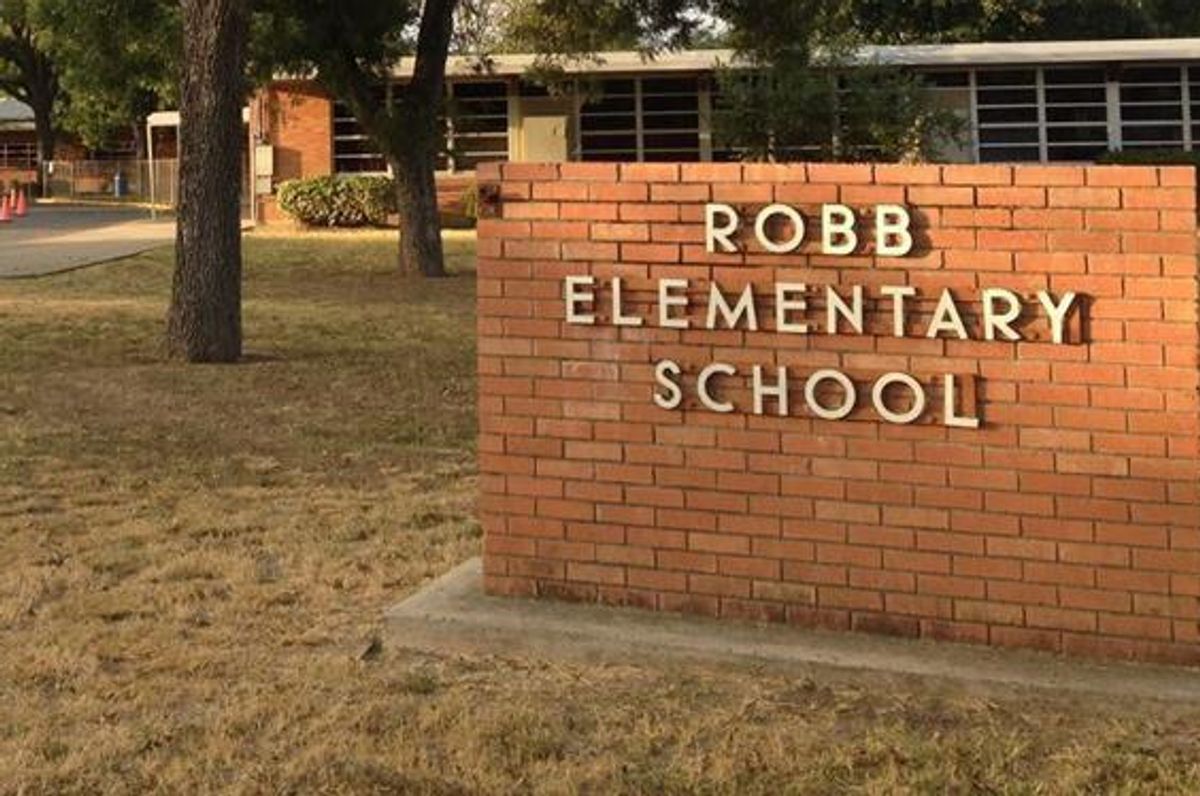 Nineteen kids and two adults are dead after a shooting at Robb Elementary School in Uvalde, Texas—a small town an hour and a half west of San Antonio—on Tuesday afternoon.
Gov. Greg Abbott said the suspect, 18-year-old Salvador Ramos, is believed to have been killed by the police. The Uvalde Police Department said the shooting began at 11:43 a.m. Tuesday.
"What happened in Uvalde is a horrific tragedy that cannot be tolerated in the state of Texas," Abbott said. "He shot and killed—horrifically, incomprehensibly."

Texans are grieving for the victims of this senseless crime & for the community of Uvalde.

Cecilia & I mourn this horrific loss & urge all Texans to come together.

I've instructed @TxDPS & Texas Rangers to work with local law enforcement to fully investigate this crime. pic.twitter.com/Yjwi8tDT1v
— Greg Abbott (@GregAbbott_TX) May 24, 2022
According to University Health Hospital officials, a 66-year-old woman and 10-year-old girl arrived in critical condition. Uvalde Memorial Hospital reportedly received 13 children for treatment and two individuals who were already deceased. At the time, it was believed 14 had died in this shooting.

The shooter prompted a lockdown at the elementary school of just under 550 students, with San Antonio Police sending SWAT, and Eagle chopper and Crime Scene Investigators.
According to White House press secretary Karine Jean-Pierre, President Joe Biden has been briefed on the tragedy and "His prayers are with the families impacted by this awful event, and he will speak this evening when he arrives back at the White House."
At 21 deaths, it is the deadliest school shooting in Texas and one of the deadliest in the U.S. since 26 at Sandy Hook Elementary lost their lives. This is the U.S.'s 213th mass shooting of 2022.