Get connected with our daily update
(Mary Elizabeth Potts)
Update 6/1:
Protests over police violence took place Sunday despite the formal cancellation of the event. Protesters shut down I-35, and police used tear gas and rubber bullets.
---
Late in the afternoon, Michael Ramos' mother, Brenda, spoke at a press conference outside her apartment complex.
"Why is Officer [Christopher] Taylor still drawing a paycheck from us, the citizens of Austin?" she asked, pulling down her mask so she could speak. "Why are we paying his salary when he murdered my son over a month ago and he murdered someone else's son over 10 months ago? Why isn't he in jail?"
5/31:
Despite the formal cancelation of Sunday's protest at the Texas State Capitol, hundreds of people gathered along 11th Street and marched to Austin City Hall and back. Some shut down I-35 for the second day in a row, and Austin police used tear gas and beanbag rounds in an effort to move people off the roadway.

Tear gas and rubber bullets get shot to disperse crowd from highway. https://t.co/ffchePzSKV

— Thee Environmental Reportréss (@Thee Environmental Reportréss)1590959385.0
The police form a line on Cesar Chavez, stopping demonstrators marching from City Hall. s3.amazonaws.com
---
Police allow protestors to turn north on San Antonio toward Republic Square. s3.amazonaws.com
Update 5/31 11:21 a.m.:

Chas Moore, executive director of the Austin Justice Coalition, announced on Facebook live that the organization would cancel the protest planned for Sunday at the Texas State Capitol.
"We are supposed to be out demonstrating, peacefully protesting the need for safety and for freedom and liberation for black people," Moore said. "And when I look at what's going on in Austin, when I look at the mess that happened last night, I look at white people burning stuff up in the name of Black Lives Matter and there's little to no black lives at these events."

Police used rubber bullets and pepper spray during Saturday's protest, which ended with reports of fires and looting. Nineteen people were arrested, the Austin American-Statesman reports.
Demonstrations took place on Friday night and Saturday in several major Texas cities as well as across the U.S.
Gov. Greg Abbott declared a state of emergency on Sunday in response to the protests.
Update 5/31 11:10 a.m.
Another protest is planned for the Texas State Capitol grounds on Sunday, with organizers calling for peaceful demonstrations.
Planned protests yesterday ended in clashes between police and protesters as well as reports of fires and looting.
Austin Police Department officers will be working 12-hour shifts for the indefinite future, the CBS Austin reports, and all have been called into work.

Mayor Steve Adler said in an emailed statement sent Sunday morning that he would not attend the protest. "I want to stand with others to recognize that only a 'just' city is a safe one," he wrote. "I also know that especially large gatherings still present great risk of spreading the virus in ways that would be hard to tract, isolate and control."
Original: Protesters in downtown Austin blocked traffic on I-35 in a demonstration over the killings of George Floyd by a Minneapolis police officer and Michael Ramos by Austin police last month.
The protest started with hundreds outside the Austin police headquarters, moved to the highway and grew even larger as it made its way to the Texas State Capitol.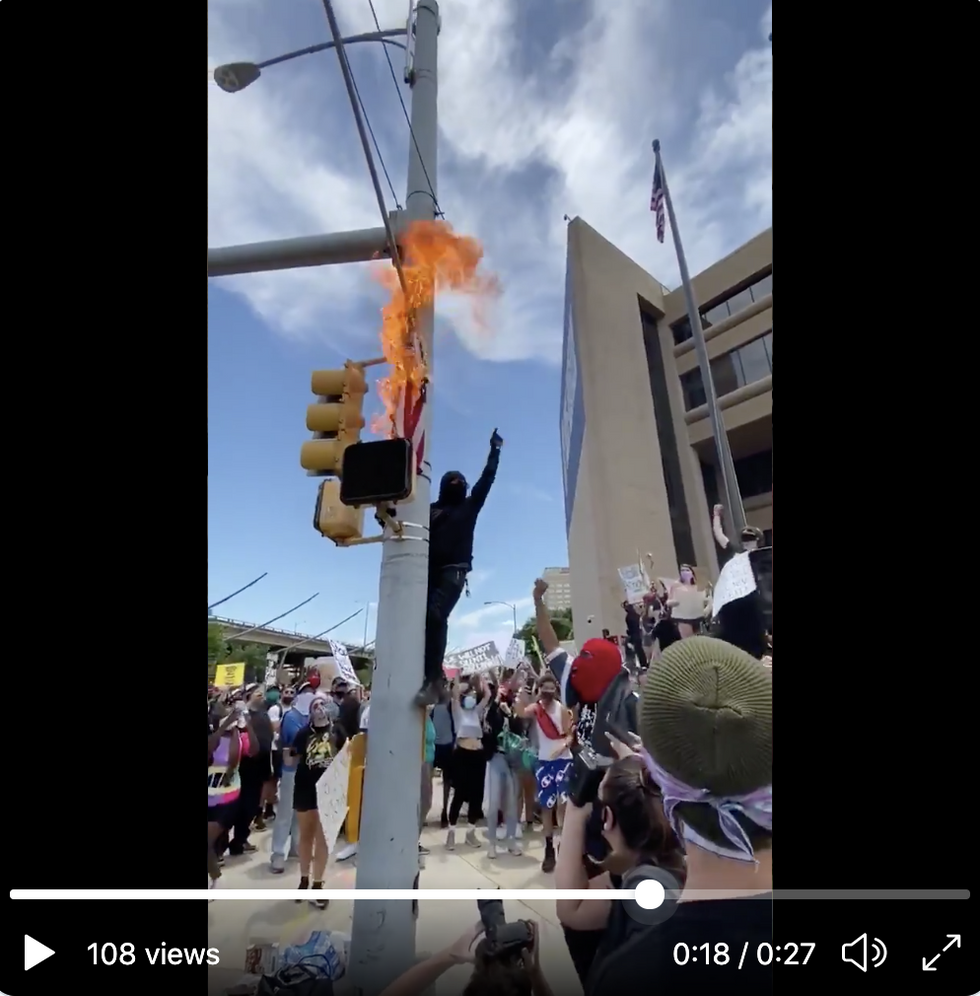 #austin #MikeRamos Hundreds more protestors coming from the west on 8th street. https://t.co/RojNptRldx

— austonia (@austonia)1590864321.0
#austin #MikeRamos Clearing damp w horses https://t.co/YmGcau2ut2

— austonia (@austonia)1590863203.0
Crowd@moving south I35 both lanes. Southbound lane clear of cars Northbound cars slowly moving https://t.co/SPk0TRudTl

— austonia (@austonia)1590861555.0
It is not the first protest of the weekend, nor will it be the last.

Police in Austin made several arrests at a protest that took place last night and early this morning outside Austin Police Department headquarters downtown, KXAN reports.
Protests also took place in cities around Texas, the Texas Tribune reports, as well as in more than 30 cities around the U.S.
Gov. Greg Abbott, who yesterday said the Floyd killing was "horrific" and "a consequence of poor police work," announced today he had spoke to the mayors of major cities in Texas—including Austin—and had "sent state resources" to help manage protests.
Another protest is planned tomorrow at the Texas State Capitol.
Travis County District Attorney Margaret Moore announced last night that the office will convene a special grand jury to consider the Ramos case.
(Clint Broden)
Daniel Perry, the active-duty Army sergeant who says he shot Black Lives Matter protester Garrett Foster in self-defense, was driving for Uber when he accidentally encountered the demonstration on the night Foster was killed, his attorney said Monday.
Perry, who is stationed in Killeen and only allowed to travel 100 miles from base, was not in Austin that night to attend the demonstration, attorney Clint Broden said, but because it "was the closest location that had significant ridesharing customers."
Broden also shared a redacted version of Perry's bank statement that shows two deposits from Uber that he said correlated to runs in Austin that night. Perry has been ordered to remain on base since the shooting, Broden said.
"We hope this puts to rest the allegations that Sgt. Perry traveled to Austin for any nefarious purpose," he said.
Some, including Foster's mother, have pointed to Perry's since-deleted Twitter account as evidence that he disagreed with BLM protesters and showed up at the rally to cause trouble.
The release was accompanied by six photos showing what the attorney described as the damage inflicted on Perry's car by protesters, including a bullet hole.
After Perry shot Foster, who was carrying an AK-47 and whom Perry claims was raising his rifle "in a direct threat to [his] life," another person in the crowd shot at Perry's vehicle, according to police. That person has not been publicly identified. Like Perry, he or she had a concealed carry license and was questioned and then released by the Austin Police Department.
Protesters arrested

On Saturday, in the wake of Foster's death and the release of Perry's name the day before, protesters and law enforcement clashed in demonstrations near downtown. Austin police on Monday released the names of 40 people arrested at the protests. The most common charge was obstruction of a highway.
Perry's attorney shared photos that he says show damage inflicted by protesters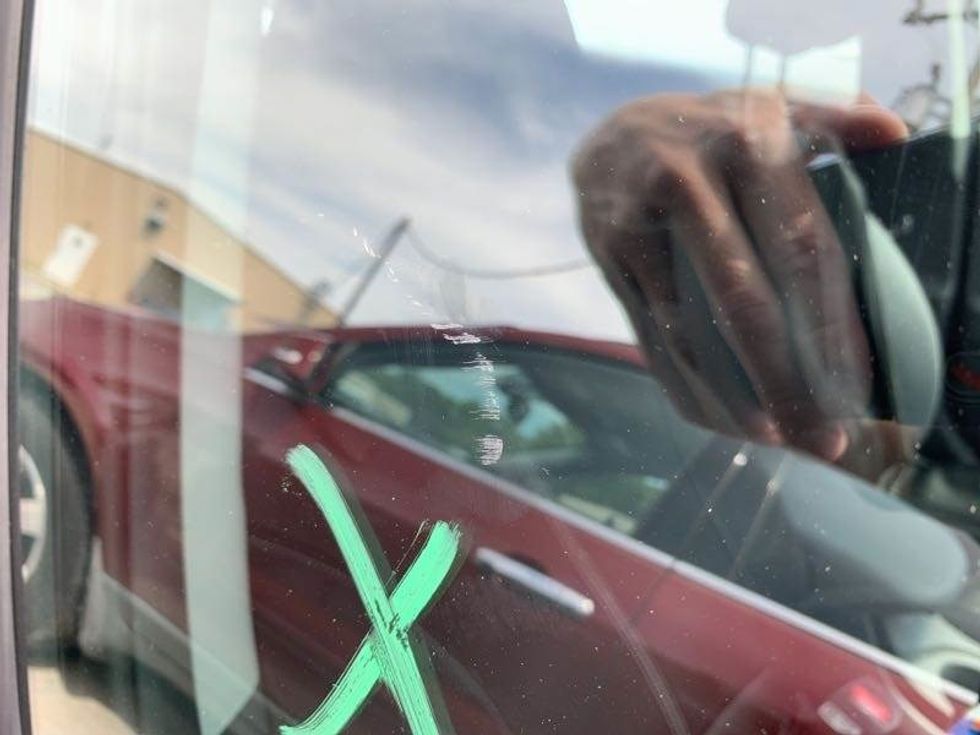 Perry's lawyer claims this photo shows where the vehicle was scraped with a brick.
(Clint Broden)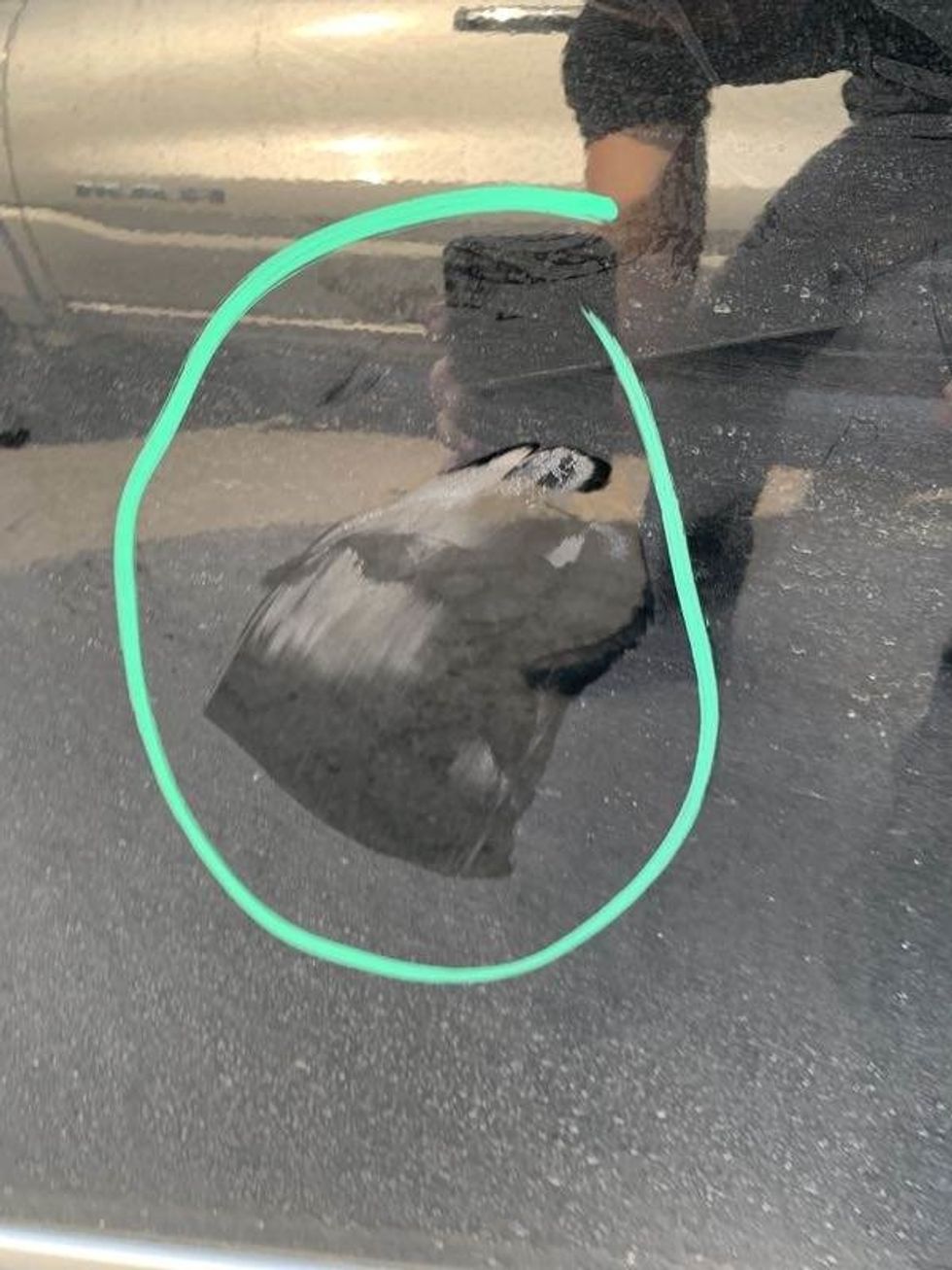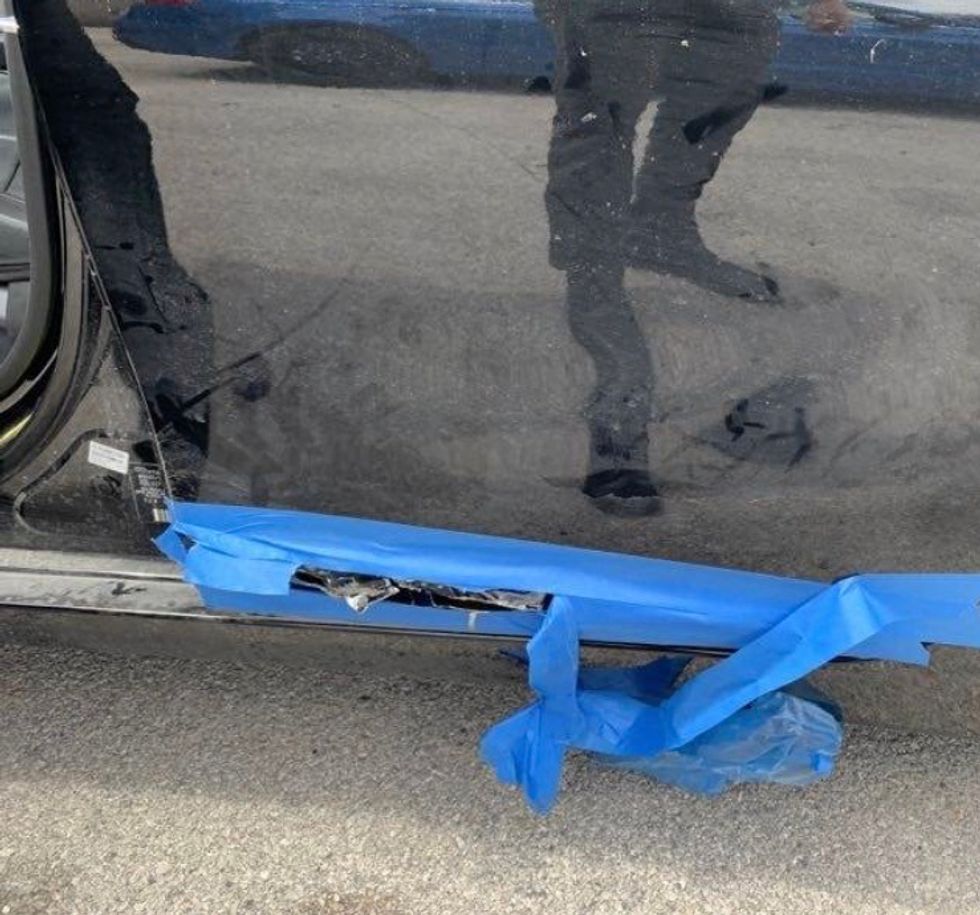 This photo, the lawyer says, depicts bullet holes.
(Clint Broden)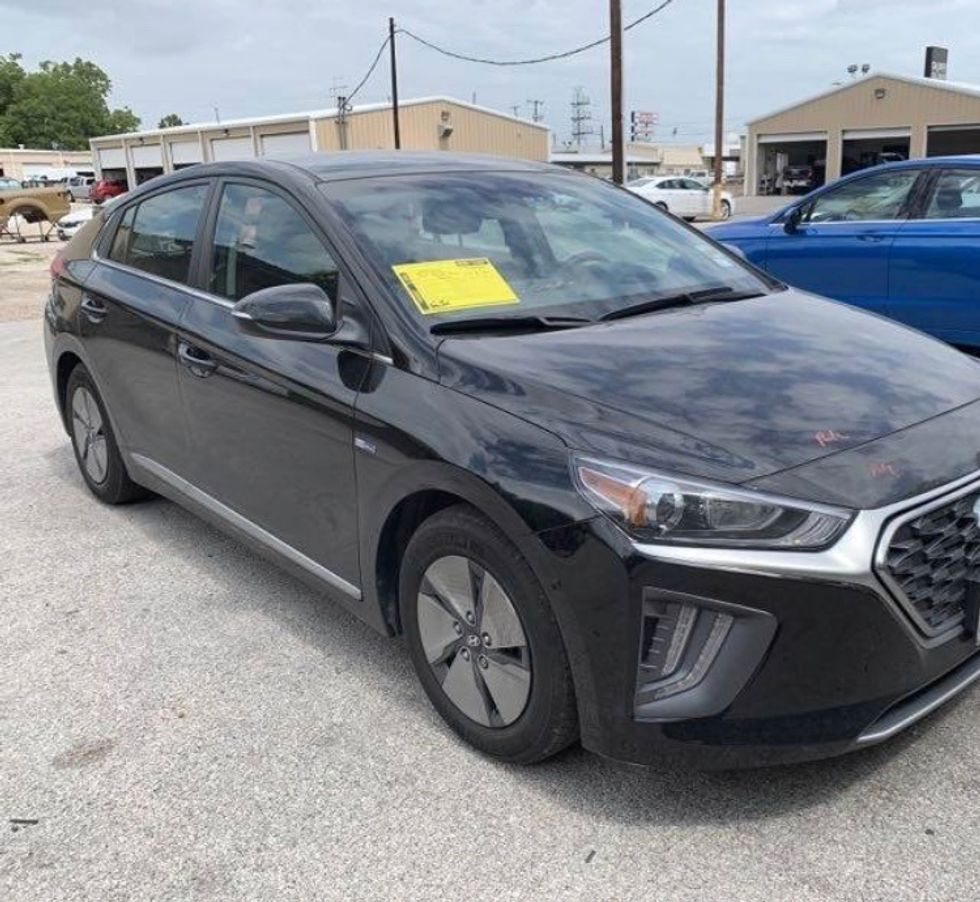 Perry's lawyer claims this photo shows hood damage "identified by auto body shop as a result of banging."
(Clint Broden)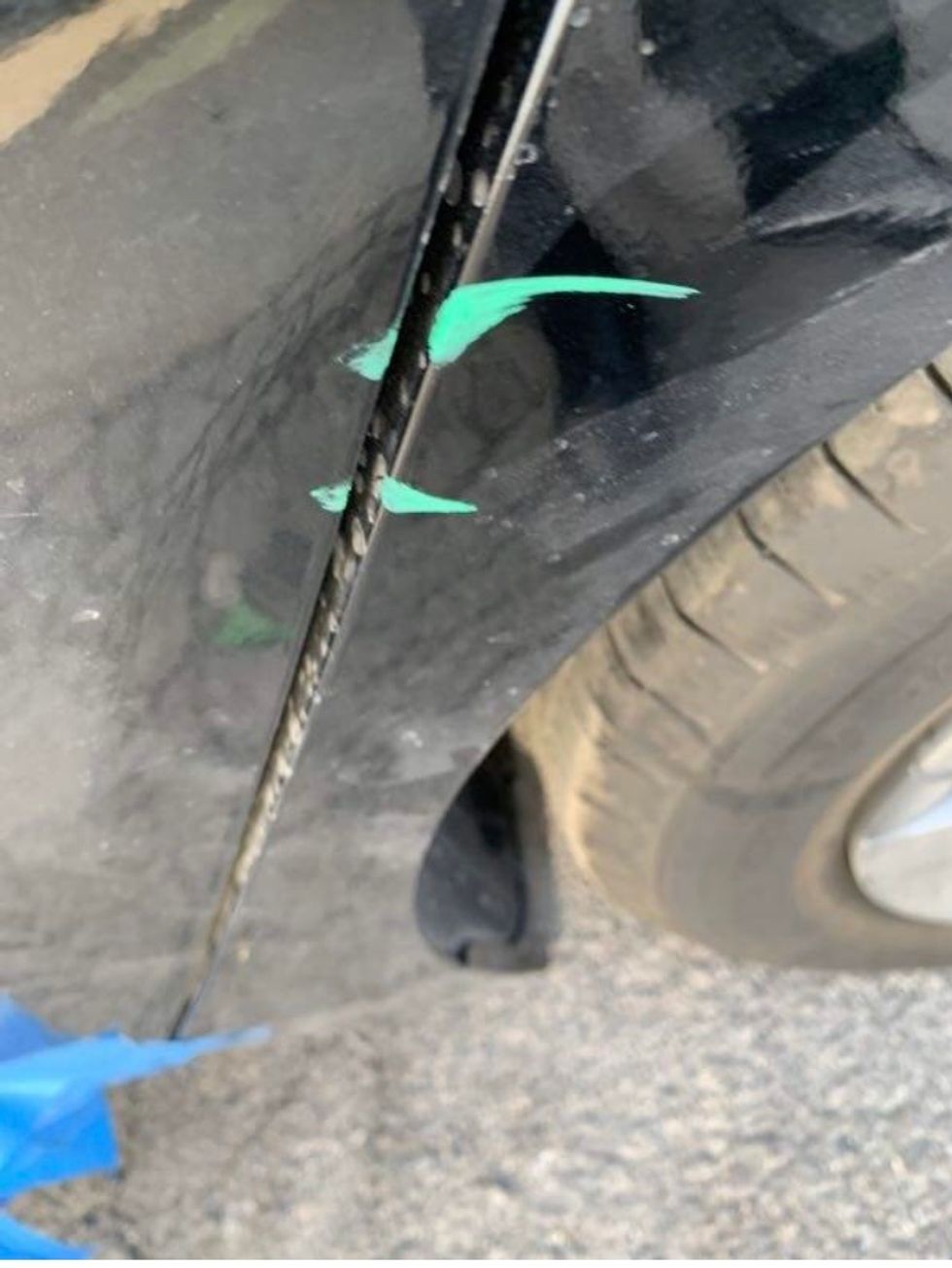 This photo, the attorney claims, shows a misaligned door where people hit the vehicle.
(Clint Broden)
Follow Austonia on Instagram to keep up with what's happening in your city.
Our Instagram page allows you to stay up to date with all things Austin, from coronavirus updates to local personalities. Join our Instagram family to see the faces, events and news that make up the city.
(Apple)
Former Longhorn and NFL star Emmanuel Acho stars in the two-part premiere of "The Oprah Conversation," which hit screens on Apple TV+ over the weekend.
<p>Acho is a natural fit to kick off the new show by Oprah Winfrey. The two are partnering to <a href="https://austonia.com/media/uncomfortable-conversations" target="_blank">publish a book based off his wildly popular social-media series</a>, "Uncomfortable Conversations with a Black Man."</p>In the show's first installment, Winfrey and Acho answer questions by white and Latino guests about race and what it means to be Black in America.<p>"He's answering uncomfortable questions about racism in America and the best ways to keep the conversation going with your family and friends," reads a statement on the show's social media.</p><div class="rm-shortcode" data-rm-shortcode-id="b731717d9d6127f784b0c98ace3bba1a"><div class="fb-video" data-allowfullscreen="true" data-href="https://www.facebook.com/video.php?v=2661048164154842"></div></div><p><br/></p><p>"The Oprah Conversation" is Winfrey's newest series on Apple TV+, following "Oprah Talks COVID-19" and "Oprah's Book Club."</p><p>In future episodes, the show will continue to explore timely topics with leaders from across the globe. <a href="https://tv.apple.com/us/episode/uncomfortable-conversations-with-a-black-man-part-1/umc.cmc.18mbwbiobbhzpxceuzvijsln8?showId=umc.cmc.49yt85r7ow6904u0177r694qy" target="_blank">Watch it here.</a></p>