Get connected with our daily update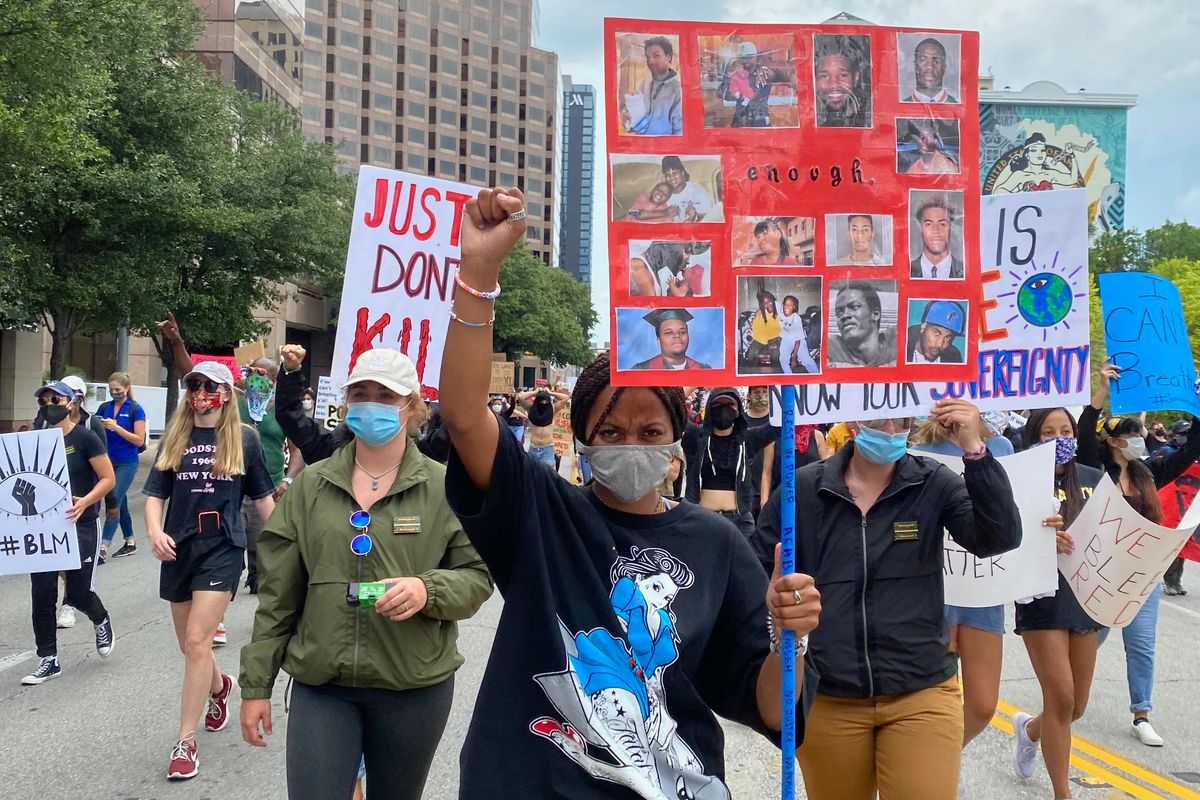 (Mary Elizabeth Potts)
Update 6/1:
Protests over police violence took place Sunday despite the formal cancellation of the event. Protesters shut down I-35, and police used tear gas and rubber bullets.
---
Late in the afternoon, Michael Ramos' mother, Brenda, spoke at a press conference outside her apartment complex.
"Why is Officer [Christopher] Taylor still drawing a paycheck from us, the citizens of Austin?" she asked, pulling down her mask so she could speak. "Why are we paying his salary when he murdered my son over a month ago and he murdered someone else's son over 10 months ago? Why isn't he in jail?"
5/31:
Despite the formal cancelation of Sunday's protest at the Texas State Capitol, hundreds of people gathered along 11th Street and marched to Austin City Hall and back. Some shut down I-35 for the second day in a row, and Austin police used tear gas and beanbag rounds in an effort to move people off the roadway.

Tear gas and rubber bullets get shot to disperse crowd from highway. https://t.co/ffchePzSKV

— Thee Environmental Reportréss (@Thee Environmental Reportréss) 1590959385.0
The police form a line on Cesar Chavez, stopping demonstrators marching from City Hall.s3.amazonaws.com
---
Police allow protestors to turn north on San Antonio toward Republic Square.s3.amazonaws.com
Update 5/31 11:21 a.m.:

Chas Moore, executive director of the Austin Justice Coalition, announced on Facebook live that the organization would cancel the protest planned for Sunday at the Texas State Capitol.
"We are supposed to be out demonstrating, peacefully protesting the need for safety and for freedom and liberation for black people," Moore said. "And when I look at what's going on in Austin, when I look at the mess that happened last night, I look at white people burning stuff up in the name of Black Lives Matter and there's little to no black lives at these events."

Police used rubber bullets and pepper spray during Saturday's protest, which ended with reports of fires and looting. Nineteen people were arrested, the Austin American-Statesman reports.
Demonstrations took place on Friday night and Saturday in several major Texas cities as well as across the U.S.
Gov. Greg Abbott declared a state of emergency on Sunday in response to the protests.
Update 5/31 11:10 a.m.
Another protest is planned for the Texas State Capitol grounds on Sunday, with organizers calling for peaceful demonstrations.
Planned protests yesterday ended in clashes between police and protesters as well as reports of fires and looting.
Austin Police Department officers will be working 12-hour shifts for the indefinite future, the CBS Austin reports, and all have been called into work.

Mayor Steve Adler said in an emailed statement sent Sunday morning that he would not attend the protest. "I want to stand with others to recognize that only a 'just' city is a safe one," he wrote. "I also know that especially large gatherings still present great risk of spreading the virus in ways that would be hard to tract, isolate and control."
Original: Protesters in downtown Austin blocked traffic on I-35 in a demonstration over the killings of George Floyd by a Minneapolis police officer and Michael Ramos by Austin police last month.
The protest started with hundreds outside the Austin police headquarters, moved to the highway and grew even larger as it made its way to the Texas State Capitol.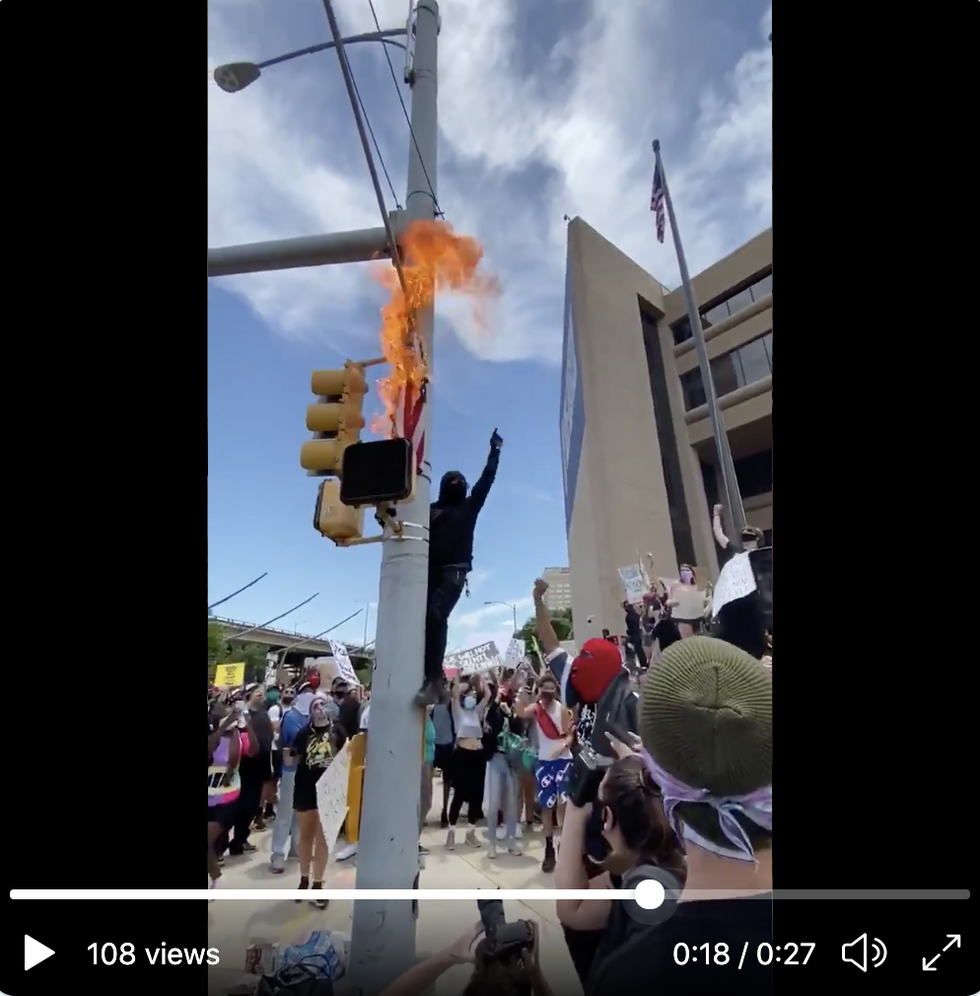 #austin #MikeRamos Hundreds more protestors coming from the west on 8th street. https://t.co/RojNptRldx

— austonia (@austonia) 1590864321.0
#austin #MikeRamos Clearing damp w horses https://t.co/YmGcau2ut2

— austonia (@austonia) 1590863203.0
Crowd@moving south I35 both lanes. Southbound lane clear of cars Northbound cars slowly moving https://t.co/SPk0TRudTl

— austonia (@austonia) 1590861555.0
It is not the first protest of the weekend, nor will it be the last.

Police in Austin made several arrests at a protest that took place last night and early this morning outside Austin Police Department headquarters downtown, KXAN reports.
Protests also took place in cities around Texas, the Texas Tribune reports, as well as in more than 30 cities around the U.S.
Gov. Greg Abbott, who yesterday said the Floyd killing was "horrific" and "a consequence of poor police work," announced today he had spoke to the mayors of major cities in Texas—including Austin—and had "sent state resources" to help manage protests.
Another protest is planned tomorrow at the Texas State Capitol.
Travis County District Attorney Margaret Moore announced last night that the office will convene a special grand jury to consider the Ramos case.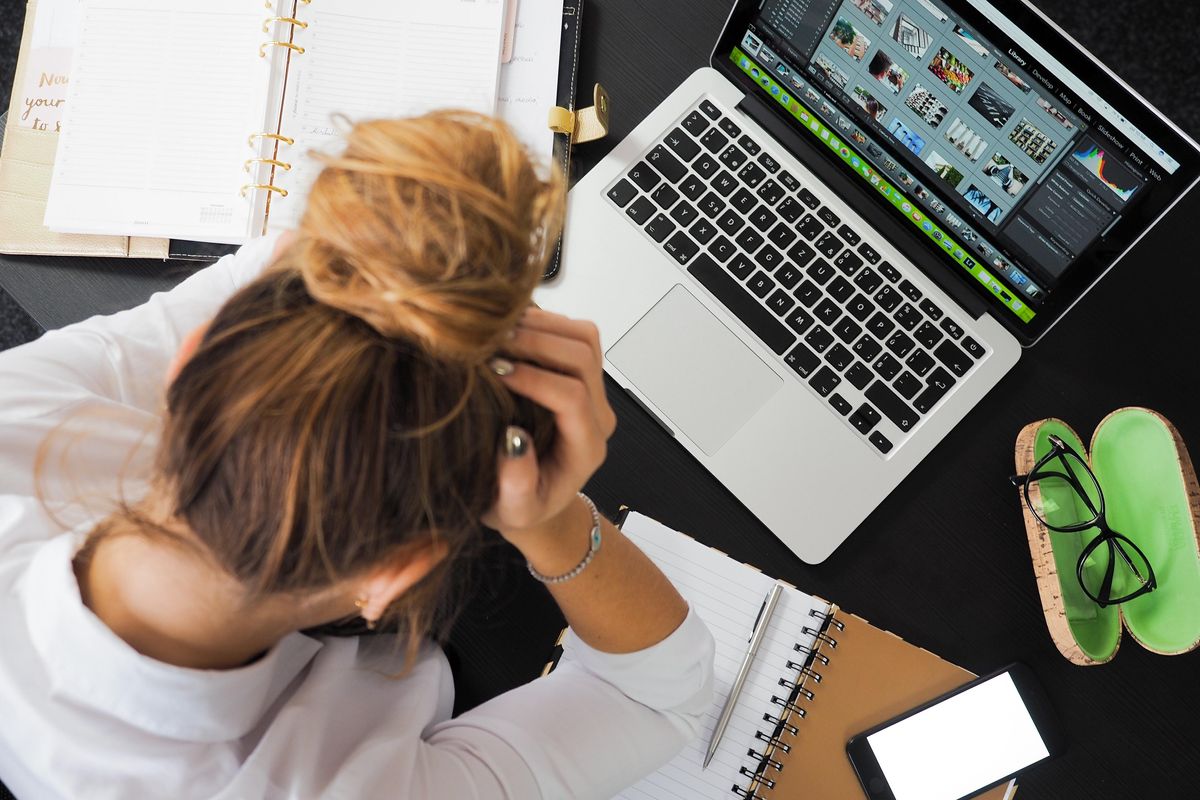 Some workers are done being overachievers.
Whether they're consultants or software engineers, they've noticed they can get a full day's work done and even if they have time to do more, they're not going to. It's a practice that has lately come to be known as "quiet quitting," or not going above and beyond the required tasks at work.
Jill Chapman, a local expert with HR solutions company Insperity, talked about how different definitions of the phrase might come down to the employee's attitude. Whereas one worker might be disengaged, another could be practicing some work-life balance.
"From an employer's point of view, if you're paying somebody you're paying them to deliver the results that you agreed upon, right?" Chapman said. "As long as people are meeting their deliverables, if they close down their computer at five o'clock, that's kind of the expectation."
In Austin, a major tech hub and city that has flooded with knowledge workers in recent years, conversations around quiet quitting might be heightened.
"The tech workers would very often be the ones that were kind of leading the charge, with new ideas and new ways of working—we'd see them kind of permeate their niche before it went out to the rank and file," Chapman said. "So I think that there is a significant number of people who are talking about this in that community."
Still, this approach to work isn't all that new even if the phrase is. Essentially, people are doing what they're being paid to do, explains Andrew Brodsky, a professor at the McCombs School of Business at the University of Texas at Austin.
"When you come from a society… where you get as much work from your workers as you possibly can for as little compensation as possible, it shouldn't be surprising when you have workers take the same perspective and try to do as little work as possible," Brodsky said.
He's studied idle time in the office and remote work and says that for many jobs, eight hours isn't needed some days.
"On the days you have less to do, should you just sit there moving your mouse every so often so that Microsoft Teams shows that you're active to your boss or should you try to find a way to view that time productively?" Brodsky said. "Maybe further your career training, or just taking a break and recovering from work so that you can come back fresh or on a day that you are busier."
With Gen Z's recent entrance into the workforce, young workers have been tied to the "quiet quitting" trend. The hashtag for the term has racked up 12.9 million views on TikTok and The Wall Street Journal said professionals of that generation "are saying no to hustle culture."
But Brodsky says it's likely more to do with how our employment psychological contract has changed. Boomers enjoyed rewards for being long-term employees with promotions and continual raises. Now, there's less reward for staying loyal and giving 110%. For companies looking to reduce quiet quitting, however, Brodsky has some ideas.
"Many of these people feel like, whether they're Gen Z or otherwise, that they're doing what the company is doing. Organizations are using us, so we're going to use them," Brodsky said. "In cases where you actually find ways to reward employees as opposed to paying external hires more… I imagine it would potentially make you stronger."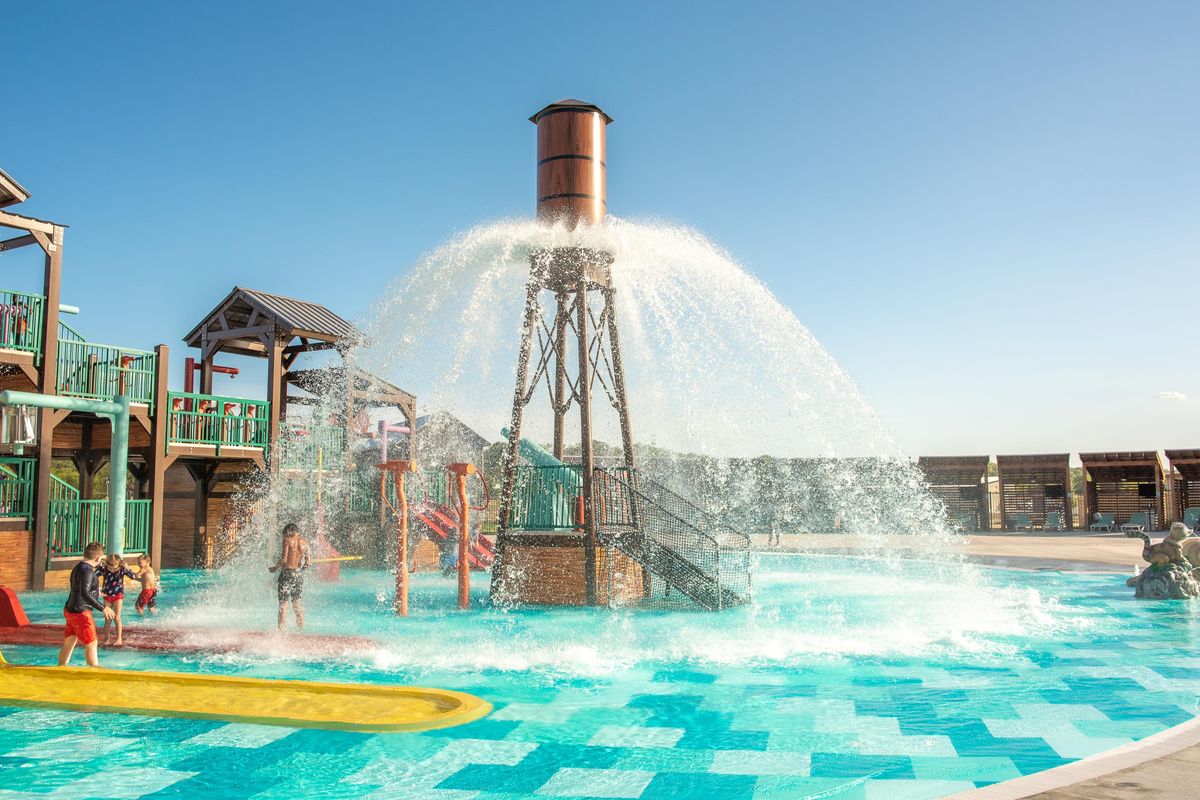 Camp Fimfo Waco
Camp Fimfo Waco, a brand new camping resort, is kicking off football and fall camping season in style! With top-notch amenities, premium accommodations, and 10 weekends of fall fun, there's no better place to have a fall camping getaway, especially if you're a Baylor football fan!
Fall promises to be a one-of-a-kind camping experience. From Sept. 16 to Nov. 24, weekends will be packed with fall-themed activities, including special Halloween weekends in October. Campers can enjoy activities like fall crafts, campground trick-or-treating, costume contests, site decorating, outdoor movie nights, and more!
Packages and Ways to Stay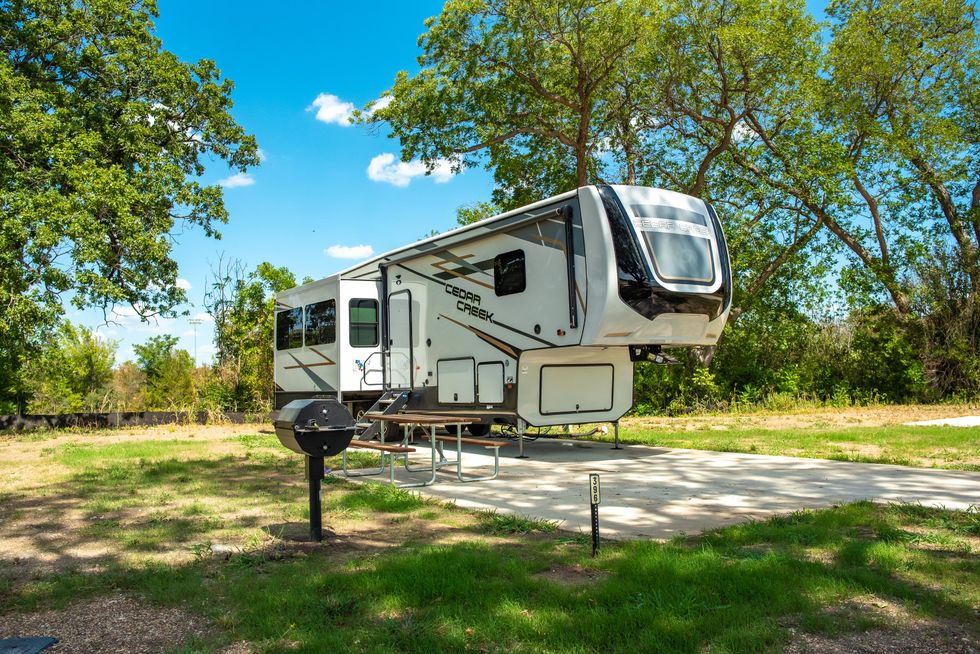 Camp Fimfo Waco
Located just 5 miles from McLane Stadium, Camp Fimfo Waco is the perfect place to stay during home game weekends. Skip the stuffy hotel room and embrace the great outdoors before cheering on the Baylor Bears! Campers can purchase a Baylor Tailgating Package that includes a pre-game meal from Executive Chef Sean Kelley and transportation to and from the game! Chef Kelley will also be cooking up delicious, elevated tailgating meals near the stadium so make sure to check out The Plaid Plate food truck before the game.
Stay in style and comfort, no matter your camping preference! At Camp Fimfo Waco, there are multiple ways to stay. Red Carpet RV sites come with a concrete pad and patio, full hook-ups, cable hook-up, a charcoal grill, fire ring and fire pit. Back-in or pull-thru options are available, as well as coveted spots tucked along the Bosque River!
Don't have an RV? Not a problem, Camp Fimfo Waco has cabins too! Book a Riverview Firewheel Cabin if you're looking for an air-conditioned oasis for the whole family. Complete with a kitchen and private bathroom, this cabin can fit up to 10 people. Elevate your stay by adding on a golf cart or snag a private cabana by the pool for guaranteed shade. With wifi available throughout the park, you can stay connected during your stay!
Amenities and Activities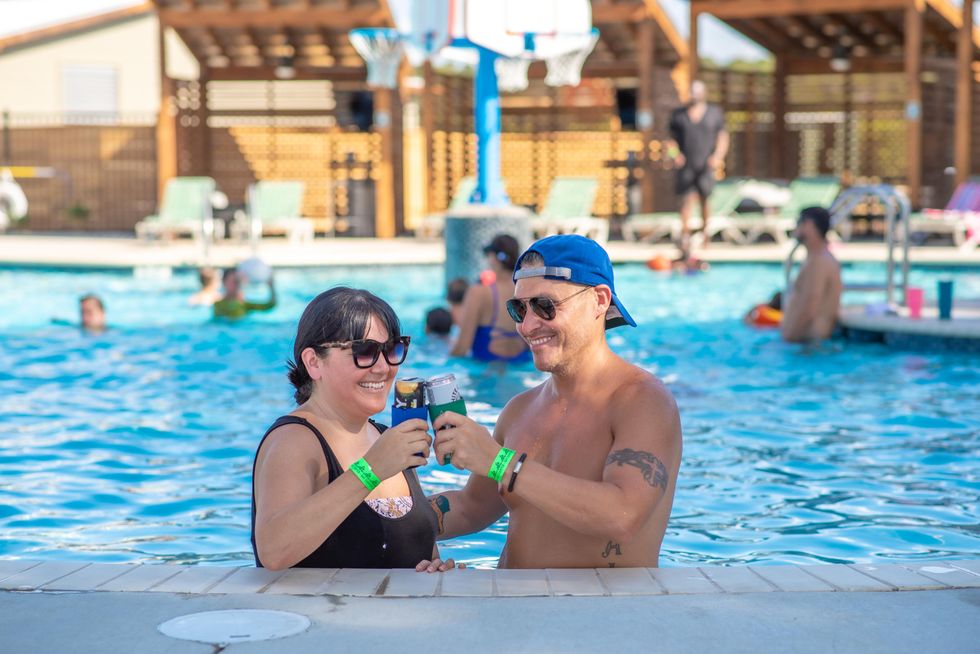 Camp Fimfo Waco
Camp Fimfo Waco features lots of amenities to fill your days with fun, whether you're a kid or kid at heart. After challenging your friends to a game of pickleball, basketball, or mini golf, go for a dip in the resort-style, heated pool - open daily through October! Stay on the weekends through October to enjoy the interactive splash playground. With plenty of ways to burn off energy, like the jumping pillow or playground, you can be sure to end the day with a peaceful night around the campfire!
Offers
Right now, you can get the fourth night FREE when you book three nights with the promo code BONUS! Check out the Offers page for full details and more promo codes!