Austonia AM
100% Austin news, info, and entertainment, straight to your inbox at 6 a.m. every morning.
In five minutes, you're fully informed and ready to start another great day in our city.
Get connected with our daily update
Jordan Vonderhaar for the Texas Tribune
By Jordan Vonderhaar
Throughout the summer, cities in Texas and around the country have seen protests and demonstrations against police brutality. On Saturday, protesters and law enforcement clashed in Austin, a week after protester Garrett Foster, who was openly carrying an AK-47 rifle — which is legal in Texas — was shot and killed by Daniel Perry, a U.S. Army sergeant, when he approached his car. Perry drove away, then called the police. Perry was released without being charged. Since then, questions have been raised about who was the aggressor.
---
Foster's death fueled tensions Saturday night in the downtown streets of the state capital as demonstrators again gathered and local and state police turned out in massive force. Tribune photographer Jordan Vonderhaar was there to document the protest. Here's what he saw.
State police in riot gear form a line along Congress Avenue and advance toward protesters to remove them from the street.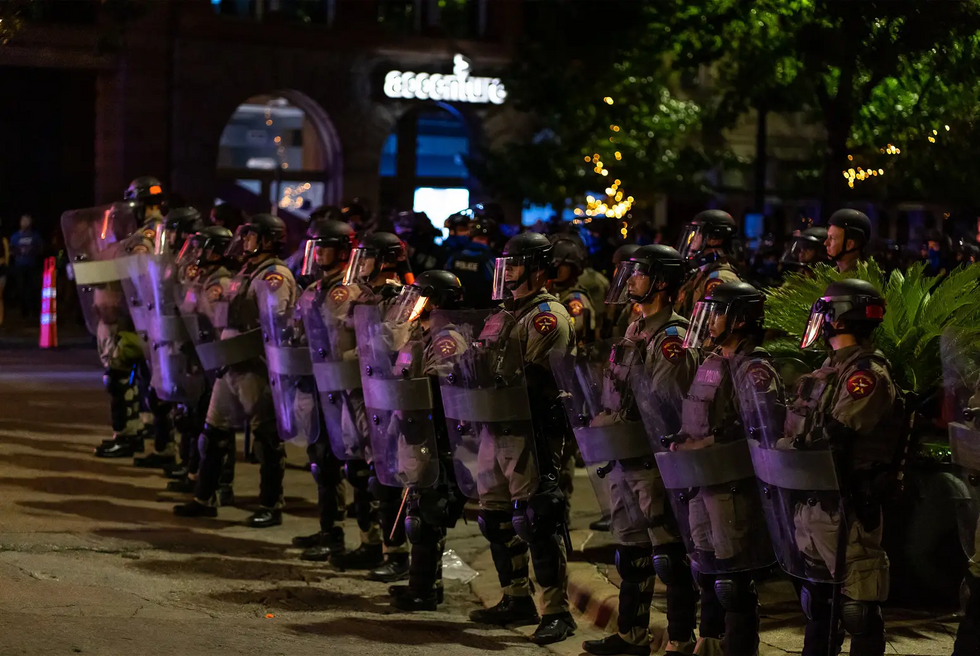 Armed protesters ride in the back of a pickup truck from a rally at the University of Texas to a memorial for Garrett Foster in downtown Austin, minutes after hearing of clashes between other protesters and police.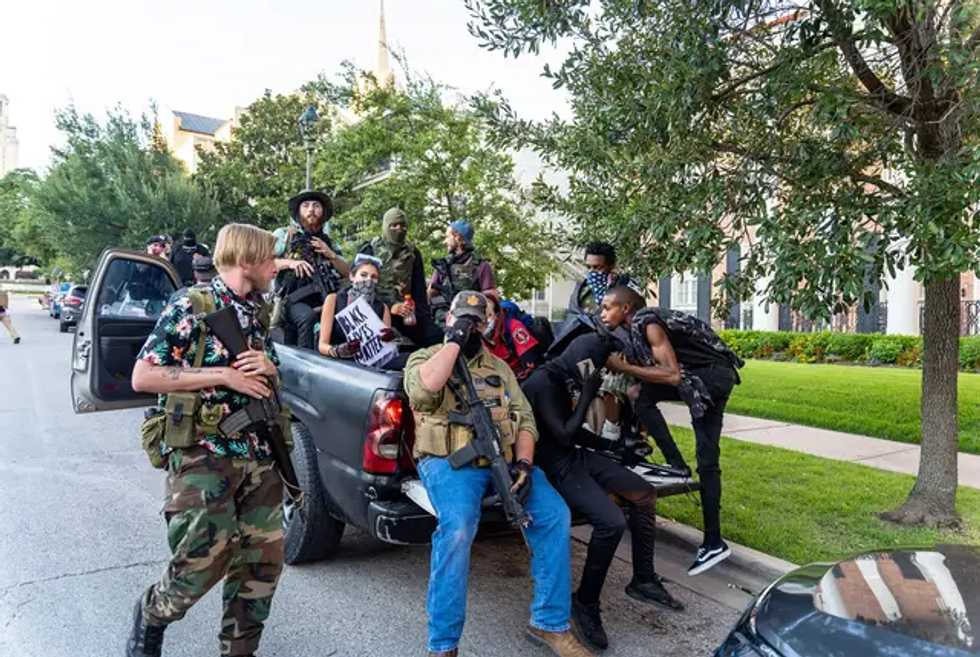 Jordan Vonderhaar
A man with a sniper rifle slung over his shoulder stands among protesters who have gathered at the Garrett Foster memorial in downtown Austin.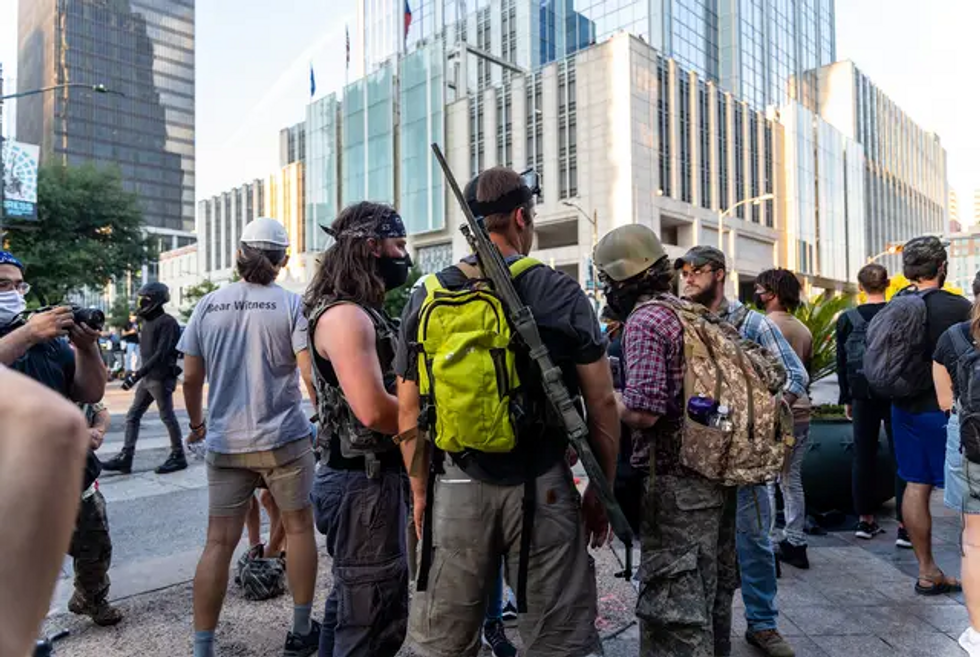 Jordan Vonderhaar
A protester confronts police in riot gear.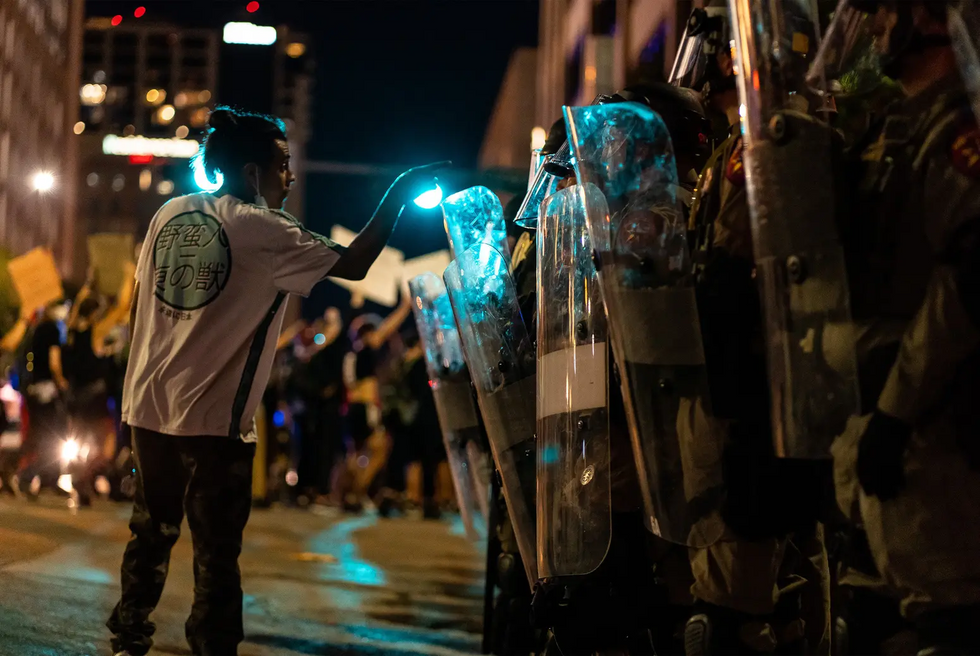 Jordan Vonderhaar
Mounted officers from the Austin Police Department clash with protesters on the corner of Fourth Street and Congress Avenue in downtown Austin.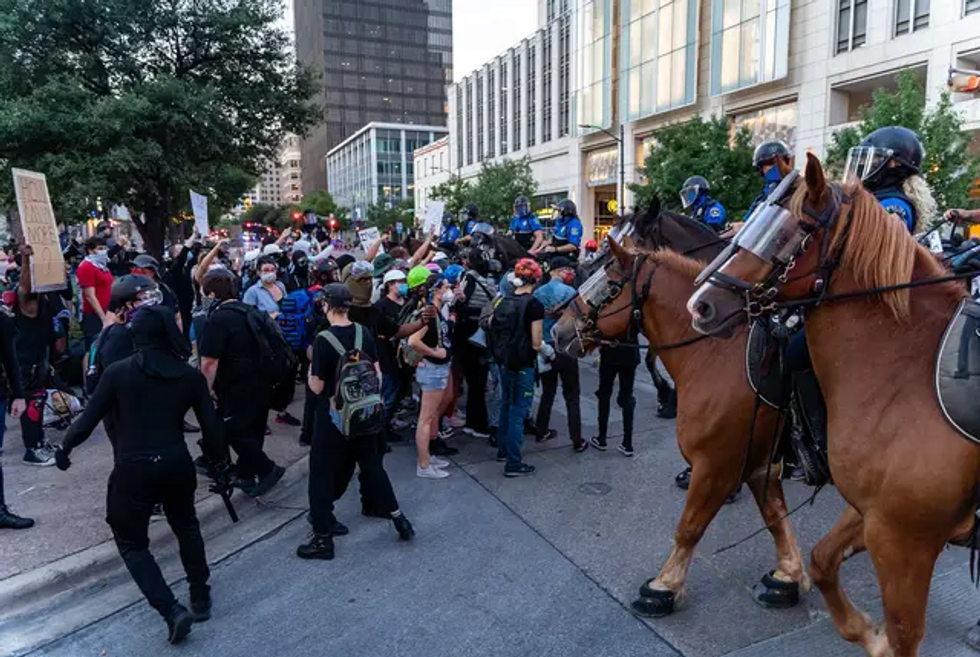 Jordan Vonderhaar
Mounted officers from the Austin Police Department clash with protesters on the corner of Fourth Street and Congress Avenue in downtown Austin.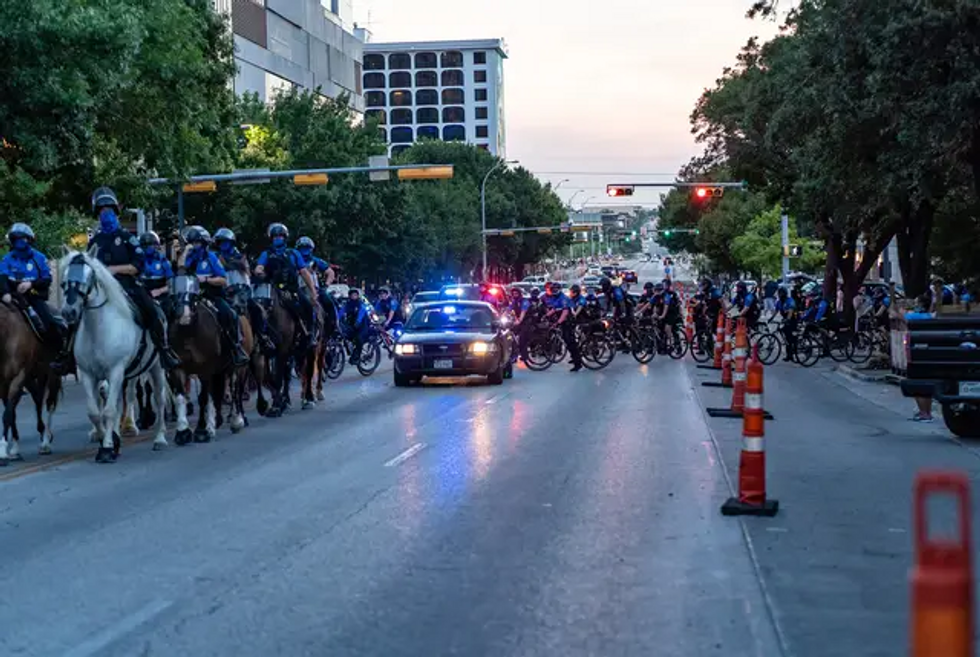 Jordan Vonderhaar
State police were present large numbers.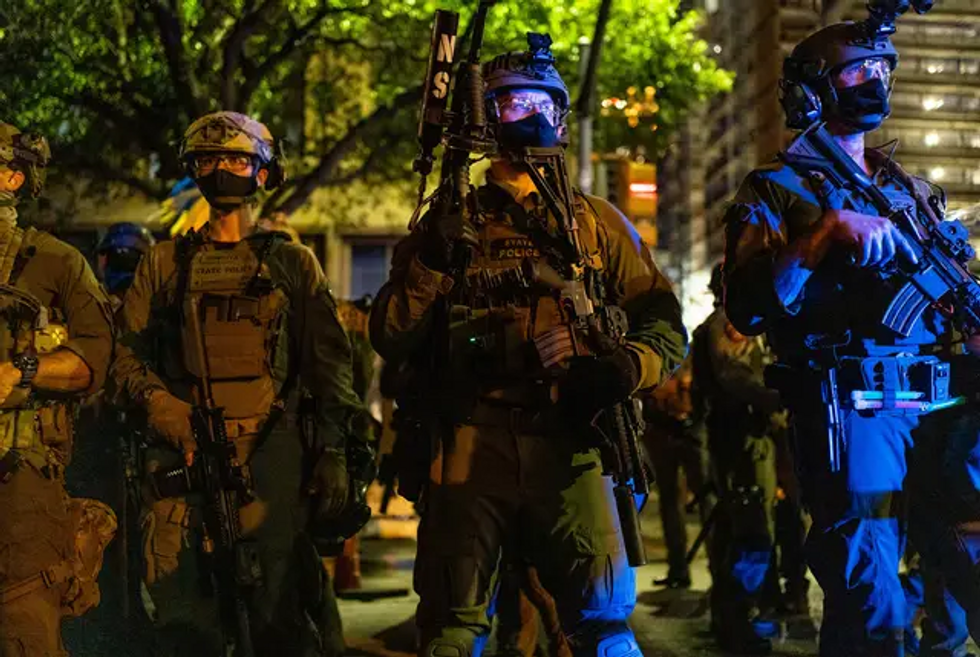 Jordan Vonderhaar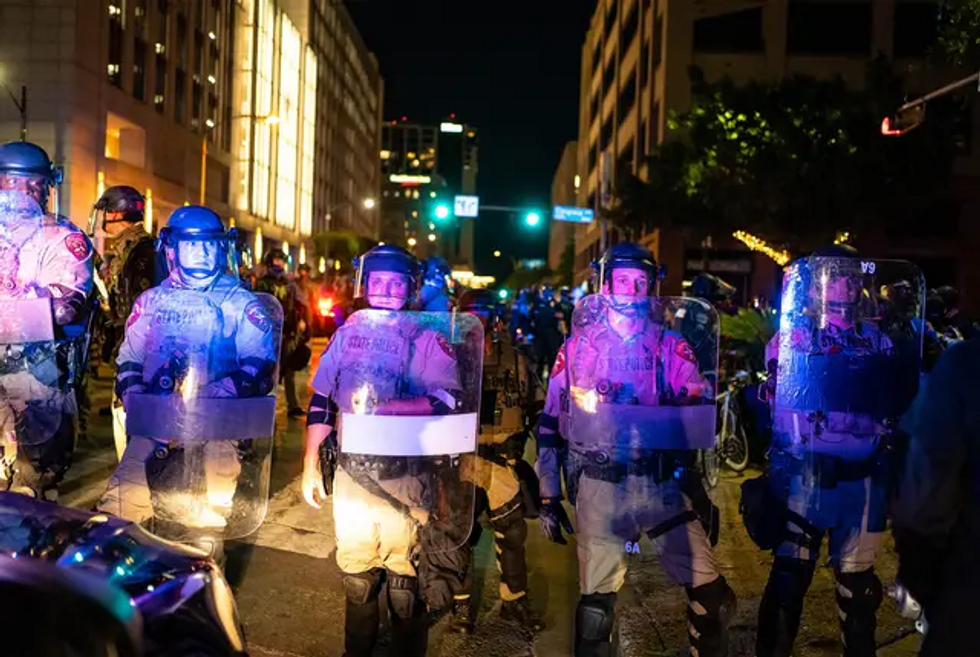 Jordan Vonderhaar
A protester armed with a baseball bat kneels in the street with fist upraised as protesters clashed with police in downtown Austin on Aug. 1, 2020.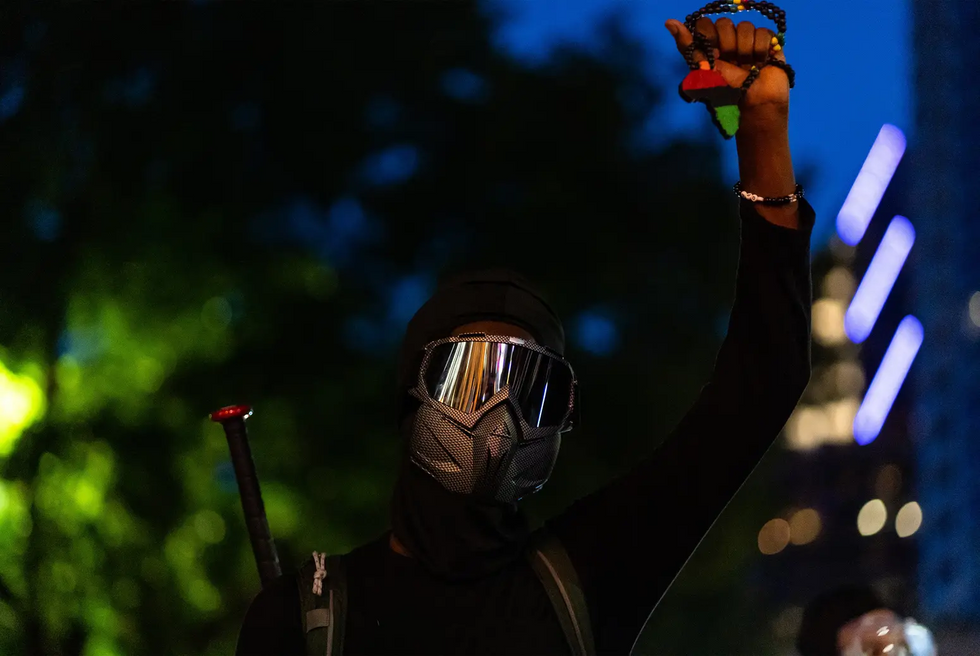 Jordan Vonderhaar
Members of the far-right Proud Boys militia stand on Congress Avenue across from the Garrett Foster memorial in downtown Austin.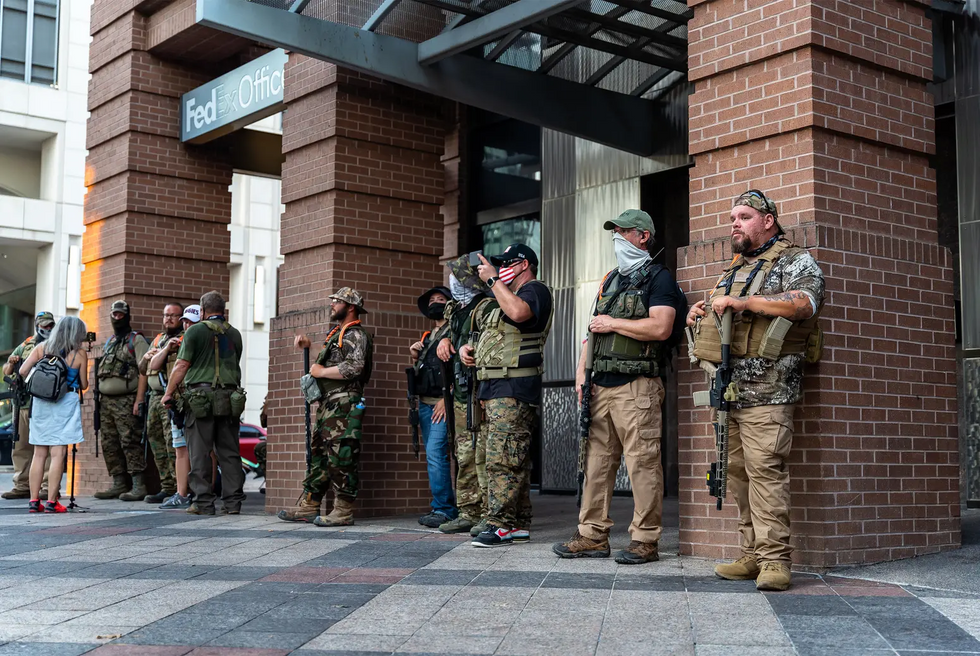 Jordan Vonderhaar
A woman with her hands zip-tied waits to be loaded onto a bus after being arrested during protests against police brutality in downtown Austin.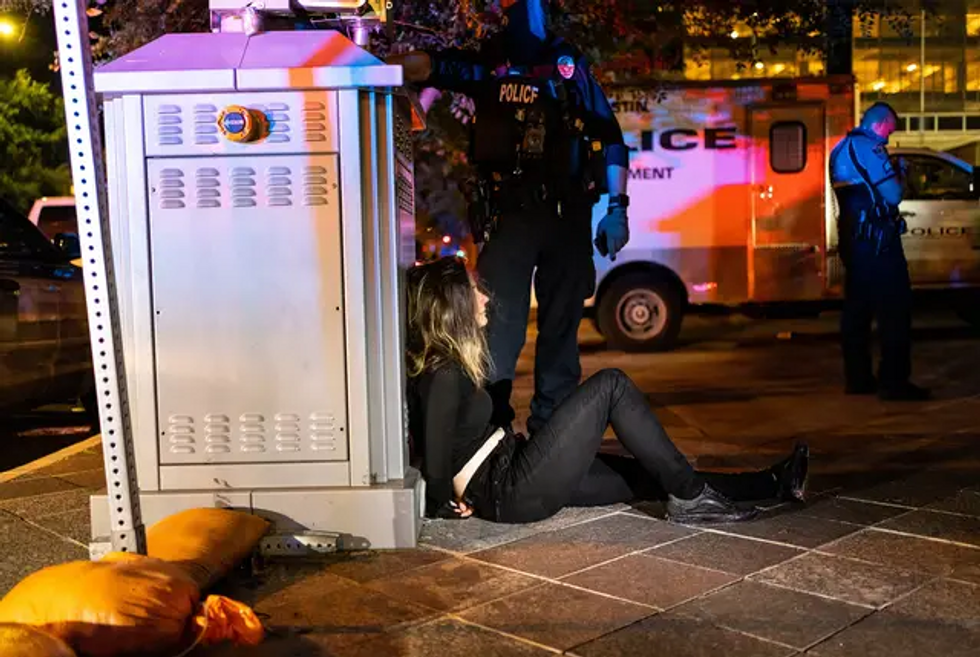 Jordan Vonderhaar
Police load arrested protesters into a Travis County Sheriff Department bus.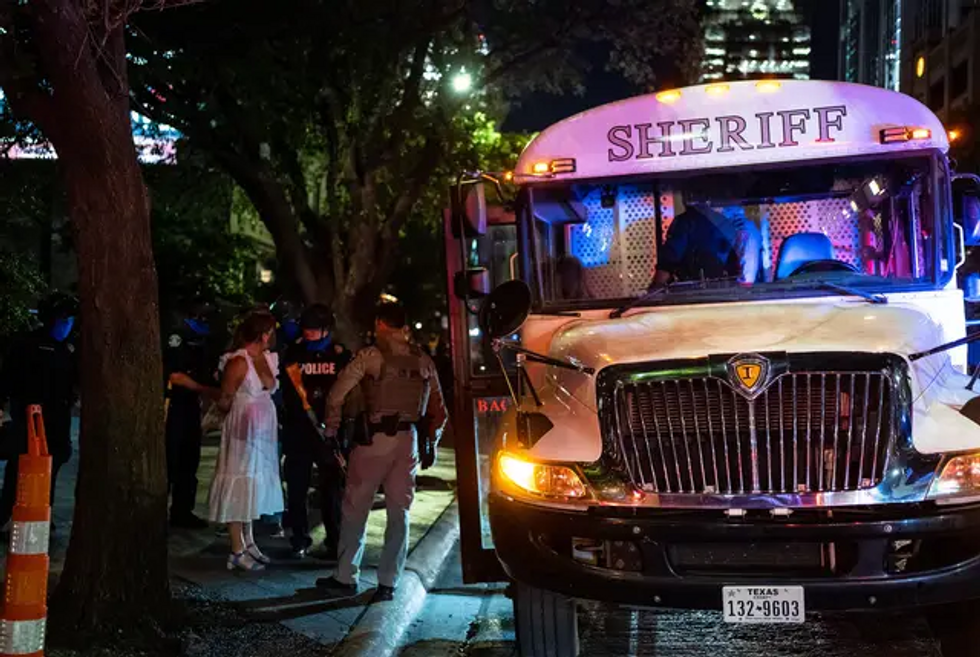 Jordan Vonderhaar
A police officer sprays a protester with pepper spray as demonstrators clash with police in downtown Austin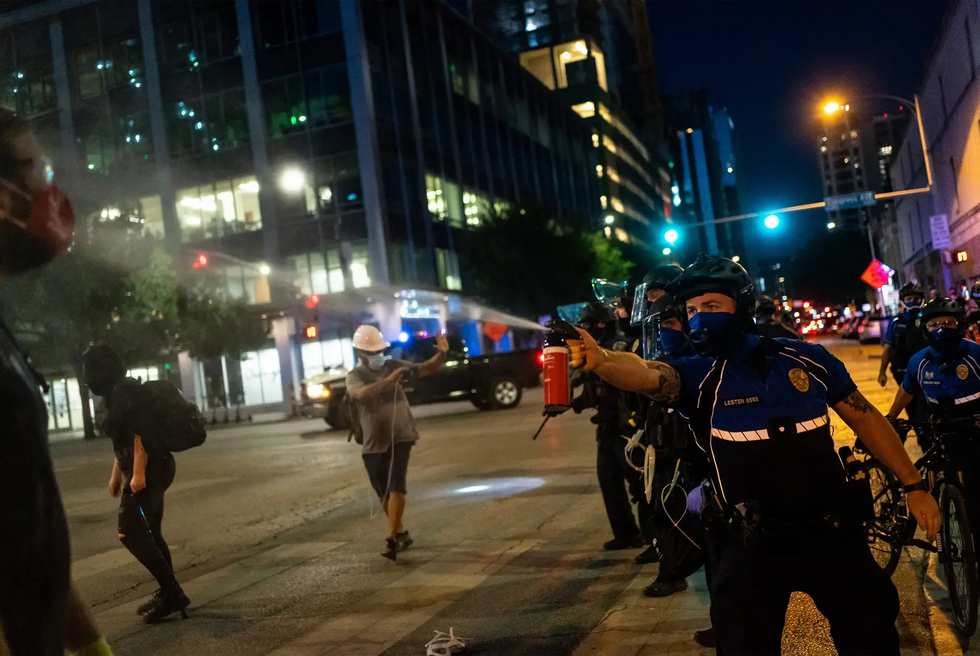 Jordan Vonderhaar
A heavy police presence marked Saturday's protest in downtown Austin.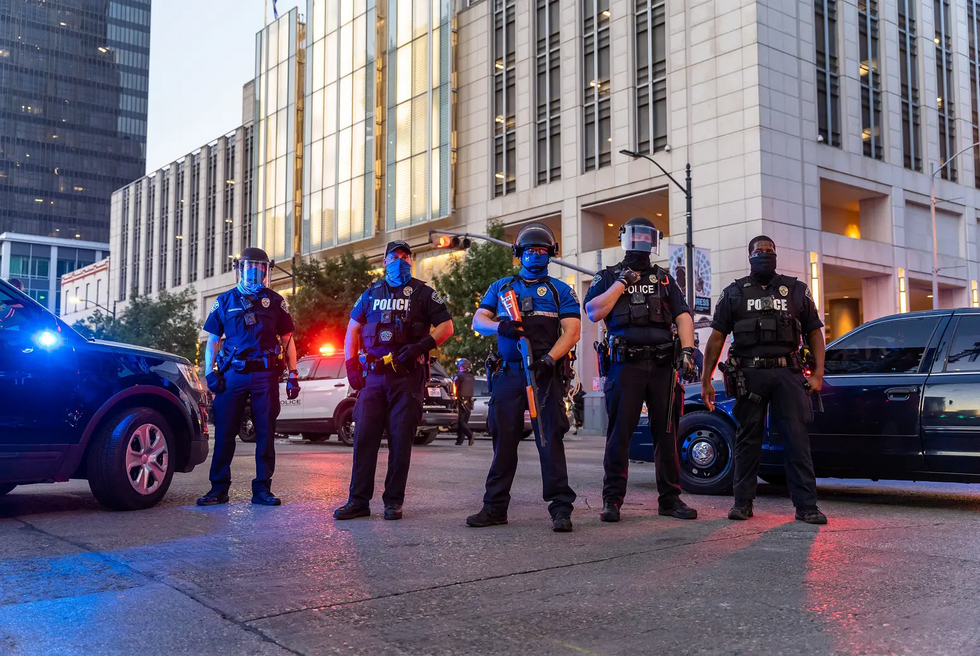 Matthew McConaughey is reportedly weighing a run for Texas governor in 2022.
The Austin resident and Oscar winner has been "quietly making calls to influential people in Texas political circles, including a deep-pocketed moderate Republican and energy CEO" as he decides whether to run, according to Politico.
McConaughey said a gubernatorial run is "a true consideration" while on a March episode of Houston's "The Balanced Voice" podcast.
Although most political strategists doubt McConaughey's commitment and viability as a candidate, some are still intrigued by the possibility.
"I find it improbable, but it's not out of the question," Karl Rove, a top Republican strategist with a long history in Austin, told the political news site. He added that the big question is whether McConaughey would run as a Republican, a Democrat or an independent.
Brendan Steinhauser, an Austin-based GOP strategist, told Politico he's surprised McConaughey isn't being taken more seriously. "Celebrity in this country counts for a lot," he said. "It's not like some C-list actor no one likes. He has an appeal."

Texas Gov. Greg Abbott plans to run for a third term and remains popular among Republican voters, 77% of whom approve of his performance as of April, according to the Texas Politics Project.
Some strategists believe an independent McConaughey run would benefit Abbott. But a recent poll from The Dallas Morning News and the University of Texas at Tyler found that McConaughey would beat Abbott, 45% to 33%, with 22% opting for someone else.
Mimi Swartz, an executive editor at Texas Monthly, mulled a McConaughey run in a recent opinion essay from the New York Times. "Texas may not be ready for a philosopher king as a candidate, much less governor," she wrote. "May the best man win, man."
Some JuiceLand production facility workers and storefront employees are organizing to demand wage increases, better working conditions (including air conditioning in the warehouse) and pay transparency, among other asks. They are also calling on staff to strike and customers to boycott the Austin-based company until their demands are met.
JuiceLand responded on Saturday. "We are listening," the company wrote on their Instagram story. "JuiceLand crew now makes guaranteed $15 an hour or more companywide."
JuiceLand, which was founded in 2001 by Matt Shook and now has 35 locations in Austin, Houston and Dallas, acknowledged the rising cost of living across Texas and the added stress of the pandemic in an email to employees on Saturday, part of which @juicelandworkersrights shared on social media. "There's no denying that times are tough and financial security means more now than ever," the company wrote.
Organized JuiceLand workers rejected this proposal, according to a recent post on the @juicelandworkersrights Instagram account, and reiterated their demands.
"Cost of living in Austin is rising exponentially and will only continue to get worse with the tech boom," the post read. "$15 is barely a sustainable living."

Related Articles Around the Web