Get connected with our daily update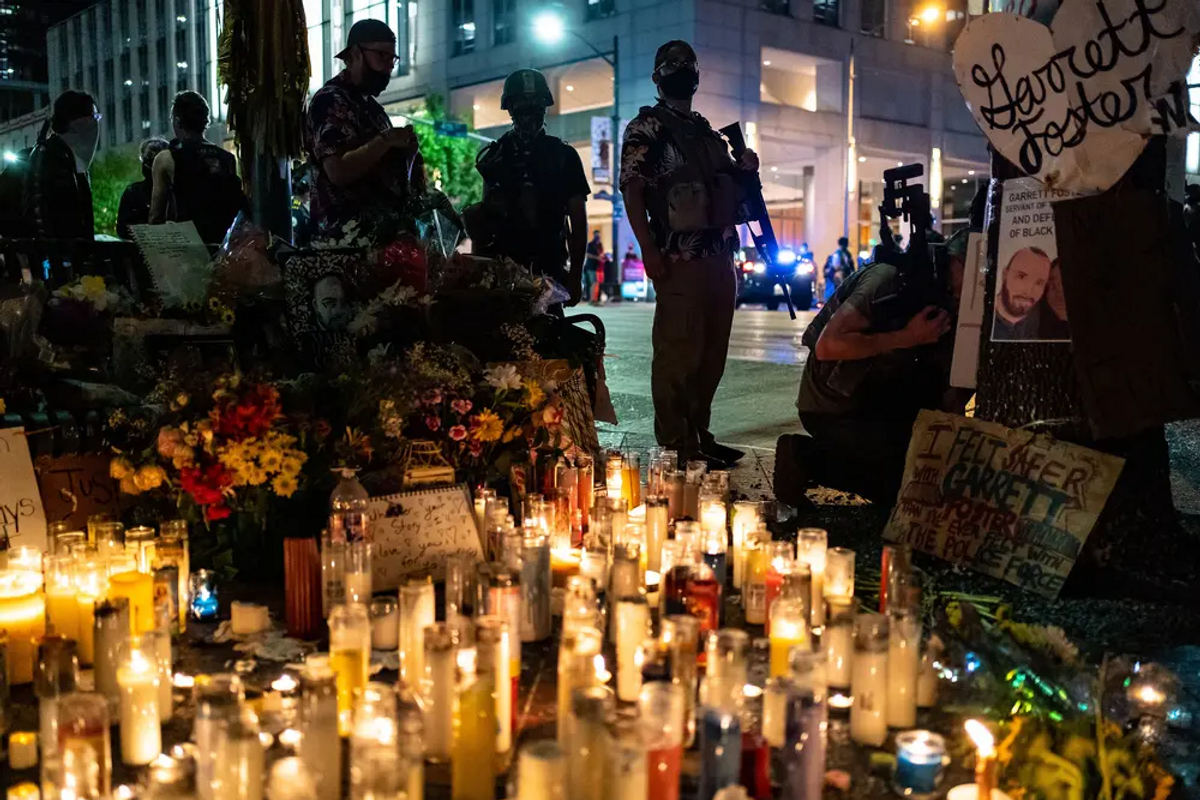 Jordan Vonderhaar for the Texas Tribune
By Jordan Vonderhaar
Throughout the summer, cities in Texas and around the country have seen protests and demonstrations against police brutality. On Saturday, protesters and law enforcement clashed in Austin, a week after protester Garrett Foster, who was openly carrying an AK-47 rifle — which is legal in Texas — was shot and killed by Daniel Perry, a U.S. Army sergeant, when he approached his car. Perry drove away, then called the police. Perry was released without being charged. Since then, questions have been raised about who was the aggressor.
---
Foster's death fueled tensions Saturday night in the downtown streets of the state capital as demonstrators again gathered and local and state police turned out in massive force. Tribune photographer Jordan Vonderhaar was there to document the protest. Here's what he saw.
State police in riot gear form a line along Congress Avenue and advance toward protesters to remove them from the street.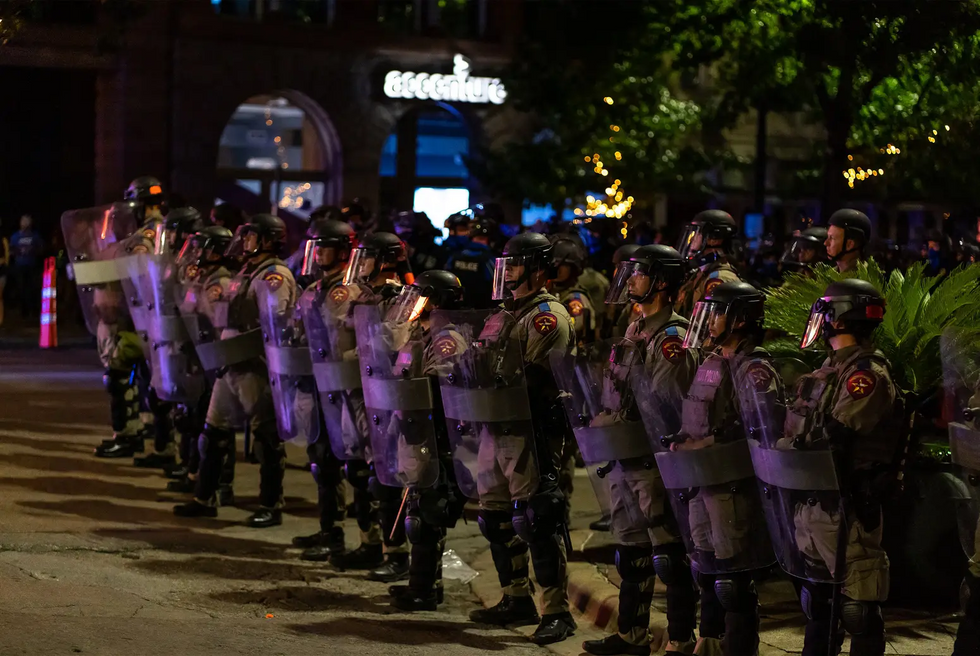 Armed protesters ride in the back of a pickup truck from a rally at the University of Texas to a memorial for Garrett Foster in downtown Austin, minutes after hearing of clashes between other protesters and police.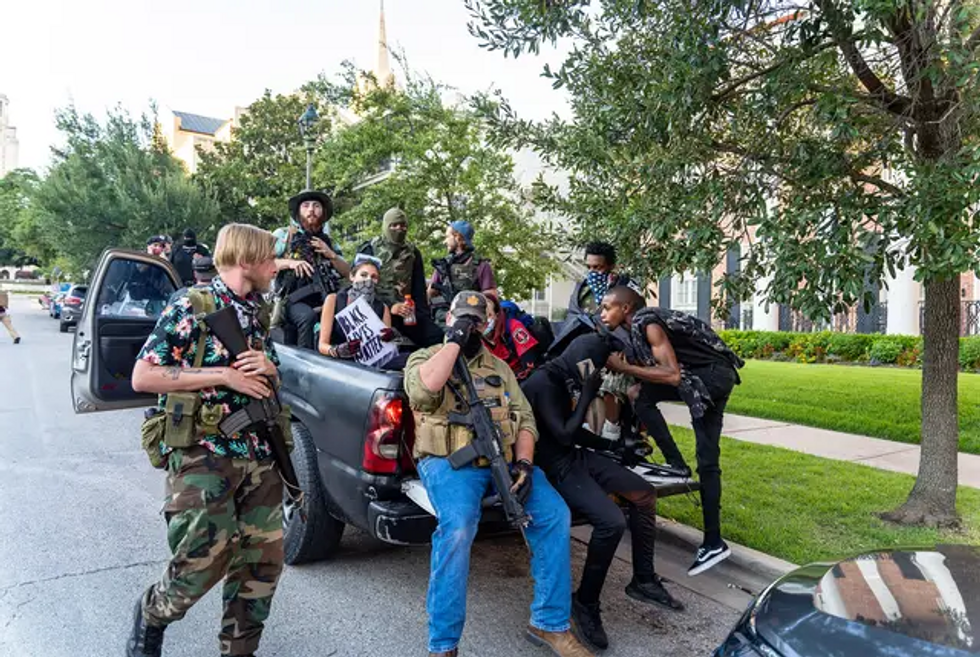 Jordan Vonderhaar
A man with a sniper rifle slung over his shoulder stands among protesters who have gathered at the Garrett Foster memorial in downtown Austin.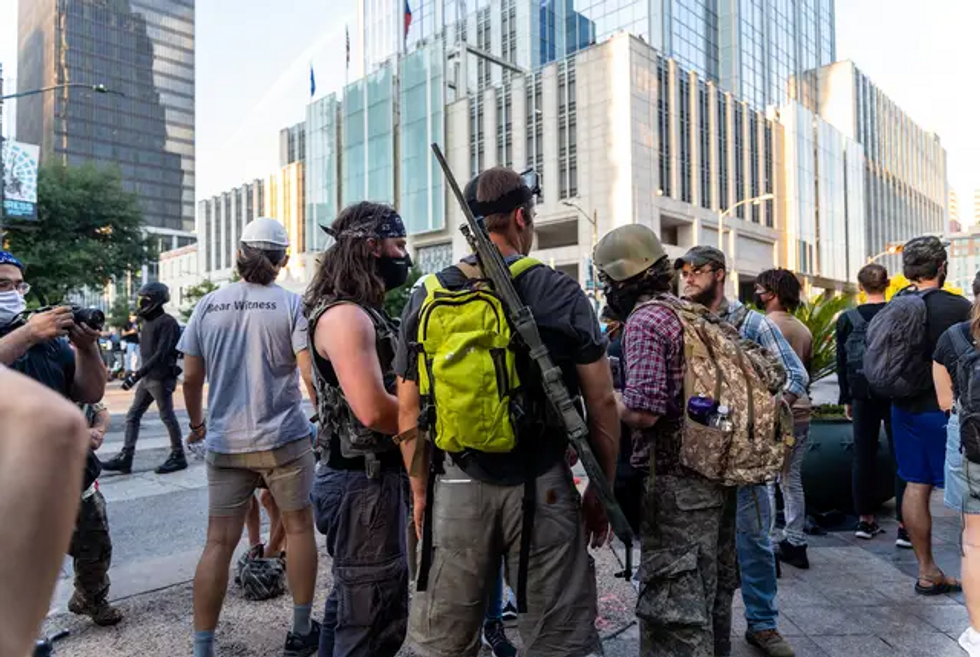 Jordan Vonderhaar
A protester confronts police in riot gear.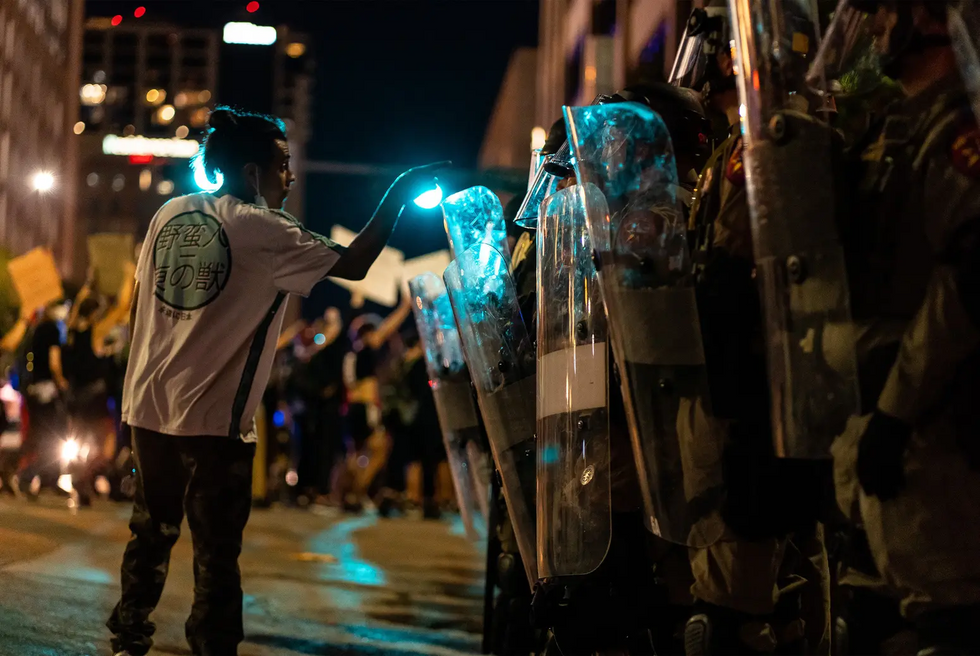 Jordan Vonderhaar
Mounted officers from the Austin Police Department clash with protesters on the corner of Fourth Street and Congress Avenue in downtown Austin.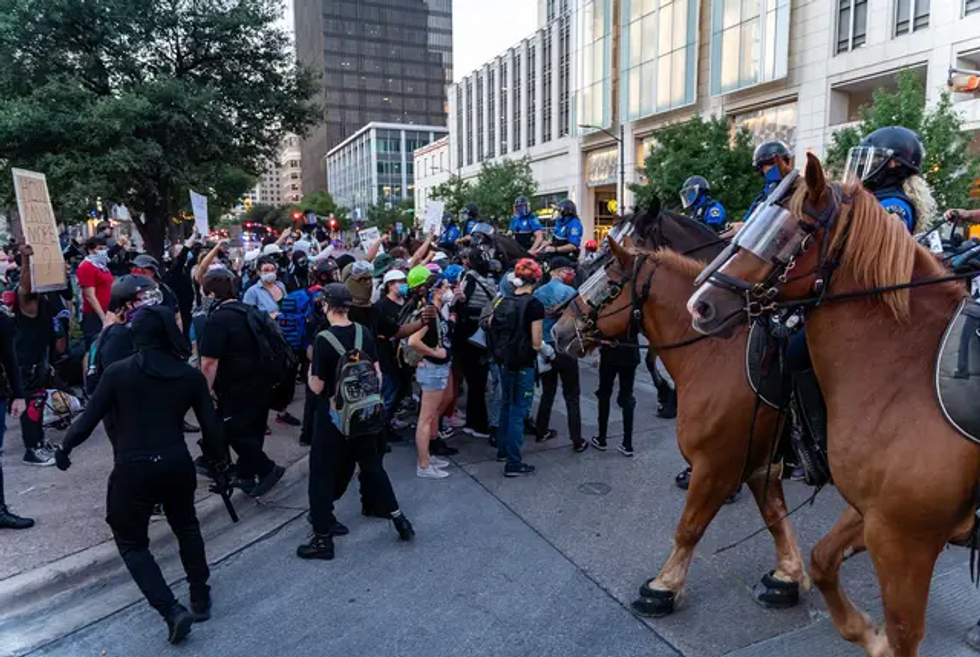 Jordan Vonderhaar
Mounted officers from the Austin Police Department clash with protesters on the corner of Fourth Street and Congress Avenue in downtown Austin.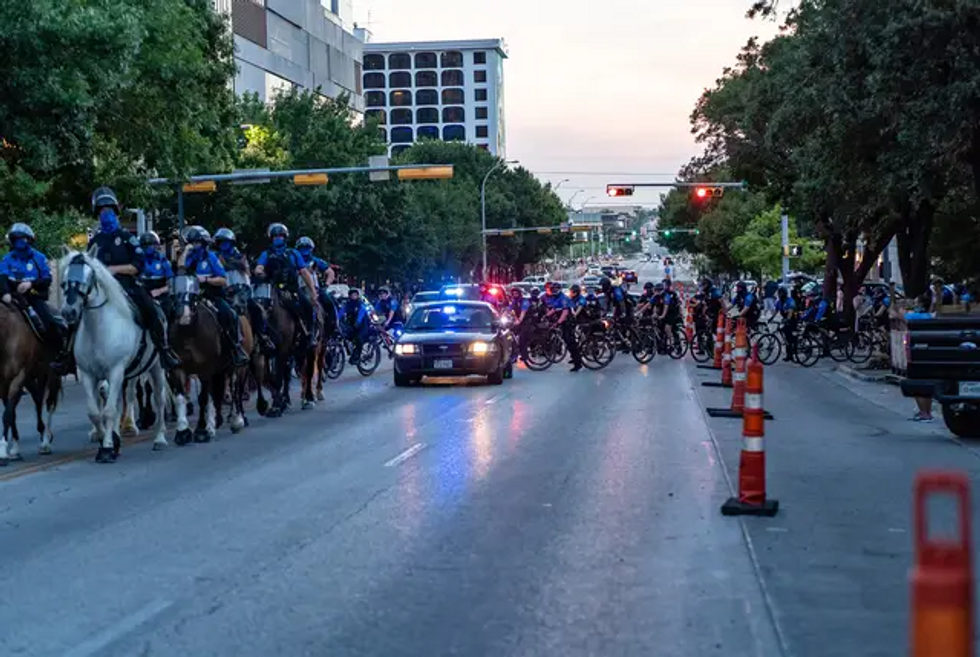 Jordan Vonderhaar
State police were present large numbers.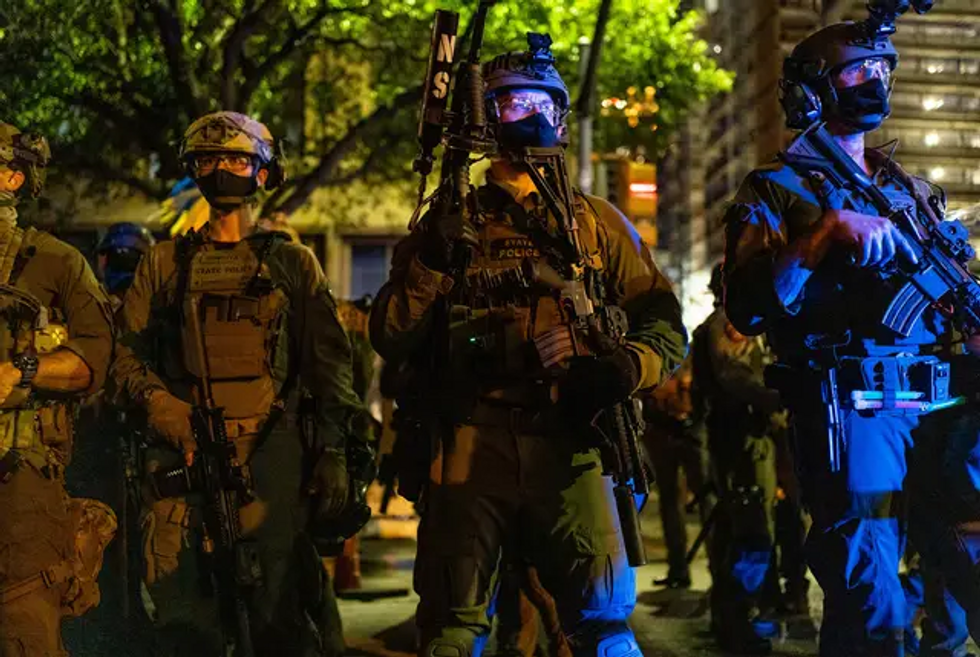 Jordan Vonderhaar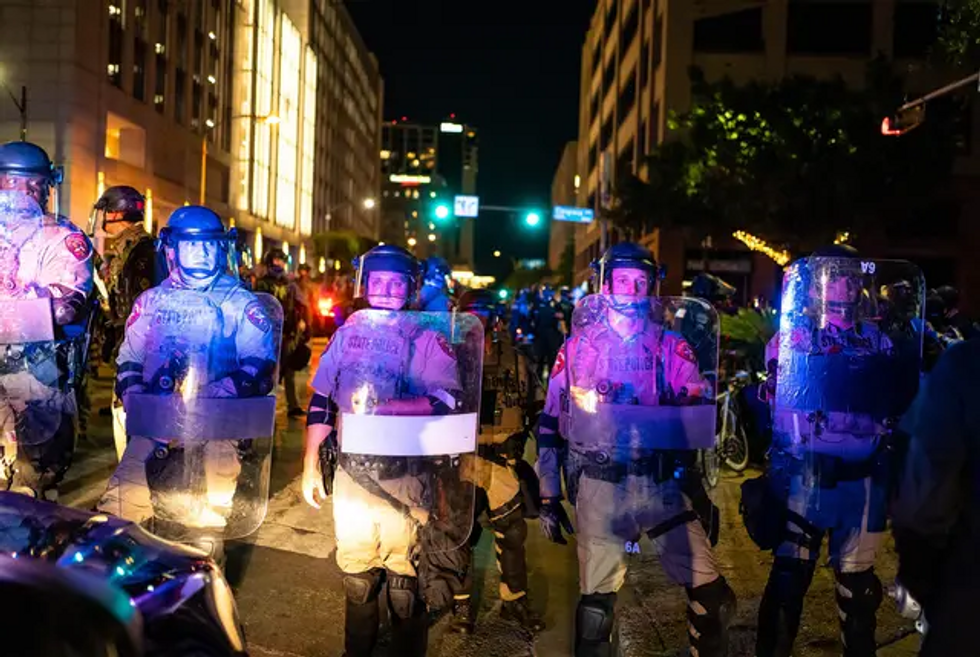 Jordan Vonderhaar
A protester armed with a baseball bat kneels in the street with fist upraised as protesters clashed with police in downtown Austin on Aug. 1, 2020.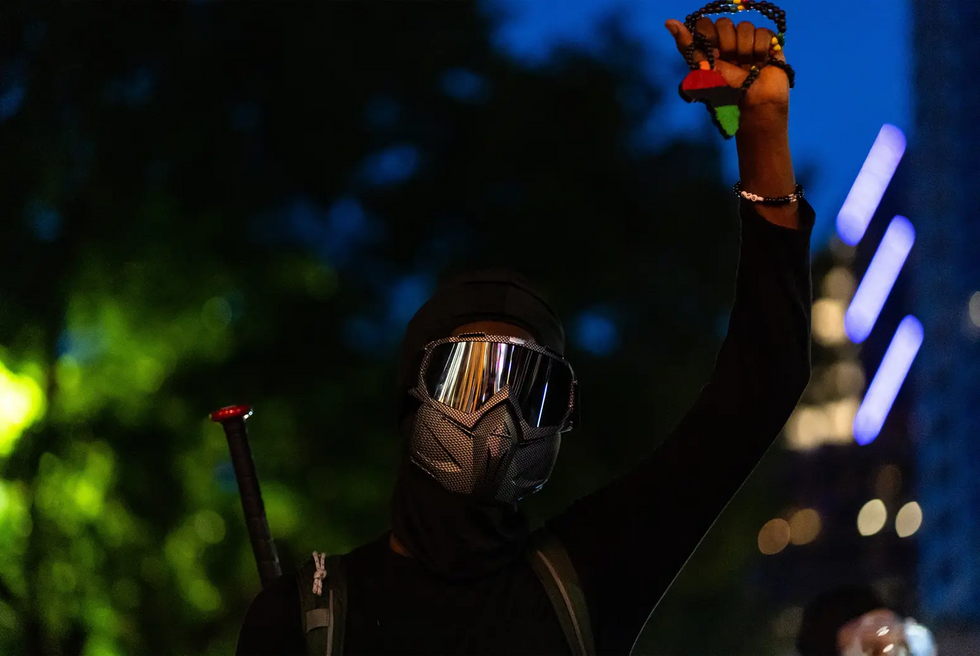 Jordan Vonderhaar
Members of the far-right Proud Boys militia stand on Congress Avenue across from the Garrett Foster memorial in downtown Austin.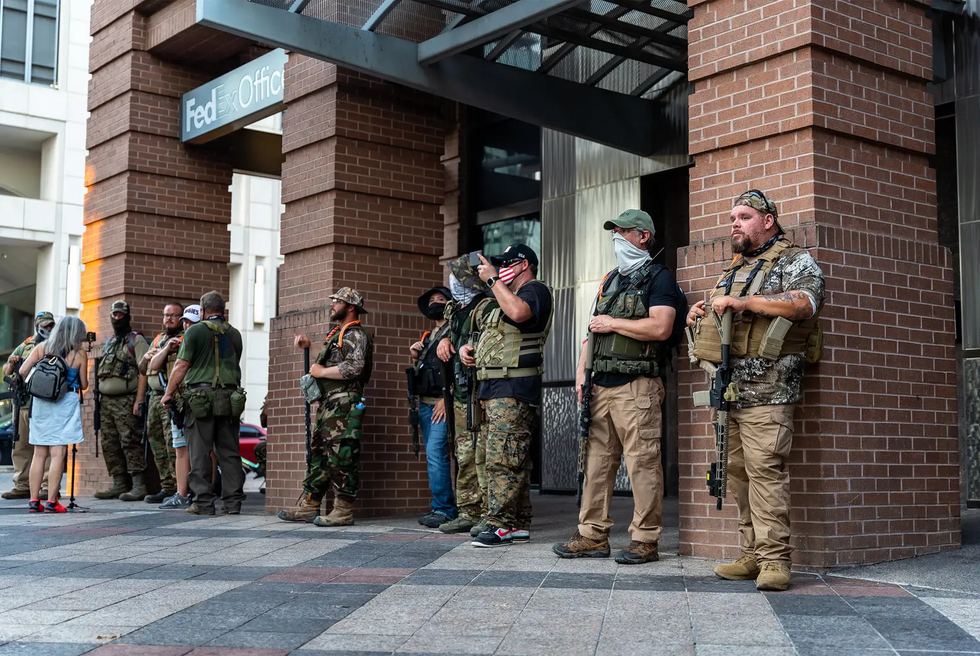 Jordan Vonderhaar
A woman with her hands zip-tied waits to be loaded onto a bus after being arrested during protests against police brutality in downtown Austin.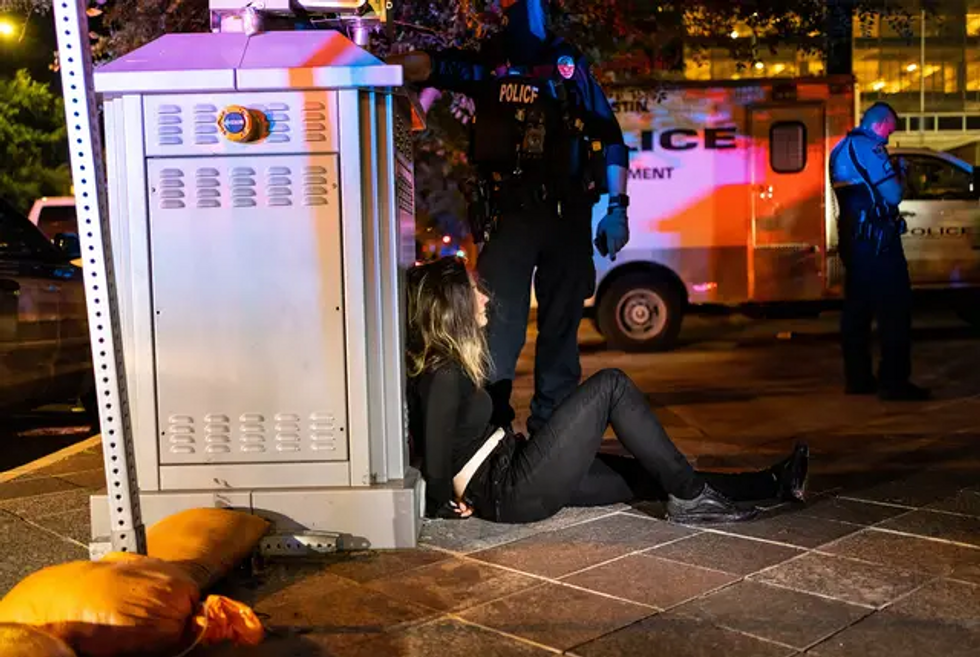 Jordan Vonderhaar
Police load arrested protesters into a Travis County Sheriff Department bus.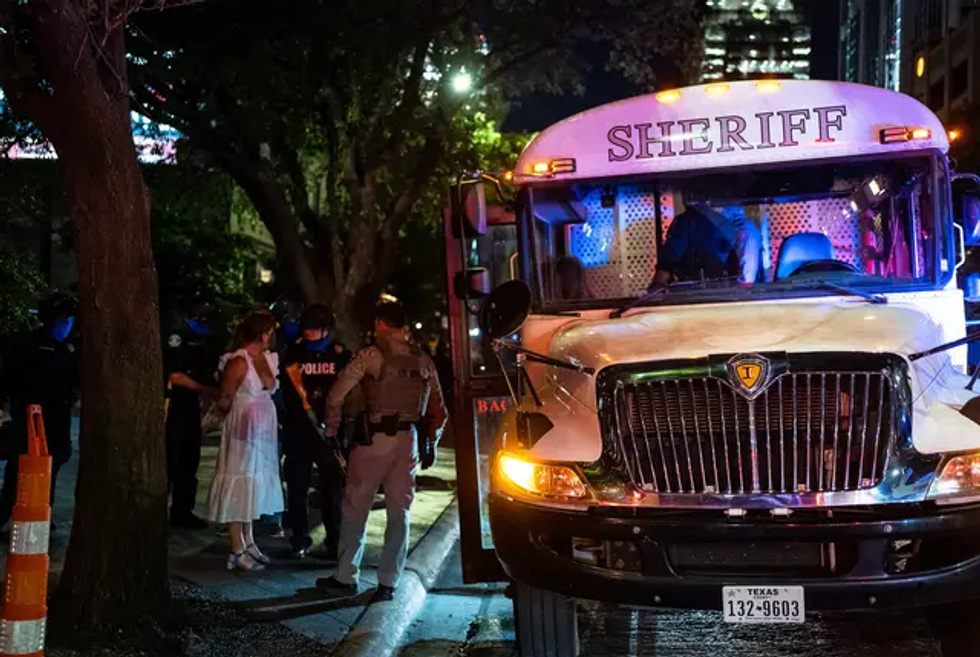 Jordan Vonderhaar
A police officer sprays a protester with pepper spray as demonstrators clash with police in downtown Austin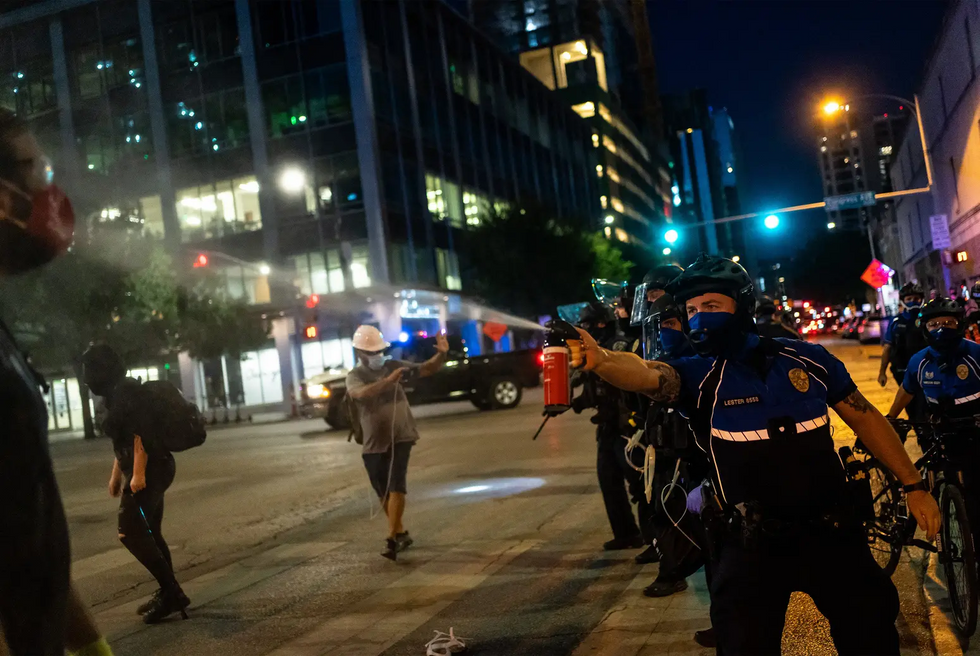 Jordan Vonderhaar
A heavy police presence marked Saturday's protest in downtown Austin.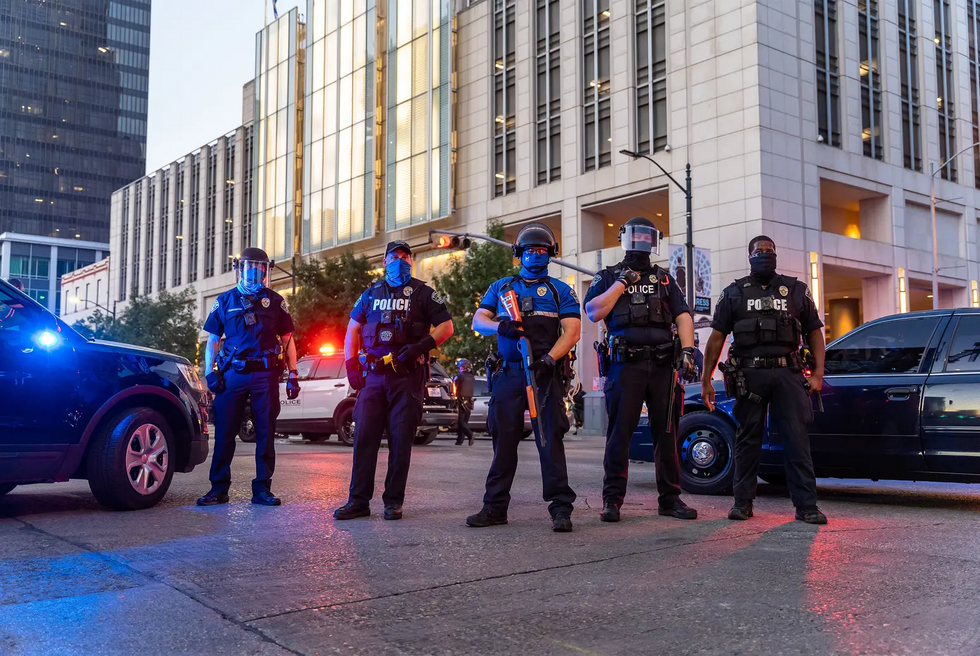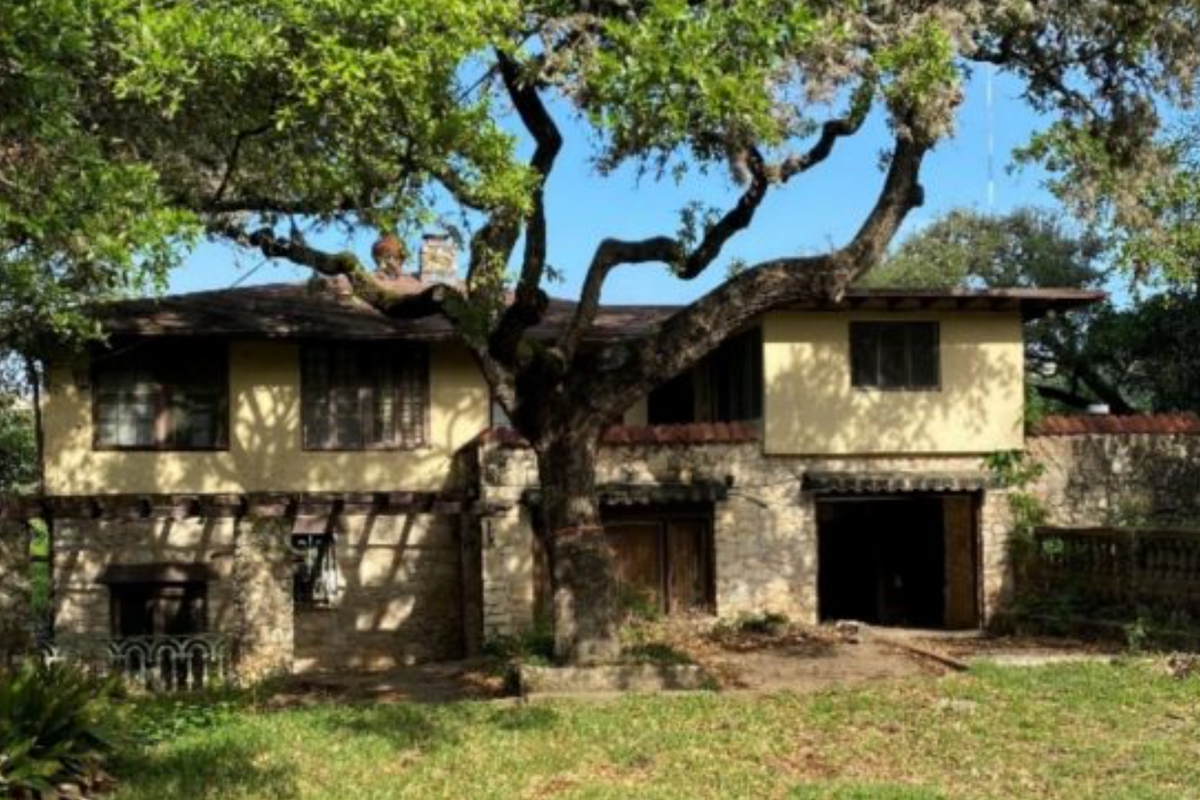 Austin Monitor
By Jonathan Lee
The Planning Commission was split Tuesday on whether to help save an eclectic lakefront estate from demolition by zoning it historic amid concerns over tax breaks and the likelihood that a previous owner participated in segregation as a business owner.
The property in question, known as the Delisle House, is located at 2002 Scenic Drive in Tarrytown. The main house, with Spanish and Modern influences, was built in 1923 by Raymond Delisle, an optician. A Gothic Revival accessory apartment was built in 1946. The current owner applied to demolish the structures in order to build a new home.
Historic preservationists, for their part, overwhelmingly support historic zoning, which would preserve the buildings in perpetuity. The Historic Landmark Commission unanimously voted to initiate historic zoning in July, citing architectural significance, landscape features and association to historic figures. City staffers recommend historic zoning, calling both structures one-of-a-kind examples of vernacular architecture.
Tarrytown neighbors have also banded together to stop the demolition. Many have written letters, and a few spoke at the meeting. "How could anyone buy this property with the intent of destroying it?" Ila Falvey said. "I think it's an architectural treasure."
Michael Whellan, an attorney representing the property owner, said that the claims made by preservationists are shaky. The buildings are run down, he said, and have had substantial renovations. A structural engineer hired by the owner said any attempt at preservation would involve tearing down and rebuilding – an undertaking Whellan said would likely cost millions.
Whellan also argued that any historical significance derived from the property's association with Delisle and longtime owner C.H. Slator is dubious. "These men are not noted for any civic, philanthropic or historic impact," he said.
What's more, according to Whellan, Slator likely participated in segregation as the owner of the Tavern on North Lamar Boulevard between 1953 and 1960.
A city staffer, however, said she found no evidence to support the claim. "We would never landmark a property where a segregationist lived, or there was a racist person," Kimberly Collins with the Historic Preservation Office said.
Commissioner Awais Azhar couldn't support historic zoning in part due to lingering uncertainty about Slator. "Focusing on that factor is not here to disparage an individual or family. It is not about playing the race card. This is an important assertion for us to consider as Planning commissioners," Azhar said.
Commissioner Carmen Llanes Pulido said that allegations of racism should come as no surprise. "We're talking about white male property owners in the 1950s, in Austin, on the west side – and of course they were racist," she said. But she argued that allowing the house to be demolished based on these grounds does nothing to help people of color who have been harmed by racism and segregation.
The question of tax breaks was also controversial. Michael Gaudini, representing the property owner, said that the tax breaks associated with historic zoning would exacerbate inequality by shifting property tax burdens to less affluent communities. City staffers estimate that the property, appraised at $3.5 million, would get either a $8,500 or $16,107 property tax break annually, depending on whether a homestead exemption is applied.
Commissioner Grayson Cox preferred the commission focus not on tax breaks but on whether the structures merit preservation. "To me, nothing in the historic preservation criteria lists, is this person deserving of a tax break or not?"
Azhar, on the other hand, said he plans to propose a code amendment getting rid of city property tax breaks for historic properties.
The commission fell one vote short of recommending historic zoning, with six commissioners in support and three opposed. Azhar and commissioners Claire Hempel and Greg Anderson voted against.
The odds of City Council zoning over an owner's wishes are slim. Nine out of 11 members must vote in favor, and there have only been a handful of such cases over the past several decades.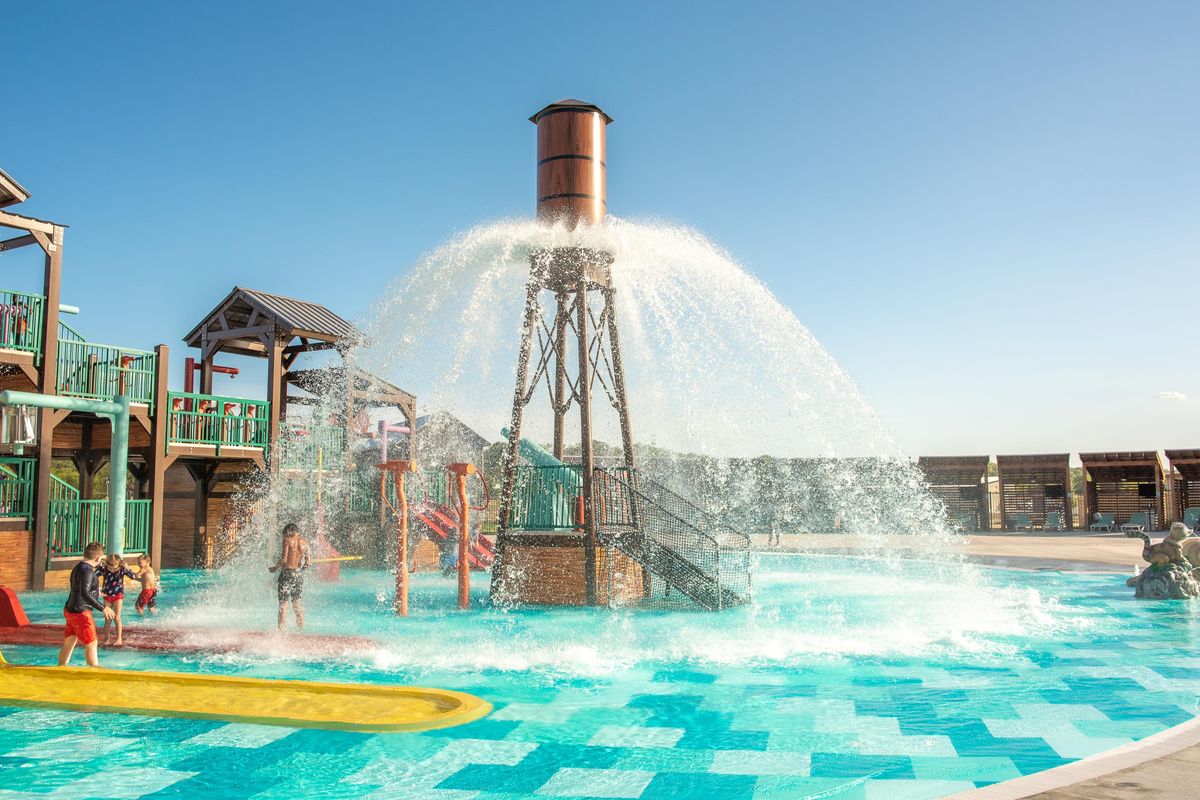 Camp Fimfo Waco
Camp Fimfo Waco, a brand new camping resort, is kicking off football and fall camping season in style! With top-notch amenities, premium accommodations, and 10 weekends of fall fun, there's no better place to have a fall camping getaway, especially if you're a Baylor football fan!
Fall promises to be a one-of-a-kind camping experience. From Sept. 16 to Nov. 24, weekends will be packed with fall-themed activities, including special Halloween weekends in October. Campers can enjoy activities like fall crafts, campground trick-or-treating, costume contests, site decorating, outdoor movie nights, and more!