Get connected with our daily update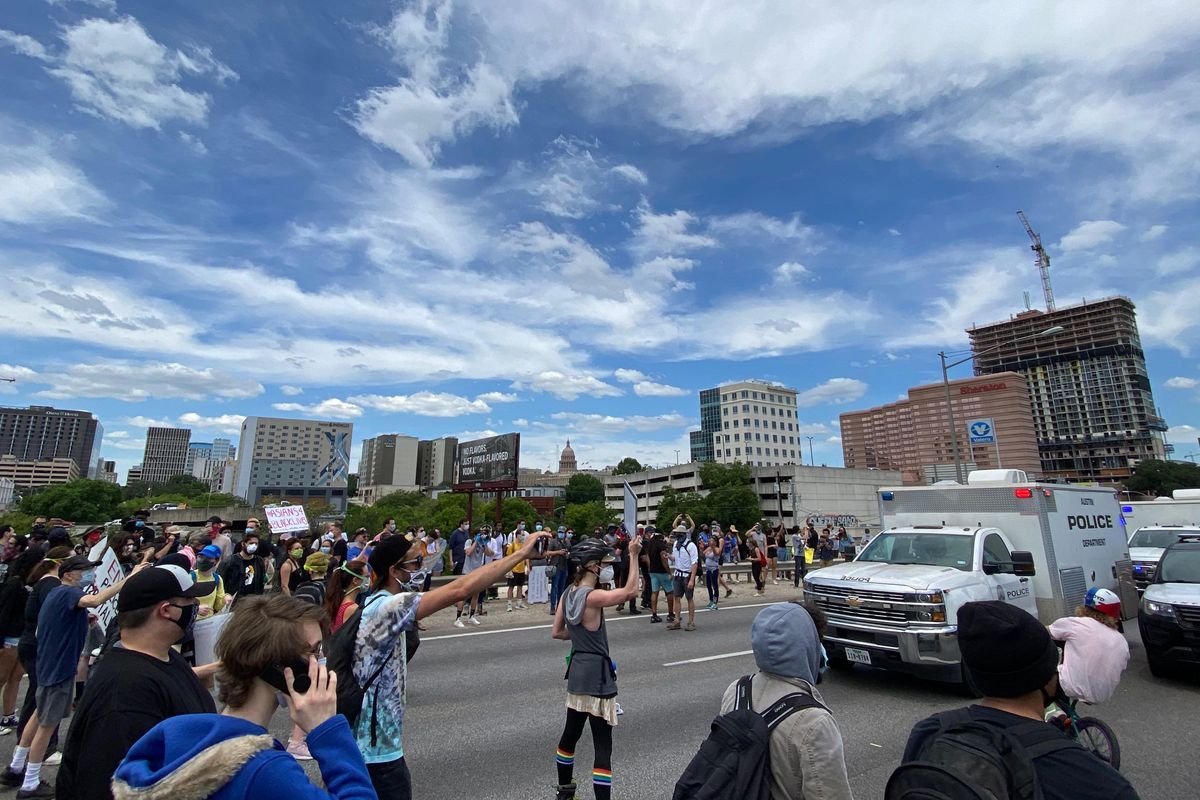 This weekend marks one year since Austinites marched en masse in support of the Black Lives Matter movement, joining protesters in cities across the country—and world.
---
Spurred by the April 24 police killing of Mike Ramos in Southeast Austin and the May 25 murder of George Floyd in Minneapolis, hundreds of protesters gathered outside of the Austin Police Department headquarters on May 30, 2020. Some later shut down I-35. APD officers used so-called "less-lethal" rubber bullets, leaving some protesters with permanent brain damage.
More protests followed, including one organized by the Austin Justice Coalition that saw thousands march from Huston-Tillotson University to the Texas Capitol. In response to the demonstrations and outrage over APD's actions, Austin City Council criticized then-APD Chief Brian Manley and voted unanimously to cut the department's budget.
Protests against police violence and racial injustice in Austin and other cities sparked reform but they also prompted pushback from the state's Republican leadership and coincided with a national increase in violent crime. Although unexplained, this trend has led some to question the utility of "reimagining public safety," as local elected officials have pledged to do.
In the year since, Austin has seen the shooting death of protester Garrett Foster, the resignation of Manley and the historic indictment of APD Officer Christopher Taylor, who was charged with first-degree murder in Ramos' death in March. More recently, City Council approved a pilot class of the APD training academy, which was put on hiatus last July due to curriculum concerns, and state lawmakers sent a law to Gov. Greg Abbott's desk that will, if passed, prohibit police funding cuts in Austin and other large Texas cities.
Criminal justice reform advocates say there is still work to be done. Meanwhile, public safety interest groups argue that the reforms already enacted go too far. As Austin heads into its second year since these protests, one thing is certain: their legacy continues to influence the city's direction.
Austinites protested on May 30, 2020, following the police killings of Mike Ramos in Southeast Austin and George Floyd in Minneapolis.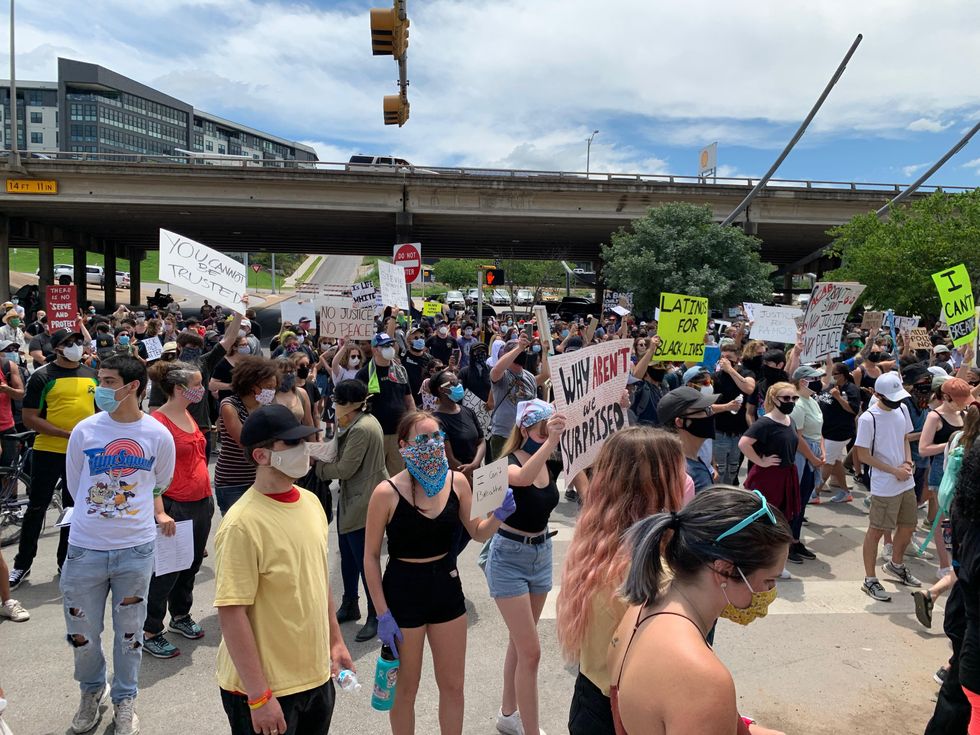 (Austonia)
Protesters first gathered outside of the APD headquarters in downtown Austin.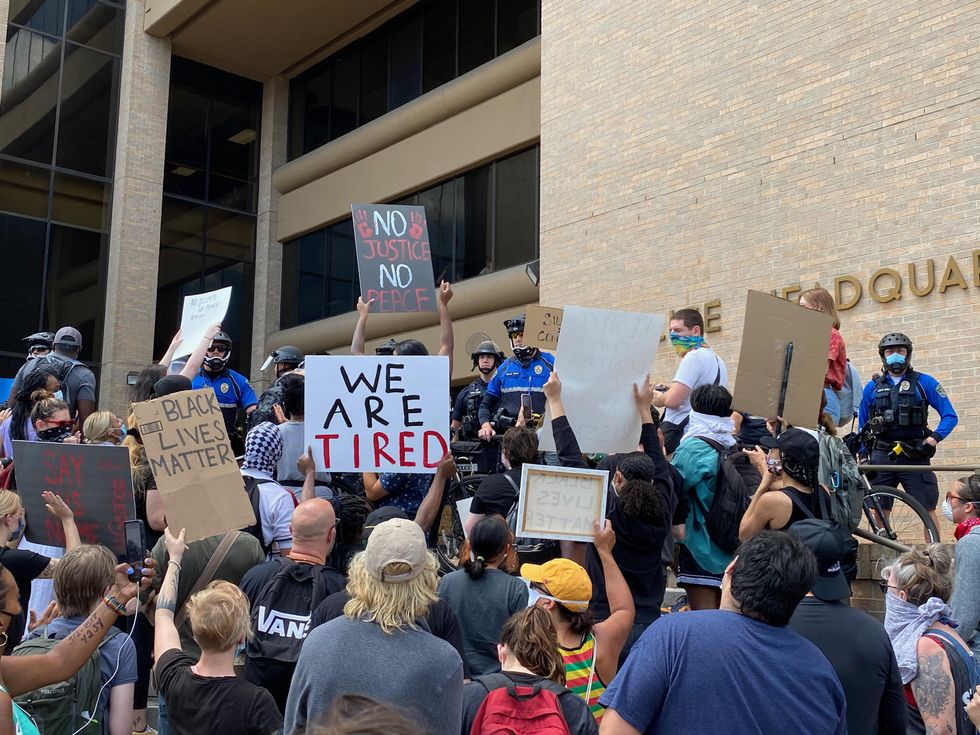 (Austonia)
They later spread out, eventually shutting down I-35.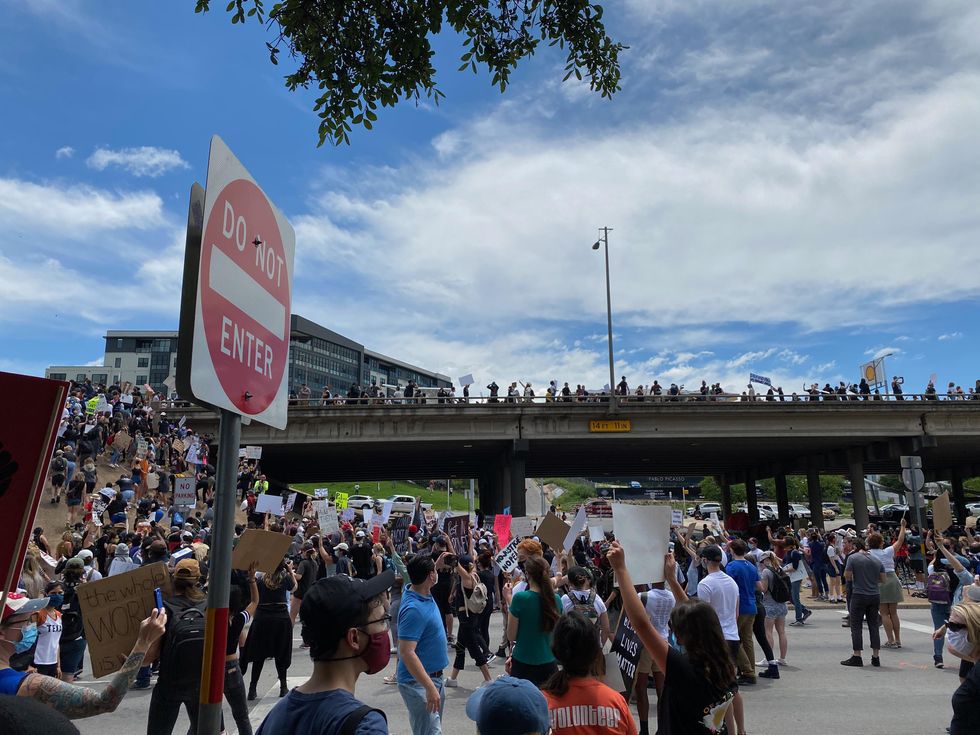 (Austonia)
APD officers used rubber bullets, bean bags and tear gas to disperse protesters.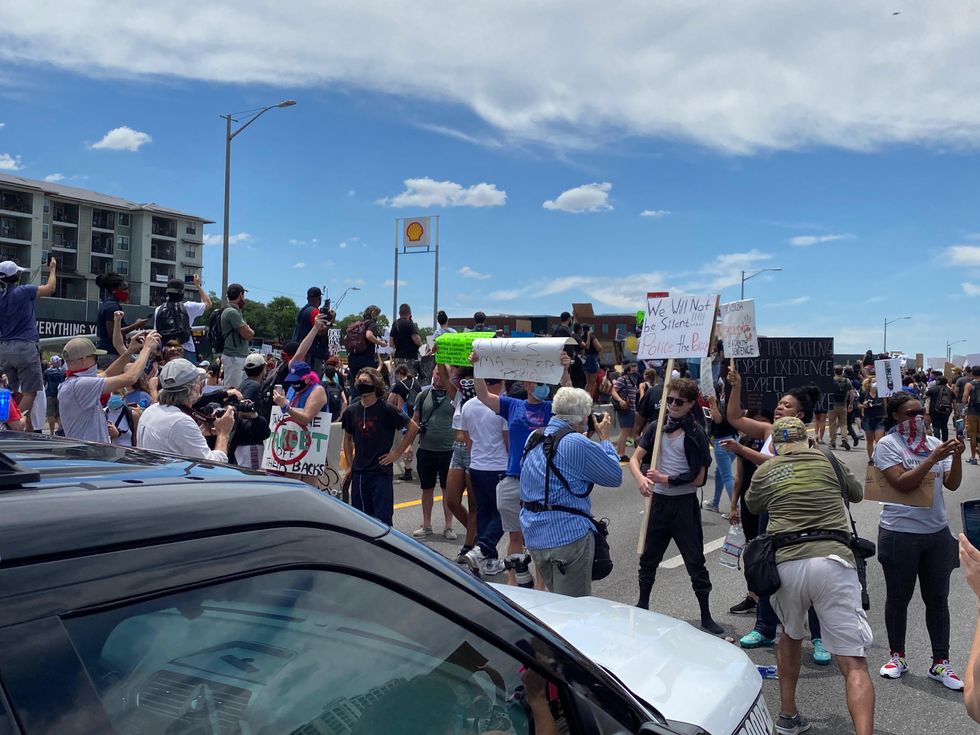 (Austonia)
The police response left many protesters injured, including a pregnant woman, and left a 16-year-old and 20-year-old with permanent brain damage.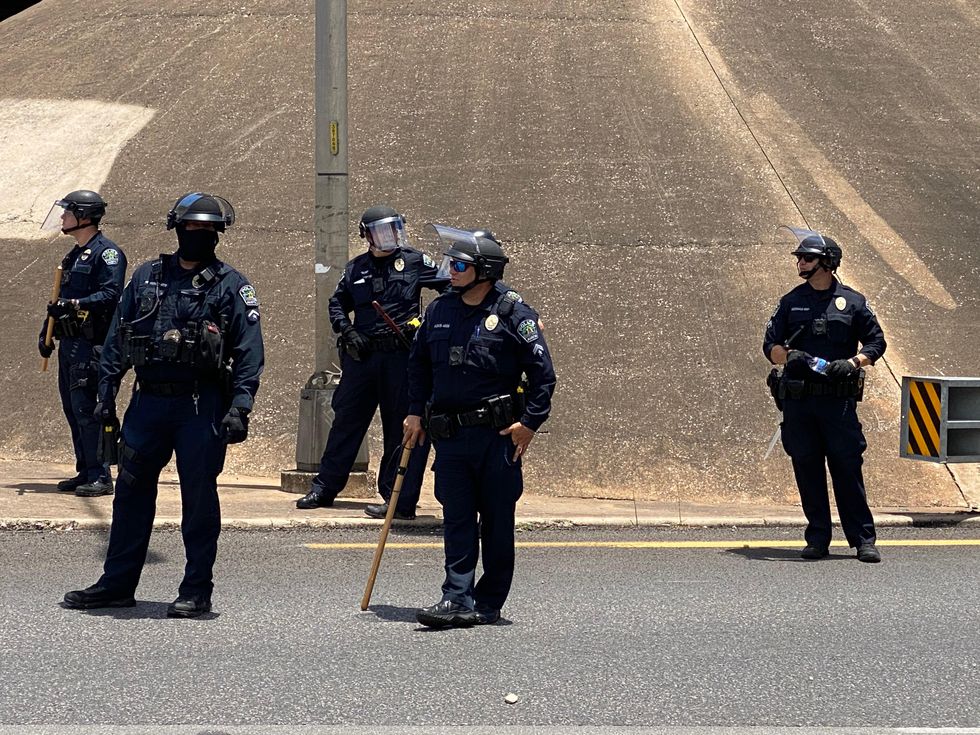 (Austonia)
The protest spurred others, including one the following weekend that saw thousands march from Huston-Tillotson University to the Texas Capitol.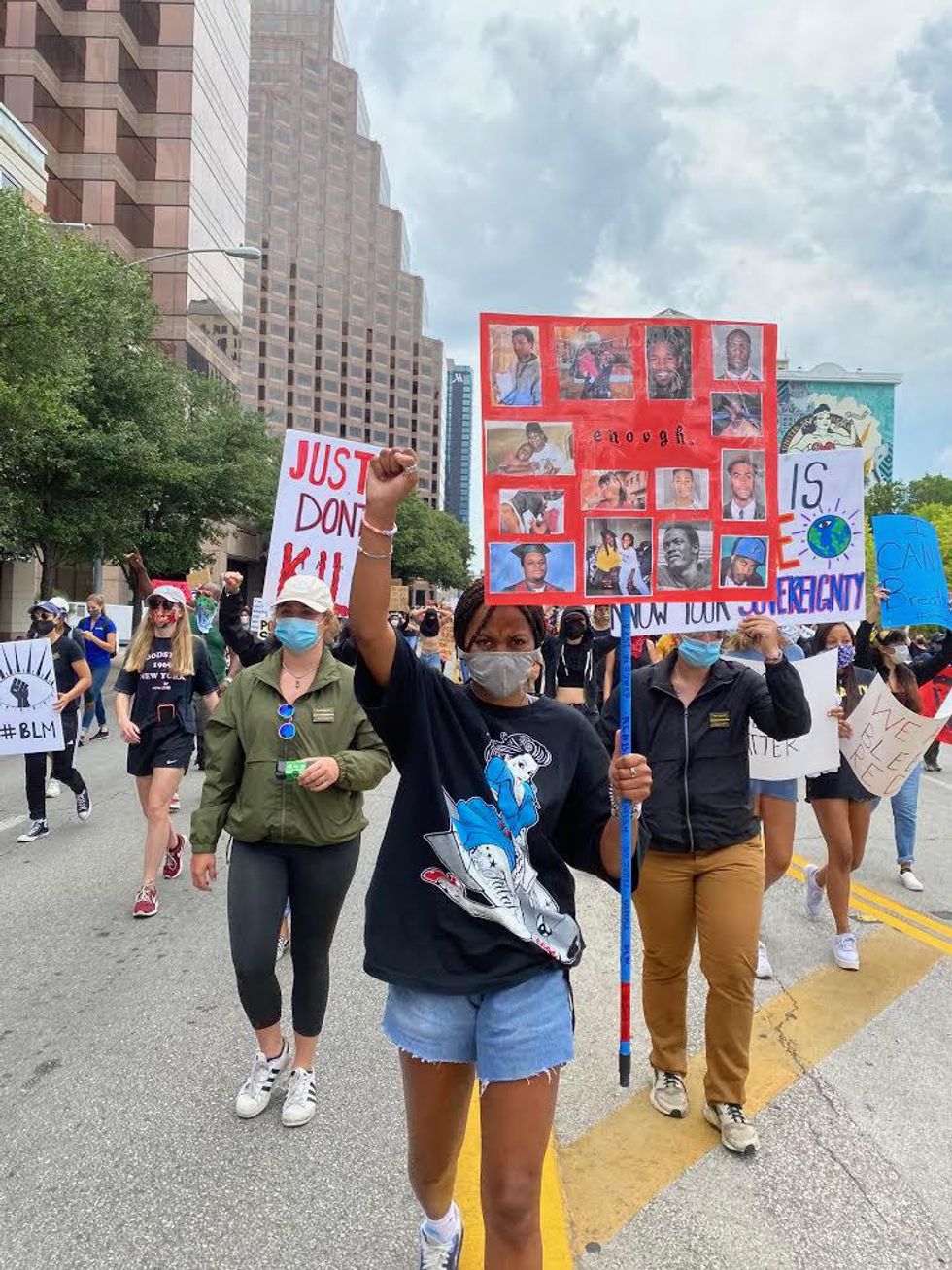 (Austonia)
The series of protests ultimately led to reforms at the local and state levels, some of which are still taking shape.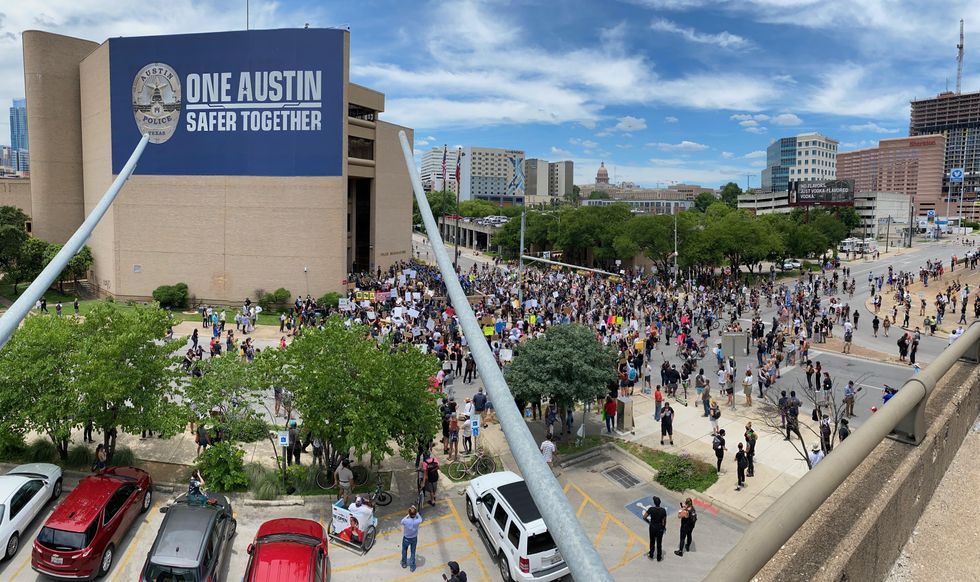 (Austonia)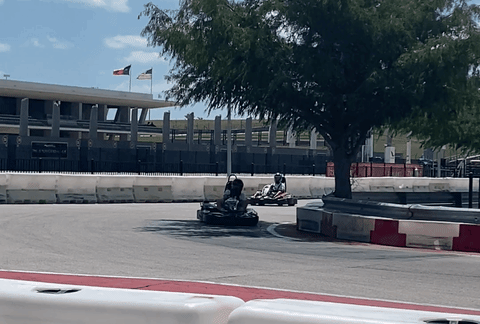 Few of us will ever feel the thrill of whipping through Circuit of the America's 23-turn track at the 220+ mile per hour speeds of Formula 1 racers. But thrill-seekers still rev their engines at COTA thanks to its go-kart track and ziplining service.
Here's what to expect when go-karting at COTA firsthand from Austonia's Claire Partain.
1. Go for the package deal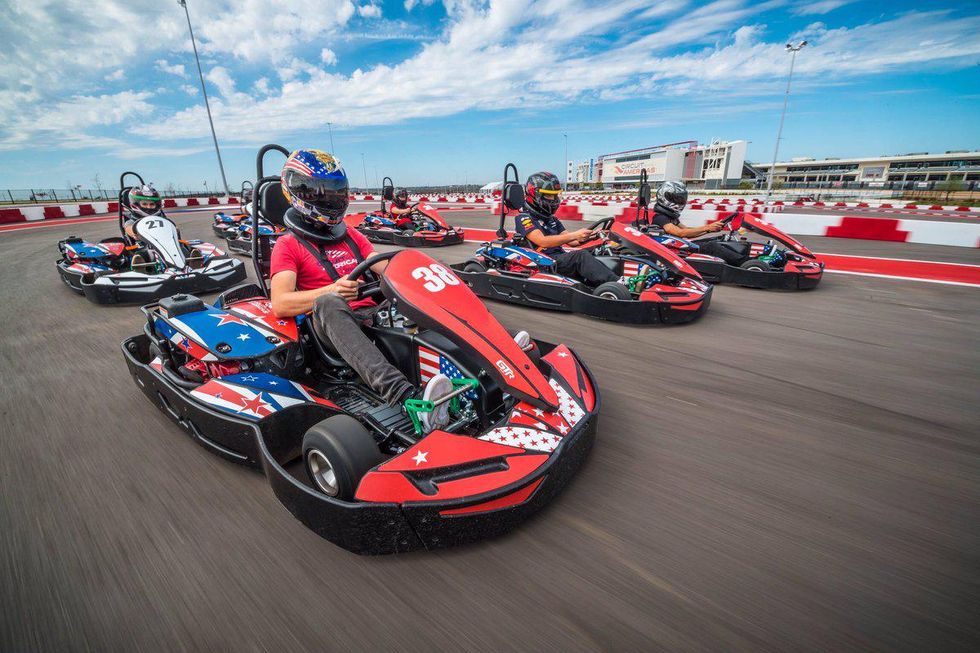 (COTA Karting/Twitter)
Schedule ahead of time online. A 10-minute race at COTA's karting track is $35, and tacking on a ride on the zipline is just $5 more. Go big or go home.
2. Get your gear on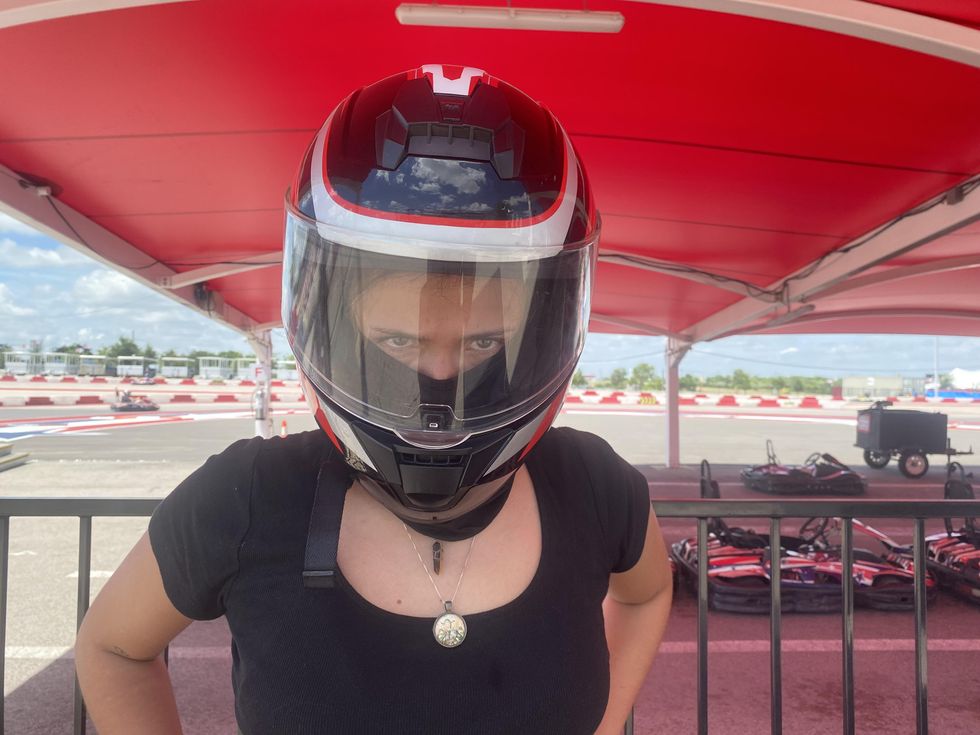 Go-karting gear includes a head sock and helmet. (Laura Figi/Austonia)
The track is located just off the COTA Boulevard entrance near the main course. Get to the track before your race is scheduled to start so you can watch the training video and try on a helmet and a head sock, which functions like a ski mask and goes on under your helmet. It's somehow even less cool-looking than it sounds.
3. To the track
Head to the track! Attendees will pick out a kart for you and make sure you're all strapped in. The first round is a slower round, but people start slamming on the gas pretty much immediately.
4. On the track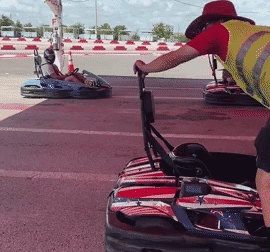 Track time! (Laura Figi/Austonia)
These go-karts go up to 55 mph, and some turns (including the traffic-inducing second-to-last curve) were kind of tough to navigate. Other than avoiding barriers, the most unexpected obstacle I had was avoiding other go-karters who had crashed. Passing people is exhilarating, but don't be the annoying driver who passes people on a hairpin curve either.
When crashes happen, all of the karts are programmed to sputter and slow down, so don't panic like I did and ask why your kart has stopped going fast. Move to the side and wave your hand to get help if your go-kart malfunctions otherwise.
5. Revel in your victory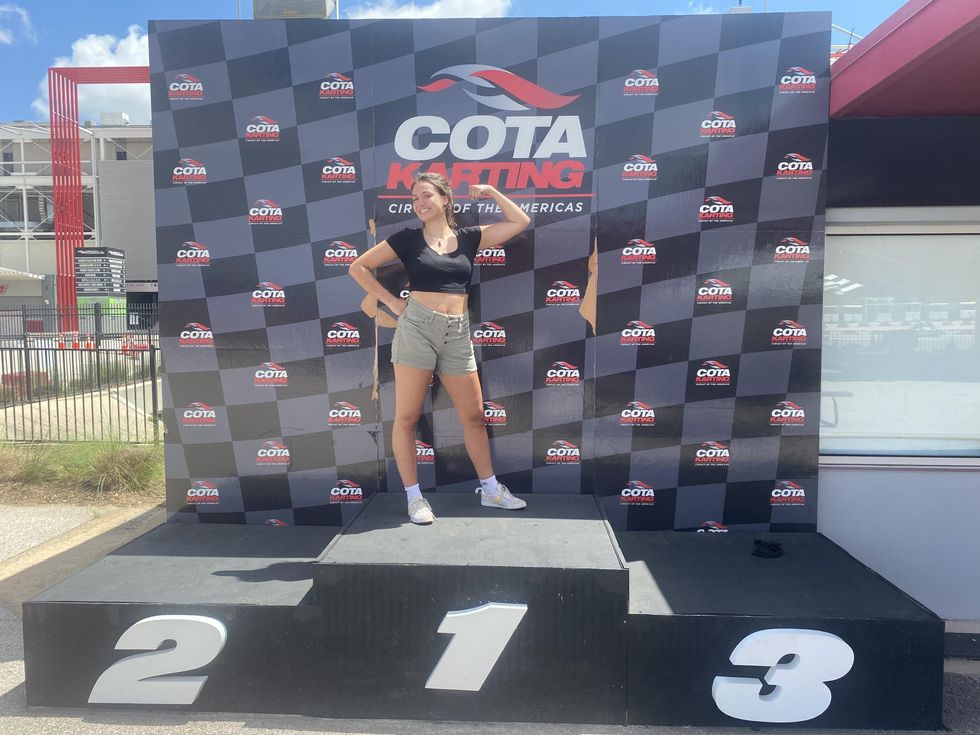 (Laura Figi/Austonia)
Karting is a great way to find out who's the Lewis Hamilton of the family. At the end of the race, COTA will email you your results and give a breakdown of your fastest lap times. There's also a podium for those of us who win the race (I got sixth).
5. The zipline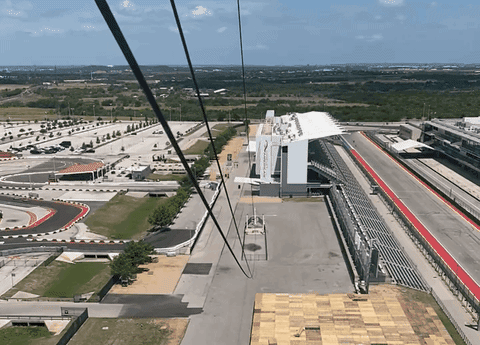 The zipline takes you up above both the COTA and karting track. (Laura Figi/Austonia)
After you've had your taste of adrenaline, get some more at the nearby zipline ride. Unlike traditional ziplines, this route has two seats that take you up and backward before bringing you back down. Grab some quick views of the entire track and hold tightly onto your phone while up top. Other than that, it's a pretty smooth ride.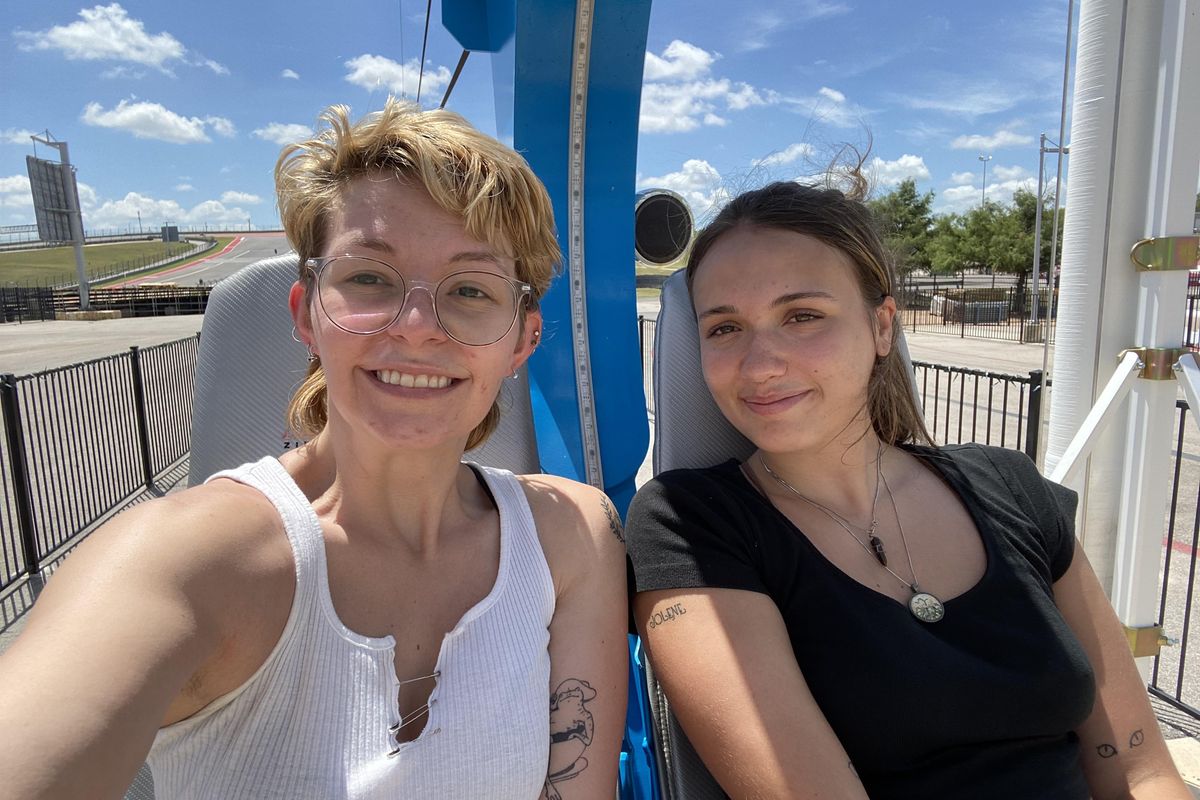 (Laura Figi/Austonia)
Happy karting!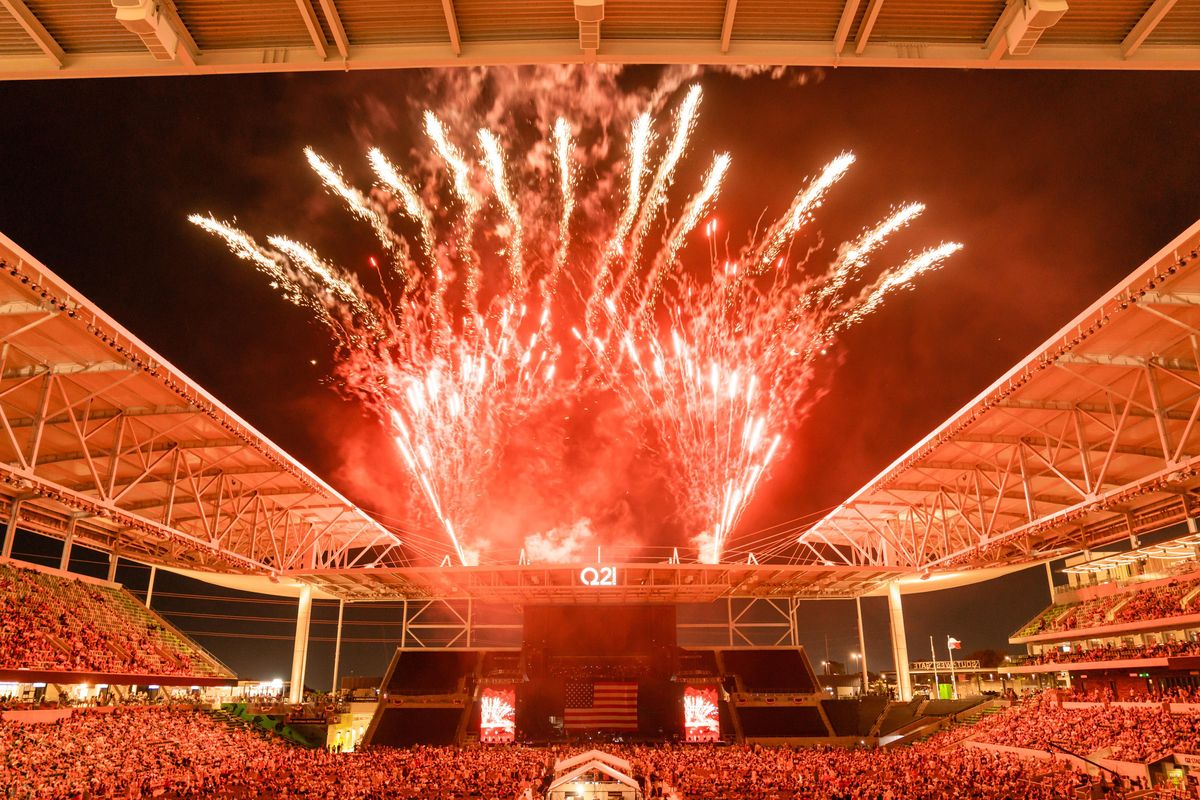 Q2 Stadium swapped its Verde for red, white and blue as country music legend Willie Nelson returned for his first in-person Fourth of July Picnic since 2019 on Monday.
The music fest included fireworks, fun merch and acts from country greats including Charley Crockett, Midland, Brothers Osborne, Allison Russell, Tyler Childers, Jason Isbell and Austin's own Asleep at the Wheel. And while Q2 will have some kinks to straighten before it becomes a concert-hosting regular, Nelson's unifying spirit kept things cool during the 12-hour outdoor event.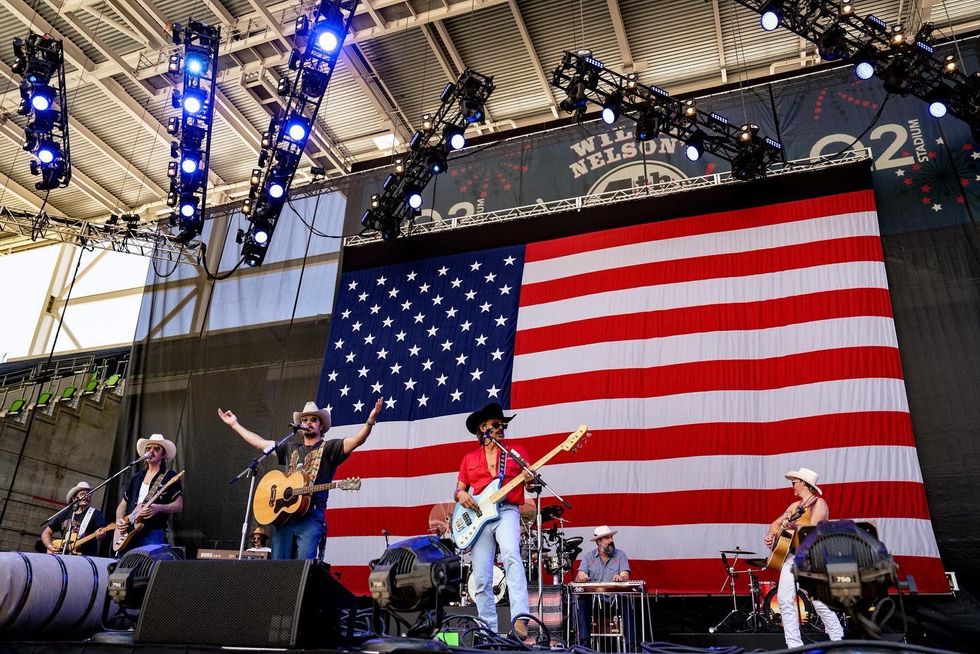 Midland performed at Willie Nelson's Fourth of July Picnic. (Q2 Stadium/Twitter)
Doors opened at 11 a.m., and Asleep at the Wheel was on the stage by 12 p.m.—though as one Reddit post pointed out, there weren't many people there to see them play.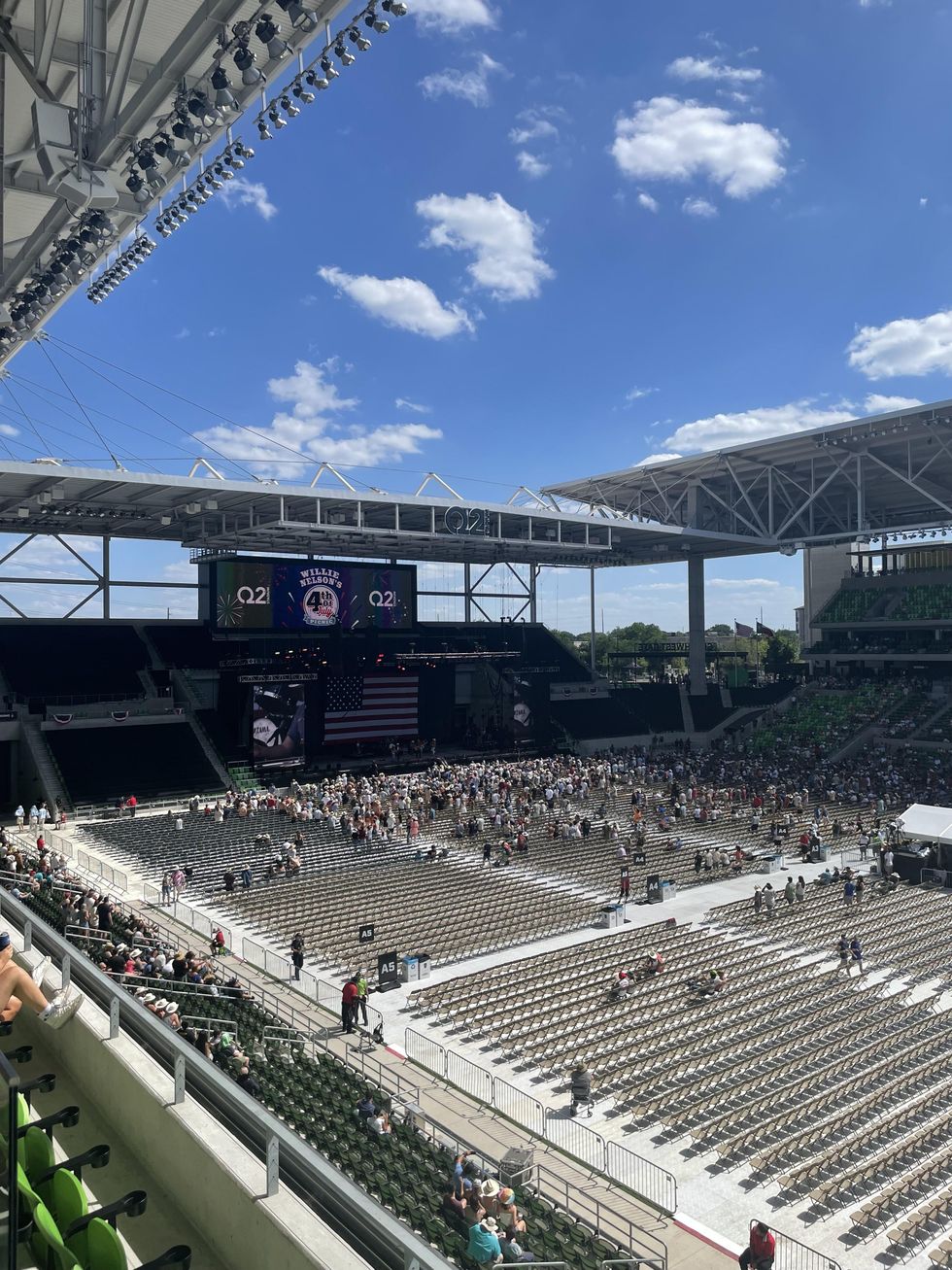 Q2 Stadium stayed sparsely populated for the first half of the day. (Claire Partain/Austonia)
Per Q2 Stadium policy, attendees weren't allowed to re-enter the venue after leaving, so anyone who wanted to watch both an afternoon and Nelson's big performance were stuck at the venue for hours straight. That opened up the perfect opportunity for customers to snatch up snacks, water and beers, which emptied wallets even faster than at Austin FC games. Nothing says "the end is nigh" like $15 beers.
An open-air, 20,500 seat venue, Q2 Stadium sometimes struggled to carry sound clearly, and between-song banter was often limited to an incomprehensible garble. Still, Tyler Childers' commanding growls came through, Alison Russells' multi-instrument ensemble shone and Nelson's strums on his trusty guitar, Trigger, were front and center by the end of the night.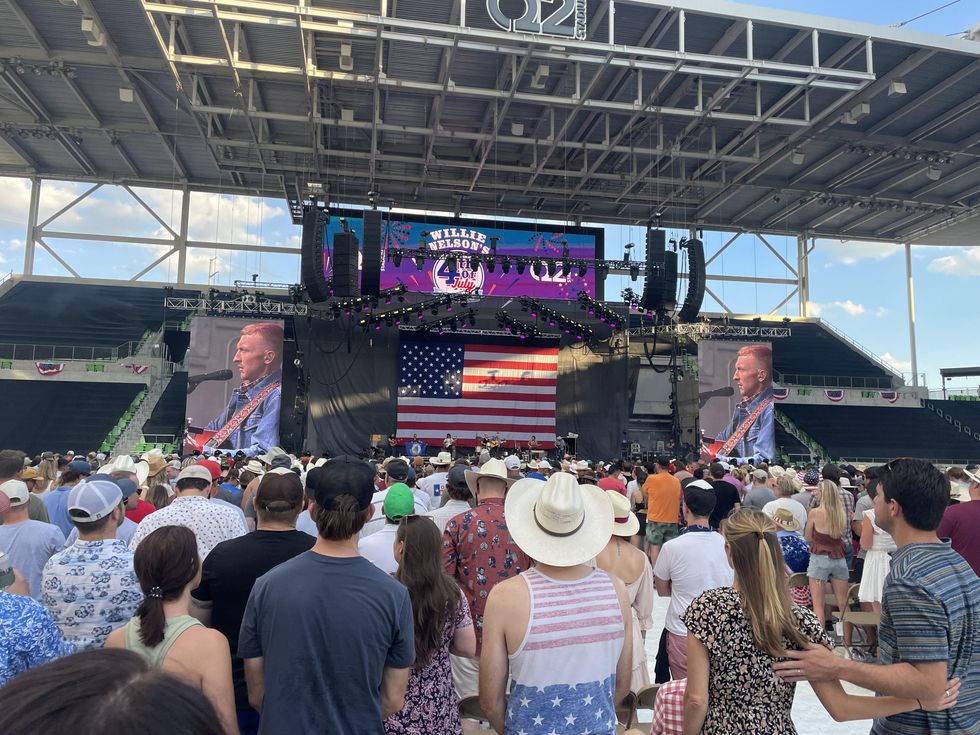 Fans found it hard to look away from Tyler Childers' enrapturing performance. (Jakob Rodriguez)
The July 4th picnic, which was most recently held at Circuit of the Americas from 2015-2019, benefitted from Q2's more central location, and the large venue offered plenty of room for attendees to mull about.
As the sun mercifully dipped below the horizon, the music paused for a 15-minute fireworks show.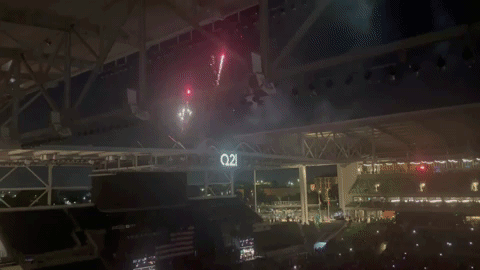 But the July 4th staples weren't the main event. At 89, Nelson didn't disappoint, sitting calmly as he performed alongside his family members and even gubernatorial candidate Beto O'Rourke, who made a surprise appearance midway through the show.
At times wistful, joyful or both, Nelson took the crowd through hits from "On the Road Again" to "Always on My Mind."
And as each favorite was played, all of the heat and stress of the day were encompassed by Nelson's voice, his storytelling and more as Austinites new and old gathered for the decades-old tradition.