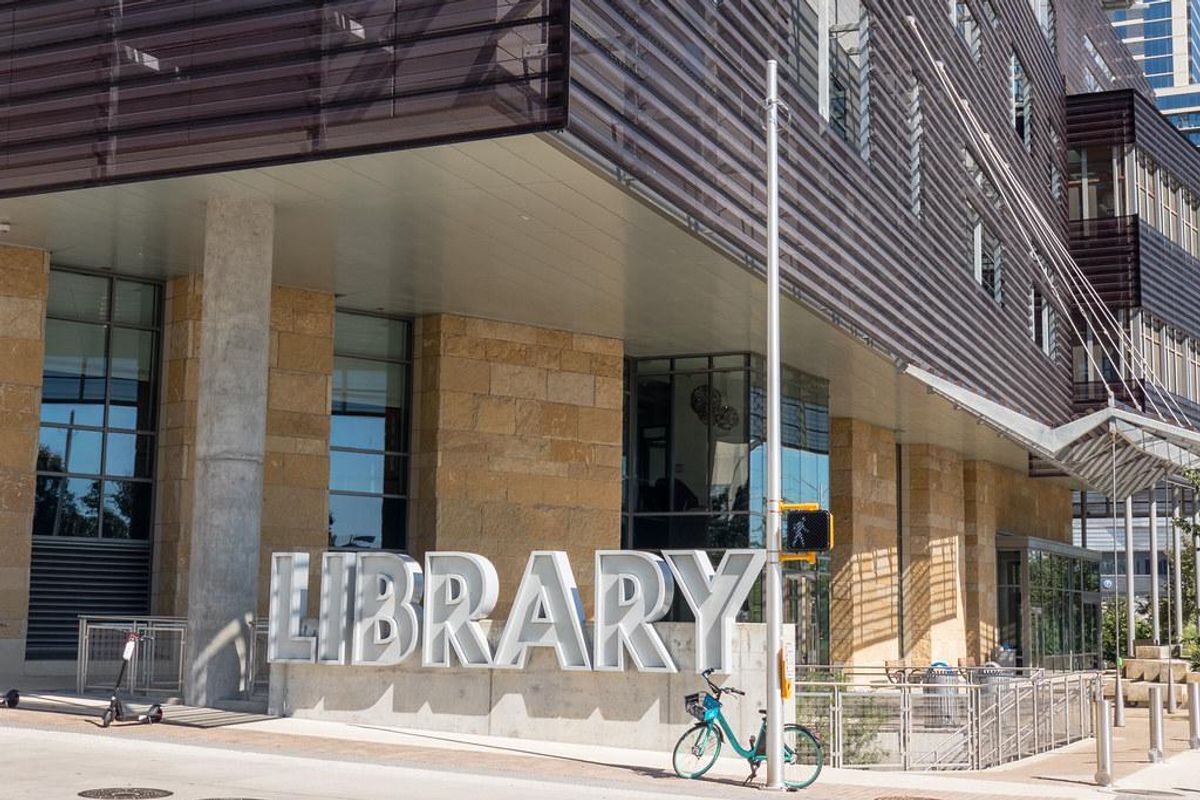 About 80 miles northwest of Austin, the Llano County Library shut down for three days last week to conduct a "thorough review" of the children's materials in the facility after certain Texas lawmakers began to question whether books about race, equality and sexuality should be available in school libraries.
The Austin Public Library responded today "in defense of the freedom to speak and the freedom to read," saying the local library system is "opposed to censorship of any library materials."
---
"Freedom to read is a right that must be protected in our schools and public libraries, and we must not give in to the vocal few that want to speak for the many," Austin Public Library Director Roosevelt Weeks said.
Austin made national news back in September when former Lake Travis ISD School Board candidate Kara Bell, who had also been arrested for assault after refusing to wear a mask in a dispute earlier in the year, filed a complaint about the book "Out of Darkness" by Ashley Hope Pérez. Bell read an explicit passage from the book about anal sex during a school board meeting. The book was subsequently pulled from the two middle schools in Lake Travis ISD to be reviewed.
On Dec. 1 this year, Leander ISD banned 11 books, including "Out Of Darkness," Shirley Jackson's "The Lottery," and Alan Moore's "V for Vendetta." New York-based nonprofit organization PEN America denounced the decision a day afterward, saying it was "an unwarranted exercise in censorship."

Chair of the House Committee on General Investigating and State Rep. Matt Krause continued the book-banning conversation in late October by notifying the Texas Education Agency that he would put out an inquiry into more than 850 books on school lists. Gov. Greg Abbott echoed the sentiment, saying schools should ensure "no child in Texas is exposed to pornography or other inappropriate content."
The list includes titles that deal with gender roles and sexuality like "Hood Feminism: Notes from the Women that a Movement Forgot" by Mikki Kendall and Michael Basso's "The Underground Guide to Teenage Sexuality: An Essential Handbook for Today's Teens and Parents."
The American Library Association's Office for Intellectual Freedom said it had received an "unprecedented volume" of challenges to books for fall 2021. Likewise, the Texas Library Association noted a "substantial increase in censorship activity" in October, saying in a statement:
"The Texas Library Association (TLA) holds that the freedom to read is a human right, protected by the First Amendment of the United States Constitution. TLA believes that individuals have the right to free inquiry and the equally important right to form their own opinions. Freedom in selecting materials is a necessary safeguard to the freedom to read and shall be protected against irresponsible attempts by self-appointed censors to abridge it. Therefore, TLA opposes efforts that restrict the freedom to read through banning, removing, or other forms of restricting access to books or other materials."
APL systems said they will uphold the ALA's Library Bill of Rights, which states that library materials should not be removed due to partisan or doctrinal disapproval, that libraries should challenge censorship and that libraries should provide materials and information presenting all points of view on current and historical issues.