Get connected with our daily update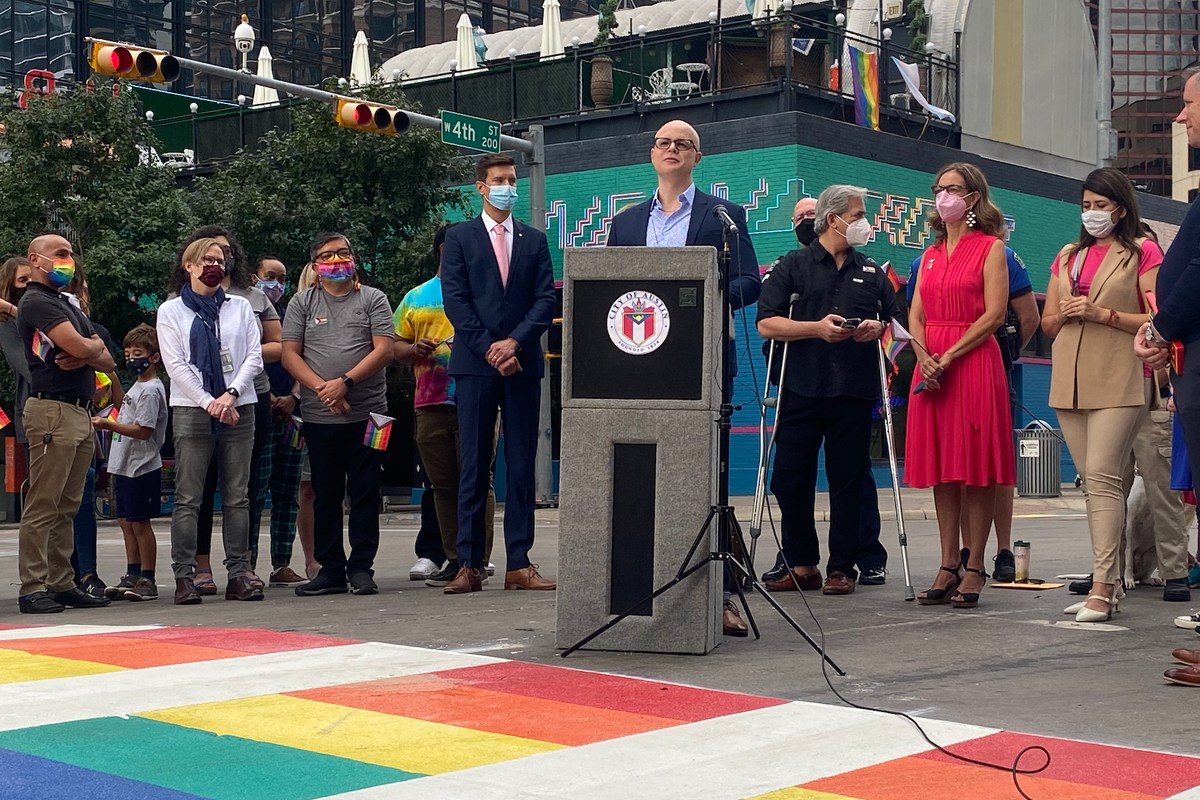 The intersection at Bettie Naylor and Colorado Streets is now a sea of colorful stripes where Austin City Council and Austin LGBTQ Quality of Life Advisory cut the ceremonial ribbon on newly-minted rainbow crosswalks in honor of National Coming Out Day.
---
City officials, LGBTQ advocates and Mayor Steve Adler met at the intersection on Monday morning to announce the crosswalks, painted with a brand new Progressive Pride flag. The intersection will be closed until completion—approximately 5 p.m. The City also released the 2021 LGBTQ+ Quality of Life study today.
Adler said the gesture was long-overdue, announcing Austin had become the third most populous per capita city for the LGBTQ community in the country, and a symbol of belonging for everyone in Austin.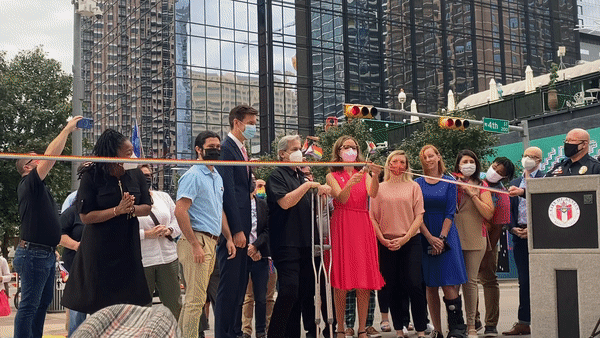 The mayor and city officials cut a rainbow ceremonial ribbon to unveil the new crosswalks. (Laura Figi/Austonia)
"For many here in our community, seeing this physical representation of a stated city value is long overdue but a really welcome sight," Adler said. "These crosswalks are an indication of Austin's spirit of inclusion, unity and acceptance. These vibrant colors painted on our streets will stand as a beacon and a symbol of diversity to everyone."
The location was intentional, according to the city. The crosswalks sit along Bettie Naylor, a portion of W. 4th Street named after the LGBTQ visibility activist, and in the heart of Austin's gay nightlife scene.
In addition to the four crosswalks, three nearby utility boxes will also be decorated as part of Austin Transportation's Art Boxes program—the box in the same intersection will have a Progressive Pride flag and a purple circle in a yellow triangle for intersex individuals.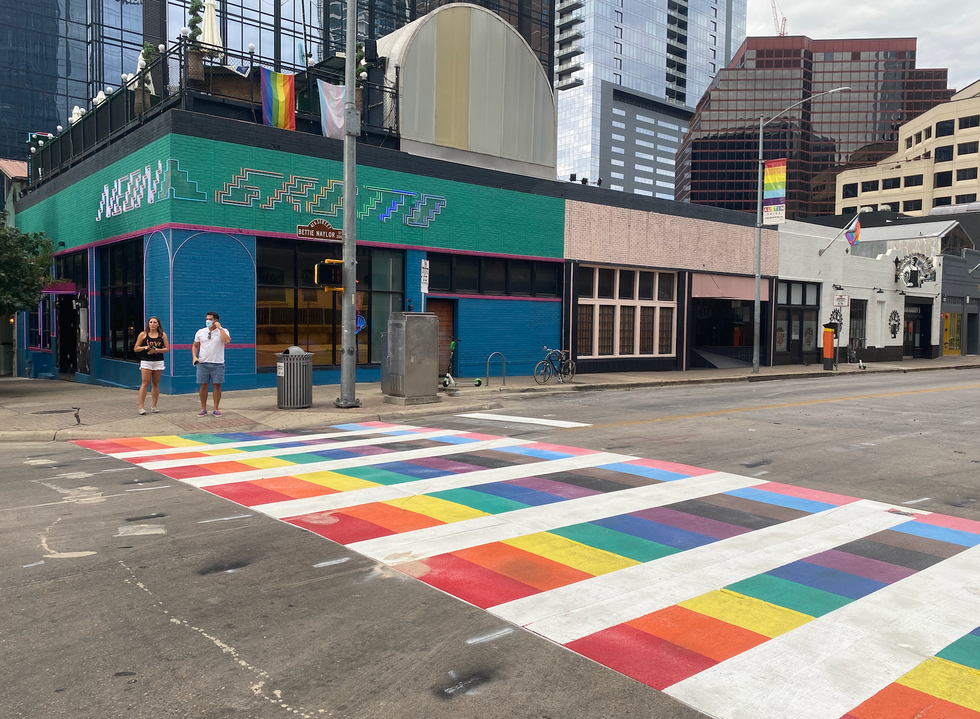 The intersection of Bettie Naylor and Colorado streets is now painted in the LBGTQ community's symbolic colors. (Laura Figi/Austonia)
Ryn Gonzales, operations & program director for OutYouth and chair of the LGBTQ Quality of Life Commission, said they were excited to see a step in the right direction and they look forward to advancing Austin together.
"This is a great symbolic first step for our community—our kids are going to feel a little bit more seen than they did yesterday and all the days before," Gonzales said. "We cannot do this alone, we have to do it together. The thing that I've always loved about our community: we've always done it together. Maybe not always perfect but together, and always in the spirit of making sure that no one is left behind, no one is forgotten."
The design is a mixture of the six colors of the rainbow for Pride, black and brown to represent the community of color; baby blue, white and pink for the Transgender community. According to the City, the colors were requested by the community.
"Everyone in Austin, no matter what street corridor or crosswalk that they're on, gets to feel like this is home for them," Gonzales said.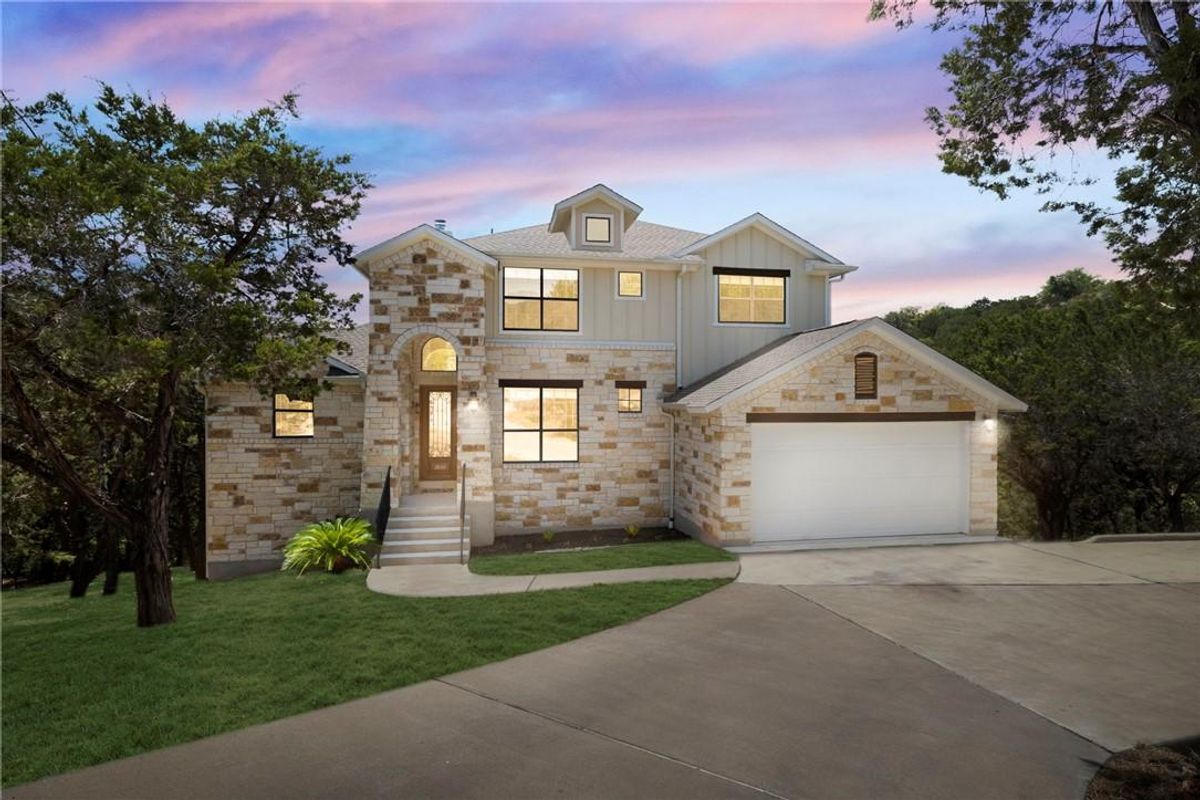 Gone are the days of paying $100,000 over asking price for a fixer-upper—your dollar now goes a little further in Austin's real estate market.
Housing prices are dropping across the country, inventory is up, sales are down and the transition into a buyer's market is beginning as realtors work to set expectations for sellers.
Boomtowns like Austin are seeing some of the most dramatic effects of the slump—while paying over asking price was normal last year, houses are more likely to sell below listing price at the moment.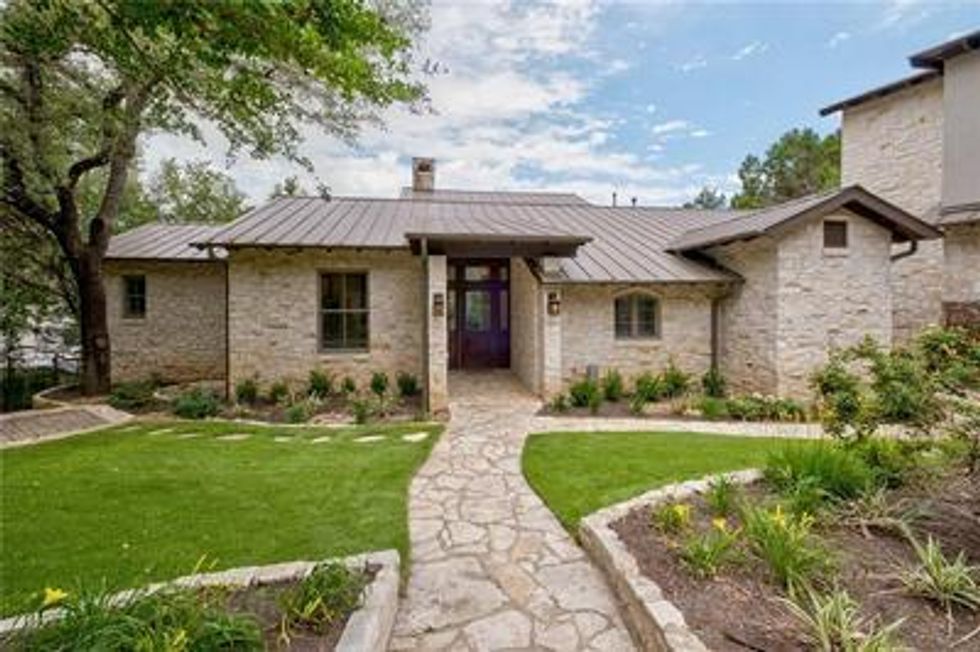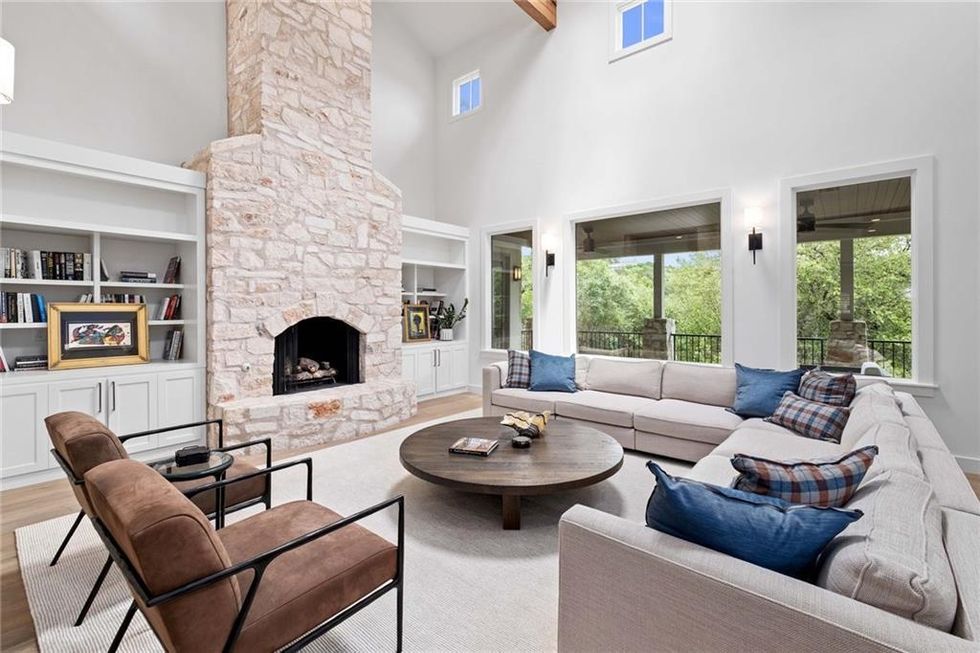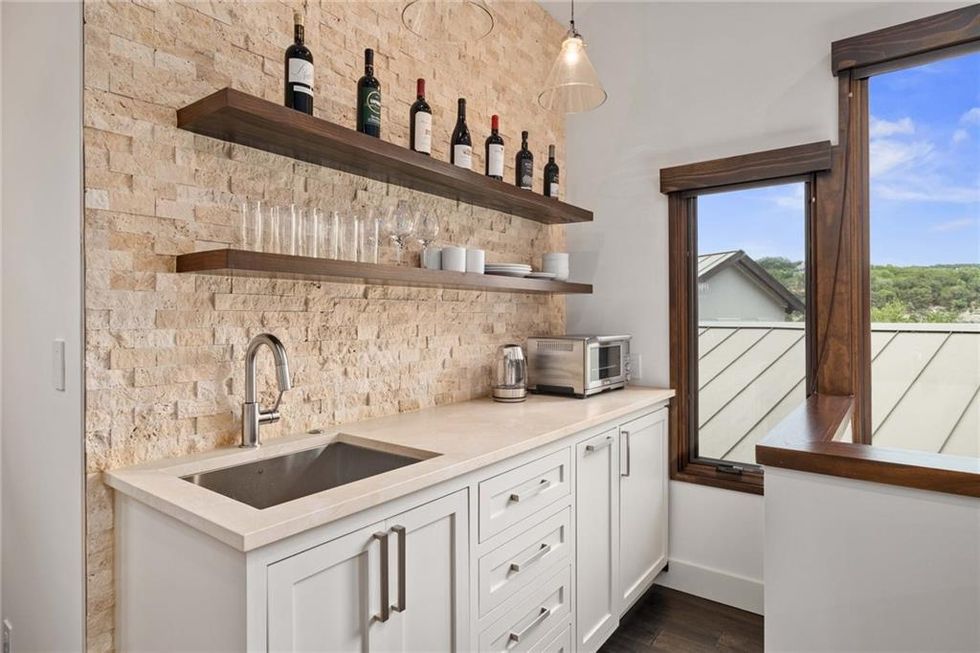 (Moreland Properties)
This sprawling, two bedroom, three bathroom—including a private one bed, one bath guest apartment—dropped an eye-opening $251,000 on July 14 since it was originally listed for $3,250,000 on June 24. Built in 2001 in the Watersmark Barton Creek gated community, the home was updated this year and last sold for $1,500,000 on April 13, 2018.
This listing is held by Eric Moreland of Moreland Properties.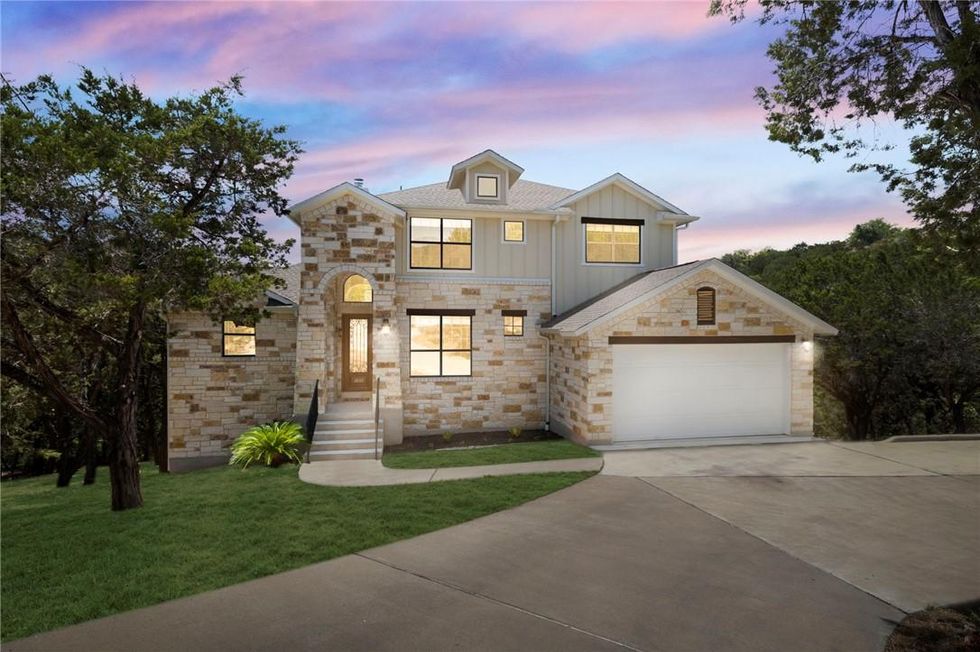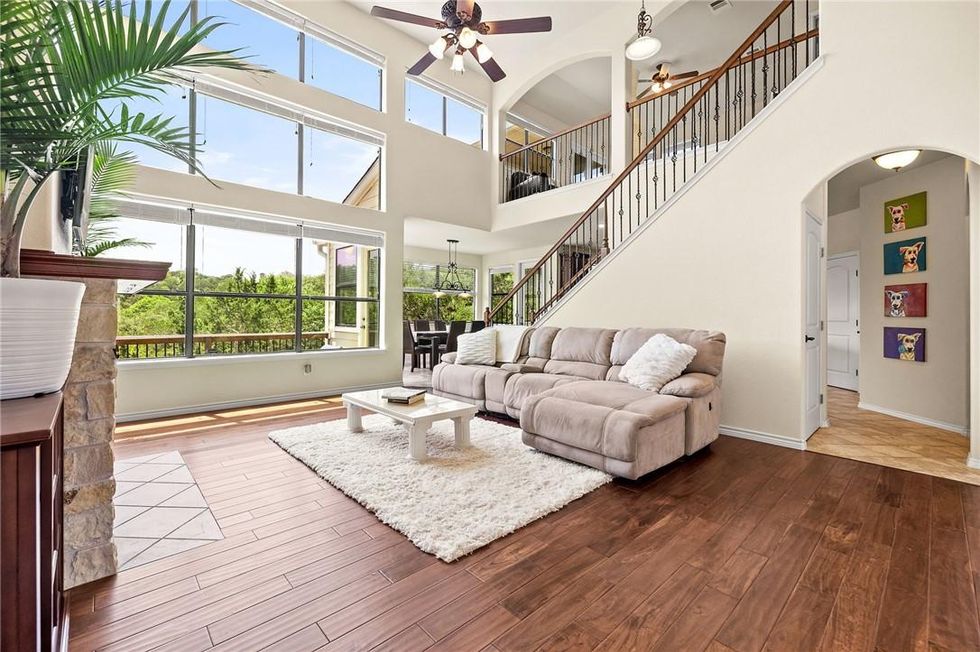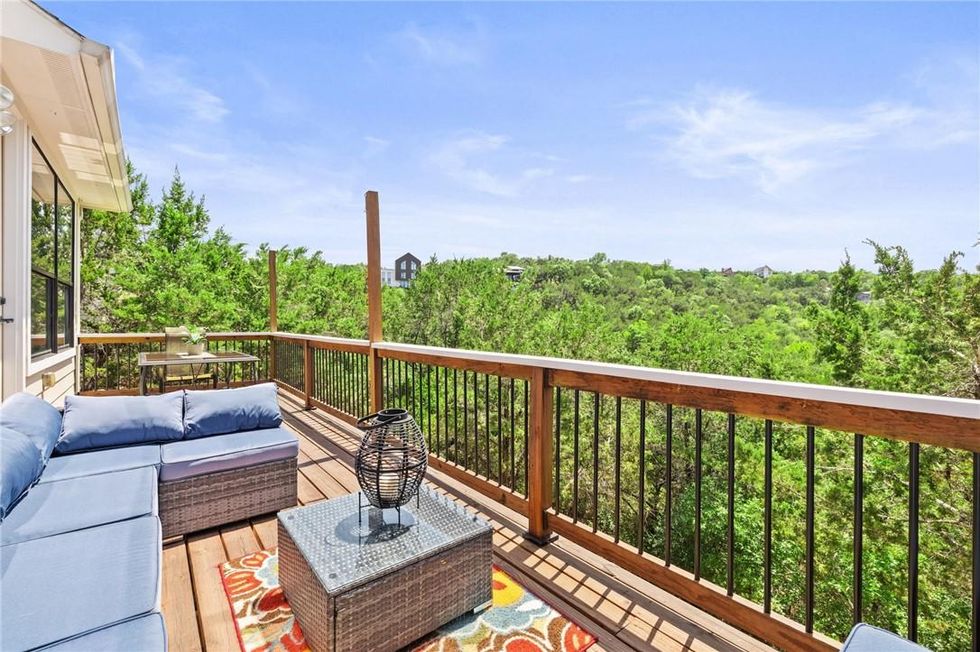 (Realty Austin)
This three-bedroom, two-and-a-half bathroom Hudson Bend home has views for days, is just over 10 years old and dropped $115,000, originally listed for $1,050,000 on Aug. 9, as of Wednesday. With three stories of open floor plans to spread out—translating to sky-high ceilings in the living room—and multiple decks overlooking the lush greenbelt that allow natural light to flood inside, this home has been on the market for nine days.
This listing is held by Realty Austin.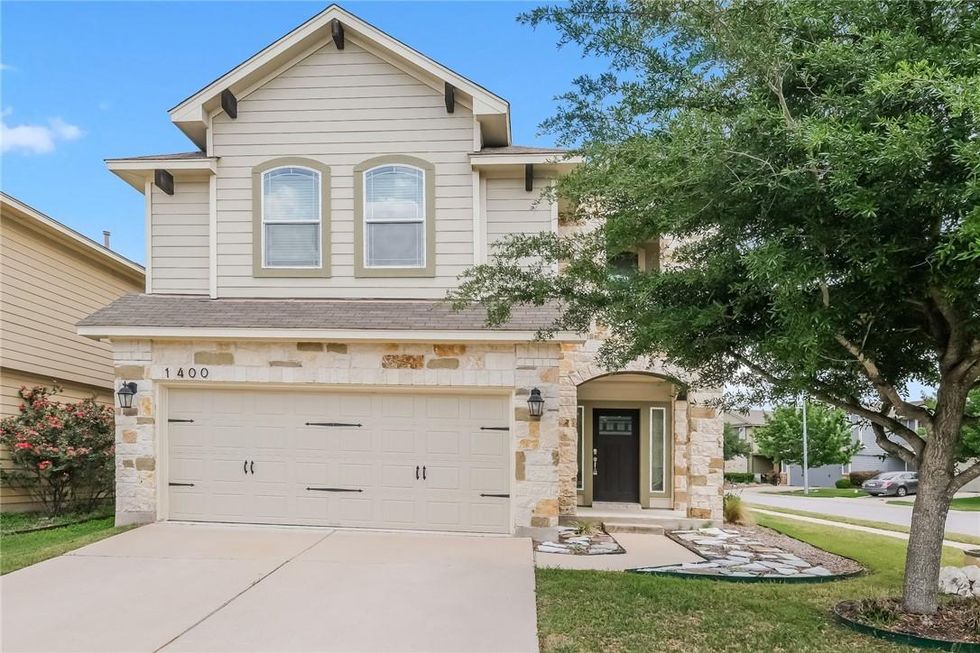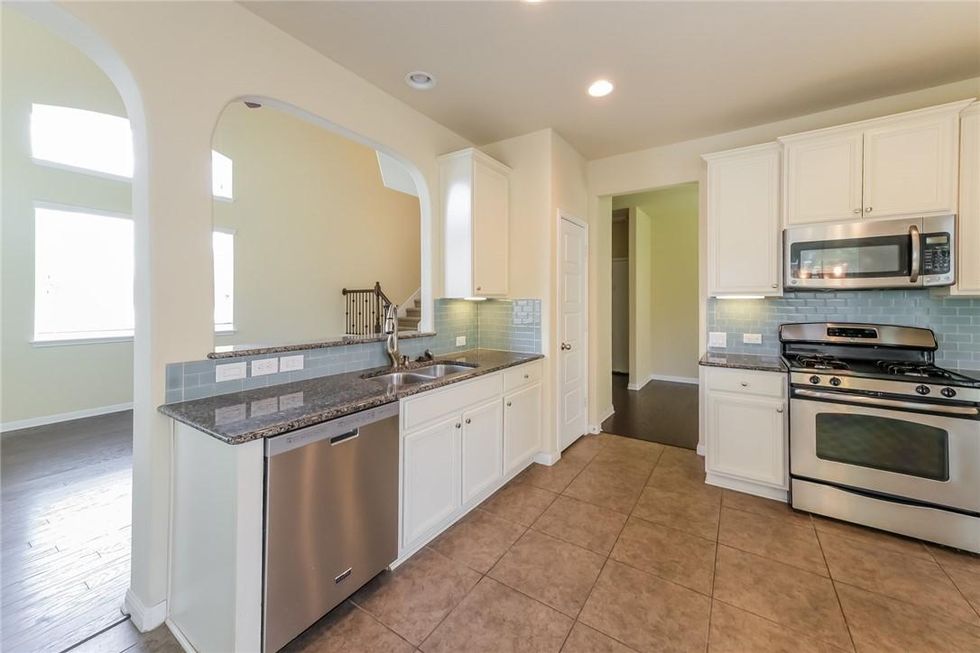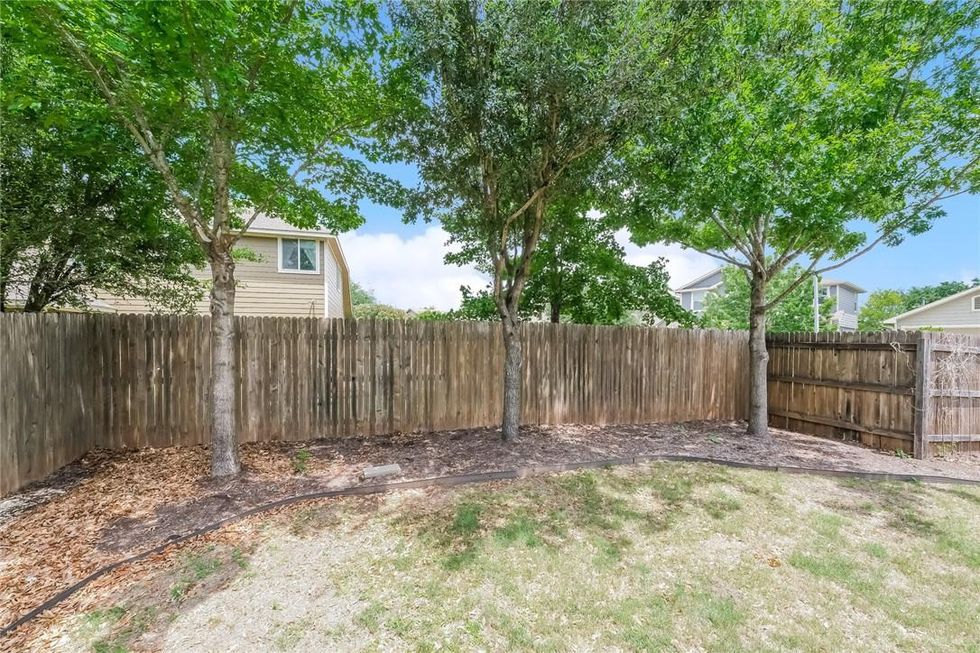 (Realty Austin)
Located in far South Austin on a corner lot, 1400 Huckleberry Lane first hit the market on May 19 for $566,000 and has since dropped in price five times, sitting at $502,000 as of Wednesday. With three bedrooms, two-and-a-half bathrooms and a large backyard, this house has plenty of space for a family and landscape potential outside. This house was last sold on Jan. 1, 2019 for $283,444.
This listing is provided by Realty Austin.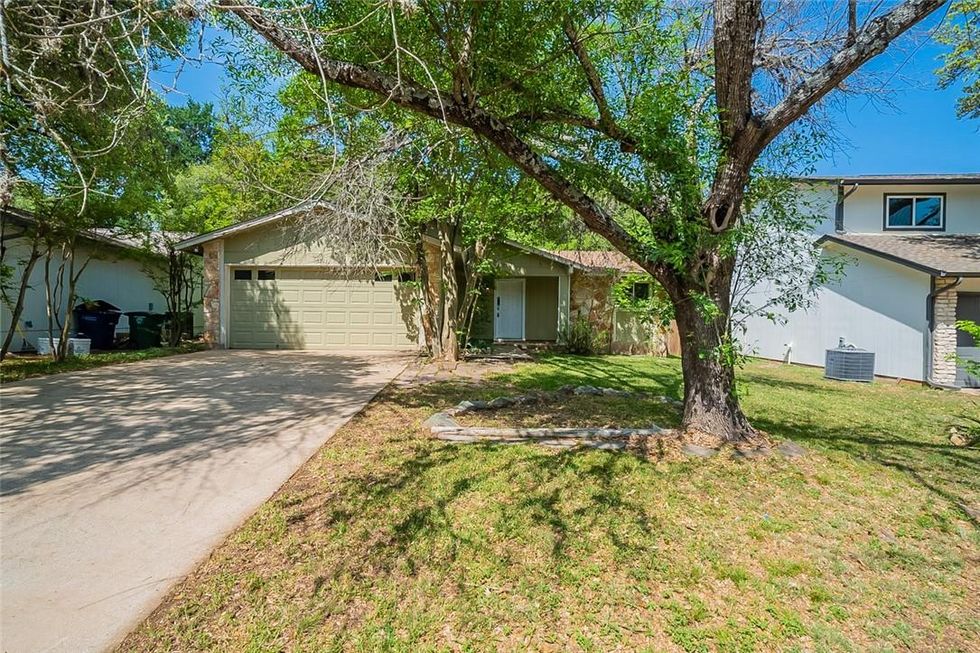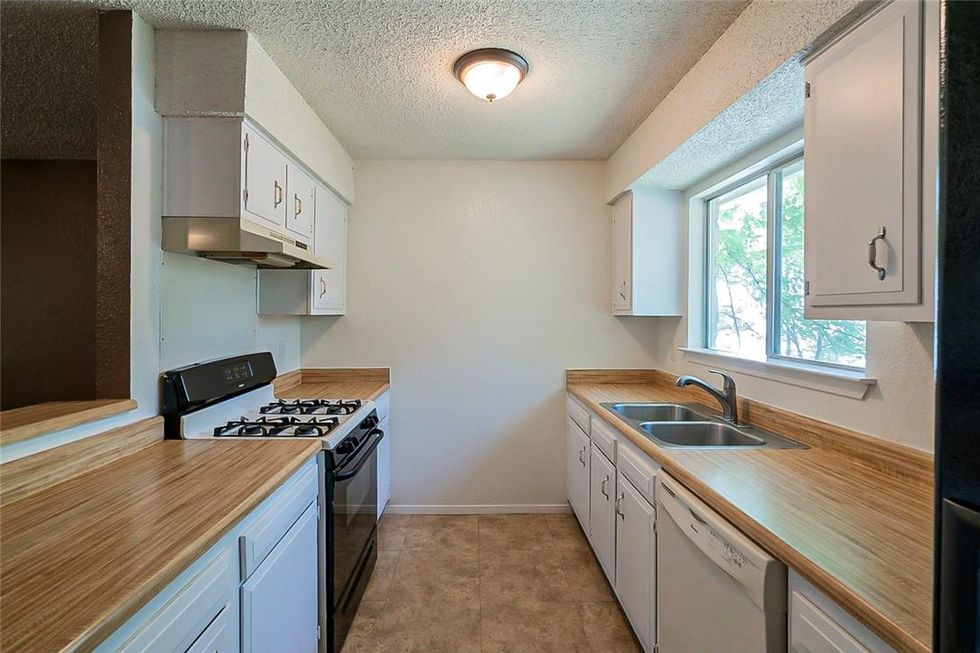 (Realty Austin)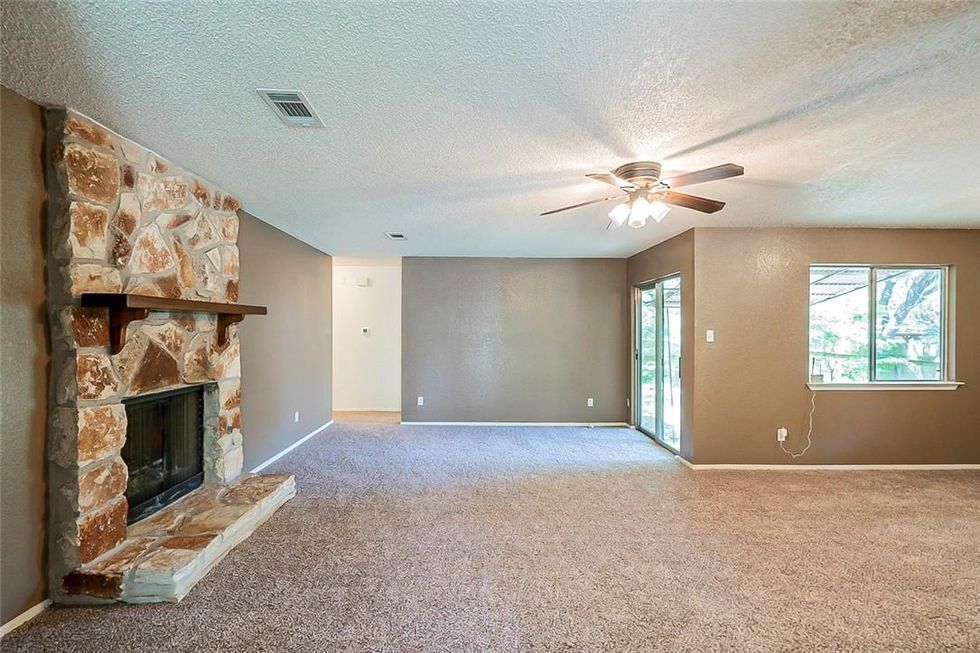 This quaint little three-bedroom, two-bathroom home is shrouded in greenery and gives off a retro vibe with its stone focal point fireplace, plush carpeting, breakfast nook and sliding doors. Originally listed for $595,000 on May 12, this listing has dropped in price seven times and fallen a total of $104,000 as of Wednesday. It was last sold for $219,900 on Oct. 7, 2015, and leased for $1,595 starting in 2017.
This listing is provided by Realty Austin.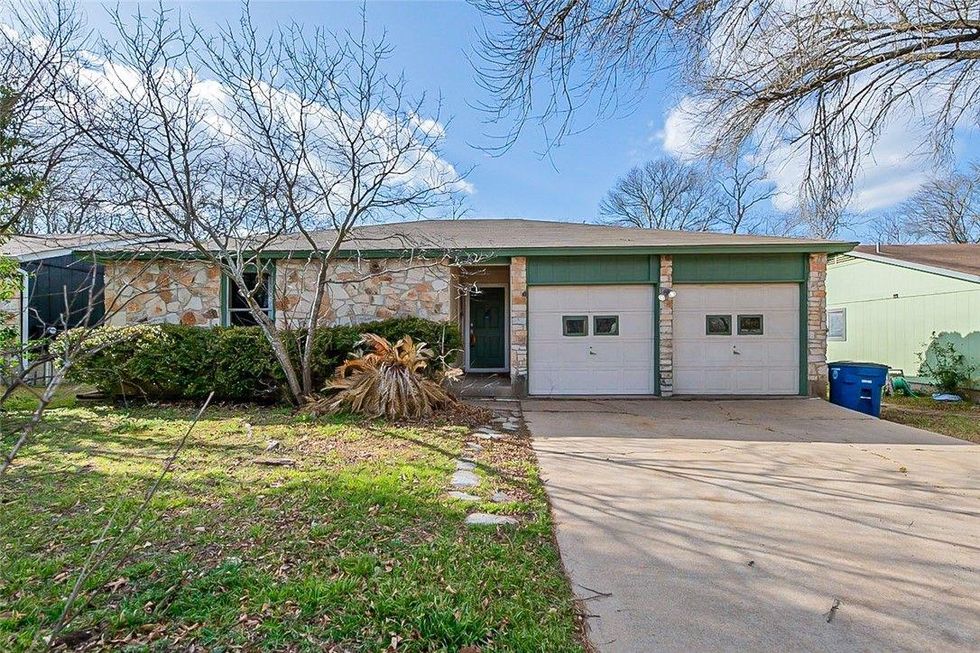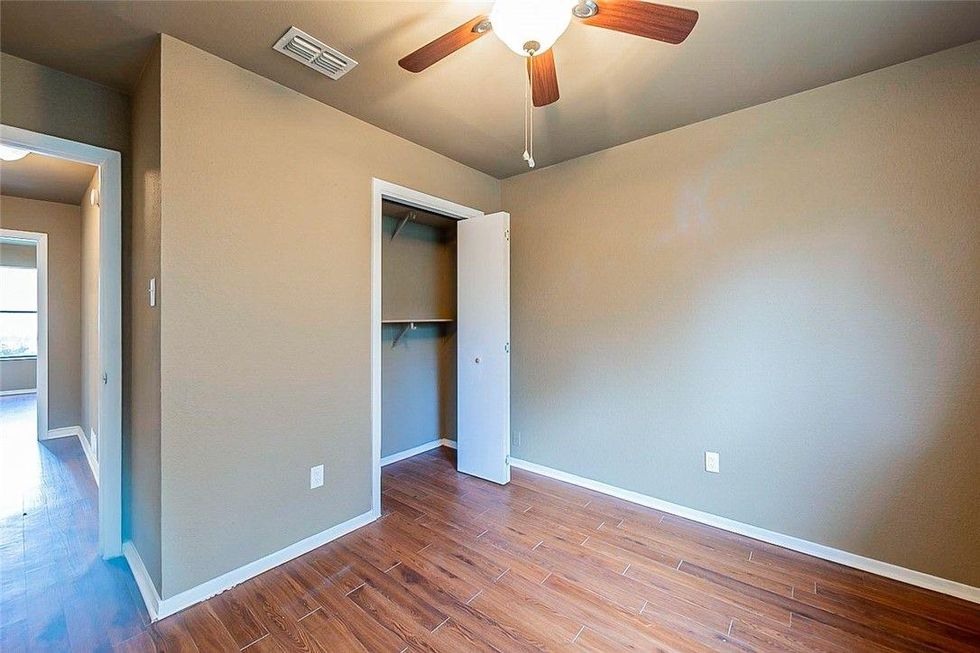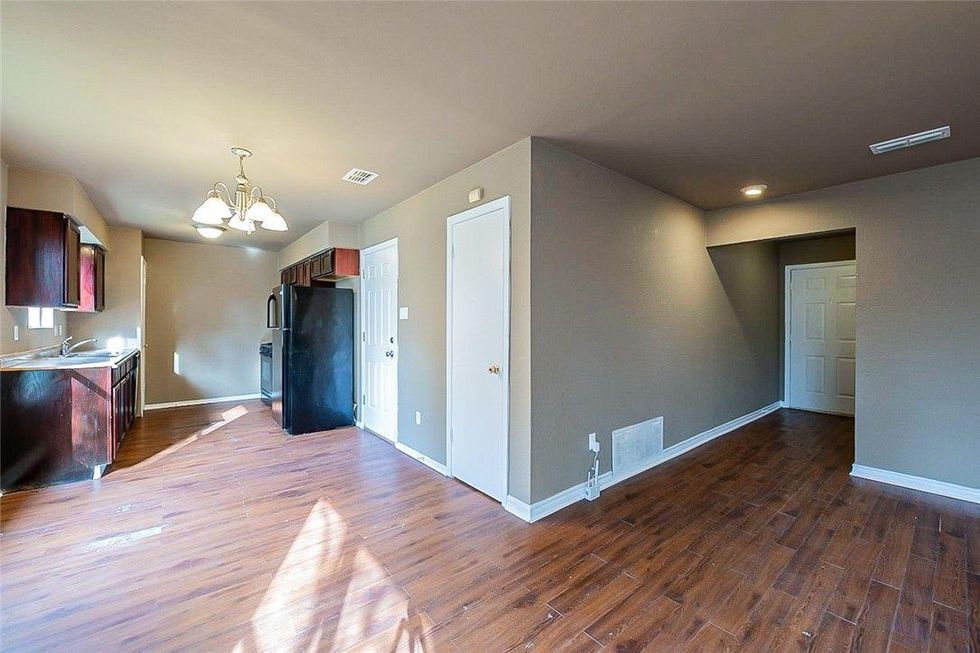 (Realty Austin)
If you're looking for a Sunset Valley home, 7804 Clydesdale Dr. boasts three bedrooms and two-and-a-half bathrooms across 1,197 square feet, plus a $111,000 price decrease since May. Originally listed on May 9 for $545,000, the home has dropped price six times up to Aug. 11, outside of a month-long stint when it was listed for $551,000 before being pulled off the market.
This listing is provided by Realty Austin.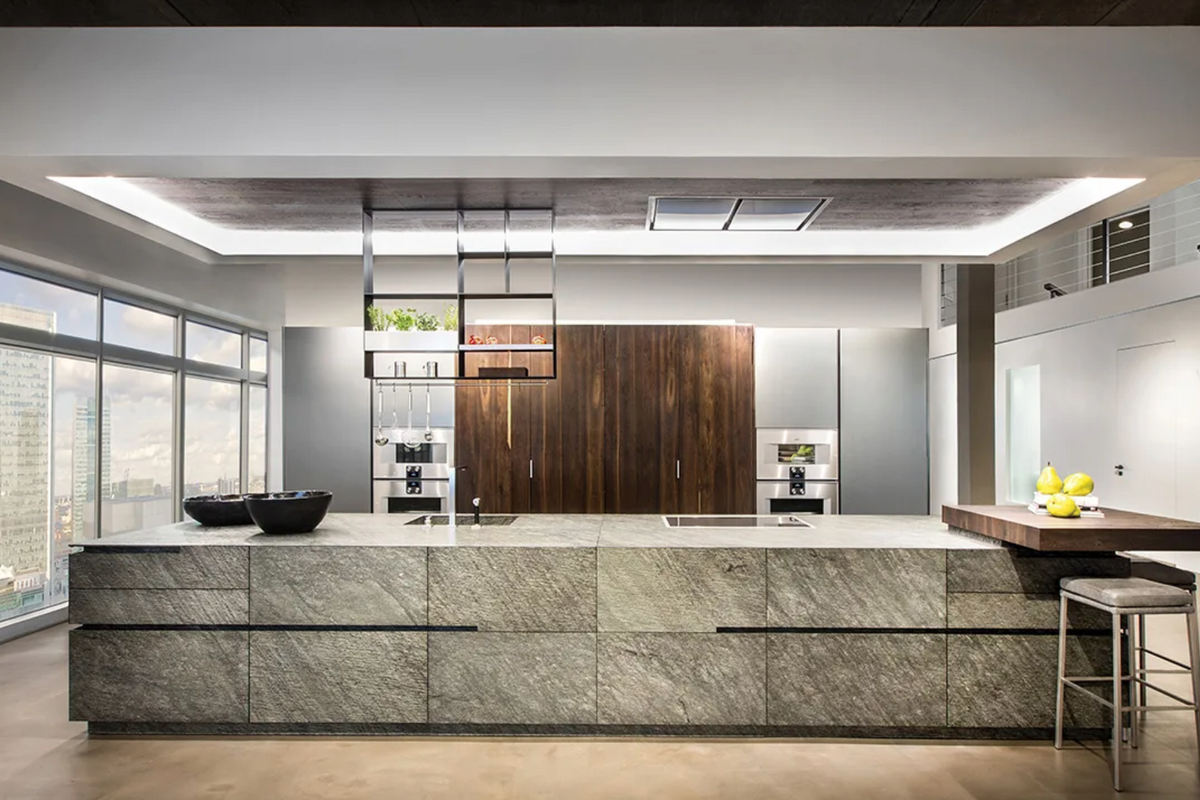 You've found your dream home. Now it's time to design your space.
Let eggersmann make your dreams come true. Not only are their products custom-crafted to last a lifetime, but their team of professional designers, installers, and care specialists are there to assist you from the ideation to the implementation of your gorgeous and highly functional space.
A family-owned business, eggersmann offers modern design solutions for every room in your home and they've had a hand in the design of many of the most beautiful homes in Texas, including right here in ATX.
A downtown condo. A house on the lake. South Austin style. All are perfect for eggersmann's design solutions.
If you're not sure where to begin, eggersmann has plenty of inspiration to get you started.
Kitchens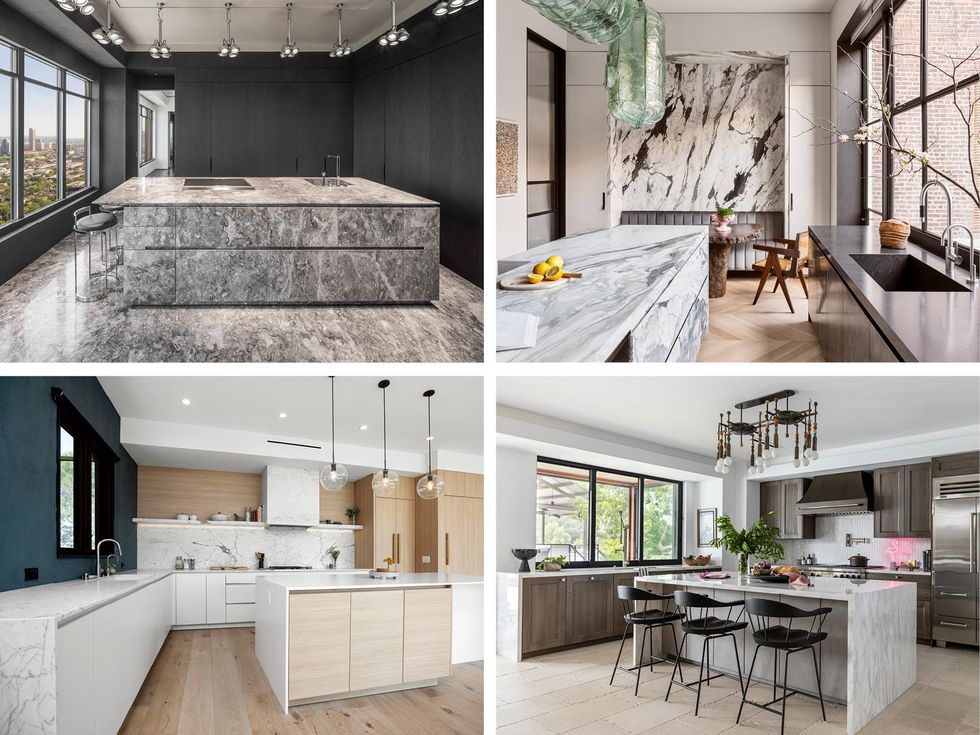 Kitchens are living spaces that invite us to indulge our senses; places that help us bond and are the heart of the modern home.
Eggersmann's modern German kitchens and home living solutions are distinguished not only by unique stone cabinet fronts and exotic veneers, but also technological feats in cabinetry composition and ergonomics like handleless cabinets and motion sliding countertops.
Their ideas spring from over 100 years of experience. Ever since Wilhelm Eggersmann founded this company in 1908, the now global team insists only the best will do and that every kitchen should be as individual as its owner.
Closets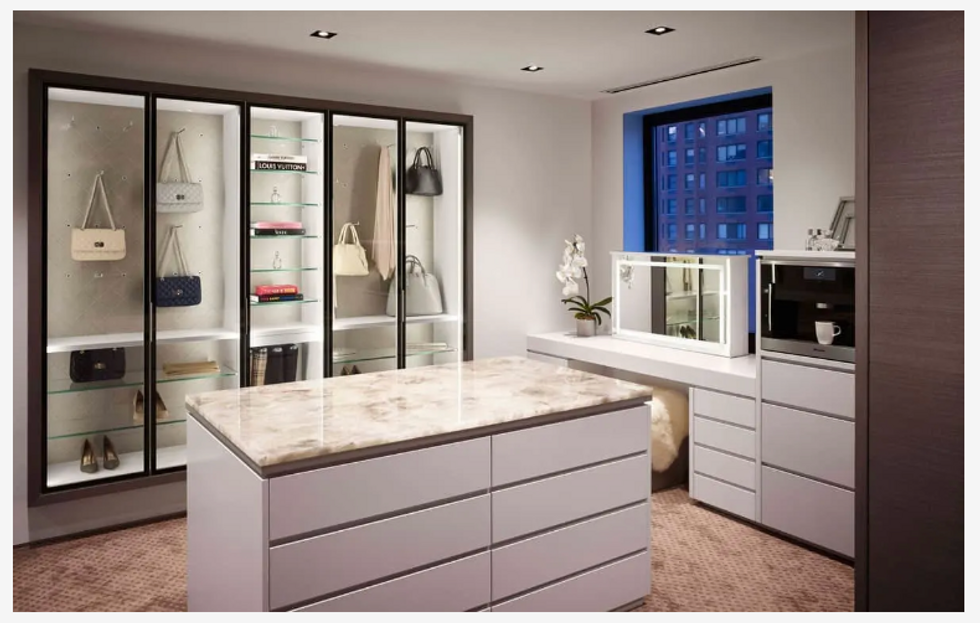 eggersmann usa
Beyond the closet, eggersmann brings soul to your wardrobe.
Tailor made in every aspect, personalize your space to make dressing and attire a special occasion. With innovative design solutions like hidden safes, watch-winders, and other accessory storage that will make the organizationally-obsessed squeal with delight, eggersmann's team of designers can help you to create a closet you'll want to spend all day in.
Living Areas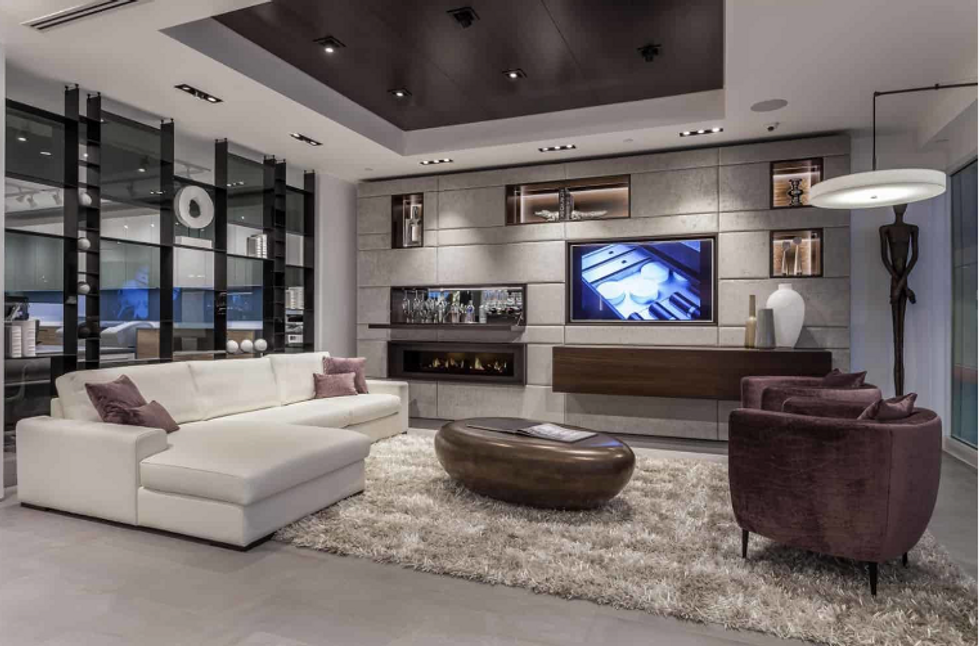 eggersmann usa
Create modern, beautiful spaces that motivate you to play and socialize. Host the next grand celebration or relax and relieve the tensions of your day. Eggersmann's entertainment solutions focus on how you live and how you entertain.

Need a TV for a family movie night but prefer something besides a black screen when you're entertaining? Eggersmann's remote-controlled lifting technology allows you to do just that. What about design solutions that keep a bustling household organized? Eggersmann makes it all possible.

Working with eggersmann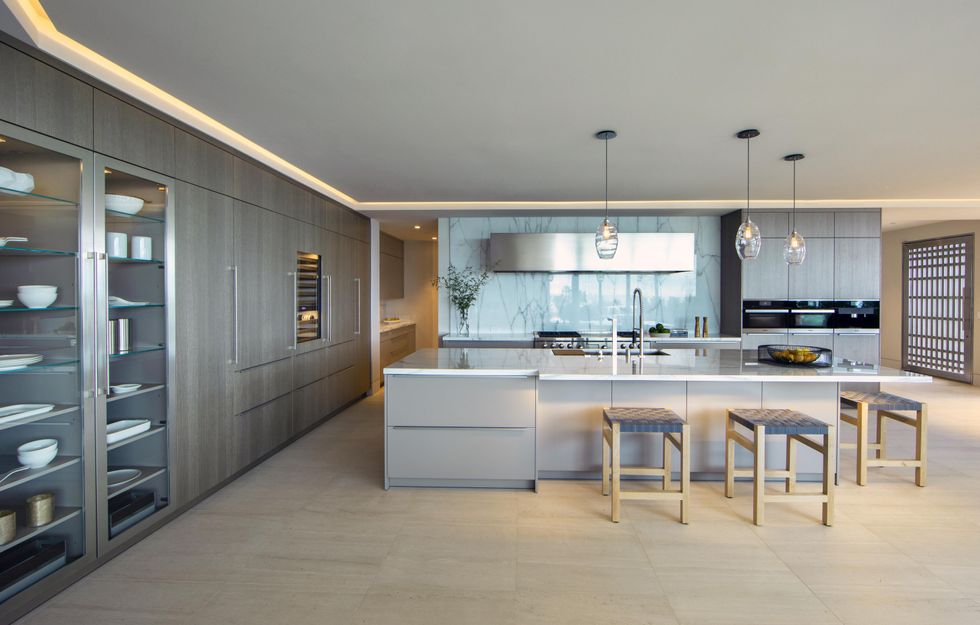 eggersmann usa
To learn more about the exceptional luxury cabinetry, exotic durable finishes, and innovative solutions, you may visit one of 6 eggersmann showrooms in the US, one of its retail locations in Canada, Mexico, or the US including Hawaii, or call to make an appointment with the satellite design service here in Austin where a knowledgeable representative will meet you at your home, office, or location of your choice.
The eggersmann team works directly with homeowners to bring their dream spaces into reality or with your interior designer, architect, or builder. They also have extensive experience working with high-rise/multi-unit developers or condo owners.
Find the
nearest eggersmann location
.