Get connected with our daily update
(Pexels)
Austin Public Health is considering offering rapid antigen tests that detect active COVID-19 infections and provide results in around 15 minutes.
---
Like the genetic—or polymerase chain reaction—tests currently conducted by APH, antigen tests detect the presence of an active infection from a viral sample, such as saliva or tissue swabbed from the nostrils.
Austin-Travis County Interim Health Authority Dr. Mark Escott made the announcement on Tuesday.
While antigen tests are marginally less sensitive than genetic tests, they are cheaper to produce, less invasive and provide much faster results—in minutes instead of days.
Some local entities, including Remedy and Texas MedClinic, already offer these tests, and the federal government announced last month that it would distribute rapid testing equipment to nursing homes around the country.
Genetic tests, on the other hand, must be sent to a lab for processing. Recent surges have led to increased demand—and delayed results. Slow turnaround times stymie efforts to contain active COVID-19 cases; by the time a patient learns of a positive result, they may have already recovered—and missed their chance to prevent infecting others.
Antigen testing could help fix this bottleneck.
"It's not quite as accurate as the regular [genetic] testing that we send off to labs, but it's probably good enough," Dr. Escott told county commissioners Tuesday. "So we can get a whole lot better control over this for future outbreaks than sending off tests that are going to take three or four or 10 days."
A case study
The U.S. Food and Drug Administration issued its first emergency use authorization for a rapid antigen test to the California-based Quidel Corporation on May 9.
Less than two weeks later, Texas MedClinic announced it would offer the Quidel test at 19 locations across Central Texas, including two in Austin.
The practice has worked with Quidel for nearly a decade and already used its equipment for rapid flu and strep tests, which meant it only needed FDA approval and test strips to get started.
Demand was immediate.
"Patients really like them," Chief Operating Officer Dr. David Gude told Austonia, adding that the long wait times associated with genetic tests were discouraging.
As of Monday, Texas MedClinic has conducted around 62,000 antigen tests, or around 60 to 75 a day at each of its locations.
"We're now able to do really more than double the amount of tests using the rapid antigen than we were able to do with the [genetic test]," Dr. Gude said.
At their peak in mid-June, Texas Med Clinic was conducting around 2,000 antigen tests a day. But the pace was unsustainable. While the clinics close at 11 p.m., staff would often stay until as late as 3 a.m. processing results. Hiring additional staff has been a challenge given the local competition.
Dr. Gude commended APH for considering antigen testing. Even though Texas MedClinic has seen a slight reduction in demand as the surge weakens, he thinks the rapid tests will prove useful in the weeks and months ahead, especially as college students return to campus and people gather over Labor Day weekend.
"I anticipate that it's going to be up and down until there's an effective vaccine, and I'm afraid that's going to be awhile."
(Clint Broden)
Daniel Perry, the active-duty Army sergeant who says he shot Black Lives Matter protester Garrett Foster in self-defense, was driving for Uber when he accidentally encountered the demonstration on the night Foster was killed, his attorney said Monday.
Perry, who is stationed in Killeen and only allowed to travel 100 miles from base, was not in Austin that night to attend the demonstration, attorney Clint Broden said, but because it "was the closest location that had significant ridesharing customers."
Broden also shared a redacted version of Perry's bank statement that shows two deposits from Uber that he said correlated to runs in Austin that night. Perry has been ordered to remain on base since the shooting, Broden said.
"We hope this puts to rest the allegations that Sgt. Perry traveled to Austin for any nefarious purpose," he said.
Some, including Foster's mother, have pointed to Perry's since-deleted Twitter account as evidence that he disagreed with BLM protesters and showed up at the rally to cause trouble.
The release was accompanied by six photos showing what the attorney described as the damage inflicted on Perry's car by protesters, including a bullet hole.
After Perry shot Foster, who was carrying an AK-47 and whom Perry claims was raising his rifle "in a direct threat to [his] life," another person in the crowd shot at Perry's vehicle, according to police. That person has not been publicly identified. Like Perry, he or she had a concealed carry license and was questioned and then released by the Austin Police Department.
Protesters arrested

On Saturday, in the wake of Foster's death and the release of Perry's name the day before, protesters and law enforcement clashed in demonstrations near downtown. Austin police on Monday released the names of 40 people arrested at the protests. The most common charge was obstruction of a highway.
Perry's attorney shared photos that he says show damage inflicted by protesters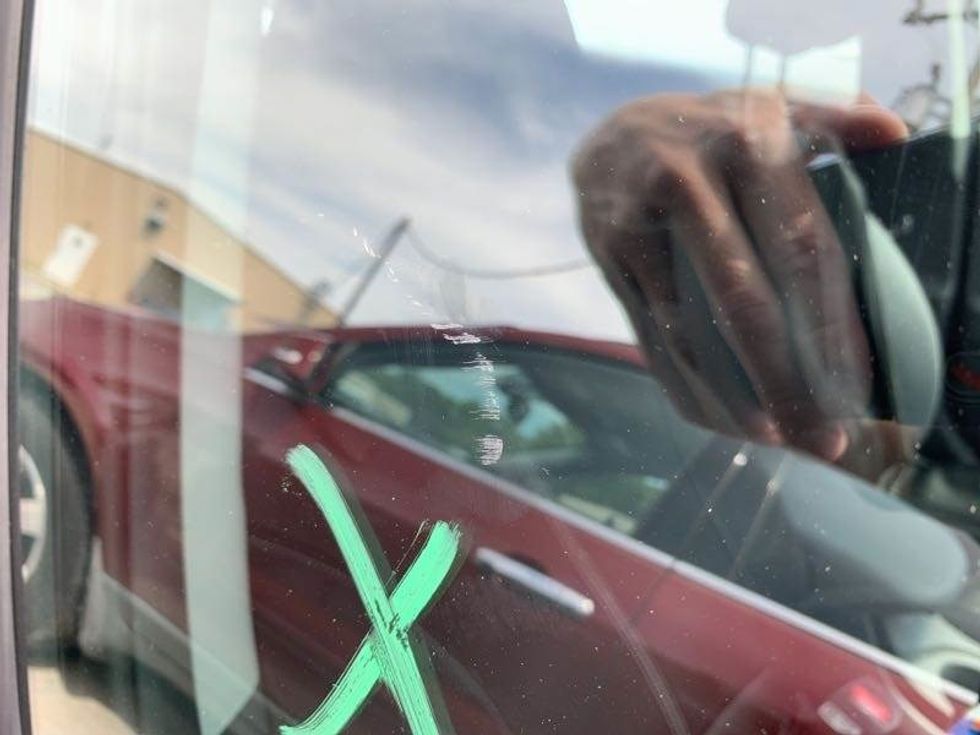 Perry's lawyer claims this photo shows where the vehicle was scraped with a brick.
(Clint Broden)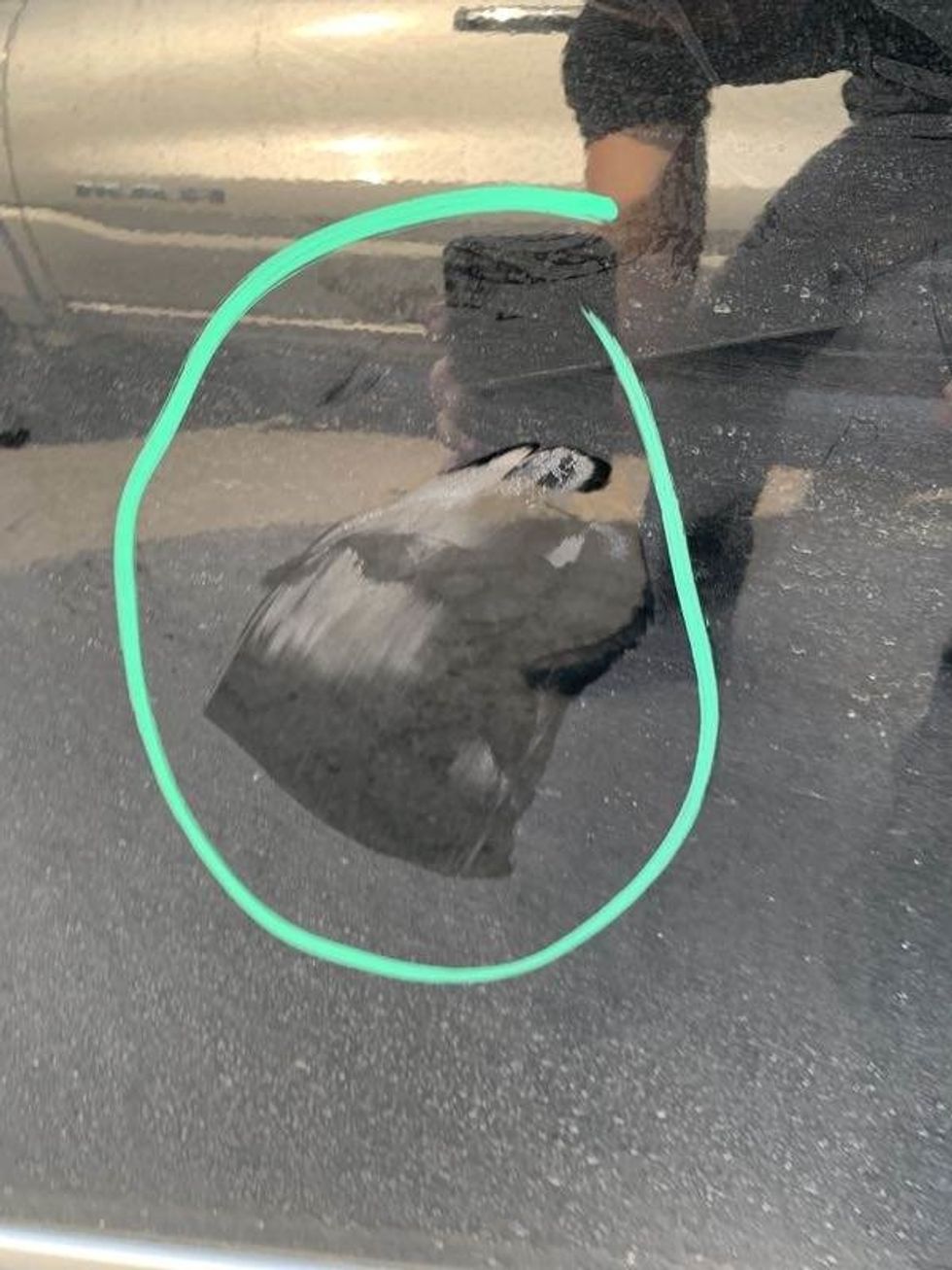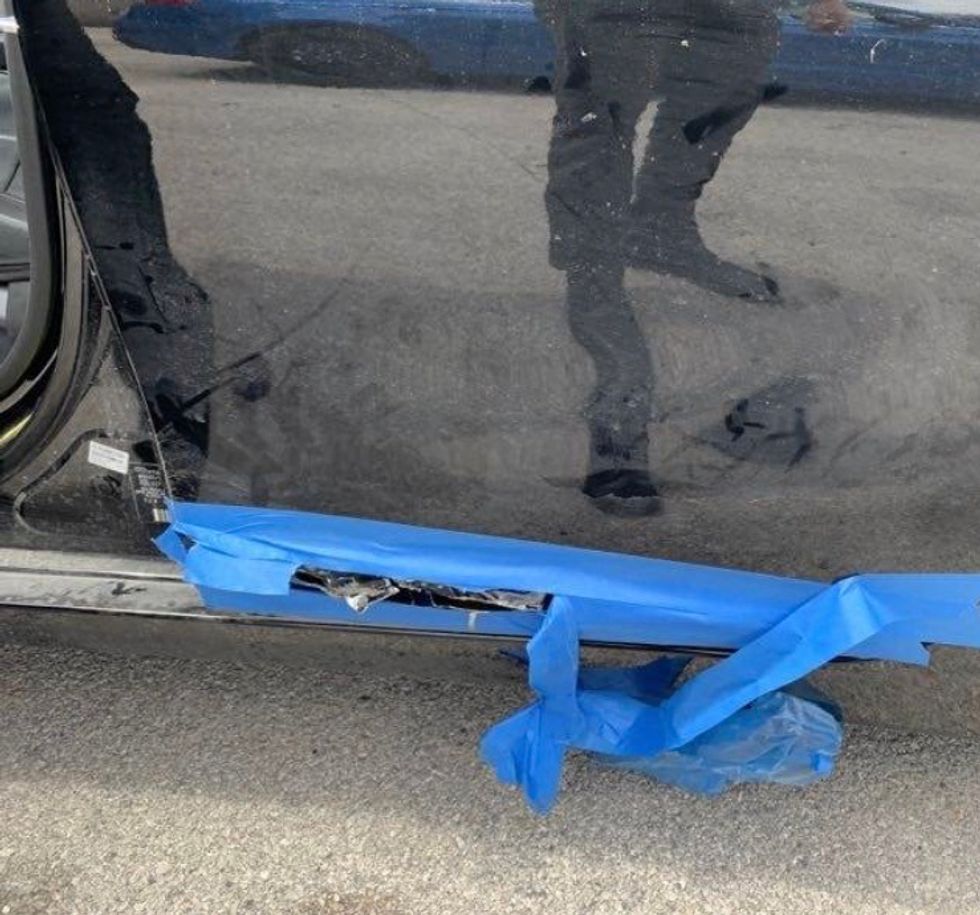 This photo, the lawyer says, depicts bullet holes.
(Clint Broden)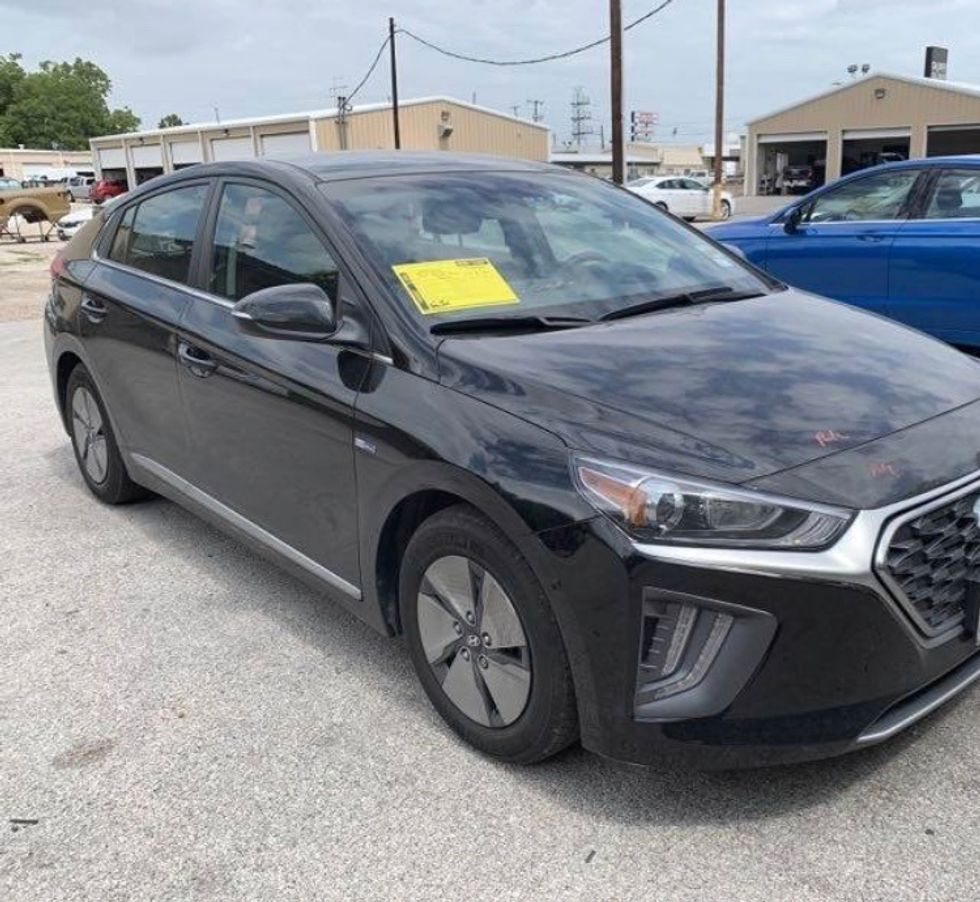 Perry's lawyer claims this photo shows hood damage "identified by auto body shop as a result of banging."
(Clint Broden)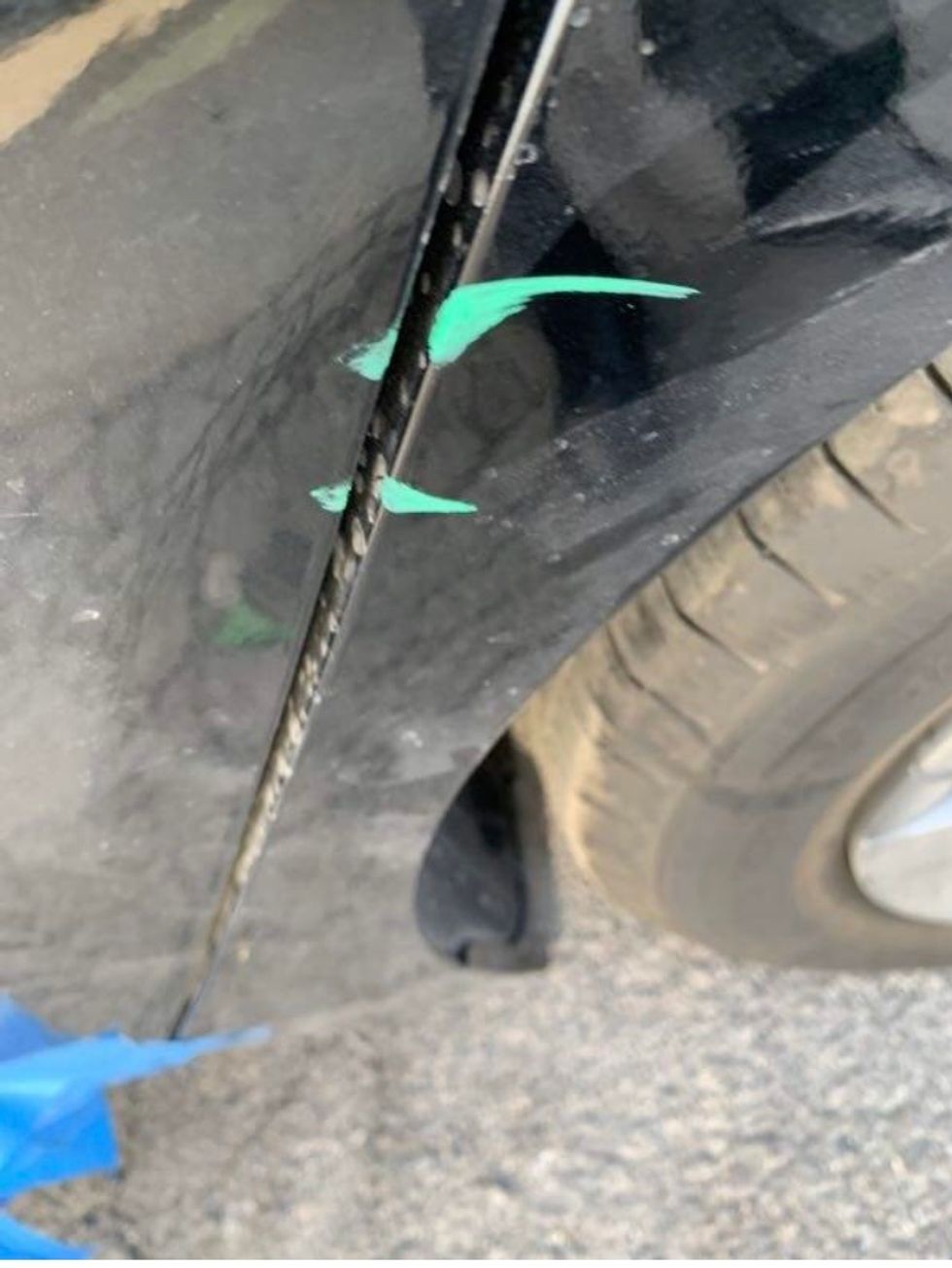 This photo, the attorney claims, shows a misaligned door where people hit the vehicle.
(Clint Broden)
Follow Austonia on Instagram to keep up with what's happening in your city.
Our Instagram page allows you to stay up to date with all things Austin, from coronavirus updates to local personalities. Join our Instagram family to see the faces, events and news that make up the city.
(Apple)
Former Longhorn and NFL star Emmanuel Acho stars in the two-part premiere of "The Oprah Conversation," which hit screens on Apple TV+ over the weekend.
<p>Acho is a natural fit to kick off the new show by Oprah Winfrey. The two are partnering to <a href="https://austonia.com/media/uncomfortable-conversations" target="_blank">publish a book based off his wildly popular social-media series</a>, "Uncomfortable Conversations with a Black Man."</p>In the show's first installment, Winfrey and Acho answer questions by white and Latino guests about race and what it means to be Black in America.<p>"He's answering uncomfortable questions about racism in America and the best ways to keep the conversation going with your family and friends," reads a statement on the show's social media.</p><div class="rm-shortcode" data-rm-shortcode-id="b731717d9d6127f784b0c98ace3bba1a"><div class="fb-video" data-allowfullscreen="true" data-href="https://www.facebook.com/video.php?v=2661048164154842"></div></div><p><br/></p><p>"The Oprah Conversation" is Winfrey's newest series on Apple TV+, following "Oprah Talks COVID-19" and "Oprah's Book Club."</p><p>In future episodes, the show will continue to explore timely topics with leaders from across the globe. <a href="https://tv.apple.com/us/episode/uncomfortable-conversations-with-a-black-man-part-1/umc.cmc.18mbwbiobbhzpxceuzvijsln8?showId=umc.cmc.49yt85r7ow6904u0177r694qy" target="_blank">Watch it here.</a></p>