Get connected with our daily update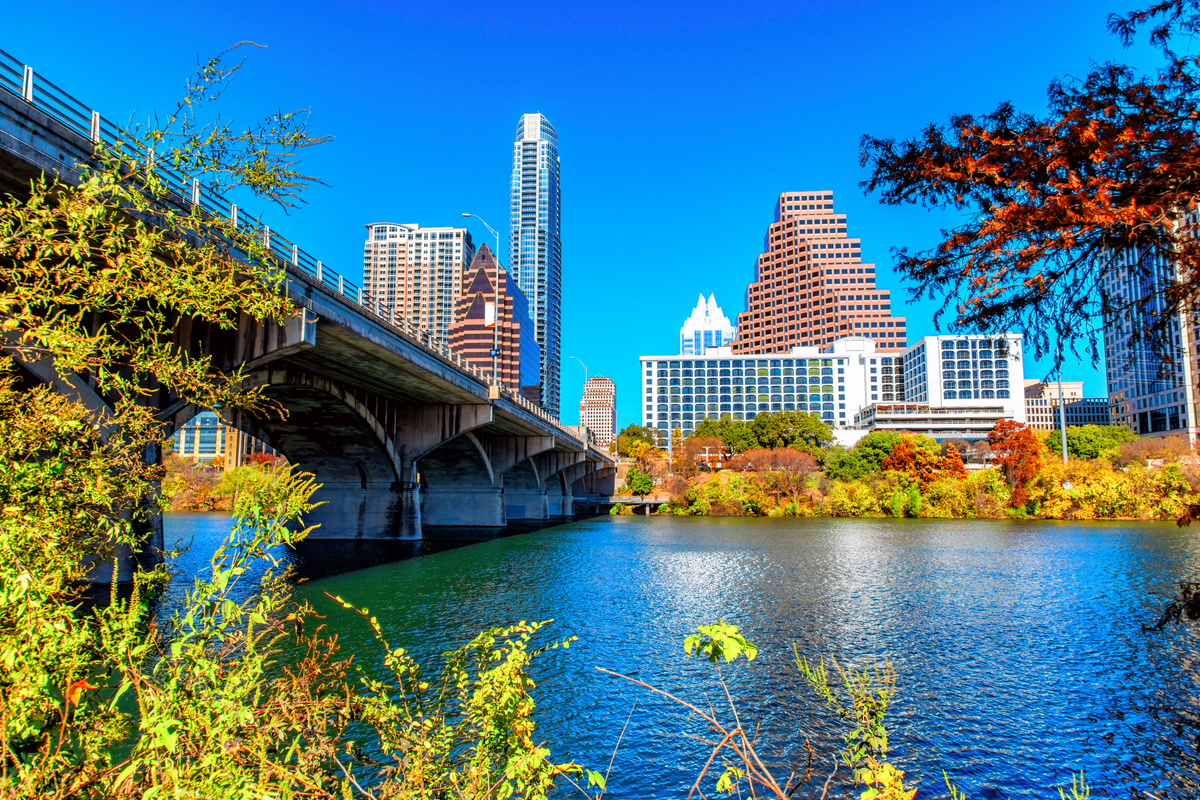 Austin is in for an early start to what is threatening to be an unseasonably hot summer.
---
So far, this month has been the hottest May on record with Camp Mabry reporting an average temperature of 82 degrees, compared to the National Weather Service's recorded average of 74 degrees from May 1-10.
Austin has been an average of 8 degrees hotter than normal this month—the hottest May since 1898. NWS meteorologist Keith White told Austonia that Austinites have La Niña to thank for this sweaty summer.
What is causing the heatwave?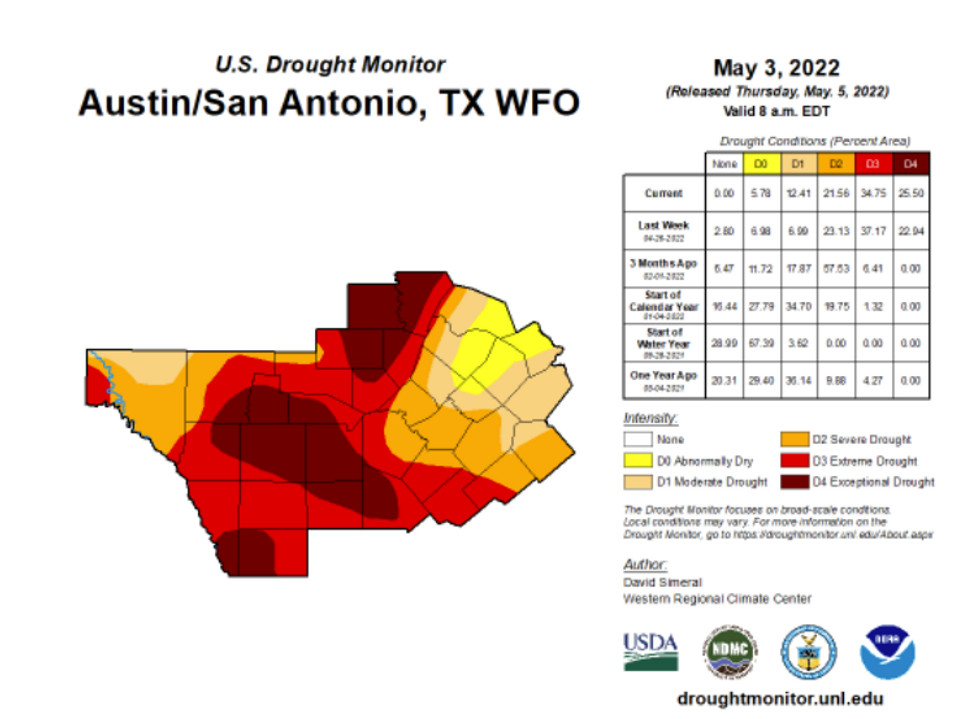 A phenomenon characterized by cooling waters across the central and eastern pacific oceans, La Niña tends to cause cooler and wetter conditions in the northern U.S. but warmer and drier conditions across Central Texas. We would typically be on our way out of La Niña at this time of year, according to White, but the heat can be turned around with a little rain.
White explained that the sun is able to heat dry ground—due to the drought and La Niña—more efficiently than wet ground. West Austinites might be feeling more of the heat, as the drought has been worse west of town.
Austin is entering its rainy season, which tends to fall between May and October. The last 30 days have seen about 2-4 inches of rain, which is just a touch below average, but White said the end of May is looking rainy, which could quell the heat.
"There will be some dependency on if we're able to pick up some more beneficial rains here," White said. "While at least over the course of the next week it looks likely to remain dry, there may be some rain chances returning toward the end of May."
Does a record-breaking May mean a record-breaking summer?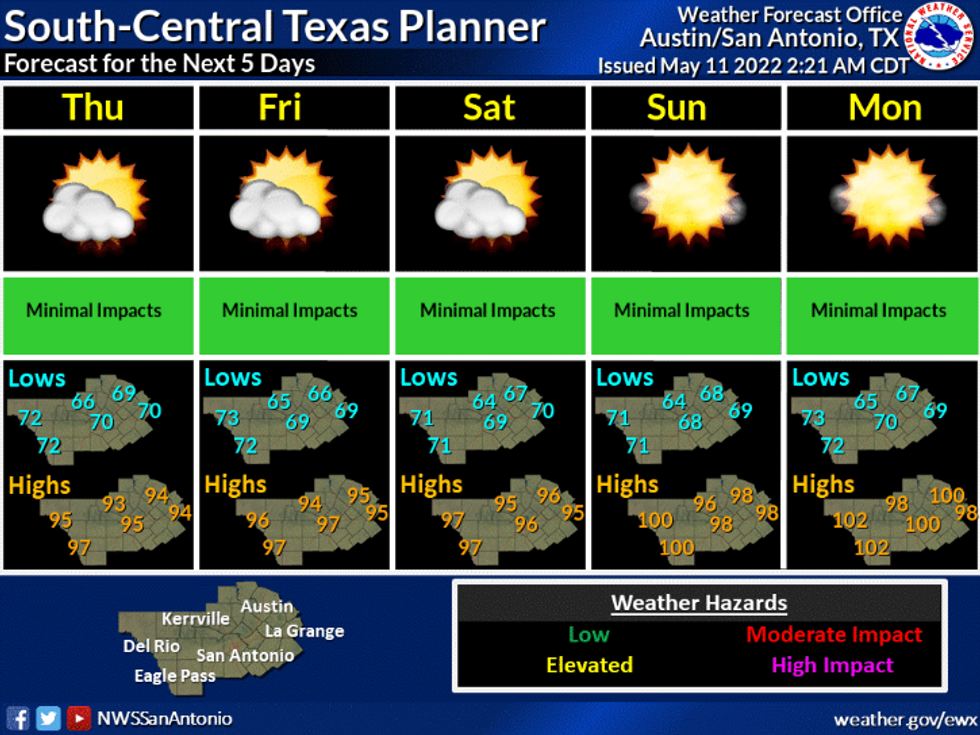 Not necessarily, though in part due to climate change, all of the top five hottest summers have been recorded since 2008 with the hottest to date in 2011. Meanwhile, 2021 was only the 38th hottest summer on record.
White said that means climate variability is superimposed against climate change, meaning temperatures are gradually rising, but the amount of rain we receive could make a huge difference.
While 2011 saw more than 90 100-degree days, 2021 only saw 12 100-degree days.
"As our climate warms, the risk of excessive heat will increase because you're taking the average temperature and moving it up," White said.
How to stay safe and cool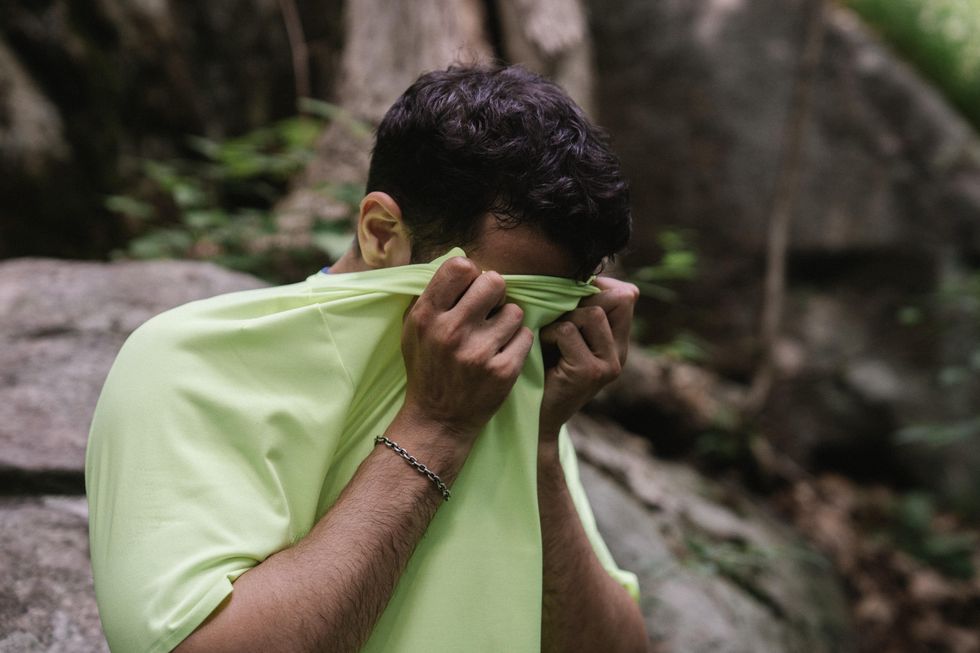 (Pexels)
With rising temperatures, there is always a risk of heat-related illness. In fact, White said last weekend there were 29 heat-related illness calls to Austin EMS.
The best way to avoid getting sick in the hot Texas summer is to wear light clothing, drink lots of water, take breaks in air-conditioned areas and familiarize yourself with symptoms of hyperthermia.
And prepare yourself for the first half of August, which is traditionally the hottest time of year.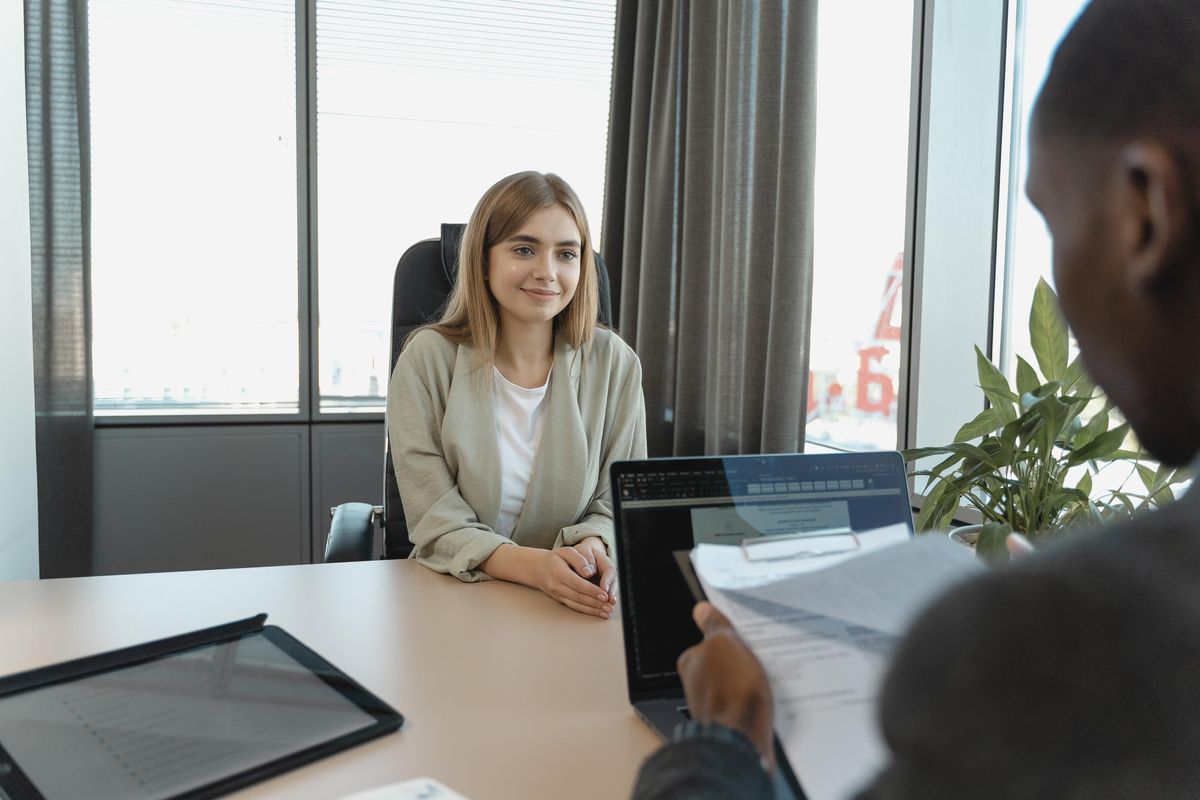 Jerry Lee, co-founder of professional training company Wonsulting, applied to 300 jobs using three fake resumes to do an experiment.
As he detailed on TikTok, he was trying to see the rate that each resume got ghosted. And while one of the resumes had a 14% interview rate—a result he wasn't surprised by given that Facebook was listed on the resume—recruiters still ghosted 57% of the time.
"So just remember that being ghosted is part of the process," Lee said. "And yeah, it does apply to people who work at these prestigious companies."
@jerryjhlee

🙋‍♂️ if you've ever been ghosted by a recruiter
Ghosting, or abruptly ending communication with someone without explanation, has been the norm for some employers. They've typically had the upper hand in the hiring process after all. But lately, they're starting to get a taste of their own medicine.
Julia Lyons-Ryle, an HR Performance Specialist, said this trend is fairly recent and has cropped up more as a result of the pandemic.
She works with small to medium-sized companies in the Austin, San Antonio and the Rio Grande Valley regions, and has considered reasons for why prospective employees disappear without explanation.
One is that it's harder for companies to form a bond or relationship with a prospective employee over the phone or a Zoom meeting. As a result, job seekers are more comfortable leaving employers on read.
A recent report by HR analytics platform Visier surveyed 1,000 job seekers in the U.K. and 1,000 in the U.S. Of those, a whopping 84% of respondents said they had ghosted an employer or potential employer in the past year and half.
The report noted a few of the top reasons for ghosting, including salary levels that were below expectations, companies had a bad reputation and online reviews, job role descriptions were inaccurate and workers received other, more attractive job offers.
But it's not just during the interview process that workers are considering ghosting. Just over 30% said they would ghost at the point of the job offer or after their first day on the job.
Who would do that? Well, the survey found that more senior workers are comfortable ghosting. More than 90% of Directors, VPs and C-suite level workers expressed a willingness to ghost on the survey.
Still, there are actions employers can take to avoid getting ghosted. Lyons-Ryle says the company culture begins even before an interview because job seekers can get a feel for a place just from the posting. So, putting a salary range and an accurate job description can be key to hearing back from prospective employees.
There's a lot that companies have to offer, besides just here's a paycheck," Lyons-Ryle said. "And that's something that a lot of people are looking for, especially after the pandemic, they're starting to look around and say, you know, I can get a paycheck. But can I get something else? A culture or a family, a place to belong?"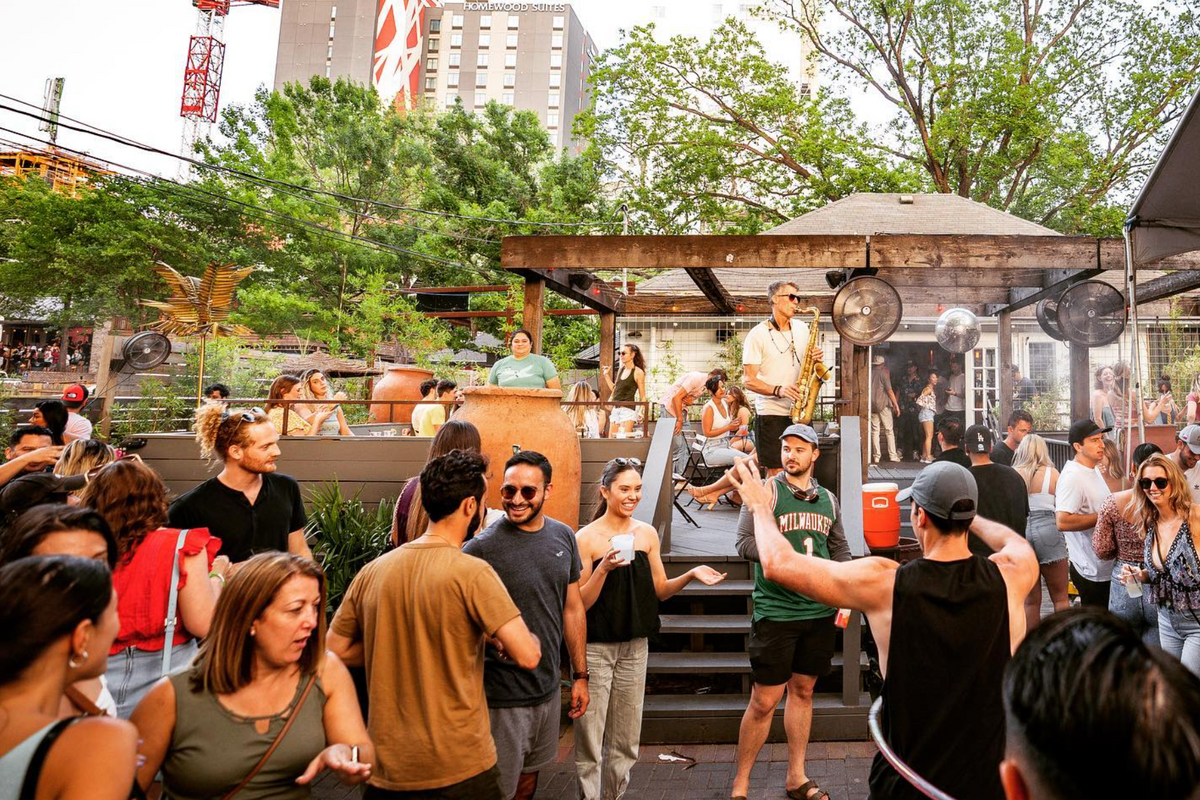 Another Rainey Street bar is closing its doors, marking the strip's third closure of the year.
Reina, 78 Rainey St., announced that it would close its doors on Sept. 11 via social media on Friday. The city plans to use the lot for construction of a new residential building, The Modern, which will include affordable housing units.
The announcement comes on the heels of both Container Bar and Bungalow closing in March to make way for the development, which will be a 49-story high-rise, with a conditional use permit for a four-story cocktail lounge inside.
"We knew this was coming and that our days were numbered," the bar said. "It still couldn't prepare us for the sadness we're feeling."

The bar opened just before the pandemic began in January 2020.
"We often think back to when Reina was a place of refuge during COVID," the post said. "The smiles we saw on people's faces as they ventured outside of their homes for the first time in months is a memory burned inside our heads forever."