Get connected with our daily update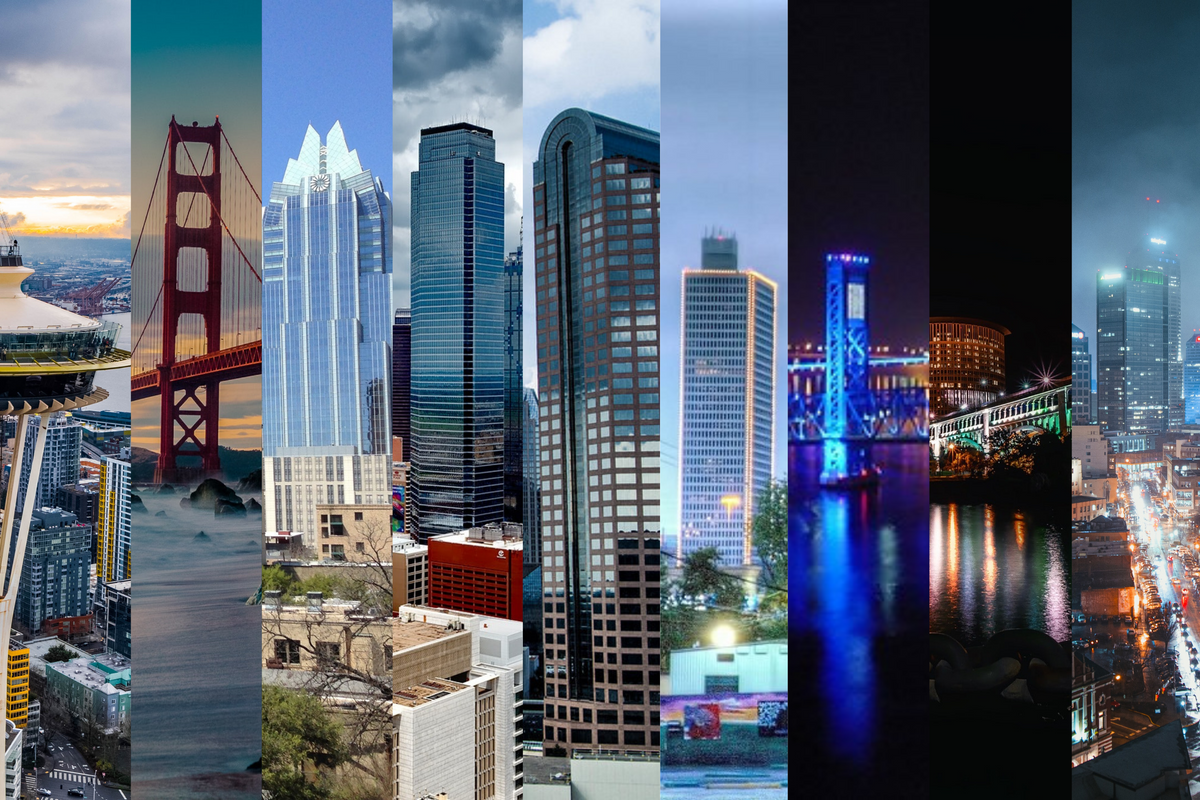 With hundreds of people migrating to Austin every day, housing in hot demand and prices on the rise, affordability is the topic du jour in the Live Music Capital of the world. But is it really that expensive to live here?
---
While rents are rising to record-highs in the Capital City, it falls leagues behind major hubs like New York, Los Angeles and Chicago. Still, for a city with just over 1 million people, Austin's affordability has been under question, with few options even for those making $15 per hour.
Here's how Austin stacks up against other similar-sized cities.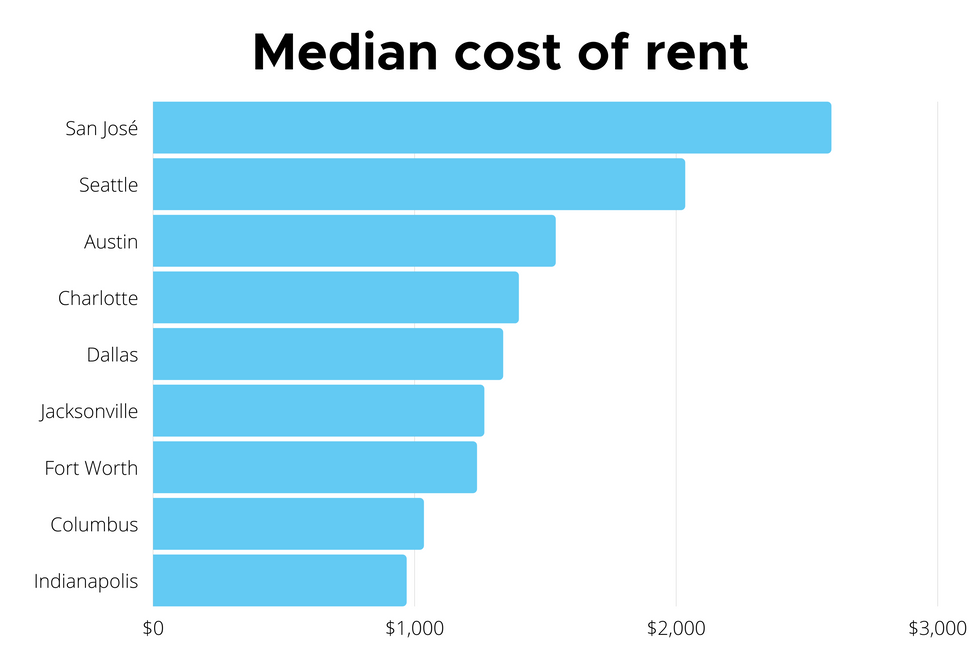 San José, California, pop. 1,009,340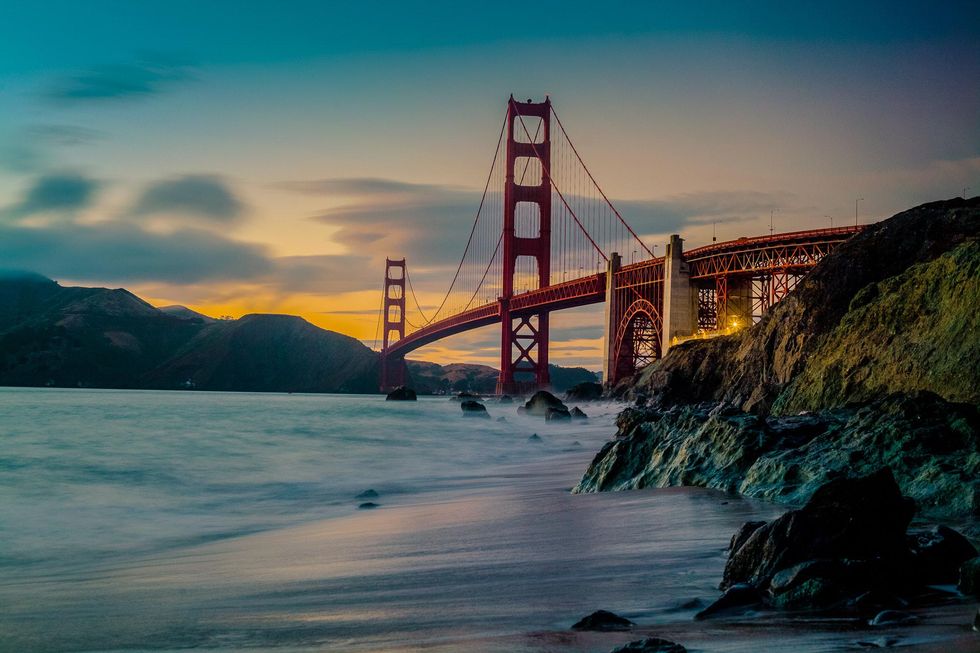 (Pexels)
California is not known for its affordability and San José is no exception—the median rent price in the city falls around $2,593, according to apartment rental site RENTCafe. The average apartment size is 886 square feet, putting the price per square foot at $2.93, which is also on a 4% decline from last year. You won't find housing for less than $1,500, so be prepared to pry open that pocketbook. That's the price you pay for California's tech hub and sunny Bay Area skies!
Seattle, Washington, pop. 776,555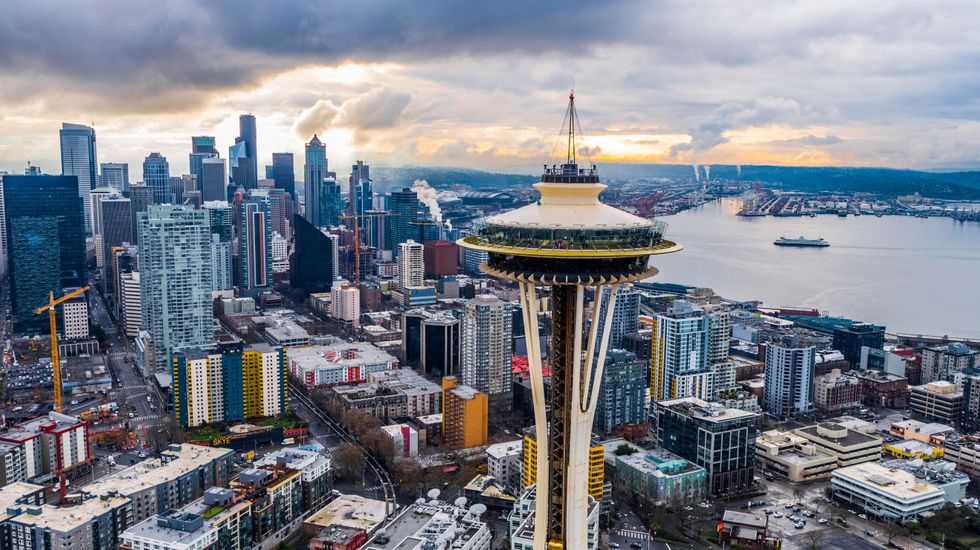 (Pexels)
Coming in with the lowest population, an apartment in Seattle will set you back $2,034 per month on average, according to RENTCafe. Though this is a comparable price to Austin, if you plan on making a move to Seattle, you're going to need to invest in some space solutions because the hefty price will give you much less room to spread out. Just over $2,000 per month will get you 692 square feet of space, meaning you'll pay $2.94 for every foot of space. This price is even after a decrease of 4% from last year and only 4% of housing falls below $1,000 per month.
Austin, Texas, pop. 1,011,790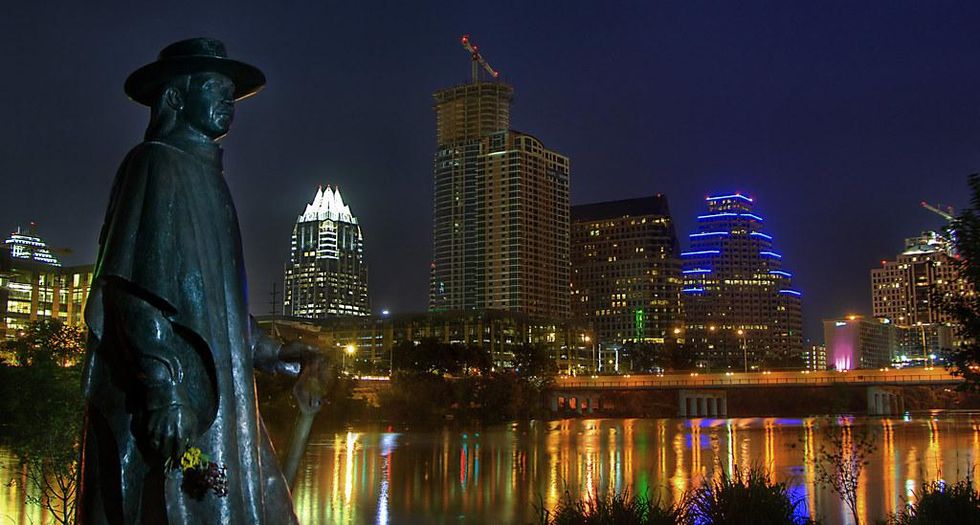 (Knowsphotos/CC)
While stomaching a growing population, Austin is scrambling to find enough housing for its booming populous. You'll be hard-pressed to find an apartment in Austin for cheaper than the median price, $1,539, but with 865 spacious square feet to sprawl out, you'll only be paying $1.78 per foot, according to RENTCafe. A bargain compared to Seattle or San José, plus you'll be right in the center of Texas' luscious Hill Country. Rent has increased by 9% since last year and is likely to increase as the city keeps growing, but 11% of listings are below $1,000 so you can live cheap if you're crafty enough!
Charlotte, North Carolina, pop. 912,096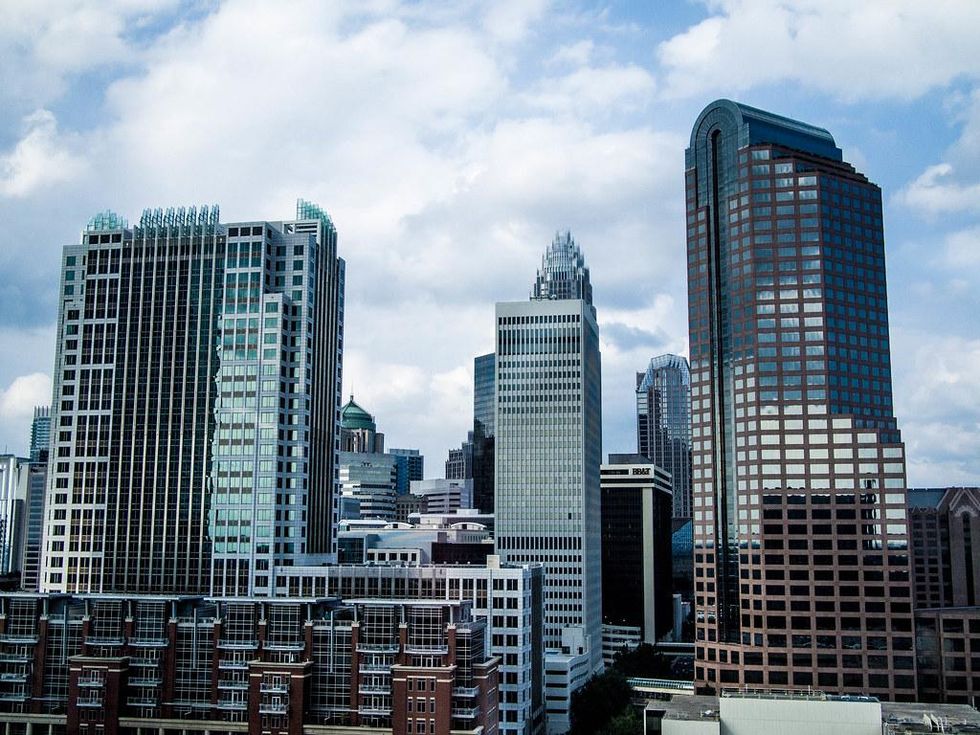 (TrinitySquared/CC)
Known for its big-city views, lake communities and craft brews, Charlotte is just about the same size as Austin and will run you about the same average rent at $1,398 per month. However, you get more bang for your buck, because the price will get you around 942 square feet, pricing at $1.48 per foot. Rent is rising faster than Austin's though, at a 10% increase since last year, and has just a bit more affordable housing, with 15% of units under $1,000. See how else the two cities stack up here.
Dallas, Texas, pop. 1,347,120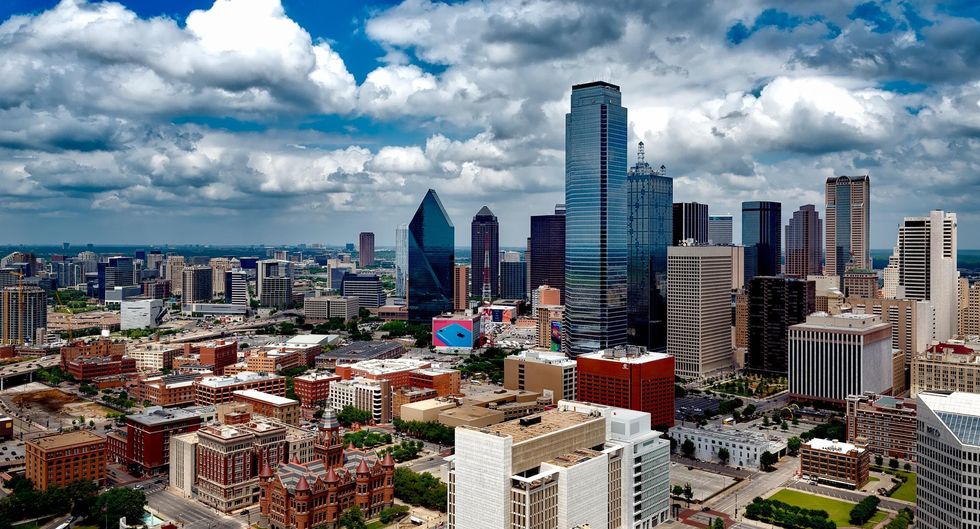 (Pexels)
Love Texas but can't handle the competition in Austin's fast and furious renting market? Dallas might be the city for you if you're willing to pay $1,338 for 848 square feet. At $1.58 per square foot, the home of the Dallas Cowboys is marginally more affordable than Austin so the choice is yours if you can spare an extra $200 per month. Rent is up 7% year over year but 33% of rentals are under $1,000, so affordable options are prevalent. You'll miss out on the river flowing through the city but there are plenty of historical sites to see and a massive metro area.
Jacksonville, Florida, pop. 929,647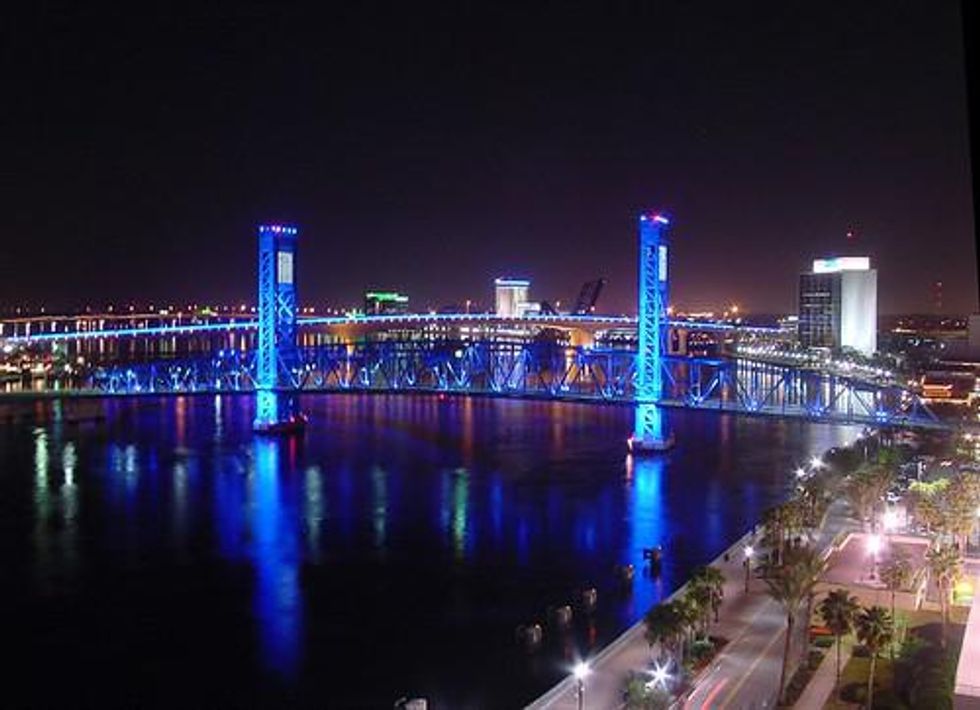 (themechanism/CC)
The largest city by area in the sunshine state, Jacksonville is the most populous city in the southeast and comes with sandy Atlantic beaches. Named the top city for digital nomads (Austin is No. 2), Jacksonville's rent is rising more quickly than any other city on the list—13% since last year—but still packs in plenty of affordable housing. The average rent falls at $1,266 for a generous 965 square feet, meaning you're only paying $1.31 per, and you'll have options, with 27% of units under $1,000.
Fort Worth, Texas, pop. 942,323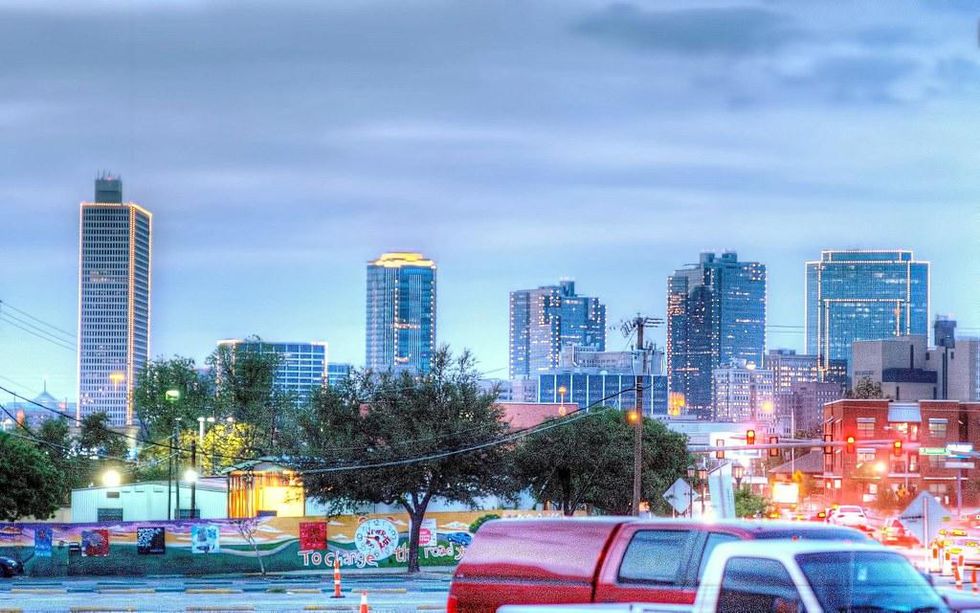 (dave_hensley/CC)
Just outside Dallas, Fort Worth is a fairly affordable choice in Texas. There, you'll find a median rent of $1,238 that will leave you room to grow in 872 square feet, putting the price per foot at $1.42, according to RENTCafe. Like most of the cities in this range, Fort Worth rent has risen 8% since last year but since 31% of its units are under $1,000 per month, you're less likely to struggle to find a place you can afford. The city packs plenty of art museums to visit and a country flair—rodeos and the National Cowgirl Museum await.
Columbus, Ohio, pop. 913,921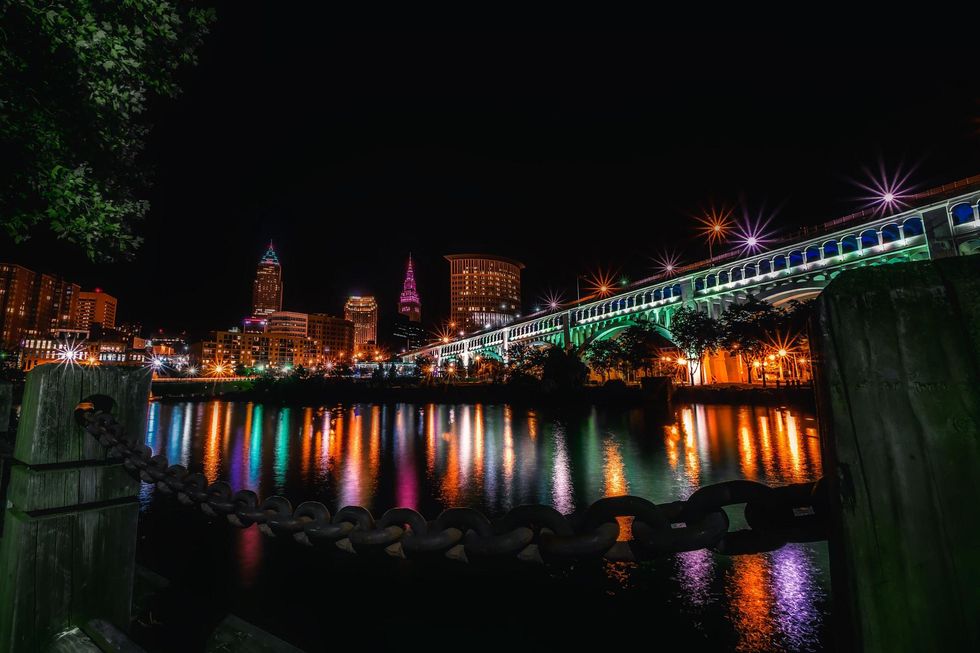 (Pexels)
Though it is the capital city of Ohio, Columbus' charming brick houses, bustling art scene and plenty of professional sports teams are just some of the things the city is known for. You can live in Columbus for quite a bit cheaper than Austin, with a median rent of $1,035 and an average apartment size of 883 square feet—which is only $1.17 per foot, according to RENTCafe. Rent is on a modest rise of 6% but with 44% of units clocking in the $701-$1,000 range and 14% between $501-$700, there are economical options aplenty.
Indianapolis, Indiana, pop. 887,232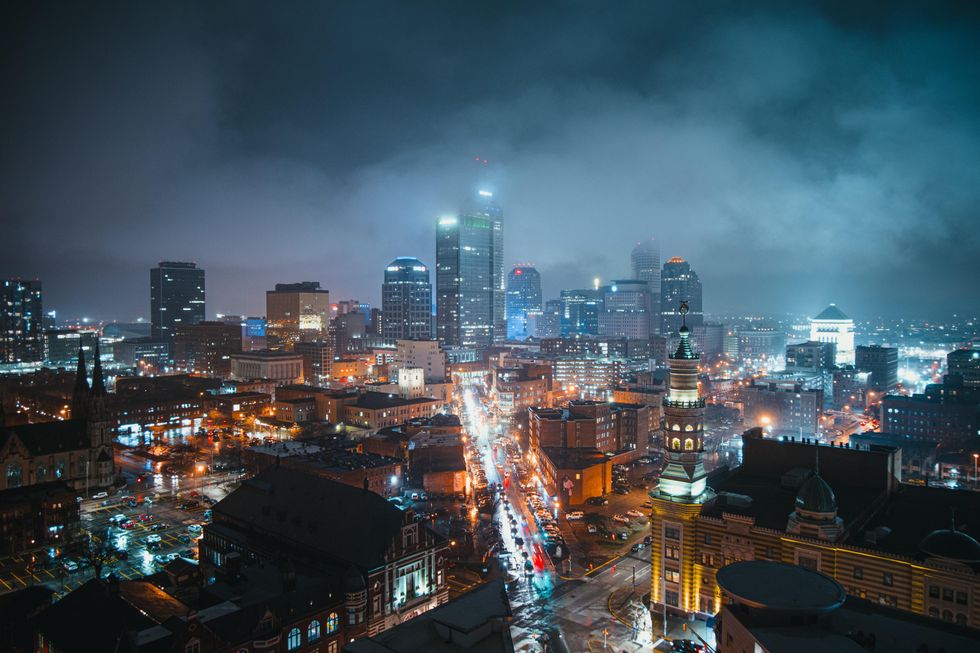 (Pexels)
Finally, with an average rent at $969, you would have to look hard to find housing that wasn't in an affordable budget—at least by Austin standards. With 63% of units under $1,000, finding a bargain of a place is easy, and you're only paying $1.10 per foot for an average of 880 square feet. So what's in Indianapolis? Proximity to Lake Michigan, the Indianapolis 500 race and the romantic central canal. What's more, rent is on just a modest slope, rising only 6% since last year.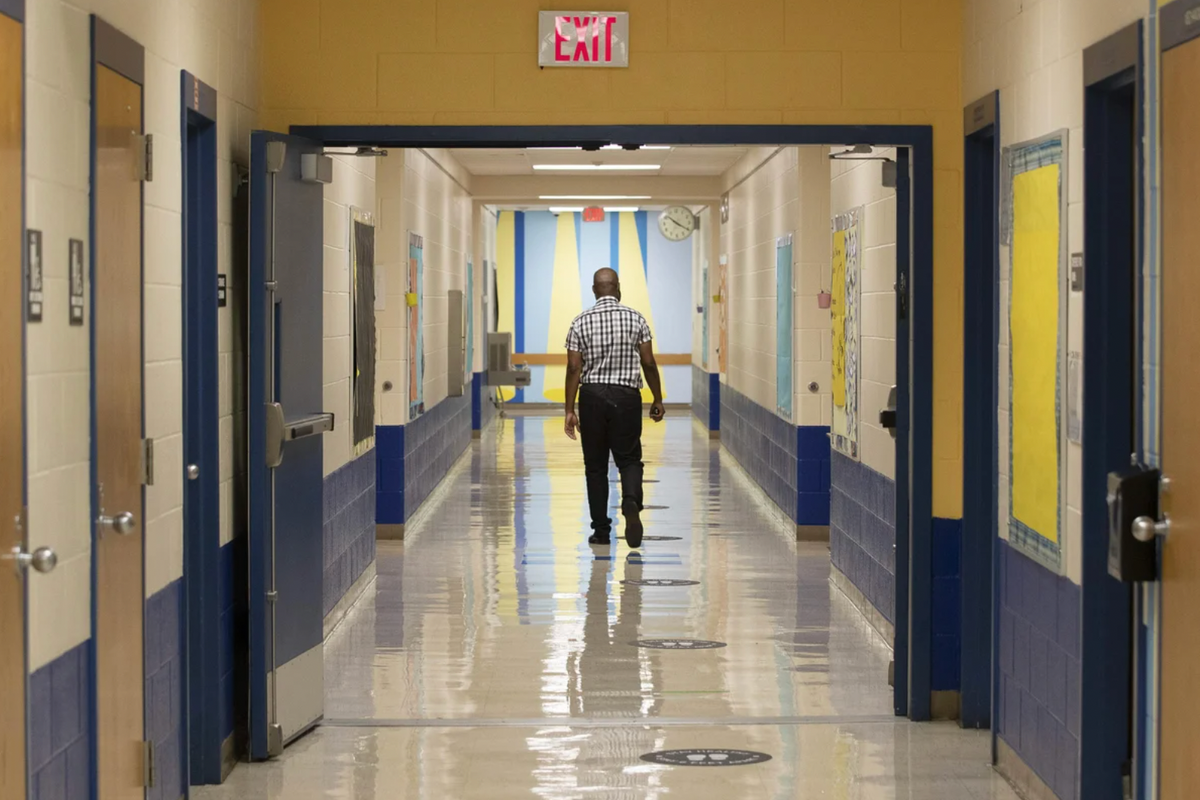 Matias Segura swept his hand across a whiteboard in his office at AISD headquarters, describing how an entrance vestibule works. It might remind you of a sally port at a prison. The vestibule is designed to protect our children from the active shooters who have plagued our nation since Columbine in 1999.
"You start with the signage," he said. "You know exactly where the entrance is, and that's for first responders too. We really want to make sure we keep up with visitor patterns. If they come in, they go through a system. Driver's license, background check, which takes about a minute. We have a software system."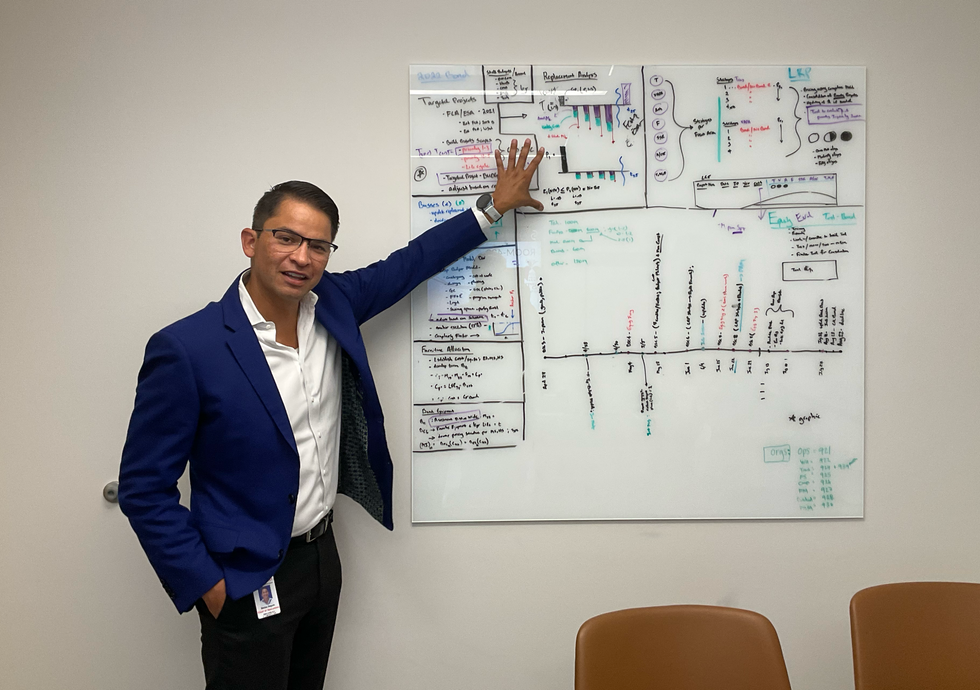 AISD Director of Operations Matias Segura explains the overall school construction and what the entry vestibule looks like. (Rich Oppel)
The vestibule has two sets of locked doors. The exterior set has an audio-visual intercom, operated by a desk officer who has a view of visitor parking, the building approach and the vestibule. If allowed in, a visitor is buzzed through and then faces questioning and clearance by the desk officer. The visitor is given a card-reader pass. If a second person attempts to "trail in" behind another visitor, he is trapped in the vestibule until his status is determined. The second set of doors, into the main school building, remains locked and shut. It is open when students arrive in the morning.
Thus, the days of walking into the school, maybe waving at the principal's executive assistant and strolling off to the cafeteria for lunch with your daughter are gone, a relic of a more bucolic time when "active shooters" were never imagined. But one must ask, what do we give up for greater safety?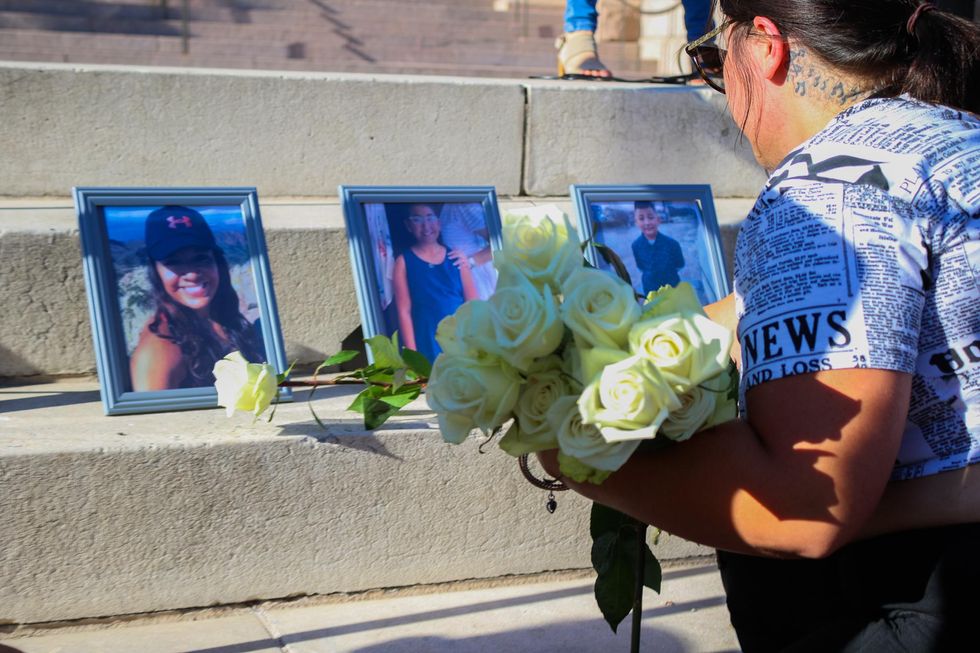 Austinites remembered the Uvalde shooting victims in a vigil at the Texas Capitol in May. (Tony Fuentes)
Some critics argue that we are at risk of losing traditional values in the redesign of schools, courthouses, hospitals, churches and shopping centers. Writing in The Washington Post, architecture critic Philip Kennicott said the nation's gun culture "threatens an essential precondition for democracy: its public space… Ideals of openness, flow, transparency and access will no longer be sustainable."
Segura contemplates the question. At 41, he has held his job as AISD director of operations for four and a half years. Prior to that he was a consultant who led the team to build Austin's new courthouse. His Austin and Texas roots are deep. He was born here, graduated from Bowie High, and went off to Lubbock to earn a degree in civil engineering from Texas Tech. He returned to secure an MBA at the University of Texas at Austin. He and his wife Joy Burson-Segura have two daughters who attend AISD schools. Segura said he and his operations team love AISD, care deeply about their work, and want citizens "to see us as partners."
Back to what we lose in hardening the schools.
Segura says, "We think about students' health. Having daylight, bringing light into a hardened facility, being able to access outdoor learning areas, (which is) hypercritical, especially in what we have learned in the pandemic." Segura doesn't like the idea of moats around schools (exotic, expensive) nor of classroom bomb shelters (what would teachers and students think about their looming presence?), efforts that are being tried elsewhere.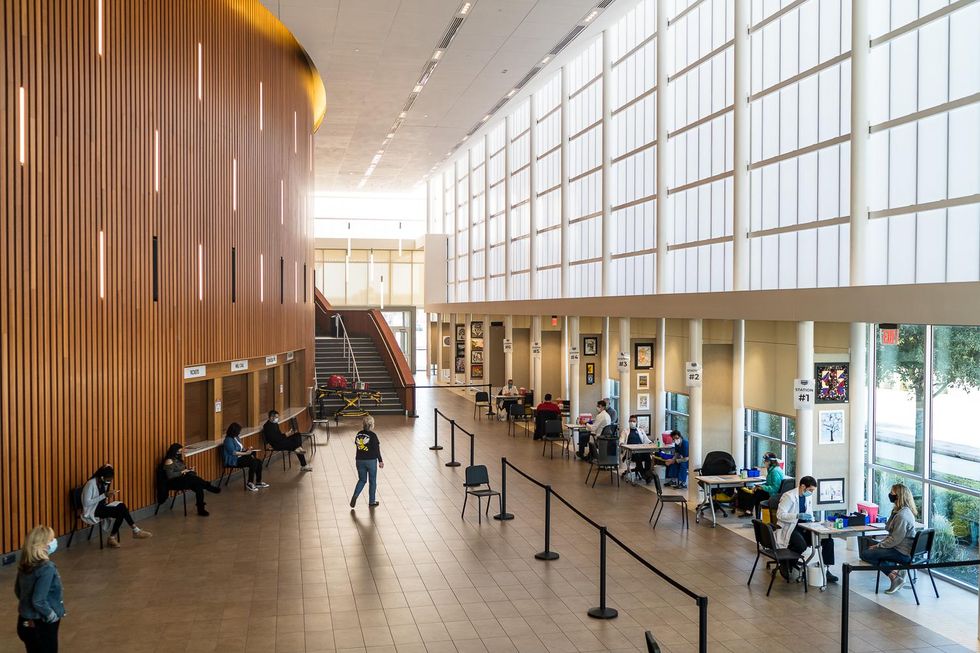 Healthcare workers receive the Moderna COVID-19 vaccine at the AISD Performing Arts Center in Mueller in 2021. (Jordan Vonderhaar)
AISD must juggle school security with the historic use of our schools for other purposes, such as voting, PTA-PTO meetings, community fairs, and, more recently, COVID-19 testing, vaccinations and food distribution. AISD does not want to end those uses, so the challenge is to design schools with separate rooms or places for those uses.
Clearly, Segura has thought about balancing conflicting equities. For him, it's not all locked doors and blank brick or concrete walls. He stresses the importance of building a culture that includes shared responsibility of all school employees where, for example, a custodian could ask a stranger whether they have a visitor's badge. All staffers should be well-trained in security measures, knowledgeable about new technology, and committed to working as a team to protect students, teachers and others. "We are working very, very hard on the culture," he says. "Also, we need (financial) investment if we are going to move the needle."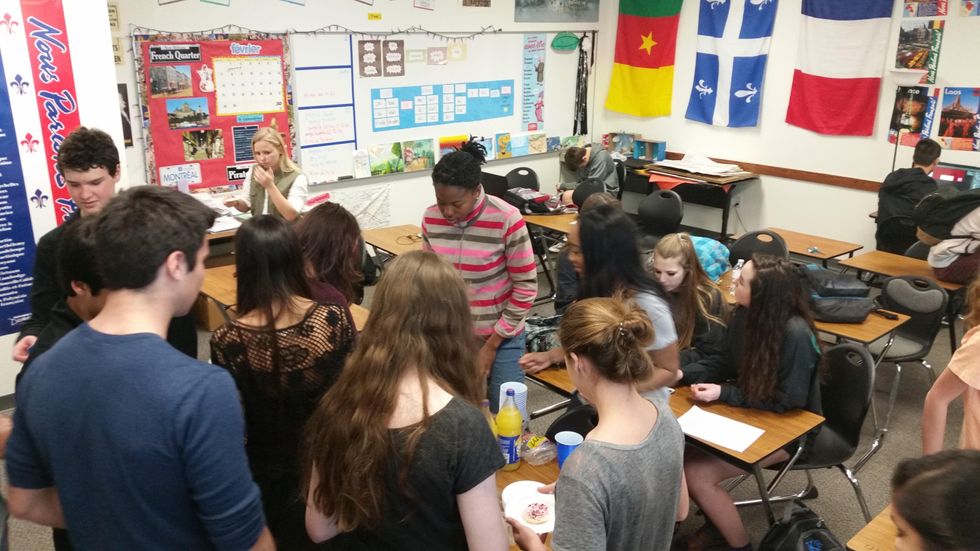 (Laura Figi)
Kennicott, the Washington Post critic, quotes the late Sen. Patrick Moynihan, a sociologist and New York Democrat, who said, "Architecture is inescapably a political art, and it reports faithfully for ages to come what the political values of a particular era were. Surely, ours must be openness and fearlessness in the face of those who hide in darkness."
But that was in 2001. What messages will Austin's new public schools convey to future generations about our 2021 political values?
"First and foremost, these are education spaces that belong to our community. Our objective is to create incredible learning experiences for our students and at the same time ensure that the students and staff are safe." He said he wants people to view schools as "inspired," places where they would want to send their children. "Great things are happening in that space," and that teachers see a place where they want to work and where they feel safe.
Voters in AISD will decide Nov. 8 on a $2.44 billion bond package to provide "funding for improvements to enhance safety, centers on equity, benefits every campus, and addresses affordability," according to AISD officials.