Austonia AM
100% Austin news, info, and entertainment, straight to your inbox at 6 a.m. every morning.
In five minutes, you're fully informed and ready to start another great day in our city.
Get connected with our daily update
After a year of pandemic operations, Doc's Backyard Grill owner Charles Milligan felt things were finally looking up. His Sunset Valley business had survived a temporary closure and transitioning to an online-order business model. By March the slow holiday season and the winter storm were behind him.
But the typically busy spring season hit a snag before it could even begin. Restaurant job applications tend to pick up around March, when outdoor dining is popular. Milligan and his managers reached out to each of the 93 applicants who came in through the jobs site Indeed; 10 responded to interview requests. Of those, three came in. They were good applicants, and Doc's hired them. When it came time for orientation, however, only one person showed up. "That's when we knew we were in trouble," he said.

---
Doc's isn't the only restaurant facing a hiring crisis. Across Austin—and the country—restaurants are struggling to rebuild their teams after a devastating year that hit the hospitality industry especially hard. "With the reopenings, a lot of businesses were starting from scratch," said Alice Cheng, founder and CEO of the hospitality jobs site Culinary Agents. "They weren't just looking for one or two people. They were sometimes looking for a whole new staff."
Industry challenges
Milligan knows he is not alone in his predicament because of the number of "Now Hiring" signs he's seen around town, from Chuy's and Tumble 22 to Cover 3 and Jack Allen's Kitchen. Easy Tiger, which recently opened a new location in East Austin, is currently hiring for 22 positions, from dishwasher to assistant general manager. In the last 24 hours, 64 Austin restaurant jobs have been posted on Indeed, including at Iron Works BBQ, Whisler's, Kalimotxo, June's All Day and Counter Culture.
For Milligan, the reason is obvious: the $1.9 trillion stimulus bill that President Joe Biden signed into law in early March, which extended weekly $300 federal unemployment benefits through early September.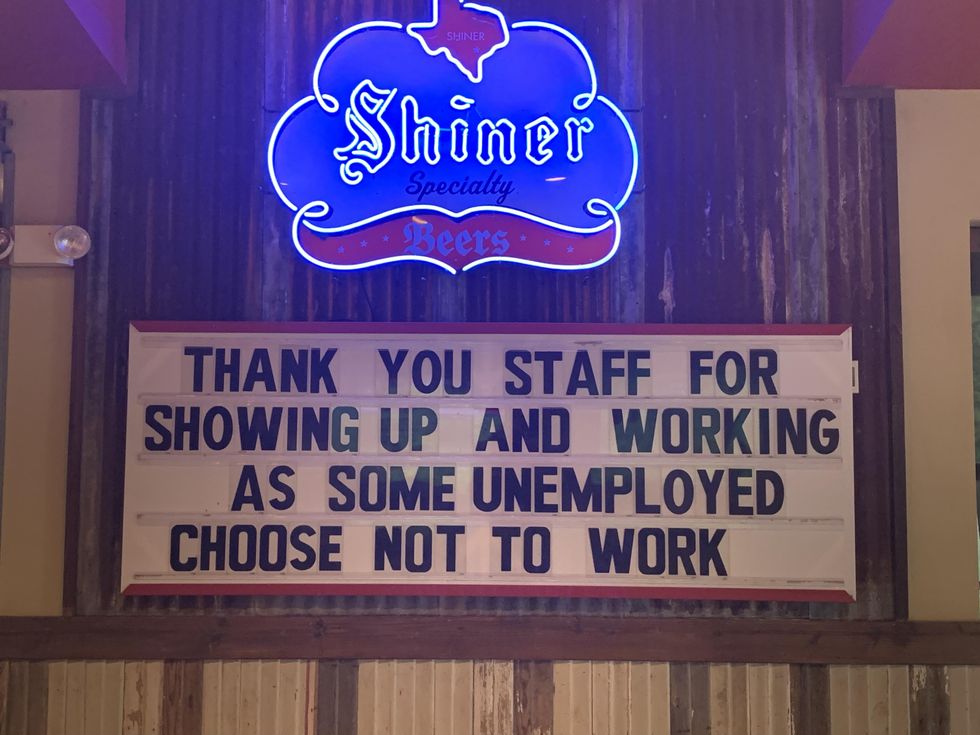 Charles Milligan, owner of Doc's Backyard Grill in Sunset Valley, posted this sign at his restaurant amid a hiring crisis. (Charles Milligan)
AnnElizabeth Konkel, an economist at Indeed, said these benefits likely play a role in restaurants' hiring crisis, but it is impossible to know how big with the data currently available. She also cited other factors. At this stage of the pandemic, hiring appears most difficult for in-person jobs, suggesting that exposure to COVID continues to be a concern among job seekers. The restaurant industry also has a high percentage of women workers, who may be unable to return to work because of ongoing childcare and school closures. "I think that also is a specific barrier to the restaurant industry," she said.

Patrick Watson, senior economic analyst for Dallas-based Mauldin Economics, suspects pandemic protocols—the enforcement they require—may also discourage job seekers. Although Texas Gov. Greg Abbott lifted the statewide mask mandate in early March, many local restaurants have maintained a masking requirement. Because people have to take off their masks to eat and drink, restaurants often require constant enforcement of the rules, putting employees in the unenviable position of dealing with customers who may be resistant or even assaultive. "Of course people don't want those jobs," he said.
Looking ahead
In an attempt to address these issues, Milligan offered a $250 referral bonus to employees. He also cited increased tips over the course of the pandemic, which have helped his servers average $20 to $25 an hour.
This type of creative benefit is increasingly common among restaurants, which may not have the money to raise wages. "In the best of times, restaurant profit margins are slim," Konkel said. But flexible shifts, signing bonuses and dining discounts may help woo job seekers while keeping costs low.
In the meantime, restaurants are in a bind. Without workers, they may have to limit their hours or capacity, exacerbating the risk of closure. If they close, there may not be jobs available for unemployed people when their benefits run out or tables available when customers feel ready to return to their pre-pandemic dining routines.

Still, Cheng is optimistic that restaurants will soon reach a hiring tipping point. "If businesses are busy and quite frankly if there's money to be made … people will make those decisions (to return to work)," she said.
A week after Texas added two congressional seats and California lost one, state officials reported a population decline in 2020 for the first time in the Golden State's history.
California fell by over 182,000 people from January 2020 to January 2021, dropping almost 0.5% to cap out at around 39.5 million people. It is still the nation's most populous state.
For over thirty years, California has seen more people leave than move in from other states, state officials said, with 6.1 million people moving out and 4.9 million coming in last year. Immigration and births kept California growing, but the state saw a shrink in international migration in 2020 due to COVID and the White House's hold on visas.
Of the steady flow of ex-Californians moving to other states, more are moving to Texas than any other state. Many are relocating to Austin, which has been labeled a "little California" by billionaire resident Elon Musk and continues to grow astronomically.
Meanwhile, California cities including Los Angeles, San Diego, San Jose and San Francisco saw a population decline.
With immigration and state migration on the decline, the Golden State was also hit with a spike in deaths- 51,000 people died from COVID in 2020, and all but seven of the state's counties saw death rates higher than the three-year average.
Still, the California Department of Finance said a "slightly positive annual growth" can be expected next year as the state recovers from COVID deaths and political repercussions.


Ingredients:
1 1/2 oz of hibiscus-infused Tito's Handmade Vodka
2 oz sparkling water
1 oz fresh lime juice
3/4 oz simple syrup
1 tsp allspice dram
Directions: Add infused Tito's Handmade Vodka, lime juice, and simple syrup to a shaker with ice. Shake and strain into a glass over fresh ice. Top with sparkling water, and garnish with a lime slice. Enjoy!
The sun is out, and thousands of Austin FC fans will be as well as Austin FC goes to Kansas to play Sporting Kansas City at 6:30 p.m. on Sunday.
There's plenty of pub partners to choose from, but here's a few watch parties to help you get in on the action.