Get connected with our daily update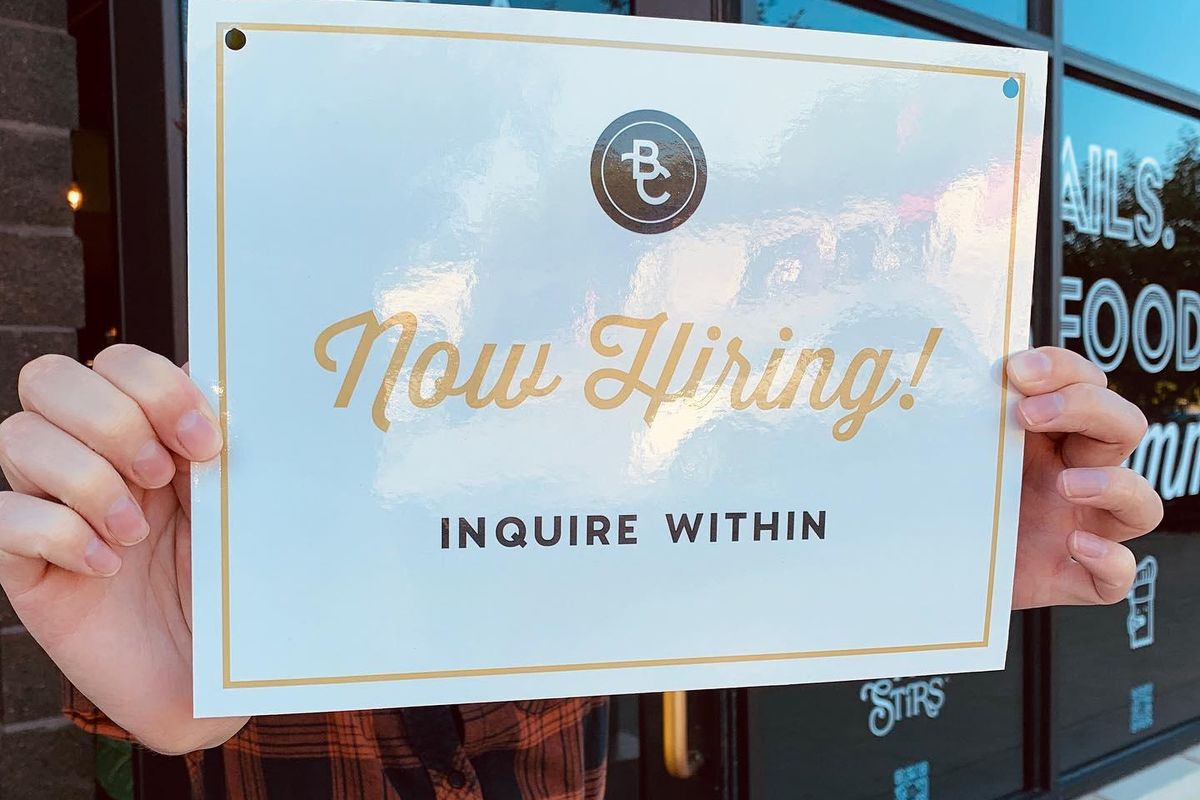 After a year of pandemic operations, Doc's Backyard Grill owner Charles Milligan felt things were finally looking up. His Sunset Valley business had survived a temporary closure and transitioning to an online-order business model. By March the slow holiday season and the winter storm were behind him.
But the typically busy spring season hit a snag before it could even begin. Restaurant job applications tend to pick up around March, when outdoor dining is popular. Milligan and his managers reached out to each of the 93 applicants who came in through the jobs site Indeed; 10 responded to interview requests. Of those, three came in. They were good applicants, and Doc's hired them. When it came time for orientation, however, only one person showed up. "That's when we knew we were in trouble," he said.

---
Doc's isn't the only restaurant facing a hiring crisis. Across Austin—and the country—restaurants are struggling to rebuild their teams after a devastating year that hit the hospitality industry especially hard. "With the reopenings, a lot of businesses were starting from scratch," said Alice Cheng, founder and CEO of the hospitality jobs site Culinary Agents. "They weren't just looking for one or two people. They were sometimes looking for a whole new staff."
Industry challenges
Milligan knows he is not alone in his predicament because of the number of "Now Hiring" signs he's seen around town, from Chuy's and Tumble 22 to Cover 3 and Jack Allen's Kitchen. Easy Tiger, which recently opened a new location in East Austin, is currently hiring for 22 positions, from dishwasher to assistant general manager. In the last 24 hours, 64 Austin restaurant jobs have been posted on Indeed, including at Iron Works BBQ, Whisler's, Kalimotxo, June's All Day and Counter Culture.
For Milligan, the reason is obvious: the $1.9 trillion stimulus bill that President Joe Biden signed into law in early March, which extended weekly $300 federal unemployment benefits through early September.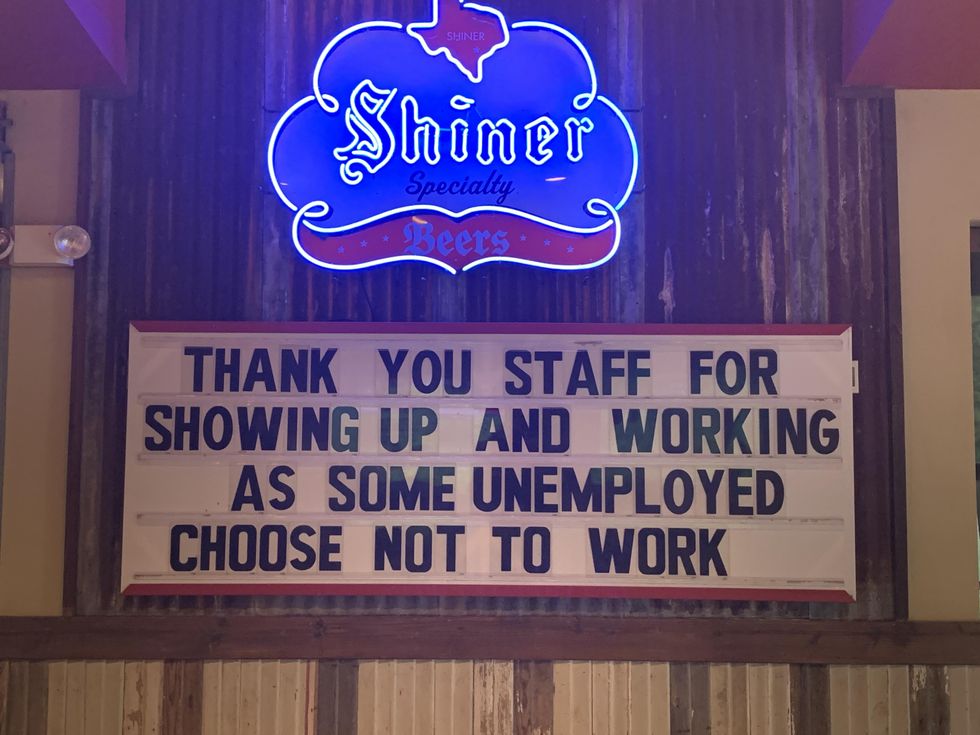 Charles Milligan, owner of Doc's Backyard Grill in Sunset Valley, posted this sign at his restaurant amid a hiring crisis. (Charles Milligan)
AnnElizabeth Konkel, an economist at Indeed, said these benefits likely play a role in restaurants' hiring crisis, but it is impossible to know how big with the data currently available. She also cited other factors. At this stage of the pandemic, hiring appears most difficult for in-person jobs, suggesting that exposure to COVID continues to be a concern among job seekers. The restaurant industry also has a high percentage of women workers, who may be unable to return to work because of ongoing childcare and school closures. "I think that also is a specific barrier to the restaurant industry," she said.

Patrick Watson, senior economic analyst for Dallas-based Mauldin Economics, suspects pandemic protocols—the enforcement they require—may also discourage job seekers. Although Texas Gov. Greg Abbott lifted the statewide mask mandate in early March, many local restaurants have maintained a masking requirement. Because people have to take off their masks to eat and drink, restaurants often require constant enforcement of the rules, putting employees in the unenviable position of dealing with customers who may be resistant or even assaultive. "Of course people don't want those jobs," he said.
Looking ahead
In an attempt to address these issues, Milligan offered a $250 referral bonus to employees. He also cited increased tips over the course of the pandemic, which have helped his servers average $20 to $25 an hour.
This type of creative benefit is increasingly common among restaurants, which may not have the money to raise wages. "In the best of times, restaurant profit margins are slim," Konkel said. But flexible shifts, signing bonuses and dining discounts may help woo job seekers while keeping costs low.
In the meantime, restaurants are in a bind. Without workers, they may have to limit their hours or capacity, exacerbating the risk of closure. If they close, there may not be jobs available for unemployed people when their benefits run out or tables available when customers feel ready to return to their pre-pandemic dining routines.

Still, Cheng is optimistic that restaurants will soon reach a hiring tipping point. "If businesses are busy and quite frankly if there's money to be made … people will make those decisions (to return to work)," she said.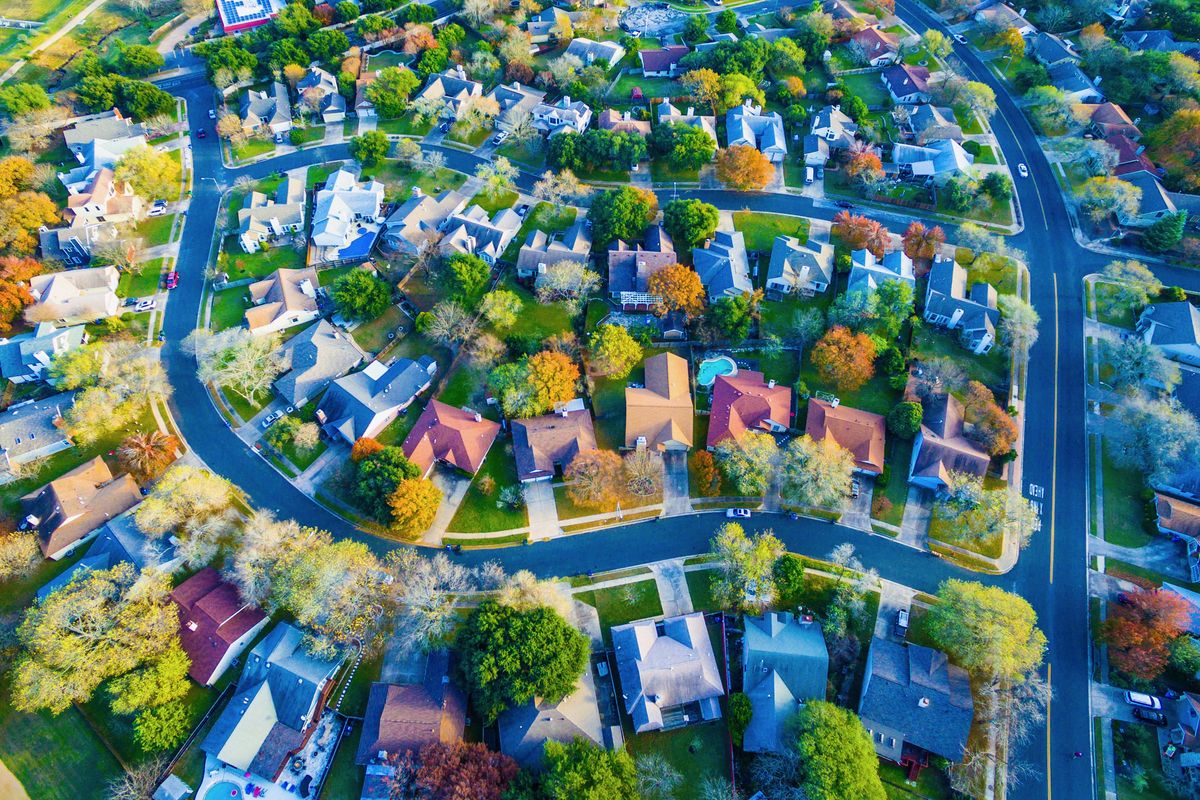 Shutterstock
So you want to buy a house?

To anyone trying to get on the "housing ladder," it's been a discouraging couple of years as prices skyrocketed in a market crowded with buyers bidding against each other for just about any available home.

Things may be calming down, with the Austin Board of REALTORS reporting fewer sales and more available homes this summer.

Mortgage rates have more than doubled in the last year, from around 3% to well over 6% on a 30-year fixed rate loan, getting even more of a bump this week after the Federal Reserve raised bank rates on Wednesday.

So how affordable are homes right now? That, of course, depends on what you want and how much you're able or willing to pay, but here are some rough estimates of what a typical buyer would pay to buy a $650,000 home, which would be considered "mid-price" in today's market.

Mortgage banker Chris Holland (NMLS 211033) of Austin's Sente Mortgage ran some numbers for Austonia to illustrate a typical purchase.


Holland says that while the 30-year fixed rate mortgage is often mentioned in the media, the most popular loan that he's seeing now is a 7/1 adjustable rate mortgage, which has a fixed rate for 7 years and then adjusts every year based on market rates, with a limit on how much it can increase each year. The interest is amortized over a 30-year period. Adjustable Rate Mortgages (ARMs) offer lower rates than fixed rate loans.

Here are the numbers, which are examples. In practice, exact numbers vary with a buyer's credit rating and overall financial situation, and with the rate, which can move up or down at any time.
$650,000 home purchase price
7/1 ARM at 5.875%
5% down payment, equals $32,500
95% financed, equals $617,500
$4,990 payment, including principle and interest (P&I), insurance, and property tax
Typically, a borrower's debt to income ratio needs to be at or below 45%. So for this mortgage, a borrower, or borrowers, would need income of roughly $11,100/month, or $133,200/year. That number could be higher, depending on the buyer's outstanding credit balances on things like credit cards and car loans.
Not included are closing costs, moving costs, maintenance, and any changes a new buyer might want to make to the home.

Holland says he's had a lot of clients approved for loans who were house hunting but have put that on hold, hoping prices come down.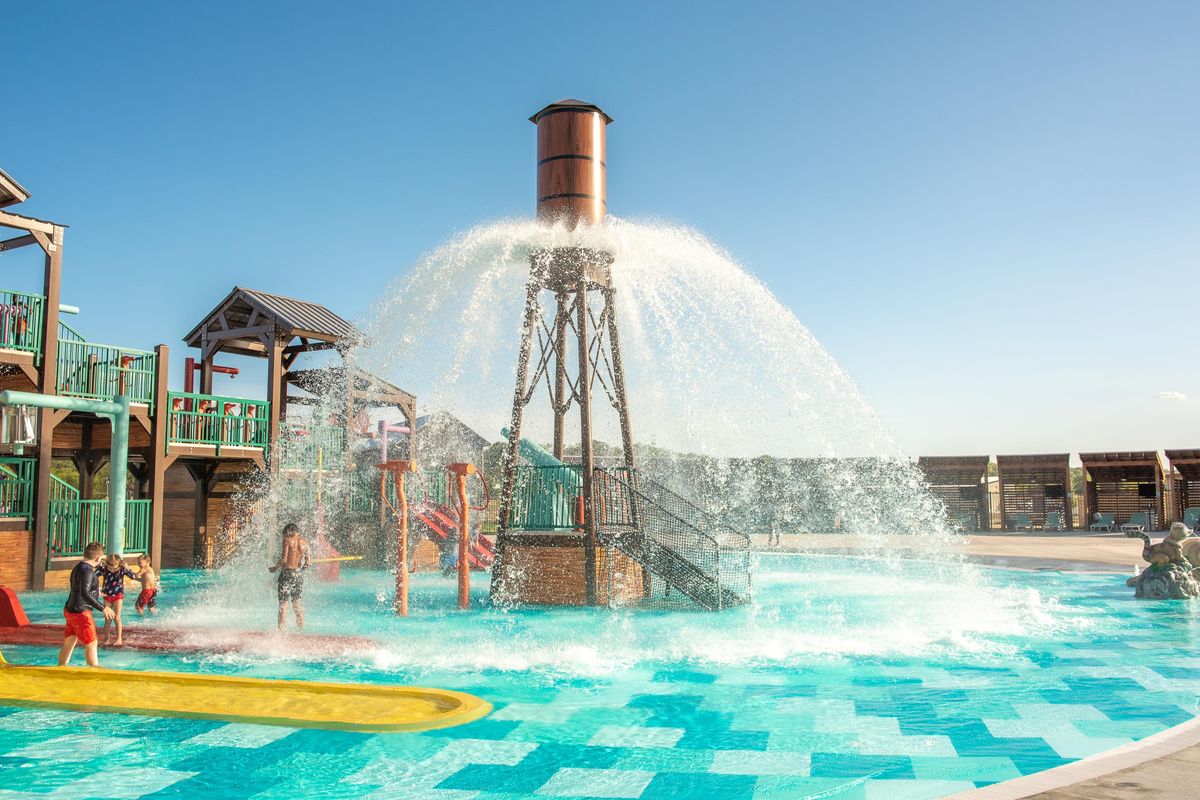 Camp Fimfo Waco
Camp Fimfo Waco, a brand new camping resort, is kicking off football and fall camping season in style! With top-notch amenities, premium accommodations, and 10 weekends of fall fun, there's no better place to have a fall camping getaway, especially if you're a Baylor football fan!
Fall promises to be a one-of-a-kind camping experience. From Sept. 16 to Nov. 24, weekends will be packed with fall-themed activities, including special Halloween weekends in October. Campers can enjoy activities like fall crafts, campground trick-or-treating, costume contests, site decorating, outdoor movie nights, and more!