Get connected with our daily update
After a year of pandemic operations, Doc's Backyard Grill owner Charles Milligan felt things were finally looking up. His Sunset Valley business had survived a temporary closure and transitioning to an online-order business model. By March the slow holiday season and the winter storm were behind him.
But the typically busy spring season hit a snag before it could even begin. Restaurant job applications tend to pick up around March, when outdoor dining is popular. Milligan and his managers reached out to each of the 93 applicants who came in through the jobs site Indeed; 10 responded to interview requests. Of those, three came in. They were good applicants, and Doc's hired them. When it came time for orientation, however, only one person showed up. "That's when we knew we were in trouble," he said.

---
Doc's isn't the only restaurant facing a hiring crisis. Across Austin—and the country—restaurants are struggling to rebuild their teams after a devastating year that hit the hospitality industry especially hard. "With the reopenings, a lot of businesses were starting from scratch," said Alice Cheng, founder and CEO of the hospitality jobs site Culinary Agents. "They weren't just looking for one or two people. They were sometimes looking for a whole new staff."
Industry challenges
Milligan knows he is not alone in his predicament because of the number of "Now Hiring" signs he's seen around town, from Chuy's and Tumble 22 to Cover 3 and Jack Allen's Kitchen. Easy Tiger, which recently opened a new location in East Austin, is currently hiring for 22 positions, from dishwasher to assistant general manager. In the last 24 hours, 64 Austin restaurant jobs have been posted on Indeed, including at Iron Works BBQ, Whisler's, Kalimotxo, June's All Day and Counter Culture.
For Milligan, the reason is obvious: the $1.9 trillion stimulus bill that President Joe Biden signed into law in early March, which extended weekly $300 federal unemployment benefits through early September.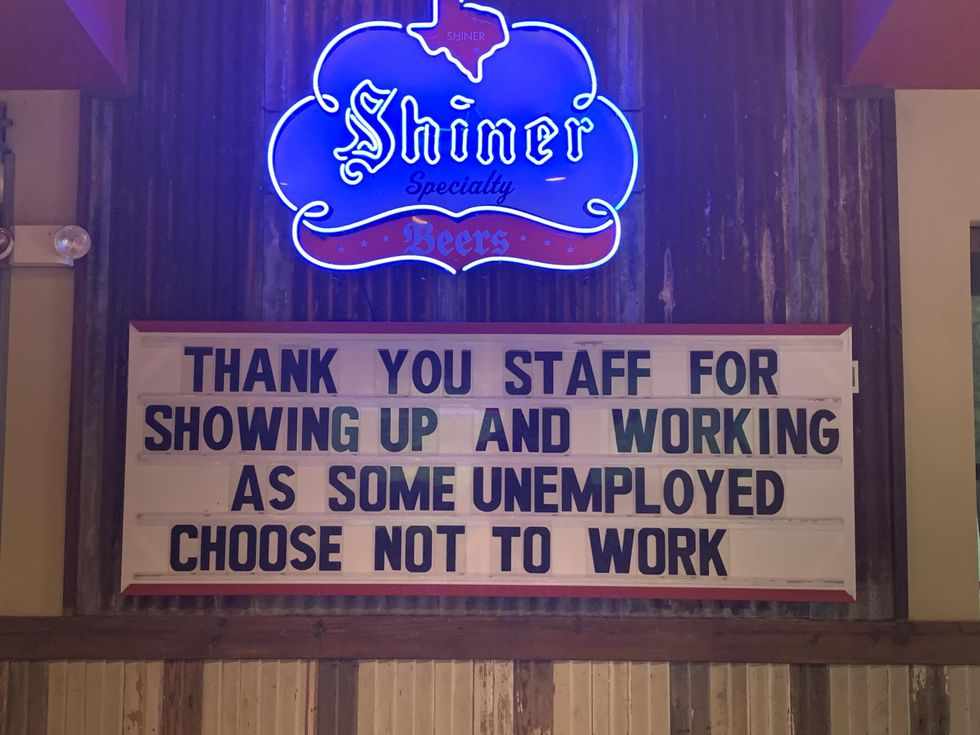 Charles Milligan, owner of Doc's Backyard Grill in Sunset Valley, posted this sign at his restaurant amid a hiring crisis. (Charles Milligan)
AnnElizabeth Konkel, an economist at Indeed, said these benefits likely play a role in restaurants' hiring crisis, but it is impossible to know how big with the data currently available. She also cited other factors. At this stage of the pandemic, hiring appears most difficult for in-person jobs, suggesting that exposure to COVID continues to be a concern among job seekers. The restaurant industry also has a high percentage of women workers, who may be unable to return to work because of ongoing childcare and school closures. "I think that also is a specific barrier to the restaurant industry," she said.

Patrick Watson, senior economic analyst for Dallas-based Mauldin Economics, suspects pandemic protocols—the enforcement they require—may also discourage job seekers. Although Texas Gov. Greg Abbott lifted the statewide mask mandate in early March, many local restaurants have maintained a masking requirement. Because people have to take off their masks to eat and drink, restaurants often require constant enforcement of the rules, putting employees in the unenviable position of dealing with customers who may be resistant or even assaultive. "Of course people don't want those jobs," he said.
Looking ahead
In an attempt to address these issues, Milligan offered a $250 referral bonus to employees. He also cited increased tips over the course of the pandemic, which have helped his servers average $20 to $25 an hour.
This type of creative benefit is increasingly common among restaurants, which may not have the money to raise wages. "In the best of times, restaurant profit margins are slim," Konkel said. But flexible shifts, signing bonuses and dining discounts may help woo job seekers while keeping costs low.
In the meantime, restaurants are in a bind. Without workers, they may have to limit their hours or capacity, exacerbating the risk of closure. If they close, there may not be jobs available for unemployed people when their benefits run out or tables available when customers feel ready to return to their pre-pandemic dining routines.

Still, Cheng is optimistic that restaurants will soon reach a hiring tipping point. "If businesses are busy and quite frankly if there's money to be made … people will make those decisions (to return to work)," she said.
Looks like Austin FC is cleaning house—and they're taking a few Verde faves out ahead of the 2022 season.
Following the retirement of defender Matt Besler, the club's original 33-man roster was trimmed to 22 in roster changes announced Tuesday.
Who's out
Austin FC declined its contract options for six players, including:
Kekuta Manneh
Aaron Schoenfeld
Brady Scott
Aedan Stanley
Jared Stroud
Ben Sweat.
Stroud became an early fan favorite for the team after helping teammate Diego Fagundez to the team's first goal in April, racking up a second assist just one match later with another Fagundez goal. After a few months of limited appearances, Stroud started once again in November and attempted his first MLS goal, but no dice.
Manneh, a forward, showed promise as Austin FC's first Austinite: a Gambia native, Manneh played soccer in the Texas capital while in high school and early in his professional career. Manneh showed energy on the pitch but never saw his efforts translate to the stat board.
By the start of the season, Sweat had secured a starting spot as left back for Austin FC but tore his ACL in the Colorado Rapids match on April 17, putting him off the pitch for the remainder of the season.
Both under 23, Stanley and Scott saw few appearances to the Verde pitch. In May, Scott went on loan to play as goalkeeper for USL Championship side Memphis 901. Schoenfield, a 31-year-old forward, has played briefly for various MLS and USL teams as well as professional teams in Israel.
Austin FC also announced that they would not exercise the transfer options for Sebastian Berhalter and Emmanuel Perez, both of whom spent the 2021 season in Verde on loan.
Berhalter, the son of U.S. Men's National Team Head Coach Gregg Berhalter, filled some big shoes in key moments of the season as central midfielder. At just 20, Berhalter started five times in the key position for Captain Alex Ring. Perez made four starts as forward for Austin FC.
Who's in
It wasn't all doom and gloom. The club held on to the following for the 2022 season:
Captain Ring
Freddy Kleemann
Will Pulisic
Ring, known as one of the top defensive midfielders in the league, had a rocky but rewarding road as Austin FC's captain in their inaugural season. Despite two red cards that rendered him out of two key matches, Ring tallied four goals and three assists as he led the team throughout the season, earning MLS Team of the Week honors multiple times.
At 22, Kleemann made just three appearances in central midfield for Austin FC but showed potential toward the end of the season. Pulisic wasn't able to start due to fellow goalkeeper Brad Stuver's standout success, but the cousin of Chelsea standout Christian Pulisic has plenty of years left in the tank.
Who's missing
Austin FC now has three goalkeepers, six defenders, seven midfielders and six forwards as the team's brief offseason continues. After the retirement of legendary central midfielder Matt Besler, the team will need to make strong signing options in the back and midfield positions in the MLS SuperDraft and transfer seasons before their first match against FC Cincinnati on Saturday, February 26.
But don't worry about fan favorites Fagundez, Sebastian Driussi or Stuver: all 22 other players are still firmly rooted in place for the upcoming season.
Just as the world takes a breath from the Delta variant-induced third COVID surge that pushed hospitals past capacity this summer, a new variant—the omicron—is forcing countries around the world to once again consider shutting their doors.
It's too early to tell whether the variant will have the devastating effects of the Delta variant, the Mu variant—which accounted for 3% of U.S. cases before dropping off almost entirely by October—or somewhere in between. But as omicron continues to rise sharply in all provinces of South Africa, the Biden administration is reintroducing some travel restrictions that went into effect Monday.
As the variant spreads to countries around the world, including Canada, the Netherlands and Hong Kong, the World Health Organization declared omicron a "variant of concern"—though some are calling the move premature.
What is omicron?
The omicron variant, B.1.1.529, is now under strict watch from the WHO after quickly spreading throughout Southern Africa.
It's genetically different from the Alpha and Delta variants and has up to 30 mutations in its genetic code, leading some to worry that the risk of retransmission from those who have already had COVID could be high. The strain's mutations could also aid omicron in beating out other strains and spreading more quickly to hosts.
Omicron is the latest version of the coronavirus to cause concern. Here's what we know about where it's spread so far and what makes it different than other variants that came before. https://t.co/ncciXnIuw9
— The New York Times (@nytimes) November 29, 2021
It appears to be doing the trick. While an Associated Press report found that case numbers in South Africa are still well below other pandemic peaks—3,220 new cases were reported in South Africa on Saturday— up to 90% of new cases in the South African province of Gauteng are omicron.
The strain's effects seem to be mild so far, and hospitals haven't been overburdened yet, though hospitalizations are rising.
And doctors worry that the full extent of the variant hasn't been realized. Vaccine hesitancy is strong among South Africa's youngest population—22% of those aged 18 to 34 are vaccinated—and most of those infected with COVID have been in those younger age groups. Doctors worry that older age groups will be more adversely affected.
And while experts in the country expected a fourth surge and possible variant, the omicron still came as a "shock" as it quickly spread to all nine South African provinces and other continents. It's now the first strain labeled as a "variant of concern" since the Delta variant.
It's unclear if the variant is more immune to vaccines, although some signs indicate that it's a possibility.
Where has it been detected?
The omicron strain still hasn't been detected in dozens of countries, and it's far from the first strain to make a mark since Delta. But it's coincided with a quick uptick in cases in South Africa, where it was originally found, and became the dominant strain in Pretoria, a city of around 750,000, in just a few weeks.
Omicron is now present in nearby Botswana and has jumped on board flights to Europe, Asia, Australia and North America. Hong Kong has detected three cases, while 10 European nations including the Netherlands, the United Kingdom, Portugal and Germany have found a total of 45 cases. Canada has detected three cases, and none have yet been found in the United States.
What has been done?
Against the wishes of both South Africa and the WHO, several countries have decided to once again shut their doors.
After detecting an omicron case, Israel decided to bar entry to foreigners, while Morocco suspended incoming international air travel for two weeks. Dozens of countries are restricting travel from Southern Africa to South Africa's chagrin—the government said travel restrictions are "akin to punishing South Africa for its advanced genomic sequencing and the ability to detect new variants quicker."
The WHO also called for borders to remain open as closing borders appears to have a limited effect on the spread of variants, and many countries are hesitant to clamp down on restrictions that have limited its citizens for so long.
The United States said in a statement Friday that it would restrict travel from eight southern African countries except for citizens and permanent U.S. residents who test negative for the virus.
White House Chief Medical Adviser Dr. Anthony Fauci said Sunday that it's "too early to say" whether tightened COVID restrictions will be needed to combat omicron but that citizens must be ready to do "anything and everything" to prevent its spread.
When will we know more?
The WHO said it will take around two weeks to gauge the full effects of omicron, from its ability to evade vaccines to its contagiousness.
For now, countries have once again urged their citizens to get vaccinated. Some vaccine companies have already spoken about the strain, including Moderna, which said Sunday that a new vaccine that protects against the variant could be released in early 2022 if needed.
For now, Fauci said that the country must "prepare for the worst" just in case omicron becomes the culprit of yet another surge.
"Inevitably, it will be here. The question is will we be prepared for it? If and when, and it's going to be when, it comes here hopefully we will be ready for it," Fauci said.
Homeowners in Windcrest, Texas don't take Christmas lightly. Decking out their home in thousands of lights, one Windcrest couple even won ABC's Texas episode of "Great Christmas Light Fight" that aired Sunday.
Known as "Christmas sweethearts," John and Brenda Wilson were awarded $50,000 after going up against fellow Texans, including a family in Amarillo and two families in Corpus Christi, in the ninth season premiere of the lights show.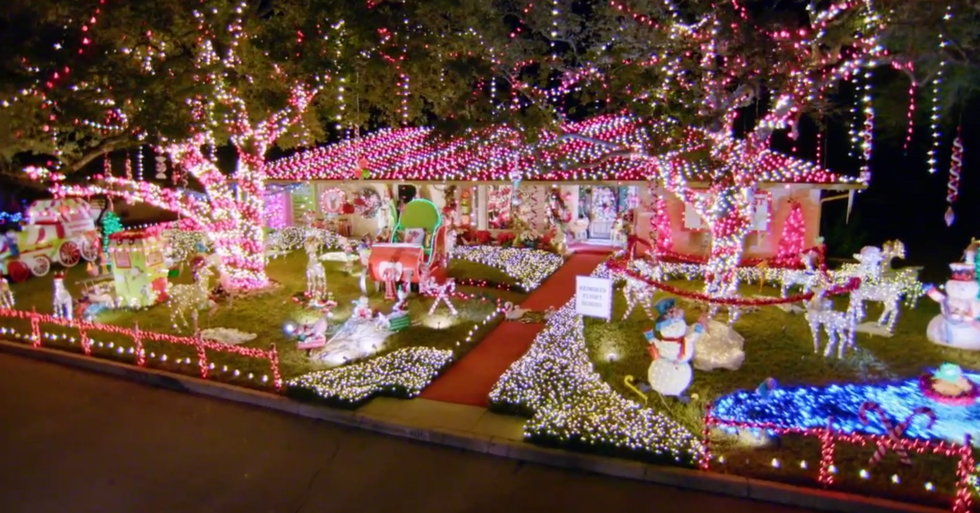 (Great Christmas Light Fight)
Their holiday display featured a hand-built sled, a train called the Peppermint Expressway with actual peppermint smoke coming out of it and Santa's reindeer "in training." Designer and judge Taniya Nayak noted the linework of the lights displayed on the roof and the positioning of the red and lime green color palette.
"Right off the bat when the lights turned on, I couldn't believe how beautiful these peppermint lights were... it's just such a fun, happy, yummy, delicious vibe to it," Nayak said when she announced the Wilsons were the winners. "It really made a smile go from one ear to the other on my face."
Judge Nayak said she also enjoyed that their display had different stories behind each section.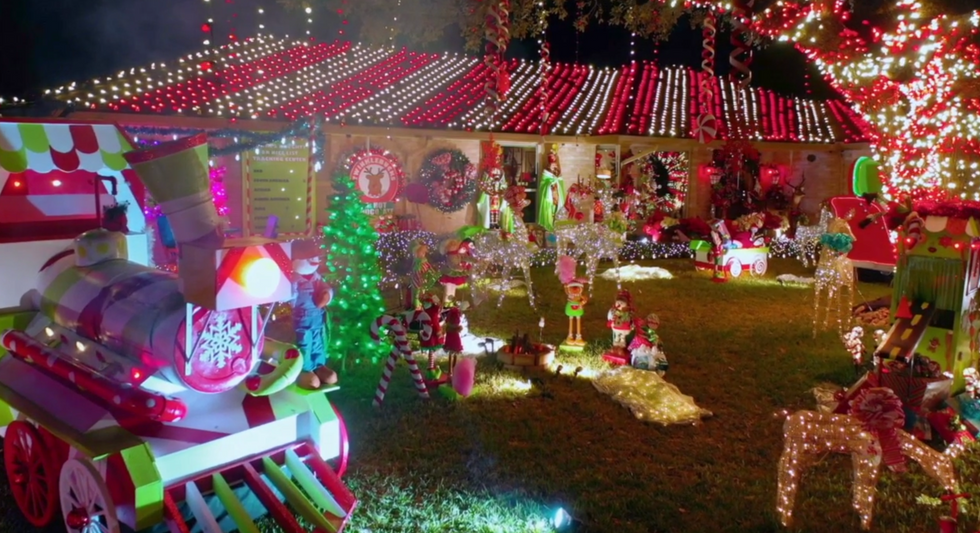 (Great Christmas Light Fight)
John, or "Mr. Christmas" as Brenda called him, said he has been putting on a Christmas lights display for over 20 years—and it's only got better since he met his Mrs. Clause 12 years ago. The two said they met online and were 98% compatible.
"Brenda and I grew up back in the 50s when things were very simple, so we wanted to create something from when we were growing up," John said on the show.
And their efforts paid off: along with their monetary prize, the couple earned a light-bulb-shaped trophy.
KSAT reports the home got the attention of the show's casting directors last year, who encouraged them to apply to be on the show. The show was then shot last year, but the couple didn't learn they won until this year.
While being on the show is their intro to stardom, locals are familiar with the Wilsons' yearly display in the light-centric Windcrest. Each year their home is part of the Windcrest Light Up, a decades-old tradition where residents go all-out with their holiday light displays. They've won at least three grand prizes in the Windcrest contest and several other category first-place prizes.
The Windcrest Light Up kicks off Dec. 4.