Get connected with our daily update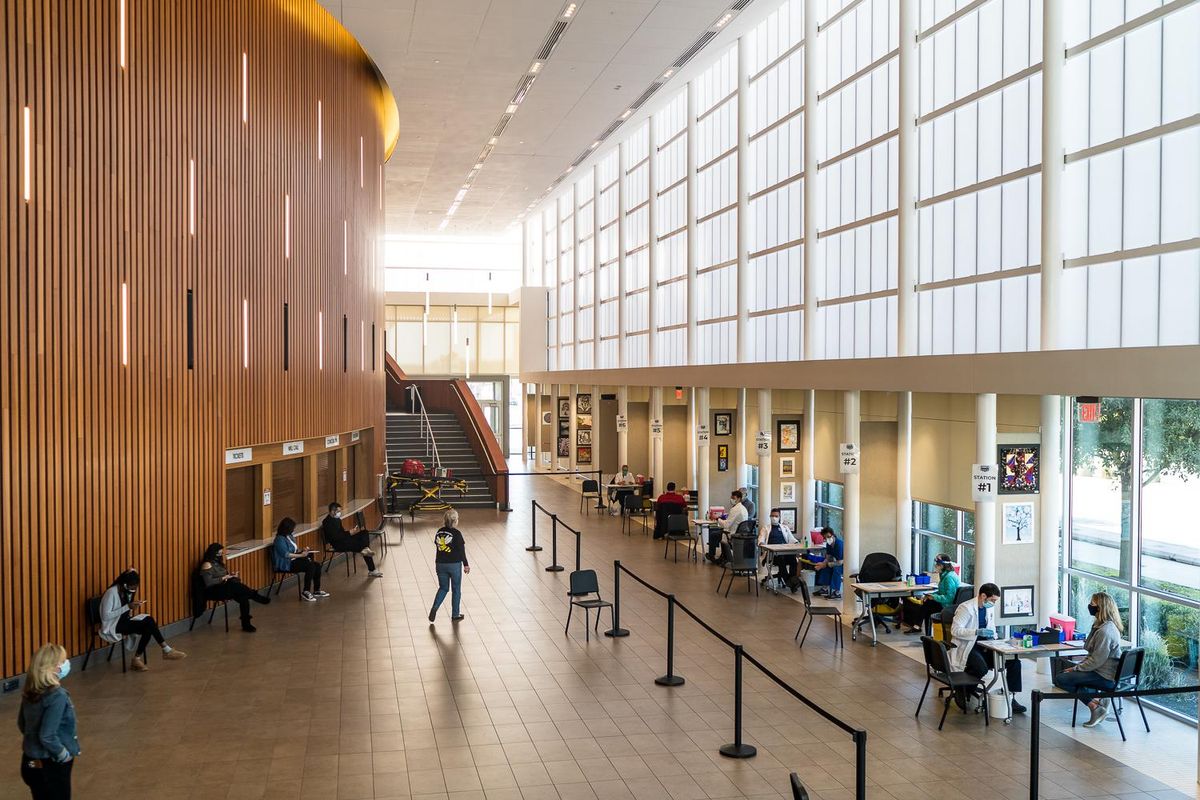 COVID-19 vaccine operations have resumed after a weeklong pause due to winter weather and related outages.
Travis County's two vaccine hub providers—Austin Public Health and UT Health Austin, the clinical wing of Dell Medical School—have both resumed appointments. Neither reports any vaccine loss due to the weather event.
---
Vaccine shipments slated for last week but interrupted by the winter weather will be distributed during the first half of this week, followed by shipments of this week's allocation, which includes 31,250 doses for 27 providers in Travis County, according to the Texas Department of State Health Services. More information of this week's vaccine allocation can be found here.
Hub providers
APH began rescheduling COVID-19 vaccine appointments for the approximately 3,300 patients whose appointments were canceled last week, according to a Sunday news release. Those with appointments should check their phones and email inboxes for updates.
APH will extend hours at its vaccine clinics to serve as many people as possible, prioritizing second dose appointments. There are also plans for a queuing system to address the backlog, but until it is established staff will manually reschedule each appointment.

In addition to rescheduling appointments and ensuring patients receive their second doses, APH is working to administer vaccines from prior weekly allocations as well as this week's. The department has approximately 7,000 first doses and 7,500 second doses remaining from the Feb. 7 weekly allocation to administer. Additionally, the shipping of last week's allocation of 12,000 first doses was delayed due to the winter weather.
"APH's practice is to not release appointments until we have the vaccine in hand in order to avoid unnecessary rescheduling," a spokesperson wrote in an email to Austonia.
Around 25% of last week's allocation were stuck in out-of-state warehouses awaiting shipment when Texas was hit by a series of winter storms; those doses are expected to ship out in the first half of this week, followed by this week's allocation, which includes 12,000 doses for APH, according to DSHS.
"We lost eight days of operations, but we are fully dedicated to those who need their second doses and are scaling up resources as much as possible to provide all remaining vaccine this week," Chief Administrative Officer for the Disease Prevention and Health Promotion Division Cassandra DeLeon said in a statement.
UT Health Austin, Travis County's second hub provider, resumed vaccine appointments as scheduled on Monday. Patients with vaccine appointments this week should arrive as planned. Those whose appointments were canceled last week can find their rescheduled time slot blow: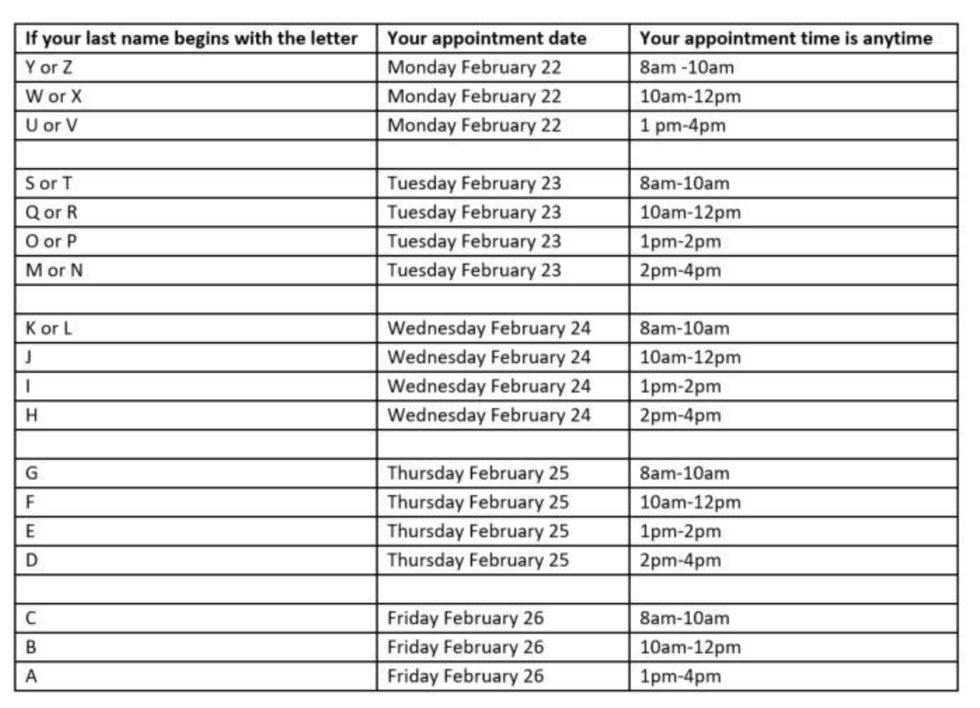 (UT Health Austin)
Other concerns

Both the Pfizer and Moderna vaccine require cold storage, leading some Texans to worry those doses may have been compromised by last week's power outages. Neither APH nor UT Health Austin experienced any vaccine loss, spokespeople confirmed to Austonia. "APH staff diligently monitored the vaccine through the winter weather event to ensure it was safe and secure," a city spokesperson wrote in an email to Austonia. The University of Texas at Austin is not on the city's power grid, so it never lost power.
DSHS tracks wasted vaccine doses. As of their latest update, which was released on Friday, no Travis County providers reported loss due to the natural disaster or related power outages. "We still haven't heard about large issues with spoilage last week but we may get reports this week," Press Officer Douglas Loveday wrote in an email to Austonia.
Another concern is whether impacted patients will receive their second dose within the recommended time frame. Although the CDC previously issued guidance that providers administer the second dose within six weeks, it has since updated its recommendation. "You should get your second shot as close to the recommended 3-week (Pfizer) or 1-month (Moderna) interval as possible," according to its website. "However, there is no maximum interval between the first and second doses for either vaccine."
Prior to last week's statewide super crisis, APH was testing 10,000 people a week for COVID-19. All APH-affiliated testing operations resumed their normal schedules on Monday. Residents who have been experiencing symptoms of COVID but were unable to get tested due to the weather conditions should self-isolate for at least 10 days since their symptoms began, according to the department.
The winter weather also interrupted data reporting efforts. Data entry staff could not safely travel to their workplace, which lost power, last week. As a result, there is a lag in data reporting and this week's numbers may be skewed.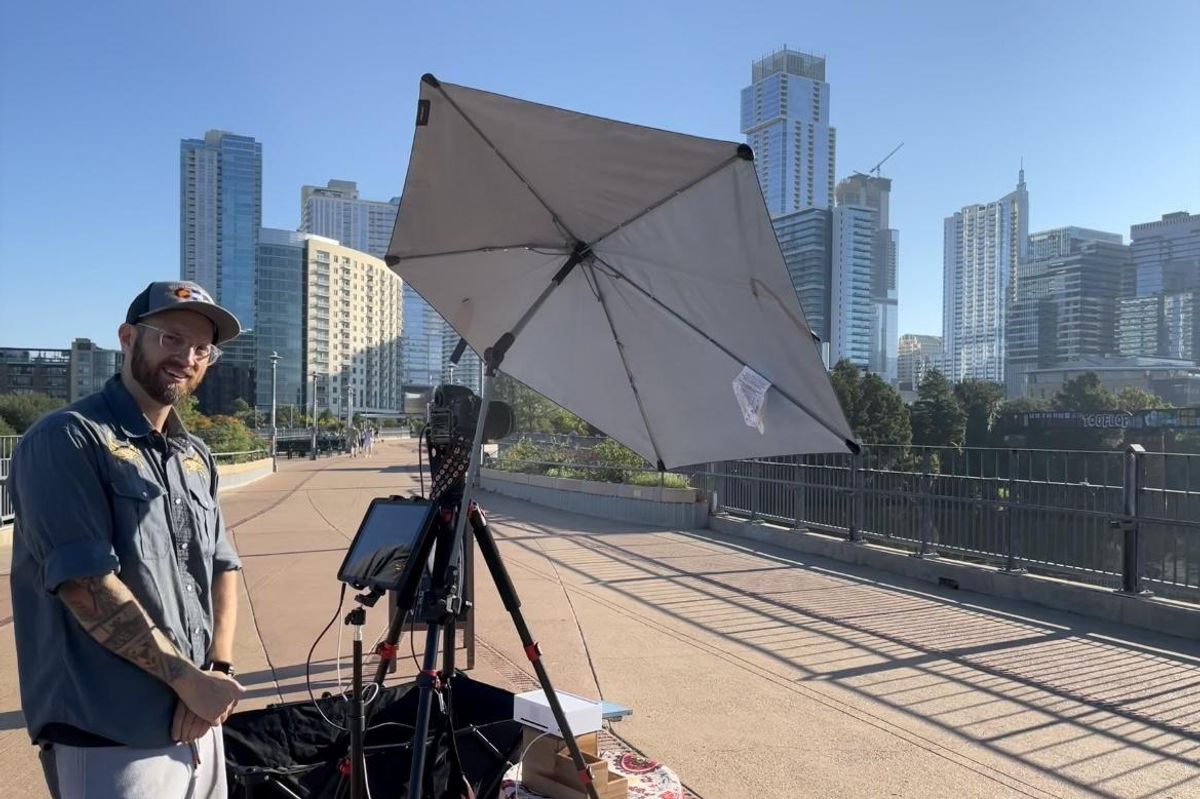 Nicklaus Pereksta says he loves photographing enthusiastic people, and it's why his latest gig offering pictures to people out on Lady Bird Lake's hike and bike trail is going smoothly. He sets up his gear on the Pfluger pedestrian bridge and puts out a sign: Photos, $10.
"Overwhelmingly, this has been a really positive experience," Pereksta said. "I get excited when I wake up in the morning and I can't wait to go to work."
Bikers and joggers are excited about it too. On the pedestrian bridge leading to downtown Thursday morning, a man on an e-bike rode up and posed, wanting more photos.
"I posted the last pictures on Instagram and people loved it. They asked, 'where is this guy?'" the biker told Pereksta. Bashfully, Pereksta, who also photographs landscapes and at weddings and other events, said he was happy to hear that.
Pereksta started these photos about a month ago, after the strenuous runs required in his valet job started causing pain in his legs. And though he has a passion for photography, he wasn't so sure when he started working independently if it would work out.
He felt uncertain about the demand for it and was also worried about having lots of expensive equipment out in the open.
"Then like the first day was nothing but high praise and people are like, this is so awesome. This is great. I've never seen anything like this before. I was like, Wow, this was really good, like positive turnout. So I got encouraged."
Now, he wants to expand and is thinking of contacting the Mueller Farmers Market about how to become a vendor. Still, he'll carry a connection to photographing on the bridge since the word bridge is related to his last name.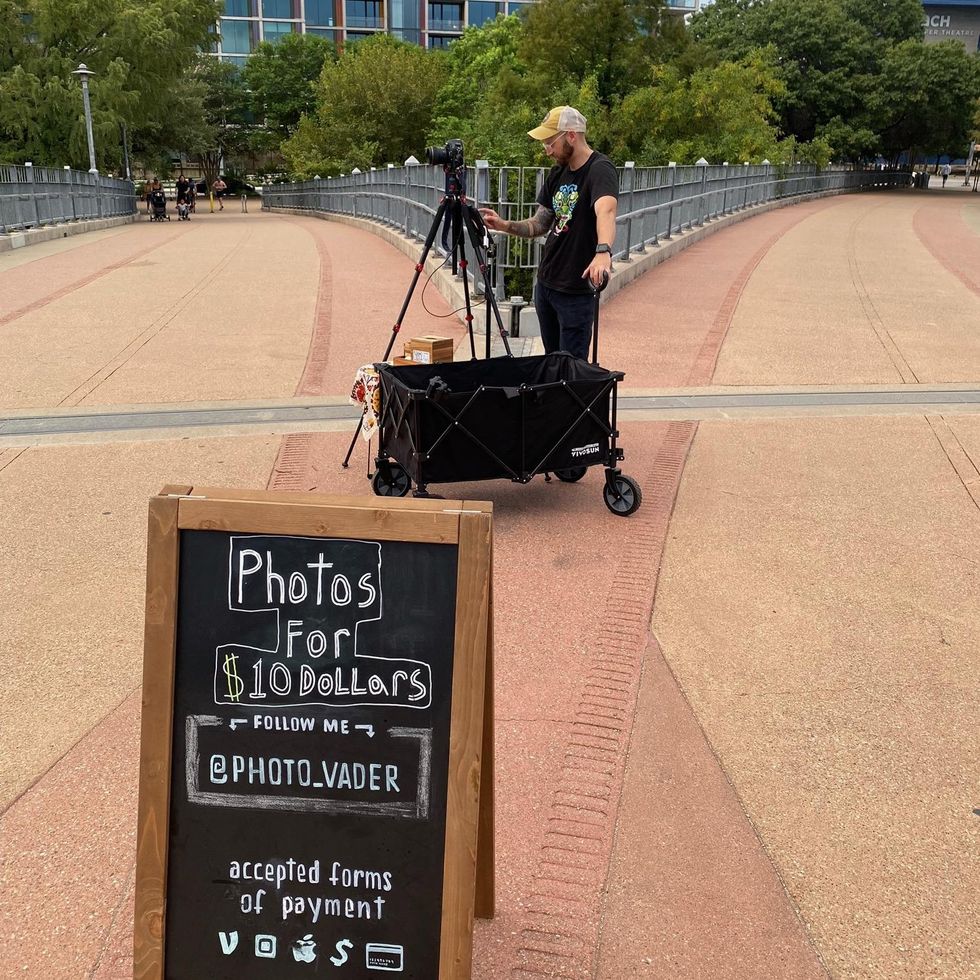 (Dewey C.)
"It's a name my great, great, great grandfather came up with when he was marrying somebody. It's actually quite a romantic name. It means a joining of two bridges," Pereksta said. "So, I thought it was ironic that I'm set up on a bridge. I'm kind of representing my last name right now."
Austonia talked to Pereksta about life in Austin, where he's lived for eight years after living in Boston doing band photography.
What was your first experience with Austin?
I came here to visit some friends and they took me to Barbarella. So we went to Barbarella and I was like, 'wow, this place is great.' And then the restaurants and the food and going to Barton Springs. I was like, 'this is amazing.' Because there's nothing like that in Boston. If you want to go to a natural spring, you got to go to New Hampshire. There's no pools in the city at all. So there's lots of swimming out here.
What do you like best about Austin?
You go to any little quiet bar and there's a band playing that should be like onstage for a sold out show. Yeah, they're playing to 10 people, right? Like, one of the best bands ever and they're playing for 10 people, right? And just little magic moments like that are pretty fun. You just run into little random weird things.
What do you think makes Austin different from other places?
There's no fall.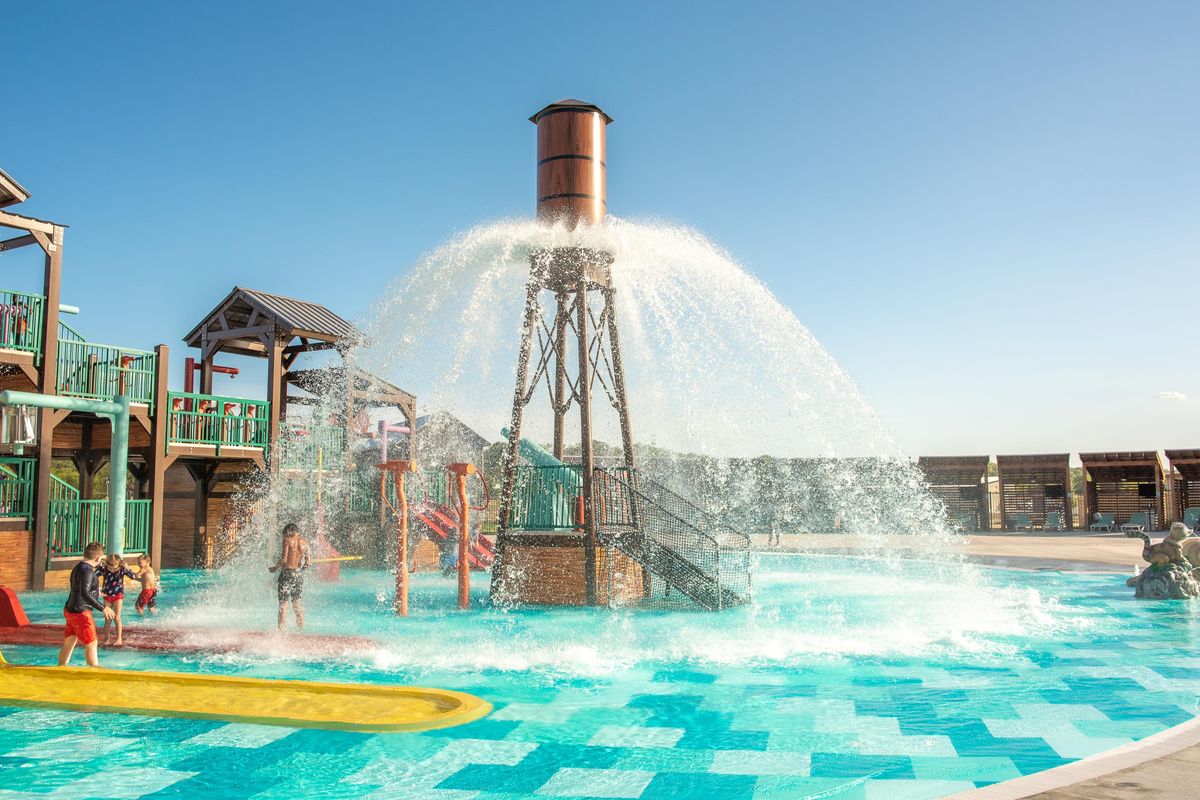 Camp Fimfo Waco
Camp Fimfo Waco, a brand new camping resort, is kicking off football and fall camping season in style! With top-notch amenities, premium accommodations, and 10 weekends of fall fun, there's no better place to have a fall camping getaway, especially if you're a Baylor football fan!
Fall promises to be a one-of-a-kind camping experience. From Sept. 16 to Nov. 24, weekends will be packed with fall-themed activities, including special Halloween weekends in October. Campers can enjoy activities like fall crafts, campground trick-or-treating, costume contests, site decorating, outdoor movie nights, and more!