Austonia AM
100% Austin news, info, and entertainment, straight to your inbox at 6 a.m. every morning.
In five minutes, you're fully informed and ready to start another great day in our city.
Get connected with our daily update
COVID-19 vaccine operations have resumed after a weeklong pause due to winter weather and related outages.
Travis County's two vaccine hub providers—Austin Public Health and UT Health Austin, the clinical wing of Dell Medical School—have both resumed appointments. Neither reports any vaccine loss due to the weather event.
---
Vaccine shipments slated for last week but interrupted by the winter weather will be distributed during the first half of this week, followed by shipments of this week's allocation, which includes 31,250 doses for 27 providers in Travis County, according to the Texas Department of State Health Services. More information of this week's vaccine allocation can be found here.
Hub providers
APH began rescheduling COVID-19 vaccine appointments for the approximately 3,300 patients whose appointments were canceled last week, according to a Sunday news release. Those with appointments should check their phones and email inboxes for updates.
APH will extend hours at its vaccine clinics to serve as many people as possible, prioritizing second dose appointments. There are also plans for a queuing system to address the backlog, but until it is established staff will manually reschedule each appointment.

In addition to rescheduling appointments and ensuring patients receive their second doses, APH is working to administer vaccines from prior weekly allocations as well as this week's. The department has approximately 7,000 first doses and 7,500 second doses remaining from the Feb. 7 weekly allocation to administer. Additionally, the shipping of last week's allocation of 12,000 first doses was delayed due to the winter weather.
"APH's practice is to not release appointments until we have the vaccine in hand in order to avoid unnecessary rescheduling," a spokesperson wrote in an email to Austonia.
Around 25% of last week's allocation were stuck in out-of-state warehouses awaiting shipment when Texas was hit by a series of winter storms; those doses are expected to ship out in the first half of this week, followed by this week's allocation, which includes 12,000 doses for APH, according to DSHS.
"We lost eight days of operations, but we are fully dedicated to those who need their second doses and are scaling up resources as much as possible to provide all remaining vaccine this week," Chief Administrative Officer for the Disease Prevention and Health Promotion Division Cassandra DeLeon said in a statement.
UT Health Austin, Travis County's second hub provider, resumed vaccine appointments as scheduled on Monday. Patients with vaccine appointments this week should arrive as planned. Those whose appointments were canceled last week can find their rescheduled time slot blow: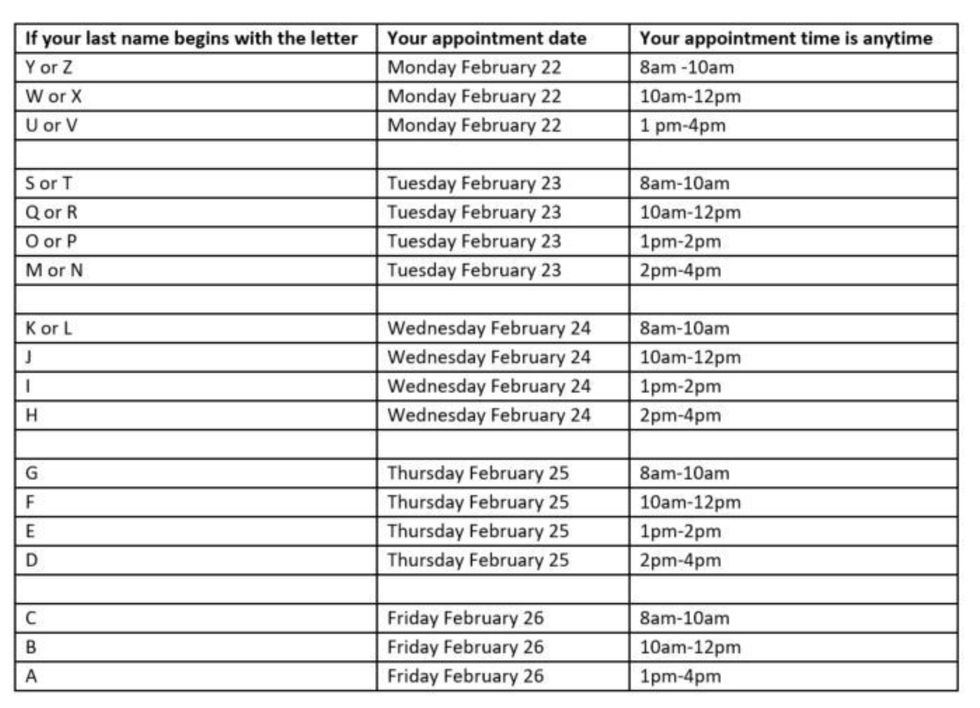 (UT Health Austin)
Other concerns

Both the Pfizer and Moderna vaccine require cold storage, leading some Texans to worry those doses may have been compromised by last week's power outages. Neither APH nor UT Health Austin experienced any vaccine loss, spokespeople confirmed to Austonia. "APH staff diligently monitored the vaccine through the winter weather event to ensure it was safe and secure," a city spokesperson wrote in an email to Austonia. The University of Texas at Austin is not on the city's power grid, so it never lost power.
DSHS tracks wasted vaccine doses. As of their latest update, which was released on Friday, no Travis County providers reported loss due to the natural disaster or related power outages. "We still haven't heard about large issues with spoilage last week but we may get reports this week," Press Officer Douglas Loveday wrote in an email to Austonia.
Another concern is whether impacted patients will receive their second dose within the recommended time frame. Although the CDC previously issued guidance that providers administer the second dose within six weeks, it has since updated its recommendation. "You should get your second shot as close to the recommended 3-week (Pfizer) or 1-month (Moderna) interval as possible," according to its website. "However, there is no maximum interval between the first and second doses for either vaccine."
Prior to last week's statewide super crisis, APH was testing 10,000 people a week for COVID-19. All APH-affiliated testing operations resumed their normal schedules on Monday. Residents who have been experiencing symptoms of COVID but were unable to get tested due to the weather conditions should self-isolate for at least 10 days since their symptoms began, according to the department.
The winter weather also interrupted data reporting efforts. Data entry staff could not safely travel to their workplace, which lost power, last week. As a result, there is a lag in data reporting and this week's numbers may be skewed.
Matthew McConaughey is reportedly weighing a run for Texas governor in 2022.
The Austin resident and Oscar winner has been "quietly making calls to influential people in Texas political circles, including a deep-pocketed moderate Republican and energy CEO" as he decides whether to run, according to Politico.
McConaughey said a gubernatorial run is "a true consideration" while on a March episode of Houston's "The Balanced Voice" podcast.
Although most political strategists doubt McConaughey's commitment and viability as a candidate, some are still intrigued by the possibility.
"I find it improbable, but it's not out of the question," Karl Rove, a top Republican strategist with a long history in Austin, told the political news site. He added that the big question is whether McConaughey would run as a Republican, a Democrat or an independent.
Brendan Steinhauser, an Austin-based GOP strategist, told Politico he's surprised McConaughey isn't being taken more seriously. "Celebrity in this country counts for a lot," he said. "It's not like some C-list actor no one likes. He has an appeal."

Texas Gov. Greg Abbott plans to run for a third term and remains popular among Republican voters, 77% of whom approve of his performance as of April, according to the Texas Politics Project.
Some strategists believe an independent McConaughey run would benefit Abbott. But a recent poll from The Dallas Morning News and the University of Texas at Tyler found that McConaughey would beat Abbott, 45% to 33%, with 22% opting for someone else.
Mimi Swartz, an executive editor at Texas Monthly, mulled a McConaughey run in a recent opinion essay from the New York Times. "Texas may not be ready for a philosopher king as a candidate, much less governor," she wrote. "May the best man win, man."
Some JuiceLand production facility workers and storefront employees are organizing to demand wage increases, better working conditions (including air conditioning in the warehouse) and pay transparency, among other asks. They are also calling on staff to strike and customers to boycott the Austin-based company until their demands are met.
JuiceLand responded on Saturday. "We are listening," the company wrote on their Instagram story. "JuiceLand crew now makes guaranteed $15 an hour or more companywide."
JuiceLand, which was founded in 2001 by Matt Shook and now has 35 locations in Austin, Houston and Dallas, acknowledged the rising cost of living across Texas and the added stress of the pandemic in an email to employees on Saturday, part of which @juicelandworkersrights shared on social media. "There's no denying that times are tough and financial security means more now than ever," the company wrote.
Organized JuiceLand workers rejected this proposal, according to a recent post on the @juicelandworkersrights Instagram account, and reiterated their demands.
"Cost of living in Austin is rising exponentially and will only continue to get worse with the tech boom," the post read. "$15 is barely a sustainable living."

Related Articles Around the Web