Get connected with our daily update
(Charlie Harper III)
The Dec. 15 runoff election—which includes races for Austin City Council's Districts 6 and 10—is Tuesday.
Here's everything you need to know before you vote, including where to cast your ballot and what prompts a runoff.
---
A list of Election Day polling places can be found here; they are open from 7 a.m. to 7 p.m.
In Texas, candidates must win at least 50% of the vote to be elected. In races where the top candidate only receives a plurality of votes, a runoff is held.
Runoffs typically attract low turnout and an older, more conservative electorate than general elections.
During the early voting period for this election, which ran from Dec. 3 through Dec. 11, 41,515 Travis County voters cast a ballot compared to 492,616 in the Nov. 3 election, according to the Travis County Clerk's office.
During the Nov. 3 election, four local races prompted runoffs: those for Austin City Council's Districts 6 and 10 and Austin ISD's District 5 and At-large Place 8.
The two most closely followed local races are on Austin City Council, where two incumbents face conservative challengers. City council seats are nonpartisan, although all current members are affiliated with the Democratic Party.
Elected council members will be tasked with rewriting the city's land use code, considering further cuts to APD's budget and implementing the Project Connect plan.
In District 6, Council Member Jimmy Flannigan is running against Mackenzie Kelly.
Flannigan won 35% of votes during the Nov. 3 election, compared to Kelly's 29%.
Flannigan's platform includes plans to address the pandemic, Austin's affordability crisis, traffic congestion and public safety reform. As a council member, he voted in favor of cutting the Austin Police Department's budget and other police reforms; overturning the city's camping ban; and Project Connect, a $7.1 billion transit system overhaul.
Kelly is a client care manager who ran against Flannigan in 2014 and opposes recent cuts to the police department budget and council's decision to overturn the city's camping ban. She has drawn criticism from her opponent and others for posing in a photo with protesters who displayed white supremacist hand signals and members of the Wind Therapy Freedom Riders motorcycle group, members of which later accosted Flannigan at a campaign event.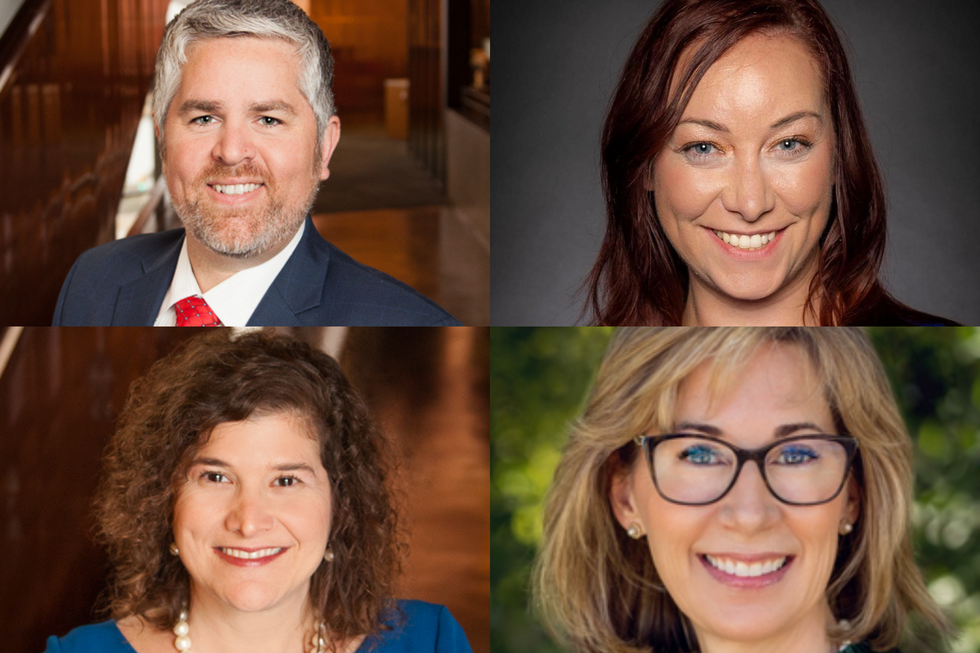 In District 10, Council Member Alison Alter is running against Jennifer Virden.

Alter faced six challengers during the Nov. 3 election and received the most votes, with 34% case in her favor. She describes herself as a progressive Democrat and has spent her time on council advocating for preservationist land use policies and parks. She voted to cut APD's budget but opposed its decision to overturn the camping ban.
Virden, a real estate broker and general contractor, earned 25% of the vote last month. She opposes Project Connect, council's decision to overturn the camping ban and any effort to defund the police.
Early voting results will be announced Tuesday after polls close at 7 p.m. with final results to follow.
Terry Black's Barbecue is journeying outside of the smoked meats sphere and into the hospitality sector, announcing plans to open "Friday Mountain," a resort-style vineyard near Driftwood.
According to a report from the Austin Business Journal, Friday Mountain will be located on 64 acres at 150 Concord Circle, featuring a boutique hotel with 22 rooms, a 14-acre vineyard and a 20,000-square-foot underground wine facility, a spa, event space, all-day café and high-end restaurant. Construction is poised to start in the next month.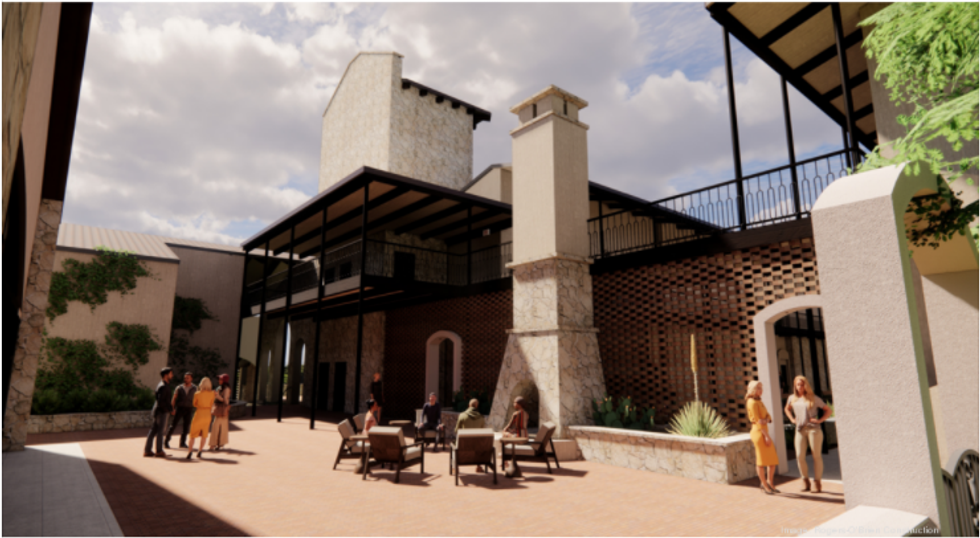 The courtyard outside of the event space will echo Hill Country architecture. (Rogers-O'Brien Construction)
Co-owner Mark Black said he expects construction to last about 10 months, hoping for opening early next year, and would hire around 140 employees: 60 full-time and 80 part-time.
The new project has long been in the works for the restaurateurs—including Mark's twin brother Mike and sister Christina—who come from the same lineage as those behind Lockhart's Black's BBQ but separated the business due to a falling out within the family.
Friday Mountain was originally planned to be a wedding venue but issues arising about noise, traffic and environmental concerns led the Dripping Springs City Council to ask for updated plans.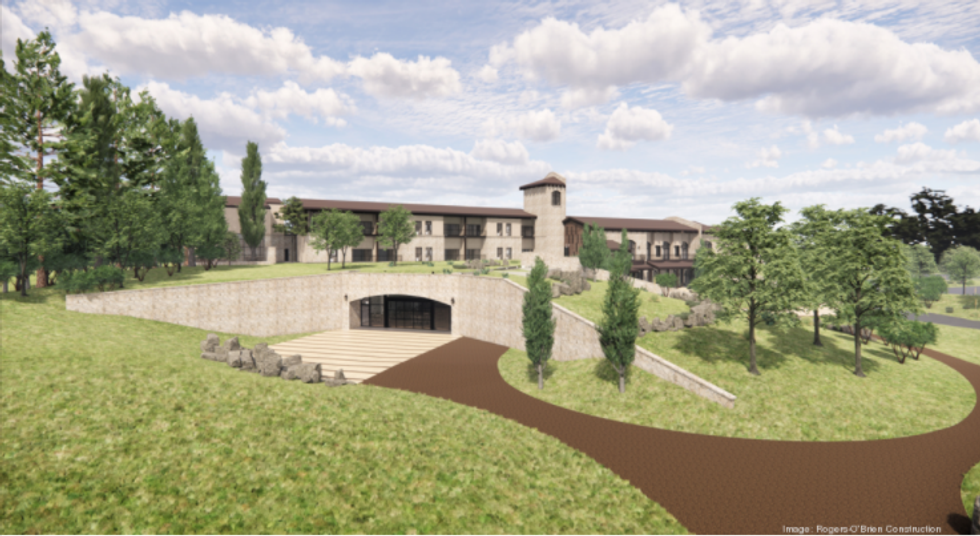 A rendering of the entrance to the planned underground wine cave. (Rogers-O'Brien Construction)
In the new plans, which have since been submitted, Black said he heard the neighborhood's concerns and is focusing on working with the right contractors to avoid issues. Black said he knows not everyone will be on board with the venue but that it will provide a little something for everyone.
To bring the concept to life, Black is partnering with engineers at Kimley-Horn and Associates Inc., architects at Lawrence Group, and Rogers-O'Brien Construction Co. Ltd. as the general contractor.
As for the vineyard, Black has partnered with Salt Lick Cellars to have wine aged and ready to drink wine upon opening and will hand off wine making operations to enthusiast Phil Price.
According to a Texas Department of Licensing and Regulation filing, the project will cost an estimated $20 million to be completed in January 2023.
From Your Site Articles
Related Articles Around the Web
The Texas French Bread Bakery, located on 2900 Rio Grande Street, has been completely destroyed after a fire erupted on Monday night.
The Austin Fire Department responded to the fire just before 11 p.m., where they arrived to see flames coming from the roof of the bakery. Firefighters fought the fire for about an hour before the roof collapsed.
While no one was injured in the fire, firefighters say the historic building was completely totaled.
AFD determined that the fire was accidental and caused by mechanical failure. AFD said the damages amounted to $1.6 million total: $1.1 million in structural damage and $500,000 in damage to the contents of the bakery.

This year, Texas French Bread will celebrate 40 years of business. Before the bakery occupied the building, it was the Rome Inn, a music venue that hosted 1970s artists like Stevie Ray Vaughan.