Get connected with our daily update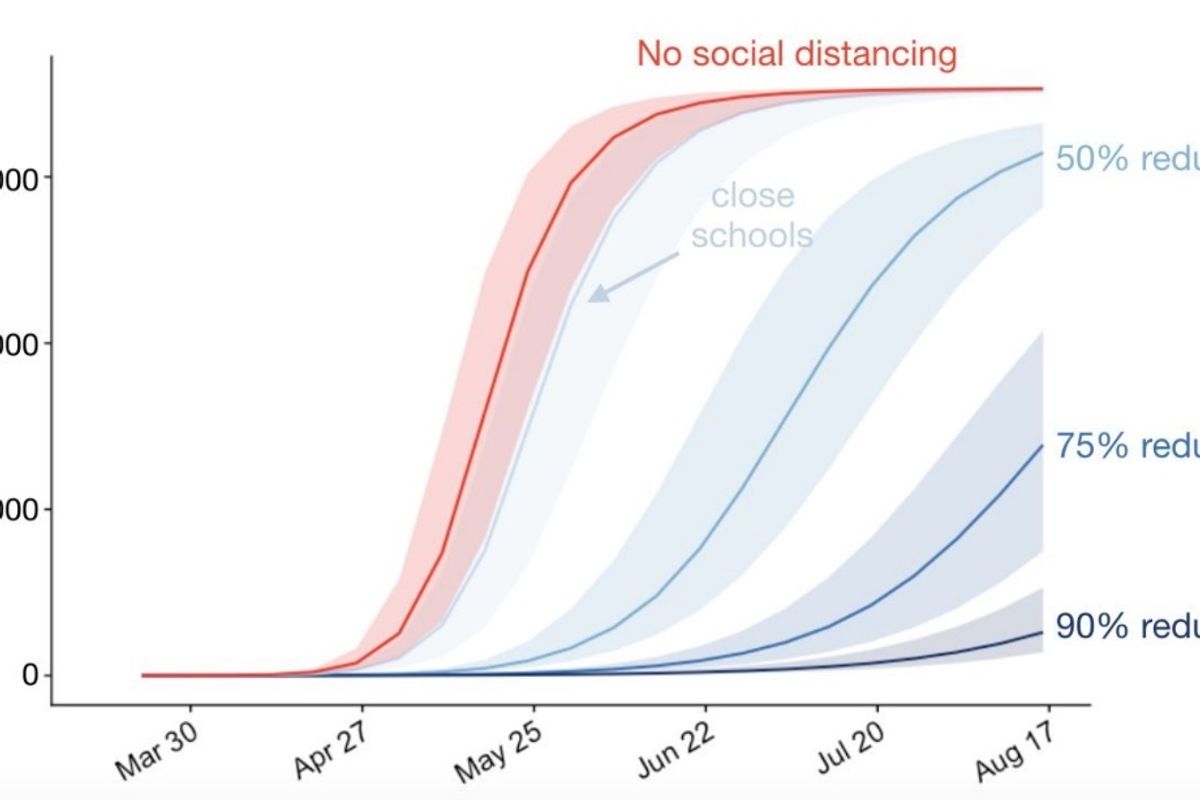 graph via University of Texas
Last week, data and analytics firm Unacast launched a social distancing scoreboard using public datasets as well as data from tens of millions of devices. The company, which is based in New York and Oslo, collects cell phone location data and sells its analysis to various industries. (The Washington Post called it "part of a shadowy world of location tracking.")
According to its analysis, Travis County has decreased average mobility—based on distance traveled—by between 55% and 70% and has decreased nonessential visits by more than 70%. As a result, on March 28 the company graded Travis County's response to the pandemic as an A-, second in the state only to Cameron County, and a higher score than Texas' overall C.
---
However, according to a March 26 pandemic modeling report from researchers at The University of Texas-Austin, nonhousehold contact needs to be reduced by 90% to "flatten the curve"—meaning the rate at which coronavirus cases hit their peak—enough to avoid overwhelming hospitals in Travis, Williamson, Bastrop, Caldwell and Hays counties.
We still don't know to what extent local policies have limited the spread of this pandemic, and the city declined to provide an estimate on Thursday.

The UT report estimates that if schools remain closed and nonhousehold interactions are reduced by 50%, the Austin-Round Rock metro will see more than 1.56 million coronavirus cases—meaning 70% of its total population will contract COVID-19—and 6,317 deaths by Aug. 17 as hospitalizations and ventilator demands far outpace supply.

In contrast, continued school closures coupled with a reduction in nonhousehold interactions by 90% will lead to less than one-tenth the number of total cases—132,415, per the report—and a total death toll of 267 for the metro.

"The real take-home message is that it's going to take the whole community effort to really slow this spread and really prevent our community from having a crisis in health care," said Dr. Lauren Ancel Meyers, a professor of integrative biology, statistics and data sciences who led the team of researchers, at a March 26 virtual press conference.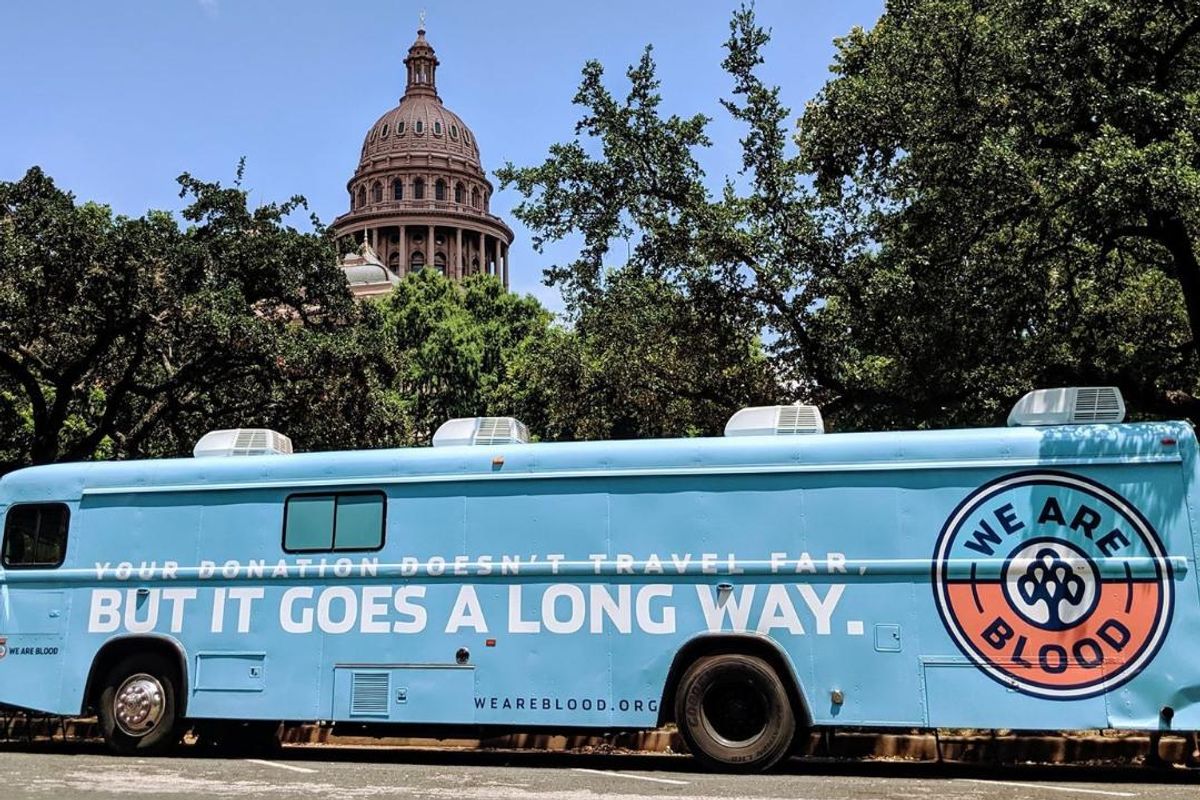 Communities are rallying together after an 18-year-old shot and killed 19 students and two teachers at Robb Elementary School in Uvalde, Texas.
Funds from organizations all around the state–including from Austin's own Los Verdes–are being raised to support families affected by the tragedy. Here's how you can help.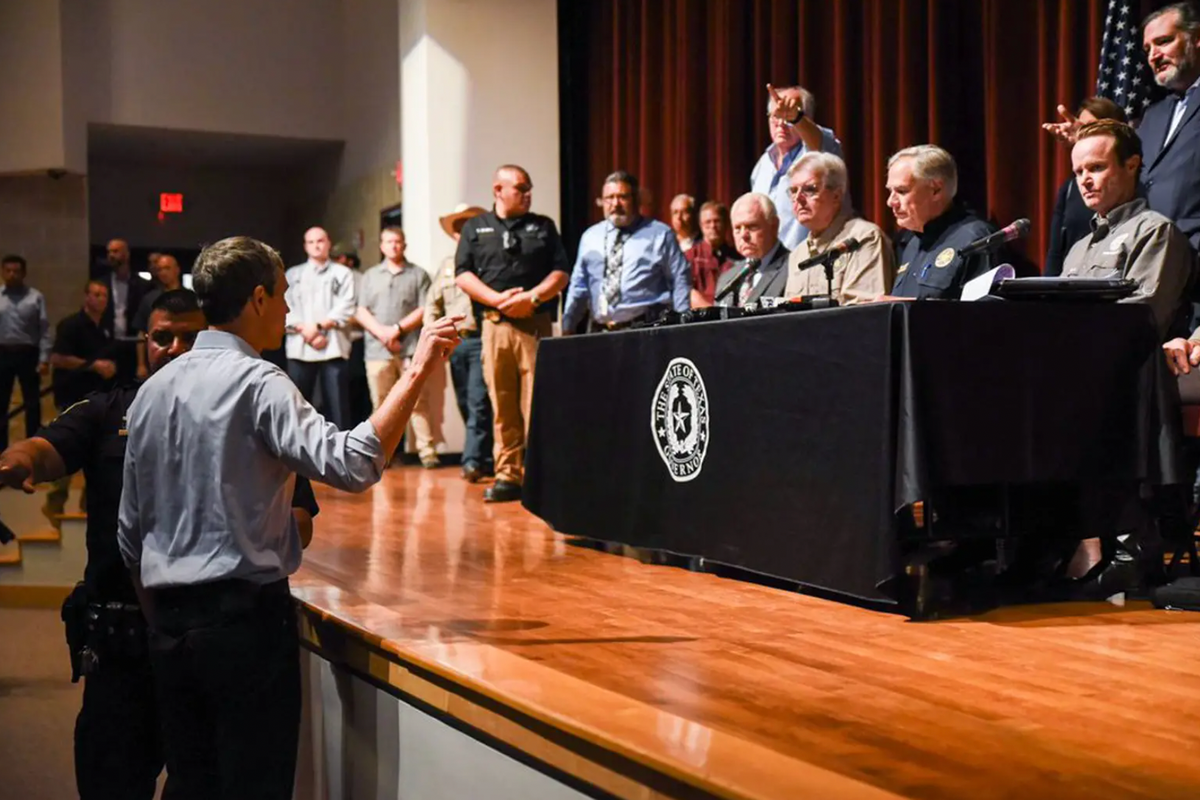 By Patrick Svitek
Beto O'Rourke caused a dramatic scene on Wednesday when he angrily confronted Gov. Greg Abbott at his news conference about the Uvalde school shooting, yelling, "This is on you."
After Abbott was done giving his initial remarks, O'Rourke approached the stage and told Abbott he was "doing nothing" to combat gun violence. He said the Uvalde massacre, in which a gunman killed 19 children and two adults, was "totally predictable."
Some of the Republican officials onstage with Abbott quickly denounced O'Rourke, telling him to go away. Another man onstage used expletives to criticize O'Rourke for interrupting the event. O'Rourke was eventually escorted away amid the unruly scene.
"I can't believe that you're a sick son of a bitch that would come to a deal like this to make a political issue," Uvalde Mayor Don McLaughlin told O'Rourke at one point.