Get connected with our daily update
Tired of football and futbol? Austin may have waited until 2021 to secure its first major-league professional team, but it's still packed with weird and wonderful teams of every sport to cheer on.
---
With Austin FC still tucked away in last place, it hasn't been easy being a Verde fan so far, even as they won two straight home matches for the first time this season last week. And the all-day fest that is Texas football isn't going away anytime soon.
But for those looking for more entertainment, there are plenty of teams—from professional to high school—to make even the most sports-averse Austinites become full-fledged fans.
Here is a list of teams to hop onto, ranked from best to worst for those fair-weather fans:
Westlake Chapparals football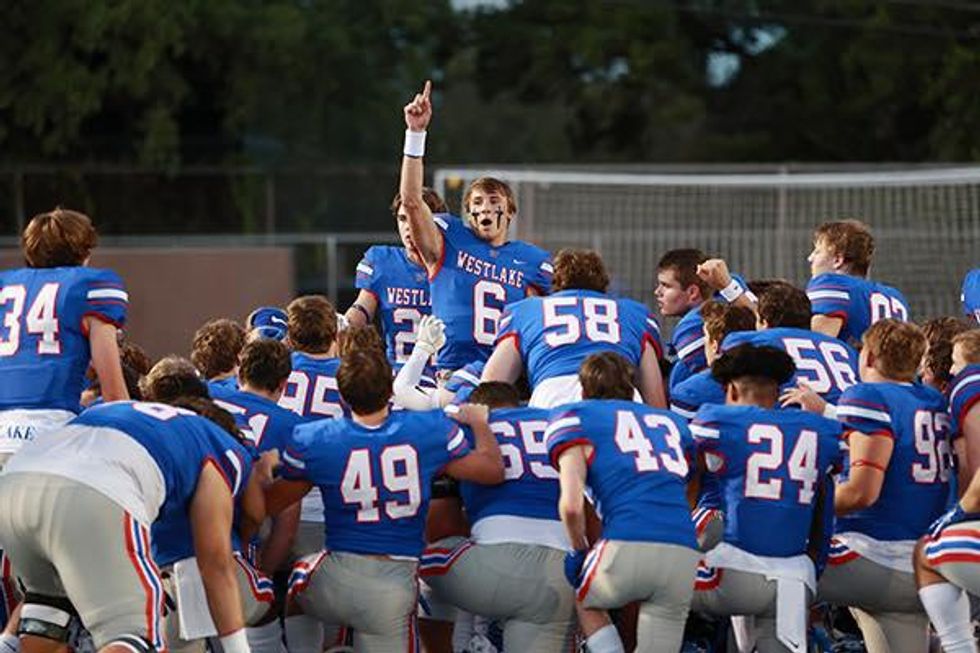 (Westlake Nation/Facebook)
Unsure about Texas' football season this year? If you're looking for few disappointments and plenty of wins, check out Westlake High School's championship football team.
In fact, the team hasn't lost a game since 2019—and they've won two straight State 6A football championships to boot. The school that produced former NFL quarterback Drew Brees and former UT star Sam Ehlinger is still going strong this season and have won all five of their games so far.
If you're looking for some "Friday Night Lights," look no further than the football-crazed culture at Westlake High games.
No. 2 Texas Volleyball
Taking our show on the road 🤘#HookEm pic.twitter.com/JZO52I2DNu

— Texas Volleyball (@TexasVolleyball) September 17, 2021
Longhorn football fans, it's time to ask an important question: is UT a volleyball school?
Even though football is having a winning streak of their own, the Texas volleyball team is certainly making a case for it this season. While they're almost always in the top 10 of NCAA standings, the 2020-21 team propelled even further into the NCAA Championships as they fell to No. 2 Kentucky in the finals.
The Longhorns have kept that spirit going this season: they're ranked No. 2 in the NCAA and are undefeated with 11 straight wins. The team toppled Lone Star rival Texas A&M 3-1 on Sept. 27 and swept their first Big 12 Conference foe West Virginia twice in a row to keep their record clean.
Get on the bandwagon before the NCAA Tournament next spring and you may see the team take home their first championship since 2012!
Austin Outlaws (Quidditch)
Looking for something a little bit more magical? The Austin Outlaws have you covered.
Based on a wizarding game from the Harry Potter series, Major League Quidditch brings the sport into the "muggle" world. It's a full-contact, co-ed sport that involves throwing balls into hoops, chasing an elusive Seeker and yes, having broomstick-like sticks between your legs.
The Austin Outlaws are one of the premier Quidditch teams in the nation, having appeared in all four of the MLQ finals since their founding in 2016. They're coming in hot off of a MLQ Championship title in 2020 and will once again take to the pitch in summer 2022.
Austin Valkyries
Ranked No. 2 in the nation, women's rugby team Austin Valkyries are an aptly-named group of athletes that took home the 7's TOLA (Texas, Oklahoma, Louisiana, Arkansas) trophy in August alongside brother team the Austin Huns (we'll get to them next.)
The Valkyries' 7-man season may be over, but their 15-woman team will take on the Denver Merlins on Oct. 23 at Austin Huns Rugby in the Kandis Ruiz Cookie Bowl named after their late teammate.
Austin Huns
Just like their sisters the Valkyries, men's rugby club the Austin Huns brought in awards of their own as they won the "Plate" at Nationals and took home the TOLA cup themselves in August.
The Huns took home three other tournament titles over the summer, and they're not new to the championship scene: in 2017, the team made history as they became the U.S. Division 1 National Champions.
The Huns are taking a break from the pitch but will be back this fall.
Major League Pickleball
We ranked this one high because of its novelty and significance to pickleball-loving Austin.
For those not on the pickleball train, the fast-growing sport has fully wedged itself into the Texas capital's culture. Those young and old can be seen playing side-by-side at bars, tennis courts and even pickleball-centered venues around the metro.
As the first major league ever to be founded in Austin, Major League Pickleball seeks to hop into the pickleball craze. The new co-ed league, based at Dreamland in Dripping Springs, will bring the best-of-the-best pickleballers to the city for a four-day inaugural tournament on Nov. 5-8.
Round Rock Express
One of the metro's most-loved teams prior to the arrival of Austin FC, the Round Rock Express are a Triple-A minor league team affiliated with Dallas' Texas Rangers. The team, which is owned by famous Ranger Nolan Ryan, is currently seventh in their 30-team league and are rounding out their season with a series of home events through October and November.
Austin Spurs
The San Antonio Spurs are overrated, right? For those not wanting to make the trip down I-35, the Austin Spurs are an NBA G-League team that serve as a minor-league affiliate to their San Antonio neighbors.
The team was fifth in the league last season and sixth the year before, advancing to playoffs both years. Catch up-and-coming stars before their big break all while staying in town—the team kicks off their first game since March of 2020 at Cedar Park's H-E-B Center on Nov. 14.
Austin Sol
Playing Frisbee may seem like a beachside hobby, but the pastime has blossomed into a high-intensity sport with a professional league of its own in the form of ultimate frisbee.
Think of your favorite aspects of basketball, soccer and football, and you'll get something similar to ultimate frisbee. It's a fast-paced, no-contact sport that involves strategic passes, interception, and touchdown-esque goals that occur when a pass is completed in the endzone.
If you're still confused, check out Austin Sol, an American Ultimate Disc League team founded in Austin in 2015. The team enjoyed an even 6-6 record this summer to finish their season at third in the West Division.
They may not be playing until next summer, but be sure to watch the team catch some high-flying discs at Chaparral Stadium come June.
Austin Bold FC
Not interested in $10 beers?
Austin FC packs in the party at their 20,500 capacity stadium every week, but for those looking for a quieter professional soccer team, the Austin Bold are another viable option.
Located in Southeast Austin at Circuit of the Americas, the United Soccer League club is sixth in its seven-team conference but is enjoying a bit of a late-season comeback with a 3-1-1 record in their last five matches.
They may not make playoff berth, but they've got $2 beers. What's not to like?
Catch the Austin Bold at home for their next two matches at 8 p.m. on Wednesday and Sunday.
Austin Ice Bats
Think it's too hot for hockey in Central Texas? Think again—Austin is now home to two minor league hockey teams, the Texas Stars and aptly-named Austin Ice Bats.
The Texas Stars are a professional hockey team and American Hockey League affiliate to major-leaguers the Dallas Stars. They've been around since 2009 and have since won two titles in 2013 and 2014.
The club was second-to-last in their division last season, but they'll have a chance to make up for it with a season opener at Cedar Park's H-E-B center against the Iowa Wild on Saturday, Oct. 16.
The Ice Bats' name may seem familiar to seasoned Austinites—that's because the new team owes their name to the original Ice Bats, a minor league hockey team that preceded the Stars before disbanding in 2008.
The new Ice Bats are a Division III juniors team that will start their first season states away on Friday but come home to play College Station's Texas Roadrunners starting on Oct. 29 at Chaparral Ice.
FC Austin Elite
Women's semipro soccer team FC Austin Elite may have finished fifth in the eight-team Southwest conference this year, but they have more to look forward to: they'll upgrade into Austin's first professional women's soccer team in a Division II league next year, according to FC Austin Elite general manager Danny Woodfill.
"We are actually out recruiting professional players," Woodfill said. "Everybody in the country wants to come to Austin right now, and now they can play pro soccer now in Austin as women."
Catch the FC Austin Elite fill in those professional shoes at the Round Rock Multipurpose Complex come spring.
Austin Outlaws
Looking to watch some girl power? Catch the Austin Outlaws, a women's full-equipment, full-contact football team that plays in the Southwest division of the 60-team Women's Football Alliance.
The team is one of the longest-running full-contact women's football clubs in the U.S., and they've got the stats to prove it as they flip-flopped across football leagues and through playoffs through their 20 years.
It takes a special type of fan to get behind the Outlaws—they lost every game last season—but the monthlong May-June season is still sure to pack in entertainment and female badassery.
Austin's Delta 8 industry has been turned on its head after Texas health officials clarified that the cannabinoid is on the state list of illegal substances, though it was previously believed to be legal by most retailers, consumers and manufacturers.
House Bill 1325, which was signed in June 2019 by Gov. Greg Abbott, and the Farm Bill, signed into law by former President Donald Trump in 2018, legalized any hemp product containing less than .3% THC. The same bills were thought to have made Delta 8 legal, though the Texas Department of State Health Services added a notice on its website saying it was still a controlled substance as of Friday, Oct. 15.
Both the federal and state governments keep separate lists on what is considered a controlled substance. Marijuana is considered Schedule I, a category reserved for substances with "no currently accepted medical use and a high potential for abuse," both statewide and federally.
Austin-based CBD retailer Grassroots Harvest CEO Kemal Whyte, like many CBD shop retailers, was blindsided by the announcement. Many small businesses rely on Delta 8 for their sales—Green Herbal Care CBD said about 90% of its sales come from Delta 8—and Whyte said he is frustrated by the inconsistencies in the drug scheduling system.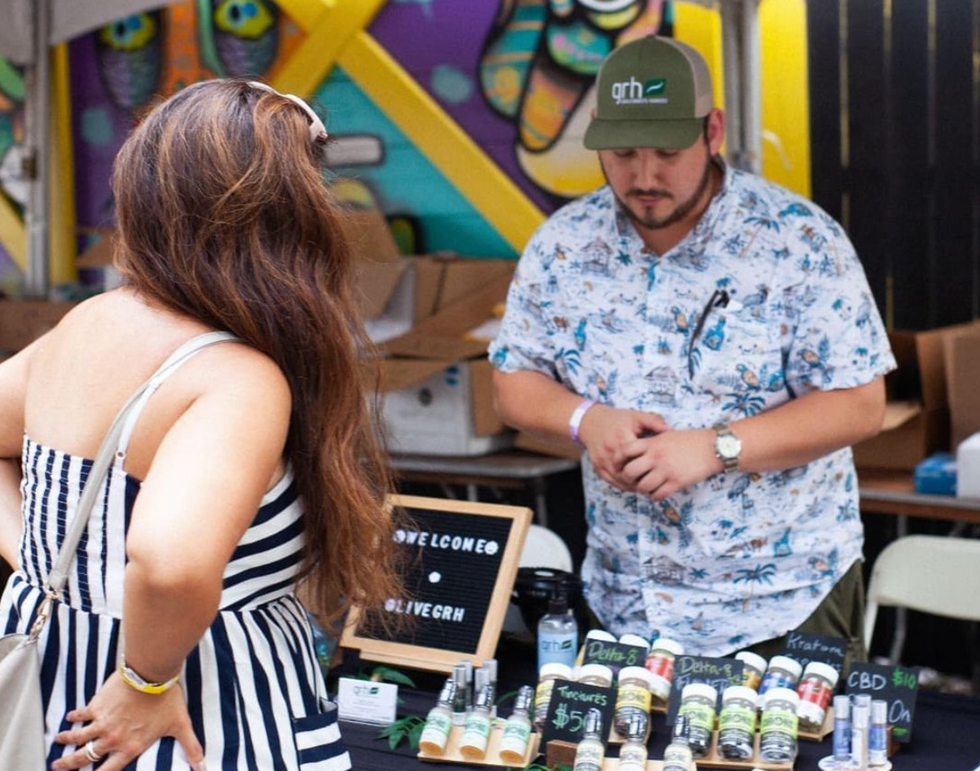 (Grassroots Harvest/Instagram)
Since 87% of Texans support the legalization of marijuana, at least for medical use, per a recent poll, Whyte said he wonders who this legislation is for.
"It's gonna have a massive impact on small businesses—there's just no way around it," Whyte said. "The reality is, we don't want to push out anything bad for our customers, we want this to benefit our customers and to help them. If we can make money while doing it, that's the American dream. What are we doing, whose benefit is this for?"
Delta 8 surged in popularity after the perceived legalization—consumers enjoyed its lower psychotropic potency, decreased anxiety while using it and the peace of mind as a legal way to get high. So in order to protect their products and livelihoods, both Grassroots Harvest and Austin-based manufacturer Hometown Heroes are taking legal action.
Whyte said Grassroots Harvest is suing DSHS, saying their action is creating negative effects in the market. Meanwhile, a Hometown Heroes spokesperson said the company is in the process of filing a temporary restraining order that would pause the ban on Delta-8 in the state of Texas.
Threats against Delta 8 are not new—DSHS lost a lawsuit trying to make "smokable hemp products" illegal last year and Texas lawmakers had been considering a bill that would make Delta 8 illegal, though it was dropped after the clarification was made.
Hometown Heroes released a formal statement in response to the DSHS rule.
"I need to be clear—we love Texas, we're just choosing to fight for the will of the people in regards to cannabis in Texas," Hometown Hero CEO Lukas Gilkey said in a statement. "(Texas DSHS) are using backhanded ways to create legislation and go against the will of the people."
Whyte laments the fact that it would be easier legally to "open up a strip club that also sells guns," and said he can't post customer testimonials that mention the benefits of Delta 8 without getting hit with a cease and desist from the Food and Drug Administration. Whyte said he isn't opposed to regulation—far from it—he just wants to see it go through the correct channels.
"The fact that they're stunting our ability to communicate with our clients that want to learn about this, you're preventing us from communicating with them and teaching them, or spreading information that we know," Whyte said. "I think that that in and of itself opens up a lot of questions."
Grassroots Harvest still has Delta 8 products on its shelves for the time being but for how long, Whyte doesn't know.
Austin Public Health and other clinics around Austin are now providing booster shots for all three vaccines, including Pfizer, Moderna and Johnson & Johnson, to fully vaccinated individuals after both Pfizer and J & J were approved by the CDC on Wednesday.
APH and Austin clinics, which were already administering the approved Pfizer booster, will begin distributing shots as soon as Friday.
Those who received the second dose of the Pfizer and Moderna vaccine more than six months ago are elligble to receive a booster if they are over 65 or if they are over 18 and:
Live in a long-term care environment
Have underlying medical conditions
Work or live in high-risk settings, such as schools, hospitals or correctional facilities
Those who took the Johnson & Johnson shot are eligible if they are over 18 and received their dose over two months ago.
Austin-Travis County Health Authority Dr. Desmar Walkes said in a media Q&A Friday that APH is encouraging boosters just as much as they have urged residents to get their first and second doses.
"Boosters are incredibly important to keeping our community protected and hospitalizations low," Walkes said. "If we can stay on top of our vaccinations, we provide protections for our most vulnerable and make it that much harder for COVID to spread in our community."
Eligible residents are free to choose the same booster as their first doses or "mix and match," per the CDC announcement.
Those looking for another dose can simply bring their vaccination card to APH centers or the dozens of Walgreens and CVS locations in the metro, which began administering doses Friday.
Additional updated guidance from the CDC allows for all eligible individuals to choose which vaccine they receive as a "mix-and-match" booster dose. It is advised to remember to bring your CDC COVID-19 Vaccination Card showing the original doses with you when going for booster shots.