Get connected with our daily update
Fourteen years after the city of Austin purchased the former Home Depot site at I-35 and St. John's Avenue in 2007, City Council voted unanimously on Thursday to begin negotiations to redevelop it, with construction slated to start as soon as next year.
---
Real estate developer Greystar and the Housing Authority of the City of Austin have proposed a plan for the 19-acre site that includes:
A 3-acre public park with a splash pad, playground and community garden
280 affordable rental units
15,000 square feet of community retail and support services space for tenants such as grocers, vocational training centers and child care
Greystar and HACA have also agreed to pay off more than $10 million in city debt. Because the city purchased the property using 2006 bonds with the intention of building a police station or courthouse, this debt needs to be paid off before the site can be used for a different purpose that better aligns with the community's goals.
District 4 Council Member Greg Casar has been involved in this effort since before taking office in 2016. "It took way too long, but it's clear that the community pushing and wanting to keep people in the neighborhood … has finally gotten us to this point," he told Austonia.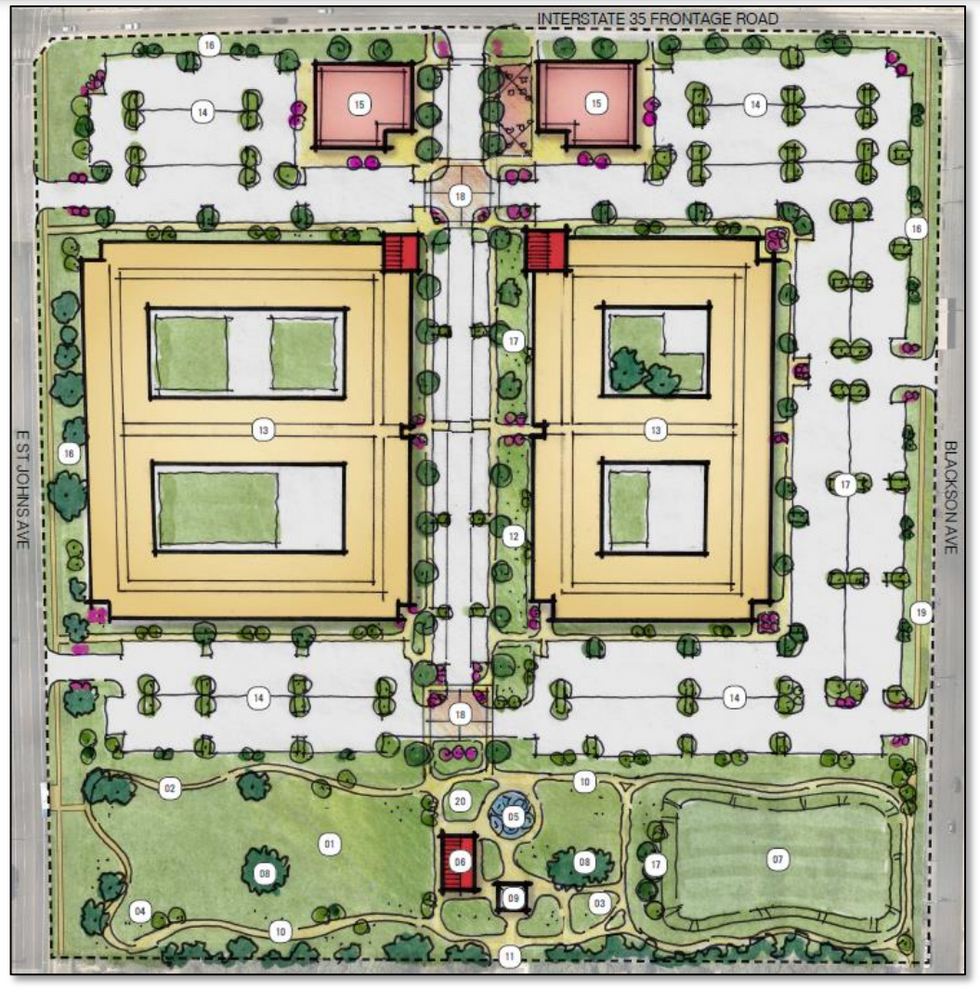 The proposed redevelopment includes affordable housing, expanded park space and commercial space. (TBG and Brent Design)
'A step in the right direction'

During the negotiations process, council has instructed staff to secure affordable homes for purchase in addition to rental units and right-to-stay and right-to-return programs that serve people who have been displaced by gentrification.
Cherelle VanBrakle grew up in the St. John's neighborhood and works at the People's Community Clinic, which is less than a mile away from the site. "I obviously love Austin," she told council on Thursday. "In the same breath, I cannot afford to live in Austin."
VanBrakle purchased a home in Manor four years ago after her mortgage broker told her she couldn't afford anything in the 78752 ZIP code—or anywhere else in the city of Austin. But she remained involved in the years-long community engagement process that led to the current proposal. "This is a step in the right direction," she said, urging council to support the proposal.
Thelma Williams, a St. John's resident known as Grandma Wisdom, is hopeful that the redevelopment will bring more job opportunities and social services to a community that sorely needs it. "The social issues are my great concern, and I think many of the things that we can do with this development will help with some of those issues," she told council.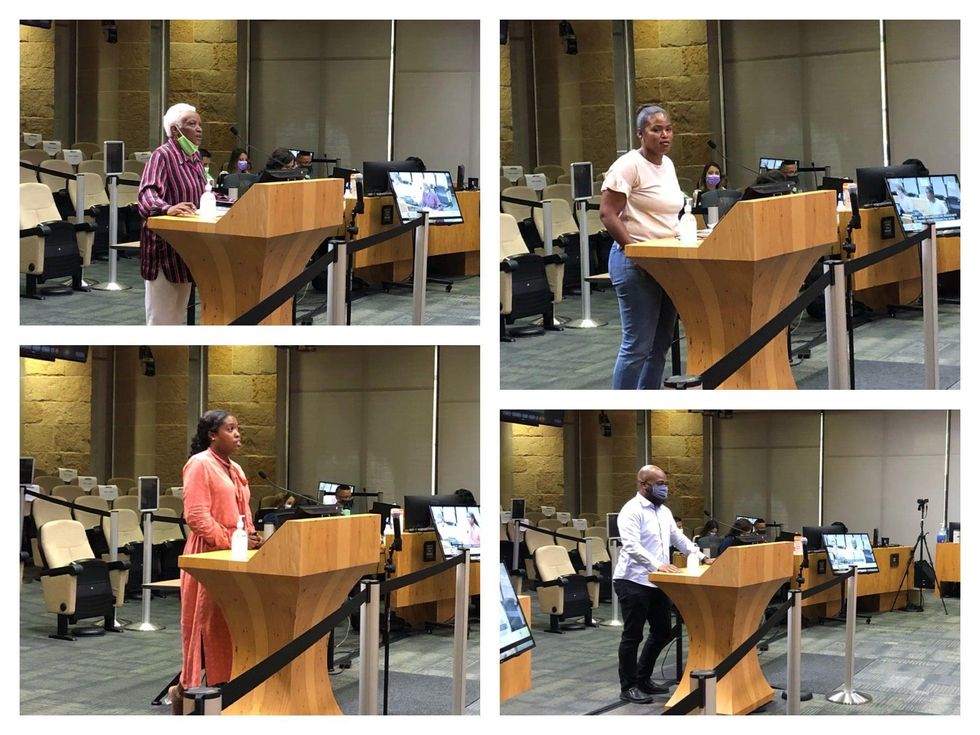 Thelma Williams, top left, and Cherelle VanBrakle, top right, were among the community members who spoke in support of the redevelopment proposal during the Thursday council meeting. (Council Member Gregorio Casar/Facebook)
Honoring the past

The former Home Depot (and current COVID testing) site is both a "symbol of blight and neglect," as resident Hakim McClellan said Thursday, and sacred ground with a rich history.
In the late 1890s, the St. John Regular Missionary Baptist District Association purchased 350 acres of land, spanning ACC Highland to Blessing Avenue, just West of Cameron Road. It served as a Freedman community, where formerly enslaved people could find work as sharecroppers, as well as home to an orphanage and school.
"In so many ways, while we had land, we were in an area where we didn't get a lot of participation from the larger community," Precinct 1 Commissioner Jeffrey Travillion said at a Friday press conference. "So what we see today is a sea change."
For many Black Austinites, the redevelopment serves as an important opportunity for the city to honor the history of the St. John's neighborhood, even as its demographics shift. Its population is now majority Latino, and its share of Black residents has shrunk from 13% in 2000 to 8.4% in 2017, according to U.S. census data.
"When the city of Austin ... moves forward with the redevelopment and rebuilding of this area, what the city is saying is that they are concerned about that segment of the community and that they're being intentional about lifting up … everybody who is in the St. John's area," Rev. Daryl Horton, a pastor at Mt. Zion Baptist Church in East Austin and member of the St. John Regular Baptist District Association, told Austonia. "And this becomes a shining light of what makes Austin a wonderful city to live in."
Five Austin companies joined Google's second Startups Black Founders Fund on Wednesday, earning $100,000 each as part of the $10 million initiative geared toward giving Black entrepreneurs access to funding for their startups.
The fund gave $100,000 to 50 founders nationwide, including Austin companies CustomerX.i, Journey Foods, Sandbox Commerce, The Mentor Method and Tadeblock.
The founders will receive the funding without giving up any ownership of their startups and will gain access to Google technical support including up to $120,000 in donated search Ads from Google.org and up to $100,000 in Google Cloud credits. The Austin companies will also join a select few—the fund is only two years old and last year rewarded 76 Black-led startups with up to $100,000 as well.
Google's Startup funds can be used to boost Black founders' companies into success—last year, founders raised up to $50 million in capital after recieving the funds, and 80% of the companies used their funds to create jobs.
Founders from last year's batch then paid it forward by nominating new companies and announcing the winners via Zoom.
Here's a look at those 5 founders in Austin:
A member of the Independent Citizens Redistricting Commission (ICRC) contacted council members asking for their home addresses despite a charter provision prohibiting the ICRC from considering such information in its mapping process, according to emails obtained by the Bulldog through a public information request.
Four council members or their staffers replied providing home addresses: Alison Alter, Paige Ellis, Mackenzie Kelly, and Leslie Pool, according to the emails dated August 9th to Aug. 17.
Austinites will once again be able to take a nonstop flight to London as Austin-Bergstrom International Airport resumes transatlantic travel this fall.
Starting Oct. 13, British Airways will offer its direct flight from ABIA to London-Heathrow Airport three times a week on Wednesday, Friday and Sunday. The airline, which has been operating in Austin since 2013, had halted service at the start of the pandemic over a year ago.
"We can't wait to welcome our customers back on board our Austin flights and we are honored to be playing our part in reuniting families and friends with their loved ones after such a long time apart," said Marie Hilditch, British Airways' head of North America sales.
Safety protocols the airline is taking include:
social distancing measures
wearing of facemasks
providing hand sanitizer stations
cleaning all surfaces after every flight
fully recycling the air once every two to three minutes through HEPA filters, which remove microscopic bacteria and virus clusters with over 99.9% efficiency
The announcement comes as COVID-19 testing requirements to enter the UK are scheduled to stop on Oct. 4. for vaccinated Americans.
Additionally, a Monday White House announcement allows fully vaccinated international travelers to enter the U.S. starting in early November with proof of a negative COVID-19 test. The ban, which was implemented in 2020, restricted travelers from a number of European countries, Iran and China throughout the pandemic.