Get connected with our daily update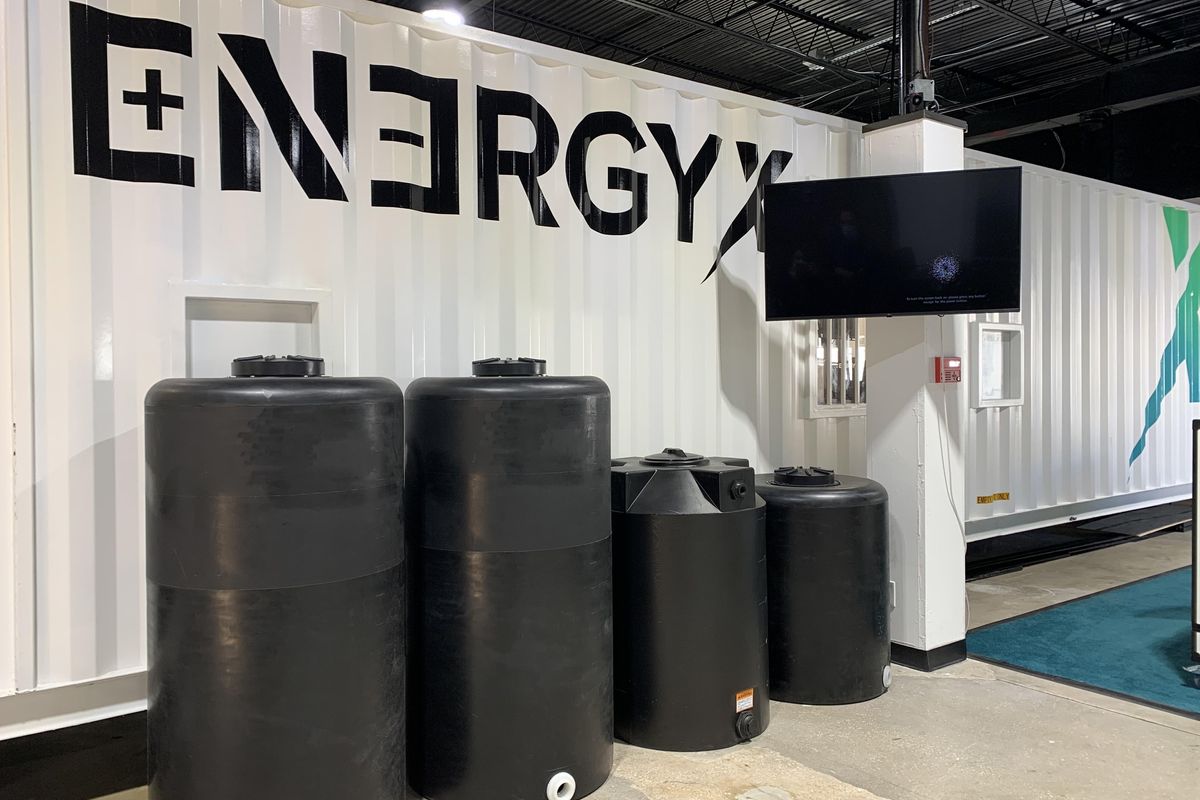 Teague Egan wanted to be at the center of renewable energy. As CEO of EnergyX, a startup focused on extracting lithium to be used in electric vehicles, that center is in Austin, where he's tripling his team and moving into a site five times the current lab's size this summer.
---
Starting off in the Bay Area in 2018, the company moved to Austin in June 2021. Egan says it's building up its battery team, field operations and scientists working on lithium extraction. But the big project the company has under its belt is a pilot program to extract lithium reserves in Bolivia, where a quarter of the world's known lithium is.
Austonia toured the company's 6,000 square foot site near the Heritage Hills neighborhood in North Austin. The office area had a laid-back, humble setting. A small dog named Molly barks out from one of the offices, another worker is blow-drying their hair in the middle of the workday and there's a company book club, which is currently reading "Make Your Bed" by William H. McRaven.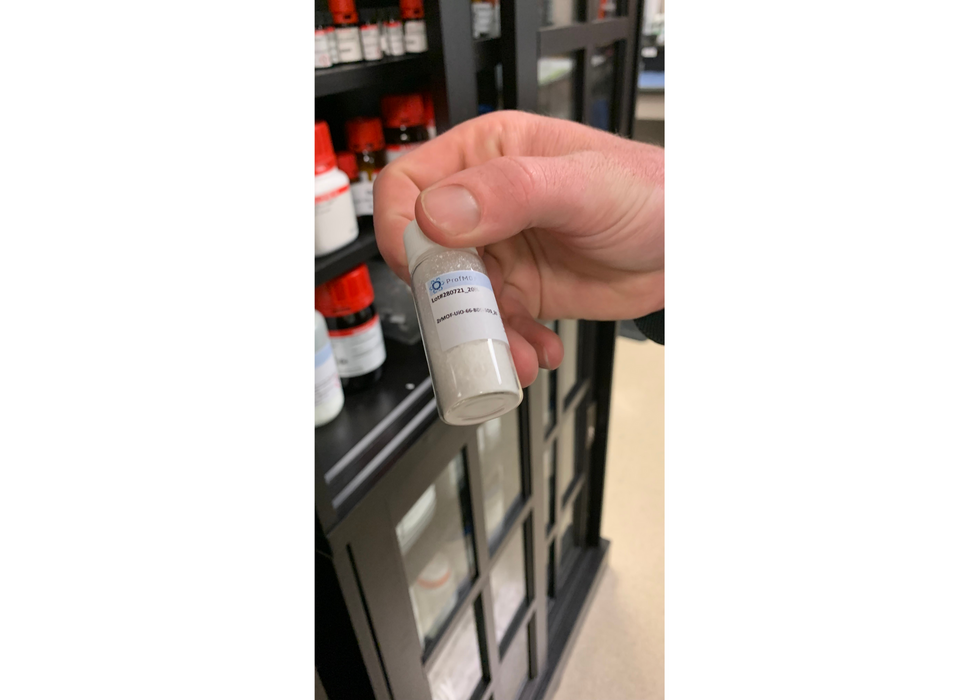 Egan holds a container from the nanomaterials library. (Andrea Guzmán)
But the lab area carries a different atmosphere. Before walking in, goggles are needed. Racks, known as the nanomaterials library, house almost 1,000 materials that are used to do experiments.
Especially important to its mission of helping to reduce CO2 emissions, the company works with samples of lithium in its raw form to refine it for batteries. If a series of in-field pilot plants are successful, it can be ready for market by early 2023. "I think they are motivated by that or else they wouldn't be working at the company. It's kind of a prerequisite in the interview process," Egan said.
Egan, who's 33, says he wants to foster creativity with more hires and expand their patent portfolio.
With a hint of sentimentality, he turns to the organization chart, which features about 30 current employees. With a hint of sentimentality, he gestures to his screen. "This used to be just this little thing," Egan said.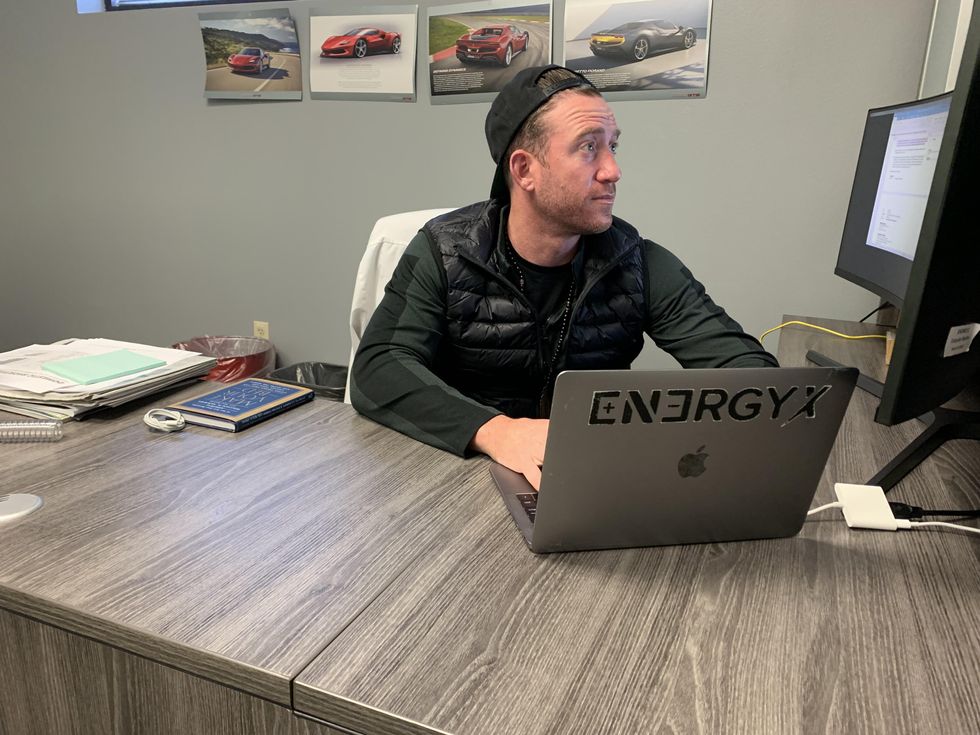 In his office, Egan talks to Austonia about his average week, which includes meetings focused on batteries, business development, lithium separation and more. (Andrea Guzmán)
Having the home base in Austin was important to Egan. Being right by Tesla's headquarters was key, he says, despite some people leaving the startup to work there. And observing that the major tech titans are here, like Google, Apple and Meta, Egan knew the talent pool would be strong. Venture capital is also plentiful.
"Pair that with the culture of the food and the music and the vibes, it's just a really good place, I think, to start a company," said Egan, who is toying with the idea of having a company presence at South by Southwest.
Plus, the University of Texas at Austin is an important partner. UT is where they licensed their first four initial patents. They've now expanded to 43.
The team has worked with John Goodenough, who invented the lithium-ion battery. At nearly 100 years old, his capacity at the company isn't much, but his last Ph.D. student is the vice president of battery technology at Energy X and the company also employs another student who worked with Goodenough for a decade.
Egan is aware that he lacks experience, but when his father told him to make two lists: one with his top five passions and another with the five industries he thought would grow the fastest in the coming decades, renewable energy came out on both.
As EnergyX proceeds with its pilot in Bolivia, it will compete with seven others across the globe approved for the pilots whose results will determine access to commercial operations there.
"I feel like we have a pretty good head start over some of the competition," Egan said. "I wasn't really focused on what they were doing. I'm trying to run my own race."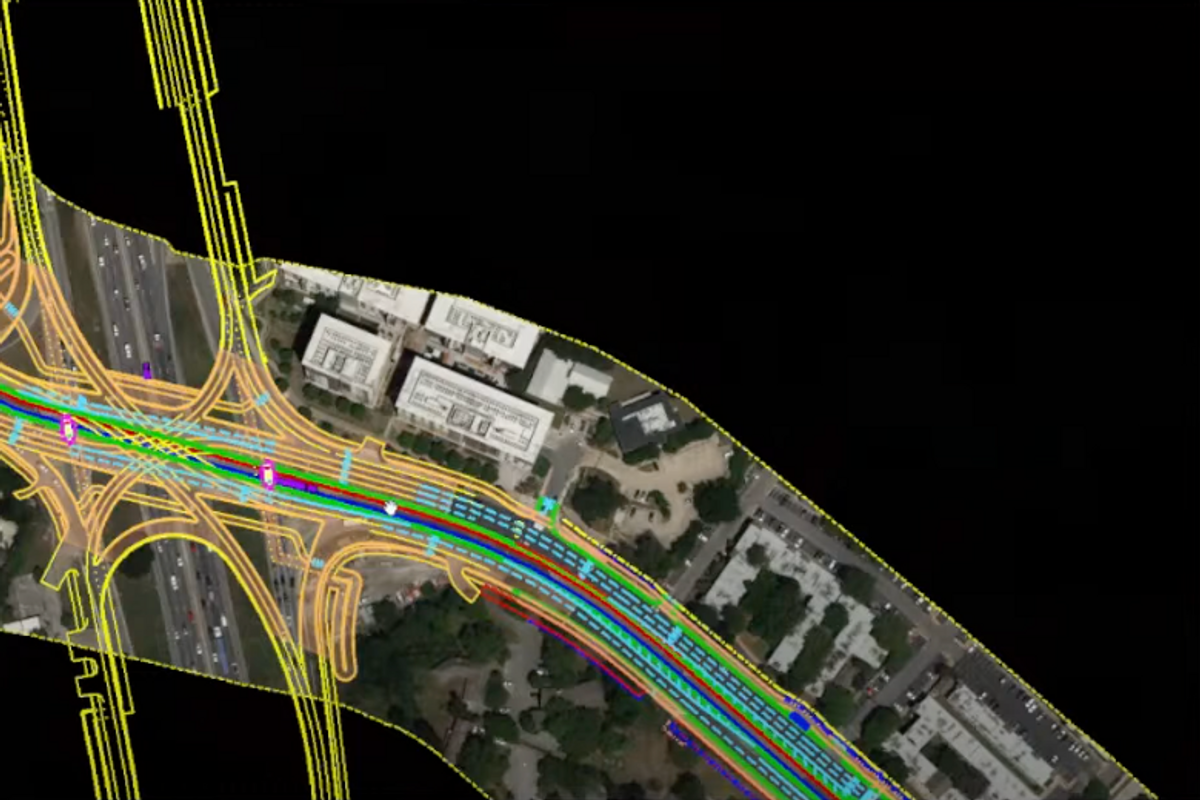 Designs for stations along Project Connect's Blue Line were presented this week, giving a detailed look at what part of the rail system extending from downtown to the airport could look like.
The planned stations that have gotten the latest focus include Waterfront, Travis Heights and Lakeshore stations past Lady Bird Lake.
At the Waterfront station, the preliminary design aims to prevent visual obstructions and save on costs. This is accomplished by a transit guideway that will lower from the bridge to a level station.
Heading onto East Riverside Drive, the light rail faces a curve requiring a slow down to about 10 miles per hour.
The Travis Heights station could involve relocating a pedestrian crosswalk zone at Alameda Drive to Blunn Creek. Since light rails can't effectively operate on a steep grade, this allows the transit guideway to avoid that.
From there, the rail will extend to the Norwood Park area, and though it will reach along the right-of-way zone, the park will be able to remain open.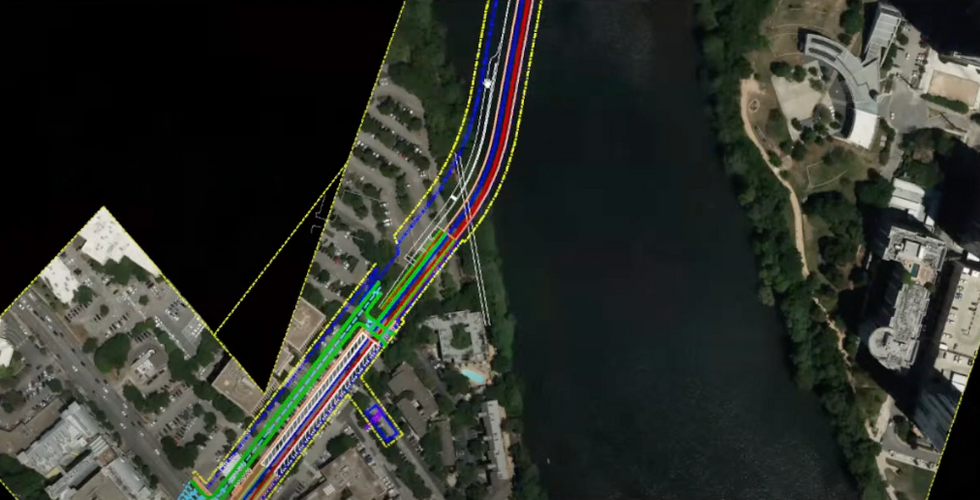 A view of the Blue Line by Lady Bird Lake. (Project Connect)
The line involves some coordination with the Texas Department of Transportation. That's because the department is working on an intersection that will have to be built before the phasing of the section of the Blue Line involving an I-35 crossing.
When it comes to the safety of cyclists and walkers, design ideas include a pedestrian hybrid beacon by East Bouldin Creek that would provide a protected signal to cross. And for the intersection TxDOT is carrying out, Project Connect is working with them on pedestrian access across the intersection. It could involve shared use paths along the street and crossings beneath it.
This summer, the public can expect 30% of design and cost estimates to be released. Though the project was $7.1 billion when voters approved it in November 2020, the latest estimates factoring in inflation and supply chain constraints show it could ultimately be upwards of $10 billion.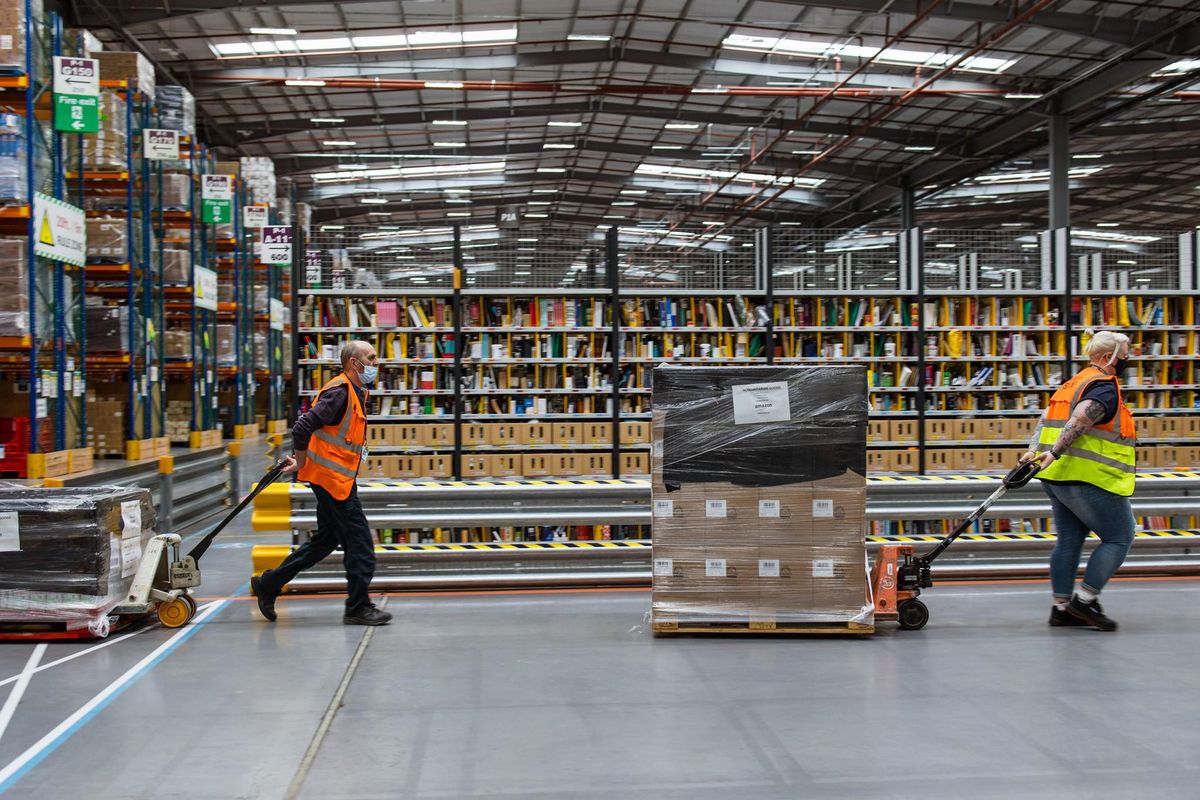 Plans for an Amazon warehouse in Round Rock—a $250 million project slated to be a large distribution center—are on hold.
This comes just after the tech giant had its worst financial quarter in seven years.
The details:
Late last year, it announced an expansion at the Domain adding 2,000 more corporate and tech jobs.
Amazon still owns the site in Round Rock. Plans for it are unclear.
Early this week, the Wall Street Journal reported that Amazon is aiming to scrap warehouse space as it faces a slowdown in its e-commerce operations.
Part of that effort involves exploring the possibility of ending or renegotiating leases with outside warehouse owners. Another aspect is a plan to sublease warehouse space.
"It allows us to relieve the financial obligations associated with an existing building that no longer meets our needs," an Amazon spokeswoman told the Wall Street Journal. "Subleasing is something many established corporations do to help manage their real estate portfolio."