Never miss a story
Sign up for our free daily morning email...
...and afternoon text update
Get connected with our daily update
(Pixabay)
When the Texas Legislature convenes later this month, lawmakers will consider a number of bills that seek to preempt cities and counties from governing themselves. So far, those filed propose to transfer control of the Austin Police Department to the state and prevent local government entities from hiring lobbyists, or even maintaining their in-house staff, to advocate on their behalf at the Capitol.
---
"We do have to take a defensive posture to a lot of bills," said Brie Franco, intergovernmental relations officer for the city of Austin. "The Legislature sets a lot of priorities for us."
In the past, Franco's office has advocated against bills that would have compromised the city's nondiscrimination protections, such as the controversial bathroom bill that lawmakers debated in 2017, and its short-term rental regulations, which Franco said were implemented in part due to residents' concerns about party houses, despite objections from companies such as Airbnb and HomeAway.
This year, the city and county's intergovernmental relations offices face similar challenges—with the added obstacles posed by the pandemic, which has strained government resources and will likely limit access to the Capitol.
"We are going to have what I consider a much more conservative agenda," Travis County Intergovernmental Relations Officer Julie Wheeler told commissioners Dec. 15. "It's going to be focused much more on playing defense than really trying to push many initiatives this session."
A budget crisis
Texas Comptroller Glenn Hegar estimates the state will face a $4.6 billion shortfall this fiscal year due to pandemic restrictions on businesses and recent volatility in oil prices. Cities and counties will also likely be impacted.
"I think the impact of the coronavirus on city budgets, on county budgets is huge," Texas Municipal League Executive Director Bennett Sandlin told Austonia.
This is due to a combination of factors: a decrease in sales tax revenue due to business closures and other financial strain combined with a steady, if not increasing, demand for city services.
Although the U.S. Congress recently decided to extend the deadline by which cities and counties must spend their CARES Act relief dollars, lawmakers did not approve any substantial new assistance for local governments.
A law passed during the last legislative session also further constrains local governments' finances. In 2019, lawmakers passed a property tax revenue cap, which limits cities and counties from raising their property tax rates above a certain threshold. Although the bill would have allowed for an emergency exception during the pandemic, nearly every local government observed the new law, citing the financial pressures facing their constituents, according to the Texas Municipal League.
"Something has to give if revenues are down," Sandlin said, adding that this will likely take the form of cutbacks in park budgets, infrastructure maintenance, library opening hours and other local services.
'Political theater'
Despite the protests against police violence over the summer, and pushes for criminal justice reform, Sandlin said there is not a big appetite for police budget cuts across the state.
In Austin, however, local elected officials and state Republican leaders continue to spar over local control when it comes to contentious issues, such as public safety and the pandemic.
Gov. Greg Abbott announced last month that the Legislative Council, a nonpartisan agency that helps lawmakers draft legislation, had sent draft language for a proposed law that would transfer control of the Austin Police Department to the Texas Department of Public Safety. The city of Austin would still be required to fund the police department under the proposal.
Just in time for Christmas: The Legislative Council has sent draft language for a proposed law that would transfer… https://t.co/pii7xtaAxg

— Greg Abbott (@Greg Abbott)1608573823.0
Abbott expressed support for such a move earlier this year after Austin City Council cut the police budget by approximately 5%.
The main impact of the decision was the elimination of funding for three upcoming police cadet classes. The APD training academy has come under fire in recent years for its "fear-based" and "paramilitary" approach to training, discriminatory recruiting practices and attrition rates.

The decision was applauded by criminal justice reform advocates and decried by police unions and state Republican leaders, who blamed the city's rising murder rate on the recent cuts.
Overall, however, the city's violent crime rate has actually decreased slightly in 2020, and APD's own officials have questioned the link between violent rates and the council's recent policy decisions.
State Sen. Sarah Eckhardt called the draft legislation "political theater" in a statement, adding that if the bill were approved it "would trample on the rights of local governments and citizens of Texas' largest cities" and "would allow him to seize local police departments, seize local assets, seize local taxes, and subvert the ability of voters to determine their relationship with their local police officers."
Access to the Capitol
Another concern is that, while state lawmakers debate these critical policies, local government entities and concerned constituents may have less access to them than they normally do because of the pandemic.
"I hope there's a workaround, but I just don't know," Sandlin said. "If they don't let you in the building, are you going to be allowed on a Zoom call? If not, who's going to speak for those cities?"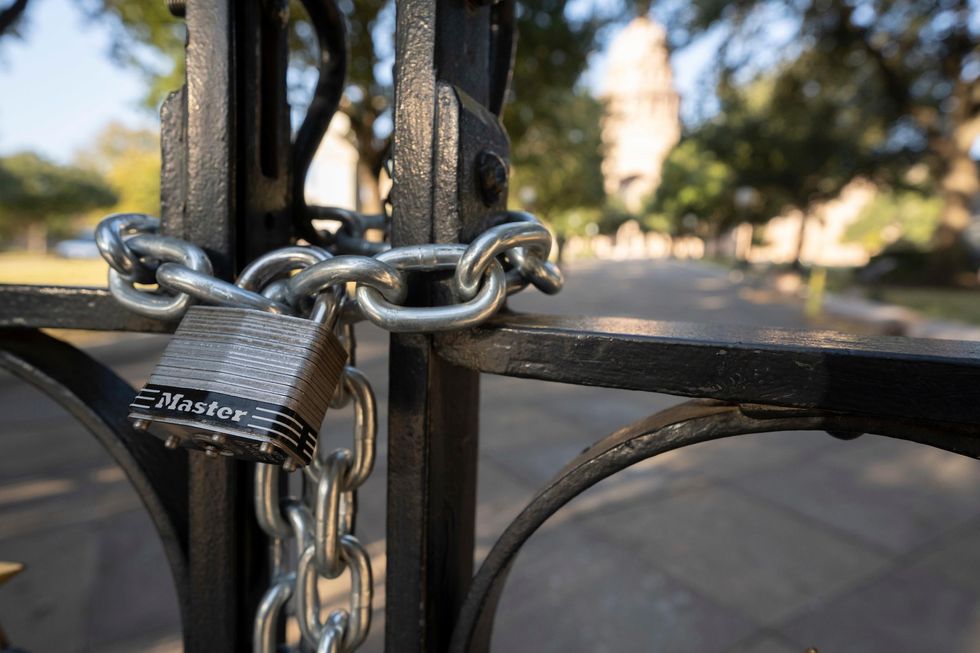 The Texas Capitol was closed due to the pandemic. (Bob Daemmrich)
Abbott announced that the Texas Capitol will reopen on Jan. 4. It has been closed for much of the year, due to the pandemic and concerns about protests over the summer.

The state House and Senate will vote on their respective COVID protocols at the beginning of the legislative session, which will convene on Jan. 12.
Franco is "very concerned" about the public's access to the session but said there is a path forward, as demonstrated by the city of Austin, which has seen increased public participation in recent months due to the option for residents to call in to public meetings. Without the requirement to attend in person, access has actually widened.
"The pandemic … will limit how we can go and advocate at the Capitol," she said, "but it shouldn't limit democracy."
First score made by LAFC. (Sonia Garcia/Austonia)
Austin FC couldn't find the stamina to fight off a 2-0 loss against LAFC for their inaugural match on Saturday.
The match, which saw No. 21 Austin FC go head-to-head with No. 2 LAFC in Los Angeles, was broadcast nationally on FOX and FOX Deportes.
Eleven players took the stage as Austin FC players for the first time, with five starters making their MLS debut. "Ringleader" Alex Ring took the captain's armband and wore it well. The defensive midfielder could be seen leading his teammates through their first ever match, but it wasn't enough to stage an Austin takeover in LA.
In the signature style of Head Coach Josh Wolff, the team played with quickness and intensity, nearly connecting on several fast breaks. It was harder for them to stay in front, however, something that Wolff credits with quick decision making and a tough LAFC defense.
"We have a quick attacking team, but I think when you make quick attacks and it fizzles it's just about some decision making," Wolff said. "Are we in position to finish attacks? If not, can we reestablish our attack and get stuff better?"
The club was given some generous breaks from No. 2 LAFC, who had one or both of their star DPs out for the half. While forward Diego Rossi is out for the entire match due to a hamstring injury, Carlos Vela was accidentally pulled too soon on what turned out to be a miscommunication.
"He gave us the sign that he needed to come off," LAFC Head Coach Bob Bradley said on broadcast. "I can't say more than maybe it's my fault."
LA pulled some dramatics and slowly gained more possession throughout the half, but ATXFC's defense wasn't initially as shaky as it seemed in preseason. Jhohan Romana has pulled his weight in getting the ball out of goal, and a 34-year old Matt Besler held his own in center back.
As the second half commenced, however, it became clear that LAFC had the advantage over Austin's first major league team.
Goalkeeper Brad Stuver had his work cut out for him, fending off 24 shot attempts, 11 of which were on goal. He didn't have much time to prepare, either: in the first 30 seconds of play, Stuver had already made a save to keep the match 0-0.
LAFC finally connected in the 61st minute of play as Corey Baird shot one into the bottom right corner. The team capitalized off their momentum and put one past Stuver a second time, drawing roars of approval from the LAFC crowd.
While some last-minute attempts from Jon Gallagher and others were made, Austin FC didn't have the endurance to bring a tie. After seven additional minutes of stoppage time, the club lost their first match 2-0.
While the scoreboard tells one story, Wolff said that the team did well considering the skill of LAFC and the pressure of their club debut.
"We've got to be realistic," Wolff said. "This is the first time this organization has been in front of TV with an opportunity to show itself and I think there were some promising moments. And we're going to maximize those and continue to try to develop those, but there's lots to build on."
The team may have lost, but it still won the support of thousands of Verde fans, dozens of which made it to watch their team's first match. When Stuver and the team made it to bthe stadium, Los Verdes fans were already there to show support, and Stuver said his wife saw the same back in Austin.

"The moment that we pulled into the stadium, we saw Black and Verde fans cheering us on as we got to the stadium," Stuver said. "During warm up, you can just look around and see different groups sitting in different sections of the stadium and it's just truly amazing to see the support in our first game. We know that we want to give the fans everything, because this we play for the city and we play for them."