Get connected with our daily update
(Pixabay)
When the Texas Legislature convenes later this month, lawmakers will consider a number of bills that seek to preempt cities and counties from governing themselves. So far, those filed propose to transfer control of the Austin Police Department to the state and prevent local government entities from hiring lobbyists, or even maintaining their in-house staff, to advocate on their behalf at the Capitol.
---
"We do have to take a defensive posture to a lot of bills," said Brie Franco, intergovernmental relations officer for the city of Austin. "The Legislature sets a lot of priorities for us."
In the past, Franco's office has advocated against bills that would have compromised the city's nondiscrimination protections, such as the controversial bathroom bill that lawmakers debated in 2017, and its short-term rental regulations, which Franco said were implemented in part due to residents' concerns about party houses, despite objections from companies such as Airbnb and HomeAway.
This year, the city and county's intergovernmental relations offices face similar challenges—with the added obstacles posed by the pandemic, which has strained government resources and will likely limit access to the Capitol.
"We are going to have what I consider a much more conservative agenda," Travis County Intergovernmental Relations Officer Julie Wheeler told commissioners Dec. 15. "It's going to be focused much more on playing defense than really trying to push many initiatives this session."
A budget crisis
Texas Comptroller Glenn Hegar estimates the state will face a $4.6 billion shortfall this fiscal year due to pandemic restrictions on businesses and recent volatility in oil prices. Cities and counties will also likely be impacted.
"I think the impact of the coronavirus on city budgets, on county budgets is huge," Texas Municipal League Executive Director Bennett Sandlin told Austonia.
This is due to a combination of factors: a decrease in sales tax revenue due to business closures and other financial strain combined with a steady, if not increasing, demand for city services.
Although the U.S. Congress recently decided to extend the deadline by which cities and counties must spend their CARES Act relief dollars, lawmakers did not approve any substantial new assistance for local governments.
A law passed during the last legislative session also further constrains local governments' finances. In 2019, lawmakers passed a property tax revenue cap, which limits cities and counties from raising their property tax rates above a certain threshold. Although the bill would have allowed for an emergency exception during the pandemic, nearly every local government observed the new law, citing the financial pressures facing their constituents, according to the Texas Municipal League.
"Something has to give if revenues are down," Sandlin said, adding that this will likely take the form of cutbacks in park budgets, infrastructure maintenance, library opening hours and other local services.
'Political theater'
Despite the protests against police violence over the summer, and pushes for criminal justice reform, Sandlin said there is not a big appetite for police budget cuts across the state.
In Austin, however, local elected officials and state Republican leaders continue to spar over local control when it comes to contentious issues, such as public safety and the pandemic.
Gov. Greg Abbott announced last month that the Legislative Council, a nonpartisan agency that helps lawmakers draft legislation, had sent draft language for a proposed law that would transfer control of the Austin Police Department to the Texas Department of Public Safety. The city of Austin would still be required to fund the police department under the proposal.
Just in time for Christmas: The Legislative Council has sent draft language for a proposed law that would transfer… https://t.co/pii7xtaAxg

— Greg Abbott (@Greg Abbott)1608573823.0
Abbott expressed support for such a move earlier this year after Austin City Council cut the police budget by approximately 5%.
The main impact of the decision was the elimination of funding for three upcoming police cadet classes. The APD training academy has come under fire in recent years for its "fear-based" and "paramilitary" approach to training, discriminatory recruiting practices and attrition rates.

The decision was applauded by criminal justice reform advocates and decried by police unions and state Republican leaders, who blamed the city's rising murder rate on the recent cuts.
Overall, however, the city's violent crime rate has actually decreased slightly in 2020, and APD's own officials have questioned the link between violent rates and the council's recent policy decisions.
State Sen. Sarah Eckhardt called the draft legislation "political theater" in a statement, adding that if the bill were approved it "would trample on the rights of local governments and citizens of Texas' largest cities" and "would allow him to seize local police departments, seize local assets, seize local taxes, and subvert the ability of voters to determine their relationship with their local police officers."
Access to the Capitol
Another concern is that, while state lawmakers debate these critical policies, local government entities and concerned constituents may have less access to them than they normally do because of the pandemic.
"I hope there's a workaround, but I just don't know," Sandlin said. "If they don't let you in the building, are you going to be allowed on a Zoom call? If not, who's going to speak for those cities?"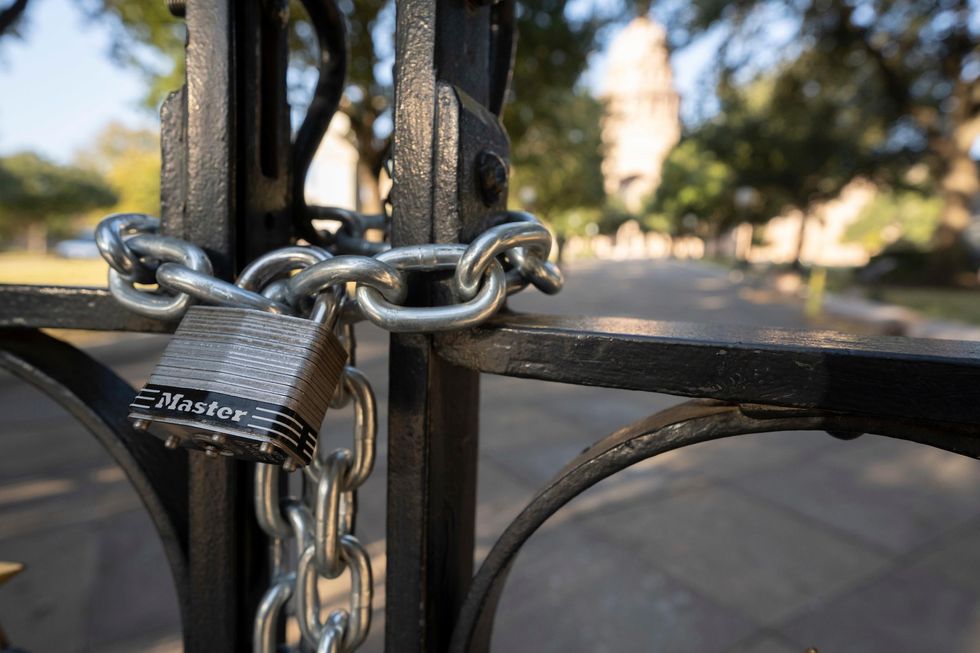 The Texas Capitol was closed due to the pandemic. (Bob Daemmrich)
Abbott announced that the Texas Capitol will reopen on Jan. 4. It has been closed for much of the year, due to the pandemic and concerns about protests over the summer.

The state House and Senate will vote on their respective COVID protocols at the beginning of the legislative session, which will convene on Jan. 12.
Franco is "very concerned" about the public's access to the session but said there is a path forward, as demonstrated by the city of Austin, which has seen increased public participation in recent months due to the option for residents to call in to public meetings. Without the requirement to attend in person, access has actually widened.
"The pandemic … will limit how we can go and advocate at the Capitol," she said, "but it shouldn't limit democracy."
A bill that would restrict transgender student athletes from playing on school sports teams that align with their gender identity is heading to Gov. Greg Abbott's desk after the Texas House accepted Senate amendments to the legislation in a 76-61 vote Sunday afternoon.
The legislation is now primed to become law, after the state Senate voted 19-12 on Friday to pass House Bill 25, authored by state Rep. Valoree Swanson, R-Spring, and the House voted to concur on Sunday. The Senate floor vote followed a swiftly held committee meeting where a 24-hour notice rule was suspended and the Senate's Health and Human Services Committee voted to advance the legislation. Under HB 25, students would only be permitted to compete on sports teams that correspond to the gender listed on their birth certificate that was assigned at or near the time of birth.
Friday's vote is the fifth time this year the Senate has passed legislation targeting transgender youth participation in school sports. Gov. Greg Abbott and Lt. Gov. Dan Patrick have pushed for the legislation during this year's sessions. With HB 25 advancing, Texas joins at least five other states that have passed such legislation.
Critics of the legislation, including transgender advocates, say it unfairly targets transgender children and puts them and cisgender children at risk for being discriminated against.
Getting the bill through the House proved to be a major hurdle for lawmakers this year after legislation faltered in the lower chamber during the regular session and two subsequent special sessions, which included a House quorum break.
The birth certificate requirement under HB 25 goes further than rules from University Interscholastic League, which governs public school sports in Texas. According to UIL rules, gender is determined by a student's birth certificate, though the governing body also accepts birth certificates that were modified to match a student's gender identity. UIL has said the process for checking birth certificates is left up to schools and districts.
HB 25 would disallow acceptance of modified birth certificates by requiring a student's gender to be determined by their original birth certificate unless their original certificate contained a clerical error. However, the process for how a birth certificate will be checked for whether it has been legally modified is unclear.
An amendment was added in the House, but later removed in the Senate, to the legislation that defined "biological sex" as "the physical condition of being male or female as determined by the sex organs, chromosomes, and endogenous profile of the individual at birth." Another House amendment ensures the legislation complies with state and federal laws related to the confidentiality of student medical information.
Swanson has said that the intention of HB 25 is to "protect the right to fair competition in sports" for women and girls and uphold Title IX, a federal law that prohibits education institutions that receive federal funds from discriminating on the basis of sex.
State Sen. Charles Perry, R-Lubbock, who authored similar legislation this special session, said during a news conference in support of HB 25 that passage of the bill had "been a long time coming."
"A lot of times we say bills are transformational. This is actually one that drew the line in the sand: that biological females should stay with biological females and biological males should stay with biological males."
During the House floor debate on HB 25, Democrats said legislators should think about the mental burden such legislation would have on transgender children who already predisposed to bullying and thoughts of suicide.
"This [bill] is not about girls' sports, this is about trying to police people and their behavior and their gender expression," said state Rep. Erin Zwiener, D-Driftwood, secretary of the Texas House LGBTQ Caucus.
Major employers within the state have also signaled their opposition to the law, with about 70 employers and investors signing on to a letter from the coalition Texas Competes, speaking out against restrictive state policies that target LGBTQ people.
In the past year, more than half of transgender and nonbinary youth in the U.S. have seriously considered suicide, and 1 in 5 have attempted suicide, according to The Trevor Project's 2021 National Survey on LGBTQ Youth Mental Health. More than 90% of LGBTQ Youth reported that recent politics have negatively impacted their mental health.
Ricardo Martinez, CEO of Equality Texas, an organization that advocates for LGBTQ Texans, said in a statement that HB 25 tells transgender children "that Texas is not a safe place for them to live."
"Transgender kids, adults, and their families are not political collateral," Martinez said. "They deserve every fundamental right and opportunity that all other Texans have."
From Your Site Articles
Related Articles Around the Web
Just weeks after music fest Austin City Limits, Austin will be host to another global event as the Circuit of the Americas hosts Formula 1's United States Grand Prix race for the first time since the onset of the pandemic.
The weekend-long fest will have events stretching from Friday, Oct. 29 through Sunday, Oct. 31 for North America's premier Formula 1 race.
With three days of races, parades and more, it can be hard to know what to expect for an event that COTA chairman Bobby Epstein said would be "the biggest event on the planet this year."
Don't miss a beat: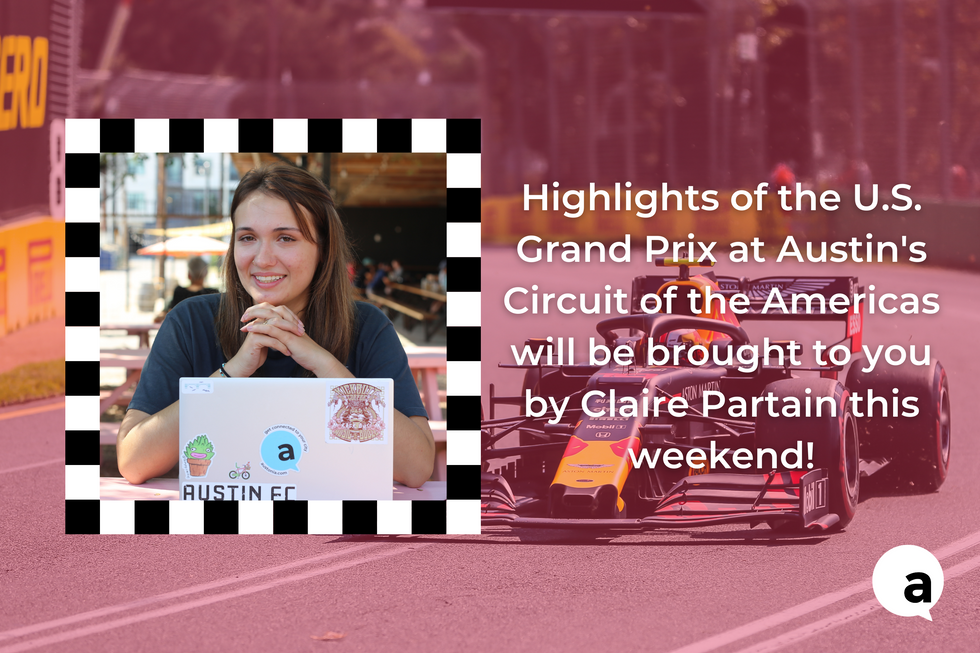 But have no fear. Here's Austonia's complete guide to make sure your trip to the U.S. Grand Prix is out of this world:
What to bring
This is why you shouldn't have a hot mic in COTA Twitter HQ. #USGP pic.twitter.com/9PhcKAVJEe

— Circuit of The Americas (@COTA) October 25, 2018
While some may have bought tickets just for the big race, others are planning for a three-day fest of constant outdoor activity. For the foreigners and out-of-towners, October weather in Austin may not be quite what you expect—many joke that a Texas "fall" is near-nonexistent. Check the weather often to see what's in store.
Our prediction is that shorts or flowy pants/skirts, a short-sleeve shirt and a light jacket may suffice. If it looks like rain is on the horizon, don't forget a poncho and/or small umbrella as there isn't much coverage from the elements once you're there.
Regardless of weather, it's a safe bet to bring sunscreen, sunglasses, a hat and some bug spray as well. Other not-so-typical items to pack in your bag—which should be smaller than 12x12x20 inches—include earplugs for the big race, binoculars and your phone camera to capture those Ferraris at full-speed.
Depending on your seats, don't forget a folding chair, and to pack a sealed plastic water bottle if you can—it's the only type of food or drink that's permitted on the property.
Keep all tents/canopies, coolers and large umbrellas at home. Check out more on what not to bring here.
Make sure you've got your tickets and you're all set!
Parking
trying to get from your parking spot to your seat 15 minutes before the race starts pic.twitter.com/2ly2DDcUVU

— Circuit of The Americas (@COTA) February 8, 2021
COTA's notorious parking can be a doozy—F1 1 fan Kevin Andrew said he's spent two and a half hours in line for the venue's sprawling paved and grass lots.
If you're of the impatient sort, it may be smart to look for some early-bird treatment even before gates open at 7 a.m. Friday, 8 a.m. Saturday and 6:25 a.m. Sunday. Show up well before your first desired event starts, especially on Sunday.
Three-day tickets are already sold out (although you can find some from resellers), while one-day tickets start at $60. Click here to book a one-day ticket.
For those looking to beat the crowd and keep some change, shuttles will pick up from five locations around the city for $15 a day. An additional Park-N-Ride lot, Lot Q, will also allow guests to drop their cars off and take the shuttle to COTA. Click here for shuttle information.
Additional transportation amenities include a drop-off spot for limos, taxis and rideshare apps. Bicyclists will have access to showers in the GEICO Premium RV Lot.
Food, music and more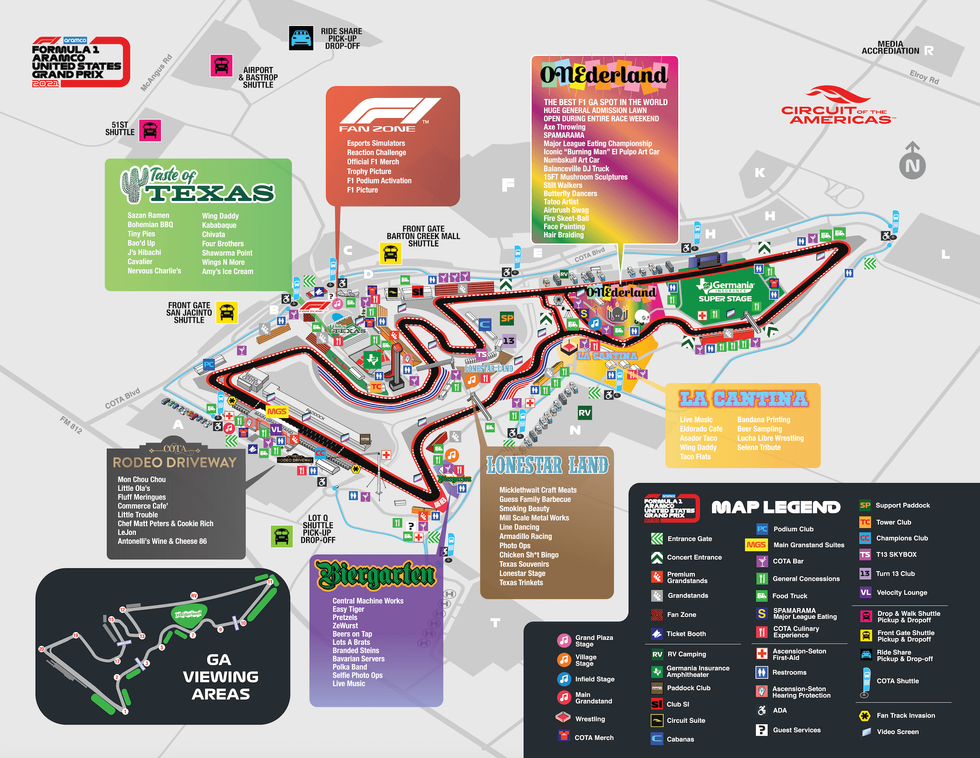 COTA will become a "World Fair"-esque fest full of local eats, live music and out-of-the-ordinary activities as part of the U.S. Grand Prix. (Circuit of the Americas)
Once you've entered those gates, the actual event will be a lot to take in. Anywhere from 300-350K people are expected to attend the big race, and fans are more excited than ever after nearly two years with no F1 in North America.
But just as fun as the big race—at least for more casual viewers—are the many attractions leading up to it.
Some highlights include performances from Twenty One Pilots and Billy Joel on Friday and Saturday, respectively, two races for the all-women's racing championship W Series and junior championship FIA Formula 4, NASCAR demos and a driver's parade on Sunday just before the race.

This is also a chance for Austin to entertain guests from far and wide—like a "World's Fair," as Andrews put it—and COTA will ensure that Austin remains on the map.
The "Live Music Capital of the World" will earn its rep with over 20 concerts across multiple stages on Saturday and Sunday. Highlights include Kool and the Gang and 15 Austin ensembles including The Ghost Wolves, Mobley and three-time Best of Austin winner DJ Chorizo Funk.
That Austin flair is well-represented in cuisine as well—expect over 30 dining options including local favorites Bao'd Up, Easy Tiger, Amy's Ice Cream and Tiny Pies scattered across the grounds. Check out the Taste of Texas section for local eats, the Biergarten for Bavarian beer, food and polka dancing, Lone Star Land for Austin's classic Chicken Shit Bingo and line dancing, and La Cantina for some Tex-Mex and a Selena tribute.
Still not satisfied? COTA's Onederland claims to host the best F1 General Admission lawn in the world and is packed with more than just amusement park rides. Expect the annual SPAMARAMA (yes, a Spam-themed festival,) axe throwing, the Major League Eating Championship and plenty of performers on stilts. Don't forget to ink a COTA-themed tattoo with an on-site tattoo artist as well.
Formula 1—a breakdown
Hamilton and Perez served up a treat with this mini battle 🍿#TurkishGP 🇹🇷 #F1 pic.twitter.com/jOTcurRWue

— Formula 1 (@F1) October 10, 2021
New to Formula 1? You're not alone—the sport has exploded in popularity in North America after gaining recognition from Netflix series "Drive To Survive." With a new track set to open in Miami, that growth will only continue.
Here's what you need to know to get caught up:
Formula 1 vehicles are arguably the fastest road-racing cars in the world. The open-wheeled single-seaters can reach top speeds around 215 miles per hour and all adhere to a "formula" set by the Fédération Internationale de l'Automobile.
Formula 1 is the top formula racing league in the world and consists of 20 drivers across 10 teams who compete in venues across North and South America, Central Asia and its native continent, Europe. F1 has existed in some form for over 70 years and features races on closed city streets as well as purpose-built racetracks like COTA.
The league is massively popular in Europe but has seen intermittent success in North America. The U.S. Grand Prix was first held in 1908 and flip-flopped across 10 different locales for 49 appearances over the next century, last spending seven years in Indianapolis from 2000-2007 before making a home in Austin in 2012.
This U.S. Grand Prix will be its 50th race and will be the 17th race of the season.
The Big Race—Hamilton v. Verstappen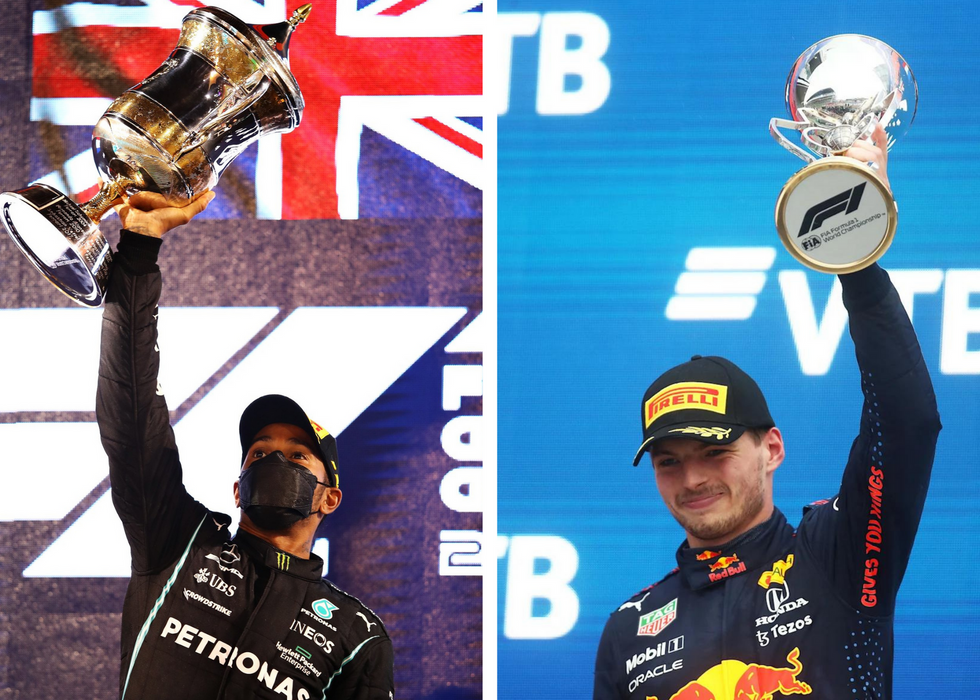 Defending champion Lewis Hamilton is in for some stiff competition from a young Max Verstappen as they fight for the F1 Championship. (Mercedes-AFG Petronas F1 Team/Twitter) (Red Bull Racing/Twitter)
The league's 20 drivers have crisscrossed across the map through the season, adapting to locales across four continents with vastly different terrains. But one factor has remained constant—standouts Lewis Hamilton and Max Verstappen have rarely left the leaderboard.
Just six points differentiate the two-star drivers with over a dozen races in—a margin low enough that the true winner may not be evident until the very end. With 262.5 points, Dutchman Verstappen holds the slight lead over Great Britain's Hamilton and both have over 1.5X the points of the next runner-up, Hamilton's teammate Valtteri Bottas.
Hamilton and Bottas make up Team Mercedes, the No.1 team in the league, while Verstappen and fifth-place Sergio Perez constitute second-place team Red Bull Racing Honda.
The evenly matched team, evenly-matched cars and neck-and-neck standings have brought forth a fan-fueled rivalry that F1 hasn't seen for quite some time.
This U.S. Grand Prix, much like the rest of the season, will be a testament of old vs. new. A 36-year-old Hamilton has taken home seven F1 championships, including a four-year dominance in the sport from 2017-2020, and has won on U.S. turf at COTA five times. Meanwhile, the 24-year-old Verstappen was once the youngest F1 driver and youngest Grand Prix race winner ever and has since finished third for two consecutive years.
The heated rivalry has culminated in three dangerous crashes throughout the season, including one at the Italian Grand Prix Sept. 13. Grand Prix Drivers' Association chairman Alex Wurz said it is "very likely" that they will again.
That next crash site may or may not be at COTA, but the U.S. Grand Prix will still see the two titans clash once more as the season nears its end. Expect either or both to end at the top of the leaderboard, and make sure to bring up either name to a committed fan if you're looking for some sideline banter.
Other racers to look out for include Bottas as a likely third-place contender and some mid-race fun from Perez and fourth-place rival Lando Norris.
For a full weekend schedule click here. Happy COTA days!