Get connected with our daily update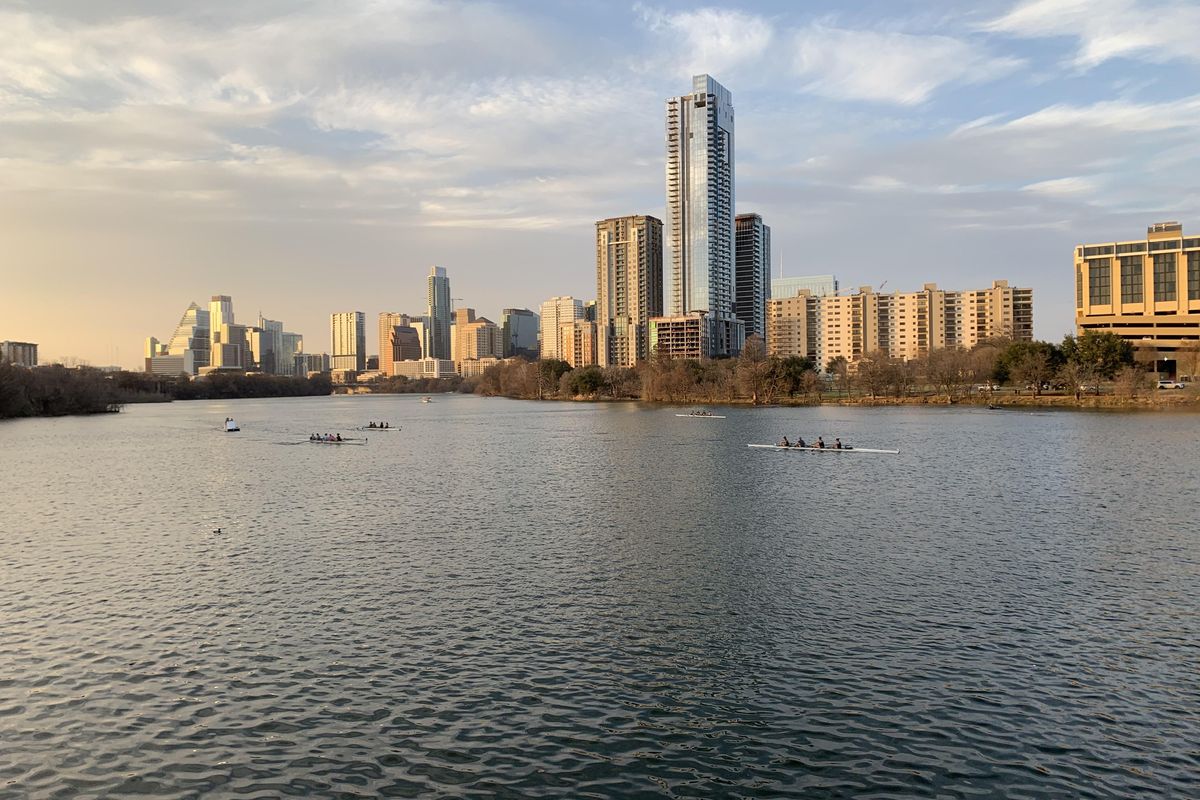 It's a long-time trend that tech workers earn salaries that double or even triple the average salary of other workers in the area, and Austin is no exception.
---
Austin techies are averaging $150,026 annually compared to $78,224 for all other industries. It's following a nationwide pattern where tech salaries average more than 65% higher than other occupations.
The nearly $72,000 difference is seen in a new report on the Central Texas economy by the Austin Chamber of Commerce. The report also shows average annual salaries for all industries have gone up 8.5% from 2020, trailing not far behind the salary growth of nearly 10% for tech jobs in that same time frame.
Tech manufacturing jobs are paying particularly well. The chamber reports salaries tend to be higher in this sector, at $159,593 on average.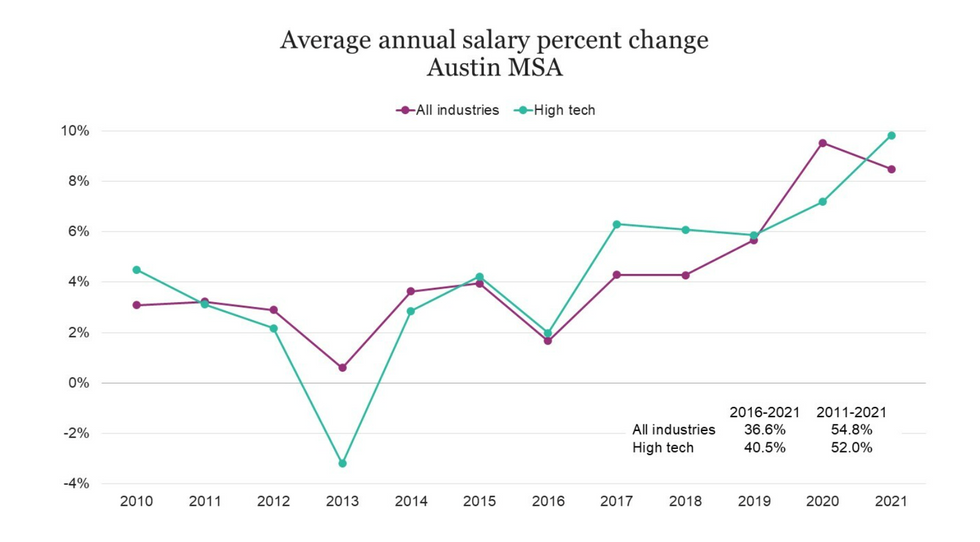 (Austin Chamber of Commerce)
These growing salaries accompany Austin's shining status as a tech hub, with more than 80,000 high-tech information and other IT jobs accounting for a significant share of the jobs here. Tech jobs represent 16.7% of jobs in Austin, compared to 9.2% nationally.
As Austin rides that wave, the city and other groups have made a push to get people into manufacturing jobs and other parts of the tech industry that are hot in Central Texas. Mayor Steve Adler, Workforce Solutions Capital Area and others announced a "hire local" plan in June and talked about the importance of getting Austinites to fill roles of companies growing and relocating here.
But despite these efforts to get locals jobs in the growing tech scene, this income difference comes at a time when affordability woes are causing some longtime residents to feel pushed out. And with a migration out of the city's center comes an impact that's ironic for a tech hub: a digital divide.
A recent study by research organization MEASURE pointed to residents feeling that the growing cost of living is a threat to digital equity. That's because as people are pushed further out due to housing costs, more time and money are required to reach publicly available internet sources.
One participant described a "digital caste system" in Austin.
"We deem some people worthy of resources (and some) people unworthy of other resources… It's not like we lack the money or technology for everyone to have access," the participant said.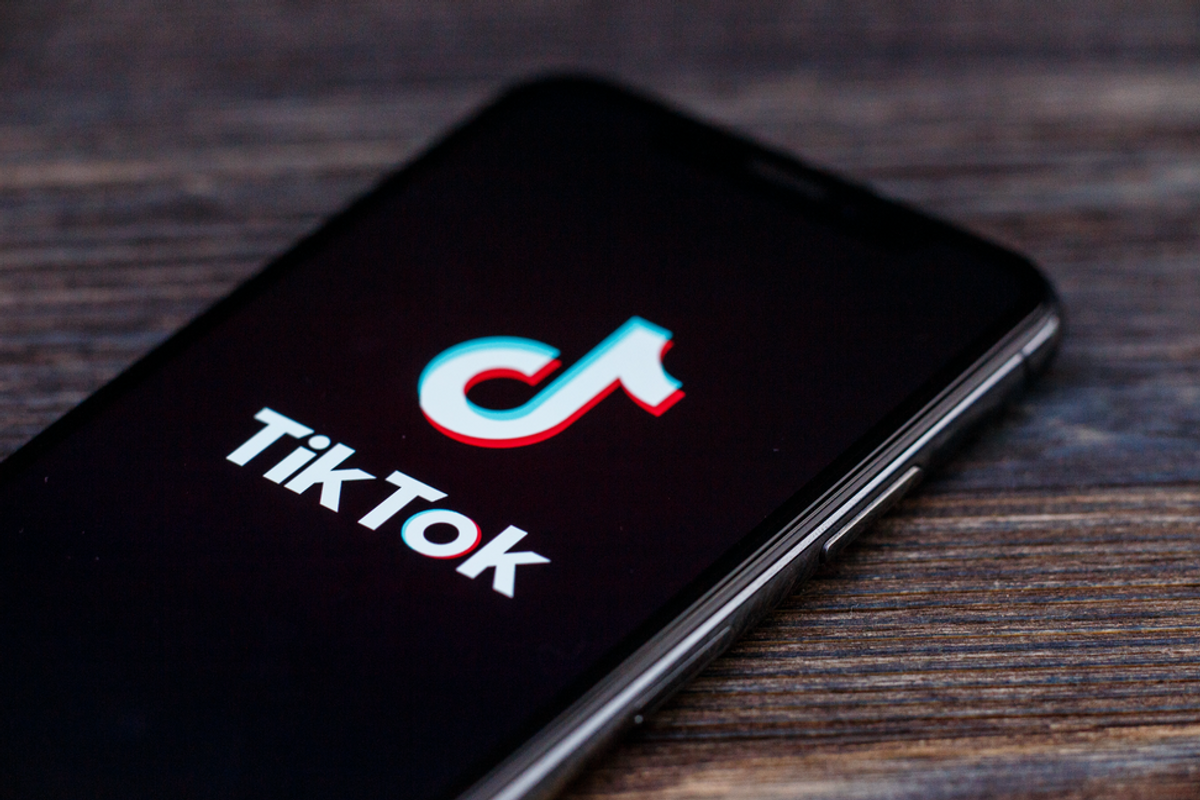 School is back in session—do you know the latest TikTok trends?
With Austin ISD resuming session on Monday, school officials are keeping tabs on the newest TikTok trends that could pose classroom disruptions and property damage.
TikTok trends swept through Austin-area schools last year with the "Devious Lick" challenge, which encouraged students to steal from school property and reportedly caused $15,000 in damages at Round Round ISD; and the "slap a staff member" challenge.
On the distraction end, a substitute teacher was dismissed from Bowie High School in December after bringing in a karaoke machine to class and singing Britney Spears' "Toxic" for the class on TikTok.
Officials told KXAN they are staying aware of the trends as they change during the 2022-2023 school year and the district will investigate perceived threats. Since TikTok trends vary in severity, they will also evaluate to see which trends could cause harm or not.
Finally, the school district said it does not tolerate violence or bullying and will focus its efforts on protecting students both physically and digitally.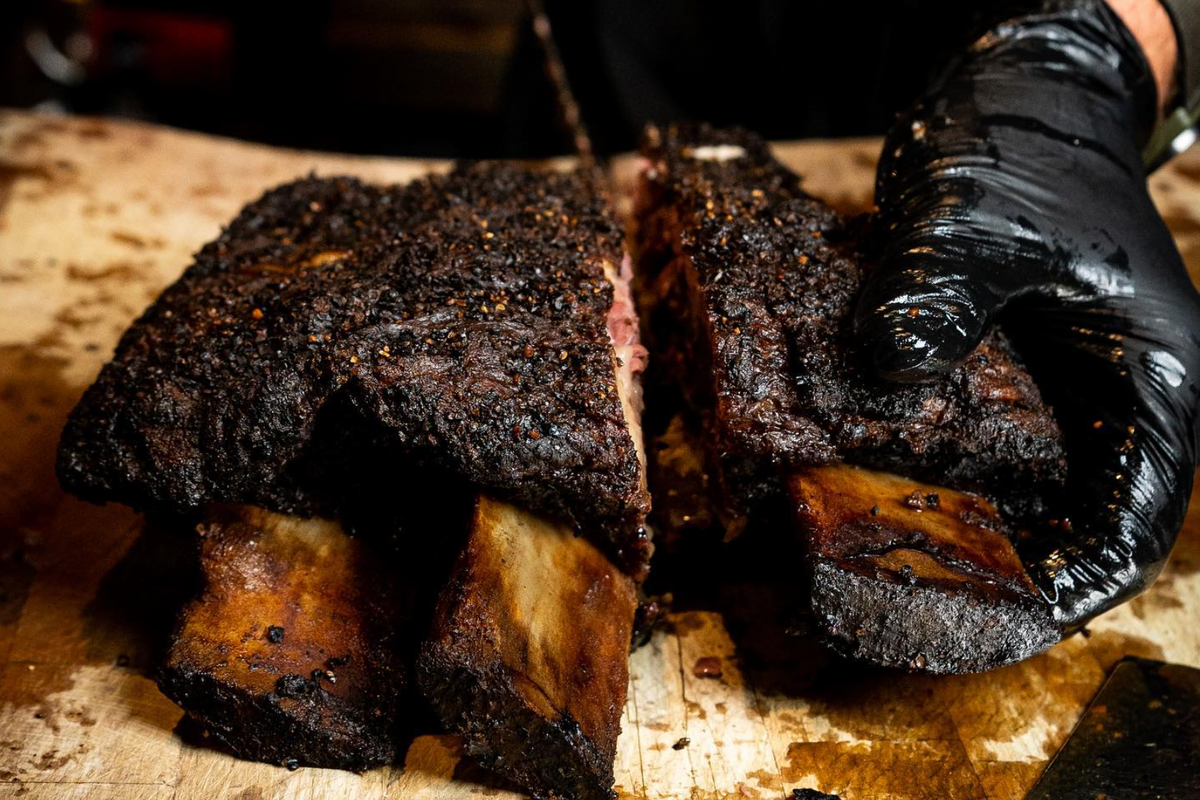 Austin and fellow Texas cities unsurprisingly dominated a new list ranking the top U.S. cities for barbecue.
In a ranking by Clever Real Estate, the capital city ranked No. 2, only beat out by San Antonio. San Jose, California; Nashville, Tennessee; and Las Vegas, Nevada all rounded out the top 5 with Dallas at No. 12 and Houston at No. 18.
The ranking used different metrics to curate the ranking, including restaurants per capita, average Yelp rating and major barbecue events.
Central Texas is a hotbed for famous barbecue joints. Places like Franklin Barbecue promise a line almost year-round and others like Leroy and Lewis Barbecue offer a new school take on the classics.
According to the report, Austin had the second-highest average Yelp rating for BBQ restaurants (4.2 stars out of 5) and scored a 95 out of 100 in our Google Trends metric, which measures how often people search the web for BBQ-related terms. It also had more than double the average amount of barbecue joints per city studied.