Austonia AM
100% Austin news, info, and entertainment, straight to your inbox at 6 a.m. every morning.
In five minutes, you're fully informed and ready to start another great day in our city.
Get connected with our daily update
(MangoNic/Shutterstock)
Before the pandemic started, Adult Care of Austin on Menchaca Road didn't offer telemedicine appointments.
Now, the private practice conducts almost all of its visits virtually, either over the phone or on HIPAA-compliant video platforms.
Dr. Steven Dobberfuhl, an internal medicine physician, said telemedicine saved his practice—and has been a boon to his patients, around 75% of whom are 65 years or older and at high risk of contracting COVID-19.
"I didn't believe it would work as well as it has," he said.
---
Dobberfuhl is not alone.
With policy changes enacted at the state and federal level earlier this year, including requirements that insurance companies reimburse doctors for telemedicine appointments, the technology finally made financial sense for many local physicians.
"Sadly, if it's not getting paid for, it's not getting done," Dobberfuhl said.
Telemedicine—which includes live videoconferencing, recorded videos, remote patient monitoring and mobile health, such as texts—offers convenience and limits doctors and patients' exposure to the coronavirus.
But there were kinks to work out.
"Everything was sort of bottlenecked through telemedicine," said Dr. Terry Rascoe, medical director of telemedicine virtual urgent care for Baylor Scott & White Health, which expanded its telemedicine services early on in the pandemic.
Over the last eight months, however, physicians and patients alike have discovered the benefits of telemedicine—and been able to return to in-person visits where they make sense now that the state has allowed elective procedures to resume.
"It was a crisis period (in March and April)," said Dr. Ashis Barad, medical director of virtual specialty care services for BSW Health. "We were replicating in-person care back then out of necessity. Really the hope now is to enhance care."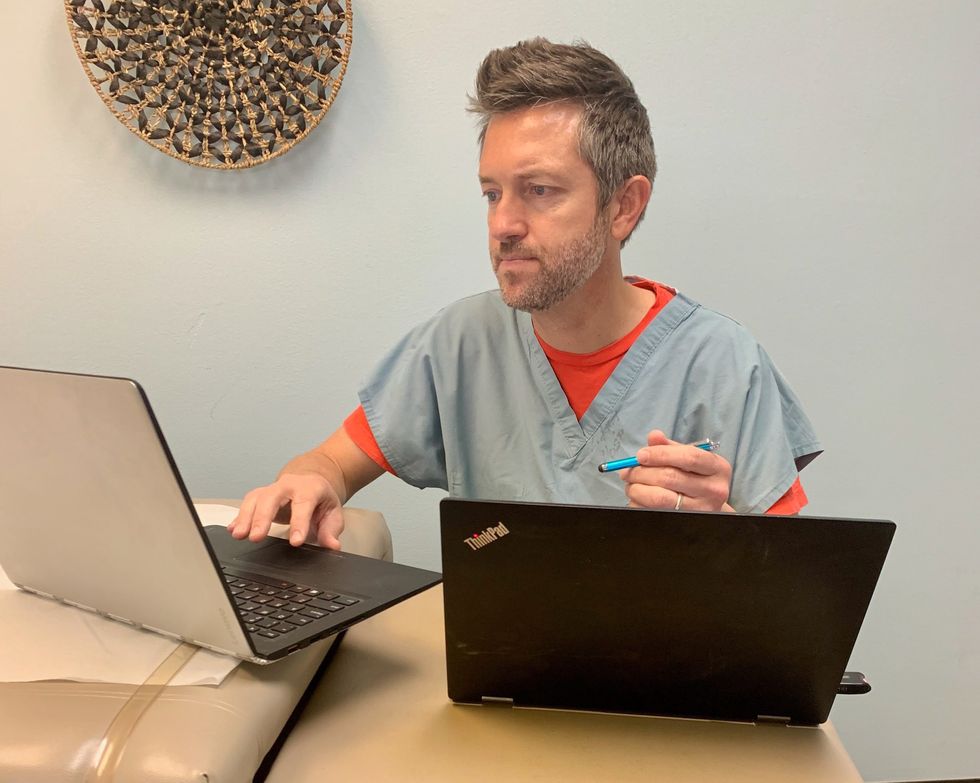 (Steven Dobberfuhl)
The telemedicine revolution

For Barad, who is also a pediatric gastroenterologist, this means using telemedicine for follow-up visits and for those families who may live far from his Temple clinic, which serves dozens of counties in Central Texas.
"Patients are going to drive this," he said of telemedicine's continued use. "And I think in general, our patients love telemedicine."
Other physicians echoed this assessment.
Although no longer a necessity, telemedicine continues to save patients time. Instead of spending hours commuting to a doctor's office and possibly losing out on pay, they can instead pop into a video or phone call for 30 minutes.
"The patients are really seeing the benefit of not having to take a half day off of work," Dobberfuhl said.
There are also benefits to the doctors themselves.
Dobberfuhl likes getting a glimpse into his patients' homes—a kind of 2020 house call.
"For better or for worse, I kind of like having a little bit of that insight," he said. (Although there are some occupational hazards that crop up: "I've had patients not put on shirts.")
Overall the change has been a positive one.
"It's a good revolution," Dobberfuhl said. "We all really hope that parts of it stay (beyond the pandemic)."
A tool in the toolbox
But telemedicine is not a panacea.
Many physicians and private practices are still reporting depressed patient volume as a result of the pandemic and haggling with insurance companies over reimbursement rates.
"They're still struggling," said Tom Banning, CEO of the Austin-based Texas Academy of Family Physicians. "There's no question about that."
Although telemedicine is useful in many instances, it doesn't address every problem caused by the pandemic. Banning estimates that patient volume has rebounded to about 85% of pre-pandemic levels, but that still leaves a 15% gap, which he attributed in part to patients losing their jobs—and with them their health insurance.
"I think telemedicine is just going to be one bullet in the gun," he said of the challenges facing doctors today.
Another reason for the drop in patient volume may be the success of COVID prevention measures.
"This time of year we're typically slammed," said Dr. Brian Temple, a co-owner and partner at Beansprout Pediatrics, which has locations in Bee Cave, Dripping Springs and Spicewood.
With kids wearing masks and social distancing, however, the common flu and cold cases are much less common.
Still, telemedicine is a useful tool for Temple's practice, especially for screening patients with COVID symptoms without having to bring them into the office, where they might infect staff.
With cases surging, this is a critical safeguard.
"If we didn't have that, I don't know what we would do," he said.
Summertime sure does fly by, doesn't it? It's time to jam-pack as many summer activities as you can while there is still about a month left before school starts up again and the grind gets going. Luckily, Austin is full of places to visit that will fill your season full of memories.
To get you started, check out some of these seasonably-fit museums, galleries and snacks.
Soak up the rest of summer while you can!
Ingredients:
1 1/12 oz sweet pepper-infused Tito's Handmade Vodka
3 oz soda water
1 oz grapefruit juice
1/2 oz lime juice
1/4 oz simple syrup
Directions: Add all ingredients, except soda water, to a shaker with ice. Shake and strain into a glass over fresh ice. Top with soda water and garnish with a mint sprig.
The Biden administration is asking cities and states to use pandemic relief funds to pay residents $100 to get vaccinated. Meanwhile, Texas Gov. Greg Abbott reaffirmed prohibitions on pandemic protocols in a new executive order issued on Thursday.
The order emphasizes that "the path forward relies on personal responsibility rather than government mandates," according to a press release. It outlaws government entities from requiring employees to be vaccinated or individuals to provide proof of vaccination and upholds previous orders restricting government entities' ability to impose pandemic protocols.
Local public health and elected officials have asked all Austinites to wear masks indoors, regardless of vaccination status, and unvaccinated individuals to avoid nonessential trips last week given the rising number of local confirmed cases and related hospitalizations in recent weeks. But it is not enforceable under Abbott's order.
The seven-day moving average of new hospital admissions in the five-county Austin metro has more than quintupled since the beginning of July and is now 47.4. The threshold for Stage 5 is 50, according to Austin Public Health's risk-based guidelines.
Despite these trends, Abbott stands firm in his commitment to avoid new statewide mandates and to prohibit local government entities from issuing any of their own.

"Texans have mastered the safe practices that help to prevent and avoid the spread of COVID-19," he said in a statement. "They have the individual right and responsibility to decide for themselves and their children whether they will wear masks, open their businesses and engage in leisure activities."
Public health officials have attributed the current spike to the more contagious Delta variant and unmitigated spread among unvaccinated individuals. Abbott encouraged Texans to get vaccinated if they haven't already but affirmed that it would never be required by the state in his statement.
An increasing number of Austin-area employers—including Ascension Seton, Baylor Scott & White Health, Facebook and the Department of Veterans Affairs—have announced new vaccine requirements in recent days. Austin Mayor Steve Adler asked the city manager to enact a similar requirement on Wednesday, but the city is unable to do so due to an executive order issued by Abbott in April.