Get connected with our daily update
The 87th Texas Legislature's regular session—which Gov. Greg Abbott called "one of the most conservative legislative sessions our state has ever seen"—ended Monday. State lawmakers passed bills allowing the permitless carry of handguns, restricting abortion and limiting the teaching of "critical race theory" in public schools, overriding opposition from Democrats. They also passed bills drafted in response to local policy, including one that financially punishes large cities that cut their police budgets and another that bans homeless encampments.
---
But lawmakers will have to return to the Capitol later this year for a special session after failing to pass a number of Abbott's priority items, including a voting bill that would tighten state election laws. "We will be back—when, I don't know, but we will be back," House Speaker Dade Phelan, R-Beaumont, told members Monday. "There's a lot of work to be done, but I look forward to doing it with every single one of you."
Here are seven pieces of legislation you should know about at the close of the regular legislative session:
1. Homeless camping ban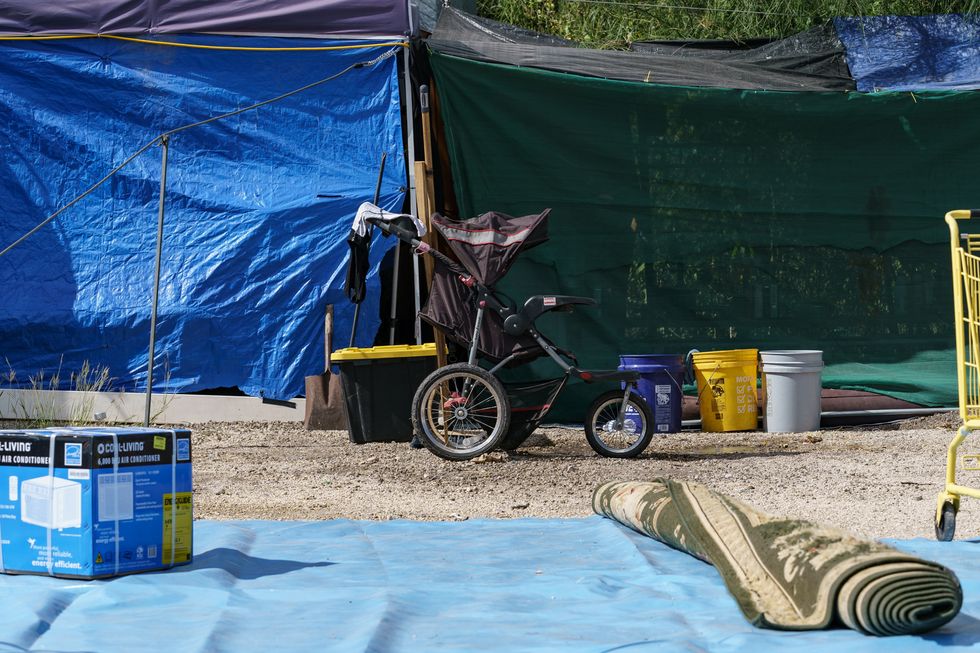 (Jordan Vonderhaar)
State lawmakers sent House Bill 1925, which would ban camping in public spaces and require local governments to seek state approval when designating campsites on public land, to Abbott's desk on Wednesday. The governor has said he would sign the bill, which was filed in response to homeless camps in Austin.
Austin voters chose to reinstate a citywide ban on public camping during the May 1 election, after City Council lifted it in 2019. Local elected officials are now in the process of trying to designate sanctioned campsites, which has prompted pushback on the dais and from constituents.
City staff presented a list of 45 possible campsites last month, many of which were on public parkland. If signed into law, HB 1925 would ban cities from using public parks without first gaining approval from the state, compounding the challenges of establishing such sites.
2. Police defunding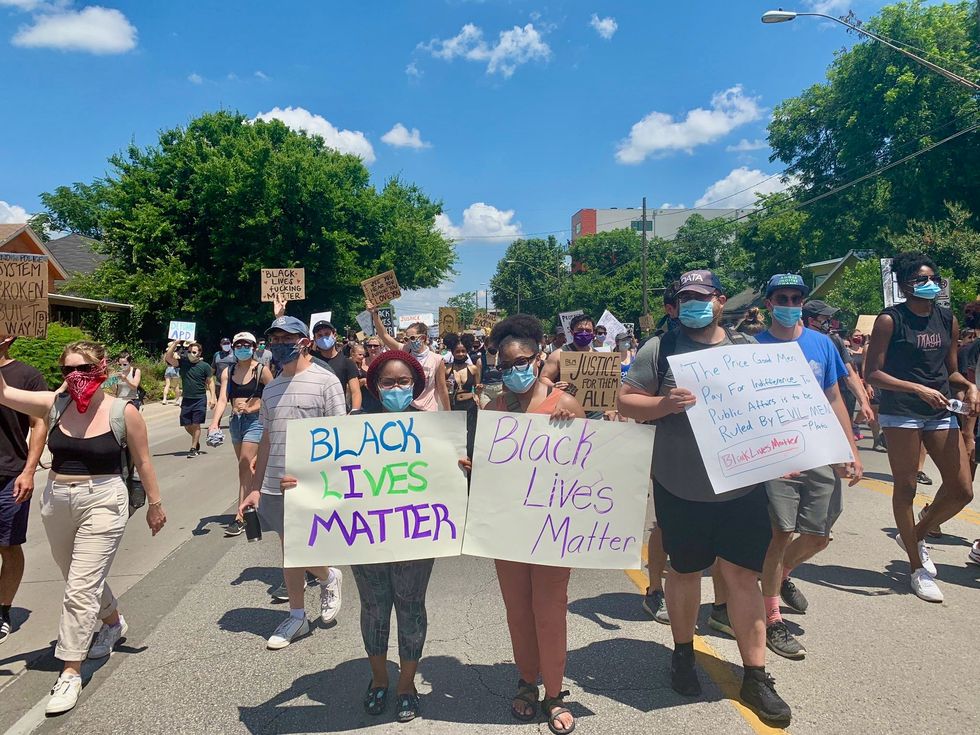 (Emma Freer)
After Austin City Council voted unanimously to cut the Austin Police Department budget by around 5% last August, along with a series of other reforms, Abbott began seeking out legislative penalties.
On Friday, just over a year after George Floyd's murder and nearly a year since thousands of Austinites protested police violence, state lawmakers approved House Bill 1900, which applies to cities with a population of more than 250,000 and would restrict their ability to raise property tax revenue, among other financial penalties, if they reduce their police budgets. Abbott has said he will sign the bill into law.
APD Interim Chief Joseph Chacon spoke in opposition to HB 1900, which he called a legislative "overstep," during a March committee hearing: "These decisions must be made at the local level by our community when and to the degree needed to help build and maintain trust," he said.
3. Winter storm response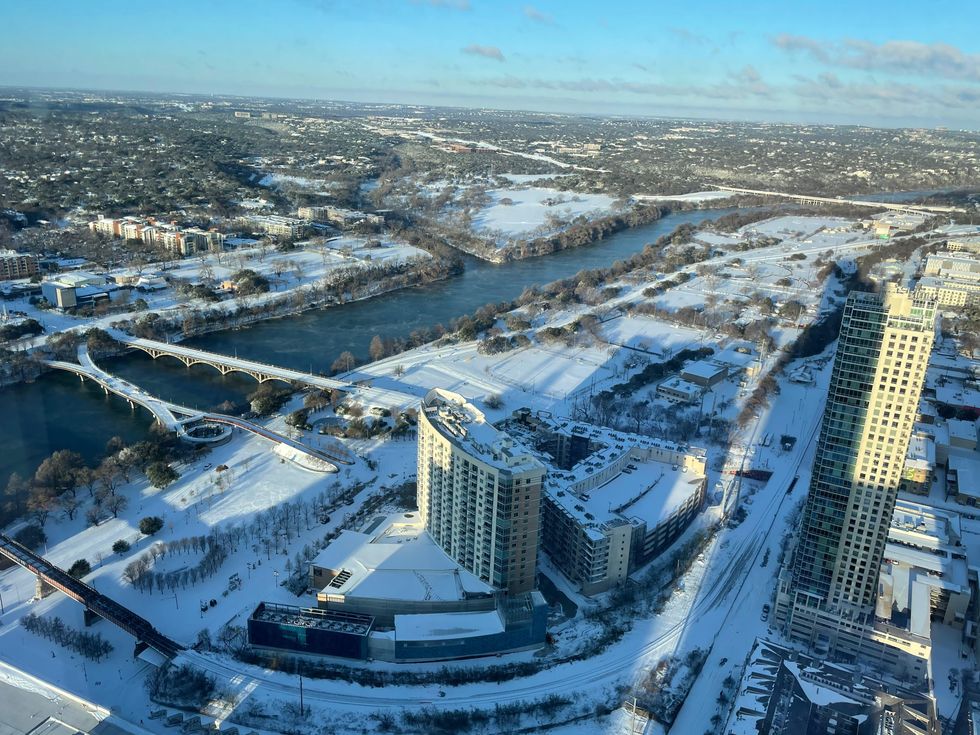 (Kyndel Bennett)
After the February winter storm, which left more than 200,000 Austin Energy customers without power and caused at least 12 deaths in Travis County, there were loud demands for an overhaul of the state power grid. State lawmakers approved sweeping legislation to address some—but not all—of the issues that contributed to the catastrophe.
Senate Bill 2 would change the makeup of the Electric Reliability Council of Texas, which maintains around 90% of the state grid. If signed into law, it would shrink ERCOT's board of directors from 16 to 11 members and increase the influence of the state's top politicians in the selection of those members.
SB 3 would require some natural gas generators to weatherize. During the winter storm, ERCOT projected the state would lean heavily on natural gas, but wells froze up and icy roads made it impossible to transport it, leading to days-long blackouts and the possibility of a total grid collapse.
4. Permitless carry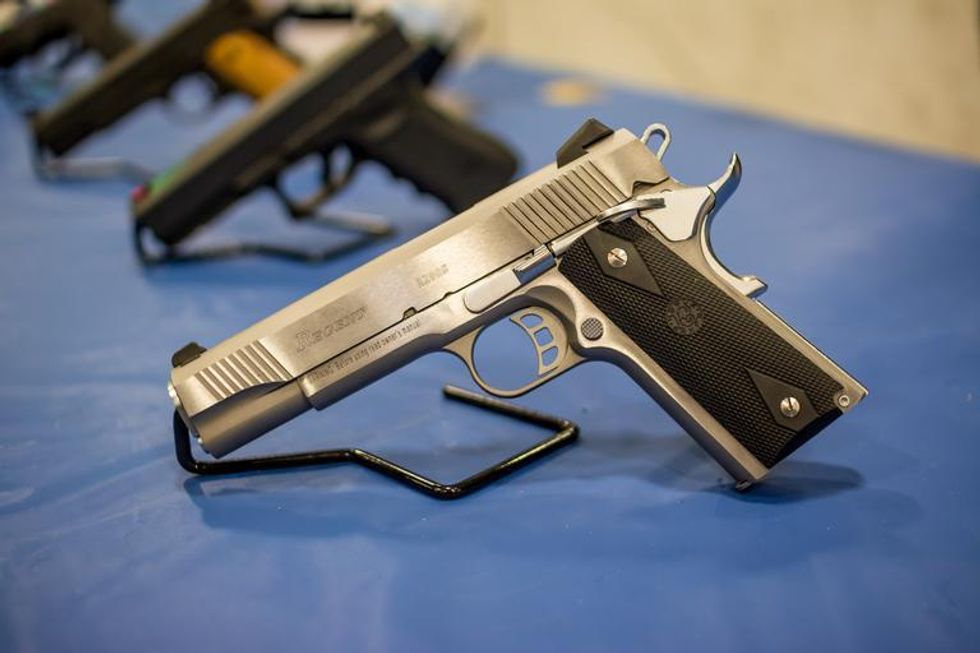 (CC)
House Bill 1927, which would see Texas join 19 other states that don't require a permit to carry holstered handguns, has the governor's support and is celebrated by "constitutional carry" proponents. But some law enforcement agencies and other public officials worry about the risk permitless carry poses to public safety amid already-rising violent crimes rates.
APD Interim Police Chief Joseph Chacon joined other police chiefs in speaking out against the bill, which he said would lift training and safety requirements currently in place, during an April 29 press conference. He also pointed to an increase in gun violence locally.
Although not all violent crime involves guns, gun violence is increasing and may involve stolen guns or illegally manufactured "ghost" guns. "I'm just very concerned about the number of illegally possessed firearms and how we can curb that," Chacon said during an April 15 press conference, where he announced a new gun crime prevention program in partnership with the Travis County District Attorney's Office.
5. Abortion restrictions
We're proud to be rallying for abortion access in #Texas today! #TexasDeservesBetter #AbortionIsHealthcare #txlege pic.twitter.com/UsU2Qaxr96

— Jane's Due Process (@JanesDueProcess) May 29, 2021
Abbott signed Senate Bill 8—one of the strictest abortion measures in the country—into law on May 19, which would ban abortions after a fetal heartbeat can be detected, which supporters say can be as early as six weeks, before some people know they're pregnant. It does not include exceptions for pregnancies that result from rape or incest.
The bill, which takes effect in September, leaves enforcement up to private citizens, whom it allows to sue abortion providers or anyone who helps someone get an abortion after a fetal heartbeat has been detected, according to The Texas Tribune. This is intended to make the law harder to challenge legally because the state plays no role in enforcing it.
State lawmakers also approved House Bill 1280, which would ban abortion in Texas if the U.S. Supreme Court overturns Roe v. Wade.
6. Critical race theory in public schools 
Today I killed HB 3979—the bill that attempted to teach our students a whitewashed version of American history—with a Point of Order.

If kids are old enough to experience racism, then they're old enough to learn about it. #txlege pic.twitter.com/Xg5vmm4Bvh

— James Talarico (@jamestalarico) May 28, 2021
House Bill 3979, which would limit how current events and the country's history of racism can be taught, is awaiting Abbott's signature after a contentious approval process and significant opposition from Democrats, educators and education advocacy groups.
After State Rep. James Talarico, D-Round Rock, raised a procedural violation on Friday, the bill appeared to be dead. But lawmakers removed the amended language that prompted Talarico's concern and ultimately passed a stripped-down version. If signed into law, the bill would ban the teaching of The New York Times' 1619 Project, which argues that the country began when enslaved people first arrived.
Supporters of the bill, which is one of many similar efforts at state legislatures across the country, say it will help prevent personal biases from entering the classroom, according to the Texas Tribune.
7. Voting rights (and a special session)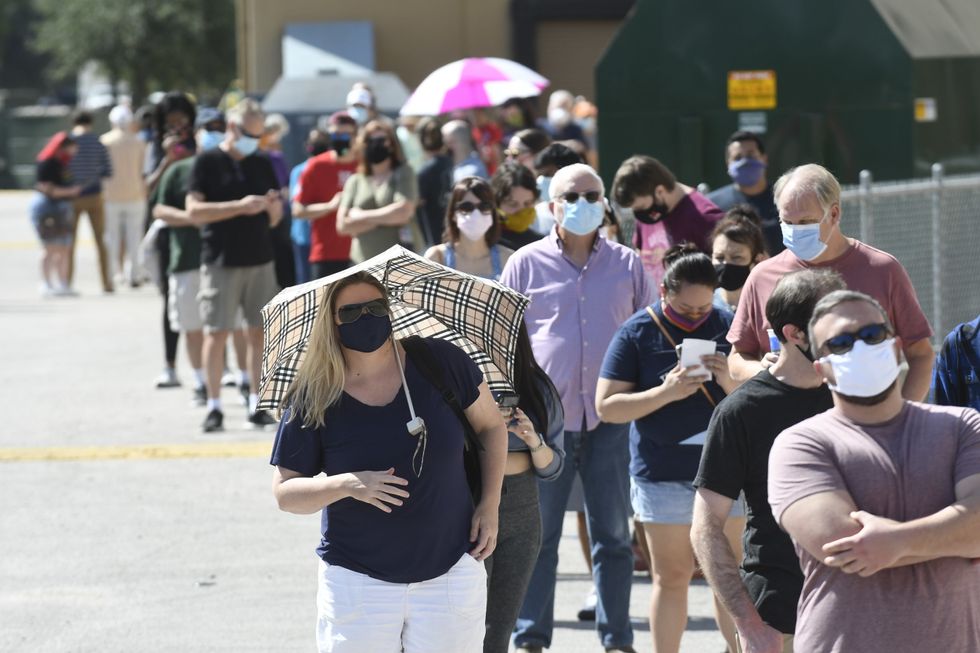 (Bob Daemmrich)
An hour before the midnight deadline, House Democrats left the floor, blocking a bill that would upend Texas voting laws and prompting Abbott to call a special session.
The bill would add restrictions to early and mail-in voting as well as prohibit drive-thru and other after-hours options. Republican supporters say the bill would improve "election integrity" and prevent voter fraud, despite virtually no evidence that such fraud has occurred. Democratic opponents say the bill is tantamount to voter suppression.
Abbott had declared the bill an emergency priority, along with bail reform. After state lawmakers failed to pass either, he called for a special 30-day session later this year and vowed to defund the state Legislature, threatening salaries, as a penalty. State Rep. Donna Howard, D- Austin, tweeted in response: "This would eliminate the branch of government that represents the people and basically create a monarchy."
It isn't yet clear when the special session will occur. Lawmakers are expected to reconvene this fall to redraw the state's political maps after the 2020 census.
Heading to Q2 Stadium? Four months ago, it would've been tough to do so without dropping a pretty penny, but by mid-September, season ticket holders were clamoring to sell their seats for as little as a $10 beer.
While Austin FC continues to sell-out crowds—their most recent match was at capacity despite their record and scheduling conflict with a Texas Longhorns game—demand has dipped as new factors continue to pull down prices.
Austin FC's rocky season has been met with unbridled fan support, but it's also lost that honeymoon-phase traction as they fell to the bottom of the standings, faced a third COVID surge and were met with school, work and good ol' Texas football.
On Sept. 15, Austin FC fan Tanis Olvedo was willing to strike a deal: two beers for a ticket.
Although he later sold at cost to another season ticket holder, many fans have seen the value of their season tickets take a serious dip. By Wednesday, Sept. 15, tickets that were once no lower than $36 had dropped to as little as $14.
Austin Anthem member Phil Stanch used his accounting skills to map out the dip in his ticket sales prices.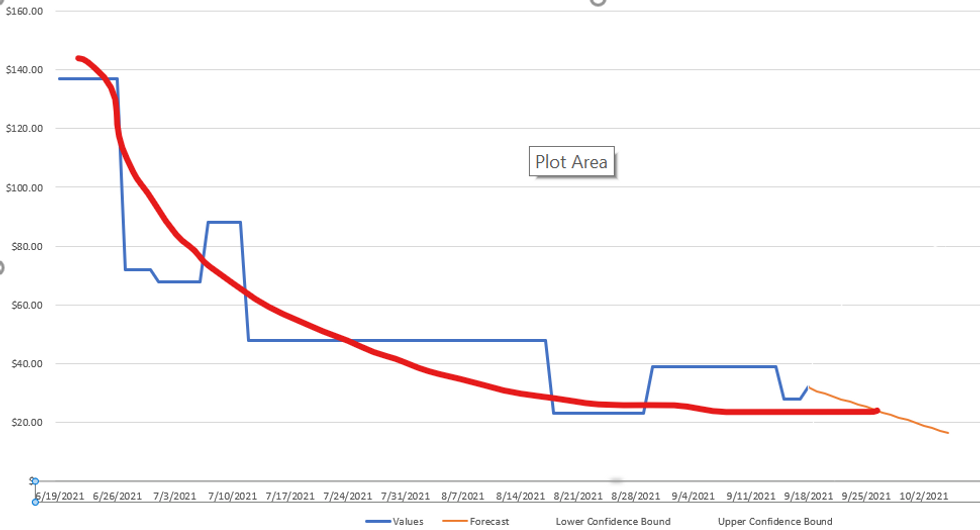 Phil Stanch found that the predicted value of his season tickets (in orange) will continue to trend downward. (Phil Stanch)
Here are the main reasons why fans say Austin FC's ticket prices have taken a tumble:
COVID
Austin FC's first home game on June 19 seemed like perfect timing—by June 16, 51% of Travis County residents were fully vaccinated. Mid-May saw Austin lift its risk-based guidelines to Stage 2 for the first time since the pandemic's onset just in time for the brand-new Q2 Stadium to open at 100% capacity.
But with the third surge sending Austin back into Stage 5 and hospitalizations skyrocketing in late summer, some diehard fans reluctantly began opting for the couch over a 20,738-capacity stadium.
That safety-consciousness comes tenfold for parents of young children who are still ineligible to get vaccinated, at-risk fans and the older population.
School starting and unvaccinated kids. That's why we haven't gone in a while. We are season ticket holders, so we have just given ours away to friends and coworkers that can go.

— jae (@jae98342926) September 23, 2021
Austin has stuck to capacity and hasn't added any masking or testing requirements, garnering some criticism from fans.
I stopped going because of the COVID surge. I tried to sell my tickets a couple of times and they didn't move. Then I decided to eat them to make space. Not happy the club didn't create a mask or vaccination requirement.

— Ruben Cavazos (@rcavazos) September 24, 2021
School
Just as the surge reached its peak in mid-August, schools across Austin once again opened in-person, leaving many families unable to go to late-night games on weeknights. Ten of the club's 17 home games have been on Wednesdays, Thursdays or Sundays—days that have quickly transformed into "school nights."
With 9-5ers unable to justify 8:30 p.m. weeknight games and kids tucked in bed by 10, fewer fans have been able to make their way to the games.
And with school comes another conflict of interest- tried-and-true Texas football is fully underway, and though Sept. 18 saw a sold-out crowd, a few Verde seats were left empty as the two teams played at home at the same time for the first time.
A combo of a number of things:
- Wednesday or Sunday games that end around 10pm are not appealing to people with jobs or kids.
- Being in last place hurts, no matter how passionate people are about the team. Nothing on the line.
- This is still Texas, and it's football season.

— Tom H (@hallockitup) September 23, 2021
Results
While COVID and fall responsibilities have played a factor, Austin FC is also dealing with the unfortunate reality of being a last-place team.
Season ticket holder Doug Mayo was one of the 4% of season ticket holders who didn't renew his deal with the team. Once confident that he would easily sell the coveted tickets for their original price, the team's record plummeted alongside his own ticket prices. Mayo said that the team's 5-4-16 record caused their honeymoon phase to end prematurely.
"The newness wore off fast," Mayo said. "Nobody wants to go to a sporting event when it's 99% certain the team they support will lose."
For Mayo, it'll take a better record and more passionate play on the field to get him back in the 20,000-member season ticket waitlist.
"Mainly (I want) them to start acting more like a professional team," Mayo said. "We were so excited to have something to look forward to throughout COVID and it's just been a disappointment."
I've been a big supporter in general, I went to 4 games in the first half of the season, but no amount of "fan camaraderie" makes me want to spend $30-40 to see a team that plays without heart. And that's bc the last game I saw we actually won (albeit Houston was down a man).

— Brown and in Austin (@DisraelTV) September 23, 2021
Still other reasons abound: some fans say it's those $10 beers themselves that cause prices to dip, while others say tickets were overpriced in the first place. Although Austin FC says 96% of season ticket holders decided to renew for 2022, many did so with a grain of salt, including longtime fan Shawn Collins.
"I have tickets in 110 (the Lexus Club) and even when the demand was crazy high I couldn't get face for my tickets because they were so high to begin with," Collins said. "When I got them I figured I'd make back what I paid on games I couldn't attend."
Austin FC's dip in ticket sales may be more of an MLS problem than a unique issue: gameday employee and University of Texas sports business student Ben Patterson said that prices shot up due to pre-season excitement and are now at more normal levels.
"The initial hype of finally having a pro sports team is likely what drove up season ticket prices at the start of the year," Patterson said. "Now that excitement has cooled off, ticket prices have dropped in value steeply."
But while five straight losses are enough to drive at least some fans away, plenty are committed to staying Verde through thick and thin.
It might not be easy being green, but thousands of fans are now enjoying the benefits of $20 tickets as they continue to pack Q2.
In May, Circuit of the Americas chairman Bobby Epstein looked back on 10 years of Formula 1's U.S. Grand Prix at COTA confident that the race would be here to stay in Texas. But sources tell Austonia that securing another contract may be in jeopardy.
Some insiders worry that COTA's 2021 Grand Prix race might be its last.
The multi-day fest from Oct. 22-24 will include a 56-lap race over the 3.3-mile track, food and musical performances from two acts, including Billy Joel at COTA's 1,500-acre facility in Southeast Austin. But after this year, the U.S.' first F1-specific track could lose its headline event.
The facility's inability to secure a contract thus far comes down to the Texas Legislature, a new threat in Miami, and, most importantly, money.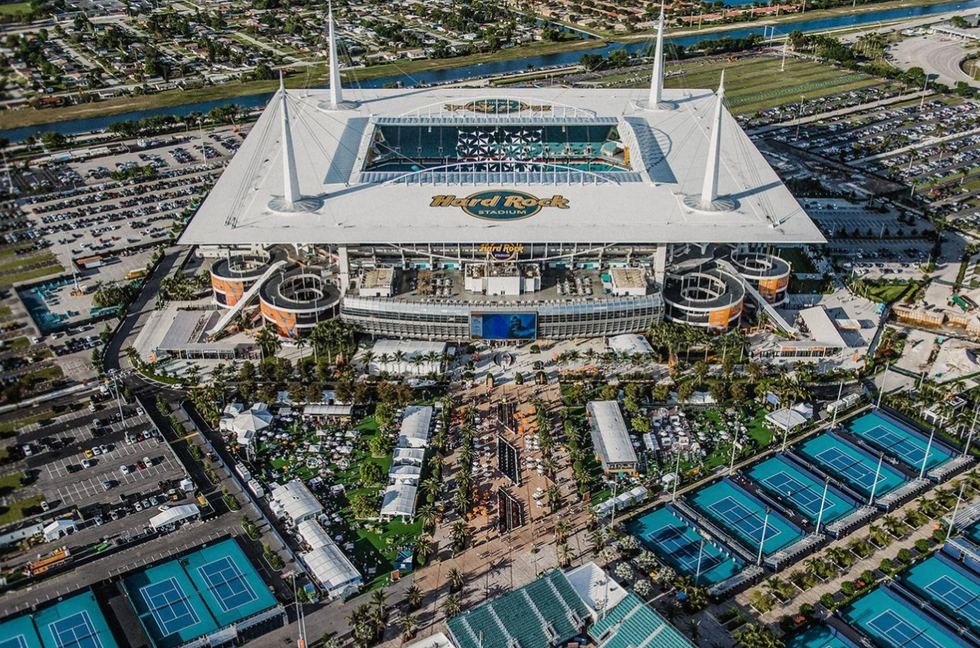 The first F 1 race will take place in Miami next year. (Hard Rock Stadium)
Every year, Formula 1 receives roughly $25 million from Texas' Major Events Reimbursement Program, a taxpayer-funded initiative that helps bring big sporting events like 2017's Houston Super Bowl to the state. A 2019 report by the Reimbursements Program on that year's race said the "data is inconclusive" on if the event has a positive or negative economic impact on the state with the resources given. In 2018, the Austin-American Statesman reported that COTA had brought back a total of $75.7 million between 2015 and 2017 for hosting the U.S. Grand Prix.
Legal issues have also barred Epstein and Co. from securing another 10-year contract earlier: in 2018, the company lost its yearly $25 million bid after failing to submit a human trafficking prevention plan as part of its yearly application.
That same year, F1 managing director of commercial operations Sean Bratches told the Associated Press that the organization hopes to stay at COTA "for many years to come."
However, in May, the racing league announced that it had secured a 10-year contract to hold the Miami Grand Prix as American interest in the sport soared following the three-season "Drive to Survive" documentary, which gives behind-the-scenes looks at drivers and races of the Formula One World Championship.
Epstein is optimistic about the new U.S. location and told Autoweek in May that "more races in our time zones are good for the sport."
"I think we're getting double the impact this way," Epstein said. "Miami should sell out huge the first year and maybe the second year and then after that, I think we'd be spitting audience if we were around the same time on the calendar. So the spread is fantastic."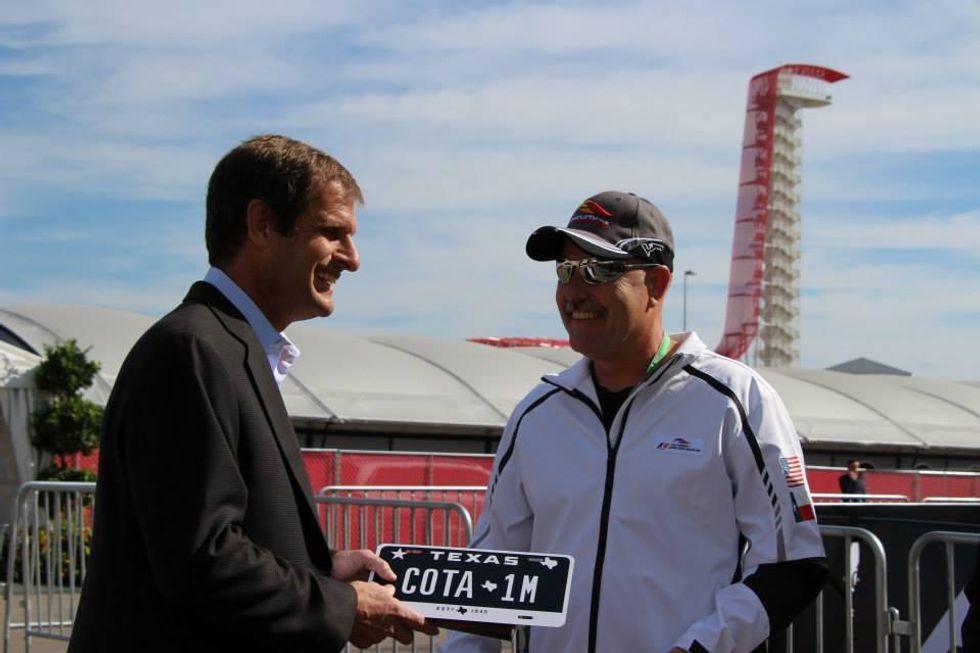 Bobby Epstein recognizes the 1 millionth customer of COTA in 2013. (COTA/Facebook)
The new F1 venture may impact COTA's contract, however: in an opinion piece for the Fort Worth Star-Telegram, writer Mac Engel said Texas is unlikely to fork over taxpayer money if the facility is no longer the only F1 track in the U.S.
According to Engel, the Major Events Reimbursements Program agrees to provide funding only "if Austin holds the only F1 race in the country."
Epstein hasn't addressed such claims; by contrast, he feels as though there's room for a third race in the U.S. as ticket sales rebound after COVID.
"In the first week, we sold pretty much all the tickets we put up for sale and we plan to break the 2019 attendance record," Epstein told Autoweek. "Texas was the first place to lift COVID-19 restrictions (in the U.S.) and put on sporting events, and we're full. We're at 100% capacity.
Despite ventures to diversify revenue at COTA—Epstein's USL soccer team Austin Bold has seen its own share of troubles, and the facility plans to develop into a multi-faceted entertainment arena complete with music venues, a waterpark, condominiums and an 11-story hotel—a loss of its primary event could be devastating for the $300 million complex.
F1 has rarely lasted more than a decade at venues in the U.S. over the last century; let's hope Austin breaks that curse.
COTA's media relations team did not immediately get back to Austonia for comment.