Austonia AM
100% Austin news, info, and entertainment, straight to your inbox at 6 a.m. every morning.
In five minutes, you're fully informed and ready to start another great day in our city.
Get connected with our daily update
The 87th Texas Legislature's regular session—which Gov. Greg Abbott called "one of the most conservative legislative sessions our state has ever seen"—ended Monday. State lawmakers passed bills allowing the permitless carry of handguns, restricting abortion and limiting the teaching of "critical race theory" in public schools, overriding opposition from Democrats. They also passed bills drafted in response to local policy, including one that financially punishes large cities that cut their police budgets and another that bans homeless encampments.
---
But lawmakers will have to return to the Capitol later this year for a special session after failing to pass a number of Abbott's priority items, including a voting bill that would tighten state election laws. "We will be back—when, I don't know, but we will be back," House Speaker Dade Phelan, R-Beaumont, told members Monday. "There's a lot of work to be done, but I look forward to doing it with every single one of you."
Here are seven pieces of legislation you should know about at the close of the regular legislative session:
1. Homeless camping ban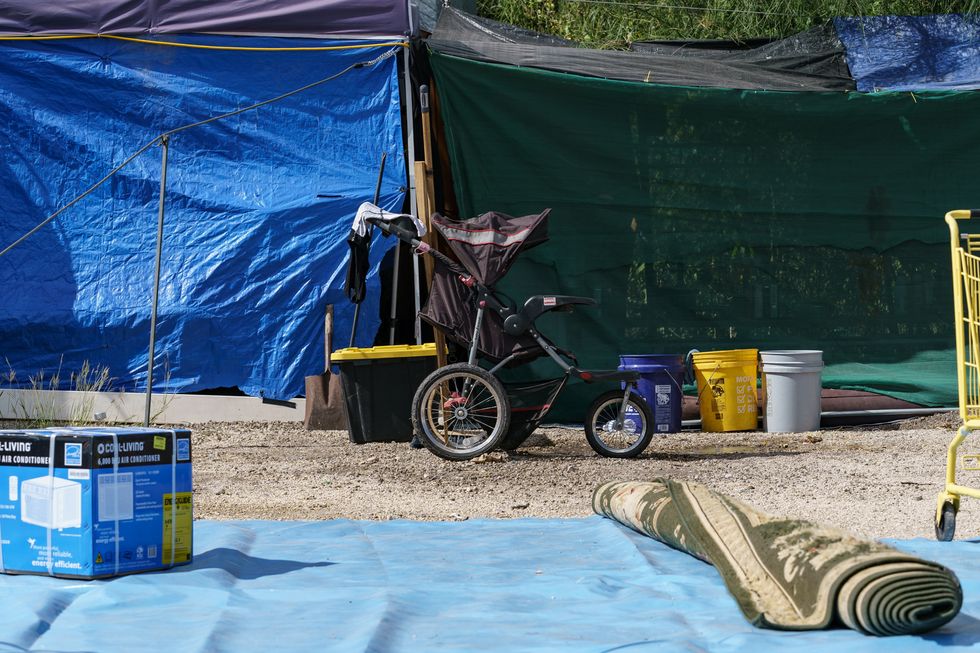 (Jordan Vonderhaar)
State lawmakers sent House Bill 1925, which would ban camping in public spaces and require local governments to seek state approval when designating campsites on public land, to Abbott's desk on Wednesday. The governor has said he would sign the bill, which was filed in response to homeless camps in Austin.
Austin voters chose to reinstate a citywide ban on public camping during the May 1 election, after City Council lifted it in 2019. Local elected officials are now in the process of trying to designate sanctioned campsites, which has prompted pushback on the dais and from constituents.
City staff presented a list of 45 possible campsites last month, many of which were on public parkland. If signed into law, HB 1925 would ban cities from using public parks without first gaining approval from the state, compounding the challenges of establishing such sites.
2. Police defunding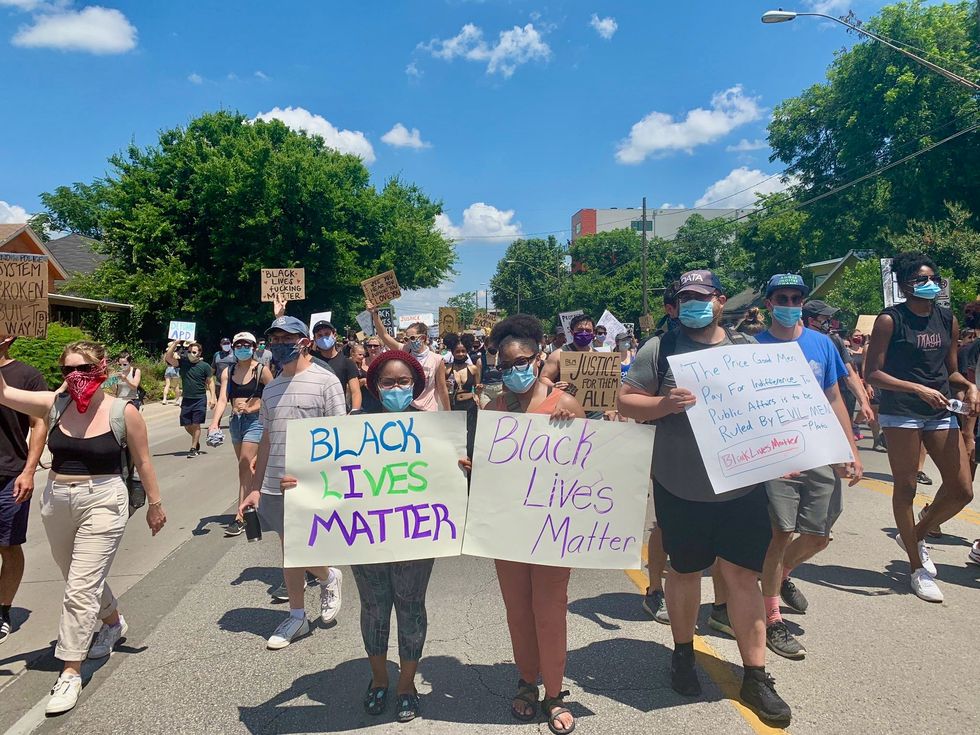 (Emma Freer)
After Austin City Council voted unanimously to cut the Austin Police Department budget by around 5% last August, along with a series of other reforms, Abbott began seeking out legislative penalties.
On Friday, just over a year after George Floyd's murder and nearly a year since thousands of Austinites protested police violence, state lawmakers approved House Bill 1900, which applies to cities with a population of more than 250,000 and would restrict their ability to raise property tax revenue, among other financial penalties, if they reduce their police budgets. Abbott has said he will sign the bill into law.
APD Interim Chief Joseph Chacon spoke in opposition to HB 1900, which he called a legislative "overstep," during a March committee hearing: "These decisions must be made at the local level by our community when and to the degree needed to help build and maintain trust," he said.
3. Winter storm response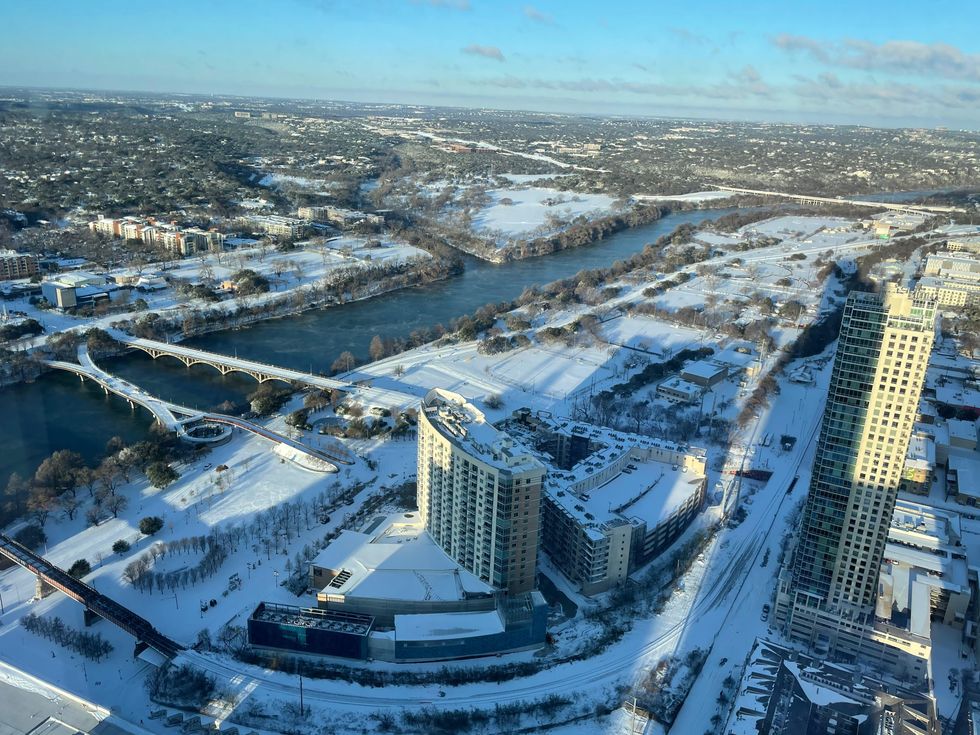 (Kyndel Bennett)
After the February winter storm, which left more than 200,000 Austin Energy customers without power and caused at least 12 deaths in Travis County, there were loud demands for an overhaul of the state power grid. State lawmakers approved sweeping legislation to address some—but not all—of the issues that contributed to the catastrophe.
Senate Bill 2 would change the makeup of the Electric Reliability Council of Texas, which maintains around 90% of the state grid. If signed into law, it would shrink ERCOT's board of directors from 16 to 11 members and increase the influence of the state's top politicians in the selection of those members.
SB 3 would require some natural gas generators to weatherize. During the winter storm, ERCOT projected the state would lean heavily on natural gas, but wells froze up and icy roads made it impossible to transport it, leading to days-long blackouts and the possibility of a total grid collapse.
4. Permitless carry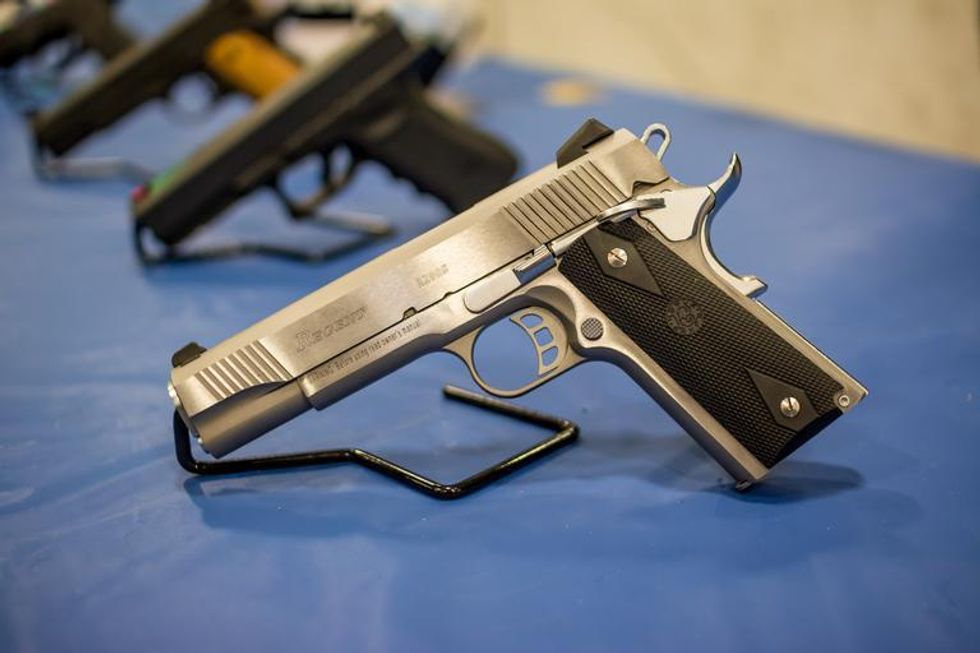 (CC)
House Bill 1927, which would see Texas join 19 other states that don't require a permit to carry holstered handguns, has the governor's support and is celebrated by "constitutional carry" proponents. But some law enforcement agencies and other public officials worry about the risk permitless carry poses to public safety amid already-rising violent crimes rates.
APD Interim Police Chief Joseph Chacon joined other police chiefs in speaking out against the bill, which he said would lift training and safety requirements currently in place, during an April 29 press conference. He also pointed to an increase in gun violence locally.
Although not all violent crime involves guns, gun violence is increasing and may involve stolen guns or illegally manufactured "ghost" guns. "I'm just very concerned about the number of illegally possessed firearms and how we can curb that," Chacon said during an April 15 press conference, where he announced a new gun crime prevention program in partnership with the Travis County District Attorney's Office.
5. Abortion restrictions
We're proud to be rallying for abortion access in #Texas today! #TexasDeservesBetter #AbortionIsHealthcare #txlege pic.twitter.com/UsU2Qaxr96

— Jane's Due Process (@JanesDueProcess) May 29, 2021
Abbott signed Senate Bill 8—one of the strictest abortion measures in the country—into law on May 19, which would ban abortions after a fetal heartbeat can be detected, which supporters say can be as early as six weeks, before some people know they're pregnant. It does not include exceptions for pregnancies that result from rape or incest.
The bill, which takes effect in September, leaves enforcement up to private citizens, whom it allows to sue abortion providers or anyone who helps someone get an abortion after a fetal heartbeat has been detected, according to The Texas Tribune. This is intended to make the law harder to challenge legally because the state plays no role in enforcing it.
State lawmakers also approved House Bill 1280, which would ban abortion in Texas if the U.S. Supreme Court overturns Roe v. Wade.
6. Critical race theory in public schools 
Today I killed HB 3979—the bill that attempted to teach our students a whitewashed version of American history—with a Point of Order.

If kids are old enough to experience racism, then they're old enough to learn about it. #txlege pic.twitter.com/Xg5vmm4Bvh

— James Talarico (@jamestalarico) May 28, 2021
House Bill 3979, which would limit how current events and the country's history of racism can be taught, is awaiting Abbott's signature after a contentious approval process and significant opposition from Democrats, educators and education advocacy groups.
After State Rep. James Talarico, D-Round Rock, raised a procedural violation on Friday, the bill appeared to be dead. But lawmakers removed the amended language that prompted Talarico's concern and ultimately passed a stripped-down version. If signed into law, the bill would ban the teaching of The New York Times' 1619 Project, which argues that the country began when enslaved people first arrived.
Supporters of the bill, which is one of many similar efforts at state legislatures across the country, say it will help prevent personal biases from entering the classroom, according to the Texas Tribune.
7. Voting rights (and a special session)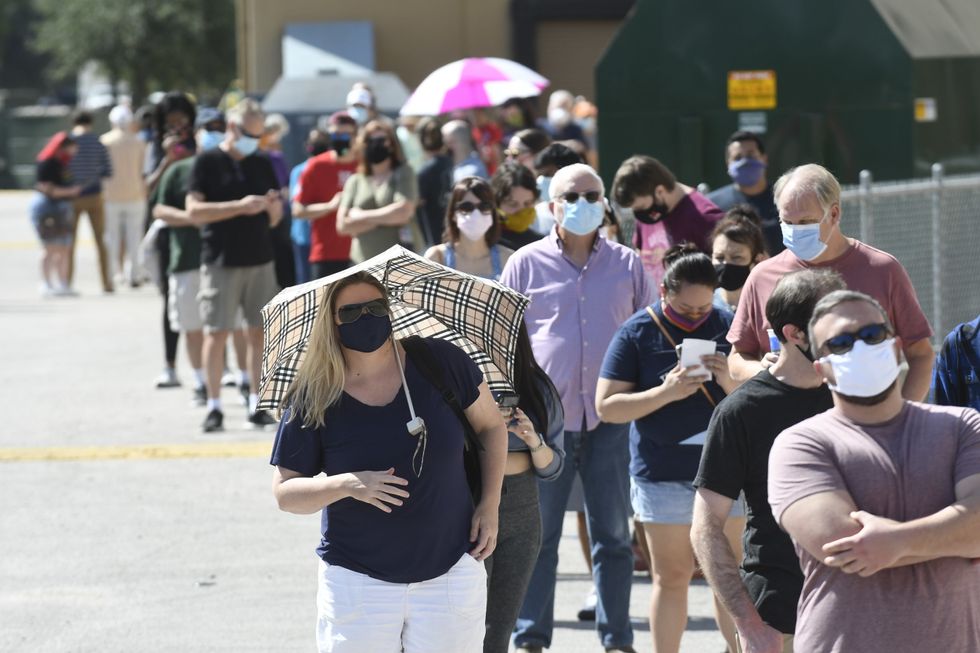 (Bob Daemmrich)
An hour before the midnight deadline, House Democrats left the floor, blocking a bill that would upend Texas voting laws and prompting Abbott to call a special session.
The bill would add restrictions to early and mail-in voting as well as prohibit drive-thru and other after-hours options. Republican supporters say the bill would improve "election integrity" and prevent voter fraud, despite virtually no evidence that such fraud has occurred. Democratic opponents say the bill is tantamount to voter suppression.
Abbott had declared the bill an emergency priority, along with bail reform. After state lawmakers failed to pass either, he called for a special 30-day session later this year and vowed to defund the state Legislature, threatening salaries, as a penalty. State Rep. Donna Howard, D- Austin, tweeted in response: "This would eliminate the branch of government that represents the people and basically create a monarchy."
It isn't yet clear when the special session will occur. Lawmakers are expected to reconvene this fall to redraw the state's political maps after the 2020 census.
Texas voters are split on whether Gov. Greg Abbott should run for a third term and whether Matthew McConaughey should run at all. But Democrats are clear: they want to see Beto O'Rourke on the ballot.
These are the findings of a Quinnipiac University poll of registered voters released this week.
Abbott and McConaughey received the highest favorability ratings of the elected officials, candidates and potential candidates, according to the Quinnipiac poll.
Abbott: 49%
McConaughey: 42%
O'Rourke: 34%
Former Texas GOP Chair Allen West: 25%
Former Texas senator and Republican challenger Don Huffines: 8%
Overall, 48% say Abbott does not deserve to be reelected to a third term compared to 46% who say he does. "A Trump favorite in a state that is turning less red in recent election cycles, Abbott has a decent but in no way overwhelming grasp on reelection," Quinnipiac University Polling Analyst Tim Malloy said in a press release.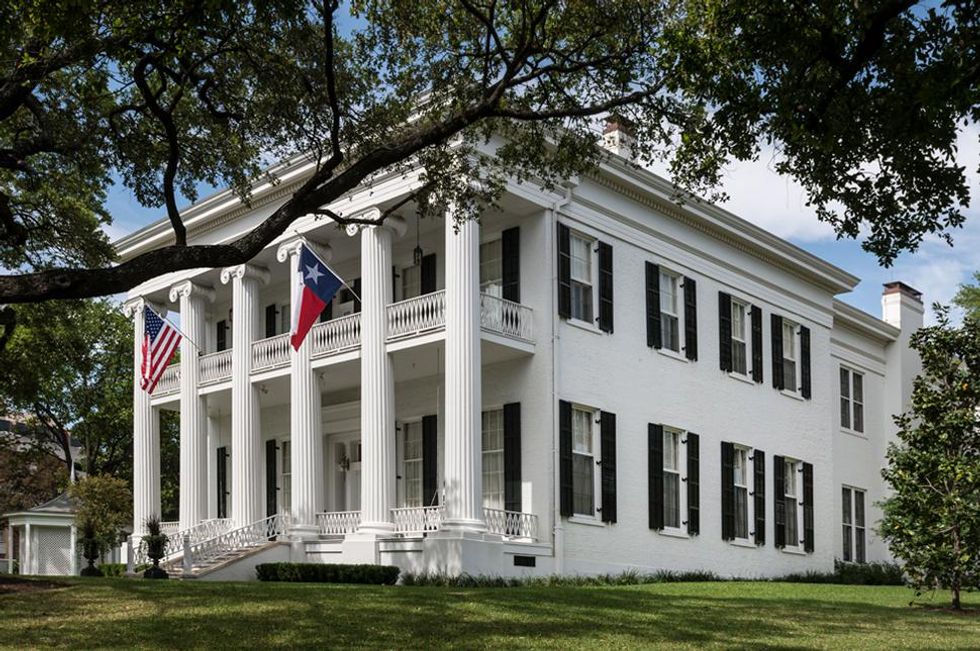 Abbott, McConaughey and Beto O'Rourke could vie for governor in 2022. (Office of the Texas Governor)
Voters are also divided on Matthew McConaughey, who is reportedly considering a gubernatorial run. Forty-one percent of voters say they would like to see him run, compared to 47% who say they wouldn't.

The poll found that Democrats and Independents favor the Oscar-winning Austinite, whose party affiliation is unclear. Forty-seven percent of Democrats would like to see him run, compared to 43% who wouldn't. Forty-four percent of Independents would, compared to 43% who wouldn't. Republicans, on the other hand, say 60%-29% they would not like to see him run.
Another possible candidate is former U.S. Representative and presidential hopeful Beto O'Rourke, who is also reportedly mulling a bid. Overall voters say 52%-41% they would not like to see him run for governor. But 77% of Democrats and 50% of Independents would, according to the poll.
"McConaughey and O'Rourke may still be on the fence, but their numbers suggest they have the attention of voters," Malloy said in the same release.
Austinites will soon be able to train like some of Hollywood's biggest stars as F45, a fitness franchise backed by major celebs, like Mark Wahlberg and David Beckham, is on its way to Austin.
F45 listed Austin as the location of its corporate headquarters in a June 21 federal filing—a big shift for the California company. The fitness franchise is preparing for its initial public offering, which will be as an Austin-based company.
F45 will be one of many California companies—Tesla, Oracle and Samsung—that have recently expanded in the Capital City. The company has several famous investors on its side—famed basketball player Earvin "Magic" Johnson and golfer Greg Norman in addition to Wahlberg and Beckham.
The fitness company is opening a 44,000-square-foot headquarters, located at Penn Field on 801 Barton Springs Road, with a lease running through 2029. F45 was one of the early adopters of Austin-based real estate-technology platform AnthemIQ, helping tenants find commercial real estate.
F45 focuses on one-on-one 45-minute workouts, which patrons watch on in-studio displays. With 2,247 franchise agreements spanning across 63 countries, F45 also has offices in Australia and England.
"We believe this flexibility will enable us to capitalize on our estimated long-term global opportunity of over 23,000 studios," the company said in its filing.
The greater Austin area already has 11 F45 locations, which take up 1,600 square feet of space each.
From Your Site Articles
Related Articles Around the Web
Texas Legislature staff members have taken to social media to raise awareness—and also just air their misfortunes—following the summer special session announcement and their own defunding.
In a game-seven-type move by Texas Democrats, the 87th Texas Legislative session was capped off by a last-minute walkout to avoid a final vote on a bill that would add restrictions to voting.
Needless to say, Gov. Greg Abbott—who cheerleaded the bill throughout the legislative session—was not thrilled.
Not up to date on your Texas Lege drama? Abbott was pointing to when former Texas State Senator Wendy Davis staged a dramatic hours-long filibuster over a 2013 abortion bill, which the public gallery aided. The "story" Abbott is referring to ended with him and other prominent conservatives sweeping the 2014 statewide election and the bill passing in a special session.
According to Abbott, the regular session centered around supporting "hardworking Texans and building a state that is safer, freer, healthier, and more prosperous."
However, the two items deemed at the top of Abbott's wish list for this session—election integrity and bail reform—did not reach his desk at the end of the session, both championed by Abbott to be "must-pass emergency items."
"It is deeply disappointing and concerning for Texans that neither reached my desk," Abbott said in a statement. "Ensuring the integrity of our elections and reforming a broken bail system remain emergencies in Texas, which is why these items, along with other priority items, will be added to the special session agenda."
Abbott said he expected lawmakers to work out their differences prior to the special session and continue to pass other emergency items and priority legislation.
So, everything is cool, right? No worries?
Wrong.
Hours before the no vote, as the clock ran out on the bill that he championed, Abbott tweeted that he would veto funding for the entire state legislative branch. The decision would impact not only Texas lawmakers but their staff and aides. "No pay for those who abandon their responsibilities," Abbott tweeted May 31.
With pay, health insurance and other support for staffers on the line, the threats became a reality on June 18 with an official veto of the funds from Abbott.
The veto effectively nixes all funding for the legislative branch.
"Texans don't run from a legislative fight and we don't walk away from an unfinished business," Abbott wrote in the veto. "Funding should not be provided for those who quit their job early, leaving their state with unfinished business and exposing taxpayers to higher costs for an additional legislative session."
However, questions have been brought up over the constitutionality of the veto itself. Section 24 of the Texas Constitution makes not paying members of the legislature illegal.
The special session is set to begin July 8. So, what does this mean for lawmakers, staffers and aides?
No pay, no insurance... and Twitter followers?
The staffers took their final stand on Twitter where they aired their grievances with the situation and asked for followers to increase their footprint.
Meet Jen Ramos, a staff member for Texas State Senator Judith Zaffarini—and also defunded by Abbott.
And she's not alone. Use the hashtag #txlege and you'll find other similar messages online, like Camille's and Hector's and more.
It's unclear whether Abbott and other prominent Republican lawmakers will come together with Democrats to overturn the veto and continue providing insurance and regular pay for lawmakers, staffers and aides.