Get connected with our daily update
The 87th Texas Legislature's regular session—which Gov. Greg Abbott called "one of the most conservative legislative sessions our state has ever seen"—ended Monday. State lawmakers passed bills allowing the permitless carry of handguns, restricting abortion and limiting the teaching of "critical race theory" in public schools, overriding opposition from Democrats. They also passed bills drafted in response to local policy, including one that financially punishes large cities that cut their police budgets and another that bans homeless encampments.
---
But lawmakers will have to return to the Capitol later this year for a special session after failing to pass a number of Abbott's priority items, including a voting bill that would tighten state election laws. "We will be back—when, I don't know, but we will be back," House Speaker Dade Phelan, R-Beaumont, told members Monday. "There's a lot of work to be done, but I look forward to doing it with every single one of you."
Here are seven pieces of legislation you should know about at the close of the regular legislative session:
1. Homeless camping ban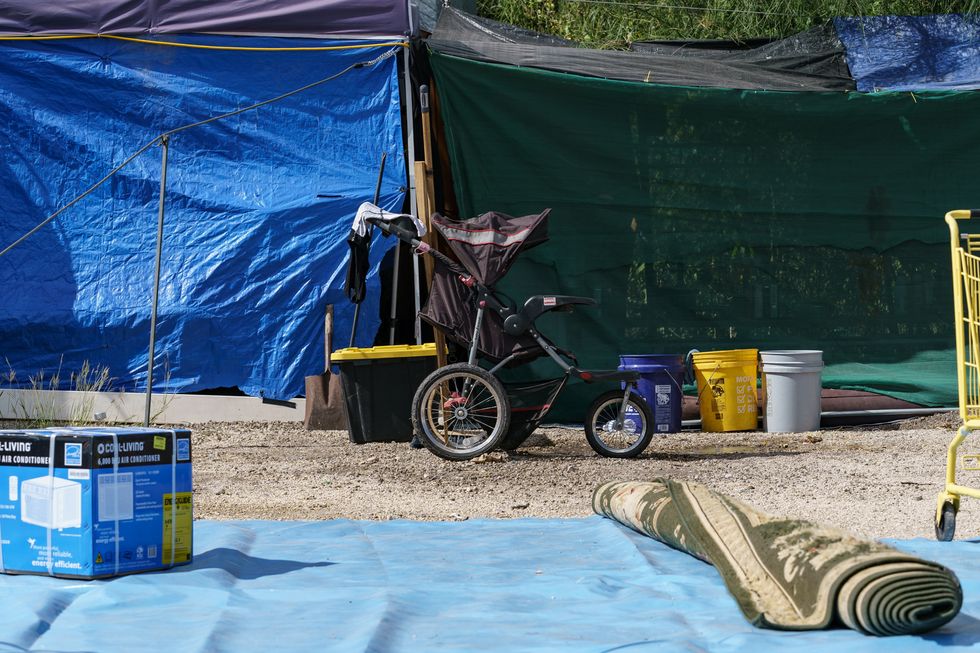 (Jordan Vonderhaar)
State lawmakers sent House Bill 1925, which would ban camping in public spaces and require local governments to seek state approval when designating campsites on public land, to Abbott's desk on Wednesday. The governor has said he would sign the bill, which was filed in response to homeless camps in Austin.
Austin voters chose to reinstate a citywide ban on public camping during the May 1 election, after City Council lifted it in 2019. Local elected officials are now in the process of trying to designate sanctioned campsites, which has prompted pushback on the dais and from constituents.
City staff presented a list of 45 possible campsites last month, many of which were on public parkland. If signed into law, HB 1925 would ban cities from using public parks without first gaining approval from the state, compounding the challenges of establishing such sites.
2. Police defunding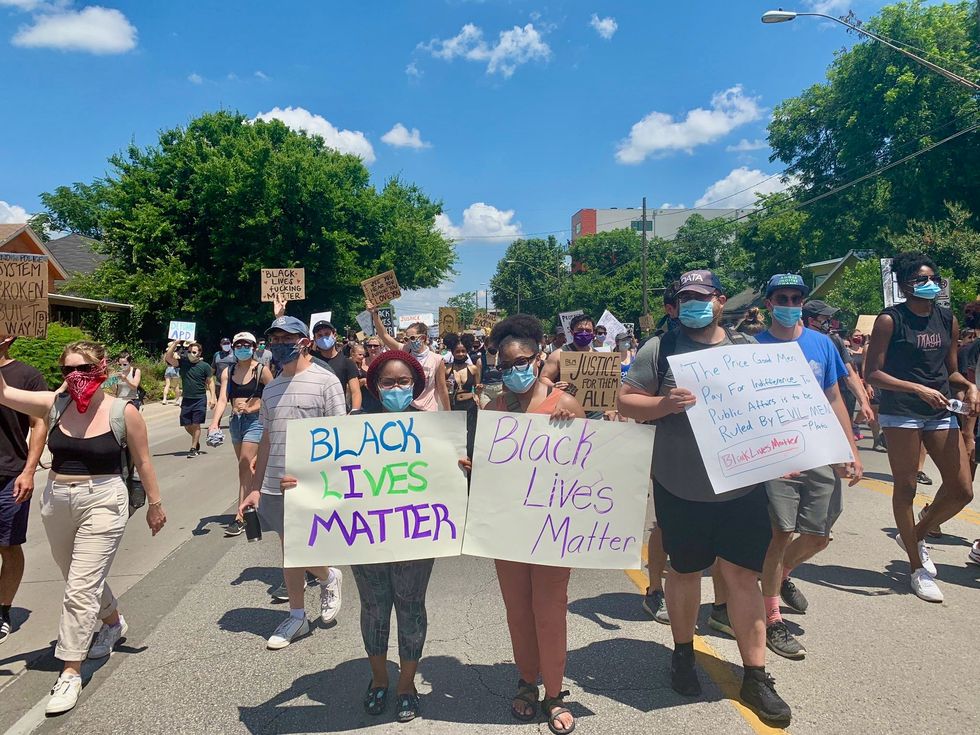 (Emma Freer)
After Austin City Council voted unanimously to cut the Austin Police Department budget by around 5% last August, along with a series of other reforms, Abbott began seeking out legislative penalties.
On Friday, just over a year after George Floyd's murder and nearly a year since thousands of Austinites protested police violence, state lawmakers approved House Bill 1900, which applies to cities with a population of more than 250,000 and would restrict their ability to raise property tax revenue, among other financial penalties, if they reduce their police budgets. Abbott has said he will sign the bill into law.
APD Interim Chief Joseph Chacon spoke in opposition to HB 1900, which he called a legislative "overstep," during a March committee hearing: "These decisions must be made at the local level by our community when and to the degree needed to help build and maintain trust," he said.
3. Winter storm response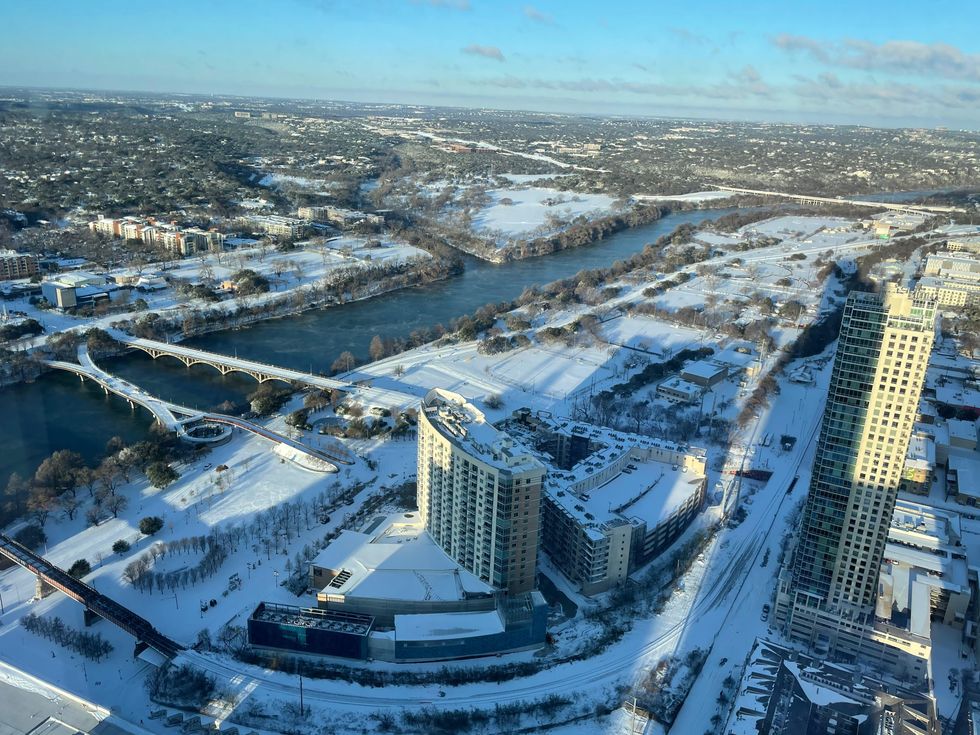 (Kyndel Bennett)
After the February winter storm, which left more than 200,000 Austin Energy customers without power and caused at least 12 deaths in Travis County, there were loud demands for an overhaul of the state power grid. State lawmakers approved sweeping legislation to address some—but not all—of the issues that contributed to the catastrophe.
Senate Bill 2 would change the makeup of the Electric Reliability Council of Texas, which maintains around 90% of the state grid. If signed into law, it would shrink ERCOT's board of directors from 16 to 11 members and increase the influence of the state's top politicians in the selection of those members.
SB 3 would require some natural gas generators to weatherize. During the winter storm, ERCOT projected the state would lean heavily on natural gas, but wells froze up and icy roads made it impossible to transport it, leading to days-long blackouts and the possibility of a total grid collapse.
4. Permitless carry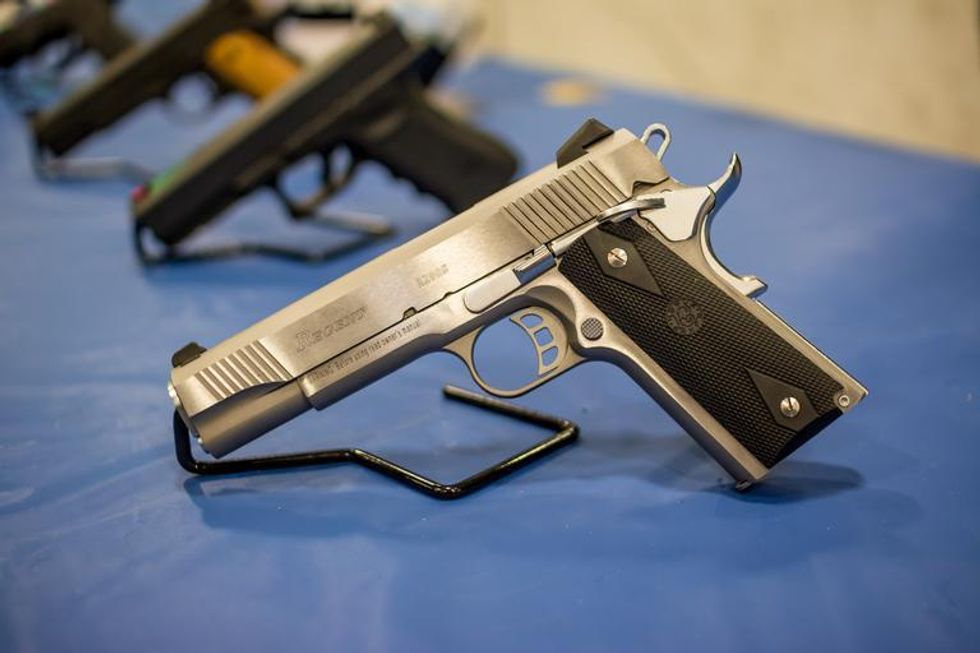 (CC)
House Bill 1927, which would see Texas join 19 other states that don't require a permit to carry holstered handguns, has the governor's support and is celebrated by "constitutional carry" proponents. But some law enforcement agencies and other public officials worry about the risk permitless carry poses to public safety amid already-rising violent crimes rates.
APD Interim Police Chief Joseph Chacon joined other police chiefs in speaking out against the bill, which he said would lift training and safety requirements currently in place, during an April 29 press conference. He also pointed to an increase in gun violence locally.
Although not all violent crime involves guns, gun violence is increasing and may involve stolen guns or illegally manufactured "ghost" guns. "I'm just very concerned about the number of illegally possessed firearms and how we can curb that," Chacon said during an April 15 press conference, where he announced a new gun crime prevention program in partnership with the Travis County District Attorney's Office.
5. Abortion restrictions
We're proud to be rallying for abortion access in #Texas today! #TexasDeservesBetter #AbortionIsHealthcare #txlege pic.twitter.com/UsU2Qaxr96

— Jane's Due Process (@JanesDueProcess) May 29, 2021
Abbott signed Senate Bill 8—one of the strictest abortion measures in the country—into law on May 19, which would ban abortions after a fetal heartbeat can be detected, which supporters say can be as early as six weeks, before some people know they're pregnant. It does not include exceptions for pregnancies that result from rape or incest.
The bill, which takes effect in September, leaves enforcement up to private citizens, whom it allows to sue abortion providers or anyone who helps someone get an abortion after a fetal heartbeat has been detected, according to The Texas Tribune. This is intended to make the law harder to challenge legally because the state plays no role in enforcing it.
State lawmakers also approved House Bill 1280, which would ban abortion in Texas if the U.S. Supreme Court overturns Roe v. Wade.
6. Critical race theory in public schools 
Today I killed HB 3979—the bill that attempted to teach our students a whitewashed version of American history—with a Point of Order.

If kids are old enough to experience racism, then they're old enough to learn about it. #txlege pic.twitter.com/Xg5vmm4Bvh

— James Talarico (@jamestalarico) May 28, 2021
House Bill 3979, which would limit how current events and the country's history of racism can be taught, is awaiting Abbott's signature after a contentious approval process and significant opposition from Democrats, educators and education advocacy groups.
After State Rep. James Talarico, D-Round Rock, raised a procedural violation on Friday, the bill appeared to be dead. But lawmakers removed the amended language that prompted Talarico's concern and ultimately passed a stripped-down version. If signed into law, the bill would ban the teaching of The New York Times' 1619 Project, which argues that the country began when enslaved people first arrived.
Supporters of the bill, which is one of many similar efforts at state legislatures across the country, say it will help prevent personal biases from entering the classroom, according to the Texas Tribune.
7. Voting rights (and a special session)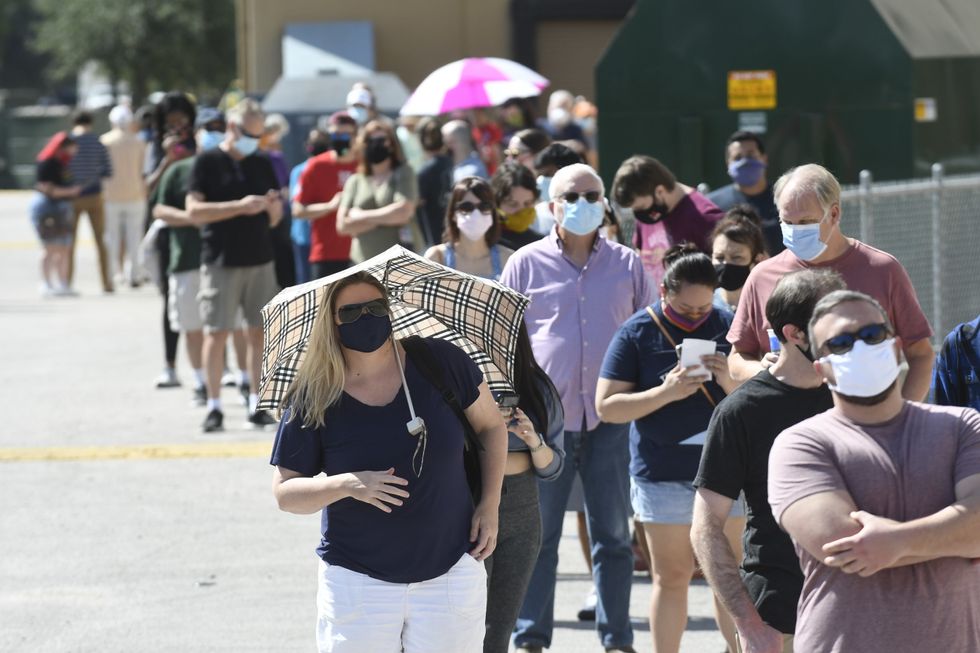 (Bob Daemmrich)
An hour before the midnight deadline, House Democrats left the floor, blocking a bill that would upend Texas voting laws and prompting Abbott to call a special session.
The bill would add restrictions to early and mail-in voting as well as prohibit drive-thru and other after-hours options. Republican supporters say the bill would improve "election integrity" and prevent voter fraud, despite virtually no evidence that such fraud has occurred. Democratic opponents say the bill is tantamount to voter suppression.
Abbott had declared the bill an emergency priority, along with bail reform. After state lawmakers failed to pass either, he called for a special 30-day session later this year and vowed to defund the state Legislature, threatening salaries, as a penalty. State Rep. Donna Howard, D- Austin, tweeted in response: "This would eliminate the branch of government that represents the people and basically create a monarchy."
It isn't yet clear when the special session will occur. Lawmakers are expected to reconvene this fall to redraw the state's political maps after the 2020 census.
Austin's Delta 8 industry has been turned on its head after Texas health officials clarified that the cannabinoid is on the state list of illegal substances, though it was previously believed to be legal by most retailers, consumers and manufacturers.
House Bill 1325, which was signed in June 2019 by Gov. Greg Abbott, and the Farm Bill, signed into law by former President Donald Trump in 2018, legalized any hemp product containing less than .3% THC. The same bills were thought to have made Delta 8 legal, though the Texas Department of State Health Services added a notice on its website saying it was still a controlled substance as of Friday, Oct. 15.
Both the federal and state governments keep separate lists on what is considered a controlled substance. Marijuana is considered Schedule I, a category reserved for substances with "no currently accepted medical use and a high potential for abuse," both statewide and federally.
Austin-based CBD retailer Grassroots Harvest CEO Kemal Whyte, like many CBD shop retailers, was blindsided by the announcement. Many small businesses rely on Delta 8 for their sales—Green Herbal Care CBD said about 90% of its sales come from Delta 8—and Whyte said he is frustrated by the inconsistencies in the drug scheduling system.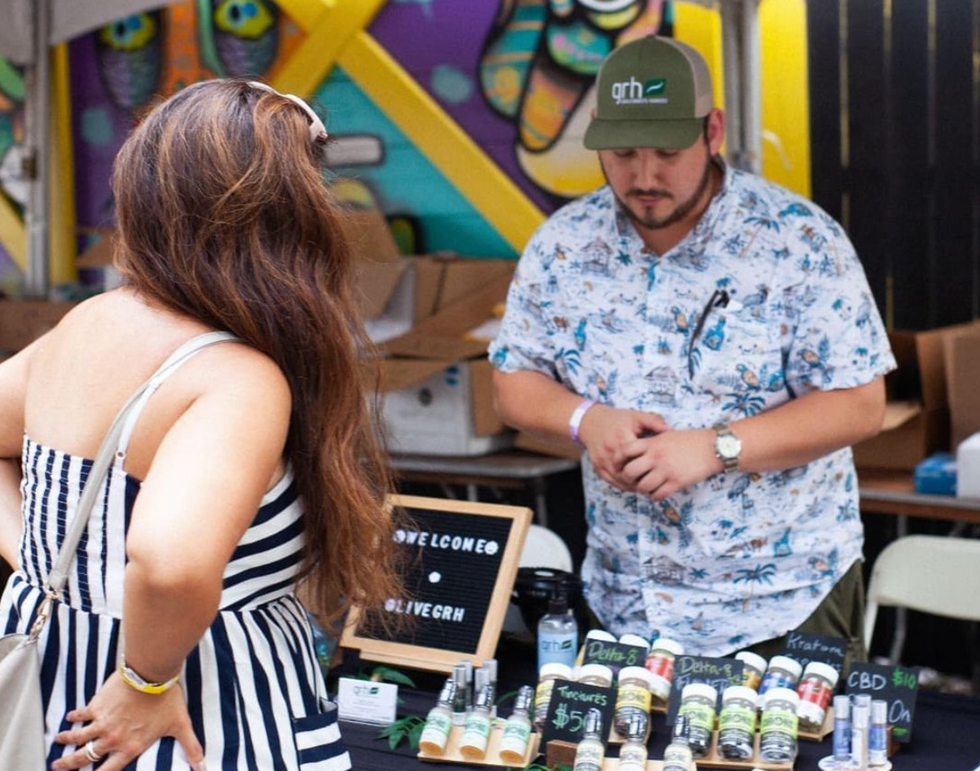 (Grassroots Harvest/Instagram)
Since 87% of Texans support the legalization of marijuana, at least for medical use, per a recent poll, Whyte said he wonders who this legislation is for.
"It's gonna have a massive impact on small businesses—there's just no way around it," Whyte said. "The reality is, we don't want to push out anything bad for our customers, we want this to benefit our customers and to help them. If we can make money while doing it, that's the American dream. What are we doing, whose benefit is this for?"
Delta 8 surged in popularity after the perceived legalization—consumers enjoyed its lower psychotropic potency, decreased anxiety while using it and the peace of mind as a legal way to get high. So in order to protect their products and livelihoods, both Grassroots Harvest and Austin-based manufacturer Hometown Heroes are taking legal action.
Whyte said Grassroots Harvest is suing DSHS, saying their action is creating negative effects in the market. Meanwhile, a Hometown Heroes spokesperson said the company is in the process of filing a temporary restraining order that would pause the ban on Delta-8 in the state of Texas.
Threats against Delta 8 are not new—DSHS lost a lawsuit trying to make "smokable hemp products" illegal last year and Texas lawmakers had been considering a bill that would make Delta 8 illegal, though it was dropped after the clarification was made.
Hometown Heroes released a formal statement in response to the DSHS rule.
"I need to be clear—we love Texas, we're just choosing to fight for the will of the people in regards to cannabis in Texas," Hometown Hero CEO Lukas Gilkey said in a statement. "(Texas DSHS) are using backhanded ways to create legislation and go against the will of the people."
Whyte laments the fact that it would be easier legally to "open up a strip club that also sells guns," and said he can't post customer testimonials that mention the benefits of Delta 8 without getting hit with a cease and desist from the Food and Drug Administration. Whyte said he isn't opposed to regulation—far from it—he just wants to see it go through the correct channels.
"The fact that they're stunting our ability to communicate with our clients that want to learn about this, you're preventing us from communicating with them and teaching them, or spreading information that we know," Whyte said. "I think that that in and of itself opens up a lot of questions."
Grassroots Harvest still has Delta 8 products on its shelves for the time being but for how long, Whyte doesn't know.
Austin Public Health and other clinics around Austin are now providing booster shots for all three vaccines, including Pfizer, Moderna and Johnson & Johnson, to fully vaccinated individuals after both Pfizer and J & J were approved by the CDC on Wednesday.
APH and Austin clinics, which were already administering the approved Pfizer booster, will begin distributing shots as soon as Friday.
Those who received the second dose of the Pfizer and Moderna vaccine more than six months ago are elligble to receive a booster if they are over 65 or if they are over 18 and:
Live in a long-term care environment
Have underlying medical conditions
Work or live in high-risk settings, such as schools, hospitals or correctional facilities
Those who took the Johnson & Johnson shot are eligible if they are over 18 and received their dose over two months ago.
Austin-Travis County Health Authority Dr. Desmar Walkes said in a media Q&A Friday that APH is encouraging boosters just as much as they have urged residents to get their first and second doses.
"Boosters are incredibly important to keeping our community protected and hospitalizations low," Walkes said. "If we can stay on top of our vaccinations, we provide protections for our most vulnerable and make it that much harder for COVID to spread in our community."
Eligible residents are free to choose the same booster as their first doses or "mix and match," per the CDC announcement.
Those looking for another dose can simply bring their vaccination card to APH centers or the dozens of Walgreens and CVS locations in the metro, which began administering doses Friday.
Additional updated guidance from the CDC allows for all eligible individuals to choose which vaccine they receive as a "mix-and-match" booster dose. It is advised to remember to bring your CDC COVID-19 Vaccination Card showing the original doses with you when going for booster shots.