Get connected with our daily update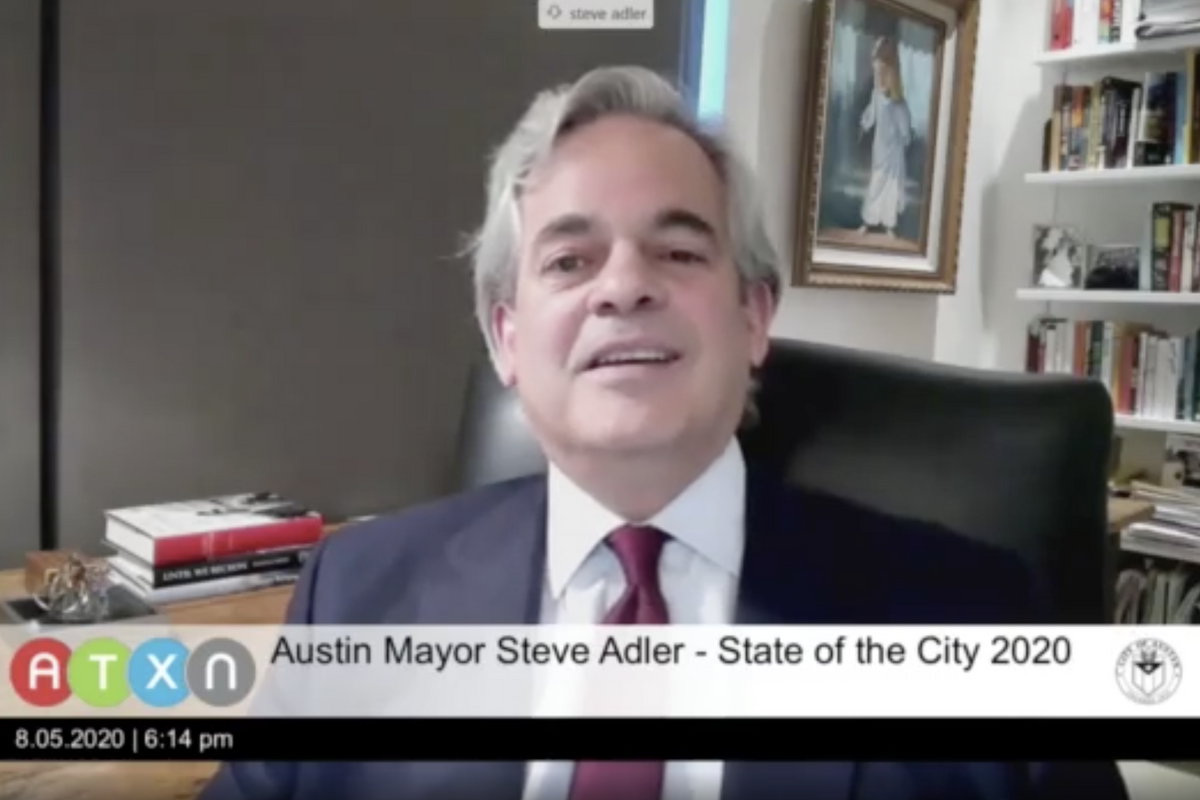 (City of Austin)
This story has been updated to include quotes from the mayor's speech.

Austin Mayor Steve Adler delivered his annual "State of the City" address Wednesday evening, in which he discussed the coronavirus pandemic, police funding, the local economy, homelessness, transit and equity issues.
---
Usually delivered to a crowd at City Hall, tonight's address was—as are all things Council these days—virtual.
"This could have been a speech only about COVID-19," Adler said. Instead, much of his 25-page address focused on the opportunities presented in this moment.
"Perhaps only at times such as these, where our routines and inertia are so utterly disrupted, can we be freed and forced to dream and act big," he said. "So let's do big things. Let's end homelessness. Let's bring real mobility to Austin. Let's reimagine how we keep one another safe. Let's address race and do something about correcting centuries of injustice because it is the fundamental injustice that fuels so many others."
Below are some quotes, excerpted from a transcript shared in advance.
On the coronavirus
"We all want the local economy—and our lives—back as we knew them. But the governor's decision to reopen before we had sufficient testing and tracing in place and before our numbers were low enough compounded the challenge. … Truth is, the virus was never gone. It just hides, waiting for us to invite it back into our lives."
On the economy
"Unemployment is at unimaginable levels. Businesses have shuttered - some temporarily and some lost forever. Many of our neighbors don't know how they're going to feed their families or whether they'll be evicted from their homes. Tenants struggle with rent; homeowners and landlords struggle with mortgage payments. Our hospitality and creative workers and industries, so great a part of our economy, are reeling. For many, it's already too late."
On homelessness
"To the people that signed on to the petition because they were desperate for a solution for people experiencing homelessness, I want to say that I share your impatience. Having chosen this more just path, though, and having rejected the false promise of cosmetic fixes, our work is incomplete unless we follow through with the commitment to house the homeless. This will require us to do a better job of inclusively managing shared public spaces."
On transit
"Project Connect is a bold transit plan for the just and accessible city we aspire to be. It certainly addresses traffic, but it will do so much more. … Project Connect will connect our entire city, creating new opportunity for Austinites, reducing our dependence on expensive personal vehicles, and save lives."
On police funding
"I want to address police department leadership. … We need not only an openness to consider change but a keen desire to move past the status quo and to look at public safety more broadly than [ever,] mainly focusing on ensuring we're best equipped to deal with unsafe moments when they occur. We need more than just a willingness to accept change if it happens; we need a champion for change at its best."
Want to read the whole speech? Here's the transcript.
Make it a game! Adler invited residents to use this bingo card to mark off every topic mentioned in the speech. Can you get to bingo? Share it on social media with #ATXSOTC.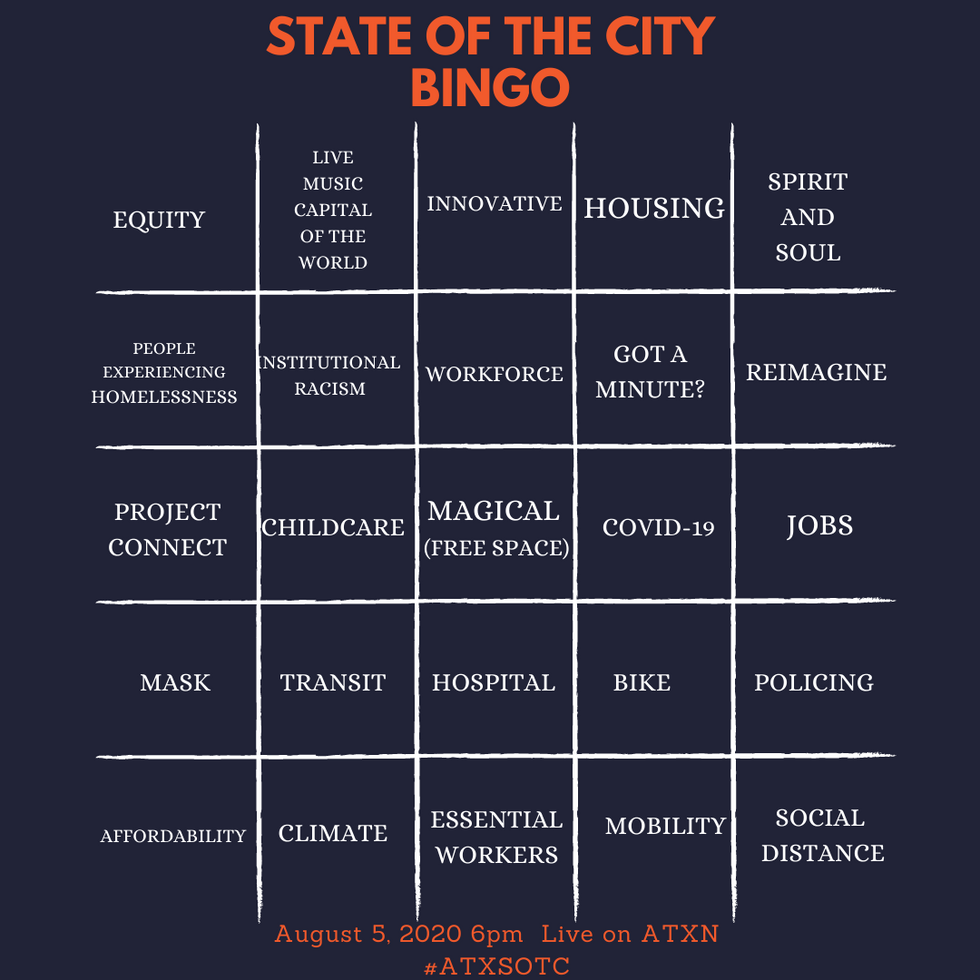 (City of Austin)
Help us find our editor!
Austonia, a for-profit Austin digital media company, is looking for the right person for a new position as newsletter editor.
Are you an innovator who wants to work exclusively in digital media and push the boundaries? Do you have 3+ years in digital, broadcast, print or agency work? This could be the opportunity for you.
In two years we've created a place in the Austin media landscape, and we're looking for people who can move us toward the front.
AM email newsletter, 22,500+ daily subscribers
Austonia.com, reaching 250,000+ users/month
Social media, 50,000+ followers
Success in this role is based on skills: an excellent writer, editor, visual communicator and storyteller who builds compelling stories with digital and classic elements, who can recruit and mentor contributors in doing the same.
Austin is the most interesting city in the world, and we want to cover it that way. The people, issues, opportunities, challenges, companies and cultures that make Austin dynamic and successful.
Compensation depends on experience. Benefits include PTO and employee Blue Cross Blue Shield "Silver" health coverage, with 100% of the monthly premium paid by the company.
This is a hybrid, mostly remote position. Must live in Austin.
The position reports to Austonia's CEO.
To apply, follow this link to become a candidate immediately:
https://hu9c8d8pxw6.typeform.com/to/JMkTWPwG
Or send your contact info and a link to your LinkedIn profile to hr@austonia.com.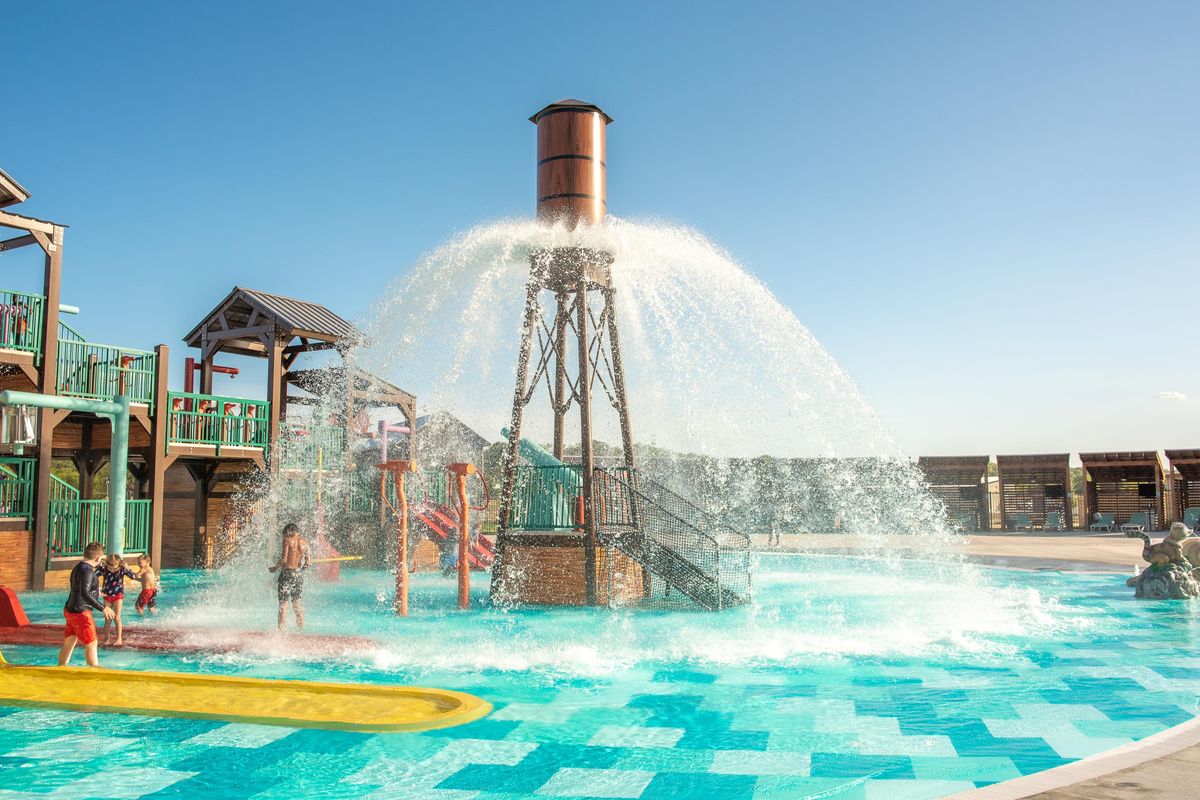 Camp Fimfo Waco
Camp Fimfo Waco, a brand new camping resort, is kicking off football and fall camping season in style! With top-notch amenities, premium accommodations, and 10 weekends of fall fun, there's no better place to have a fall camping getaway, especially if you're a Baylor football fan!
Fall promises to be a one-of-a-kind camping experience. From Sept. 16 to Nov. 24, weekends will be packed with fall-themed activities, including special Halloween weekends in October. Campers can enjoy activities like fall crafts, campground trick-or-treating, costume contests, site decorating, outdoor movie nights, and more!