Austonia AM
100% Austin news, info, and entertainment, straight to your inbox at 6 a.m. every morning.
In five minutes, you're fully informed and ready to start another great day in our city.
Get connected with our daily update
(Pexels)
After several winter storms and six days of subfreezing temperatures, Austin residents can expect details Friday evening about water distribution sites and "substantial improvement" in water service by Monday, although the boil water notice is likely to last into next week, city officials said during an afternoon press conference.
---
"Obviously it is much better to have water to boil and use than to not have water at all," Austin Water Director Greg Meszaros said.
The boil water notice took effect Wednesday evening, as most Austin Water customers had no water to actually boil or very low water pressure. Despite significant progress in restoring power, more than 20,000 Austin Energy customers—or around 4%—are still experiencing outages caused by equipment damage, which will likely take days to repair, General Manager Jackie Sargent said.
Heading into the weekend, after a disastrous week, officials answered some pressing questions, including where to find safe water, whether to keep up conservation measures and how the roads are looking.
1. When will water be restored?
Meszaros expects most Austin Water customers currently experiencing outages will see improvements by Monday. "I anticipate through the weekend the majority of our customers will see significant improvements in regards to pressure," he said.
However, this does not mean that service will be totally back to normal. "Customers may go from no water pressure to low water pressure," he said, or see discoloration. "This can be a kind of gradual improvement of service."
Austin Water is making progress—"literally, every hour it's getting better," Meszaros said—restoring pressure to its system central zone, which feeds outlying zones, and area hospitals, which are the utility's top priority.
The boil water notice is likely to last into next week for two reasons:
Austin Water first needs to restore pressure and resolve outages, which will involve manual leak repairs and time to refill its reservoirs.
There are state requirements for sampling and testing.
2. I don't have water (or if I do I don't have power to boil it). Where can I find safe water?

Residents can expect details on public water distribution sites later today as water deliveries begin to arrive in the Austin area.
Sites will likely operate from sunup to sundown and impose limits of one case of water per car, City Manager Spencer Cronk said. Their locations are being chosen for ease of public access given the current road conditions. The city is also working to coordinate water deliveries to vulnerable residents, such as the elderly and homeless.
The city ordered one million gallons of water in 16-ounce bottles from six surrounding states that are due to arrive starting Friday evening. FEMA also airlifted water from Fort Worth this afternoon. In addition to these bulk purchases, the city is also coordinating smaller deliveries intended for hospitals, shelters and warming centers.
Many local businesses are also distributing free water. A list can be found here.
Water supplies are limited. "If you are able to purchase water, we encourage you to do so," Cronk said.
3. I still don't have power. What is the holdup and when can I expect it to return?

As of 3:05 p.m., 20,424 Austin Energy customers are still without power. These outages are no longer due to ERCOT-mandated outages, which officials announced had ended Friday morning as supply currently outpaces demand. Instead, they are the result of weather-related equipment damage and will take "several days" to repair, Sargent said.
"Our hardest days for Austin Energy still lie ahead of us," she added.
4. Should I still be conserving water and power?
Yes and yes.
Water conservation measures are already having an impact as Austin Water is currently producing more water than is being used, which is helping the utility refill its reservoirs and restore pressure to its system's central zone.
Customers with water should continue to avoid taking showers, running the dishwasher or doing laundry until water service is restored citywide, Meszaros said.
Austin Energy customers with power should also continue to conserve. Although ERCOT officials are "no longer asking for energy conservation," according to a Friday morning update, Sargent asked Austinites to reduce their use.
"There are still a large number of customers that have not been energized yet, so their demand is not being accounted for yet," she said. "I would ask customers, as we continue to work through this, to please continue to conserve."
5. What can I expect from my utility bills?
It's still too early to tell, but residents are understandably concerned about price gouging.
Screenshots circulated on Twitter Monday showing two-star hotels in Austin listing rooms for nearly $1,000 a night, as hundreds of residents went without power in subfreezing temperatures. On Tuesday, the Daily Beast published a story that featured Royce Pierce, a Texas contractor whose February heating bill is nearly $8,000—only three weeks in—compared to the $387.70 he paid to heat his home in January. Comstock Resources, a shale driller that operates in Texas, held an earnings call on Wednesday as natural gas prices surged. "Obviously, this week is like hitting the jackpot," President and CFO Roland Burns told investors, according to multiple reports.
Local elected officials took notice. Travis County Judge Andy Brown issued an order Tuesday that prohibited price gouging, which is illegal during a disaster. Travis County Attorney Delia Garza's office created a resource page about price gouging to "educate the public and deter illegal activity," she said during an emergency Commissioners Court meeting on Friday. Austin Mayor Steve Adler announced a special City Council meeting on Tuesday, where members will discuss "fee waivers and other relief" measures, according to a message board post.
Austin Water is working with the city manager to provide "a menu of options" to customers seeking financial assistance or relief after dripping faucets and burst pipes caused water usage citywide to more than double. "Certainly, Austin Water doesn't want to reap any financial benefit from this ice storm," Meszaros said.

Sargent said Austin Energy does not yet have enough information to predict rate impacts. "That is information that will be forthcoming," she added.
6. What has been done to ensure Austin's homeless residents have access to shelter and other services during this crisis?
Around 1,500 people—a mix of homeless residents and those without power at home—slept at city shelters and warming centers as of Wednesday night, Cronk said. This figure does not include those who stayed at the Austin Disaster Relief Network's faith-based shelters.
The city's police, fire and EMS departments also sent staff to more than 45 homeless encampments to offer rides to shelters and around 550 homeless residents were contacted via a texting alert system with information about resources.
Exposure-related deaths among homeless residents have been reported in Houston and Abilene. Austin Mutual Aid and other grassroots organizations have stepped in locally, providing food deliveries and covering hotel costs.
7. Is it safe to drive or walk around the city yet?

Things are improving.
The Austin Fire Department reported "a sudden uptick in traffic accidents" on Thursday evening as temperatures fell and roads began to ice over again, but call volume has since trended downward, according to Cronk and Austin-Travis County EMS.
City crews are still working to clear priority streets around the city. As of Friday afternoon, they had cleared more than 180 lane miles. But because of ongoing icy conditions, Public Works Director Richard Mendoza asked residents to limit travel only to necessary trips and stick to major corridors. "We do want the community to remain vigilant," he said.
Another concern is traffic lights. Most of the city's signals have been impacted by power loss, and crews are working to restore most by Monday morning, prioritizing those at major intersections. Residents who encounter a dead signal should treat it as a four-way stop, Mendoza said.
Editor's note: Addie Broyles is a longtime food writer, who wrote for the Austin American-Statesman for 13 years. This piece was published in her weekly newsletter, "The Feminist Kitchen," where she shares stories about parenthood, grief, ancestry, self healing and creativity. Check it out here.
You know Bruce McCandless' most famous moment, but you probably don't know his name.
McCandless is the astronaut who, in 1984, became the first untethered astronaut in space. He's the guy on those posters, mugs, shirts and everything else NASA could sell with the image of his "leisurely waltz with eternity," as his son calls it in his new book, "Wonders All Around: The Incredible True Story of Astronaut Bruce McCandless II and the First Untethered Flight in Space."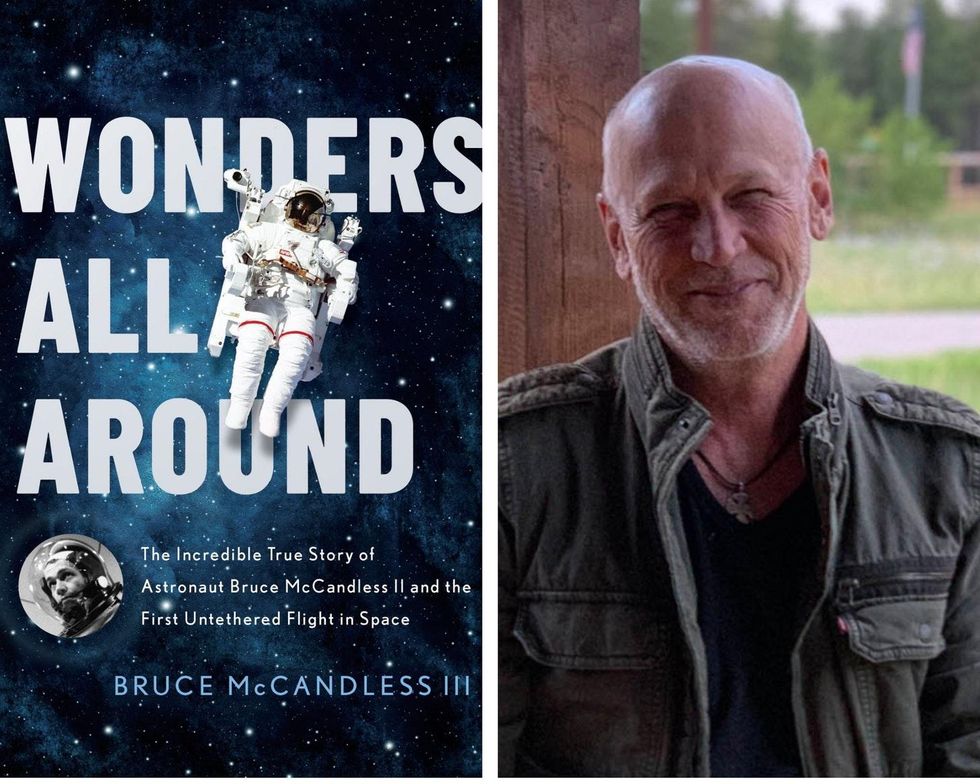 'Wonders All Around' is a new book by Austinite Bruce McCandless III about his dad, the astronaut Bruce McCandless II. (Bruce McCandless III)
I met McCandless III, who lives in Austin with his wife Pati, for a coffee a few months ago, thanks to the introduction from a mutual friend. As we talked about losing our dads, being writers and parents and living in Austin while still dealing with COVID, his dad's famous flight didn't come up, but the process of writing such an epic biography of a complex, only recently passed man was something worth unpacking over coffee.
I hadn't read the book yet, but over the next few weeks, I got to know the McCandless family in such a sweet way that I wanted to write a little about the book here to perhaps inspire you to seek out a copy of "Wonders All Around."
As much as this is a book about space, it's also a book about grief. And persistence. And stoicism. And masculinity and maternality.
The elder McCandless died in 2017, just a few years after losing his wife, Bernice, to cancer.
This passing of the torch from father to son left the younger McCandless inspired to take on this decades-long narrative. McCandless III sets the tone for the book with a memory of the family sitting around the dinner table at their home outside Johnson Space Center near Houston in the mid 1970s, when his dad, who joined NASA in 1966 at the age of 28, wasn't sure he'd ever actually make it to space.
"Our dinners were somber affairs. We ate around a rectangular Formica table in the breakfast nook. Tracy and I sat on benches padded with orange vinyl cushions. Mom and Dad occupied faux-Spanish style chairs with green felt upholstery. Despite the informal, Howard Johnson's-at-the-airport feel of the furnishings, there was a tension in the air that set in right around the time the frozen string beans started steaming. I had the feeling that my sister and I had forgotten to do something important, though I couldn't figure out what it was, or that judgment had been rendered on us and we'd been found guilty of … something — again, it was unclear what. Horseplay was prohibited. The TV and all sources of music or other frivolity were turned off, and singing was strictly forbidden. The only sound came from the aquarium pump. My father had a 100-gallon tank along the wall behind his chair. Sometimes the big plecostomus would attach itself by its mouth to the glass facing us, and I imagined it sucking all the oxygen out of the room."
Imagining what it must have been like to require oxygen to survive, not in outer space but in the living room with your family, sets up the story of the McCandless ancestors, including a guy who was killed by Wild Bill Hickok and the author's grandfather, who was an admiral in the U.S. Navy.
No pressure, Bruce.
It was fascinating to read about the 18 years that Bruce McCandless II worked for NASA before he finally had his first flight, which debuted the Manned Maneuvering Unit, a jet-fueled backpack that he and Ed Whitsett Jr. spent so many years developing. (That's the joystick-controlled machine he's wearing in that mind-bending poster that hung on millions of Americans' walls over the following decade.)
The author McCandless has the unenviable task of trying to put into words what that flight must have felt like. His dad flew 150 feet away from the shuttle Challenger, which would, of course, break into a million little pieces just a few years later.
When President Reagan called the shuttle to congratulate the astronauts that day in 1984, the command center set up a demonstration space walk to give the president a live view of McCandless through the shuttle window.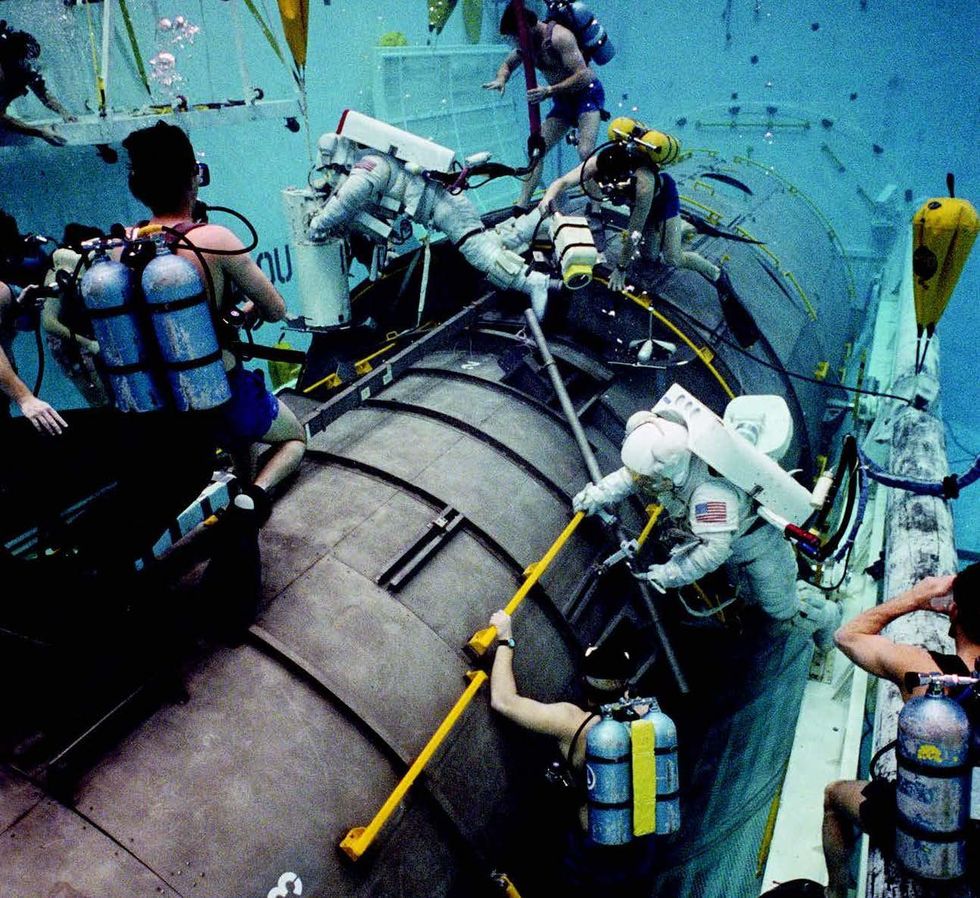 Bruce McCandless II, trains with Kathy Sullivan, right, in preparation to launch the Hubble Space Telescope. (NASA)
The only problem was, there wasn't much fuel left. McCandless went out anyway, trying to stay within 10-15 feet of the spacecraft. He got into position and turned off the unit to preserve propellant. After the president said a few words and the video switched off, McCandless turned on the unit and "looked for the closest piece of the orbiter, pointed at it, put the hand controller in +X (and) got a sort of sighing noise as it accelerated in that direction." He ran out of fuel just as he grabbed onto a rail on the orbiter. Hand over hand, he brought himself back to the donning station.
It's that kind of suspense that made this book so thrilling to read.
There's space tension like when McCandless is operating as CAPCOM, the only person talking to Neil Armstrong and Buzz Aldrin while they are walking on the surface of the moon, and his commander wants him to break protocol and call them back early, even though there are no signs of distress.
The book is also so touching. I cried while reading about the declining health of Bernice, who survived so many astronaut wife struggles over the years and at the end of her life remained a loving partner and mother.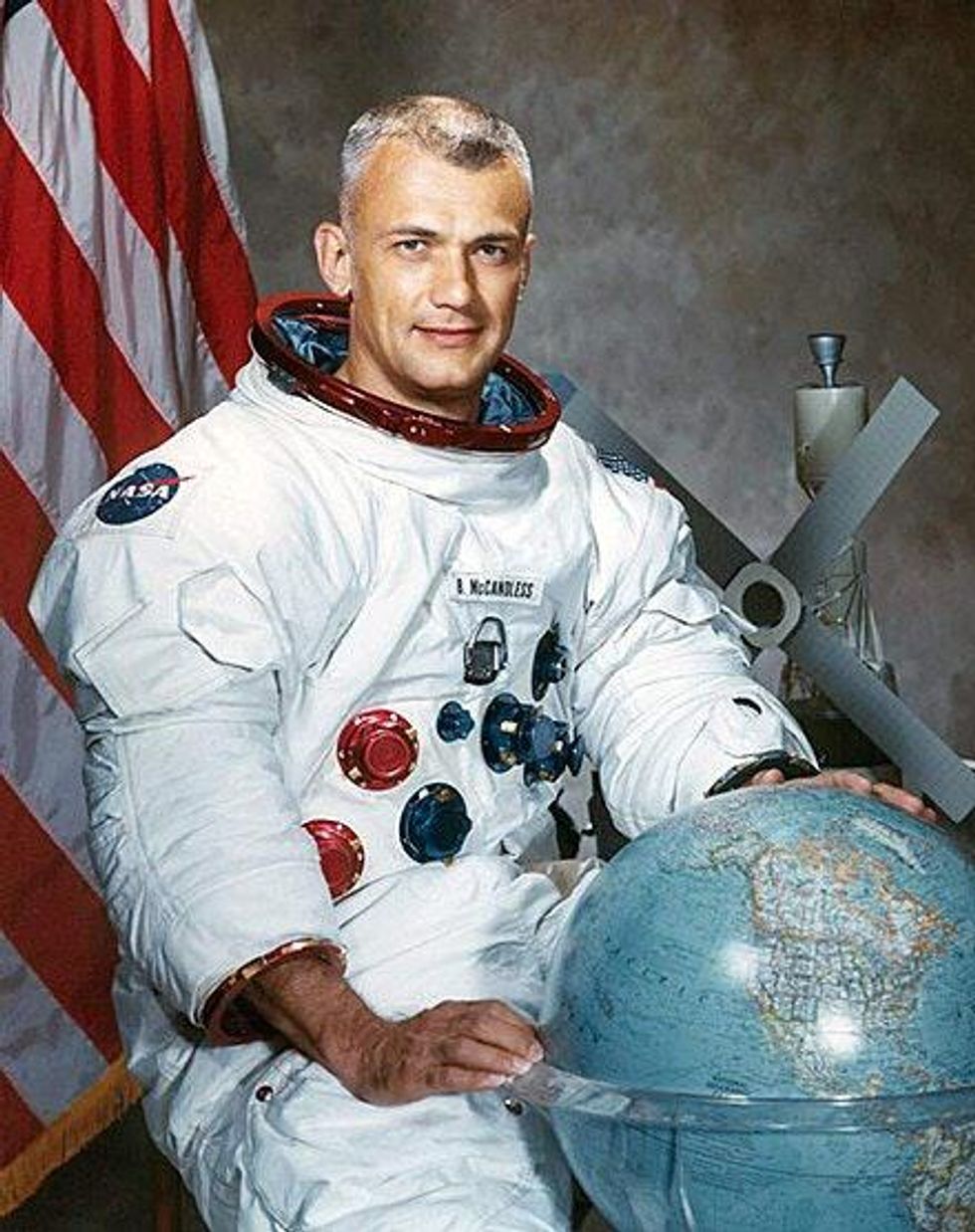 Bruce McCandless was a Navy pilot who was picked to join NASA in 1966. His first space flight wasn't until 1984. (NASA)
It's easy to forget that McCandless II had an entirely other memorable historic moment—launching the Hubble Space Telescope in 1990—and this one seems to have struck an even deeper chord with McCandless III.
The Hubble launch was McCandless' second and final flight. He was 52 and had worked at NASA for 24 years.
McCandless II spends the last chapters of the book making a compelling case that his dad's work to fix and update the Hubble are among the greatest achievements to science. He continued to work on Hubble for another two decades after retiring from NASA through his work at Lockheed Martin.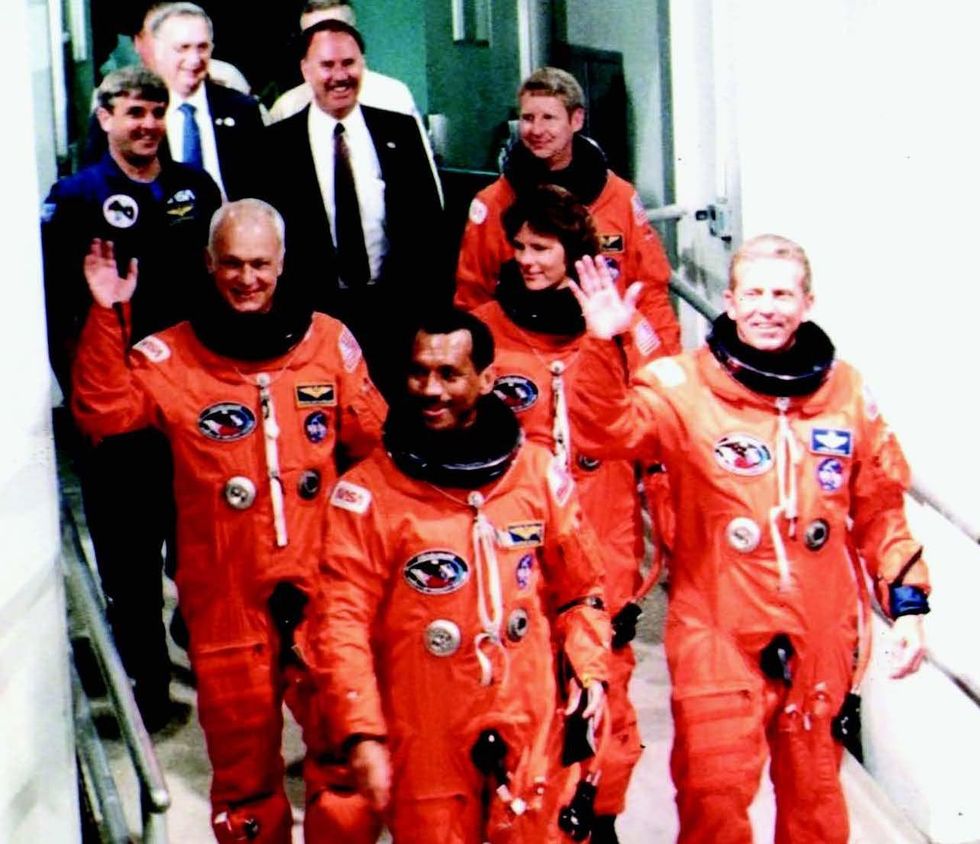 Bruce McCandless, left, and the flight crew that launched the Hubble Space Telescope in 1990. He was 52 years old. (NASA)
He was the "nuts, bolts, screws, and wires guy," the auto mechanic rather than the scientist, who kept the telescope going 340 miles above Earth for more than twice its life expectancy. The Hubble has been cited in more than 18,000 scientific papers and has revealed countless secrets and unsolved mysteries from around the universe and beyond.
"The size, shape, and sheer spectral weirdness of the images boggle the imagination and make prophets and dreamers of us all," McCandless writes toward the end of "Wonders All Around. "Some of us pay therapists to tell us we're important and unique. Then we check in with Hubble so the satellite can inform us just how galactically marginal we all are. The truth is somewhere in the middle."
What a beautiful reminder.
Austin FC looked to go 2-0 against the Colorado Rapids in their first-rematch since their breakthrough 3-1 victory in April. Instead, the club tallied yet another scoreless match at home as they lost 1-0 to the fourth-place team in the West.
Austin now sits at the bottom of the Western Conference for the second week in a row and have been shutout for 9 of their last 11 matches.
At first glance, Austin looked to have a fighting chance as they took the pitch with their healthiest lineup in weeks. With just four players on the bench and a late-game surprise appearance by left back Nick Lima, who now sports a mohawk, the club had potential to break a 225+ minute scoreless streak and notch their first back-to-back wins against a team.
Instead, the club started fast but finished slow. Austin tallied just two shots on goal to Colorado's 6 as the team continued to struggle to find an offensive identity.
Colorado's Andre Shinyashiki got past even goalkeeper Brad Stuver in the 29th minute of play to give the away team the lead. Austin was unable to bounce back in the match.
There's hope on the horizon, however: Austin's three new signees, including $6.4m striker Sebastian Driussi, are projected to join the team next week.
It's all about the Lone Star State for Austin FC next week as they compete against Texas teams Houston Dynamo at home on Wednesday and FC Dallas on the road on Saturday.
79' Nick Lima is back!
Nick Lima back at RB for the first time in weeks! https://t.co/eln9IFyoMB

— Claire (@partain_claire) August 1, 2021
For the first time since a tumultuous June 24 match, right back Nick Lima is back on the pitch- this time with a new look. The defender subbed in for left back Zan Kolmanic sporting a new mohawk haircut in the 79th minute of play.
45+' "STUUUUV!" 
STUUUUUUUU 🗣 pic.twitter.com/tRRyGxTooK

— Austin FC (@AustinFC) August 1, 2021
Brad Stuver gets the crowd yelling his name after blocking Rapids star Michael Barrios' shot with a solo save. Just after, Stuver gets his fingertips on another Barrios ball just in time to get it off track and out of the way. Either save could get Stuver on the MLS highlight reel for today's match.
40' Redes' run for goal is stymied
Redes gets his closest look of the game as he reaches the nearly-unmanned goal, but he takes a tumble just before he strikes. A ref decision says no penalty kick will be allowed, and Redes slowly rises back up with a bit of a limp.
Austin still hasn't managed to tie it up, but Cap. Alex Ring came close in the 36th minute with a header that flew just a bit too high.
29' Colorado strikes first
#Rapids96 break through! 👀@AShinyashiki9 scores his third of the season. pic.twitter.com/i5VFzFmLEI

— Major League Soccer (@MLS) August 1, 2021
Austin has been near goal more often than any match in recent weeks, but it's Colorado's Andre Shinyashiki who scores first at Q2 Stadium. Austin's two defensive strongholds Matt Besler and Julio Cascante can't react quickly enough to break his stride as Shinyashiki wins over a 1v1 battle with Brad Stuver. Colorado leads for the first time in the two teams' history.
Perez gets first start for Austin
Taking the pitch tonight against Colorado.#AustinFC x @YETICoolers pic.twitter.com/E1amnna7e7

— Austin FC (@AustinFC) August 1, 2021
No new signees on the pitch tonight. Head coach Josh Wolff is mostly sticking to what he knows, with Manny Perez and Rodney Redes being the exception. Redes started last week against Seattle for the first time in weeks after scoring in a friendly vs. Tigres UANL of Liga MX, while Perez will have his first start with Austin tonight.
Will recent signees play tonight?
Coming to Austin was an easy decision for @SebadriussiOk. Our supporters and culture make our guys feel right at home. pic.twitter.com/siMblqHfP0

— Austin FC (@AustinFC) July 30, 2021
The club has stirred up new hope by signing Argentine Sebastian Driussi with their most expensive contract yet a month after another striker signing in Moussa Djitte. Austin also welcomed their first true hometown player just a day later as they signed Austinite McKinze Gaines.
Austin FC hopes to answer their scoring woes with the three players as they head into potential rivalry matches against fellow Texas teams Houston Dynamo and FC Dallas, but they might not hold any merit for Saturday's Colorado rematch. Djitte is MIA after receiving a contract in late June, and Driussi is still waiting for the go-ahead to play as he watches the match in Austin. Gaines may not have to travel far to play with the team, but it'll still be at least a few more days before he plays in front of his hometown crowd.
While all three signees aren't on tonight's roster, there's still plenty of buzz that could drum up more excitement on and off the pitch.
La Murga marches to McKalla
"McKalla ooh la la!" A march to the Austin FC match is underway🔥 @LosVerdesATX @LaMurgaATX @AustinAnthem pic.twitter.com/B1t7ps8pzF

— Austonia (@austonianews) July 31, 2021
Austin FC fan band La Murga de Austin teamed up with supporters' groups Los Verdes and Austin Anthem as hundreds marched to Q2 Stadium two hours before the match. Hundreds of fans filed in, home opener style, to celebrate the upcoming match with brass, bass drums and plenty of fanfare.