Austonia AM
100% Austin news, info, and entertainment, straight to your inbox at 6 a.m. every morning.
In five minutes, you're fully informed and ready to start another great day in our city.
Get connected with our daily update
(Pexels)
After several winter storms and six days of subfreezing temperatures, Austin residents can expect details Friday evening about water distribution sites and "substantial improvement" in water service by Monday, although the boil water notice is likely to last into next week, city officials said during an afternoon press conference.
---
"Obviously it is much better to have water to boil and use than to not have water at all," Austin Water Director Greg Meszaros said.
The boil water notice took effect Wednesday evening, as most Austin Water customers had no water to actually boil or very low water pressure. Despite significant progress in restoring power, more than 20,000 Austin Energy customers—or around 4%—are still experiencing outages caused by equipment damage, which will likely take days to repair, General Manager Jackie Sargent said.
Heading into the weekend, after a disastrous week, officials answered some pressing questions, including where to find safe water, whether to keep up conservation measures and how the roads are looking.
1. When will water be restored?
Meszaros expects most Austin Water customers currently experiencing outages will see improvements by Monday. "I anticipate through the weekend the majority of our customers will see significant improvements in regards to pressure," he said.
However, this does not mean that service will be totally back to normal. "Customers may go from no water pressure to low water pressure," he said, or see discoloration. "This can be a kind of gradual improvement of service."
Austin Water is making progress—"literally, every hour it's getting better," Meszaros said—restoring pressure to its system central zone, which feeds outlying zones, and area hospitals, which are the utility's top priority.
The boil water notice is likely to last into next week for two reasons:
Austin Water first needs to restore pressure and resolve outages, which will involve manual leak repairs and time to refill its reservoirs.
There are state requirements for sampling and testing.
2. I don't have water (or if I do I don't have power to boil it). Where can I find safe water?

Residents can expect details on public water distribution sites later today as water deliveries begin to arrive in the Austin area.
Sites will likely operate from sunup to sundown and impose limits of one case of water per car, City Manager Spencer Cronk said. Their locations are being chosen for ease of public access given the current road conditions. The city is also working to coordinate water deliveries to vulnerable residents, such as the elderly and homeless.
The city ordered one million gallons of water in 16-ounce bottles from six surrounding states that are due to arrive starting Friday evening. FEMA also airlifted water from Fort Worth this afternoon. In addition to these bulk purchases, the city is also coordinating smaller deliveries intended for hospitals, shelters and warming centers.
Many local businesses are also distributing free water. A list can be found here.
Water supplies are limited. "If you are able to purchase water, we encourage you to do so," Cronk said.
3. I still don't have power. What is the holdup and when can I expect it to return?

As of 3:05 p.m., 20,424 Austin Energy customers are still without power. These outages are no longer due to ERCOT-mandated outages, which officials announced had ended Friday morning as supply currently outpaces demand. Instead, they are the result of weather-related equipment damage and will take "several days" to repair, Sargent said.
"Our hardest days for Austin Energy still lie ahead of us," she added.
4. Should I still be conserving water and power?
Yes and yes.
Water conservation measures are already having an impact as Austin Water is currently producing more water than is being used, which is helping the utility refill its reservoirs and restore pressure to its system's central zone.
Customers with water should continue to avoid taking showers, running the dishwasher or doing laundry until water service is restored citywide, Meszaros said.
Austin Energy customers with power should also continue to conserve. Although ERCOT officials are "no longer asking for energy conservation," according to a Friday morning update, Sargent asked Austinites to reduce their use.
"There are still a large number of customers that have not been energized yet, so their demand is not being accounted for yet," she said. "I would ask customers, as we continue to work through this, to please continue to conserve."
5. What can I expect from my utility bills?
It's still too early to tell, but residents are understandably concerned about price gouging.
Screenshots circulated on Twitter Monday showing two-star hotels in Austin listing rooms for nearly $1,000 a night, as hundreds of residents went without power in subfreezing temperatures. On Tuesday, the Daily Beast published a story that featured Royce Pierce, a Texas contractor whose February heating bill is nearly $8,000—only three weeks in—compared to the $387.70 he paid to heat his home in January. Comstock Resources, a shale driller that operates in Texas, held an earnings call on Wednesday as natural gas prices surged. "Obviously, this week is like hitting the jackpot," President and CFO Roland Burns told investors, according to multiple reports.
Local elected officials took notice. Travis County Judge Andy Brown issued an order Tuesday that prohibited price gouging, which is illegal during a disaster. Travis County Attorney Delia Garza's office created a resource page about price gouging to "educate the public and deter illegal activity," she said during an emergency Commissioners Court meeting on Friday. Austin Mayor Steve Adler announced a special City Council meeting on Tuesday, where members will discuss "fee waivers and other relief" measures, according to a message board post.
Austin Water is working with the city manager to provide "a menu of options" to customers seeking financial assistance or relief after dripping faucets and burst pipes caused water usage citywide to more than double. "Certainly, Austin Water doesn't want to reap any financial benefit from this ice storm," Meszaros said.

Sargent said Austin Energy does not yet have enough information to predict rate impacts. "That is information that will be forthcoming," she added.
6. What has been done to ensure Austin's homeless residents have access to shelter and other services during this crisis?
Around 1,500 people—a mix of homeless residents and those without power at home—slept at city shelters and warming centers as of Wednesday night, Cronk said. This figure does not include those who stayed at the Austin Disaster Relief Network's faith-based shelters.
The city's police, fire and EMS departments also sent staff to more than 45 homeless encampments to offer rides to shelters and around 550 homeless residents were contacted via a texting alert system with information about resources.
Exposure-related deaths among homeless residents have been reported in Houston and Abilene. Austin Mutual Aid and other grassroots organizations have stepped in locally, providing food deliveries and covering hotel costs.
7. Is it safe to drive or walk around the city yet?

Things are improving.
The Austin Fire Department reported "a sudden uptick in traffic accidents" on Thursday evening as temperatures fell and roads began to ice over again, but call volume has since trended downward, according to Cronk and Austin-Travis County EMS.
City crews are still working to clear priority streets around the city. As of Friday afternoon, they had cleared more than 180 lane miles. But because of ongoing icy conditions, Public Works Director Richard Mendoza asked residents to limit travel only to necessary trips and stick to major corridors. "We do want the community to remain vigilant," he said.
Another concern is traffic lights. Most of the city's signals have been impacted by power loss, and crews are working to restore most by Monday morning, prioritizing those at major intersections. Residents who encounter a dead signal should treat it as a four-way stop, Mendoza said.
Austin has been on the fast-track to growth for 10 years, according to Census data. (Stuart Seeger/CC)
Austin is on a rollercoaster that only goes up, according to the new U.S. Census Bureau data that says the city has been the fastest-growing large metropolitan area in the U.S. for a full 10 years.
The data, which was released on Tuesday, said the population between the five counties in the Austin metro area—Travis, Williamson, Hays, Bastrop and Caldwell—increased by 3% since 2019 and 34% since 2010.
Austin still isn't the largest metro area but it does have the fastest population growth compared to other U.S. metro areas with over a million people. In the past decade, the metro population has gone from around 1.7 million to 2.3 million people.

The huge increase in Travis County alone is enough to bring the city closer to the leagues of other big cities, jumping above San Francisco and San Jose, California and Jacksonville, Florida in the ranks of most populous.
An increase of more than half a million people in the metro area puts it as the 29th largest, an increase of one spot from last year.
However, in terms of just population growth compared to last July, Austin was beaten by a few other Texas cities: Dallas ranked first in the U.S. with an increase of 119,748 and Houston took third, gaining 91,078. Austin ranked fourth with a growth spurt of 67,197, averaging out to 184 new people per day including natural increase, or the difference caused by births and deaths.

Overall, Texas gained the most residents out of all other U.S. states.
With companies like Tesla, which has promised to hire 10,000 people at the new Gigafactory, Oracle, Samsung and Google putting down roots in Austin and Texas tax breaks and lack of personal income tax, it's no surprise companies and people are flocking to the Lone Star State.
We asked you what you wanted and you told us. More newsletter!
Austonia launched its new and improved newsletter today. You can expect:
100% Austin news, info and entertainment
Sent straight to your inbox at 6 a.m. every morning
In 5 minutes or less, you're fully informed and ready for a great day
Sign up here:
This week, Austin FC Head Coach Josh Wolff returns to a team that has his name plastered on their stadium walls.
Wolff, Sporting Kansas City's fourth-place all-time scorer, is returning home to Kansas City, but this time, he's the opponent as Austin FC looks to up their win streak to three straight games.
The MLS is abuzz with Austin FC's quick rise in the standings—predicted to just maybe crack the playoffs, the club is already ninth in Week 4's MLS Power Rankings and fourth in the West. The club is coming off of a breakout 3-1 win over the Colorado Rapids and a slower-paced, but still decisive, victory over Minnesota United FC.
It's only the start, however. The club is facing a few injuries, and Wolff predicts that clubs are going to try to crack the league's golden team. "We want to play a certain way and some teams want to destroy that," Wolff said.
Here's what to expect for Austin FC's fourth-ever match on the road this weekend.
What to expect
¡Bienvenido de nuevo, @alanpulido! :boom:#RSLvSKC | #SportingKC | #VamosKC pic.twitter.com/Y8BzfVsqKn

— Sporting Kansas City (@SportingKC) May 1, 2021
A founding MLS member, Sporting KC has been around since they were the Sporting KC Wizards in 1995. They're not having the greatest start, however. KC has given up five goals and scored three so far, most notably losing 3-1 to an on-fire Real Salt Lake on Saturday.
The lone goal they scored was a doozy, though. KC's Khiry Shelton sent a smooth cross along the ground to Gianluca Busio, who, in a clever move, faked out on the pass and let it keep rolling. Kansas' leading striker, Alan Pulido, was there to score his first goal, and the play was completed in a matter of seconds.
Austin FC clearly needs to dismantle the chemistry between Pulido and team. Busio, especially, has been trying to create looks for the club. Kansas City is lacking some bite in their defense, however, and it looks like their back end is sometimes hesitant to go after the ball. Good news for Austin.
Could Austin FC get insights from KC vet Matt Besler, who will most likely join Wolff as a hall of famer after 12 seasons with the club? Wolff says maybe.
"I certainly expect Matt to give us some information, an inside scoop," Wolff said.
If the pattern continues, ATX might see more roughing up of Cecilio Dominguez, who has been targeted after his two-goal breakthrough against Colorado. They can also expect Kansas City and other clubs to start pressing higher up the field, bringing in more physicality and disrupting the club's offensive structure.
However, their new strong midfield, headlined by Captain Alex Ring, and a chance at lucky goal No. 3 for Diego Fagundez could propel Austin FC forward if they continue to go full steam ahead.
Projected starting lineup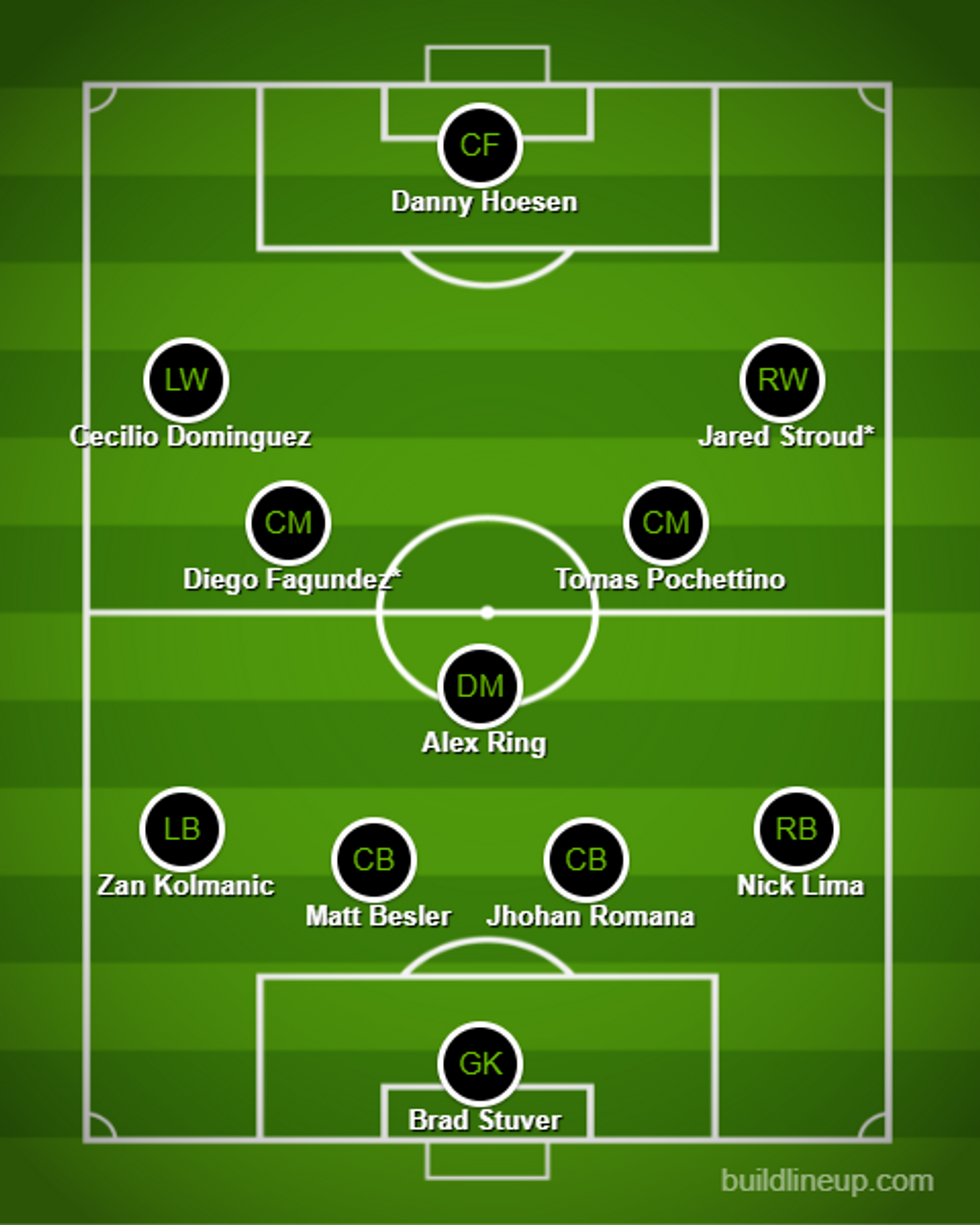 Why fix something that isn't broken? Austin FC finally found their stride in midfield with the Holy Trinity of Alex "ringleader" Ring, repeat goal-scorer Diego Fagundez and Designated Player Toto Pochettino. No hate to Daniel Pereira, however. He could easily start too, but it seems as though the 20-year-old will have to wait for that Fagundez fire to burn out before he sees the starting pitch again.
Same goes for right wing. It's a good thing when a team has multiple players who could be on the starting XI, and Rodney Redes is no exception. He stood out in preseason and against LAFC and very nearly scored against both the Rapids and Minnesota, but Jared Stroud is proving a great strategist at the front of the field. He provided the cross that led to Fagundez' goal, and he's threatened goal with a few shots of his own.
Other than that, we can probably expect more of the same. Matt Besler is going head-to-head against his former teammates, and Zan Kolmanic is adjusting to the MLS after former starting left back Ben Sweat tore his ACL two matches ago.
Austonia FC