Get connected with our daily update
(Pexels)
After several winter storms and six days of subfreezing temperatures, Austin residents can expect details Friday evening about water distribution sites and "substantial improvement" in water service by Monday, although the boil water notice is likely to last into next week, city officials said during an afternoon press conference.
---
"Obviously it is much better to have water to boil and use than to not have water at all," Austin Water Director Greg Meszaros said.
The boil water notice took effect Wednesday evening, as most Austin Water customers had no water to actually boil or very low water pressure. Despite significant progress in restoring power, more than 20,000 Austin Energy customers—or around 4%—are still experiencing outages caused by equipment damage, which will likely take days to repair, General Manager Jackie Sargent said.
Heading into the weekend, after a disastrous week, officials answered some pressing questions, including where to find safe water, whether to keep up conservation measures and how the roads are looking.
1. When will water be restored?
Meszaros expects most Austin Water customers currently experiencing outages will see improvements by Monday. "I anticipate through the weekend the majority of our customers will see significant improvements in regards to pressure," he said.
However, this does not mean that service will be totally back to normal. "Customers may go from no water pressure to low water pressure," he said, or see discoloration. "This can be a kind of gradual improvement of service."
Austin Water is making progress—"literally, every hour it's getting better," Meszaros said—restoring pressure to its system central zone, which feeds outlying zones, and area hospitals, which are the utility's top priority.
The boil water notice is likely to last into next week for two reasons:
Austin Water first needs to restore pressure and resolve outages, which will involve manual leak repairs and time to refill its reservoirs.
There are state requirements for sampling and testing.
2. I don't have water (or if I do I don't have power to boil it). Where can I find safe water?

Residents can expect details on public water distribution sites later today as water deliveries begin to arrive in the Austin area.
Sites will likely operate from sunup to sundown and impose limits of one case of water per car, City Manager Spencer Cronk said. Their locations are being chosen for ease of public access given the current road conditions. The city is also working to coordinate water deliveries to vulnerable residents, such as the elderly and homeless.
The city ordered one million gallons of water in 16-ounce bottles from six surrounding states that are due to arrive starting Friday evening. FEMA also airlifted water from Fort Worth this afternoon. In addition to these bulk purchases, the city is also coordinating smaller deliveries intended for hospitals, shelters and warming centers.
Many local businesses are also distributing free water. A list can be found here.
Water supplies are limited. "If you are able to purchase water, we encourage you to do so," Cronk said.
3. I still don't have power. What is the holdup and when can I expect it to return?

As of 3:05 p.m., 20,424 Austin Energy customers are still without power. These outages are no longer due to ERCOT-mandated outages, which officials announced had ended Friday morning as supply currently outpaces demand. Instead, they are the result of weather-related equipment damage and will take "several days" to repair, Sargent said.
"Our hardest days for Austin Energy still lie ahead of us," she added.
4. Should I still be conserving water and power?
Yes and yes.
Water conservation measures are already having an impact as Austin Water is currently producing more water than is being used, which is helping the utility refill its reservoirs and restore pressure to its system's central zone.
Customers with water should continue to avoid taking showers, running the dishwasher or doing laundry until water service is restored citywide, Meszaros said.
Austin Energy customers with power should also continue to conserve. Although ERCOT officials are "no longer asking for energy conservation," according to a Friday morning update, Sargent asked Austinites to reduce their use.
"There are still a large number of customers that have not been energized yet, so their demand is not being accounted for yet," she said. "I would ask customers, as we continue to work through this, to please continue to conserve."
5. What can I expect from my utility bills?
It's still too early to tell, but residents are understandably concerned about price gouging.
Screenshots circulated on Twitter Monday showing two-star hotels in Austin listing rooms for nearly $1,000 a night, as hundreds of residents went without power in subfreezing temperatures. On Tuesday, the Daily Beast published a story that featured Royce Pierce, a Texas contractor whose February heating bill is nearly $8,000—only three weeks in—compared to the $387.70 he paid to heat his home in January. Comstock Resources, a shale driller that operates in Texas, held an earnings call on Wednesday as natural gas prices surged. "Obviously, this week is like hitting the jackpot," President and CFO Roland Burns told investors, according to multiple reports.
Local elected officials took notice. Travis County Judge Andy Brown issued an order Tuesday that prohibited price gouging, which is illegal during a disaster. Travis County Attorney Delia Garza's office created a resource page about price gouging to "educate the public and deter illegal activity," she said during an emergency Commissioners Court meeting on Friday. Austin Mayor Steve Adler announced a special City Council meeting on Tuesday, where members will discuss "fee waivers and other relief" measures, according to a message board post.
Austin Water is working with the city manager to provide "a menu of options" to customers seeking financial assistance or relief after dripping faucets and burst pipes caused water usage citywide to more than double. "Certainly, Austin Water doesn't want to reap any financial benefit from this ice storm," Meszaros said.

Sargent said Austin Energy does not yet have enough information to predict rate impacts. "That is information that will be forthcoming," she added.
6. What has been done to ensure Austin's homeless residents have access to shelter and other services during this crisis?
Around 1,500 people—a mix of homeless residents and those without power at home—slept at city shelters and warming centers as of Wednesday night, Cronk said. This figure does not include those who stayed at the Austin Disaster Relief Network's faith-based shelters.
The city's police, fire and EMS departments also sent staff to more than 45 homeless encampments to offer rides to shelters and around 550 homeless residents were contacted via a texting alert system with information about resources.
Exposure-related deaths among homeless residents have been reported in Houston and Abilene. Austin Mutual Aid and other grassroots organizations have stepped in locally, providing food deliveries and covering hotel costs.
7. Is it safe to drive or walk around the city yet?

Things are improving.
The Austin Fire Department reported "a sudden uptick in traffic accidents" on Thursday evening as temperatures fell and roads began to ice over again, but call volume has since trended downward, according to Cronk and Austin-Travis County EMS.
City crews are still working to clear priority streets around the city. As of Friday afternoon, they had cleared more than 180 lane miles. But because of ongoing icy conditions, Public Works Director Richard Mendoza asked residents to limit travel only to necessary trips and stick to major corridors. "We do want the community to remain vigilant," he said.
Another concern is traffic lights. Most of the city's signals have been impacted by power loss, and crews are working to restore most by Monday morning, prioritizing those at major intersections. Residents who encounter a dead signal should treat it as a four-way stop, Mendoza said.
The Texas French Bread Bakery, located on 2900 Rio Grande Street, has been completely destroyed after a fire erupted on Monday night.
The Austin Fire Department responded to the fire just before 11 p.m., where they arrived to see flames coming from the roof of the bakery. Firefighters fought the fire for about an hour before the roof collapsed.
While no one was injured in the fire, firefighters say the iconic building was completely totaled.
It is still not known what caused the fire at this time, though AFD said arson investigators have been brought in to check every angle. Due to the amount of damage, fire crews said it may not be possible to find the exact cause.

This year, Texas French Bread will celebrate 40 years of business. Before the bakery occupied the building, it was the Rome Inn, a music venue that hosted 1970s artists like Stevie Ray Vaughan.
Austin's first major league team is ready to extend its reach with a new collaborative sports complex The Pitch, an Austin FC destination packed with local food, beverages and Verde fervor is set to open in Northeast Austin in February.
The Pitch, a collaboration between Austin FC and Karlin Real Estate, among other entities, will be located in the 50-acre Parmer Pond District, which already hosts the club's practice facility St. David's Performance Center.
Dubbed a "true destination" for both soccer fans and the community, The Pitch will consist of multilevel shipping containers designed by Mark Odom Studio that will carve out into a 1,200-seat stadium complete with a soccer pitch made of turf, food and beverage options and a five-acre "Parmer Pond" featuring jogging trails.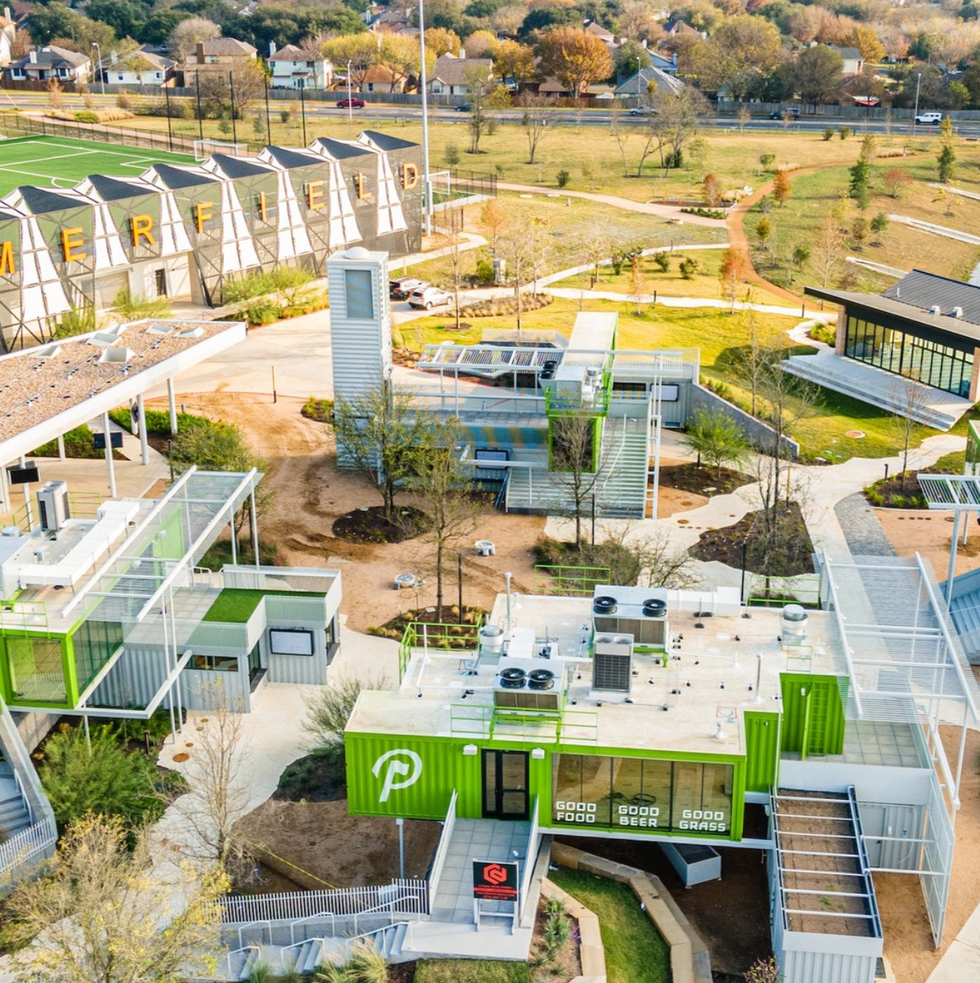 Made from multilevel shipping containers, The Pitch will include food and a 1,200-seat soccer pitch made from artificial turf. (The Pitch)
"The launch of Karlin's new food and entertainment experience will greatly enhance the Parmer development while perfectly complimenting St. David's Performance Center," Austin FC founder Anthony Precourt said. "The Pitch... will offer a strong variety of food options and gathering spaces for guests who will utilize St. David's Performance Center and Parmer Field for a variety of events."
The Pitch project lead Dave Greeley, who helped come up with the concept, is a former president of Austin FC parent company, Two Oak Ventures.
"The vision behind The Pitch at the Parmer Pond District is to be a first-of-its-kind sports, dining and entertainment destination," said Dave Greeley, The Pitch project lead and Team Orbis president. "This will be an unmatched experience for Parmer Austin tenants, Austin FC and club supporters, and the community."
With its proximity to the practice center, the venture hopes to contribute to the growing "soccer city" of Austin during Austin FC matches and youth games with the Austin FC Academy hosted at the St. David's Performance Center.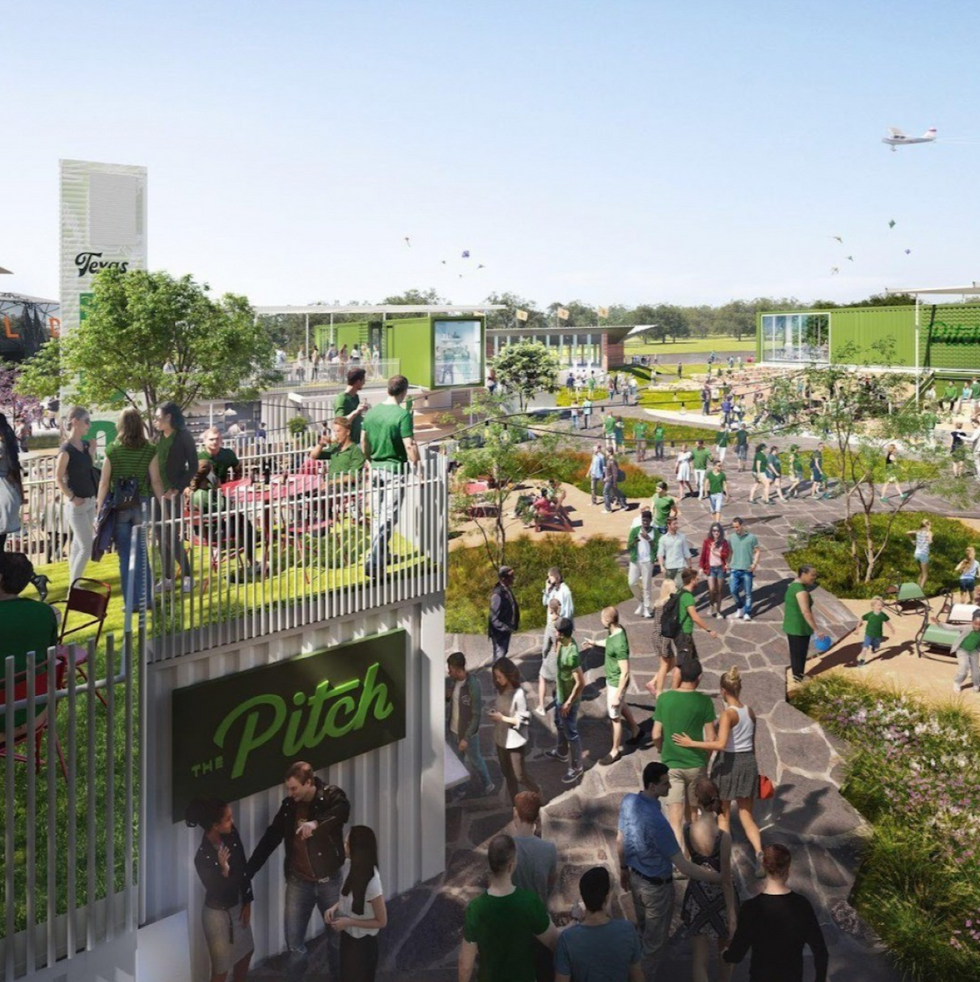 The Pitch hopes to converge both community and club interests with Austin FC. (The Pitch)
In addition to the soccer pitch, stadium and pond, The Pitch will provide a foody experience made by the creative team behind Austin staples like Fareground and Easy Tiger. The complex will offer local bites including:
Ranger Burger, which offers beers and burgers made from highly-coveted Wagyu beef direct from Ranger Cattle in East Austin
Ga Roti, which merges flavors from Northern Vietnam with the culinary techniques of France to create a unique rotisserie chicken joint
Taco Flats, a local taco chain serving Mexico City-style tacos, micheladas and more
Sand Bar, which fulfills its namesake with beauty cocktails, local beers and a sand volleyball court
Coffee Club, a coffee shop and bakery
Corner Kick Bar, the soccer-focused main bar of The Pitch complete with "tunes, TVs and (a) beer garden"
The Pitch will squeeze between St. David's Performance Center and Parmer Pond alongside the southern edge of Parmer Austin, a Karlin Real Estate venture that will eventually include multifamily housing, corporate office space and an aerospace and defense center.