Austonia AM
100% Austin news, info, and entertainment, straight to your inbox at 6 a.m. every morning.
In five minutes, you're fully informed and ready to start another great day in our city.
Get connected with our daily update
With Thanksgiving less than a week away, Austinites still preparing can relax. Even though the holiday season will be a bit different this year, restaurants around Austin are still offering Thanksgiving meal packages and more delicious things to put you at ease.
---
Here are some that are still accepting orders:
Word of Mouth Bakery, 917 W. 12th St.
The Thanksgiving dinner package at Word of Mouth Bakery includes herb brined Turkey breast with gravy, sautéed green beans, mashed potatoes, cornbread dressing, cranberry chutney and Parker House rolls. The bakery is offering this to-go dinner for four guests for $120. The last day to place an order for this mouthwatering dinner is Nov. 19 and must be picked up on Nov. 25 between 12-4 p.m. Orders can be placed by calling 512-617-8411 or by emailing info@wordofmouthcatering.com or bakery@wordofmouthcatering.com. You can find more information on the Thanksgiving dinner package here.
TLV, 111 Congress Ave.
If you are looking to switch up your menu option this Thanksgiving, try out TLV's Middle Eastern Thanksgiving feast. This unique menu features squash hummus, green beans, roasted sweet potatoes, lentil salad, grilled Brussels sprouts, Lebanese bread salad and Turkey Shawarma, along with dried fruit chutney and tahini ice cream for dessert. TLV is offering two different kits: $100 for two people or $175 for four. You can pre-order here or call 512-608-4041 for questions. Pick up is on Nov. 25.
Easy Tiger, multiple locations
Are you looking for your Thanksgiving meal to be delivered? Order your Thanksgiving meal from Easy Tiger! Their Thanksgiving feast includes smoked, herb-roasted turkey breast, potato au Gratin, a stuffing kit, roasted carrots and Brussels sprouts, cranberry jam, kale salad and house gravy. The feast serves four and is $175. Easy Tiger is also offering separate sales of sides and kits to help complete your Thanksgiving dinner. You can choose which food options you would like included for your dinner here and decide between delivery or curbside pick up.
Andiamo Ristorante, 2521 Rutland Dr. #325

If you've decided to make your own turkey for Thanksgiving but don't feel like spending time on sides, you can purchase your sides at Andiamo Ristorante. The Italian restaurant is offering sides for your Thanksgiving including pumpkin ravioli, bread, butternut squash soup, roasted red potatoes and asparagus. To order for pickup, you can call Andiamo at 512-719-3377 or visit their website.
Apris Restaurant, 23526 State Hwy. 71

Apis Restaurant is offering the perfect Thanksgiving meal for large households. The feast includes cider-brined turkey, giblet gravy, mashed potatoes, turkey leg hash with vegetables, sourdough stuffing, winter greens with smoked bacon, cranberry sauce and an apple and pumpkin pie. The dinner generously feeds 10 and is $325. You can order your Thanksgiving meal by Nov. 20 by emailing cheftaylorhall@gmail.com for pick up between 4-7 p.m. on Nov. 25.
Swedish Hill, 1120 W. 6th St.

Swedish Hill is offering a menu filled with delicious courses and Thanksgiving meal options. Options include turkey, sourdough stuffing, sweet potato casserole, green bean casserole, mashed potatoes, gravy, cranberry sauce, cranberry walnuts, Parker House rolls and three different types of pies to choose from: pumpkin, pecan and banana cream. You can also order bottles of wine to top off your night. The entrees and sides range in prices and can be ordered for up to 10 people. Their website is accepting orders through 5 p.m. on Nov. 20. Pick up is between 9 a.m. and 6 p.m. on Nov. 25.
Olamaie, 1610 San Antonio St.

If you are in need of a comforting, southern Thanksgiving, try ordering your Thanksgiving dinner at Olamaie. The "Everything But the Turkey" package serves six and is $150. Dinner includes all the southern classics: green bean casserole, broccoli cheese casserole, cornbread stuffing, mashed potatoes and biscuits. You can also order a range of desserts including a spiced pumpkin loaf to highlight your night. The last day you can order from Olamaie is Nov. 22 to be picked up Nov. 25. You can order find more information.
Intero, 2612 E. Cesar Chavez St.

The Intero Thanksgiving dinner features a pork loin roast, smoked turkey roulade, focaccia and ricotta, mushroom soup, mashed potatoes, grilled carrots, Caesar salad, roasted pumpkin salad and braised greens, as well as a hazelnut chocolate tart and chocolate assortment for desert. The dinner ranges in price and can serve four to six people. You can order your dinner here until Nov. 22 and arrange to have it picked up on Nov. 25 between 10 a.m.- 7 p.m.
Emmer & Rye, 51 Rainey St., Unit 110

Emmer & Rye is offering a Thanksgiving dinner to put others to shame. The dinner includes two choices of meals, a kit for two for $150 or a kit for four for $250. The hearty dinner at Emmer & Rye includes four options for the main course: a whole chicken roast, glazed ham, smoked lion's mane mushroom or a prime rib. The Thanksgiving meal also offers different sides such as sourdough stuffing, roasted squash, green beans and—the best part of the night—apple cake swirled ginger ice cream and a spiced pumpkin cake. You can order online here until Nov. 22 to pick up on Nov. 25.

It's that time again! Austin FC is back in Cali to take on the second Los Angeles powerhouse, LA Galaxy, at 2:30 p.m. this Saturday. The match will be shown on Univision and will be live on Twitter, and I'll be documenting the biggest saves and plays that could make you drop your beer right here.
Follow along for a live feed of the Austin FC match.
2:00 p.m.- Los Verdes watch party, South-side style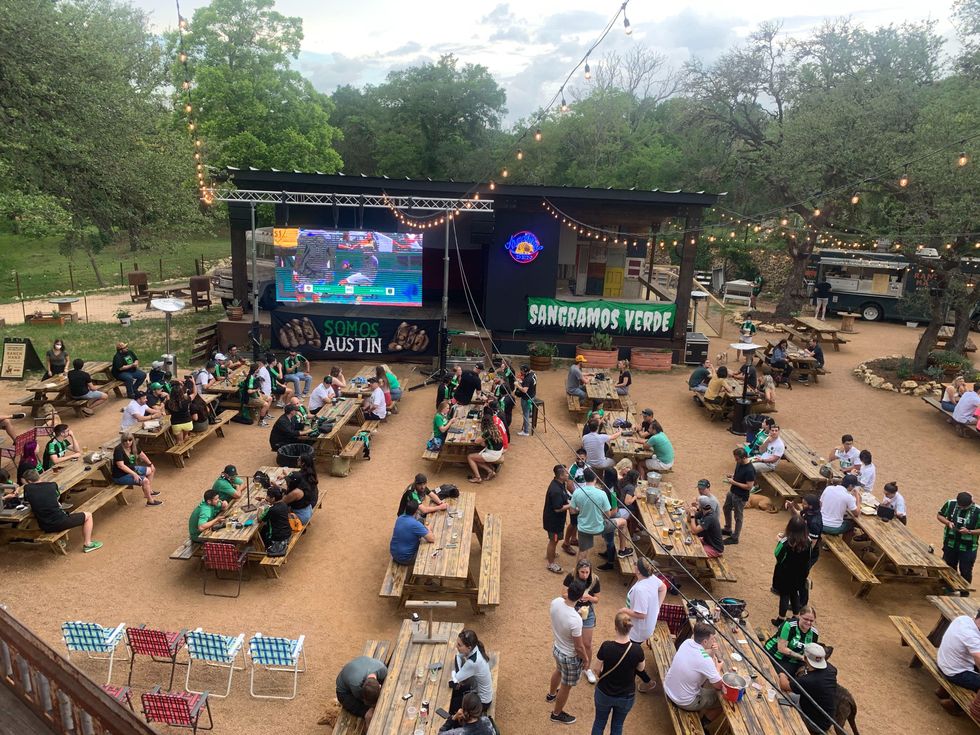 (Claire Partain/Austonia)
Hundreds of people are at the Los Verdes watch party, including myself and a celebrity appearance in La Murga, Austin FC's own fan band.
Cheers can be heard every time an Austin FC player is featured on the screen on the Univision broadcast.
Nearly half of Travis County residents 16 and older are fully vaccinated, as of Friday afternoon, according to the Texas Department of State Health Services. And an even greater portion likely have immunity.
Austin-Travis County Interim Health Authority Dr. Mark Escott estimates that around 70% of local residents have some form of immunity to COVID-19, either because they have recovered from the disease or are vaccinated. This is approaching the threshold for herd immunity.
"We're starting to approach that 70% mark of combined disease and vaccination, so we may start to see some significant changes when it comes to disease trends," he told council members and county commissioners on Tuesday.
Escott arrived at this percentage by assuming that there is no overlap between those who have had COVID and those who have been vaccinated. "While there's certainly some overlap … there does not seem to be a lot of overlap between those two," he said.
Herd immunity occurs when enough people are immune to a disease that it is unlikely for someone who contracts the disease to spread it. With no one to infect, the disease dies out.

Public health experts have said herd immunity for COVID will require around 80% of the population to be immune based on its relative infectiousness.
Although natural immunity contributes to herd immunity and is partially responsible for the sharp downturn in the number of new COVID infections in recent months, vaccination is the gold standard among experts because of the increased security it offers.
Austin Mayor Steve Adler celebrated the new CDC guidance as proof of vaccines' efficacy. "Since more people will not be wearing masks, it makes it even more important to get vaccinated," he said in a statement Friday.

The U.S. Food and Drug Administration issued an emergency use authorization for Pfizer's vaccine among children 12 to 15
on Monday
, further expanding eligibility.