Never miss a story
Sign up for our free daily morning email...
...and afternoon text update
Get connected with our daily update
(Pexels)
Nothing about this year has been expected, but one particularly unanticipated development has been the increase in traffic fatalities seen here in Austin and across the country during a period when people have been driving less.
---
Between January and October, 78 people died in Austin traffic crashes, up from 72 over the same time period in 2019.
City data suggests that the reasons for the uptick are myriad: young drivers are taking advantage of emptier roads and speeding, and police may be enforcing traffic laws less stringently in an effort to reduce exposure to COVID-19.
Overall, however, the data prompts more questions than answers, said Lewis Leff, the city's transportation safety officer.
The problem with speed
City data shows that many of this year's crashes have been caused by excessive speed despite the reduction in traffic and congestion since the pandemic began.
"With fewer cars on the roadway, there are certain drivers that have taken advantage of that," Leff said.
Young drivers between 20 and 35 years old and people of color are overrepresented in the crash data.
For example, Latino residents make up 34% of the city's population, according to the U.S. Census Bureau, but accounted for 41% of crashes this year.
Black residents, who make up 8% of the city's population, were disproportionately affected by crashes, making up 15% of fatalities.
Armed with this data, the Austin Transportation Department has launched a campaign focused on young drivers—especially young men of color—in an effort to prevent future crashes. Targeted ads now appear on Facebook, YouTube and other social media sites.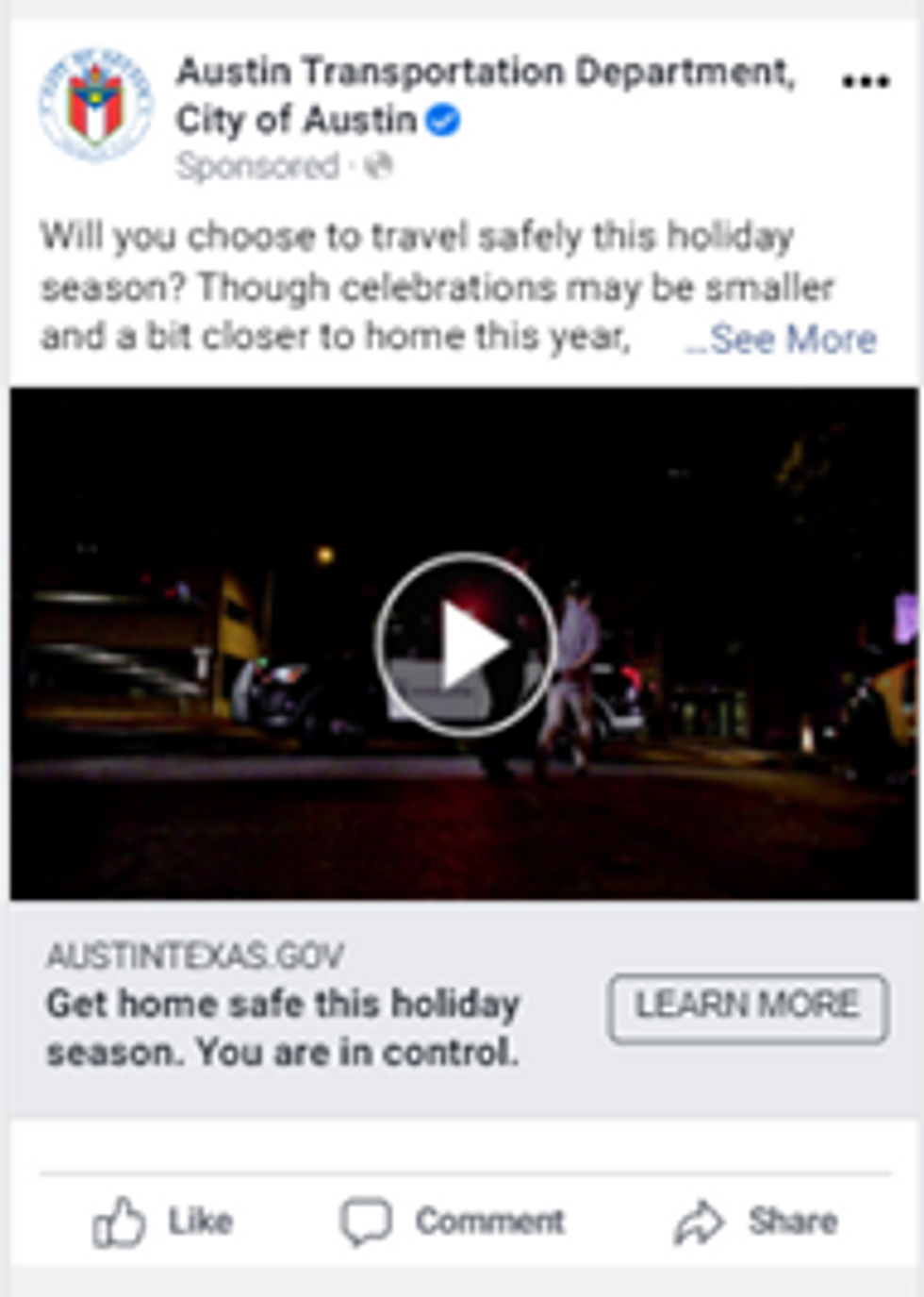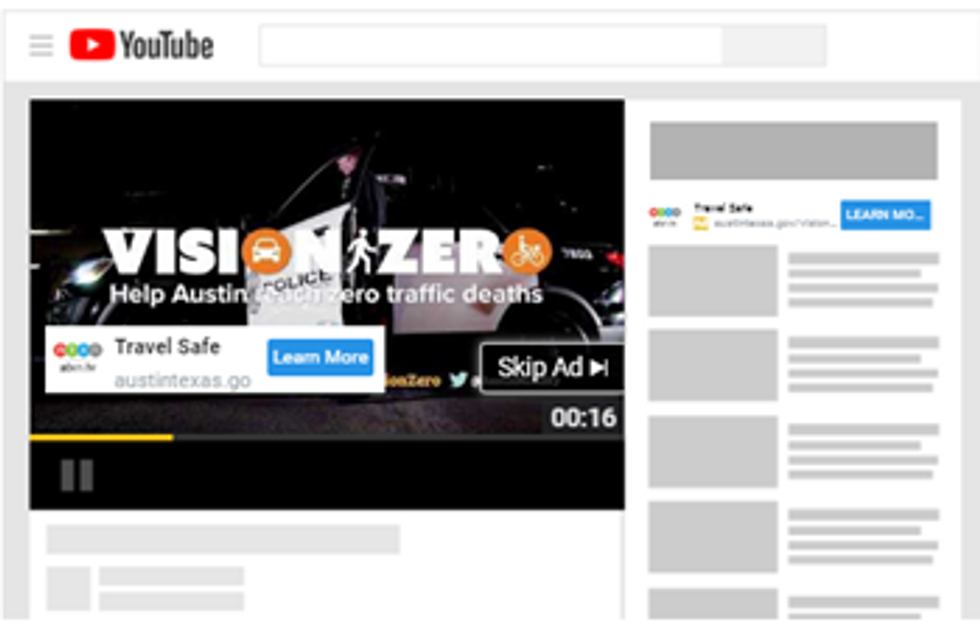 This is in addition to the department's preexisting Vision Zero efforts, which are aimed at eliminating traffic deaths in Austin.

These projects include its high-injury network, which identifies city streets with a relatively high number of crashes and targets them with low-cost improvements, such as improved lighting or new crosswalks.
Additionally, Austin City Council unanimously approved reduced speed limits in neighborhoods and on certain downtown streets earlier this year.
Despite these changes, the pandemic has made it challenging to ascertain their impact.
"It's hard to say definitively if it's the pandemic or the work that we're doing," Leff said.
Other developments
While traffic fatalities increased this year, other metrics show improvements. ATD data shows 365 serious injuries due to traffic crashes between January and October, compared to 473 over the same period last year.
These injuries include third-degree burns, skull fractures, limb amputations and paralysis, and they often lead to extensive medical expenses and loss of work.
"If you were to tell me that we would have an 18% to 20% reduction (in serious injury crashes this year), I would have said that was a great goal," Leff said.
This, along with other transit initiatives that have moved forward this year, is encouraging for safety advocates.
Jay Balezek Crossley, executive director of the local nonprofit Farm&City, cited the speed reduction plan alongside Project Connect, Proposition B and ongoing Vision Zero initiatives as steps in the right direction—toward fewer crashes.
"Austin is leading the state in this effort," he told Austonia.
The pandemic has also made some residents more open to the systemic changes that would be required to make the local traffic system safer.
"People don't want to go back to the old normal," Crossley said, adding that many residents have started walking around their neighborhoods and noticing the lack of sidewalks, lighting and other amenities.
This awareness is welcome given that the city faces some significant challenges, including what Crossley called the state's "unique policy of transit austerity."
Unlike other states, Texas prohibits the use of red light and speed cameras. Texas highways also have some of the highest speed limits in the country, allowing a maximum speed of 85 mph on certain interstates, according to the Texas Department of Transportation.
Additionally, Crossley is concerned about the forthcoming I-35 expansion project but retains hope that TxDOT will listen to residents' concerns about increasing the speed and number of lanes on downtown streets.
Down the road
It's still too early to tell whether these recent changes will have an impact on traffic fatalities in Austin now or in the coming years.
"Unfortunately with crash data it does take time to play out," Leff said, adding that often his department works with three- and five-year data sets.
But Crossley believes that the cocktail of Vision Zero, Project Connect and a safety-focused overhaul of I-35 could be effective.
"If we do that … then Austin is on a really good path to achieving these goals," he said.
First score made by LAFC. (Sonia Garcia/Austonia)
Austin FC couldn't find the stamina to fight off a 2-0 loss against LAFC for their inaugural match on Saturday.
The match, which saw No. 21 Austin FC go head-to-head with No. 2 LAFC in Los Angeles, was broadcast nationally on FOX and FOX Deportes.
Eleven players took the stage as Austin FC players for the first time, with five starters making their MLS debut. "Ringleader" Alex Ring took the captain's armband and wore it well. The defensive midfielder could be seen leading his teammates through their first ever match, but it wasn't enough to stage an Austin takeover in LA.
In the signature style of Head Coach Josh Wolff, the team played with quickness and intensity, nearly connecting on several fast breaks. It was harder for them to stay in front, however, something that Wolff credits with quick decision making and a tough LAFC defense.
"We have a quick attacking team, but I think when you make quick attacks and it fizzles it's just about some decision making," Wolff said. "Are we in position to finish attacks? If not, can we reestablish our attack and get stuff better?"
The club was given some generous breaks from No. 2 LAFC, who had one or both of their star DPs out for the half. While forward Diego Rossi is out for the entire match due to a hamstring injury, Carlos Vela was accidentally pulled too soon on what turned out to be a miscommunication.
"He gave us the sign that he needed to come off," LAFC Head Coach Bob Bradley said on broadcast. "I can't say more than maybe it's my fault."
LA pulled some dramatics and slowly gained more possession throughout the half, but ATXFC's defense wasn't initially as shaky as it seemed in preseason. Jhohan Romana has pulled his weight in getting the ball out of goal, and a 34-year old Matt Besler held his own in center back.
As the second half commenced, however, it became clear that LAFC had the advantage over Austin's first major league team.
Goalkeeper Brad Stuver had his work cut out for him, fending off 24 shot attempts, 11 of which were on goal. He didn't have much time to prepare, either: in the first 30 seconds of play, Stuver had already made a save to keep the match 0-0.
LAFC finally connected in the 61st minute of play as Corey Baird shot one into the bottom right corner. The team capitalized off their momentum and put one past Stuver a second time, drawing roars of approval from the LAFC crowd.
While some last-minute attempts from Jon Gallagher and others were made, Austin FC didn't have the endurance to bring a tie. After seven additional minutes of stoppage time, the club lost their first match 2-0.
While the scoreboard tells one story, Wolff said that the team did well considering the skill of LAFC and the pressure of their club debut.
"We've got to be realistic," Wolff said. "This is the first time this organization has been in front of TV with an opportunity to show itself and I think there were some promising moments. And we're going to maximize those and continue to try to develop those, but there's lots to build on."
The team may have lost, but it still won the support of thousands of Verde fans, dozens of which made it to watch their team's first match. When Stuver and the team made it to bthe stadium, Los Verdes fans were already there to show support, and Stuver said his wife saw the same back in Austin.

"The moment that we pulled into the stadium, we saw Black and Verde fans cheering us on as we got to the stadium," Stuver said. "During warm up, you can just look around and see different groups sitting in different sections of the stadium and it's just truly amazing to see the support in our first game. We know that we want to give the fans everything, because this we play for the city and we play for them."