Austonia AM
100% Austin news, info, and entertainment, straight to your inbox at 6 a.m. every morning.
In five minutes, you're fully informed and ready to start another great day in our city.
Get connected with our daily update
(Bob Daemmrich)
When the Texas Department of State Health Services expanded its eligibility criteria for the COVID-19 vaccine to include residents 16 and older, it was partly in response to doses sitting unused in certain regions in the state. But Austin providers continue to report strong demand, and the increased eligibility criteria may stress the limited available supply.
---
In Travis County both the number of doses allocated by the state and the number of doses administered by providers are trending upward.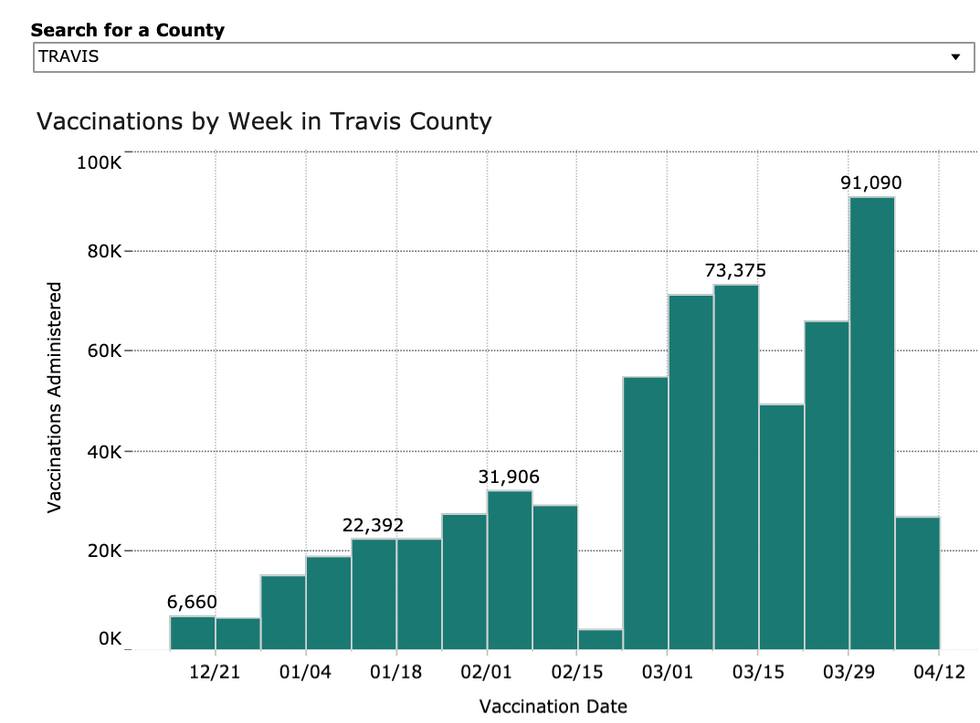 Travis County has steadily increased the number of weekly vaccine recipients since the rollout began. The dip the week of Feb. 15 was due to the winter storm. (Texas Department of State Health Services)
Austin Public Health filled all of its available appointments as part of its regular releases on Monday and Thursday. Local CVS, H-E-B and Walgreens locations were also fully booked, and only one Randalls Pharmacy location within 50 miles of Austin had "limited availability," according to its online scheduler, as of Friday morning.

The mass drive-thru vaccine site at the Circuit of the Americas, which is a partnership between Ascension Seton, CommUnity Health Centers and Travis, Bastrop, Caldwell and Hays counties, has administered roughly 10,000 doses each week and remains appointment-only. CommUnity Care is reaching out to its existing patient network to schedule appointments, and the counties are working with school districts and other select populations to expand access to the vaccine.

Although Travis County Judge Andy Brown has said he hopes that weekend drive-thru will eventually open up to the public on a walk-in basis, demand remains strong enough among local priority populations—including CommUnityCare's largely un- or under-insured patient network—to fill up the weekly appointments.
In addition to expanding eligibility, DSHS also recently shifted its weekly allocation to include more pharmacies, private practices and medical clinics, including 38th Street Pharmacy, Bee Caves Family Practice and Tarrytown Pharmacy in Travis County.
Texas Medical Association President Dr. Diana Fite said this is welcome news to smaller providers who were less likely receive doses from the state earlier in the rollout, when the focus was on hub providers. "The physicians in private practice and clinic are actually very excited," she said.
This could help expand access, as private practices and clinics are able to do more direct patient outreach, and address vaccine hesitancy, as doctors may be better able to address patient concerns given their existing relationship.
After a brief lag in demand for vaccine appointments last week, Austin Public Health expanded access to its waitlist registrants who are 40 or older this week. All of the department's appointment slots were filled following releases on Monday and Thursday.
APH will open up access further starting next week to include waitlist registrants who are 18 and older.
Dr. David Lakey, vice chancellor for health affairs at the University of Texas System and a member of the Texas COVID-19 Expert Vaccine Allocation Panel, said the decision to open access up to all adults was motivated by decreasing demand in parts of Texas. Some local health departments—including those in Beaumont, Midland and the Rio Grande Valley—opened up appointments to the general public earlier due to doses going unused.
"The reason that took place is because we were starting to see, in certain areas of the state, challenges in using the vaccine as quickly as we needed to," he told Austonia.
Fite applauded the state's decision to expand eligibility. "I think opening it up to everybody was a great idea," she said, adding that people who are essential workers but didn't fall into any of the priority groups now have access.
But Fite also stressed that expanding eligibility doesn't mean that the state's supply has increased enough to keep up with the current demand. "It seems like a lot of people still want the vaccine but have not been able to get it," she said.
Some Austin residents continue to take hours-long road trips, twice, to keep appointments in other jurisdictions with more availability.
For Texans who live in areas with high demand and are still waiting for a vaccine appointment to come available, Lakey predicts it may take until next month for supply to catch up with demand. "For the general population as a whole, it's going to be a little bit longer," he said.

Ingredients:
1 1/2 oz of hibiscus-infused Tito's Handmade Vodka
2 oz sparkling water
1 oz fresh lime juice
3/4 oz simple syrup
1 tsp allspice dram
Directions: Add infused Tito's Handmade Vodka, lime juice, and simple syrup to a shaker with ice. Shake and strain into a glass over fresh ice. Top with sparkling water, and garnish with a lime slice. Enjoy!
A week after Texas added two congressional seats and California lost one, state officials reported a population decline in 2020 for the first time in the Golden State's history.
California fell by over 182,000 people from January 2020 to January 2021, dropping almost 0.5% to cap out at around 39.5 million people. It is still the nation's most populous state.
For over thirty years, California has seen more people leave than move in from other states, state officials said, with 6.1 million people moving out and 4.9 million coming in last year. Immigration and births kept California growing, but the state saw a shrink in international migration in 2020 due to COVID and the White House's hold on visas.
Of the steady flow of ex-Californians moving to other states, more are moving to Texas than any other state. Many are relocating to Austin, which has been labeled a "little California" by billionaire resident Elon Musk and continues to grow astronomically.
Meanwhile, California cities including Los Angeles, San Diego, San Jose and San Francisco saw a population decline.
With immigration and state migration on the decline, the Golden State was also hit with a spike in deaths- 51,000 people died from COVID in 2020, and all but seven of the state's counties saw death rates higher than the three-year average.
Still, the California Department of Finance said a "slightly positive annual growth" can be expected next year as the state recovers from COVID deaths and political repercussions.