Get connected with our daily update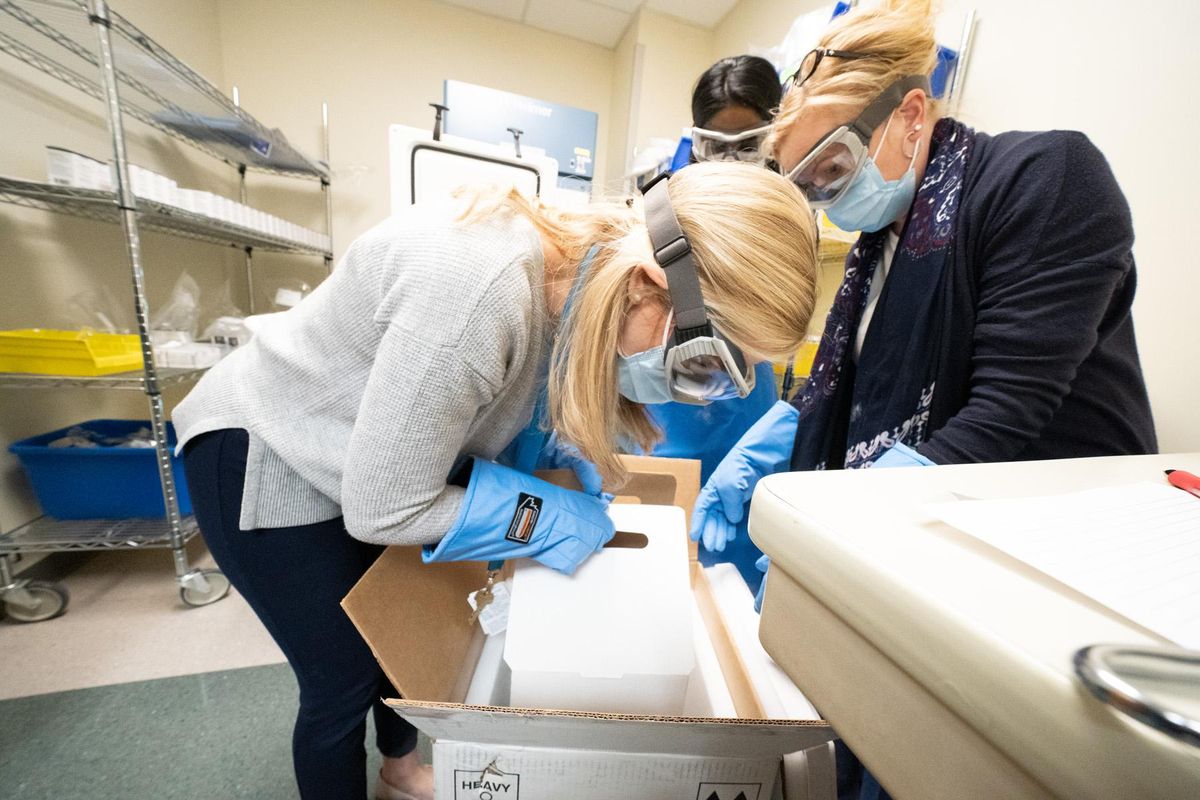 (Ascension Seton)
Nanci Kahn, 64, lives in Hyde Park and works as a registered nurse for a small company. She managed to get herself a vaccine appointment at Austin Regional Clinic after waiting on the phone for an hour. But her husband, who is in group 1B, remains on three waitlists. "He's number 3,000 at one place," Kahn told Austonia. "He's 600 at another."
Jim Duncan, 82, has chronic obstructive pulmonary disease and atrial fibrillation. He also has eight doctors, none of whom are administering vaccines. As a result, he hasn't been able to get an appointment elsewhere. Although he is "perfectly happy to ensconce himself at home" and agrees with the prioritization of healthcare workers and nursing home residents, he is frustrated.
"It's so critical to have our act together in this, and it doesn't seem like we do," he said.
---
The Texas Department of State Health Services announced Thursday that it would primarily direct its upcoming weekly allocation of around 200,000 doses of the COVID-19 vaccine to large providers to establish distribution hubs. As part of this allocation, Austin Public Health will receive 12,000 doses of the COVID-19 vaccine—the only shipment arriving in Travis County this week.
Previously, DSHS had distributed smaller allocations of the vaccine to a more diverse group of providers, including area hospitals, private practices, community clinics and pharmacies. Many of these facilities are running out of their existing supply, if they have any doses left, and are waiting to hear from the state when they can expect more.
This shift in strategy arrives amid a bumpy rollout. Gov. Greg Abbott said 1.4 million Texans would be vaccinated by the end of 2020; so far, fewer than 800,000 doses have been administered, according to DSHS. In Travis County, 31,044 residents have received their first dose and an additional 3,131 have received the second. Additionally, some providers have administered vaccines to non-priority individuals, and many eligible residents have found themselves on waitlists numbering into the thousands.
Austin Public Health
APH is a safety net provider and has said it will focus its vaccine distribution efforts on eligible members of the area's vulnerable populations. The department has identified vaccine clinic locations in the hardest hit communities and plans to launch a registration system for individuals who meet the state's criteria for groups 1A and 1B, which include:
Frontline healthcare workers
Long-term care facility residents
First responders
People 65 years of age and older
People with 16 years of age and older with a chronic medical condition
But APH Director Stephanie Hayden stressed that the vaccine supply remains very limited. "There is an estimated 200,000 residents without traditional health insurance over the age of 16 that may need to be vaccinated by a safety net provider like Austin Public Health," she said in a statement Friday.
APH received 1,300 doses from the state during the first four weeks of the vaccine allocation process.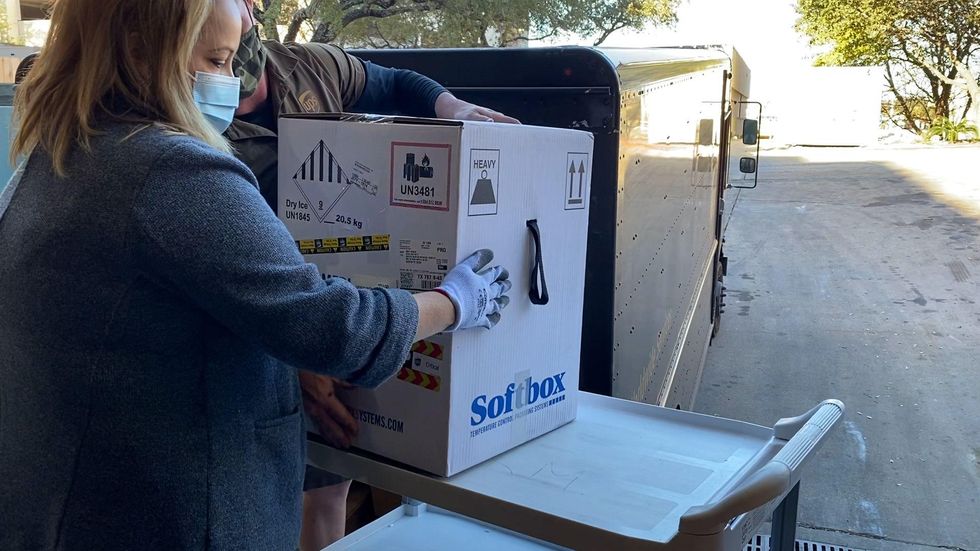 Nearly 3,000 doses of the Pfizer vaccine were delivered to St. David's Healthcare hospitals the first Friday after approval. (St. David's Healthcare)
Regional hospital systems
Baylor Scott & White Health, which is one of three hospital systems in the Austin metro, is continuing to focus its vaccine distribution process on healthcare workers, according to a statement shared with Austonia on Monday. Its Travis County locations received 2,000 doses in late December. St. David's HealthCare is similarly focused on healthcare personnel at this stage, according to its website. Ascension Seton has partnered with some area school districts to vaccinate campus-based staff in the 1B group.
Other providers
Austin Regional Clinic, whose Travis County locations have received 4,100 doses of the vaccine to date, announced it had exhausted its initial shipment of vaccines on Friday. The private medical group has more than 50,000 patients in the 1B group.
Capital Medical Group, a private practice on West 38th Street, received 500 doses in late December. Most of these were administered to healthcare workers at the clinic or in the community, Dr. James Marroquin told Austonia in an email.
The remainder are being administered to select patients over the age of 75, of which the practice has more than 10,000. This "will likely exhaust our current vaccine supply soon," he added. When the practice receives its next allocation, it will use it to give the second shot to patients who have already received their initial dose.
(Providers that have already received vaccine allotments will receive corresponding second doses, DSHS spokesperson Chris Van Deusen confirmed to Austonia.)
Since DSHS' announcement that it will focus its vaccine distribution in the coming weeks on a handful of pharmacies and hospitals, to create vaccine hubs, Capital Medical Clinic has told patients that they will likely receive a vaccine through one of these hubs rather than from their practice. "In general, we're advising our 1b patients to be on the lookout for where they can (get a) vaccine and to get it if they have the opportunity," Marroquin wrote.
But some providers remain optimistic.
Tarrytown Pharmacy, on Exposition Boulevard, received 500 doses on Dec. 23 and was able to administer all of them within days, Pharmacist-in-Charge Dr. Rannon Ching told Austonia.
He is hopeful the pharmacy will receive more doses next week and beyond for two reasons: 1) this is the last week Texas is required to reserve some of its federally allocated doses for long-term care facilities, meaning more doses will be available to distribute in the coming weeks, and 2) Tarrytown is one of a small number of local providers that has the ultra-cold freezer capacity needed to store the Pfizer vaccine, which "would make us a great candidate to receive more."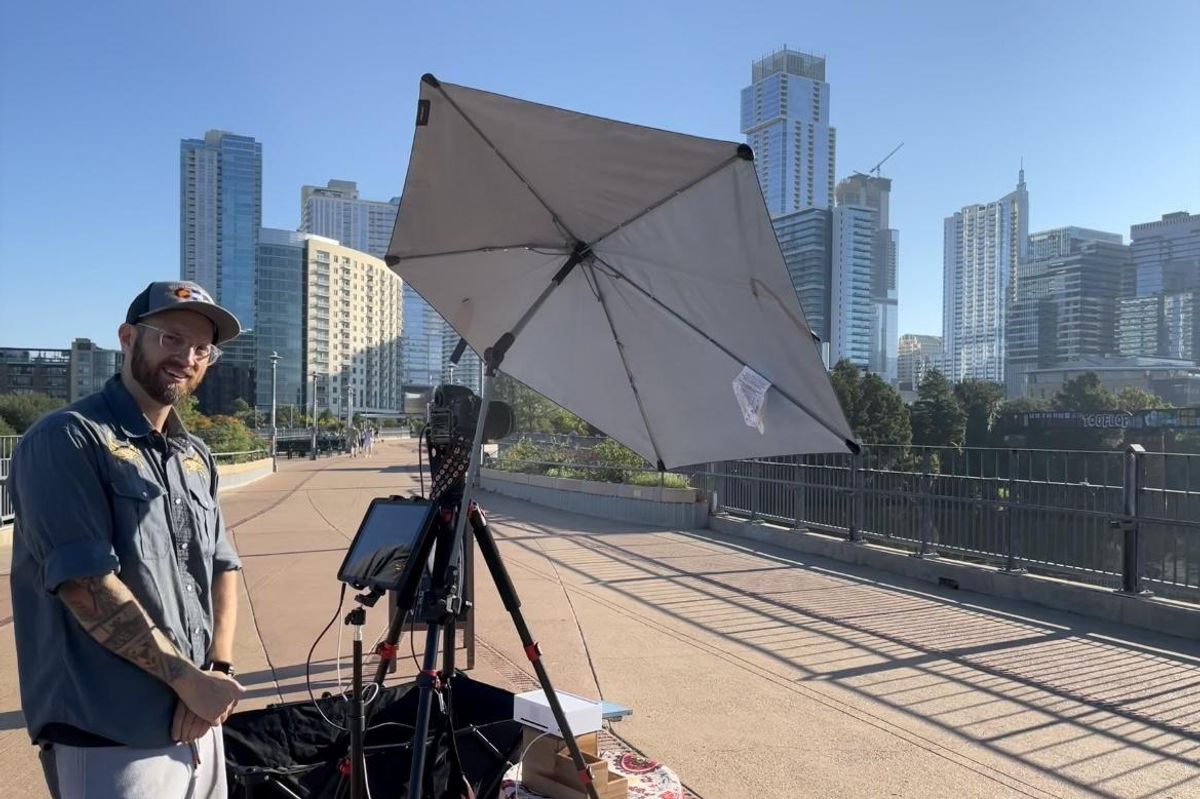 Nicklaus Pereksta says he loves photographing enthusiastic people, and it's why his latest gig offering pictures to people out on Lady Bird Lake's hike and bike trail is going smoothly. He sets up his gear on the Pfluger pedestrian bridge and puts out a sign: Photos, $10.
"Overwhelmingly, this has been a really positive experience," Pereksta said. "I get excited when I wake up in the morning and I can't wait to go to work."
Bikers and joggers are excited about it too. On the pedestrian bridge leading to downtown Thursday morning, a man on an e-bike rode up and posed, wanting more photos.
"I posted the last pictures on Instagram and people loved it. They asked, 'where is this guy?'" the biker told Pereksta. Bashfully, Pereksta, who also photographs landscapes and at weddings and other events, said he was happy to hear that.
Pereksta started these photos about a month ago, after the strenuous runs required in his valet job started causing pain in his legs. And though he has a passion for photography, he wasn't so sure when he started working independently if it would work out.
He felt uncertain about the demand for it and was also worried about having lots of expensive equipment out in the open.
"Then like the first day was nothing but high praise and people are like, this is so awesome. This is great. I've never seen anything like this before. I was like, Wow, this was really good, like positive turnout. So I got encouraged."
Now, he wants to expand and is thinking of contacting the Mueller Farmers Market about how to become a vendor. Still, he'll carry a connection to photographing on the bridge since the word bridge is related to his last name.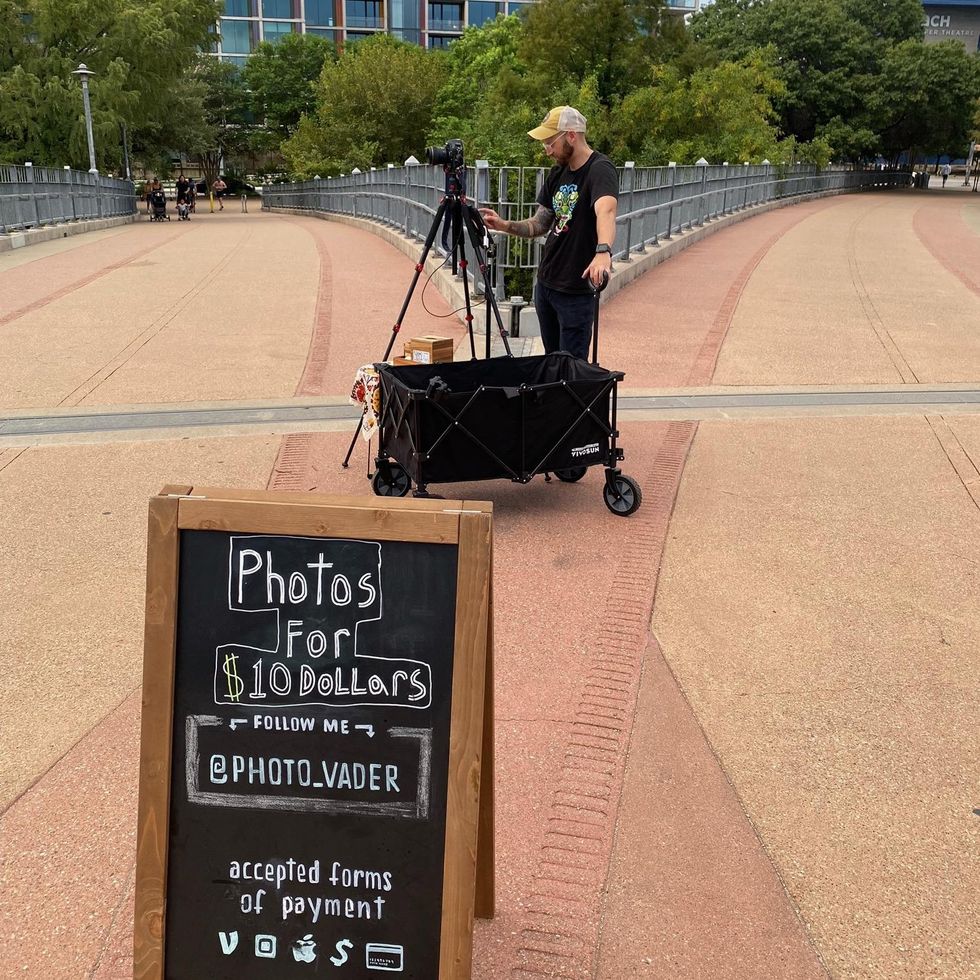 (Dewey C.)
"It's a name my great, great, great grandfather came up with when he was marrying somebody. It's actually quite a romantic name. It means a joining of two bridges," Pereksta said. "So, I thought it was ironic that I'm set up on a bridge. I'm kind of representing my last name right now."
Austonia talked to Pereksta about life in Austin, where he's lived for eight years after living in Boston doing band photography.
What was your first experience with Austin?
I came here to visit some friends and they took me to Barbarella. So we went to Barbarella and I was like, 'wow, this place is great.' And then the restaurants and the food and going to Barton Springs. I was like, 'this is amazing.' Because there's nothing like that in Boston. If you want to go to a natural spring, you got to go to New Hampshire. There's no pools in the city at all. So there's lots of swimming out here.
What do you like best about Austin?
You go to any little quiet bar and there's a band playing that should be like onstage for a sold out show. Yeah, they're playing to 10 people, right? Like, one of the best bands ever and they're playing for 10 people, right? And just little magic moments like that are pretty fun. You just run into little random weird things.
What do you think makes Austin different from other places?
There's no fall.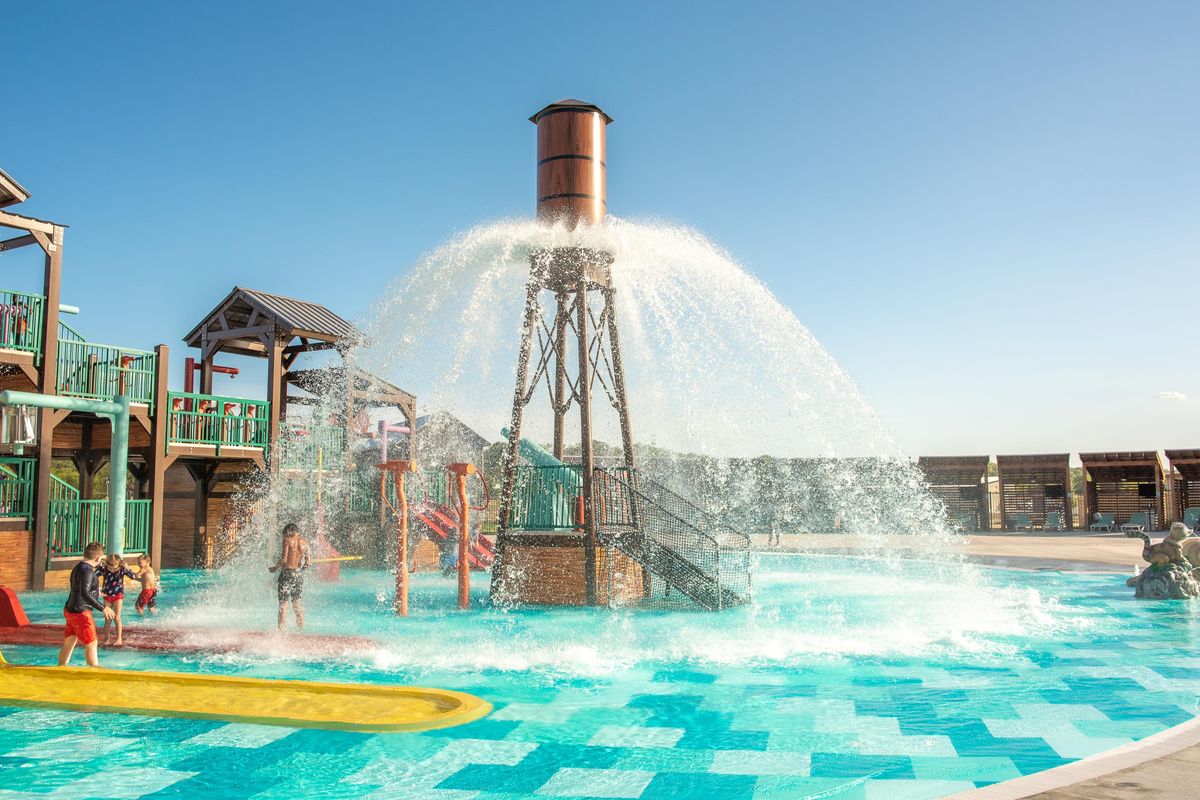 Camp Fimfo Waco
Camp Fimfo Waco, a brand new camping resort, is kicking off football and fall camping season in style! With top-notch amenities, premium accommodations, and 10 weekends of fall fun, there's no better place to have a fall camping getaway, especially if you're a Baylor football fan!
Fall promises to be a one-of-a-kind camping experience. From Sept. 16 to Nov. 24, weekends will be packed with fall-themed activities, including special Halloween weekends in October. Campers can enjoy activities like fall crafts, campground trick-or-treating, costume contests, site decorating, outdoor movie nights, and more!