Never miss a story
Sign up for our free daily morning email...
...and afternoon text update
Get connected with our daily update
(Ascension Seton)
Nanci Kahn, 64, lives in Hyde Park and works as a registered nurse for a small company. She managed to get herself a vaccine appointment at Austin Regional Clinic after waiting on the phone for an hour. But her husband, who is in group 1B, remains on three waitlists. "He's number 3,000 at one place," Kahn told Austonia. "He's 600 at another."
Jim Duncan, 82, has chronic obstructive pulmonary disease and atrial fibrillation. He also has eight doctors, none of whom are administering vaccines. As a result, he hasn't been able to get an appointment elsewhere. Although he is "perfectly happy to ensconce himself at home" and agrees with the prioritization of healthcare workers and nursing home residents, he is frustrated.
"It's so critical to have our act together in this, and it doesn't seem like we do," he said.
---
The Texas Department of State Health Services announced Thursday that it would primarily direct its upcoming weekly allocation of around 200,000 doses of the COVID-19 vaccine to large providers to establish distribution hubs. As part of this allocation, Austin Public Health will receive 12,000 doses of the COVID-19 vaccine—the only shipment arriving in Travis County this week.
Previously, DSHS had distributed smaller allocations of the vaccine to a more diverse group of providers, including area hospitals, private practices, community clinics and pharmacies. Many of these facilities are running out of their existing supply, if they have any doses left, and are waiting to hear from the state when they can expect more.
This shift in strategy arrives amid a bumpy rollout. Gov. Greg Abbott said 1.4 million Texans would be vaccinated by the end of 2020; so far, fewer than 800,000 doses have been administered, according to DSHS. In Travis County, 31,044 residents have received their first dose and an additional 3,131 have received the second. Additionally, some providers have administered vaccines to non-priority individuals, and many eligible residents have found themselves on waitlists numbering into the thousands.
Austin Public Health
APH is a safety net provider and has said it will focus its vaccine distribution efforts on eligible members of the area's vulnerable populations. The department has identified vaccine clinic locations in the hardest hit communities and plans to launch a registration system for individuals who meet the state's criteria for groups 1A and 1B, which include:
Frontline healthcare workers
Long-term care facility residents
First responders
People 65 years of age and older
People with 16 years of age and older with a chronic medical condition
But APH Director Stephanie Hayden stressed that the vaccine supply remains very limited. "There is an estimated 200,000 residents without traditional health insurance over the age of 16 that may need to be vaccinated by a safety net provider like Austin Public Health," she said in a statement Friday.
APH received 1,300 doses from the state during the first four weeks of the vaccine allocation process.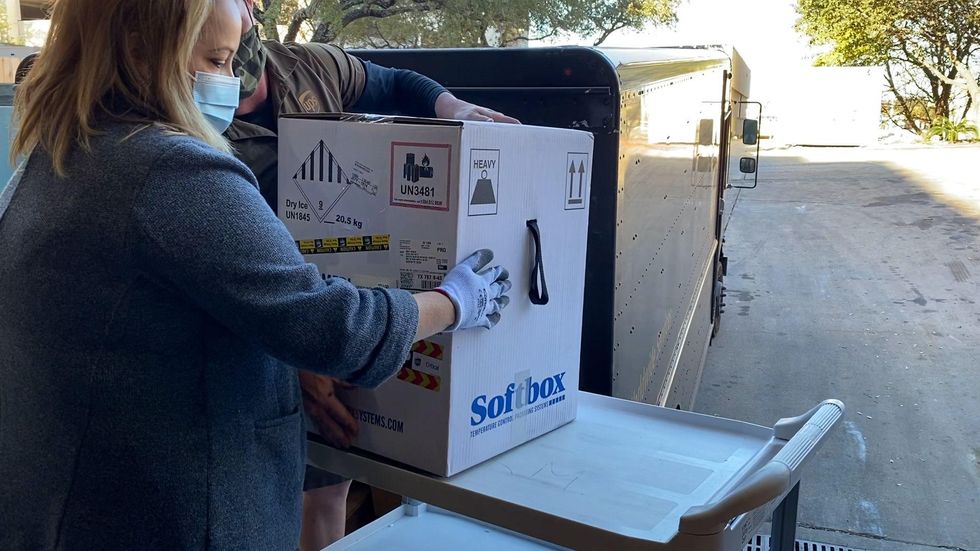 Nearly 3,000 doses of the Pfizer vaccine were delivered to St. David's Healthcare hospitals the first Friday after approval. (St. David's Healthcare)
Regional hospital systems
Baylor Scott & White Health, which is one of three hospital systems in the Austin metro, is continuing to focus its vaccine distribution process on healthcare workers, according to a statement shared with Austonia on Monday. Its Travis County locations received 2,000 doses in late December. St. David's HealthCare is similarly focused on healthcare personnel at this stage, according to its website. Ascension Seton has partnered with some area school districts to vaccinate campus-based staff in the 1B group.
Other providers
Austin Regional Clinic, whose Travis County locations have received 4,100 doses of the vaccine to date, announced it had exhausted its initial shipment of vaccines on Friday. The private medical group has more than 50,000 patients in the 1B group.
Capital Medical Group, a private practice on West 38th Street, received 500 doses in late December. Most of these were administered to healthcare workers at the clinic or in the community, Dr. James Marroquin told Austonia in an email.
The remainder are being administered to select patients over the age of 75, of which the practice has more than 10,000. This "will likely exhaust our current vaccine supply soon," he added. When the practice receives its next allocation, it will use it to give the second shot to patients who have already received their initial dose.
(Providers that have already received vaccine allotments will receive corresponding second doses, DSHS spokesperson Chris Van Deusen confirmed to Austonia.)
Since DSHS' announcement that it will focus its vaccine distribution in the coming weeks on a handful of pharmacies and hospitals, to create vaccine hubs, Capital Medical Clinic has told patients that they will likely receive a vaccine through one of these hubs rather than from their practice. "In general, we're advising our 1b patients to be on the lookout for where they can (get a) vaccine and to get it if they have the opportunity," Marroquin wrote.
But some providers remain optimistic.
Tarrytown Pharmacy, on Exposition Boulevard, received 500 doses on Dec. 23 and was able to administer all of them within days, Pharmacist-in-Charge Dr. Rannon Ching told Austonia.
He is hopeful the pharmacy will receive more doses next week and beyond for two reasons: 1) this is the last week Texas is required to reserve some of its federally allocated doses for long-term care facilities, meaning more doses will be available to distribute in the coming weeks, and 2) Tarrytown is one of a small number of local providers that has the ultra-cold freezer capacity needed to store the Pfizer vaccine, which "would make us a great candidate to receive more."
First score made by LAFC. (Sonia Garcia/Austonia)
Austin FC couldn't find the stamina to fight off a 2-0 loss against LAFC for their inaugural match on Saturday.
The match, which saw No. 21 Austin FC go head-to-head with No. 2 LAFC in Los Angeles, was broadcast nationally on FOX and FOX Deportes.
Eleven players took the stage as Austin FC players for the first time, with five starters making their MLS debut. "Ringleader" Alex Ring took the captain's armband and wore it well. The defensive midfielder could be seen leading his teammates through their first ever match, but it wasn't enough to stage an Austin takeover in LA.
In the signature style of Head Coach Josh Wolff, the team played with quickness and intensity, nearly connecting on several fast breaks. It was harder for them to stay in front, however, something that Wolff credits with quick decision making and a tough LAFC defense.
"We have a quick attacking team, but I think when you make quick attacks and it fizzles it's just about some decision making," Wolff said. "Are we in position to finish attacks? If not, can we reestablish our attack and get stuff better?"
The club was given some generous breaks from No. 2 LAFC, who had one or both of their star DPs out for the half. While forward Diego Rossi is out for the entire match due to a hamstring injury, Carlos Vela was accidentally pulled too soon on what turned out to be a miscommunication.
"He gave us the sign that he needed to come off," LAFC Head Coach Bob Bradley said on broadcast. "I can't say more than maybe it's my fault."
LA pulled some dramatics and slowly gained more possession throughout the half, but ATXFC's defense wasn't initially as shaky as it seemed in preseason. Jhohan Romana has pulled his weight in getting the ball out of goal, and a 34-year old Matt Besler held his own in center back.
As the second half commenced, however, it became clear that LAFC had the advantage over Austin's first major league team.
Goalkeeper Brad Stuver had his work cut out for him, fending off 24 shot attempts, 11 of which were on goal. He didn't have much time to prepare, either: in the first 30 seconds of play, Stuver had already made a save to keep the match 0-0.
LAFC finally connected in the 61st minute of play as Corey Baird shot one into the bottom right corner. The team capitalized off their momentum and put one past Stuver a second time, drawing roars of approval from the LAFC crowd.
While some last-minute attempts from Jon Gallagher and others were made, Austin FC didn't have the endurance to bring a tie. After seven additional minutes of stoppage time, the club lost their first match 2-0.
While the scoreboard tells one story, Wolff said that the team did well considering the skill of LAFC and the pressure of their club debut.
"We've got to be realistic," Wolff said. "This is the first time this organization has been in front of TV with an opportunity to show itself and I think there were some promising moments. And we're going to maximize those and continue to try to develop those, but there's lots to build on."
The team may have lost, but it still won the support of thousands of Verde fans, dozens of which made it to watch their team's first match. When Stuver and the team made it to bthe stadium, Los Verdes fans were already there to show support, and Stuver said his wife saw the same back in Austin.

"The moment that we pulled into the stadium, we saw Black and Verde fans cheering us on as we got to the stadium," Stuver said. "During warm up, you can just look around and see different groups sitting in different sections of the stadium and it's just truly amazing to see the support in our first game. We know that we want to give the fans everything, because this we play for the city and we play for them."