Get connected with our daily update
Richard Kane, 40, received his first COVID-19 vaccine shot last week at a CVS in Temple, a little more than an hour's drive north of Austin.
The Austin Country Club tennis coach is a Type 1 diabetic and eligible for the vaccine under group 1B, which includes people 65 and older, as well as those with a medical condition.
---
Despite being in a high-risk category, Kane was initially more concerned about making appointments for his father and mother-in-law. When his wife was able to secure appointments for all three of them, he was mostly on board.
"I thought I would feel funny if I was there waiting in a long line, and I'm 40, and there's a bunch of people in their 60s and 70s behind me," he told Austonia.
But Kane's fears were unfounded. Now partially vaccinated, with a second appointment scheduled, Kane feels more secure, especially considering that he returned to work last May—and does not have the option to work remotely. "It definitely makes me feel more comfortable, both for myself and the other people," he said.
Three months into the COVID-19 vaccine rollout, there are some signs of widening access thanks to increased weekly allocations, the FDA's approval of Johnson & Johnson's single-shot candidate and expanded eligibility criteria, which now includes educators and child care staff. Although older residents still report trouble making an appointment, younger Austinites like Kane are increasingly in on the action.
Austin Public Health administered 26,645 doses of the vaccine last week. Of those, more than 65% went to people under 65 years old. This is a new development. Until last week, the majority of APH's doses had been administered to people 60 and older, according to the Austin-Travis County vaccine distribution dashboard.
Austin Public Health has been prioritizing older residents in its vaccine distribution process since they are the most at-risk of severe illness. Department officials have even said that other 1B qualified individuals should consider giving up their place in line.

Securing a spot in line
So how are young people securing a dose? There are plenty of younger Texans who are eligible for the vaccine under priority group 1B. In addition to healthcare workers, long-term care employees, and education and child care personnel, there are an estimated 311,477 Travis County residents aged 16 to 64 who have a medical condition and therefore qualify, according to the Texas Department of State Health Services. This is roughly a quarter of the county population.
Dana, who asked to use a pseudonym for privacy reasons, lives in San Marcos and received her second vaccine dose in late February from Hays County. The 27-year-old was eligible under group 1B because of pandemic weight gain; obesity is one of many health conditions that increases risk of severe COVID illness, according to DSHS.

"I did have my reservations," she said, adding that she worried people might think of weight gain as a personal choice rather than legitimate eligibility criteria. "There's always someone less healthy than you."
But ultimately she opted to make an appointment, citing well-documented links between obesity and more severe COVID outcomes. "The more people who get jabs the better," she said.

Another way to secure the vaccine is to jump the line, as reported by the Texas Tribune. Because state health guidelines do not allow vaccine providers to require recipients to provide proof of a medical condition, some residents have successfully made an appointment citing membership of group 1B, despite not meeting the current eligibility criteria.
Vaccines for volunteers
Amanda Sheppard, 41, is a service coordinator for Family Eldercare, a local nonprofit that serves seniors and adults with disabilities. Because of her job, she has qualified for a vaccine since very early on in the rollout. "I had actually tried to get an appointment on the Austin Public Health website, but I wasn't able to get one," she said.
When APH hosted a vaccine clinic at the public housing community where she works on Tuesday, Sheppard volunteered—and received her first dose. "I just felt like I needed to get the vaccine because I'm going to continue to work with this population," she said.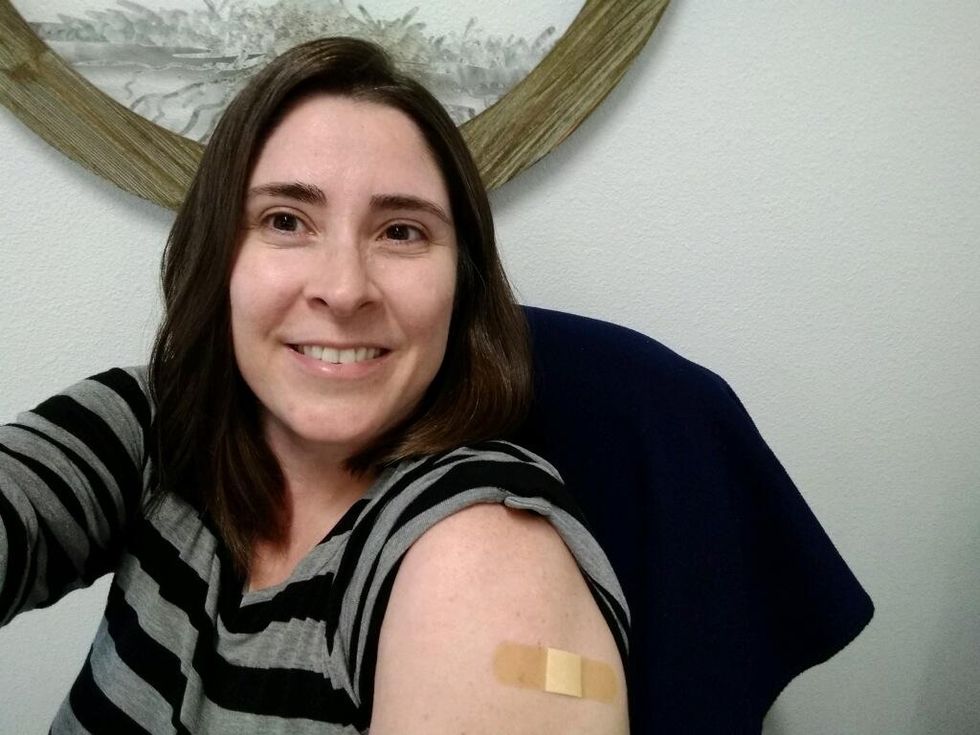 Amanda Sheppard received her first vaccine dose on Tuesday after volunteering at a distribution event. (Amanda Sheppard)
As vaccine supply increases, so too do the number of large-scale vaccine distribution events. Central TX VACCS, a joint effort by the city of Austin and Travis County, notes on its website that volunteering at a vaccine distribution site "does NOT mean you'll receive a vaccine." But for some younger Austinites this is one way to get a vaccine before it is rolled out to the general public.
After their first two-win week and a two-week hiatus, Austin FC is back at home against Minnesota United as they attempt to up their home win streak to three on Saturday.
The team kicks off at 8 p.m. against the Loons in their first matchup since a 2-0 loss in June, but they're 1-1 against the club after beating Minnesota in May for their first-ever shutout.
Austin maintains a last-place spot in the West but has seen a bit of a late comeback with two wins in their last three matches. Austin's Cecilia Dominguez, who scored a brace for the team in their last match against Real Salt Lake, will look to keep that momentum as the team works for another victory. Meanwhile, the seventh-place Loons will work to keep that last spot in playoff contention as the season nears its end.
Follow along here for updates on the biggest plays of the match.
An Austin-based program manager for Apple Maps and one of two leaders for the #AppleToo activist movement said she has been fired after a suspension.
According to the New York Times, Janneke Parrish said she was put on suspension for several days while the company investigated her activities before she was fired by a human resources employee via phone call on Thursday.
Parrish was under investigation for allegedly leaking a recording of an Apple staff meeting to the media, which she said she didn't do.
The report said the company told Parrish, who is 30, that she was being fired for having deleted files off her company-issued phone and computer before handing them in for examination. Parrish said the files she deleted contained her personal and financial information.
Among the files she deleted were the Robinhood app, which she said was to keep Apple from seeing "how much money I lost investing in GameStop," the Pokemon Go app and screenshots of programming bugs she was fixing.
Parrish said she believes Apple was retaliating against her efforts in organizing #AppleToo, a group of employees working to expose the company's "culture of secrecy" that has been "faced disproportionately by our Black, Indigenous, and other colleagues from minoritized racial, gender and historically marginalized groups of people."
Parrish had been publishing weekly accounts of workplace problems that had been shared anonymously with her from other employees, though she did not verify employment on all of them. The accounts she received were in the hundreds, so Parrish said she was hopeful her termination would lead to some justice within the company.
Employees at tech giants have been more outspoken than usual in recent months—with former Facebook data scientist Frances Haugen speaking out against her former employer—and Parrish said the company's desire to keep under wraps has eroded trust by discouraging employees to come forward with issues like harassment or wage disparity.
Apple spokesman Josh Rosenstock commented on the matter: "We are and have always been deeply committed to creating and maintaining a positive and inclusive workplace. We take all concerns seriously and we thoroughly investigate whenever a concern is raised and, out of respect for the privacy of any individuals involved, we do not discuss specific employee matters."
Additionally, the email detailing her termination, which was obtained by the New York Times, said Apple had determined that Parrish "engaged in conduct in violation of Apple policies including, but not limited to, interfering with an investigation by deleting files on your company provided equipment after being specifically instructed not to do so."