Get connected with our daily update
When Holly, 33, received her first COVID-19 vaccine dose on Jan. 23, she felt conflicted. Although she was eligible because of her job at a mental health clinic and is diagnosed with an autoimmune disorder that puts her at higher risk for blood clots, she told Austonia, "I still had some guilt." She added that she was able to make an appointment before either her parents or her mother-in-law, who is unwell. "There was a gap in the overall system."
---
Holly, who asked to use a pseudonym, also kept her immunization status mostly private. She is involved in a holistic wellness community, where many members are anti-vaccine. She was, too, until recently, when she decided that any risks of getting vaccinated were outweighed by the risks of contracting a severe case of COVID. "I felt like there was some judgment around if I got the vaccine," she said. "And I just haven't wanted to open myself up to having to justify myself."
So-called vaccine guilt is a common experience among recipients given the limited availability of doses across Texas and the nation. It may become even more so on Monday, when the state will expand vaccine eligibility to all residents 16 and older. Amid this change, vaccine providers will still be asked to prioritize the elderly, who are especially high-risk and may have difficulty navigating the online registration process.
The Texas Department of State Health Services expects to receive an increased number of vaccine doses next week, which it cited as one reason for expanding eligibility. But supply remains limited. Midway through week 15 of the rollout, 292,161 Travis County residents are partially vaccinated and 121,769 are fully vaccinated, representing 28% and nearly 12% of the estimated population 16 and older, respectively, according to DSHS. This leaves around 40% of the currently eligible groups, not including those in the recently added 1C group, unvaccinated.
i got my first covid vaccine today and i almost cried from relief and guilt.💌 sending love to anyone that hasn't been able to get theirs yet. especially to anyone who is also struggling with the fact that our incarcerated and uninsured relatives won't have access to this vaccine
— emi aguilar #𝔟𝔩𝔪 #𝔩𝔞𝔫𝔡𝔟𝔞𝔠𝔨 (@EagleEmii) March 6, 2021
It may also lead some Austinites who will become eligible next week to question whether they should seek out an appointment. "I can see why people feel guilty because I feel guilty," said Christine Mitchell, executive director of the Center for Bioethics at Harvard Medical School. She received a vaccine early in the rollout because of her job, which is in a healthcare field but does not involve direct contact with COVID patients. "And many of us who are vaccinated … feel guilty because it has not been handled well in getting (doses) to grocery workers, for example."
Solidarity with fellow Texan front-line workers in our union family who have once again been excluded by the state from COVID-19 vaccine eligibility.

Without leadership from @POTUS, K-12 school employees would be in the same boat. #1u #UnionStrong https://t.co/iglwilNMEh
— Texas AFT (@TexasAFT) March 20, 2021
The rollout, which Mitchell called "intensely problematic," has been logistically challenging for many reasons: the Pfizer and Moderna vaccines require ultra-cold storage, which limits the number of providers that have the necessary equipment to preserve them; mass distribution events serve more people but may exclude those without a car; online registration systems exacerbate the digital divide; mobile events in rural communities risk wasted doses if not enough people opt in.
It's these issues that have led some to feel guilty about accessing a vaccine that they know remains inaccessible to people at higher risk than themselves. "In an ideal world, what you would like is for everyone ... to be sort of rank-ordered in terms of their risk of dying from COVID and get the vaccine to the people at the top of the list first," said Dr. Matthew Wynia, director of the Center for Bioethics and Humanities at the University of Colorado Health Sciences Center.

Instead, the rollout has relied on categorization, which means that there is often a spectrum of risk within each group. Wynia urges people who are eligible for the vaccine to seek out an appointment. Not doing so could give the false impression of less demand for doses or higher rates of vaccine hesitancy than actually exist. "Don't neglect to get the vaccine when it's your turn even if you don't think it should be your turn yet," he said.

People who are bothered by this process can act in ways other than forgoing a vaccine. Wynia suggested supporting efforts to hold vaccine clinics in underserved communities, participating in phone-based outreach to people without internet service and volunteering as a vaccine angel.
Although some Austinites may feel that it is too soon to open up vaccine eligibility to the general public, there are benefits to doing so. For one, it will eliminate the guessing game of whether people are eligible or gaming the system. "If you really are jumping the queue and you're ineligible … now you are creating an unfairness," he said.

But both Wynia and Mitchell believe that such cheating is uncommon. "The whole fact that we're having this conversation about vaccine guilt is an indication that a lot of people are so honest about this that they're worried they're taking advantage of a system when they're not even really taking advantage of anything but playing by the rules," Wynia said.
More on what experts are saying: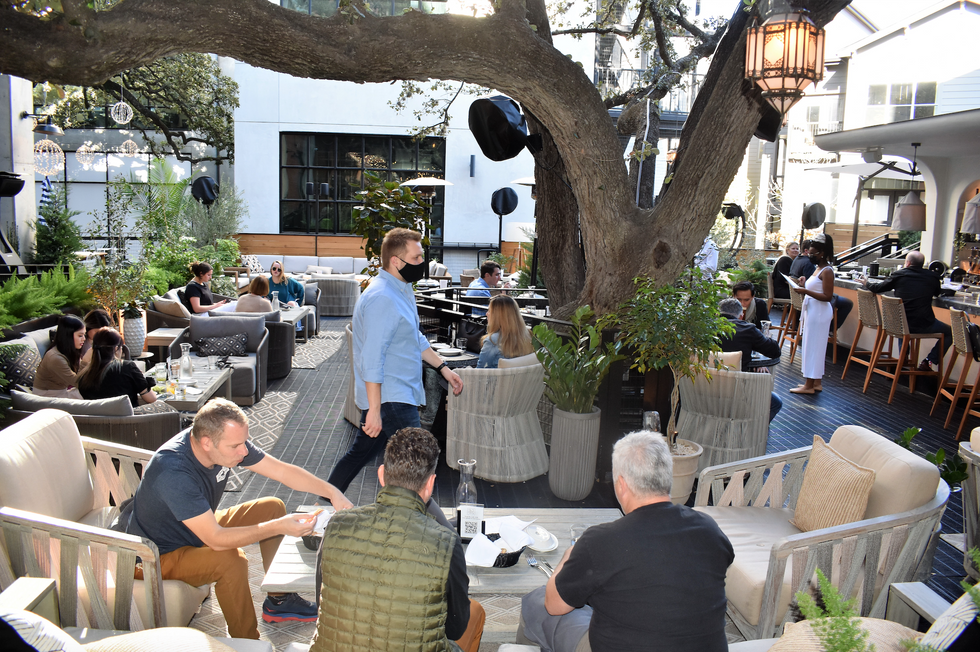 Ready to put on pants and face the world again? Experts say it will take some easing into
Released this month, "Being Texan" is the first of several Texas Monthly titles to come in the build-up to the magazine's upcoming 50th anniversary in 2023. It is divided into four sections: Identity & Culture, Town & Country, Arts & Entertainment and Food & Drink.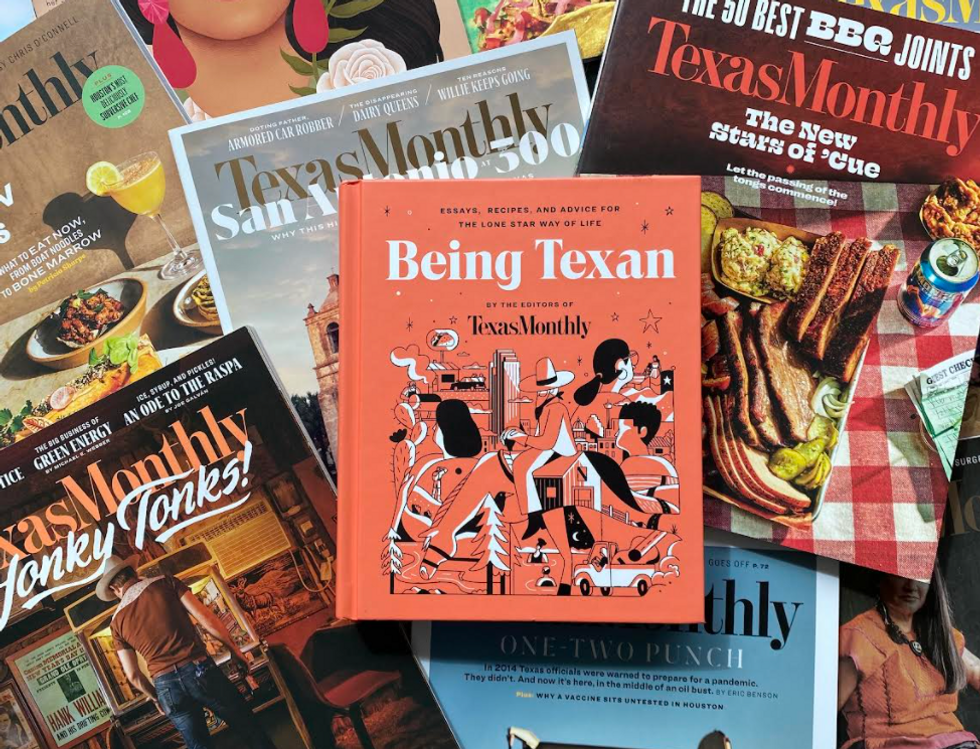 In the introduction, titled "What Does it Mean to Be Texan?," Texas Monthly editor Dan Goodgame addressed the eclectic aspirations of the book, writing: "Our modest goal was to craft a well-informed, thoughtful sampling of the best the state has to offer." To this humble end, forty-two editors were utilized to cover fifty-five topics, which tackle everything from the various dress codes that make up "Texas chic" to Selena's ongoing appeal.
The resulting richness is all over the map, running from Texas Monthly Senior Editor John Nova Lomax's frustration over the frequent mispronunciations of Texas cities ("From Amarila to Wad-a-loop") to Oscar Casares's bittersweet essay on Dia de Los Muertos in the time of COVID ("Souls of the Departed").
The book goes from silly to serious fast, and the pace might unseat some readers who would otherwise just enjoy the ride of pride that comes from being reminded that Texas gave the world Cheetos, Fritos, Doritos, Dr. Pepper, Liquid Paper and the microchip.
So, in a book that switches from the state's early instance on remaining a slave republic to a piece about collecting San Antonio ghost stories, it perhaps goes without saying that the essays on brisket and beer are the easiest to digest.
"Being Texan" does, in truth, contain some delicious and downright literary food writing.
Joe Galvan's "Ode to the Raspa," treats the summertime shaved ice staple as nothing less than a kind of edible ambassador of U.S. cuisine. "They serve as an important and necessary reminder of the fluctuating, imprecise words that American food inhabits," he writes like some semiotics professor, before waxing poetic on how raspas embody childhood innocence as well as "the humidity of a July evening that finds itself at the bottom of a Styrofoam cup."
But readers who are tempted to skim the section on "Strong Texas Women" or "The Evolution of Juneteenth" to get to Paula Forbes' warning not to skip the processed cheese when slow cooking queso, will have missed out on some deep insight into what it means to embrace all the appealing and uneasy aspects of the state.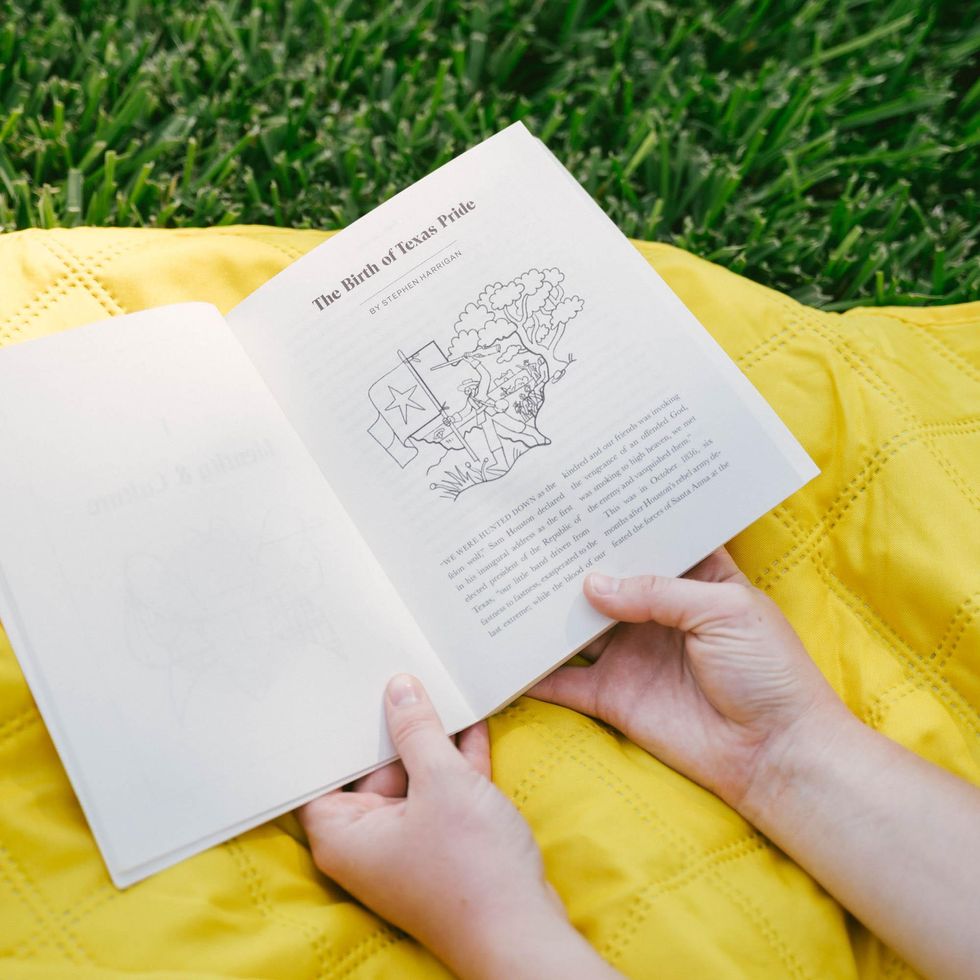 In "A Tale of Two High Schools," Dan Q. Dao, details how, as a Vietnamese kid growing up in Houston, he employed the tropes of Texas culture as a tool of survival. "Perhaps out of a sense of self-preservation, I became enamored with the gilded mythology of Texas, from the folklore of the Alamo to the twang of country music. I wore cowboy boots, showed up for Friday night football games, and rarely missed a rodeo," writes Dao, observing that: "Part of me believed that if I proclaimed my Texanness loudly enough, I would be spared the label of outsider."
The dilemma of the homegrown Texas outsider is artfully explored in Skip Hollandsworth's "Why McMurtry Matter,'' a meditation on the ironic popularity of Larry McMurtry, a writer who wrestled with his relationship to Texas--particularly the Hollywood myths and misconceptions that surrounded the state. Speaking about (to his mind) the perplexing success of "Lonesome Dove," McMurtry said: "All I had wanted to do was write a novel that demythologized the West. Instead, it became the chief source of western mythology. Some things you cannot explain."
There is much about Texas itself that seems hard to explain.
But David Courtney, a senior editor at Texas Monthly, does a good job of speculating on this rare amalgam of conservative pride and fearless experimentation that tends to run through the state, when he writes "Texans believe they possess something deep within themselves that sets them apart, and therefore they kind of do."
Despite the surface-level accessibility of a book that addresses the cultural significance of Neiman Marcus and the extreme brand loyalty to Whataburger, "Being Texan" offers rare input regarding Texas and its citizenry, as well as handy advice for breaking in a pair of cowboy boots.
In a city where live music is heralded above all else, Pete Monfre was surprised to find local musicians working for free that he quit the industry for 10 years in 2006.
Local musicians tended to be underpaid before COVID-19 sent the music industry reeling, but the fallout from the pandemic exasperated the existing problems. Musician and marketer Monfre knows—he's been behind that shaking tip jar, trying to turn a profit while doing what he loves. He's tackling the problem with a unique brand of live shows, which go against the grain, mix business with pleasure and help bring home the bacon.
The shows, called Stories from the Road, are an informal storytelling jam session at The Saxon Pub that encourages interaction between the artist and audience.
After a brief hiatus due to ongoing woes of the pandemic Stories from the Road came back to The Saxon Pub on Saturday. It was the first of 23 consecutive shows that didn't sell out, which Monfre attributes to the break of not having shows.
"We called it Stories from the Road—not a band, an experience," Monfre said. "We're not going to rehearse, we're not going to have a list, we're not going to prepare, every show is a one-off and you will never see it again."
His shows start early at 6 p.m., with a rotating group of musicians playing blues or Americana who need not rehearse. This time it featured Mark "Kaz" Kazanoff on saxophone and harmonica, bassist Mark Epstein, drummer Kevin Hall and Adam Pryor on Hammond Organ.
You'll probably end up spending a bit more than the typical show at the Saxon Pub, around $30 per person, but each show goes directly to supporting the artists that made it.
"Part of the mission was to advocate for fair wages for musicians and to help musicians understand their economic value," Monfre said. "Now I can afford to pay musicians a modest guarantee and we call that the Fair Play approach to live music."
Monfre moved to Austin as a young adult with the intention of "conquering the music industry" in 1981, which he told Austonia he did not do but did meet "a lot of interesting people." He left Austin to tour for a few years, then moved to Milwaukee, where he continued to play music.
After returning to Austin in 2006, Monfre discovered some musicians were playing shows for free.
"I'm playing in Chicago and Michigan and hardcore blues places, and we don't play for free," Monfre said. "So I actually quit for 10 years. There is no reason to play for free whatsoever if you just get the model right."
Having already tried to conquer the music industry once, Monfre took a business-forward approach the second time. The model also caters to what he believes is an underserved group: working professionals who want to meet like-minded individuals but also be home by 9 p.m.
Chief Technology Officer for Economic Transformation Technologies David Smith, who has been coming to other Monfre shows since they started in 2016, said he enjoys the improvisational nature of the shows because it reminds him of old Austin.
"The Stories from the Road get back to the root of what music is: the fact that you can sit and jam, make music with musicians because they understand music, and that's the soul of Austin," Smith said. "It really is a celebration of music."
Monfre said the informality is what makes his shows so popular—you'll hear the musicians ask the key for a song, take a request from the crowd, make a lighthearted jab at one another or create a song from scratch.
"They want to see the sausage being made, it's really funny I would have never thought it," Monfre said.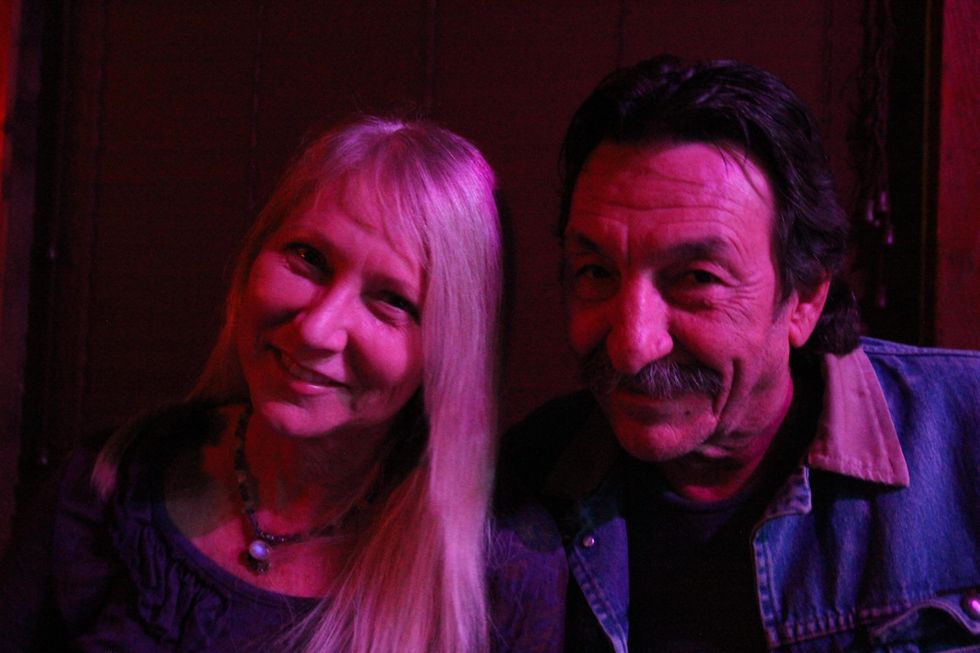 Price (right) said he was happy the show ended early so he could make it home to Lampasas. (Laura Figi/Austonia)
"I am knocked out. It just really didn't get any better than what we just had—this band was so good, the crowd was so good," Price said. "That's what Austin in the '60s and '70s was all about, just everybody throwing it together."
Stories from the Road is returning to The Saxon Pub stage on Dec. 18, with a completely new group of musicians. The show, like always, will start at 6 p.m.
The holiday season is upon us, so get ready to celebrate with carols, snacks and light shows galore. Austin is full of holiday festivities spanning throughout all of December so get out and enjoy the cool weather while it lasts.
Don't miss these nine holiday-themed light shows.
Austin's most famous annual light show and a Readers Choice of USA Today's 10 Best Public Displays of Holiday Lights, the Trail of Lights will be drive-thru again this year Nov. 27-Dec. 31. For 57 years in a row, the Trail of Lights has lit up Zilker Park with games, food, local vendors and more than two million lights gleaming for the holidays. The event, as always, is free to the public and you can reserve slots here. The Zilker Tree is already up, so you can already see it if the holiday cheer is too much to bear.
Coming back for the second year in a row, Peppermint Parkway will transport you to COTALAND, where six million lights gleam and Christmas is just a one-mile drive away. The hybrid event will have you drive through the display of lights, dancing elves and unique little villages before you hit the walking plaza, where you can grab a bite to eat and meet Santa. Tickets range from $40-$95, some including a lap around the COTA track, running from Nov. 26-Dec. 26.
Dreamland Dripping Springs has been transformed into a winter wonderland—running throughout the month of December, the venue's first-ever holiday display is taking over with activities for the whole family. Plus, running from Nov. 20-Jan. 4, a pop-up ice skating rink will really bring the holiday cheer for $10 or $5 Monday specials. The lights display will feature half a million lights and warm, festive sips from the taproom.
With events galore for the holiday season, winter is really when the Hill Country Galleria thrives. Starting with its Light Up The Plaza event on Saturday from 6-8 p.m., where visitors can see Santa, gaze at the official lighting of the holiday tree and hear some live tunes from rock band American Authors. The Galleria will also hold a holiday market every Thursday, Friday and Saturday leading up to Christmas Eve and periodic photos with Santa at Buenos Aires Cafe.
Deck the Halls at the Driskill Hotel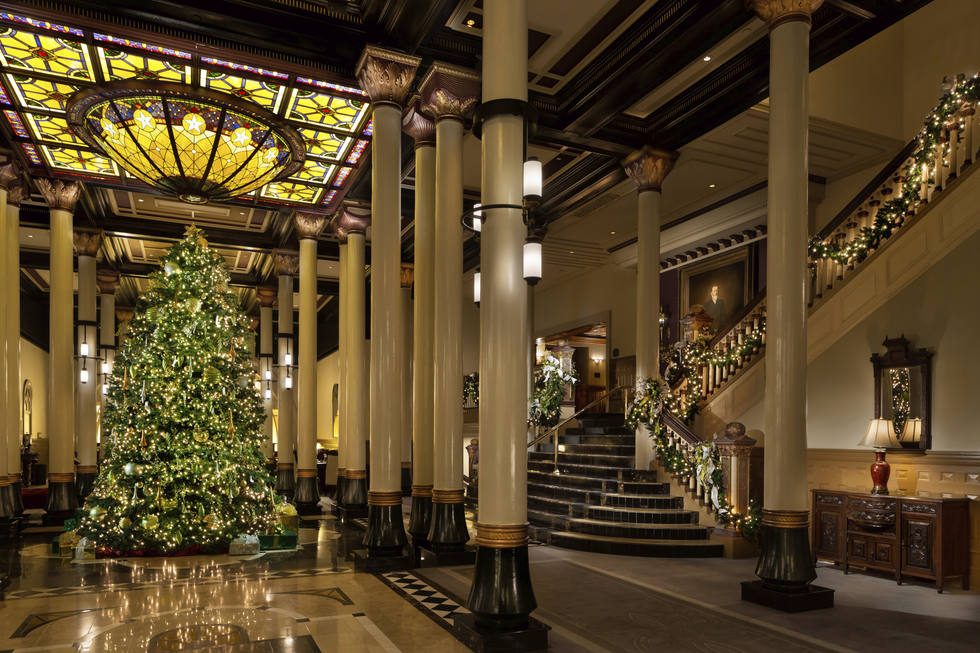 (Courtesy of the Driskill Hotel)
This holiday season, the Driskill will deck out every nook and cranny of the historic hotel from the grand staircase to the 16-foot Christmas tree in the lobby to be lit on a Dec. 1 ceremony that will be open to the public. Touches of Driskill festivities can also be seen at Dell Children's Hospital with a gingerbread village for its annual "Cookies for Caring" event.
Kicking off the lighting of the tree on Saturday, Dec. 4, Austinites will gather on the steps of the Texas Capitol at 6 p.m. to sing the 45-foot tree to life. Afterward, local band Los Coast will close out the night with a free concert. The fun doesn't stop there though as the Downtown Austin Alliance will host the Downtown Holiday Stroll, with "holiday passports" and stamps to collect for local restaurants and stores, and a Frida Friday Holiday Market at Republic Square.
Combining festive holiday lights and the beautiful native plants of Central Texas, Luminations at the Wildflower Center is back with thousands of lights, luminarias and a lit-up look at Fortlandia. This year will also feature an interactive light maze called "silvana" by Ben Busche of architecture firm Brut Deluxe, which will be the maze's first appearance in North America. The event will run Thursdays-Sundays from Dec. 2-Jan. 30 for $10-$25 per person.
Reserved tables are back for Mozart's Coffee Roasters annual Christmas Lights Show for $20 four-person tables and $30 six-person tables—so get your tickets early because these tables are likely to sell out. The light show will also feature a festival-style Bavarian marketplace for those last-minute gifts. If you're too late to reserve a table, don't worry, there will be standing room available for free so come one, come all, and come early for parking.
From Dec. 2-4, Old Settlers Park will light up with holiday displays, family activities, festive refreshments and live music. Watch the balloons hover above the lake as you sip on a hot chocolate or give to those in need, with stands for Round Rock Operation Blue Santa, which is taking toys for kids in need, the Play For All Foundation, which is accepting cash donations for disabled children, and the People & Parks Foundation, accepting cash donations for green space in the community. Admission to the event is free, along with most of the activities in the park.