Austonia AM
100% Austin news, info, and entertainment, straight to your inbox at 6 a.m. every morning.
In five minutes, you're fully informed and ready to start another great day in our city.
Get connected with our daily update
As the COVID-19 vaccine becomes more widely available, public health experts are concerned about vaccine hesitancy, which they say could undermine efforts to achieve herd immunity and leave individuals vulnerable to the disease. Austonia spoke with three vaccine skeptics to learn more about their reasons for opting out.
---
A calculated risk
Jocelyn Windsor, 63, is a retired nurse who lives in Cedar Park and has chosen not to get a COVID vaccine. "I try to take care of myself so that my own immune system can handle most things," she told Austonia.
Windsor says she is overweight but otherwise in good health; regularly washes her hands and practices natural medicine. She would prefer not to have to wear a mask or social distance. And she has concerns about the vaccine. The CDC's evolving guidance on what recipients can do safely has undermined her confidence in their recommendations, and she worries about possible long-term side effects. "We truly do not know what the end game is going to look like with this," she said. "I'm just praying that we don't all die."
Windsor finds it hard to find information that supports her point of view, shunning the CDC and the World Health Organization in the favor of YouTube channels, like those of David Martin, a financial analyst and self-help entrepreneur who has pushed some pandemic-related conspiracy theories; Dr. Joseph Mercola, who has promoted supplements as an alternative to vaccinations; and Dr. Simone Gold, who founded the pro-hydroxychloroquine, anti-vaccine group America's Frontline Doctors and was arrested after participating in the Capitol insurrection on Jan. 6.
Windsor also acknowledges the pandemic and the higher risk it poses for some demographics. "The nurse in me, seeing what happened this last year with (more than) 500,000 dead Americans and listening to some of the horror stories, I can see where someone who is not in the best of health should really decide for themselves what kind of risk they're going to take," she said. But for her the risk of COVID is preferable to the risk of a vaccine against it. "If COVID takes me out, at least I'll go out without a mask," she said.
A loudening concern
Del Bigtree, a former television producer and founder of the Austin-based, anti-vaccine Informed Consent Action Network, said these concerns are increasingly common and have been exacerbated by Operation Warp Speed, the public-private partnership initiated by former President Donald Trump last May to accelerate the vaccine rollout. "This COVID pandemic has really made (vaccine hesitancy) grow exponentially because, prior to this, no one asked the appropriate questions," he said.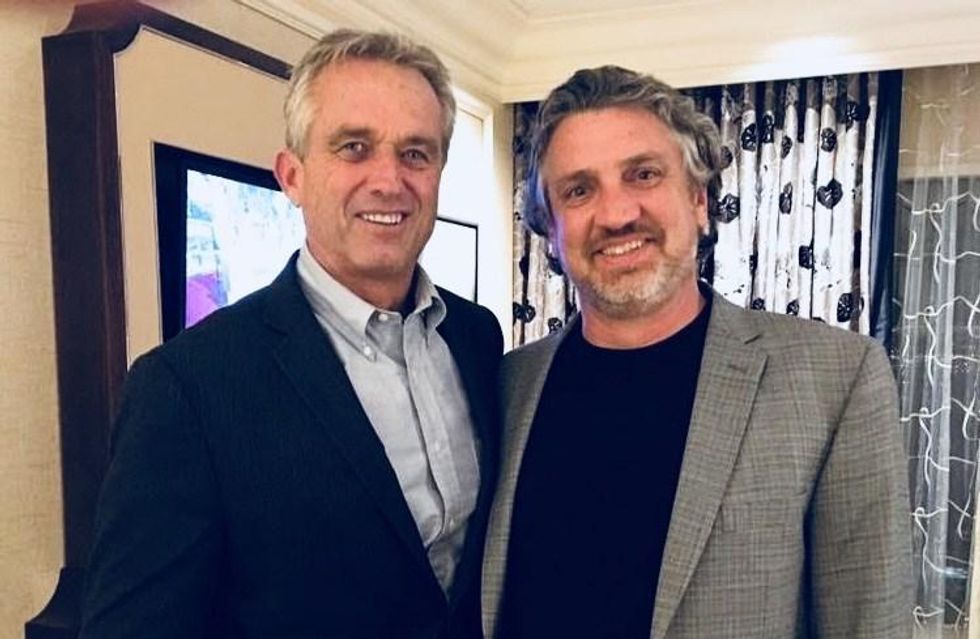 Robert F. Kennedy, Jr., left, who was barred from Instagram for spreading vaccine misinformation, represented ICAN founder Del Bigtree in a 2018 lawsuit against the U.S. Department of Health and Human Services. (ICAN)
Bigtree has a litany of concerns about vaccine safety, but his number-one is legal immunity granted by the federal government to some pharmaceutical companies that develop vaccines. Former Health and Human Services Alex Azar invoked the Public Readiness and Emergency Preparedness Act last February, which protects companies such as Pfizer, Moderna and Johnson & Johnson from vaccine injury lawsuits through 2024.

Pharmaceutical companies are out to make money, Bigtree said, citing the Oxycontin-fueled opioid crisis and the thousands of lawsuits filed against Johnson & Johnson, whose baby powder was sometimes tainted with carcinogenic asbestos. He argues that, if the federal government waives liability and is also responsible for ensuring product safety, then neither the companies nor the government are incentivized to address vaccine injuries. "It's literally like a murder case where the murderer is doing the forensics," he said.
A slippery slope
Rusty Parker, 61, lives in Georgetown and owns a managing consulting business. He is a Republican who has opted out of the vaccine for a variety of reasons, including his distrust in the government; the CDC's changing messages, including its recently conflicting guidance on whether people who are vaccinated can travel safely; and what he views as the very low statistical probability that he will contract COVID and die from it.
"Another factor in my questioning in the validity of universal vaccinations for all Americans is when I see Gov. Gavin Newsom of California saying there should be no gathering, and then he's at a restaurant at a long table," Parker said, referring to Newsom's widely criticized Nov. 6 outing to the French Laundry for a birthday party.
Like Windsor, Parker is not opposed to people choosing to get the vaccine if they are in a high-risk group. His father is 83 and has comorbidities that make his immune system more susceptible to COVID. "I'm glad he got both shots," he said.
But Parker worries about what he sees as federal overreach during the pandemic, from shutting down certain businesses temporarily to the prospect of vaccine passports, which Texas Gov. Greg Abbott prohibited state agencies from issuing.

When asked what his worst fear is, Parker says, "Martial law." He acknowledges that the words feel strange coming out of his mouth, but he is scared of what's to come. "I have dwindling confidence that over the next several years our freedoms will increase."
In a scene that seemed to mark the pandemic's triumphant end, over 20,000 mostly maskless fans packed into Q2 Stadium for Austin FC's debut at Austin's first professional sports stadium in June. That mask-free utopia couldn't have been possible even a month before, and it may not be possible once more as Austin and the CDC returns to mask recommendations again for the first time since May.
Austin returned to Stage 4 restrictions on July 23 as case rates tripled since the beginning of the month and hospital beds once again filled with COVID patients. The spike comes after the highly contagious Delta variant was detected in Travis County. In its Stage 4 announcement, APH said its recommendations will not affect large events, such as Austin FC games, from operating.
More recently, the CDC updated its recommendation for vaccinated people on Wednesday, saying that all people in high-risk areas—including Austin with more than 50 COVID cases per 100,000 people—wear masks.
With businesses reinstating mask policies and new fear in the air, Q2's carefree party atmosphere may be affected. The club released the following statement to Austonia: "Austin FC encourages all guests to observe Austin Public Health's recommendations and take appropriate action based on individual circumstances."
After Austin voters passed Proposition B, reinstating a ban on public camping, City Council directed staff to look into possible sanctioned campsites where homeless residents could live legally. Now two members are asking to shelve discussion on the controversial topic.
Staff presented dozens of possible sanctioned campsites across each fo the 10 council districts in late May, following the election. But members mostly pushed back on the proposed locations, citing cost, wildfire risk and lack of transparency as concerns.
With updated criteria, staff recommended two sites—one in District 1 and the other in District 8—for further review last week. After being briefed on the options during Tuesday's work session, Mayor Pro Tem Natasha Harper-Madison, who represents District 1, and Council Member Paige Ellis, who represents District 8, issued a joint statement proposing "a pause" on further discussion of temporary sanctioned encampments.
"We are not convinced that these sites would be a cost-effective solution, but rather a band-aid tactic when we need to be supporting the long-term strategy to get folks off the street permanent," they said. "It is our responsibility to look at the situation holistically and objectively, and to spend out city's limited resources on solutions we know can work."
Homeless Strategy Officer Dianna Grey noted that the two locations were imperfect and would require a lot of time and money to outfit as sanctioned campsites during the briefing.
City staff and homeless experts have previously raised concerns about sanctioned encampments, saying they are expensive to maintain, challenging to manage and hard to close, even when intended to to be temporary.
In 2019, staff declined to make recommendations for such sites despite being directed by council to do so, citing 2018 guidance from the U.S. Interagency Council on Homelessness. "Neither authorized encampments nor parking areas provide housing for people experiencing homelessness," staff wrote in a memo. "Rather, each option detracts from the staff resources assigned to addressing this moral imperative."

But with Prop B being enforced and too few shelter beds and affordable units for the estimate unsheltered homeless population in Austin, the city is facing the same predicament that prompted District 9 Council Member Kathie Tovo to pursue possible sanctioned campsites in the first place: "When individuals in encampments ask where they should go, we need to have places to suggest," she said at a May 6 council meeting.
Don't lose your mask just yet—the Centers for Disease Control and Prevention announced it is now recommending masks in areas that are surging as cases rise nationwide and the Delta variant looms.
The CDC announced Tuesday that even fully vaccinated individuals should mask up indoors if their community is experiencing substantial transmission—defined as areas with more than 50 cases per 100,000 people. Travis County is sitting at an average of 94.59 cases per 100,000 over the past seven days, falling into the highest risk category, according to the CDC.
#DeltaVariant surging in U.S. New data show Delta much more contagious than previous versions of #COVID19. Unvaccinated people: get vaccinated & mask until you do. Everyone in areas of substantial/high transmission should wear a mask, even if vaccinated. https://t.co/tt49zOEC8N
— CDC (@CDCgov) July 27, 2021
After two COVID-19 recommendation stage jumps in the last two weeks, from Stage 2 to Stage 4, Austin-area cases are the highest they have been since February. The seven-day average for cases is on an upward trend, reaching 226 on Tuesday.
The CDC is also recommending that all students K-12 wear masks indoors, regardless of vaccination status. A May executive order by Gov. Greg Abbott prohibits schools from requiring masks, regardless of vaccination status. Austin ISD is "strongly" encouraging students to wear masks.
Although vaccinated individuals are still protected against the most severe symptoms of the variant, infections are spreading rapidly and now make up 83% of confirmed cases in the U.S. At least a dozen cases of the delta variant have been confirmed in the Austin area, though there are likely more since testing for it is limited.
CDC Director Dr. Rochelle Walensky said that hospital admissions are "almost exclusively" coming from people who are unvaccinated but those who are vaccinated can still catch and spread the virus.
"Unlike the alpha variant that we had back in May, where we didn't believe that if you were vaccinated you could transmit further, this is different now with the Delta variant," Walensky said. "That leads us to believe that the breakthrough infections, rare that they are, have the potential to pool and transmit at the same with the same capacity as an unvaccinated person."
Research suggests those who become infected carry 1,000 times more of the virus than other variants and could stay contagious for longer.
The announcement comes on the heels of the Biden administration ramping up cautionary measures in the face of the Delta variant. Just last week, the CDC said it had no plans to change its May guidance of vaccinated not having to wear masks unless there was a significant change in the data. Officials met on Sunday night to review new evidence,
according to reports.