Austonia AM
100% Austin news, info, and entertainment, straight to your inbox at 6 a.m. every morning.
In five minutes, you're fully informed and ready to start another great day in our city.
Get connected with our daily update
As the COVID-19 vaccine becomes more widely available, public health experts are concerned about vaccine hesitancy, which they say could undermine efforts to achieve herd immunity and leave individuals vulnerable to the disease. Austonia spoke with three vaccine skeptics to learn more about their reasons for opting out.
---
A calculated risk
Jocelyn Windsor, 63, is a retired nurse who lives in Cedar Park and has chosen not to get a COVID vaccine. "I try to take care of myself so that my own immune system can handle most things," she told Austonia.
Windsor says she is overweight but otherwise in good health; regularly washes her hands and practices natural medicine. She would prefer not to have to wear a mask or social distance. And she has concerns about the vaccine. The CDC's evolving guidance on what recipients can do safely has undermined her confidence in their recommendations, and she worries about possible long-term side effects. "We truly do not know what the end game is going to look like with this," she said. "I'm just praying that we don't all die."
Windsor finds it hard to find information that supports her point of view, shunning the CDC and the World Health Organization in the favor of YouTube channels, like those of David Martin, a financial analyst and self-help entrepreneur who has pushed some pandemic-related conspiracy theories; Dr. Joseph Mercola, who has promoted supplements as an alternative to vaccinations; and Dr. Simone Gold, who founded the pro-hydroxychloroquine, anti-vaccine group America's Frontline Doctors and was arrested after participating in the Capitol insurrection on Jan. 6.
Windsor also acknowledges the pandemic and the higher risk it poses for some demographics. "The nurse in me, seeing what happened this last year with (more than) 500,000 dead Americans and listening to some of the horror stories, I can see where someone who is not in the best of health should really decide for themselves what kind of risk they're going to take," she said. But for her the risk of COVID is preferable to the risk of a vaccine against it. "If COVID takes me out, at least I'll go out without a mask," she said.
A loudening concern
Del Bigtree, a former television producer and founder of the Austin-based, anti-vaccine Informed Consent Action Network, said these concerns are increasingly common and have been exacerbated by Operation Warp Speed, the public-private partnership initiated by former President Donald Trump last May to accelerate the vaccine rollout. "This COVID pandemic has really made (vaccine hesitancy) grow exponentially because, prior to this, no one asked the appropriate questions," he said.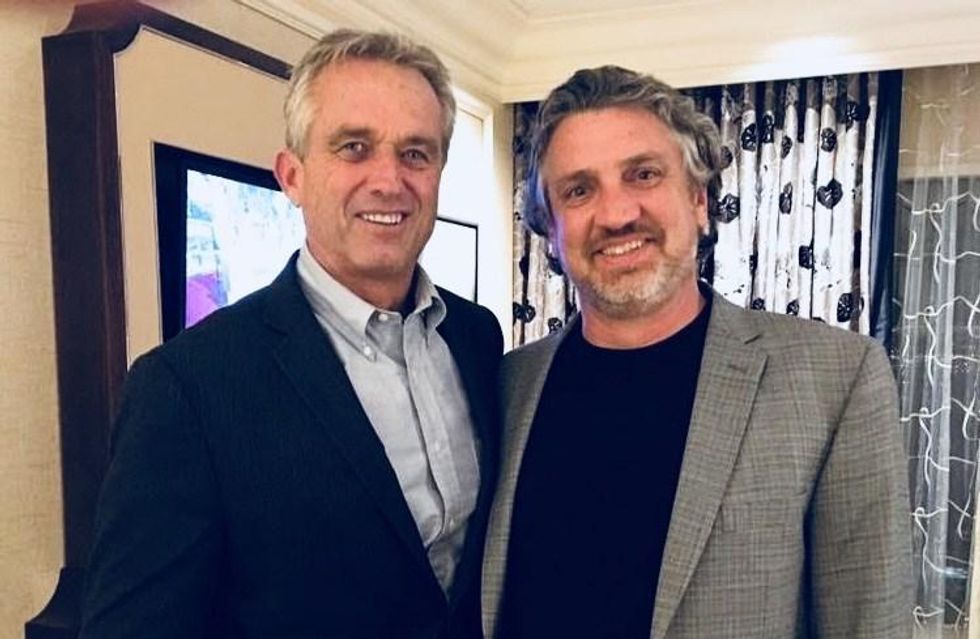 Robert F. Kennedy, Jr., left, who was barred from Instagram for spreading vaccine misinformation, represented ICAN founder Del Bigtree in a 2018 lawsuit against the U.S. Department of Health and Human Services. (ICAN)
Bigtree has a litany of concerns about vaccine safety, but his number-one is legal immunity granted by the federal government to some pharmaceutical companies that develop vaccines. Former Health and Human Services Alex Azar invoked the Public Readiness and Emergency Preparedness Act last February, which protects companies such as Pfizer, Moderna and Johnson & Johnson from vaccine injury lawsuits through 2024.

Pharmaceutical companies are out to make money, Bigtree said, citing the Oxycontin-fueled opioid crisis and the thousands of lawsuits filed against Johnson & Johnson, whose baby powder was sometimes tainted with carcinogenic asbestos. He argues that, if the federal government waives liability and is also responsible for ensuring product safety, then neither the companies nor the government are incentivized to address vaccine injuries. "It's literally like a murder case where the murderer is doing the forensics," he said.
A slippery slope
Rusty Parker, 61, lives in Georgetown and owns a managing consulting business. He is a Republican who has opted out of the vaccine for a variety of reasons, including his distrust in the government; the CDC's changing messages, including its recently conflicting guidance on whether people who are vaccinated can travel safely; and what he views as the very low statistical probability that he will contract COVID and die from it.
"Another factor in my questioning in the validity of universal vaccinations for all Americans is when I see Gov. Gavin Newsom of California saying there should be no gathering, and then he's at a restaurant at a long table," Parker said, referring to Newsom's widely criticized Nov. 6 outing to the French Laundry for a birthday party.
Like Windsor, Parker is not opposed to people choosing to get the vaccine if they are in a high-risk group. His father is 83 and has comorbidities that make his immune system more susceptible to COVID. "I'm glad he got both shots," he said.
But Parker worries about what he sees as federal overreach during the pandemic, from shutting down certain businesses temporarily to the prospect of vaccine passports, which Texas Gov. Greg Abbott prohibited state agencies from issuing.

When asked what his worst fear is, Parker says, "Martial law." He acknowledges that the words feel strange coming out of his mouth, but he is scared of what's to come. "I have dwindling confidence that over the next several years our freedoms will increase."
Austonia file photo. (Christa McWhirter/Austonia)
Police have arrested one of two suspects involved in a mass shooting at Austin's Sixth Street in the early morning hours on Saturday, leaving 14 people injured and two in critical condition.
The arrest was made by the Austin Police Department and the Lone Star Fugitive Task Force. One suspect is still at large.
Police started receiving 911 phone calls at 1:24 a.m about a man that fired shots into a large crowd, and responded to a chaotic scene on the 400 block of East Sixth Street. Detectives are surveying video footage captured by bystanders and cameras on the scene to identify the suspect.

The Austin Police Department has narrowed down their search to two male suspects and believes there was "some type of disturbance" between the two parties.
No deaths have been reported. Fourteen victims are receiving treatment in a hospital in stable condition with one treated in an emergency room; two are in critical condition.
According to Interim Police Chief Joseph Chacon, "almost all" of the victims are innocent bystanders but police have not ruled anyone out at this time.
Shooting on 6th Street Austin Texas 6-12-2021 (Aftermath) youtu.be
The shooting occurred on the weekend of the Republic of Texas Motorcycle Rally. With lots of people downtown, police say it was difficult to get EMS in and out of the scene. Police arrived while the scene was still an "active threat," officers "immediately began lifesaving measures" and drove six victims to the hospital in their squad cars, said Chacon, and four were transported in ambulances.
Chacon said that the incident is believed to be isolated, and they optimistic they will be successful in getting the two suspects into custody. Multiple departments, including APD, the FBI, Texas DPS and the ATF, are involved in the investigation.
Austin police are also requesting state troopers for patrol assistance in the coming days. Chacon stressed staffing issues are increasingly making responding to emergency calls "very hard."
"Overall, we remain a safe city," Chacon said. "Also keep in mind when you come downtown, you need to be safety conscious. Be vigilant of your environment and your surroundings."
Today marks the five-year anniversary of the Pulse nightclub shooting in which 49 were killed and 53 wounded in Orlando, Florida. Anyone with information on the shooting is asked to call 911 or 512-472-TIPS.

This story was updated at 2:47 p.m. to include new information and will be updated as more details are revealed.
From Your Site Articles
Related Articles Around the Web
Austin police are investigating a homicide in North Austin where a woman was shot and killed, just hours after a mass shooting in Downtown Austin hospitalized 14 people.
APD is working a suspicious death near the 1900 block of W Rundberg Ln. PIO is en route and will update with media staging location. PIO6
— Austin Police Department (@Austin_Police) June 12, 2021
Police originally responded to Ironhorse Flats Apartments, 1900 block of W. Rundberg Lane, at 3:20 p.m. when they found the woman with multiple gunshot wounds. She was transported to a local hospital, where she was pronounced dead at 4:07 p.m.

No one is in custody as of yet but police are speaking with potential witnesses. Officials said they believe this was an isolated incident with no danger to the public but said possible relation to the downtown shooting has not been specifically ruled out.
Officers could not provide a suspect description and the relationship to the victim is still unknown.
This is a developing story that will be updated as details become available.