Austonia AM
100% Austin news, info, and entertainment, straight to your inbox at 6 a.m. every morning.
In five minutes, you're fully informed and ready to start another great day in our city.
Get connected with our daily update
Tucker Bradley, 69, lives in the North Loop neighborhood of Austin and would "absolutely" drive a few hours if it meant getting the COVID-19 vaccine.
"I've registered in Houston, Bastrop, Round Rock and every place I can find in Austin," she told Austonia.
---
Because of her age and medical history, Bradley qualifies as a member of the 1B priority group. But a statewide shortage of vaccines means that she is still waiting for an appointment.
When the vaccine rollout began in mid-December, Bradley started seeing her Houston friends posting on Facebook about securing a vaccine appointment. "They just lucked into getting them," she said. "But it's not like that here."
Although social media posts may have indicated otherwise, Bradley and other would-be vaccine tourists are likely to face the same predicament wherever they look in Texas.
As of Sunday, 75,178 Travis County residents have received at least the first dose of the COVID vaccine. This accounts for around 7.1% of individuals who are 16 years of age or older, according to the Texas Department of State Health Services. The proportion of vaccinated residents is around the same across Texas: In Harris County, around 7.5% of the eligible population has received at least one shot; in Williamson County, 6.3%; in Hays, 6.5%.

"I missed out on Houston," Bradley said. "I think they're having trouble getting it now too."
Vaccine tourists
Although Austinites may find similarly long waitlists and filled appointment slots outside of Travis County, some people have found vaccine appointments far from home.
Houston Methodist, a vaccine hub in Harris County, administered vaccines to a few dozen people originally from Mexico, according to a KPRC report. The local news channel also spoke to a doctor in Mexico City who said foreign nationals had flown into big cities, such as Houston and Miami, in search of a vaccine.
Following reports that some out-of-state residents, including snowbirds and wealthy Argentines, had received vaccines in Florida, State Surgeon General Dr. Scott Rivkees issued a public health advisory mandating that vaccines only be administered to state residents.
No such mandate has been implemented in Texas.
DSHS, which is in charge of the vaccine rollout in Texas, does not require residents to get vaccinated in their county of residence. Although vaccines have been administered to residents of all 254 counties in the state, only about one in five counties has at least one designated hub provider.
Austin Public Health, one of two designated hub providers in Travis County, has no residency requirement for its vaccine allotments. "Anyone can receive a vaccine at any location … in the state of Texas," APH Director Stephanie Hayden-Howard said during a press conference last month. "We do caution folks that it would probably be easier for you to go to a testing site in your community … However, there is no residency that you need to prove."
Such flexibility has not led to widened access. Instead, Austinites are stuck in a kind of limbo, registered to multiple waitlists from North Austin to Harris County but still waiting for an appointment.

Carol Birsa, a 70-year-old Spicewood resident, is on more than a dozen vaccine waitlists, thanks to some help from her daughter Jennifer Gabriel. But both remain frustrated by the process. "There doesn't seem to be one central source," Gabriel recently told Austonia. "You can't sign up with one place and they get to you on the list. There doesn't seem to be anything like that happening."
Another potential snag is how vaccine tourists will arrange for their second dose. Both Pfizer and Moderna's COVID vaccines require a booster shot three to four weeks after the initial dose. Travis County residents who traveled to another jurisdiction for their first vaccination will not be eligible for a second dose through APH, local public health officials said during a press conference Tuesday.
A universal problem
Counties all over Texas, and the country, are facing the same fundamental problem: too many eligible residents and two few doses.
When the vaccine rollout began in mid-December, Texas officials limited access to frontline healthcare workers and nursing home residents. By Dec. 23, however, DSHS Commissioner Dr. John Hellerstedt raised concerns of "unnecessary delays in administering all allocated vaccines" and directed providers to expand access to the next priority groups, including people 65 years of age and older and those with a chronic medical condition.
This quickly created a bottleneck. More than half of the Travis County population qualified as a member of these priority groups, but the state's weekly allocation of vaccines only accounts for a sliver—around 2.6% of them. Two months into the rollout, fewer than a quarter of eligible residents in Travis County have received the initial dose.
Local and state elected officials are well aware of the frustration this has caused.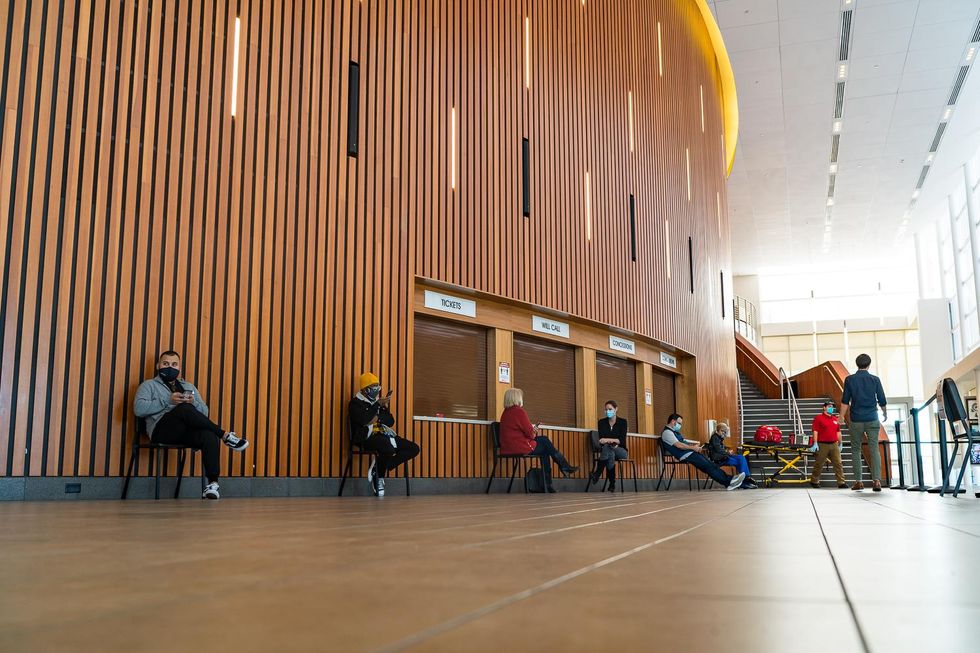 Austinites wait to receive the COVID vaccine at the AISD Performing Arts Center on Jan 14. (Jordan Vonderhaar)
"Too many Texans are spending long days physically standing in line, calling a phone number repeatedly, and spending hours online, trying in vain to get a vaccination appointment," Texas Lt. Gov. Dan Patrick wrote in a Jan. 21 letter to the state's Expert Vaccination Allocation Panel. "Demand clearly outstrips supply."

Patrick urged the panel to create subgroups for prioritization, such as limiting access to people 75 years and older, until the vaccine supply increases.
Although such an age cutoff might mean a longer wait for Bradley, it would address the sense of uncertainty—and unfairness—she feels is inherent to the current process.
"I would just like it to be more straight-forward," Bradley said of the rollout. "It sort of teases you to think that there are vaccines that aren't there."
Austonia file photo. (Christa McWhirter/Austonia)
Police have arrested one of two suspects involved in a mass shooting at Austin's Sixth Street in the early morning hours on Saturday, leaving 14 people injured and two in critical condition.
The arrest was made by the Austin Police Department and the Lone Star Fugitive Task Force. One suspect is still at large.
Police started receiving 911 phone calls at 1:24 a.m about a man that fired shots into a large crowd, and responded to a chaotic scene on the 400 block of East Sixth Street. Detectives are surveying video footage captured by bystanders and cameras on the scene to identify the suspect.

The Austin Police Department has narrowed down their search to two male suspects and believes there was "some type of disturbance" between the two parties.
No deaths have been reported. Fourteen victims are receiving treatment in a hospital in stable condition with one treated in an emergency room; two are in critical condition.
According to Interim Police Chief Joseph Chacon, "almost all" of the victims are innocent bystanders but police have not ruled anyone out at this time.
Shooting on 6th Street Austin Texas 6-12-2021 (Aftermath) youtu.be
The shooting occurred on the weekend of the Republic of Texas Motorcycle Rally. With lots of people downtown, police say it was difficult to get EMS in and out of the scene. Police arrived while the scene was still an "active threat," officers "immediately began lifesaving measures" and drove six victims to the hospital in their squad cars, said Chacon, and four were transported in ambulances.
Chacon said that the incident is believed to be isolated, and they optimistic they will be successful in getting the two suspects into custody. Multiple departments, including APD, the FBI, Texas DPS and the ATF, are involved in the investigation.
Austin police are also requesting state troopers for patrol assistance in the coming days. Chacon stressed staffing issues are increasingly making responding to emergency calls "very hard."
"Overall, we remain a safe city," Chacon said. "Also keep in mind when you come downtown, you need to be safety conscious. Be vigilant of your environment and your surroundings."
Today marks the five-year anniversary of the Pulse nightclub shooting in which 49 were killed and 53 wounded in Orlando, Florida. Anyone with information on the shooting is asked to call 911 or 512-472-TIPS.

This story was updated at 2:47 p.m. to include new information and will be updated as more details are revealed.
From Your Site Articles
Related Articles Around the Web
Austin police are investigating a homicide in North Austin where a woman was shot and killed, just hours after a mass shooting in Downtown Austin hospitalized 14 people.
APD is working a suspicious death near the 1900 block of W Rundberg Ln. PIO is en route and will update with media staging location. PIO6
— Austin Police Department (@Austin_Police) June 12, 2021
Police originally responded to Ironhorse Flats Apartments, 1900 block of W. Rundberg Lane, at 3:20 p.m. when they found the woman with multiple gunshot wounds. She was transported to a local hospital, where she was pronounced dead at 4:07 p.m.

No one is in custody as of yet but police are speaking with potential witnesses. Officials said they believe this was an isolated incident with no danger to the public but said possible relation to the downtown shooting has not been specifically ruled out.
Officers could not provide a suspect description and the relationship to the victim is still unknown.
This is a developing story that will be updated as details become available.