Get connected with our daily update
Tucker Bradley, 69, lives in the North Loop neighborhood of Austin and would "absolutely" drive a few hours if it meant getting the COVID-19 vaccine.
"I've registered in Houston, Bastrop, Round Rock and every place I can find in Austin," she told Austonia.
---
Because of her age and medical history, Bradley qualifies as a member of the 1B priority group. But a statewide shortage of vaccines means that she is still waiting for an appointment.
When the vaccine rollout began in mid-December, Bradley started seeing her Houston friends posting on Facebook about securing a vaccine appointment. "They just lucked into getting them," she said. "But it's not like that here."
Although social media posts may have indicated otherwise, Bradley and other would-be vaccine tourists are likely to face the same predicament wherever they look in Texas.
As of Sunday, 75,178 Travis County residents have received at least the first dose of the COVID vaccine. This accounts for around 7.1% of individuals who are 16 years of age or older, according to the Texas Department of State Health Services. The proportion of vaccinated residents is around the same across Texas: In Harris County, around 7.5% of the eligible population has received at least one shot; in Williamson County, 6.3%; in Hays, 6.5%.

"I missed out on Houston," Bradley said. "I think they're having trouble getting it now too."
Vaccine tourists
Although Austinites may find similarly long waitlists and filled appointment slots outside of Travis County, some people have found vaccine appointments far from home.
Houston Methodist, a vaccine hub in Harris County, administered vaccines to a few dozen people originally from Mexico, according to a KPRC report. The local news channel also spoke to a doctor in Mexico City who said foreign nationals had flown into big cities, such as Houston and Miami, in search of a vaccine.
Following reports that some out-of-state residents, including snowbirds and wealthy Argentines, had received vaccines in Florida, State Surgeon General Dr. Scott Rivkees issued a public health advisory mandating that vaccines only be administered to state residents.
No such mandate has been implemented in Texas.
DSHS, which is in charge of the vaccine rollout in Texas, does not require residents to get vaccinated in their county of residence. Although vaccines have been administered to residents of all 254 counties in the state, only about one in five counties has at least one designated hub provider.
Austin Public Health, one of two designated hub providers in Travis County, has no residency requirement for its vaccine allotments. "Anyone can receive a vaccine at any location … in the state of Texas," APH Director Stephanie Hayden-Howard said during a press conference last month. "We do caution folks that it would probably be easier for you to go to a testing site in your community … However, there is no residency that you need to prove."
Such flexibility has not led to widened access. Instead, Austinites are stuck in a kind of limbo, registered to multiple waitlists from North Austin to Harris County but still waiting for an appointment.

Carol Birsa, a 70-year-old Spicewood resident, is on more than a dozen vaccine waitlists, thanks to some help from her daughter Jennifer Gabriel. But both remain frustrated by the process. "There doesn't seem to be one central source," Gabriel recently told Austonia. "You can't sign up with one place and they get to you on the list. There doesn't seem to be anything like that happening."
Another potential snag is how vaccine tourists will arrange for their second dose. Both Pfizer and Moderna's COVID vaccines require a booster shot three to four weeks after the initial dose. Travis County residents who traveled to another jurisdiction for their first vaccination will not be eligible for a second dose through APH, local public health officials said during a press conference Tuesday.
A universal problem
Counties all over Texas, and the country, are facing the same fundamental problem: too many eligible residents and two few doses.
When the vaccine rollout began in mid-December, Texas officials limited access to frontline healthcare workers and nursing home residents. By Dec. 23, however, DSHS Commissioner Dr. John Hellerstedt raised concerns of "unnecessary delays in administering all allocated vaccines" and directed providers to expand access to the next priority groups, including people 65 years of age and older and those with a chronic medical condition.
This quickly created a bottleneck. More than half of the Travis County population qualified as a member of these priority groups, but the state's weekly allocation of vaccines only accounts for a sliver—around 2.6% of them. Two months into the rollout, fewer than a quarter of eligible residents in Travis County have received the initial dose.
Local and state elected officials are well aware of the frustration this has caused.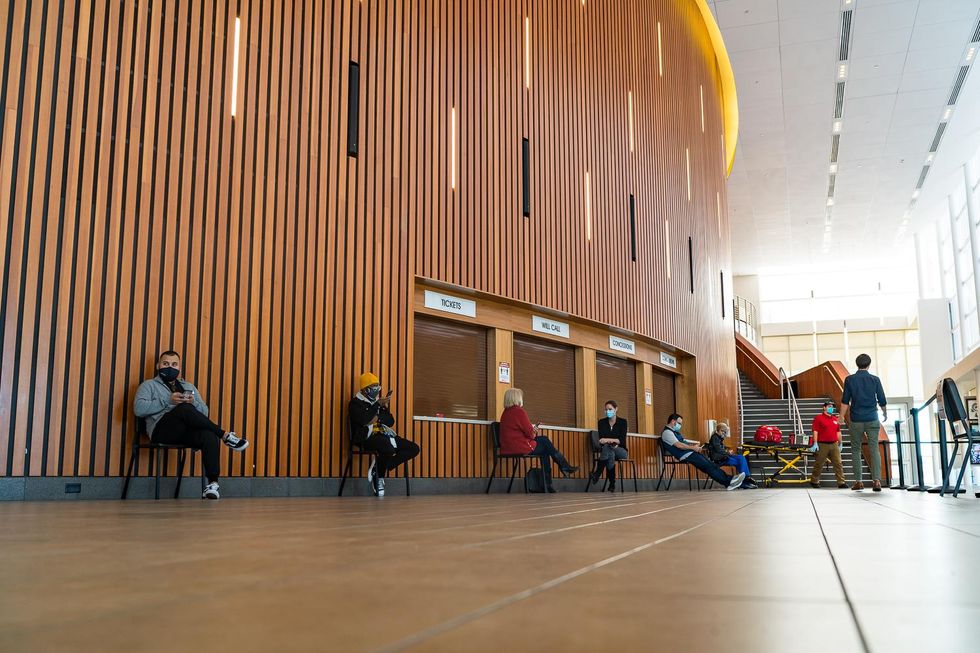 Austinites wait to receive the COVID vaccine at the AISD Performing Arts Center on Jan 14. (Jordan Vonderhaar)
"Too many Texans are spending long days physically standing in line, calling a phone number repeatedly, and spending hours online, trying in vain to get a vaccination appointment," Texas Lt. Gov. Dan Patrick wrote in a Jan. 21 letter to the state's Expert Vaccination Allocation Panel. "Demand clearly outstrips supply."

Patrick urged the panel to create subgroups for prioritization, such as limiting access to people 75 years and older, until the vaccine supply increases.
Although such an age cutoff might mean a longer wait for Bradley, it would address the sense of uncertainty—and unfairness—she feels is inherent to the current process.
"I would just like it to be more straight-forward," Bradley said of the rollout. "It sort of teases you to think that there are vaccines that aren't there."
After months of speculation, a new report says political personality Beto O'Rourke is mulling a run for Texas governor that he will announce later this year.
Sources tell Axios the former congressman is preparing his campaign for the 2022 election, where he will likely vie for the position against incumbent Gov. Greg Abbott. The only other candidate that has announced he will take on Abbott for governor is former Texas GOP Chairman Allen West—no Democrats have announced they are running as of yet.
"No decision has been made," Axios reports David Wysong, O'Rourke's former House chief of staff and a longtime adviser, said. "He has been making and receiving calls with people from all over the state."
A new poll from The Dallas Morning News and University of Texas at Tyler shows O'Rourke is narrowing the gap between himself and Abbott's prospects for governor. In the poll, 37% said they'd vote for O'Rourke over Abbott, while 42% said they'd vote for Abbott.
Abbott has been in the hot seat due to his handling of COVID-19 and the signing of landmark legislation into law, including new abortion and voting rights laws; 54% of poll respondents voted they think the state is headed in the "wrong direction." Still, Texas hasn't had a Democrat as governor since the 90s.
O'Rourke's people-focused approach to the 2018 Senator race, which he lost to Sen. Ted Cruz, gave him a widespread following and many hoped he'd throw his hat into the ring since he said he was considering it earlier this year.
"We hope that he's going to run," Gilberto Hinojosa, the state chair of the Democratic Party, told Axios. "We think he'll be our strongest candidate. We think he can beat Abbott because he's vulnerable."
Austin rapper Jordi Esparza may not have won the 2021 Red Bull Batalla, the world's largest Spanish freestyle rap competition, but for a spirited two rounds, the 22-year old Mexican native looked like he had every right to.
On Saturday evening in Los Angeles, the event itself looked like Cobra Kai meets Star Search with graphics adding a very Batman Beyond aesthetic. Over a dozen rappers hoping to represent the U.S. in the international round of the competition took to the stage with in-your-face jabs at accents, sexual orientation and odors, among other things.
This was Esparza's second rodeo; he had placed third at the 2020 National Finals, automatically securing him a spot this year.
However, things were different this year. He was not nervous about the contest. Unlike in 2020, when he made his Red Bull Batalla debut, the anxiety of the event led him to "feeling so bad."
Affecting a casual calm, the locally-based landscaper said he just felt "so relaxed, so happy" and primarily wanted to "enjoy everything."
Choosing his first-round opponent, Esparza, whose stage name is Jordi, elected to go against LA-based Boss.
Esparza freestyled an attack on his opponent's weight and cholo style of dress.
Boss—bracketing his Latin freestyle with English appeals to the crowd—mocked Jordi's lack of education, made fun of how clean Jordi's shoes looked and suggested that Jordi just came back from a Footlocker.
That first round went to Jordi.
But his next opponent Eckonn would prove to be his undoing.
Eckonn compared Jordi to Hannah Montana, while Jordi soulfully explained that he had learned from the best.
Esparza's verbal dexterity is matched by a rattling rhythm and a game face that is as mawkish as it is mockish. The overall effect is that of an underdog with bite.
Eckonn beat Esparza in that round with the overall championship going to Palm Beach-based rapper Reverse.
However, Esparza was just happy to be there. He recently told Austonia going to the finals again was a dream come true—a pinnacle that he said he won't know how to top.
With his nimble jabs and sneaky prowess, honed from pop culture and the swagger of a young working man hungry to be more, Jordi Esparza is just getting started.