Get connected with our daily update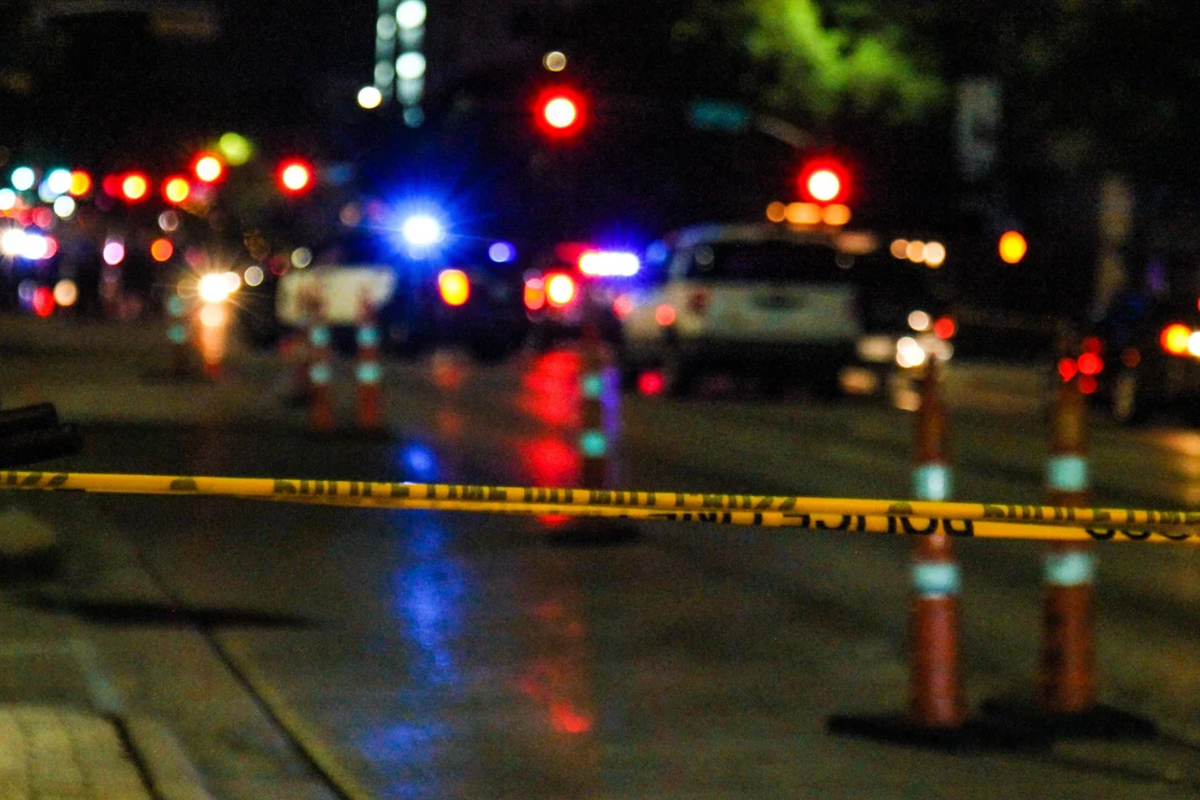 In the last week, four people have been killed in Austin, bringing the total number of homicides in 2021 to 16—five more than at this time last year and triple the number that had occurred at this time in 2019, according to Austin Police Department reports.
---
This month alone, the following homicides and violent crimes have occurred:
March 22- An unidentified man was killed and an unidentified woman was hospitalized with a gunshot wound after a shooting Monday afternoon at a motel in Northwest Austin. Preliminary interviews with witnesses and the injured victim suggest there were two suspects involved, according to APD.
March 21- Christopher Ray Martinez, 40, was shot to death in the parking lot of a pawn shop on East Riverside Drive early Sunday morning. "The motive for this shooting appears to be anger and jealousy over a woman in whom both men had a romantic interest," according to APD.
March 18- An unidentified Hispanic male was shot to death early Thursday morning in North Austin after an argument with the suspect, who remains at large.
March 17- APD responded to a shooting at Tellers Bar on Trinity Street early Wednesday morning. Surveillance video shows a suspect shooting into a parked vehicle; a bar employee who was asleep inside was struck and transported to an area hospital with non-life threatening injuries.
March 14- Jorian Donte Hardeway, 24, was shot at Club Swing on East Seventh Street early in the morning and pronounced dead after being transported to a local hospital. Homicide detectives have not yet identified a possible suspect, and the motive remains unknown.
March 1- Two food trucks in North Austin were robbed at gunpoint by the same suspect early in the morning while employees were closing up for the night.
This string of homicides has raised concerns that the increase in violent crimes seen in 2020 is not an outlier but a lasting trend. APD Lt. Jeff Greenwalt attributed the uptick to a number of different factors, including an increasing number of people being released from jail early as a result of the pandemic, wider use of personal recognizance bonds and the ongoing reimagining public safety process, which has included police budget cuts.
"The murders sometimes come in on a daily basis," he told Austonia. "Hopefully it's a short-lived experience that we're going through, but when you look at the grand scheme of the direction of the criminal justice system it seems like this might be something that's here to stay until we make a correction."
The Austin murder rate hit at least a 10-year high late last year and has reached levels not seen since the mid-1990s. In November, Greenwalt said it was too early to tell whether the City Council's decision to cut the police budget was a contributing factor. But he feels differently now, saying that the cuts have impacted the number of officers on patrol, the availability of specialized support units and goodwill in the community. "It shouldn't surprise people that, if you take away resources from the police, crime goes up," he said.

Overall, the violent crimes are due to typical causes, Greenwalt said, citing domestic violence, robberies and disturbances among friends and acquaintances. But their increasing frequency is something the department is looking at very closely. "It's going to be really interesting to see how 2021 turns out because 2020 was such an anomaly that we were wondering if it was just going to be one of those weird, unusually high years or if it was the beginning of a new trend," he said.

Criminal justice reform advocates and local elected officials point out that, despite this uptick, Austin's violent crime rate remains relatively low for a city of its size; in addition, the increase both predates the council's decision to cut police funding and is mirrored in other cities where police spending has remained steady.
It may be too early to tell whether budget cuts and ongoing criminal justice reforms have had any statistical impact on the local violent crime rate, Greenwalt said. But anecdotally he feels the two are connected. "We don't have A) the people or B) the budget to go out and do some of the things we used to do in the past," he said. "And a lot of these things are combining together and trickling into an effect where crime is rising."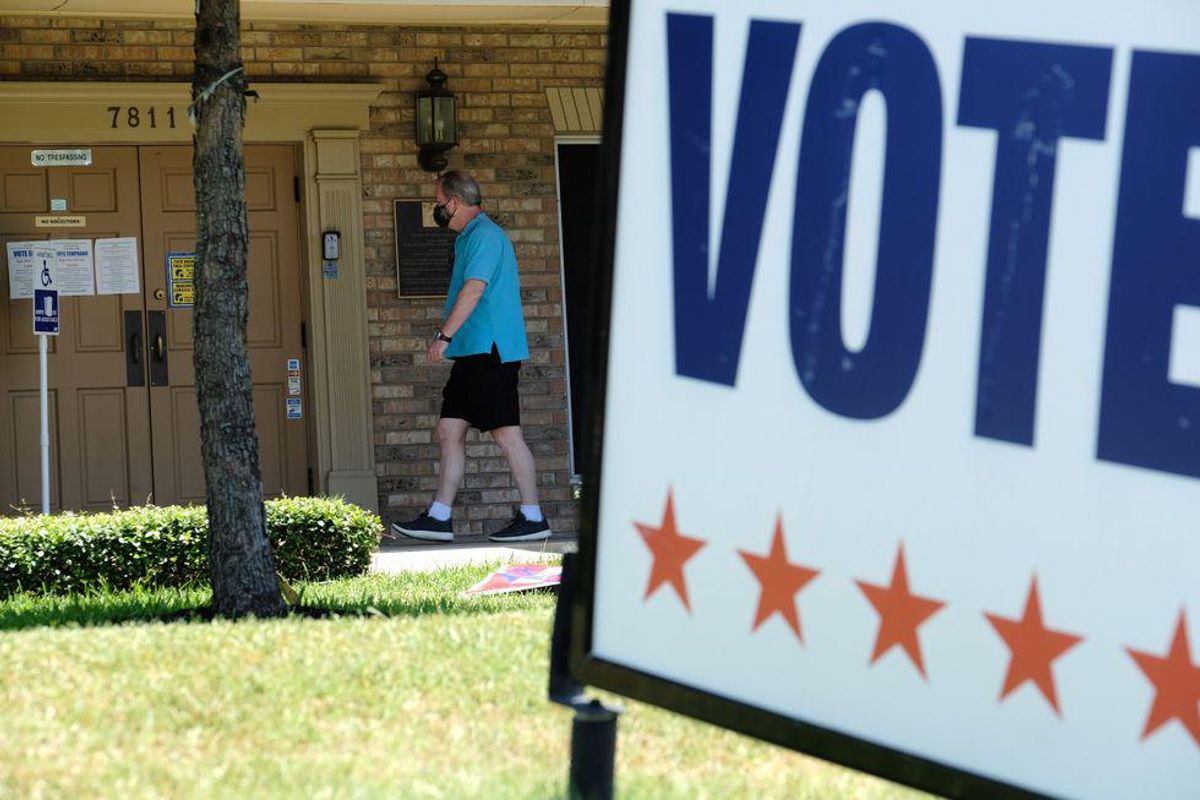 May's second election is here, in which voters will decide on the candidates to represent their party in the November general election after the winner in some March primary races was unclear.
Just like the March primaries, voters will choose which party they choose to vote in. Then based on location, each ballot will show which races are in a runoff.
In Texas, candidates must win at least 50% of the vote to be elected. In the races where the top candidate only received a plurality of votes, a runoff is being held.
Here's everything you need to know before heading to the polls.
Know before you go
Early voting for the Texas primary runoff election begins Monday and will last through May 20; Election Day is May 24.
The registration period for this election has passed; check if you're registered to vote here.
The polls are open from 7 a.m. to 7 p.m. daily. As long as you're in line by 7 p.m., you can vote.
You'll need a valid photo ID to present once you're at a polling location.
Here are the early voting locations in Travis County.
View wait times at polling locations here.
Races to watch in Travis County:
Statewide
Lieutenant Governor
Republican: Incumbent Lt. Gov. Dan Patrick won his primary in March.
Democratic: Mike Collier and Michelle Beckley are vying to be the Democrat candidate on the ballot.
Attorney General
Republican: Incumbent AG Ken Paxton is fighting for his seat against George P. Bush.
Democratic: Rochelle Garza and Joe Jaworski will face off to be the Democratic candidate in this race.
View all the statewide races on the ballot here.
U.S. House of Representatives

View the district you live in here.
District 21
Republican: Incumbent Chip Roy won his primary in March.
Democratic: Claudia Andreana Zapata and Ricardo Villarreal are hoping to secure this vote.
District 35
Republican: Dan McQueen and Michael Rodriguez are going head to head to be the Republican candidate in this race.
Democratic: Former Austin council member Greg Casar won this race in March.
Texas House
District 19
Republican: Ellen Troxclair and Justin Berry are vying to be the Republican candidate in this race.
Democratic: Pam Baggett won her primary in March.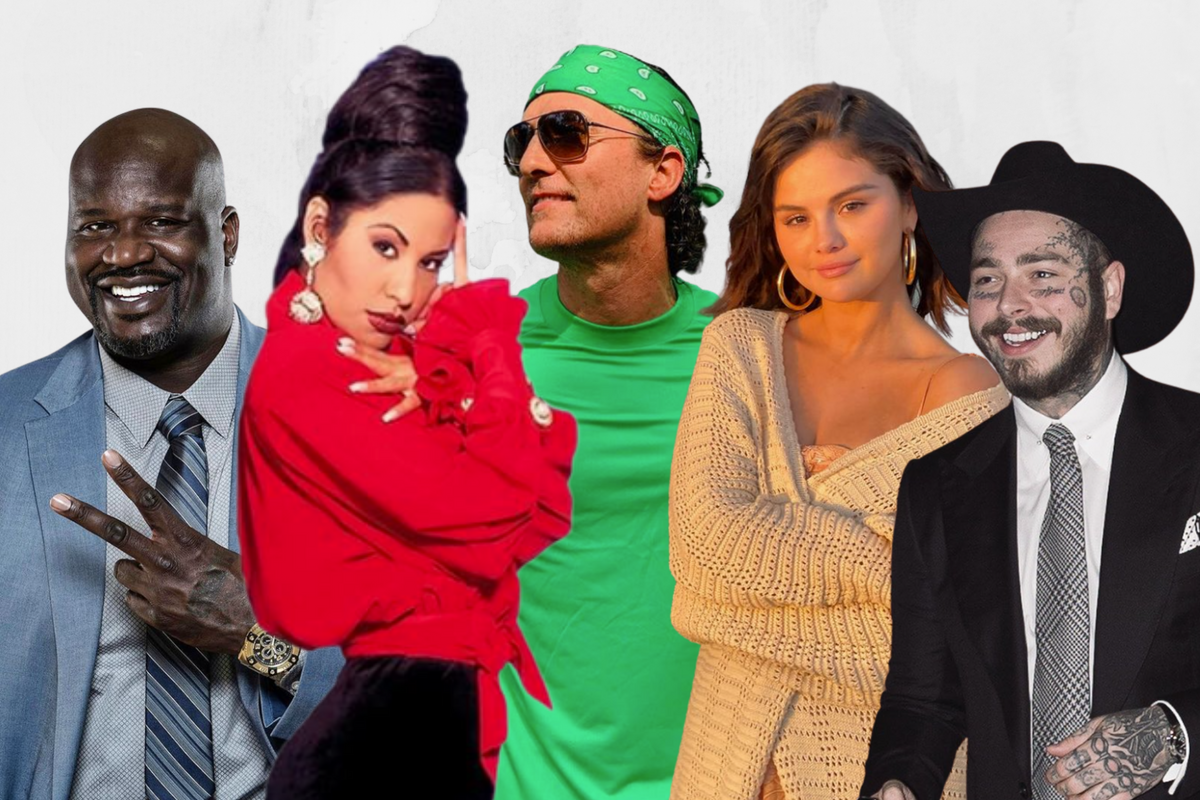 Texas has been home to some of the country's biggest celebrities of all time—think Amarillo resident Georgia O'Keeffe, Lubbock's Buddy Holly and Corpus Christi's famous singer Selena.
The Pudding's People Map of the U.S., which shows each city's "most Wikipedia'ed" resident, placed celebrities from all walks of life on the Texas map. As for Central Texas celebrities, there are some interesting (and not so surprising) names on deck.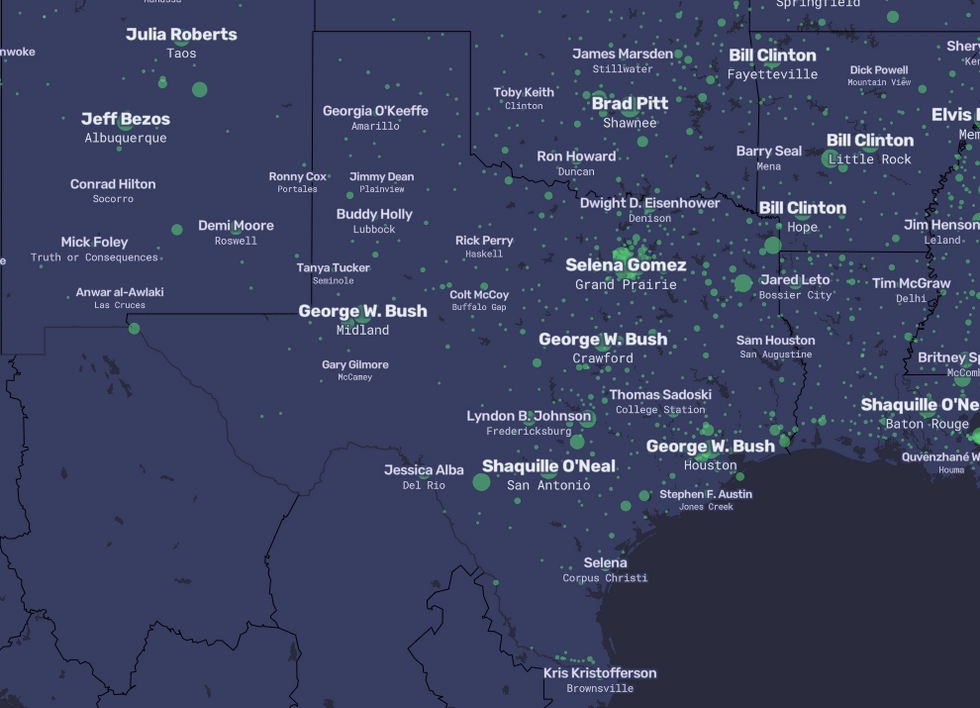 (The Pudding)
Proving that Austin is "alright, alright, alright," Minister of Culture Matthew McConaughey is both Austin's and Uvalde's top Wikipedia'ed resident. McConaughey, who was born in San Antonio adjacent Uvalde, has deeply ingrained himself in Austin by studying Radio-Television-Film at UT Austin, starring in the Austin-filmed movie "Dazed and Confused" and investing in Austin FC.
Heading down just a few miles south, San Marcos claimed former president Lyndon Baines Johnson as Texas State University's most famous alumni, who graduated in 1930, and was also named in Fredericksburg. LBJ wasn't the only ex-president on the map—George W. Bush was listed as the top resident in Dallas, Midland, Houston and Crawford.
You'll see some other names with ties to Austin strewn around the state: Janis Joplin in Beaumont and Port Arthur; Stone Cold Steve Austin in Victoria and Edna; Dan Rather in his hometown of Wharton; and Waylon Jennings in Littlefield.
Venturing outside of the central areas, there are big celebrities who call Texas Home. Actress and artist Selena Gomez dominated search traffic in her hometown of Grand Prairie, musical artist Post Malone was most "Wikipedia'ed" in Grapevine, and Shaquille O'Neal was named in the city where he went to high school, San Antonio.
Plus, Thomas Haden Church, Angela Kinsey, Jessica Simpson, Chuck Norris, Roy Orbison, Ron White, Jessica Alba, Colt McCoy, Jimmy Dean and Johnny Manziel all had at least one city covered on the list.
Where's Texas' newest resident, Elon Musk? You'll find him still in Los Angeles, as his foray into Texas living has just begun.
Click here
to view the full map.