Austonia AM
100% Austin news, info, and entertainment, straight to your inbox at 6 a.m. every morning.
In five minutes, you're fully informed and ready to start another great day in our city.
Get connected with our daily update
As local violent crime rates continue to rise, the Austin Police Department launched a gun crime prevention program in partnership with the Travis County District Attorney's Office on Friday. It will continue through the end of August and aims to increase prosecution of violent offenses by tracking gun crime trends more closely and referring cases to federal law enforcement where appropriate.
---
Homicides in Austin, mid-April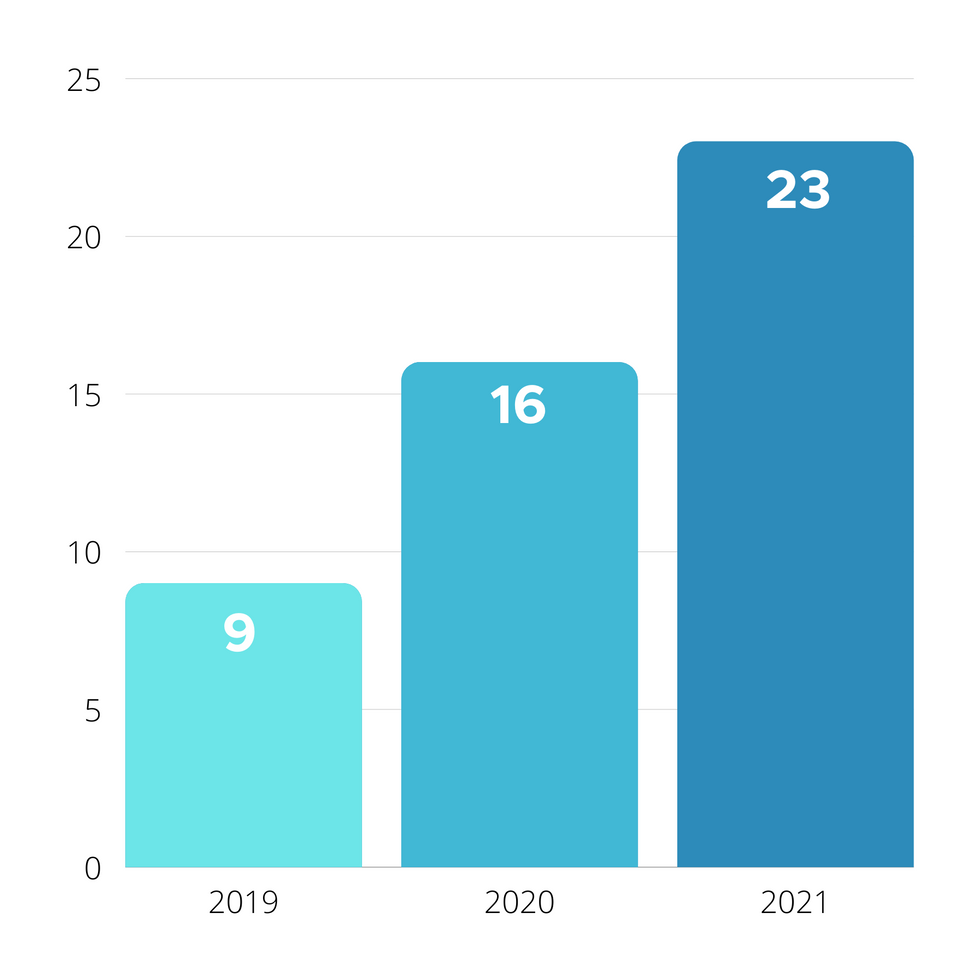 There have been 23 homicides in the city of Austin this year, compared to 16 this time last year and 9 in mid-April of 2019, according to APD. The most recent occurred on Wednesday evening, when Kedarius Griffin was shot while in his car after a disturbance near the McDonald's at Lamar Boulevard and Rundberg Lane. His passengers—a pregnant woman and four children—were uninjured despite being in the car at the time of the shooting.
As part of the program, APD will work with federal partners, such as the Alcohol, Tobacco and Firearms and Explosives Task Force and the U.S. Attorney's Office, to investigate perpetrators of violent crimes, seize illegally possessed guns and increase the number of federal referrals.
Homicides are up nationally, which experts say could be due to myriad reasons, including last summer's protests, increasing gun purchases and the economic recession caused by the pandemic.

"I won't say it's unprecedented, but it's very, very concerning," Interim Police Chief Joe Chacon said during a press conference. "We haven't seen these types of homicide waves since the '90s."
Although not all violent crime involves guns, gun violence is increasing and may involve stolen guns or illegally manufactured "ghost" guns. "I'm just very concerned about the number of illegally possessed firearms and how we can curb that," Chacon said.
In addition to working with federal partners, APD is collaborating with the Travis County District Attorney's Office on this program. District Attorney José Garza took office in January after campaigning on a progressive platform, promising to end cash bail for nonviolent offenders and hold police officers accountable for misconduct. He also said he would focus on violent crime; since January, his office has secured more than 300 indictments for violent crimes, including a first-degree murder charge for APD Officer Christopher Taylor, who shot and killed Mike Ramos last April.
"From day one, our office has been clear that we take violent crimes very seriously," Garza said in a statement.
A week after Texas added two congressional seats and California lost one, state officials reported a population decline in 2020 for the first time in the Golden State's history.
California fell by over 182,000 people from January 2020 to January 2021, dropping almost 0.5% to cap out at around 39.5 million people. It is still the nation's most populous state.
For over thirty years, California has seen more people leave than move in from other states, state officials said, with 6.1 million people moving out and 4.9 million coming in last year. Immigration and births kept California growing, but the state saw a shrink in international migration in 2020 due to COVID and the White House's hold on visas.
Of the steady flow of ex-Californians moving to other states, more are moving to Texas than any other state. Many are relocating to Austin, which has been labeled a "little California" by billionaire resident Elon Musk and continues to grow astronomically.
Meanwhile, California cities including Los Angeles, San Diego, San Jose and San Francisco saw a population decline.
With immigration and state migration on the decline, the Golden State was also hit with a spike in deaths- 51,000 people died from COVID in 2020, and all but seven of the state's counties saw death rates higher than the three-year average.
Still, the California Department of Finance said a "slightly positive annual growth" can be expected next year as the state recovers from COVID deaths and political repercussions.


Ingredients:
1 1/2 oz of hibiscus-infused Tito's Handmade Vodka
2 oz sparkling water
1 oz fresh lime juice
3/4 oz simple syrup
1 tsp allspice dram
Directions: Add infused Tito's Handmade Vodka, lime juice, and simple syrup to a shaker with ice. Shake and strain into a glass over fresh ice. Top with sparkling water, and garnish with a lime slice. Enjoy!
The sun is out, and thousands of Austin FC fans will be as well as Austin FC goes to Kansas to play Sporting Kansas City at 6:30 p.m. on Sunday.
There's plenty of pub partners to choose from, but here's a few watch parties to help you get in on the action.