Get connected with our daily update
(Karen Brooks Harper/Austonia)
We had questions. So, so many questions.

None of them, incidentally, about how we would manage at-home learning for our soon-to-be kindergartner.
---
Our decision to do online-only learning for our 5-year-old in his very first semester in public school—fraught though it was with universally disappointing options—was, logistically at least, a no-brainer. Our family of three includes two parents who can work flexible schedules from home.
My questions were more about the actual thing of virtual kindergarten.
Having not attended kindergarten in four decades, his dad and I are relative "noobs," as my son says, to the entire process. We had no idea what time school started, how lunch works, or what classwork he'd do.
And now that he'd be doing this new thing online for the first nine weeks, we had questions on top of our first questions.
What would virtual learning look like? How does he get evaluated? Can he use a tablet (YES and I highly recommend it)? How much interaction would there be? How structured? How will they count attendance? How early does it start? How many assignments? What about P.E., music, art? Will my son figure out all the apps? How much screen time would he be getting each day?
(This last one admittedly, was slightly less scary given the amount of screen time he became, ahem, used to during the summer quarantine.)
I couldn't count on, thankfully, the horror stories I'd heard in the spring when school first went virtual because I knew in my gut that at least a few of the virtual-classroom kinks would be worked out by August.
Most students in Austin won't start online classes until Sept. 8 and may wind up doing an additional eight weeks after that. But we are in Pflugerville ISD, which means our son started his first day of kindergarten (milestone!) on Aug. 13.
Now that we've wrapped up our first official full week of online kindergarten, we have our answers. And we are relieved. They're not bad answers.
And I'm happy to show you my answers, if for no other benefit than to satisfy some level of your curiosity about what your own district might do.
This is how online kindergarten is playing out for us:
First contact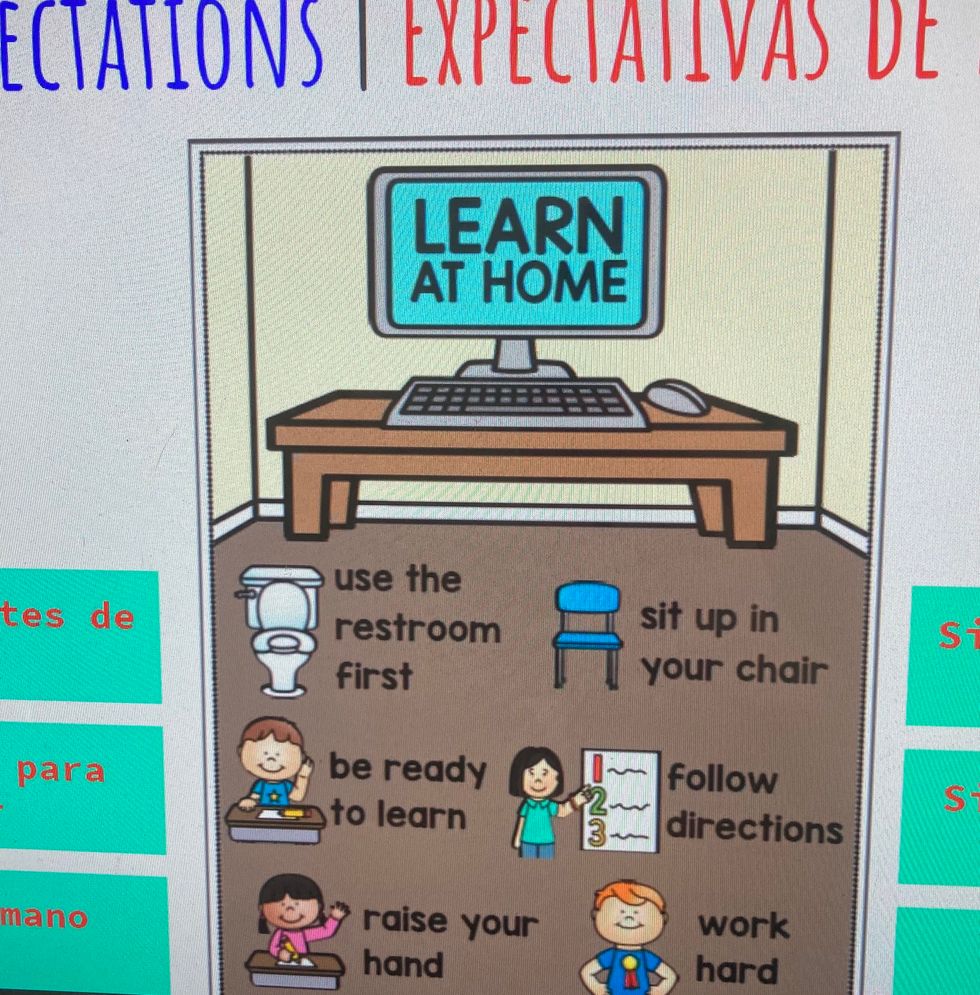 Our teacher called us on Friday, Aug. 6 to introduce herself, and by Monday night's virtual school and class orientations, we had email instructions with a schedule, Zoom codes and SeeSaw, the additional learning app we'd need ("right now," the teacher qualifies, hinting at more later).
The intro with his teacher and class was about a dozen kindergartners making faces into the camera, introducing themselves and giggling at each other. My son had a blast. By the first day of school on Thursday morning, we were set up with the apps and ready to learn. Easy-peasy-lemon-squeezy.
The technology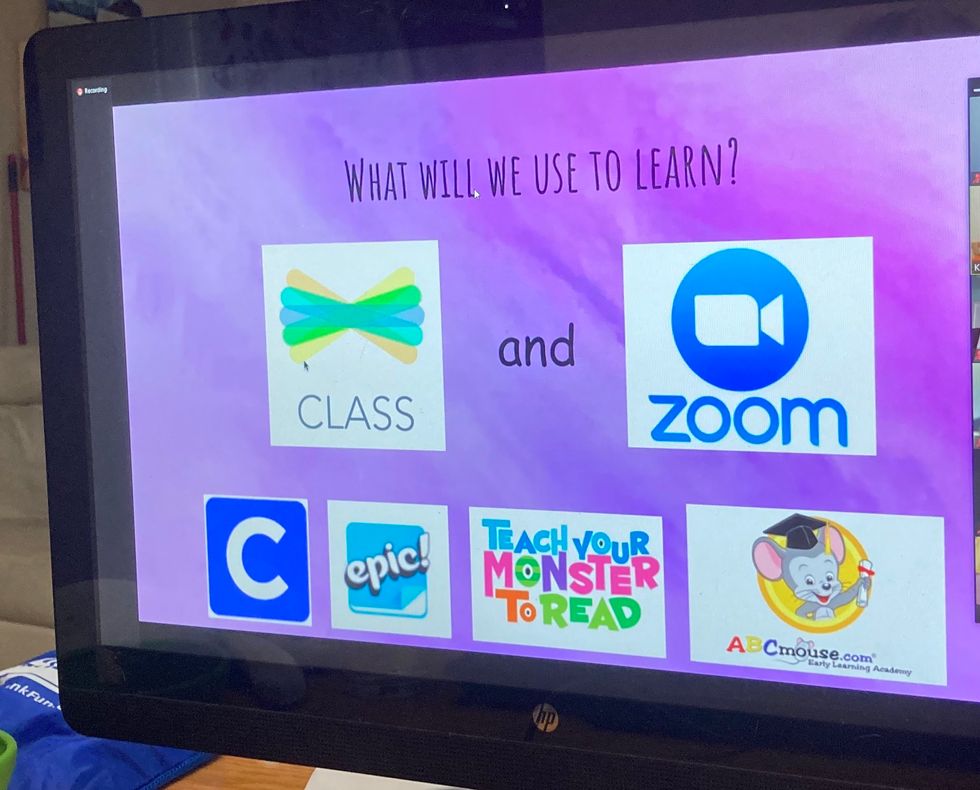 At the last minute, we decided to drop off our son at Grammy's house for a few days, so it fell to her to log him into the Zoom class and SeeSaw for the first two days of school. Grammy is smart and tough, but she still has a flip phone and can't make Facetime work. With us three hours away, Grammy got him logged in for every meeting and all his assignments done.
Now, after a week (and back home), my son can find Zoom and SeeSaw, turn in his assignments, use the art tools, drag and drop, play the videos, take pictures and record audio and video in SeeSaw, and manipulate Zoom like a pro. So for those worried about overly complicated technology, you got this. One thing that helped: The first week's assignments were designed mainly to help them practice the technology. Realize that the school will be forgiving with tech issues in the first few weeks. Don't panic.
The schedule
An hour on Zoom and very loose deadlines on assignments each day. In a nod to parents who can't be committed every hour, the schedule is mostly fluid. My son watches a 3-minute recorded morning video from his teacher and does a little "morning work" before his day starts with a Zoom class at 8:30 a.m. His class meets again at 11:30 each morning. On Fridays, there's an extra 50 minutes on Zoom for PE/Music/Art at 1 p.m. and another extra 30 minutes at 2 p.m. for science and social studies.
Collectively, it's less than seven Zoom hours per week. One thing I can say: This technology is not going to go away, so if he gets good at communicating with people and increasing his attention span on this type of platform, he can only benefit. There is already a vast improvement in these skills just in the first week.
The assignments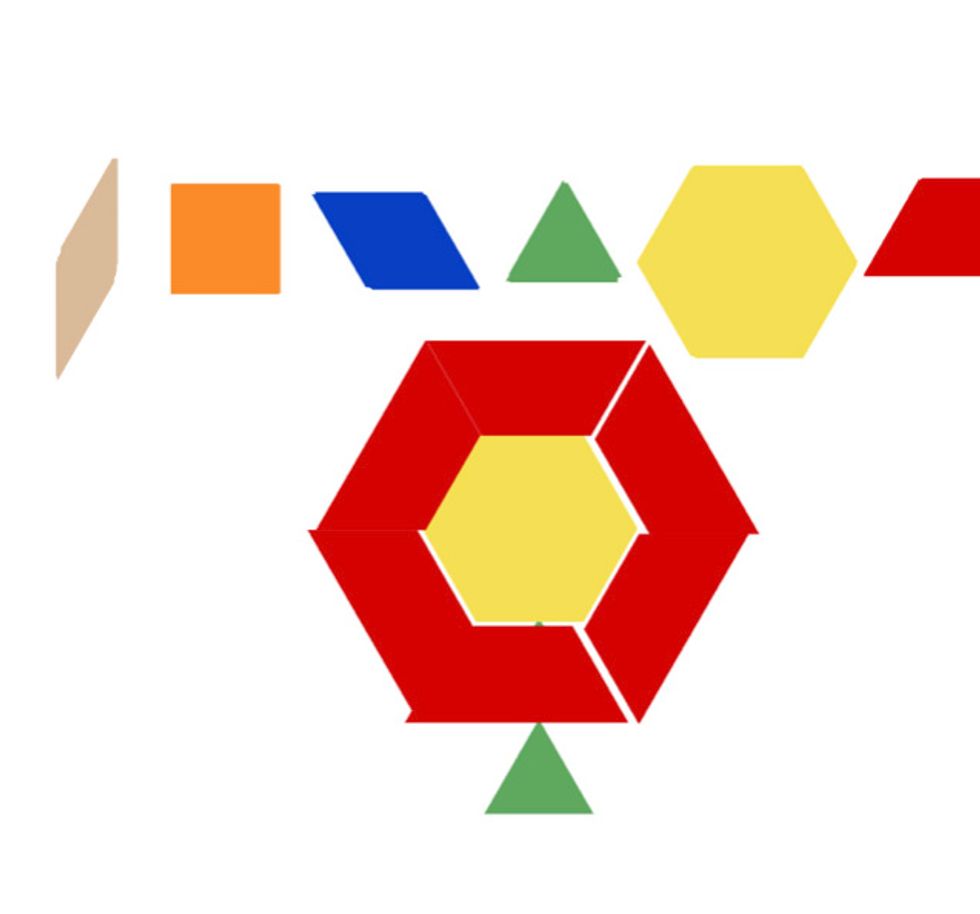 Make a picture out of the shapes (math)
Screenshot: Karen Brooks Harper
He has about six activities to turn in per day, with longer-term projects due each week. His activities are things like recording a show-and-tell video, or reading comprehension or making shapes on his iPad.
The assignments are uploaded throughout the day and we can do them at any point (we often do social studies and reading right before bed). He has P.E., music and art projects due on Fridays (uploaded). P.E. assignments come out three times a week, and this week included animal-inspired exercises, warm-ups on Go Noodle and health classes.
Each day he is also required to read for 10 minutes, write or draw in his journal, get 60 minutes of physical activity (which means we do, too, which is harder than we care to admit) and count to 20. Most of the assignments only take a few minutes, and he does them without our help. Usually.
Feedback and interaction
His attendance is counted through his Zoom meetings and assignments in SeeSaw, but they're flexible under extenuating circumstances. On every assignment, the teachers record personal feedback using his name. He loves it. Way better than a generic "way to go!" that she could do for everyone, and we'd never know it. In the meetings, the teacher will engage them: "Who can tell me how they're feeling today?" They raise their hands and get called on, just like they would in class.
Surprisingly, the kindergartners understand the dynamic and by the end of the first week, this type of interaction seemed normal to our son, too. Shocking, considering he's worse at Facetime than Grammy.
In conclusion 
Now that we've seen how hard they work to make it interesting, and how well (enough) it seems to be working for our son, we are far less worried about the next nine weeks.
Will he learn as much as he might have in person? Perhaps not. Are we lucky that we can be there to guide him through this? Absolutely, and probably luckier than most in that regard.
Will there be any permanent damage to his social skills and schooling? Nah. It's all temporary damage, I think.
There is enough structure to drive us through the day, yet not so much that it's stifling. It beats the heck out of the directionless days we dealt with over the summer. And something else helps my perspective on this disappointing year: We are getting a very rare inside look at what our son is doing at school every day. It's like we're sitting in the back of his class. And that may never happen again after this semester.
It's a gift, truly. A consolation prize, perhaps, more than a silver lining.
But we'll take it.
Start every day with a quick look at what's happening in Austin. Sign up for Austonia.com's free daily morning email.
The Texas French Bread Bakery, located on 2900 Rio Grande Street, has been completely destroyed after a fire erupted on Monday night.
The Austin Fire Department responded to the fire just before 11 p.m., where they arrived to see flames coming from the roof of the bakery. Firefighters fought the fire for about an hour before the roof collapsed.
While no one was injured in the fire, firefighters say the historic building was completely totaled.
AFD determined that the fire was accidental and caused by mechanical failure. AFD said the damages amounted to $1.6 million total: $1.1 million in structural damage and $500,000 in damage to the contents of the bakery.

This year, Texas French Bread will celebrate 40 years of business. Before the bakery occupied the building, it was the Rome Inn, a music venue that hosted 1970s artists like Stevie Ray Vaughan.
Austin's first major league team is ready to extend its reach with a new collaborative sports complex The Pitch, an Austin FC destination packed with local food, beverages and Verde fervor is set to open in Northeast Austin in February.
The Pitch, a collaboration between Austin FC and Karlin Real Estate, among other entities, will be located in the 50-acre Parmer Pond District, which already hosts the club's practice facility St. David's Performance Center.
Dubbed a "true destination" for both soccer fans and the community, The Pitch will consist of multilevel shipping containers designed by Mark Odom Studio that will carve out into a 1,200-seat stadium complete with a soccer pitch made of turf, food and beverage options and a five-acre "Parmer Pond" featuring jogging trails.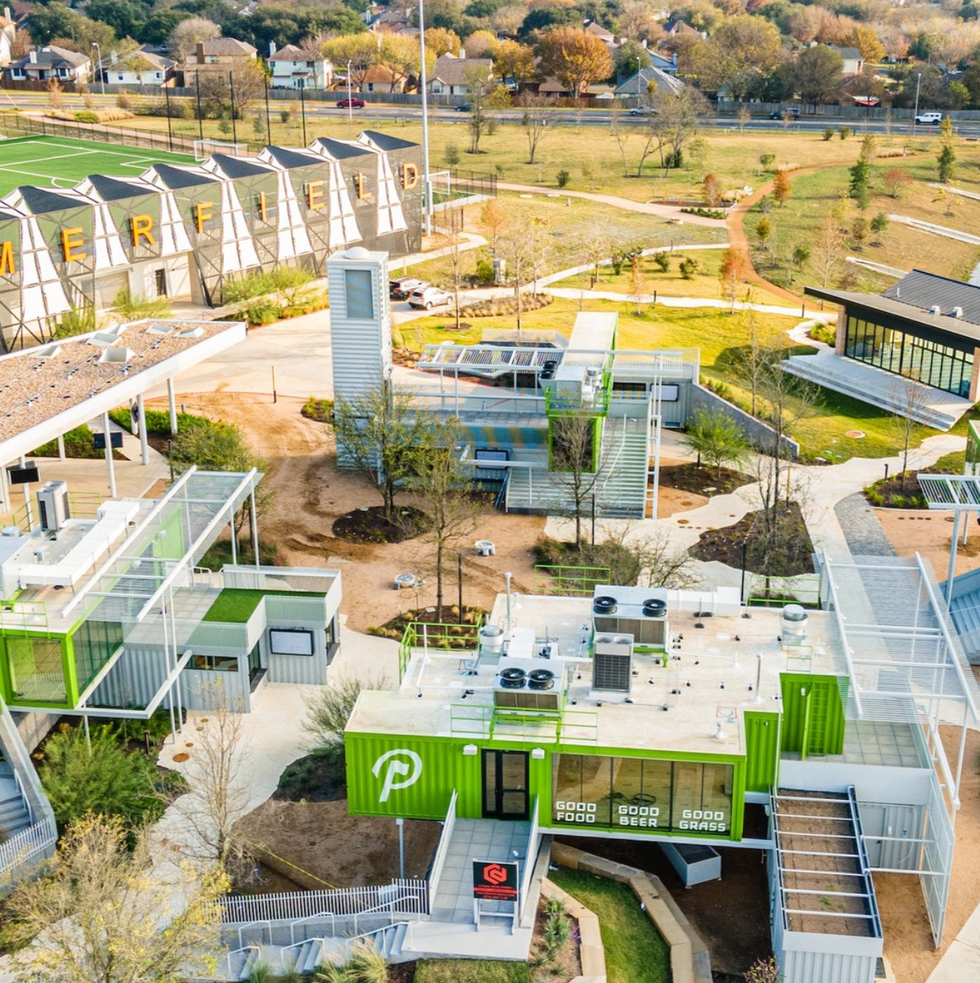 Made from multilevel shipping containers, The Pitch will include food and a 1,200-seat soccer pitch made from artificial turf. (The Pitch)
"The launch of Karlin's new food and entertainment experience will greatly enhance the Parmer development while perfectly complimenting St. David's Performance Center," Austin FC founder Anthony Precourt said. "The Pitch... will offer a strong variety of food options and gathering spaces for guests who will utilize St. David's Performance Center and Parmer Field for a variety of events."
The Pitch project lead Dave Greeley, who helped come up with the concept, is a former president of Austin FC parent company, Two Oak Ventures.
"The vision behind The Pitch at the Parmer Pond District is to be a first-of-its-kind sports, dining and entertainment destination," said Dave Greeley, The Pitch project lead and Team Orbis president. "This will be an unmatched experience for Parmer Austin tenants, Austin FC and club supporters, and the community."
With its proximity to the practice center, the venture hopes to contribute to the growing "soccer city" of Austin during Austin FC matches and youth games with the Austin FC Academy hosted at the St. David's Performance Center.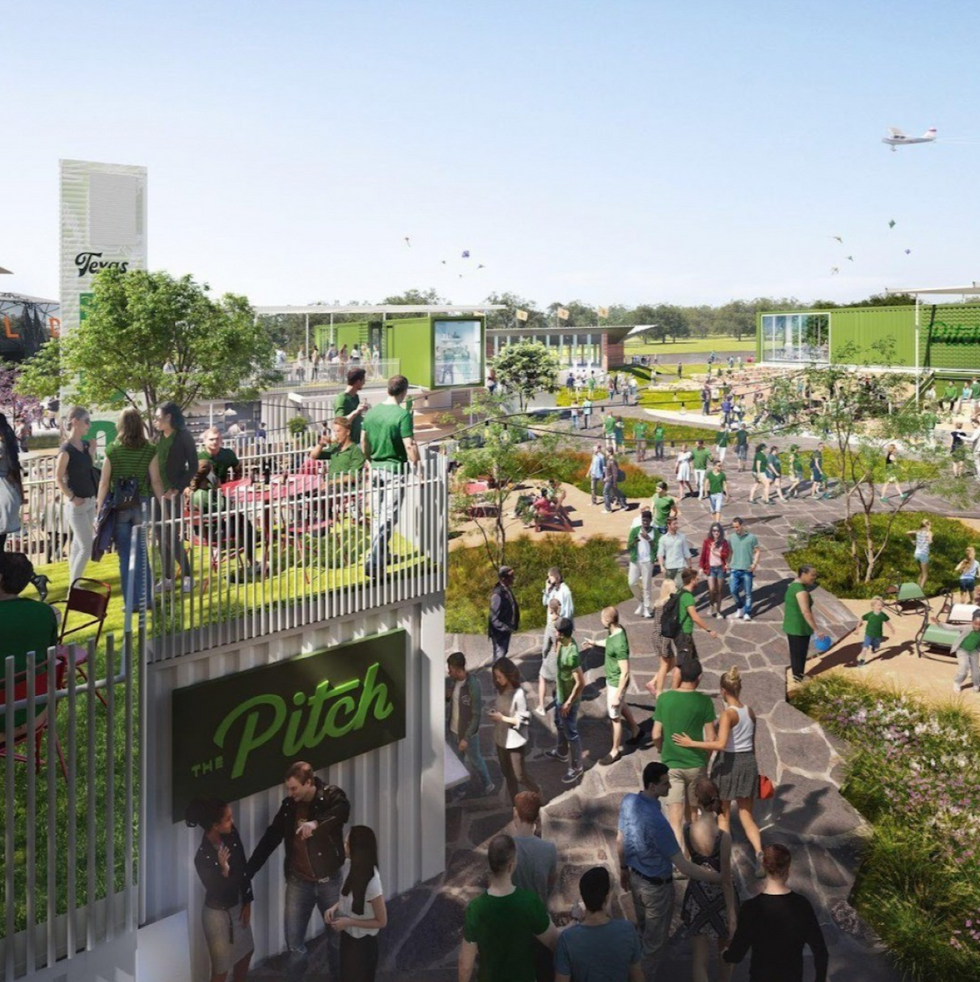 The Pitch hopes to converge both community and club interests with Austin FC. (The Pitch)
In addition to the soccer pitch, stadium and pond, The Pitch will provide a foody experience made by the creative team behind Austin staples like Fareground and Easy Tiger. The complex will offer local bites including:
Ranger Burger, which offers beers and burgers made from highly-coveted Wagyu beef direct from Ranger Cattle in East Austin
Ga Roti, which merges flavors from Northern Vietnam with the culinary techniques of France to create a unique rotisserie chicken joint
Taco Flats, a local taco chain serving Mexico City-style tacos, micheladas and more
Sand Bar, which fulfills its namesake with beauty cocktails, local beers and a sand volleyball court
Coffee Club, a coffee shop and bakery
Corner Kick Bar, the soccer-focused main bar of The Pitch complete with "tunes, TVs and (a) beer garden"
The Pitch will squeeze between St. David's Performance Center and Parmer Pond alongside the southern edge of Parmer Austin, a Karlin Real Estate venture that will eventually include multifamily housing, corporate office space and an aerospace and defense center.