Get connected with our daily update
(Karen Brooks Harper/Austonia)
We had questions. So, so many questions.

None of them, incidentally, about how we would manage at-home learning for our soon-to-be kindergartner.
---
Our decision to do online-only learning for our 5-year-old in his very first semester in public school—fraught though it was with universally disappointing options—was, logistically at least, a no-brainer. Our family of three includes two parents who can work flexible schedules from home.
My questions were more about the actual thing of virtual kindergarten.
Having not attended kindergarten in four decades, his dad and I are relative "noobs," as my son says, to the entire process. We had no idea what time school started, how lunch works, or what classwork he'd do.
And now that he'd be doing this new thing online for the first nine weeks, we had questions on top of our first questions.
What would virtual learning look like? How does he get evaluated? Can he use a tablet (YES and I highly recommend it)? How much interaction would there be? How structured? How will they count attendance? How early does it start? How many assignments? What about P.E., music, art? Will my son figure out all the apps? How much screen time would he be getting each day?
(This last one admittedly, was slightly less scary given the amount of screen time he became, ahem, used to during the summer quarantine.)
I couldn't count on, thankfully, the horror stories I'd heard in the spring when school first went virtual because I knew in my gut that at least a few of the virtual-classroom kinks would be worked out by August.
Most students in Austin won't start online classes until Sept. 8 and may wind up doing an additional eight weeks after that. But we are in Pflugerville ISD, which means our son started his first day of kindergarten (milestone!) on Aug. 13.
Now that we've wrapped up our first official full week of online kindergarten, we have our answers. And we are relieved. They're not bad answers.
And I'm happy to show you my answers, if for no other benefit than to satisfy some level of your curiosity about what your own district might do.
This is how online kindergarten is playing out for us:
First contact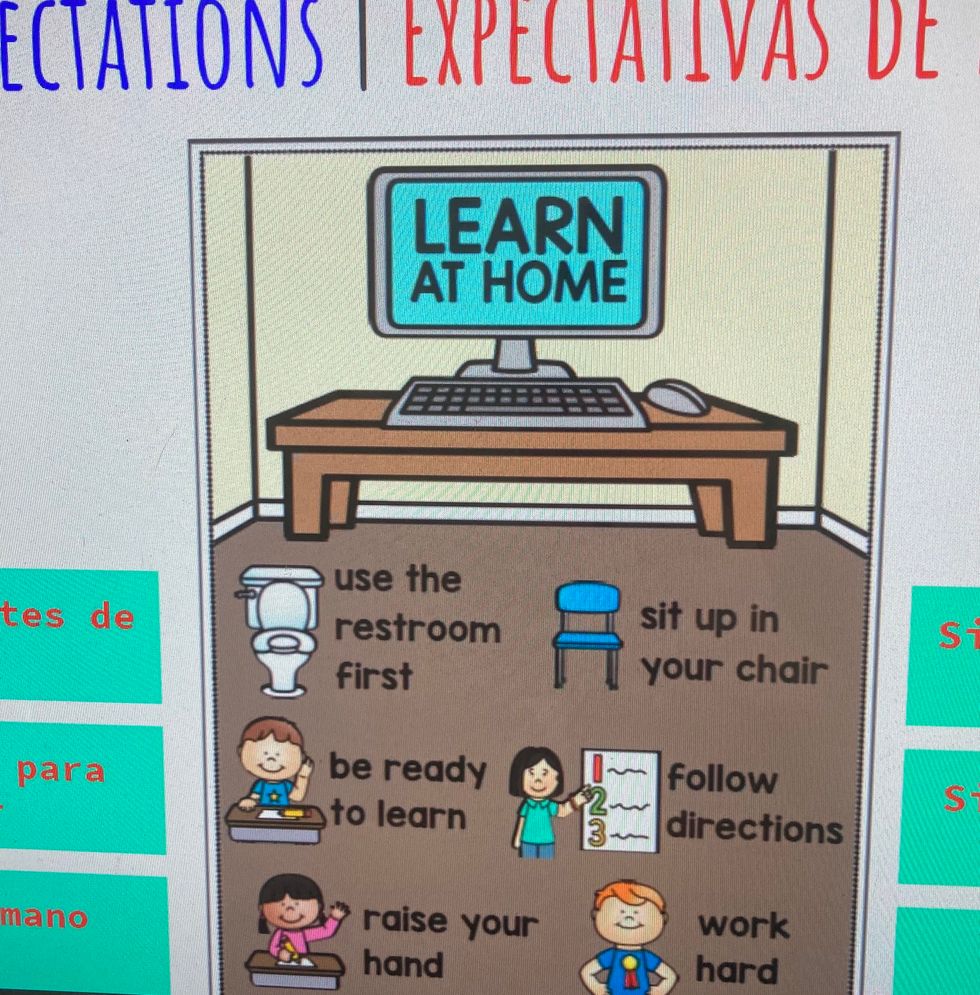 Our teacher called us on Friday, Aug. 6 to introduce herself, and by Monday night's virtual school and class orientations, we had email instructions with a schedule, Zoom codes and SeeSaw, the additional learning app we'd need ("right now," the teacher qualifies, hinting at more later).
The intro with his teacher and class was about a dozen kindergartners making faces into the camera, introducing themselves and giggling at each other. My son had a blast. By the first day of school on Thursday morning, we were set up with the apps and ready to learn. Easy-peasy-lemon-squeezy.
The technology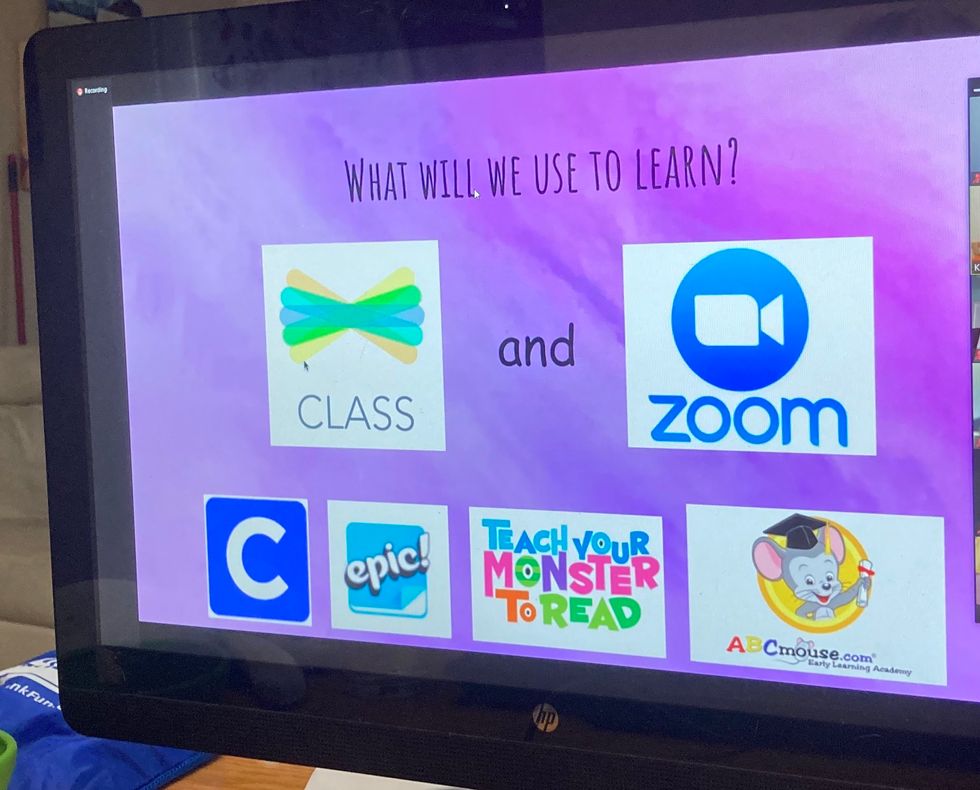 At the last minute, we decided to drop off our son at Grammy's house for a few days, so it fell to her to log him into the Zoom class and SeeSaw for the first two days of school. Grammy is smart and tough, but she still has a flip phone and can't make Facetime work. With us three hours away, Grammy got him logged in for every meeting and all his assignments done.
Now, after a week (and back home), my son can find Zoom and SeeSaw, turn in his assignments, use the art tools, drag and drop, play the videos, take pictures and record audio and video in SeeSaw, and manipulate Zoom like a pro. So for those worried about overly complicated technology, you got this. One thing that helped: The first week's assignments were designed mainly to help them practice the technology. Realize that the school will be forgiving with tech issues in the first few weeks. Don't panic.
The schedule
An hour on Zoom and very loose deadlines on assignments each day. In a nod to parents who can't be committed every hour, the schedule is mostly fluid. My son watches a 3-minute recorded morning video from his teacher and does a little "morning work" before his day starts with a Zoom class at 8:30 a.m. His class meets again at 11:30 each morning. On Fridays, there's an extra 50 minutes on Zoom for PE/Music/Art at 1 p.m. and another extra 30 minutes at 2 p.m. for science and social studies.
Collectively, it's less than seven Zoom hours per week. One thing I can say: This technology is not going to go away, so if he gets good at communicating with people and increasing his attention span on this type of platform, he can only benefit. There is already a vast improvement in these skills just in the first week.
The assignments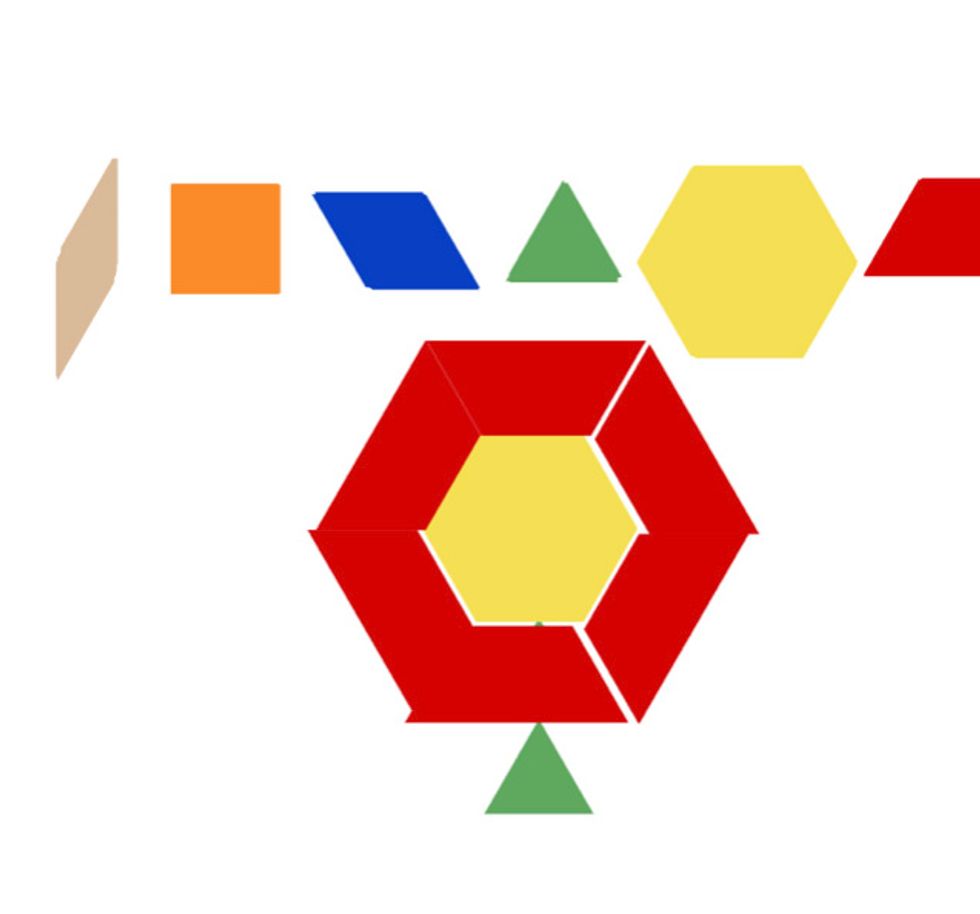 Make a picture out of the shapes (math)
Screenshot: Karen Brooks Harper
He has about six activities to turn in per day, with longer-term projects due each week. His activities are things like recording a show-and-tell video, or reading comprehension or making shapes on his iPad.
The assignments are uploaded throughout the day and we can do them at any point (we often do social studies and reading right before bed). He has P.E., music and art projects due on Fridays (uploaded). P.E. assignments come out three times a week, and this week included animal-inspired exercises, warm-ups on Go Noodle and health classes.
Each day he is also required to read for 10 minutes, write or draw in his journal, get 60 minutes of physical activity (which means we do, too, which is harder than we care to admit) and count to 20. Most of the assignments only take a few minutes, and he does them without our help. Usually.
Feedback and interaction
His attendance is counted through his Zoom meetings and assignments in SeeSaw, but they're flexible under extenuating circumstances. On every assignment, the teachers record personal feedback using his name. He loves it. Way better than a generic "way to go!" that she could do for everyone, and we'd never know it. In the meetings, the teacher will engage them: "Who can tell me how they're feeling today?" They raise their hands and get called on, just like they would in class.
Surprisingly, the kindergartners understand the dynamic and by the end of the first week, this type of interaction seemed normal to our son, too. Shocking, considering he's worse at Facetime than Grammy.
In conclusion 
Now that we've seen how hard they work to make it interesting, and how well (enough) it seems to be working for our son, we are far less worried about the next nine weeks.
Will he learn as much as he might have in person? Perhaps not. Are we lucky that we can be there to guide him through this? Absolutely, and probably luckier than most in that regard.
Will there be any permanent damage to his social skills and schooling? Nah. It's all temporary damage, I think.
There is enough structure to drive us through the day, yet not so much that it's stifling. It beats the heck out of the directionless days we dealt with over the summer. And something else helps my perspective on this disappointing year: We are getting a very rare inside look at what our son is doing at school every day. It's like we're sitting in the back of his class. And that may never happen again after this semester.
It's a gift, truly. A consolation prize, perhaps, more than a silver lining.
But we'll take it.
Start every day with a quick look at what's happening in Austin. Sign up for Austonia.com's free daily morning email.
Concerning levels of cylindrospermopsin were discovered on Sept. 22 after a person got sick and samples were sent to get tested on Sept. 9. Signs will be posted at access points to Sculpture Falls that people and their pets should not injest or swim in the water.
Unlike the harmful algae making dogs sick in parts of Lake Travis and Lady Bird Lake in past summers, these toxins are found in the water, the city says. Barton Creek visitors are asked to avoid stagnant water especially.
The toxins also result in different health effects than the harmful algae in Lady Bird Lake, including liver and kidney damage. If exposed, people can feel:
Fever
Headache
Vomiting
Bloody diarrhea
If exposed, people should seek medical attention and report it to 311.
TinyFest Texas 2021
When: 10 a.m. Saturday – 5 p.m. Sunday
Where: Jourdan-Bachman Pioneer Farms, 10621 Pioneer Farms Drive
What: Tour tiny houses, van converstions, shipping container homes and more at this year's TinyFest. Grab tickets here for a weekend of speakers, workshops and panel discussions plus live music, food and more!

Fierce Whiskers Grand Opening
When: 12 p.m. Saturday
Where: Fierce Whiskers, 5333 Fleming Court
What: Fan of whiskey? Come along to the free grand opening of Fierce Whiskers Distillery's new tasting room. Enjoy bites from a food truck, oysters, musical performances and a raffle.

Austin Summer Carnival
When: 6 p.m. Saturday – 2 a.m. Sunday
Where: The Venue ATX, 516 East 6th St.
What: Don your dancing outfit for this carnival that celebrates the African heritage with Brazilian, Latin and Caribbean rhythms in Austin. Snag your tickets here.

Beginner's Succulent Arrangement and Planting
When: 3 p.m. – 4 p.m. Sunday
Where: Succulent Native, 5501 North Lamar Blvd.
What: Calling all first-time planters: Get your hands dirty and learn about succulent and cactus arrangement and care. No tools required! Grab your tickets here.