Get connected with our daily update
Restoring water to tens of thousands of customers currently experiencing outages and lifting the boil water notice will be "a multi-day process," Austin Water Director Greg Meszaros said during a press conference Thursday afternoon.
---
For those residents who lack both water and power to boil it, local officials have little immediate support to offer.
"Water has been purchased and is on the way," Homeland Security and Emergency Management Director Juan Ortiz said. "As soon as we are able, it will be distributed into the community." However, because of the statewide nature of the crisis, the city had to purchase water from out of state, and it will take time for it to be delivered. In the meantime, Meszaros recommended residents without water or power reach out to friends and neighbors who may have water to share.
After Austin Water's largest water plant temporarily lost power Wednesday and a surge in demand led to low water pressure system-wide, the local utility issued a boil water notice Wednesday evening that remains in effect. Freezing temperatures caused pipes to burst and water mains to break, which further exacerbated high demand, along with faucet dripping. The leaks also caused Austin Water's reservoirs, which typically hold around 100 million gallons of water, to drain out. "At the low point, they were all nearly empty," Meszaros said.
Similar to the power restoration process, Meszaros said the water restoration process will take time as the utility works to identify and repair leaks. If the restoration process is rushed and leaks remain unattended to, restoring the water system could result in the same situation the city is in now: low pressure and emptied reservoirs.
The reason there is a boil water notice in effect is because of the low pressure, which introduces the possibility of contamination. "Even though the risk is low and we don't know of any particular source of contamination, it's very important that customers boil their water before using it," Meszaros said.
Once Austin Energy is able to restore pressure, the utility will have to go through a sampling and testing process as required by state law before it is able to lift the boil water notice. Texas Commission of Environmental Quality Executive Director Toby Baker said there are only 135 labs in the state that can do the necessary sampling, which means notices in Austin and elsewhere could linger, according to the Texas Tribune; approximately 12 million Texans across around 590 public water systems were experiencing service disruptions as of Wednesday afternoon.
Although Austin Energy has restored power to tens of thousands of customers since Wednesday, just over 8% percent—or 41,597—are still impacted. The local utility is working to get those customers back on the grid, prioritizing those areas that have gone without power the longest, but the process takes time to avoid system overloads. "I wish getting everyone back online was as easy as flipping a switch or pushing a button, but it's not," General Manager Jackie Sargent said.
City officials also provided additional updates and recommendations regarding emergency services, road safety and other public services:
Austin Fire Department Assistant Chief Brandon Wade asked residents not to burn items other than firewood and approved logs in places other than fireplaces because of the risks of carbon monoxide poisoning and fires. Residents who see smoke or fire should immediately call 911 because of delayed response times due to the road conditions.
Austin residents continue to report broken pipes. Austin Water is no longer recommending faucet dripping in an effort to lower demand and restore the system, and the fire department cannot respond to all calls immediately due to high demand. So residents are encouraged to locate their water shutoff in case they need to use it.
Public Works Director Richard Mendoza said two 70-person crews are working in 12-hour shifts to clear roads. So far, about 60%—or 118 lane miles—have been cleared in one lane each direction, and the department expects to address the remainder by Friday afternoon.
Curbside trash and recycling will resume on Friday, weather permitting, but crews may take longer due to the road conditions.
The Texas French Bread Bakery, located on 2900 Rio Grande Street, has been completely destroyed after a fire erupted on Monday night.
The Austin Fire Department responded to the fire just before 11 p.m., where they arrived to see flames coming from the roof of the bakery. Firefighters fought the fire for about an hour before the roof collapsed.
While no one was injured in the fire, firefighters say the historic building was completely totaled.
AFD determined that the fire was accidental and caused by mechanical failure. AFD said the damages amounted to $1.6 million total: $1.1 million in structural damage and $500,000 in damage to the contents of the bakery.

This year, Texas French Bread will celebrate 40 years of business. Before the bakery occupied the building, it was the Rome Inn, a music venue that hosted 1970s artists like Stevie Ray Vaughan.
Austin's first major league team is ready to extend its reach with a new collaborative sports complex The Pitch, an Austin FC destination packed with local food, beverages and Verde fervor is set to open in Northeast Austin in February.
The Pitch, a collaboration between Austin FC and Karlin Real Estate, among other entities, will be located in the 50-acre Parmer Pond District, which already hosts the club's practice facility St. David's Performance Center.
Dubbed a "true destination" for both soccer fans and the community, The Pitch will consist of multilevel shipping containers designed by Mark Odom Studio that will carve out into a 1,200-seat stadium complete with a soccer pitch made of turf, food and beverage options and a five-acre "Parmer Pond" featuring jogging trails.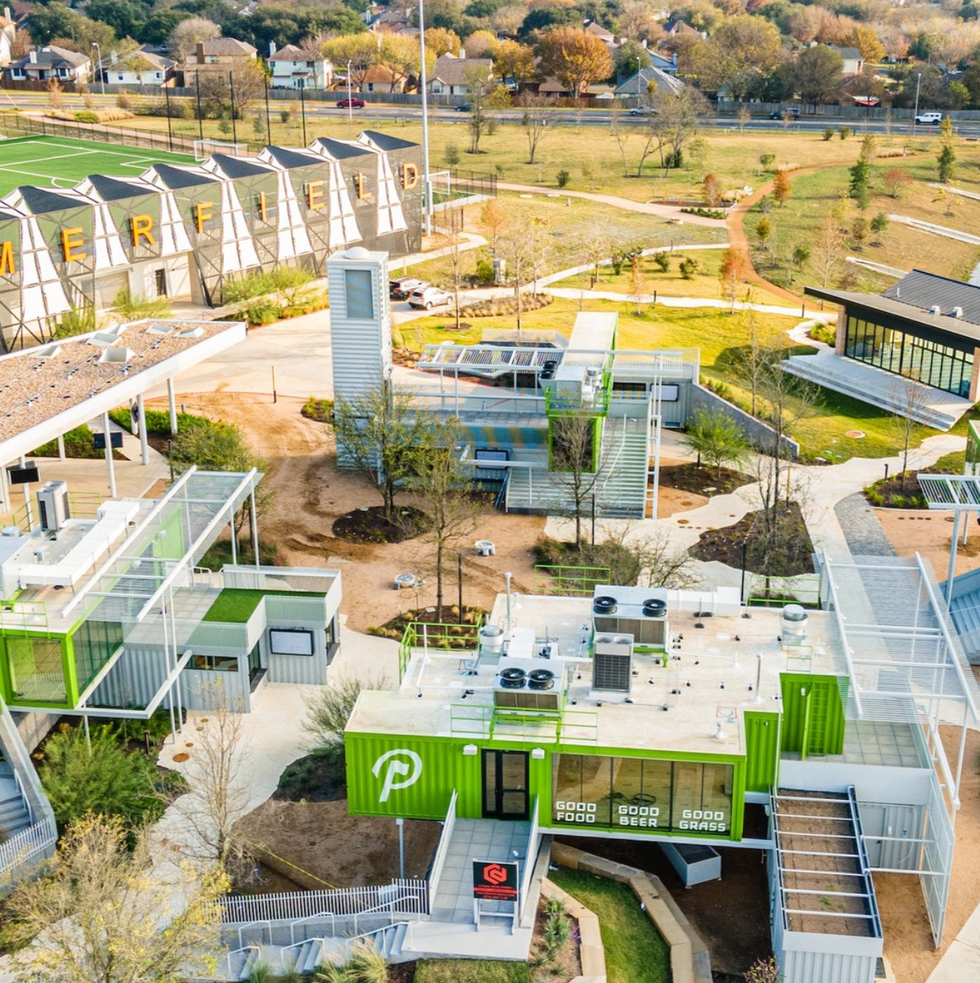 Made from multilevel shipping containers, The Pitch will include food and a 1,200-seat soccer pitch made from artificial turf. (The Pitch)
"The launch of Karlin's new food and entertainment experience will greatly enhance the Parmer development while perfectly complimenting St. David's Performance Center," Austin FC founder Anthony Precourt said. "The Pitch... will offer a strong variety of food options and gathering spaces for guests who will utilize St. David's Performance Center and Parmer Field for a variety of events."
The Pitch project lead Dave Greeley, who helped come up with the concept, is a former president of Austin FC parent company, Two Oak Ventures.
"The vision behind The Pitch at the Parmer Pond District is to be a first-of-its-kind sports, dining and entertainment destination," said Dave Greeley, The Pitch project lead and Team Orbis president. "This will be an unmatched experience for Parmer Austin tenants, Austin FC and club supporters, and the community."
With its proximity to the practice center, the venture hopes to contribute to the growing "soccer city" of Austin during Austin FC matches and youth games with the Austin FC Academy hosted at the St. David's Performance Center.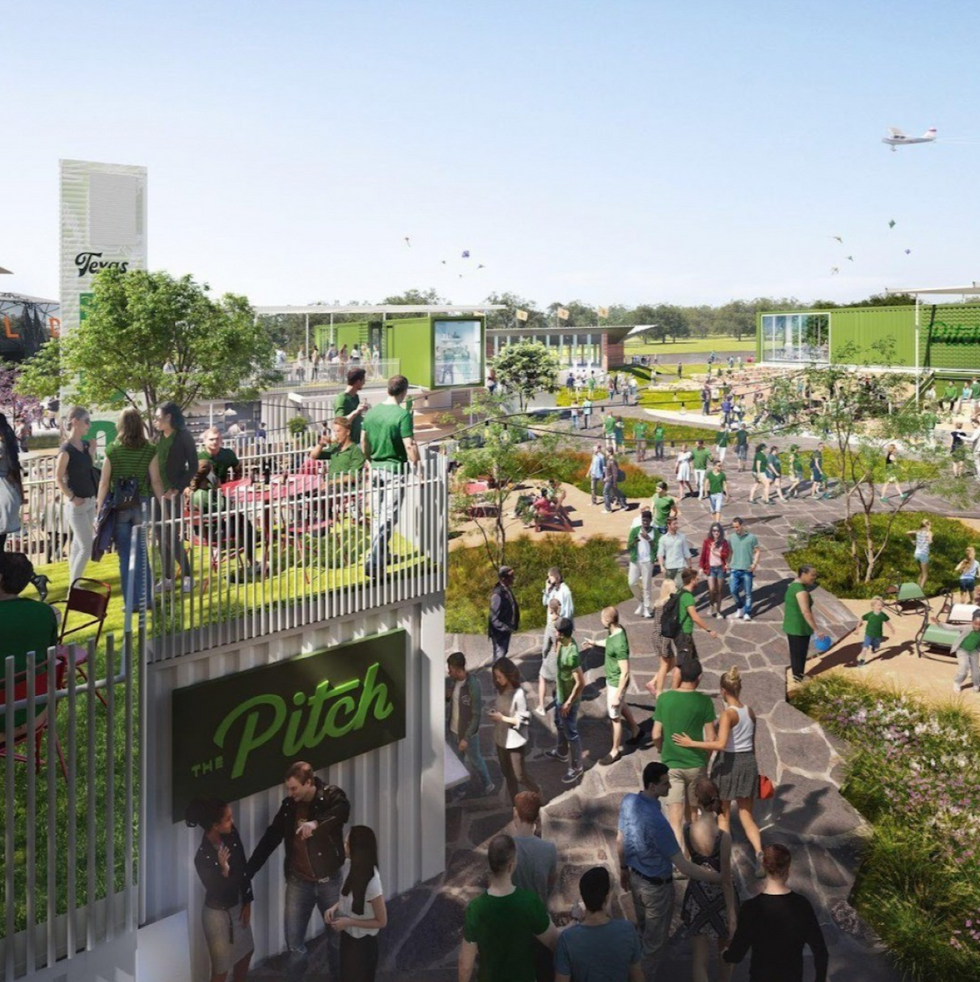 The Pitch hopes to converge both community and club interests with Austin FC. (The Pitch)
In addition to the soccer pitch, stadium and pond, The Pitch will provide a foody experience made by the creative team behind Austin staples like Fareground and Easy Tiger. The complex will offer local bites including:
Ranger Burger, which offers beers and burgers made from highly-coveted Wagyu beef direct from Ranger Cattle in East Austin
Ga Roti, which merges flavors from Northern Vietnam with the culinary techniques of France to create a unique rotisserie chicken joint
Taco Flats, a local taco chain serving Mexico City-style tacos, micheladas and more
Sand Bar, which fulfills its namesake with beauty cocktails, local beers and a sand volleyball court
Coffee Club, a coffee shop and bakery
Corner Kick Bar, the soccer-focused main bar of The Pitch complete with "tunes, TVs and (a) beer garden"
The Pitch will squeeze between St. David's Performance Center and Parmer Pond alongside the southern edge of Parmer Austin, a Karlin Real Estate venture that will eventually include multifamily housing, corporate office space and an aerospace and defense center.