Get connected with our daily update
(Joshua Torrey/Twitter)
After two days without power and four days without water, Joshua Torrey and his family were finally back home with service. But when he and a neighborhood acquaintance went to turn on his water main on Sunday, they discovered a leak. "The water was flooding the kitchen and leaking out to the external portion of the house," he told Austonia.
---
Torrey, his wife and their five children live in the 78749 ZIP code in a suburban neighborhood in Southwest Austin. After turning off their water service, the couple spent three to four hours on Sunday and Monday trying to contact contractors and insurance claims offices to no avail. Contractors' voicemail boxes were full, and their bank's website crashed due to high demand. "We haven't been able to get a hold of anybody yet," he said.
Torrey and his wife plan to spend a few more hours on Monday afternoon trying to troubleshoot. This has impacted their ability to work from home, which he has done since the start of the pandemic and where she homeschools their children. "Our house contains everything that we need for our homeschool, and it was inhabitable," he said. "The dynamics for the kids were completely tossed up into the air."
Torrey, a computer engineer, wasn't able to work at all last week. "I tried," he said. "There were multiple days where I got up and logged into my work, but the demands of feeding kids, keeping them warm, trying to keep water boiling for either dishwashing or (melting snow for) toilet flushing was a full-time job."
Even though they now have power and water service restored, things are still tough. "Today was the first day I think I actually put in a couple hours of work, and even today it has been a real struggle to accomplish anything because there's still a lot to do and a lot of decisions to be made."
The Torreys are hardly the only Austinites trying to navigate working from home, water damage, home repairs and insurance claims this week. Austin Water Director Greg Meszaros estimated that there were "tens of thousands" of private water main breaks at residents and businesses during a press conference Monday afternoon. The city's development services department began accepting emergency home repair permit applications on Monday morning. Although it had only received five as of Monday afternoon, Director Denise Lucas expects more as homeowners assess damage and determine the repairs needed.
"We do believe that it's early and that the demand will come later," she said at the same event. Other residents are also facing lapses in childcare, with schools closed, and lingering service outages, which make performing one's job difficult, if not impossible.
Phillip Schmandt, a partner at the law firm McGinnis Lochridge, was planning on returning to the office on Monday despite working from home over the course of the pandemic. The reason? A weeklong internet outage that left him with one bar of cell service. "Until Friday afternoon, because of the conditions of the roads, we couldn't leave the house," he said. "We were paralyzed."
Schmandt's internet, which is provided by Spectrum, returned late Sunday night. But the West Lake Hills resident remains frustrated by the lack of communication from his provider, as do some of his fellow Austinites.
Spectrum declined to say how many Austin-area customers are currently experiencing outages, but a company spokesperson attributed the service interruptions to commercial power issues caused by the recent winter storms.

Although Austin Energy has restored power to nearly all of its customers—57 were still experiencing outages as of 3:09 p.m., compared to around 220,000 at the peak of the power crisis—and Austin Water has lifted its boil water notice for four of its nine service zones, home repairs and ongoing internet service issues will continue to plague the local workforce, whose members have already faced a seismic shift due to the pandemic, and their dependents.
"One of our kids joked on the way back from picking up lunch today," Torrey said. "She was like, 'So is everything back to COVID normal now?'"
The Texas French Bread Bakery, located on 2900 Rio Grande Street, has been completely destroyed after a fire erupted on Monday night.
The Austin Fire Department responded to the fire just before 11 p.m., where they arrived to see flames coming from the roof of the bakery. Firefighters fought the fire for about an hour before the roof collapsed.
While no one was injured in the fire, firefighters say the historic building was completely totaled.
AFD determined that the fire was accidental and caused by mechanical failure. AFD said the damages amounted to $1.6 million total: $1.1 million in structural damage and $500,000 in damage to the contents of the bakery.

This year, Texas French Bread will celebrate 40 years of business. Before the bakery occupied the building, it was the Rome Inn, a music venue that hosted 1970s artists like Stevie Ray Vaughan.
Austin's first major league team is ready to extend its reach with a new collaborative sports complex The Pitch, an Austin FC destination packed with local food, beverages and Verde fervor is set to open in Northeast Austin in February.
The Pitch, a collaboration between Austin FC and Karlin Real Estate, among other entities, will be located in the 50-acre Parmer Pond District, which already hosts the club's practice facility St. David's Performance Center.
Dubbed a "true destination" for both soccer fans and the community, The Pitch will consist of multilevel shipping containers designed by Mark Odom Studio that will carve out into a 1,200-seat stadium complete with a soccer pitch made of turf, food and beverage options and a five-acre "Parmer Pond" featuring jogging trails.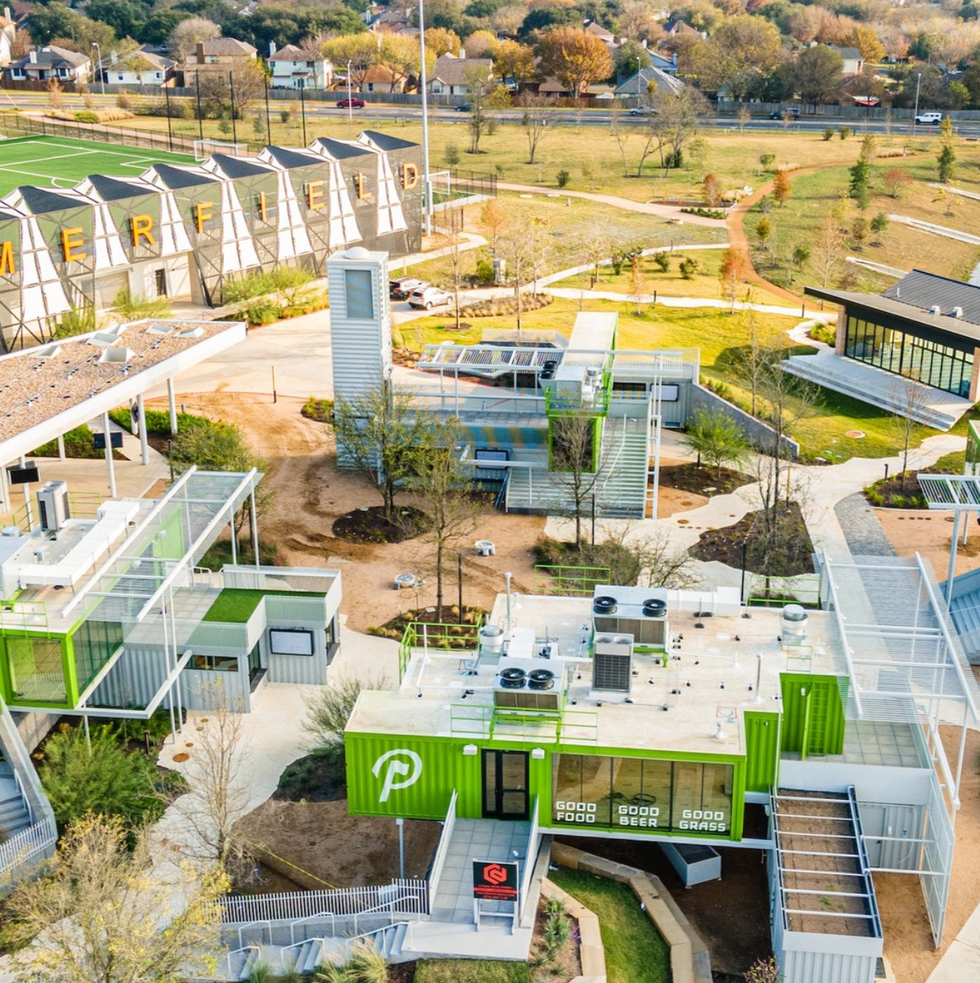 Made from multilevel shipping containers, The Pitch will include food and a 1,200-seat soccer pitch made from artificial turf. (The Pitch)
"The launch of Karlin's new food and entertainment experience will greatly enhance the Parmer development while perfectly complimenting St. David's Performance Center," Austin FC founder Anthony Precourt said. "The Pitch... will offer a strong variety of food options and gathering spaces for guests who will utilize St. David's Performance Center and Parmer Field for a variety of events."
The Pitch project lead Dave Greeley, who helped come up with the concept, is a former president of Austin FC parent company, Two Oak Ventures.
"The vision behind The Pitch at the Parmer Pond District is to be a first-of-its-kind sports, dining and entertainment destination," said Dave Greeley, The Pitch project lead and Team Orbis president. "This will be an unmatched experience for Parmer Austin tenants, Austin FC and club supporters, and the community."
With its proximity to the practice center, the venture hopes to contribute to the growing "soccer city" of Austin during Austin FC matches and youth games with the Austin FC Academy hosted at the St. David's Performance Center.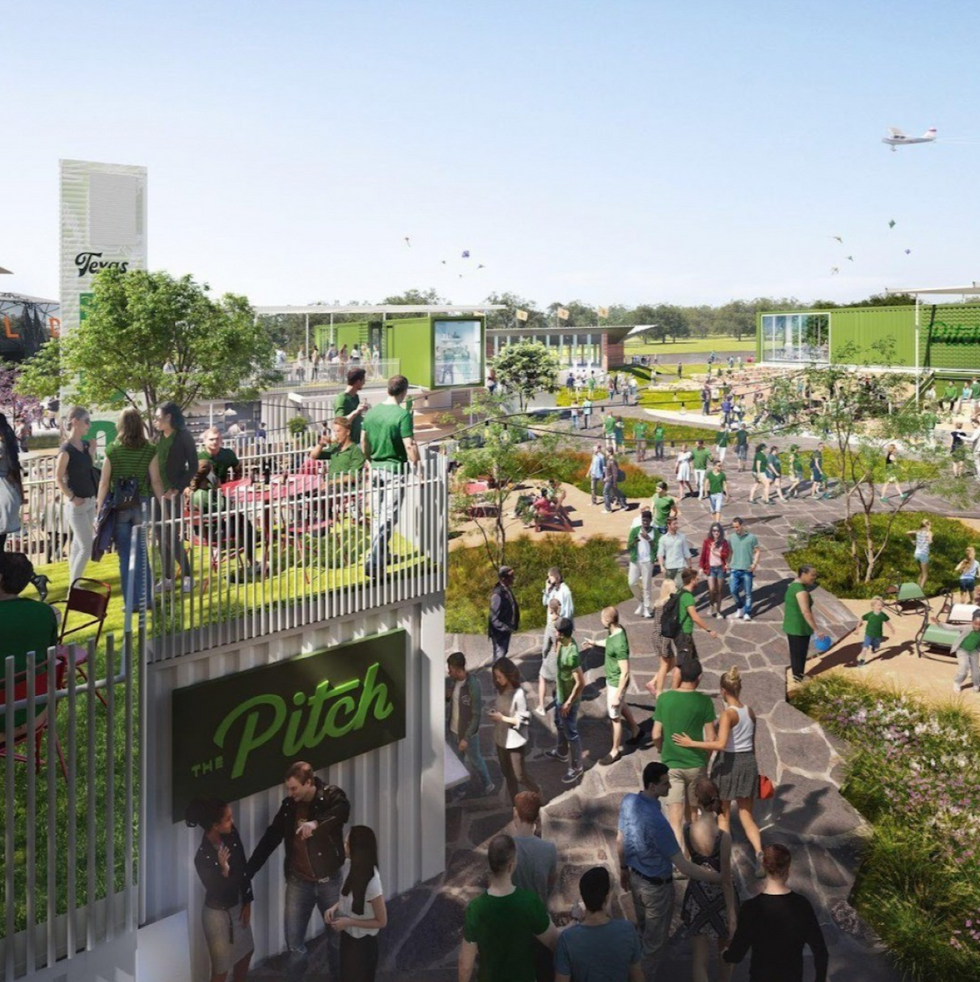 The Pitch hopes to converge both community and club interests with Austin FC. (The Pitch)
In addition to the soccer pitch, stadium and pond, The Pitch will provide a foody experience made by the creative team behind Austin staples like Fareground and Easy Tiger. The complex will offer local bites including:
Ranger Burger, which offers beers and burgers made from highly-coveted Wagyu beef direct from Ranger Cattle in East Austin
Ga Roti, which merges flavors from Northern Vietnam with the culinary techniques of France to create a unique rotisserie chicken joint
Taco Flats, a local taco chain serving Mexico City-style tacos, micheladas and more
Sand Bar, which fulfills its namesake with beauty cocktails, local beers and a sand volleyball court
Coffee Club, a coffee shop and bakery
Corner Kick Bar, the soccer-focused main bar of The Pitch complete with "tunes, TVs and (a) beer garden"
The Pitch will squeeze between St. David's Performance Center and Parmer Pond alongside the southern edge of Parmer Austin, a Karlin Real Estate venture that will eventually include multifamily housing, corporate office space and an aerospace and defense center.