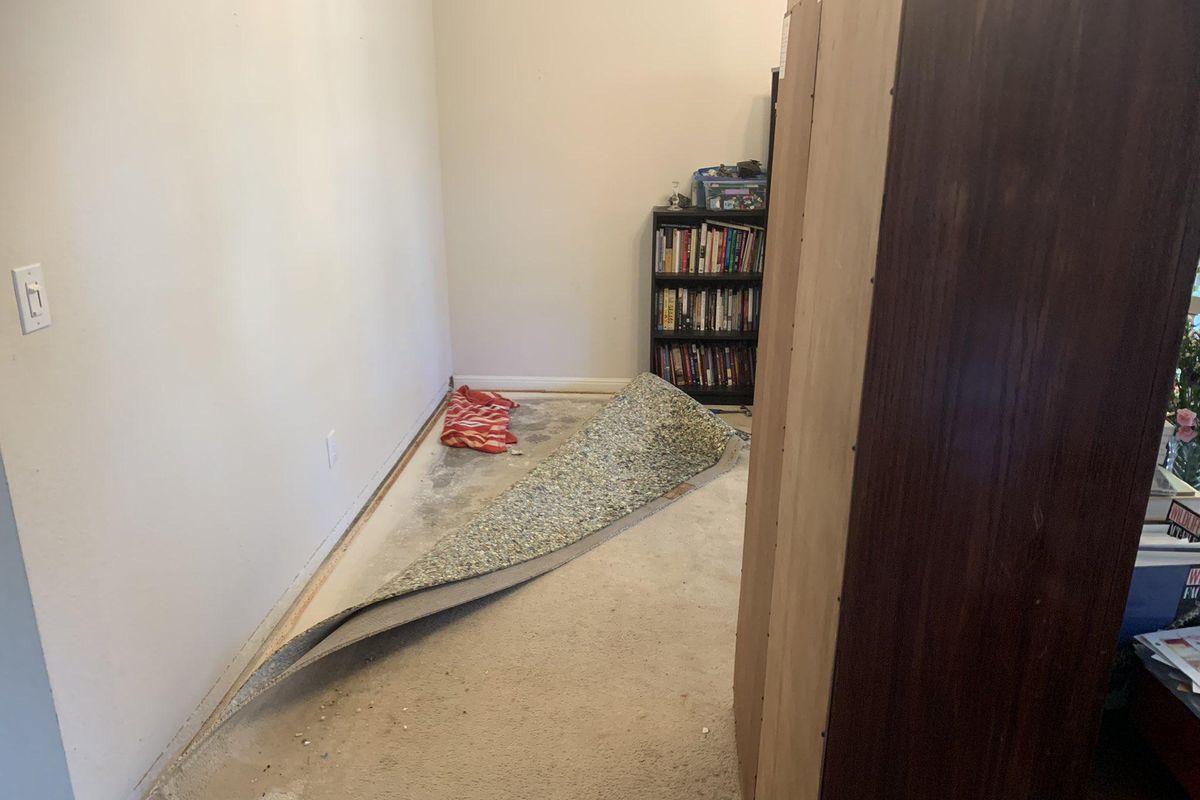 (Joshua Torrey/Twitter)
After two days without power and four days without water, Joshua Torrey and his family were finally back home with service. But when he and a neighborhood acquaintance went to turn on his water main on Sunday, they discovered a leak. "The water was flooding the kitchen and leaking out to the external portion of the house," he told Austonia.
---
Torrey, his wife and their five children live in the 78749 ZIP code in a suburban neighborhood in Southwest Austin. After turning off their water service, the couple spent three to four hours on Sunday and Monday trying to contact contractors and insurance claims offices to no avail. Contractors' voicemail boxes were full, and their bank's website crashed due to high demand. "We haven't been able to get a hold of anybody yet," he said.
Torrey and his wife plan to spend a few more hours on Monday afternoon trying to troubleshoot. This has impacted their ability to work from home, which he has done since the start of the pandemic and where she homeschools their children. "Our house contains everything that we need for our homeschool, and it was inhabitable," he said. "The dynamics for the kids were completely tossed up into the air."
Torrey, a computer engineer, wasn't able to work at all last week. "I tried," he said. "There were multiple days where I got up and logged into my work, but the demands of feeding kids, keeping them warm, trying to keep water boiling for either dishwashing or (melting snow for) toilet flushing was a full-time job."
Even though they now have power and water service restored, things are still tough. "Today was the first day I think I actually put in a couple hours of work, and even today it has been a real struggle to accomplish anything because there's still a lot to do and a lot of decisions to be made."
The Torreys are hardly the only Austinites trying to navigate working from home, water damage, home repairs and insurance claims this week. Austin Water Director Greg Meszaros estimated that there were "tens of thousands" of private water main breaks at residents and businesses during a press conference Monday afternoon. The city's development services department began accepting emergency home repair permit applications on Monday morning. Although it had only received five as of Monday afternoon, Director Denise Lucas expects more as homeowners assess damage and determine the repairs needed.
"We do believe that it's early and that the demand will come later," she said at the same event. Other residents are also facing lapses in childcare, with schools closed, and lingering service outages, which make performing one's job difficult, if not impossible.
Phillip Schmandt, a partner at the law firm McGinnis Lochridge, was planning on returning to the office on Monday despite working from home over the course of the pandemic. The reason? A weeklong internet outage that left him with one bar of cell service. "Until Friday afternoon, because of the conditions of the roads, we couldn't leave the house," he said. "We were paralyzed."
Schmandt's internet, which is provided by Spectrum, returned late Sunday night. But the West Lake Hills resident remains frustrated by the lack of communication from his provider, as do some of his fellow Austinites.
Spectrum declined to say how many Austin-area customers are currently experiencing outages, but a company spokesperson attributed the service interruptions to commercial power issues caused by the recent winter storms.

Although Austin Energy has restored power to nearly all of its customers—57 were still experiencing outages as of 3:09 p.m., compared to around 220,000 at the peak of the power crisis—and Austin Water has lifted its boil water notice for four of its nine service zones, home repairs and ongoing internet service issues will continue to plague the local workforce, whose members have already faced a seismic shift due to the pandemic, and their dependents.
"One of our kids joked on the way back from picking up lunch today," Torrey said. "She was like, 'So is everything back to COVID normal now?'"