Get connected with our daily update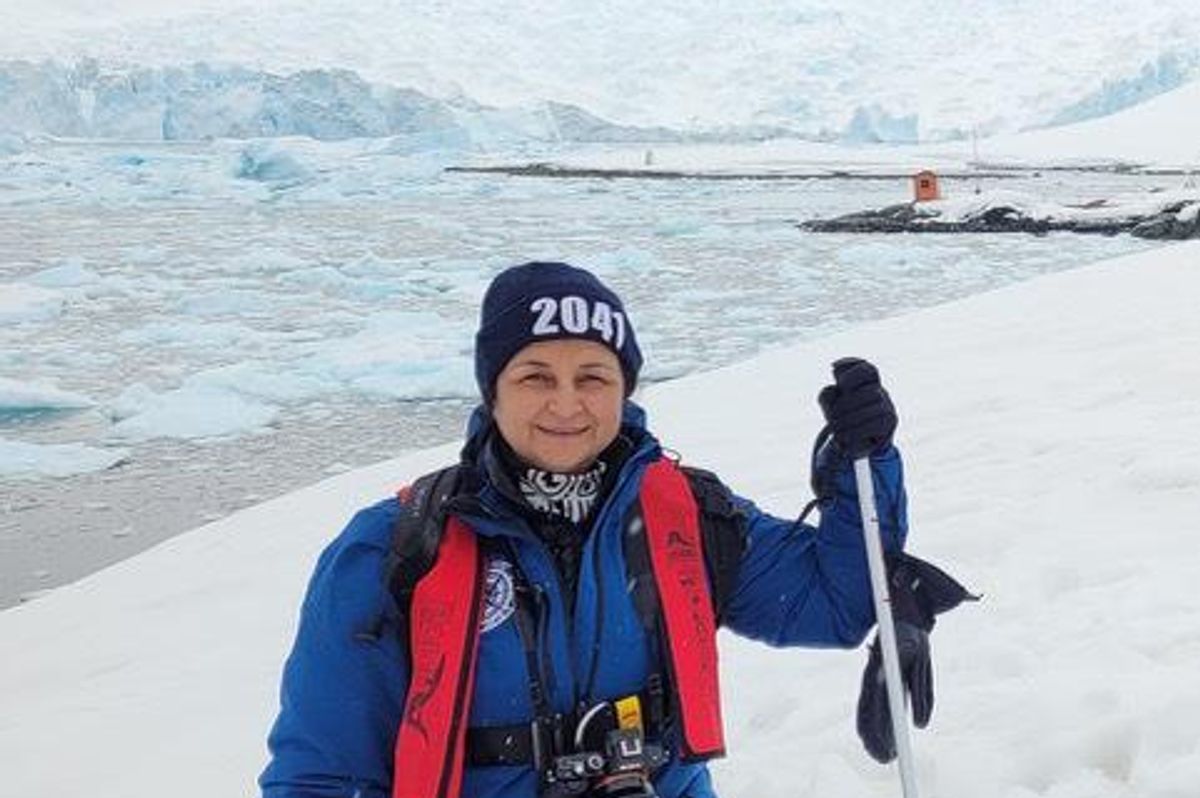 Austinite Amal Morse says she's just a "concerned human being" when it comes to climate change, but Grape-Nuts Cereal says she's a woman changing the world.
---
A documentary filmmaker who focuses on the effects of climate change in Antarctica, Morse was able to travel to Earth's southernmost continent in March, with the help of a grant from Grape-Nuts' Female Pioneers program and a GoFundMe campaign.
Morse was one of nine women given the grant, in honor of the brand's 125th anniversary and history of funding exploration efforts, though she never applied and didn't know until the money showed up on her GoFundMe.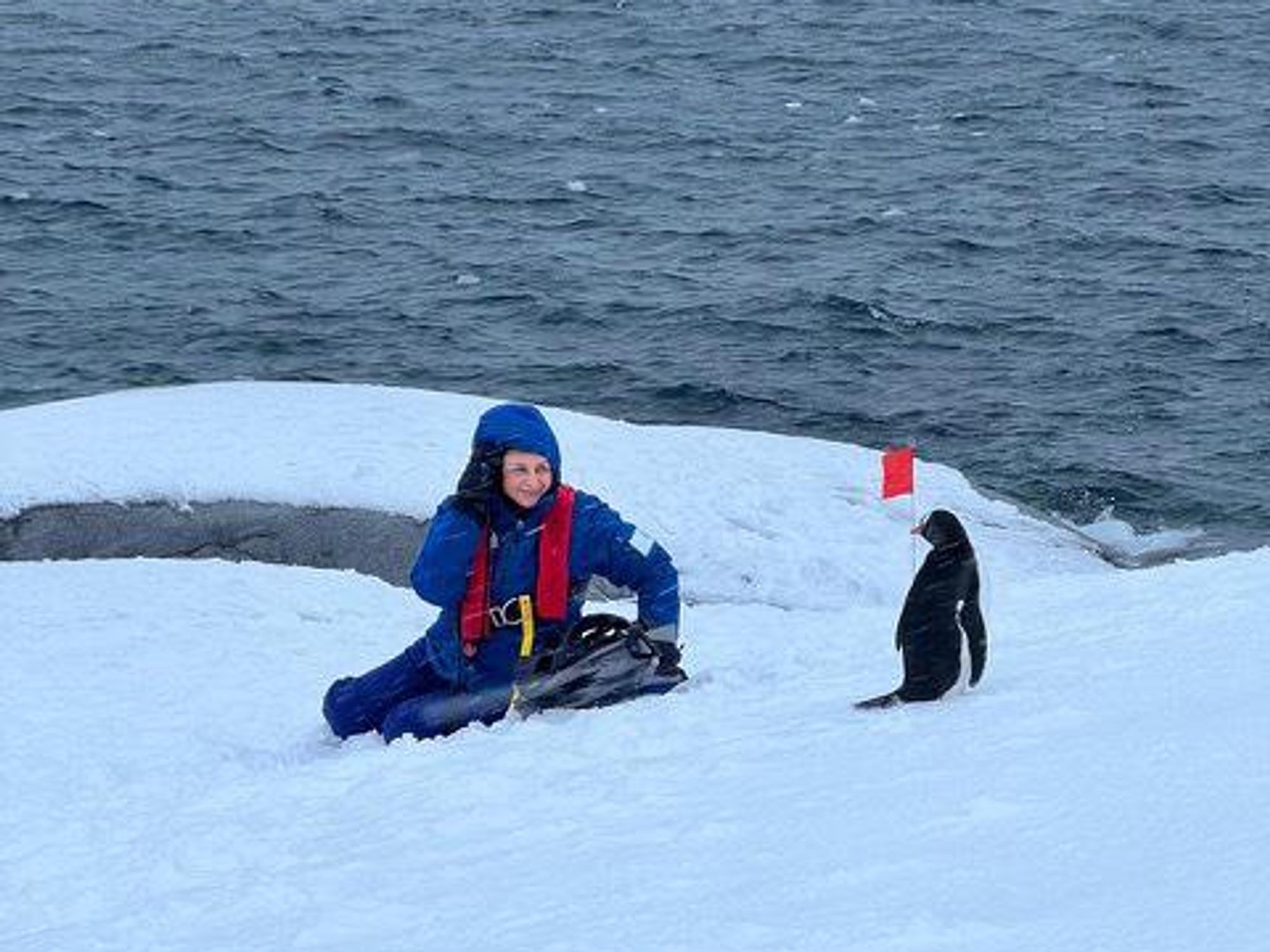 Morse sitting next to a penguin in Antarctica. (Courtesy of Amal Morse)
"It was really a very pleasant surprise," Morse said. "It was really an honor because they have a history of sponsoring big explorers throughout the century—in the 1930s, they sponsored Admiral Byrd's historic expedition. This time they decided to honor and support women who are going on amazing journeys… and it was just amazing to be part of that."
As a longtime advocate for climate change tired of the relatively small impacts of his recycling and composting, Morse said she was inspired by Antarctica preservationist Robert Swan's TED Talk to make the trek. Morse raised $17,111 of her $19,000 goal—$12,500 of which came from Grape-Nuts—and joined Swan's 2041ClimateForce expedition from March 16-29.
"I wanted to firsthand see the impact of climate change on Antarctica and get the knowledge and the tools I need to become an agent of change," Morse said. "While small action is better than no action, it really seems insignificant in the face of what we are experiencing right now."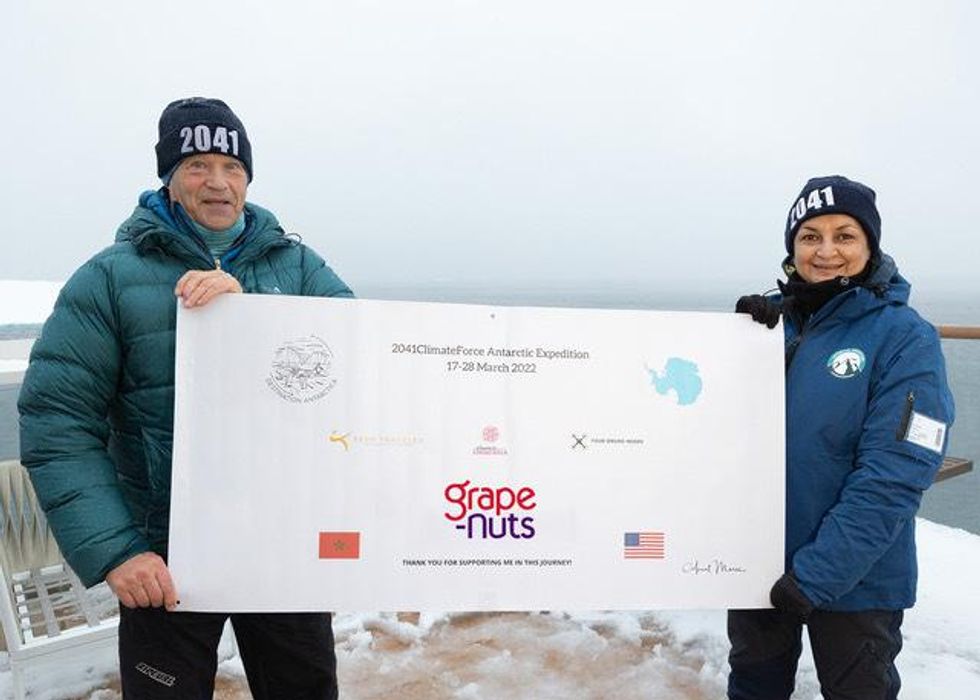 Morse pictured with 2041 ClimateForce founder Robert Swan. (Courtesy of Amal Morse)
Morse is currently in the research phase of her second documentary, which she said will share some of the things she learned during her 13 days of lectures from renowned climate experts, workshops and expeditions.
One thing that gave her hope was learning about krill, shrimp-like crustaceans that serve as a major food source for larger fish and also as a carbon sink, since they eat carbon-capture algae on the surface of the water.
When it's all said and done, Morse said she hopes to make a trip to space to learn more about caring for the only planet humans have. She said she hopes to travel back to Antarctica for some time after next year for research, this time for months rather than days.
"I've always found it a fascinating place because it's really not usually on the minds of people in their day-to-day life," Morse said. "An animal so small like that has so big of an impact and any decline in their population can have far-reaching effects. That means that our individual actions count and we have to be mindful of them if we want to protect our planet and our species."
Related Articles Around the Web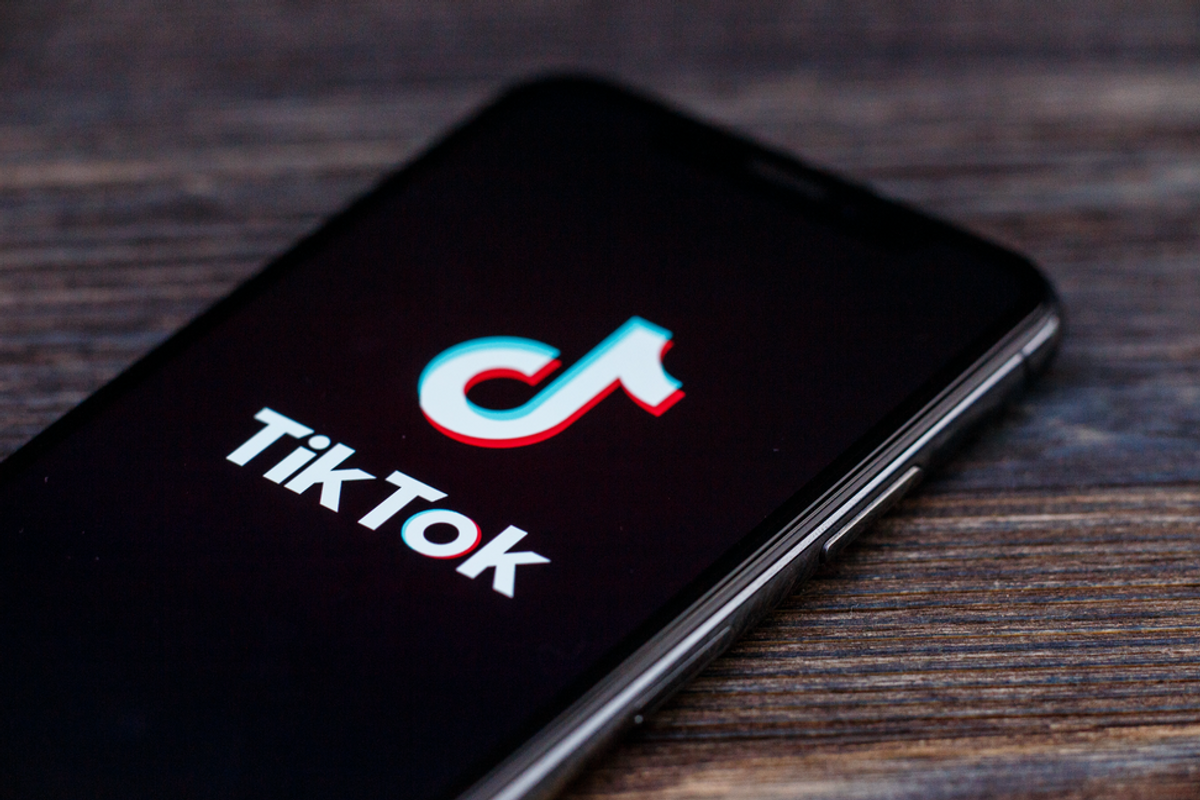 School is back in session—do you know the latest TikTok trends?
With Austin ISD resuming session on Monday, school officials are keeping tabs on the newest TikTok trends that could pose classroom disruptions and property damage.
TikTok trends swept through Austin-area schools last year with the "Devious Lick" challenge, which encouraged students to steal from school property and reportedly caused $15,000 in damages at Round Round ISD; and the "slap a staff member" challenge.
On the distraction end, a substitute teacher was dismissed from Bowie High School in December after bringing in a karaoke machine to class and singing Britney Spears' "Toxic" for the class on TikTok.
Officials told KXAN they are staying aware of the trends as they change during the 2022-2023 school year and the district will investigate perceived threats. Since TikTok trends vary in severity, they will also evaluate to see which trends could cause harm or not.
Finally, the school district said it does not tolerate violence or bullying and will focus its efforts on protecting students both physically and digitally.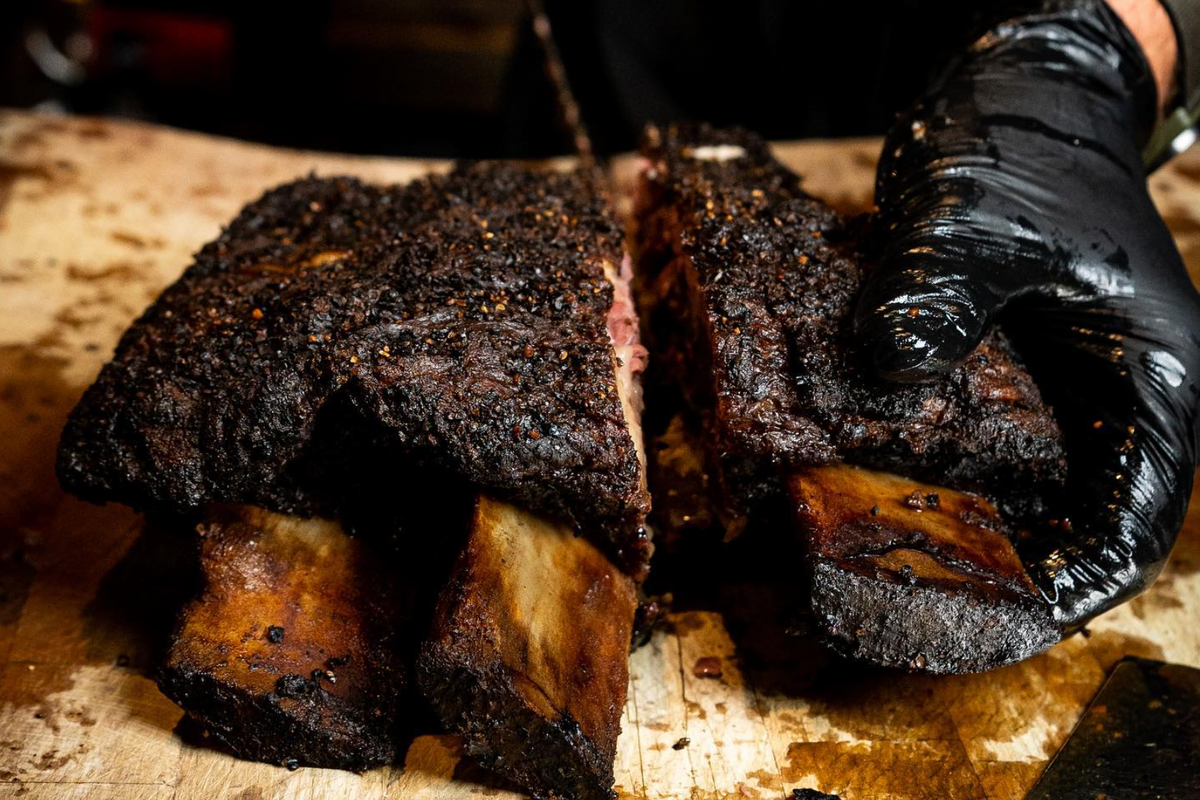 Austin and fellow Texas cities unsurprisingly dominated a new list ranking the top U.S. cities for barbecue.
In a ranking by Clever Real Estate, the capital city ranked No. 2, only beat out by San Antonio. San Jose, California; Nashville, Tennessee; and Las Vegas, Nevada all rounded out the top 5 with Dallas at No. 12 and Houston at No. 18.
The ranking used different metrics to curate the ranking, including restaurants per capita, average Yelp rating and major barbecue events.
Central Texas is a hotbed for famous barbecue joints. Places like Franklin Barbecue promise a line almost year-round and others like Leroy and Lewis Barbecue offer a new school take on the classics.
According to the report, Austin had the second-highest average Yelp rating for BBQ restaurants (4.2 stars out of 5) and scored a 95 out of 100 in our Google Trends metric, which measures how often people search the web for BBQ-related terms. It also had more than double the average amount of barbecue joints per city studied.