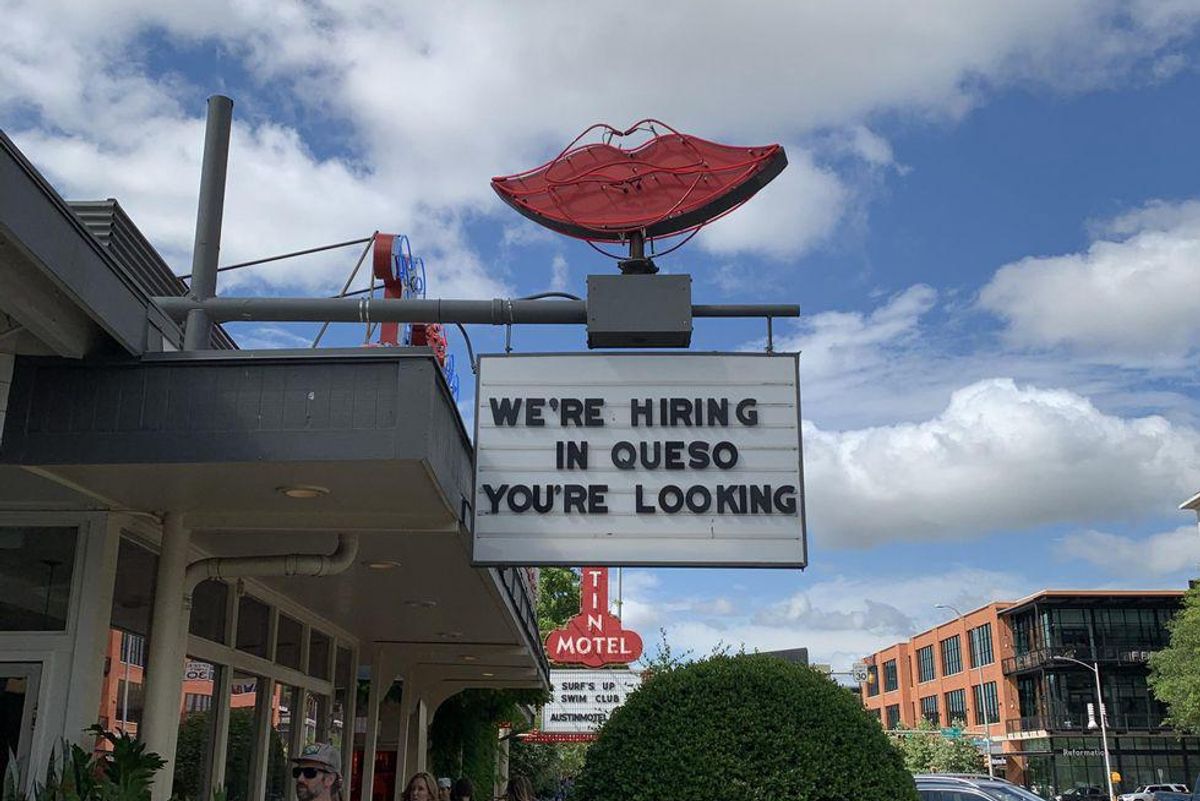 Austin is facing a worsening worker shortage that spans industries and could prove more economically damaging than the pandemic.
In April there were 1.5 unemployed Texas residents for each advertised vacancy, according to the Texas Workforce Commission. This shortage is not unique to Austin or Texas. Instead, it's a "national economic crisis that is getting steadily worse," according to a report released by the U.S. Chamber of Commerce this week. The lobbying group found that there are approximately half as many available workers for every open job as there have been on average over the last 20 years and the ratio continues to fall.
---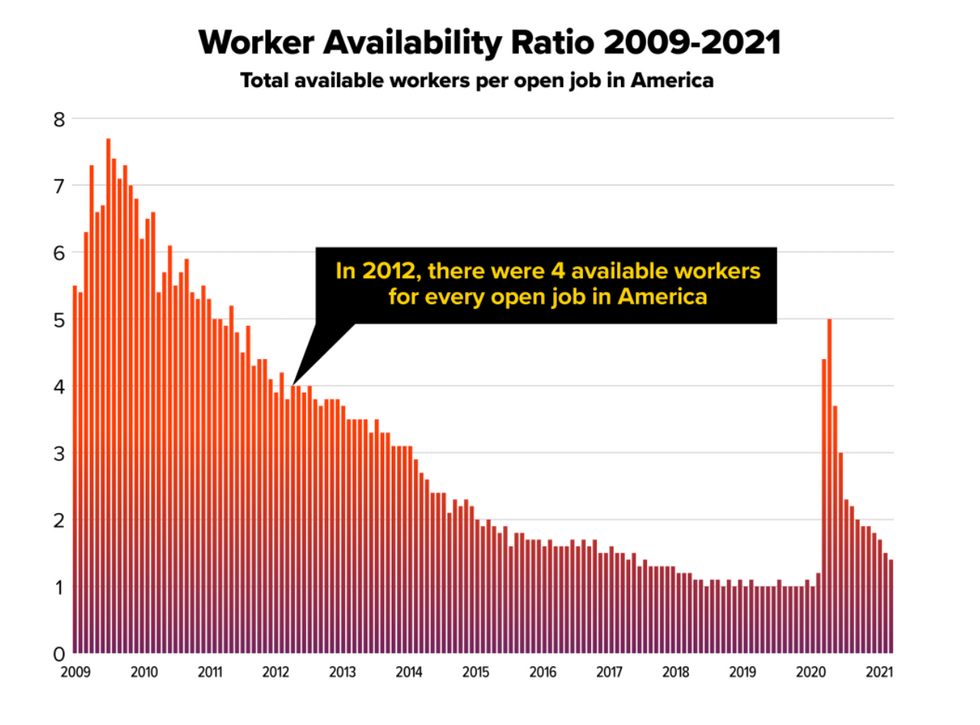 (U.S. Chamber of Commerce)
Although Texas is impacted, it is doing better than some states, notable South Dakota, Nebraska and Vermont, where there are fewer potential workers than available jobs, according to the same report.
A widespread problem

"Now hiring" signs are commonplace in local restaurant windows. The restaurant and hospitality jobs site Poached lists more than 1,000 jobs in the Austin area posted within the last month. The city of Austin is short 600 lifeguards and is unable to expand opening hours or open additional pools as a result. Local residents may have noticed higher rideshare costs as both Uber and Lyft are facing a driver shortage as well, according to KXAN.
Skilled trade and manufacturing industries are also facing a hiring crunch, leading to project delays. A 2020 projection shows Austin will be short 3,130 workers across its 10 most in-demand trade and manufacturing occupations over the next decade, according to a recent report by Workforce Solutions of the Capital Area.
Many business owners lay blame for this worker shortage on pandemic-era unemployment benefits. In a recent survey conducted by the Texas Association of Business, 80% of the 177 business respondents said the $300 federal weekly unemployment benefit should be eliminated, citing it as a barrier to hiring. "This (shortage) is strange because there are still a lot of people out of work," CEO Glenn Hamer said. "It doesn't seem to make sense."
Aware of these concerns, Texas Gov. Greg Abbott announced last month that Texas will opt out of this benefit effective June 26. But economists told Austonia that multiple factors are at play in conjunction with unemployment benefits, including low wages, school and child-care closures that keep parents at home and fear of COVID-19.

Juan Benitez, director of communications for Workers Defense Project, which represents low-wage, immigrant workers in the construction industry, said essential workers are looking for jobs that offer essential protections, such as a living wage, health insurance and safe working conditions.
"This has been a pretty disastrous year for workers," Benitez said, citing a 2020 study that found Austin construction workers were five times more likely to be hospitalized with COVID than workers in other occupations. "Instead of going back to quote-unquote normal, we should be thinking about, 'How do we actually address a lot of the issues that COVID has shed new light on?'"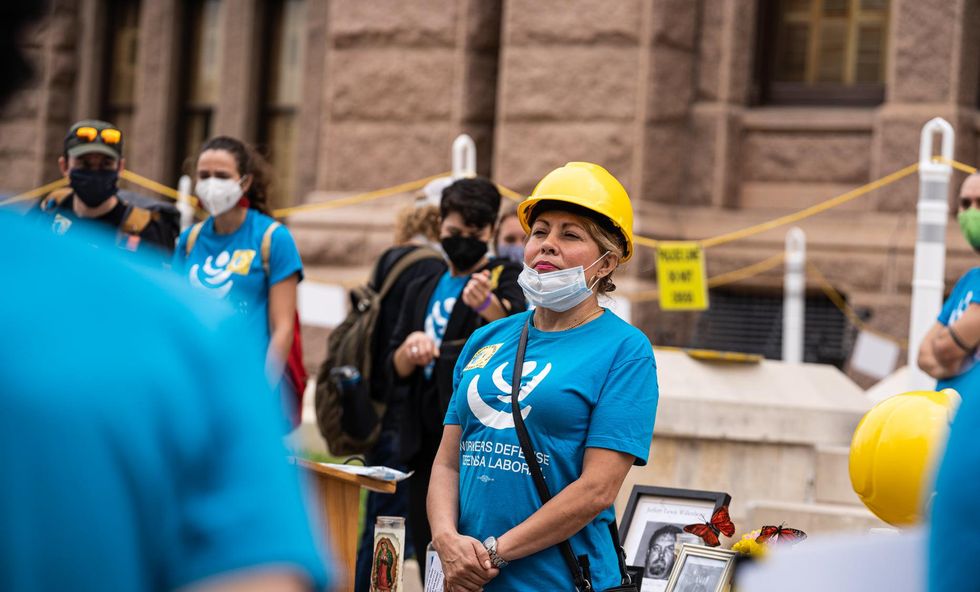 Workers Defense Project members participated in a third strike outside of the Texas Capitol last month. State lawmakers approved a bill that would prohibit local governments from mandating benefits such as water breaks and paid sick leave. (Workers Defense Project/Workers Defense Action Fund)
A workers' market

Local businesses are offering increased wages and new benefits in an effort to entice workers.
The median pay for Austin Uber drivers is $33 an hour, before tips, CEO Dara Khosrowskahi said during the company's first-quarter earnings call last month. Local companies P. Terry's and JuiceLand also recently raised their wages, the latter in response to an ongoing worker strike. "There's newfound worker power and people power and more reason to organize around labor," Benitez said.
Hamer is optimistic that the combination of "all-time high" wages, an end to the temporary federal unemployment benefits and the continued reopening of the economy will coincide with increased interest in open positions. "There has never been a better time to enter or reenter the labor force," he said.