Austonia AM
100% Austin news, info, and entertainment, straight to your inbox at 6 a.m. every morning.
In five minutes, you're fully informed and ready to start another great day in our city.
Get connected with our daily update
The Zilker Eagle will open this fall after a restoration project helmed by the Austin Parks Foundation. The miniature train, previously called the Zilker Zephyr, shut down in May 2019 due to storm-related erosion and a contract dispute.
---
Since 1961, the train has taken children on a scenic route around Zilker Park, past Lady Bird Lake and the great lawn, first under the Zilker Eagle name and then as the Zilker Zephyr. Last year, the Austin Parks Foundation began a restoration project that is slated to end this fall, in time for the train's 60th anniversary.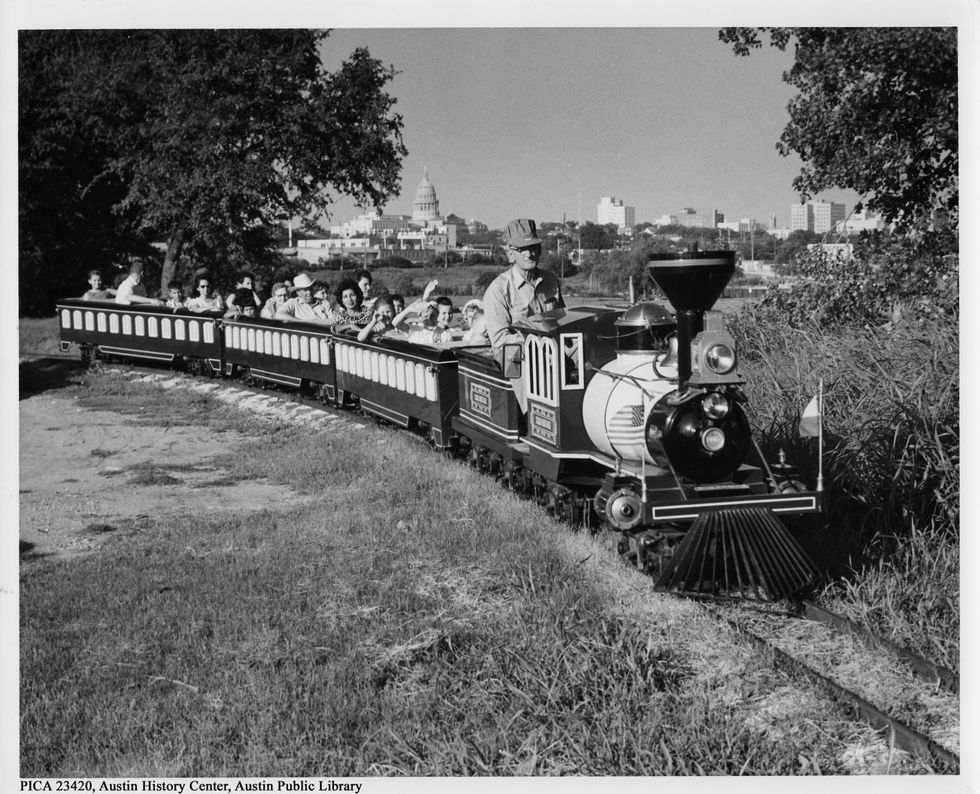 The Zilker Eagle first opened in 1961 and later ran under the name the Zilker Zephyr. (Austin History Center)
The new, old name arose from a robust community engagement process. After receiving more than 750 name submissions, a committee of APF staff, children and others chose seven finalists. More than 7,000 Austinites voted, with the Zilker Eagle prevailing.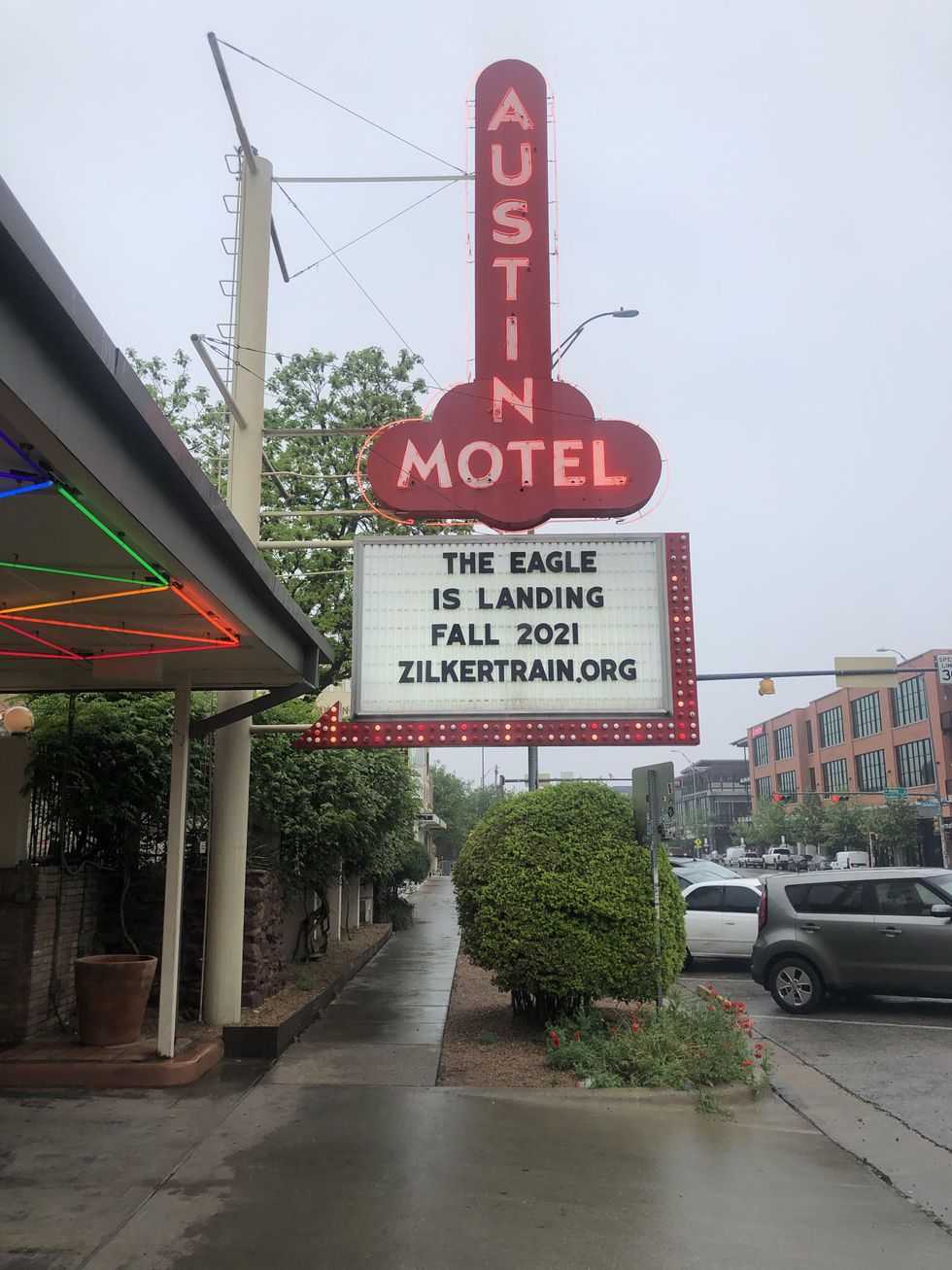 Austin businesses, including the Austin Motel on South Congress Avenue, welcomed the Zilker Eagle. (Austin Parks Foundation)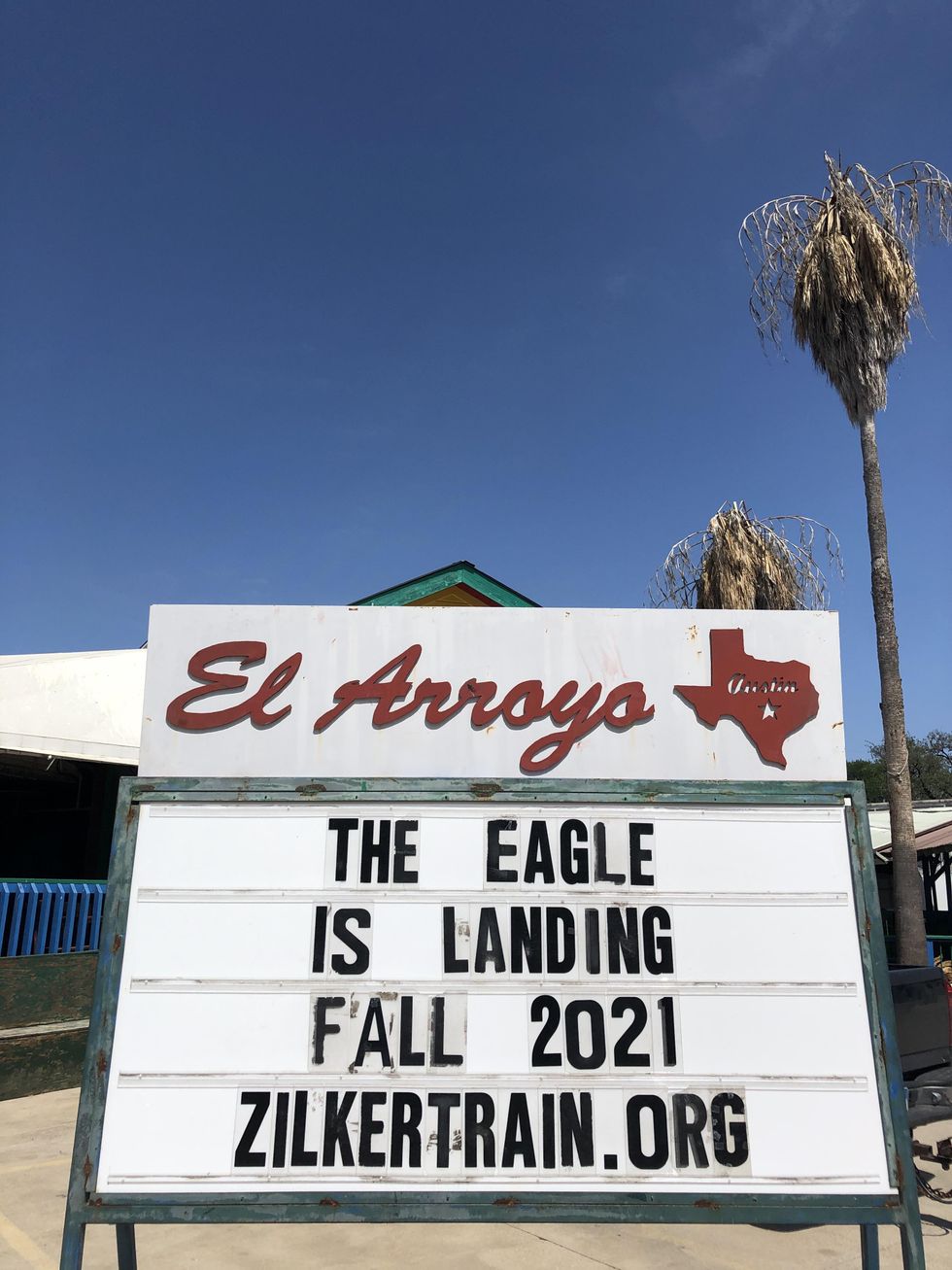 The train's new name earned a spot on the most coveted sign in town: El Arroyo's. (Austin Parks Foundation)
The restored train will be all-electric, which APF CEO Colin Wallis said felt appropriate given the route's location in an environmentally sensitive public park, near Barton Springs. It will also include wheelchair-accessible passenger coaches and a new tie-dye design.
"I think that tie dye really pays homage to old Austin charm," APF Chief Mission Officer Ladye Anne Wofford said. "In the '60s and '70s wearing tie dye was really considered a way to publicly display your solidarity with progressivism and also a way to be solid with the human and political revolutions of the time."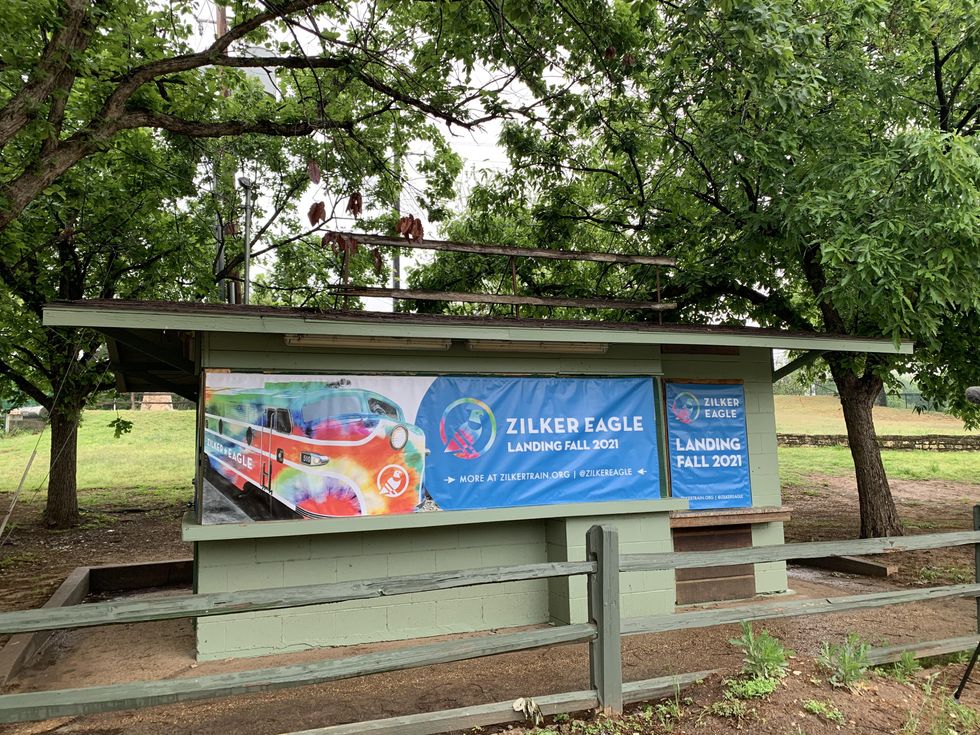 The Zilker Eagle's new design pays homage to old Austin. (Emma Freer)
In another nod to the past, the Zilker Eagle was designed to look like an old passenger train, similar to the Texas Eagle, which ran on the Missouri Pacific Railroad, with a stop in Austin, during the 1940s and '50s. (Amtrak announced last month that it will resume daily service to Austin via the Texas Eagle, which travels between Los Angeles and Chicago.)

APF will operate the train with proceeds benefiting Zilker Park. The restoration was funded in part by donations from Capital Metro, Kendra Scott and the ACL Music Festival. "We're full speed ahead and thrilled to have our community designed for the ride," Wallis said in a statement.
From Your Site Articles
Related Articles Around the Web
The sun is out, and thousands of Austin FC fans will be as well as Austin FC goes to Kansas to play Sporting Kansas City at 6:30 p.m. on Sunday.
There's plenty of pub partners to choose from, but here's a few watch parties to help you get in on the action.
Ingredients:
1 1/2 oz of hibiscus-infused Tito's Handmade Vodka
2 oz sparkling water
1 oz fresh lime juice
3/4 oz simple syrup
1 tsp allspice dram
Directions: Add infused Tito's Handmade Vodka, lime juice, and simple syrup to a shaker with ice. Shake and strain into a glass over fresh ice. Top with sparkling water, and garnish with a lime slice. Enjoy!
After Austin voters decisively passed Proposition B, City Council is revisiting the idea of sanctioned encampments: places where homeless residents can camp free from the threat of citation, fines or arrest—and where those will go in the city.
Prop B, which will reinstate city bans on sitting, lying, camping and panhandling in certain areas of central Austin starting Tuesday, passed with nearly 58% of the vote in the May 1 election. Council then voted unanimously on Thursday to direct the city manager to develop a plan and budget for temporary sanctioned encampments, including 10 possible sites, one in each council district, by next week.
Council Member Kathie Tovo, who sponsored the resolution, said such sites are critical with the city's emergency shelters and Camp Esperanza, a state-run campsite off of Hwy. 183 near Montopolis, at capacity. "When individuals in encampments ask where they should go, we need to have places to suggest," she said Thursday.
The concerns

The resolution approved Thursday directs city staff to assess all other funding sources before considering those earmarked for affordable housing. Council directed city staff to identify possible city-owned properties that could serve as sanctioned encampments. The dataset below shows properties owned by the city.
Matthew Mollica, executive director of the Ending Community Homelessness Coalition, said it is critical that public works funding is used; if housing dollars are reallocated toward sanctioned encampments, it could worsen the city's homeless problem by defunding the one proven solution. "Creating sanctioned encampments… is a public space management strategy," he said. "It is very clearly not a strategy to end homelessness in our community."

Homelessness experts and city staff say sanctioned encampments are problematic for many reasons: they are expensive to maintain, challenging to manage and hard to close, even when intended to be temporary.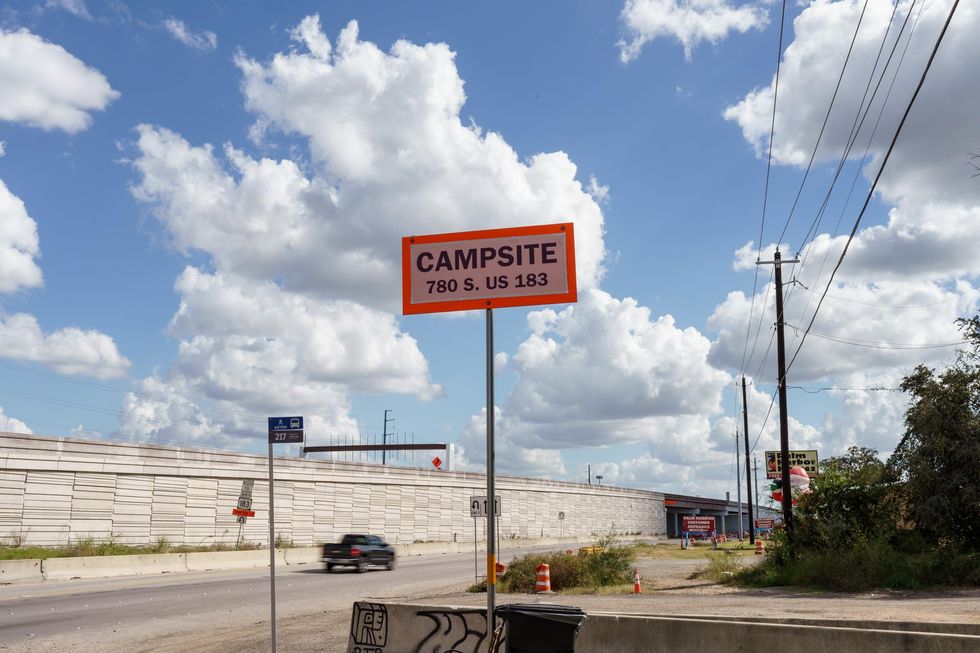 Camp Esperanza, the state-sanctioned homeless camp in Southeast Austin, opened in late 2019 and is home to approximate 150 people. (Jordan Vonderhaar)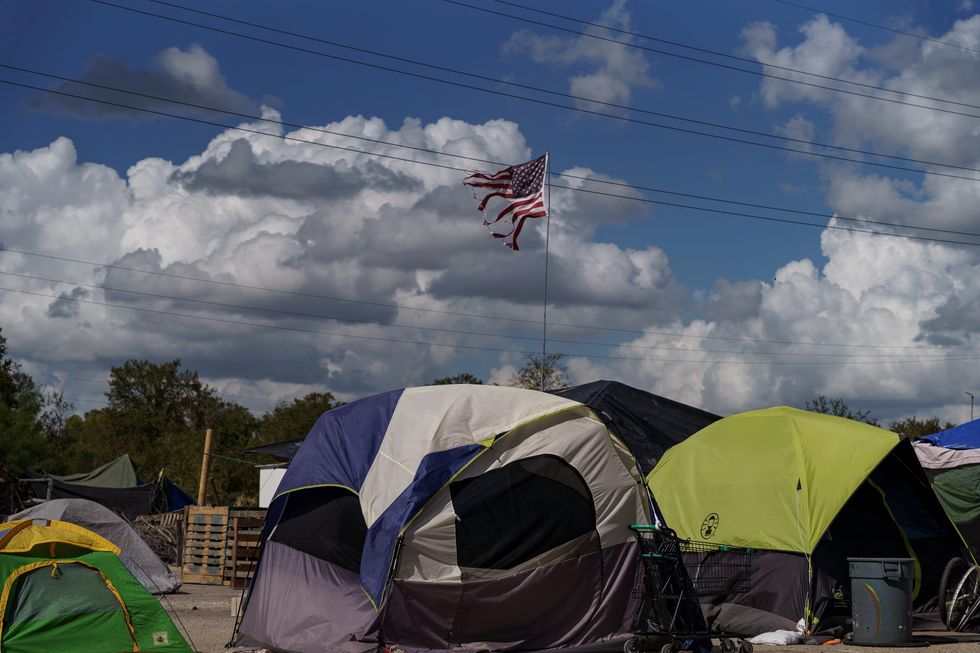 The Other Ones Foundation, a local nonprofit, operates the camp, providing work opportunities, case management, hygiene and laundry facilities, and a community shelter, among other services. (Jordan Vonderhaar)
In 2019, city staff declined to make recommendations for sanctioned encampments despite being directed by council to do so, citing 2018 guidance from the U.S. Interagency Council on Homelessness. "Neither authorized encampments nor parking areas provide housing for people experiencing homelessness," staff wrote in a memo. "Rather, each option detracts from the staff resources assigned to addressing this moral imperative."
Barbara Poppe, a nationally recognized homelessness policy consultant who has advised the city of Austin, said it is inefficient for cities to provide support services at sanctioned encampments when they could focus on housing efforts. She added that it is also unlikely the city will be able to establish enough sanctioned campsites to serve every homeless person, meaning that some will remain in violation of the ban.
The mandate

Despite these concerns, council is moving forward with two policies they previously abandoned: the camping ban and sanctioned encampments.
Cleo Petricek, co-founder of Save Austin Now, the local political action committee that spearheaded Prop B, is glad the city is moving forward with sanctioned encampments, which she feels are necessary in addition to ongoing efforts to provide housing support. "Regardless of the long-term strategies, it's long-term," she said. "We are in a humanitarian crisis right now."
Petricek points to the state-run campsite as a successful model and said the city's sanctioned encampments should be in industrial areas, far from schools, parks and residential neighborhoods. "It is undeniable that these (camps) will have an impact on surrounding areas," she said, citing recent fires and other crime. "We have to expect these worst-case scenarios."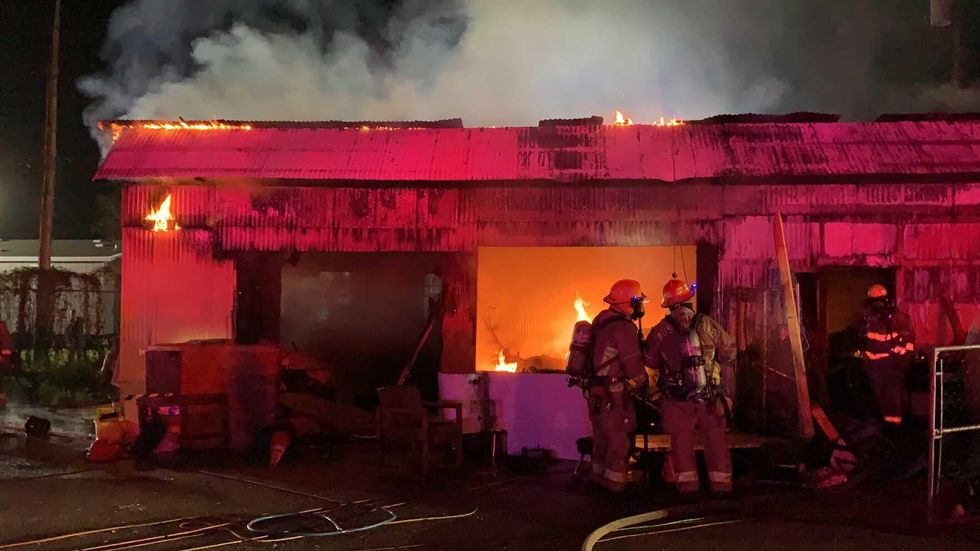 A fire broke out at the state-sanctioned homeless camp in Southeast Austin on April 2. (Austin Fire Info/Twitter)
Homeless services providers argue this approach is inhumane and leaves homeless people isolated from resources. They also warn that, wherever the sanctioned encampments are located, they are likely to prompt pushback. Petricek, a local Democratic advocate, successfully organized a petition in opposition to a proposed homeless shelter in South Austin, near her home, in 2019. The city's recent hotel purchases, for conversion into homeless housing, also prompted protests.

As Austin police and other city departments begin enforcing the camping ban on Tuesday, homeless advocates say the homeless are left without a clear, legal option: "There is no place for them to go," Mollica said.